Some False Statements Made in the Trump- Impeachment Hearings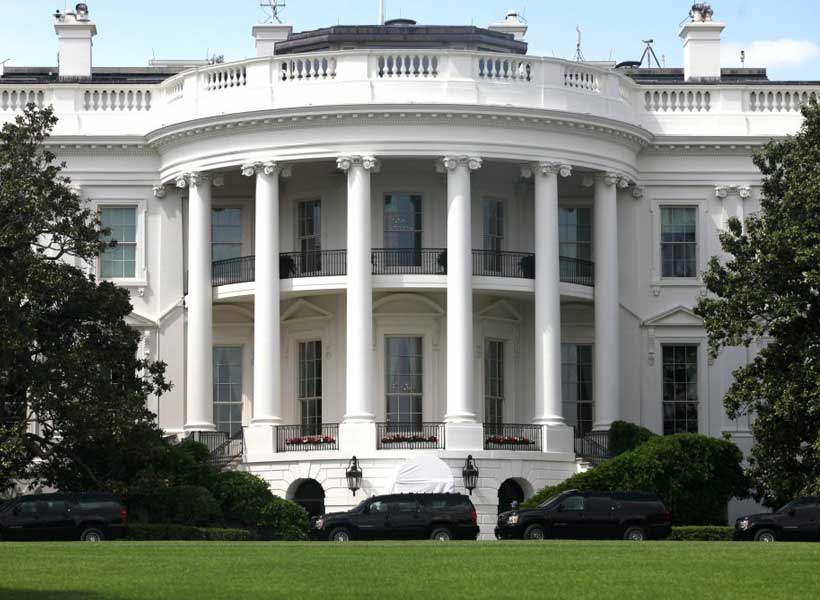 In the December 4th statement that was made by Stanford University law professor Pamela Karlan was this:
We have become the shining city on a hill. We have become the nation that leads the world in understanding what democracy is. One of the things we understand most profoundly is it's not a real democracy, it's not a mature democracy if the party in power uses the criminal process to go after its enemies. I think you heard testimony, the Intelligence Committee heard testimony about how it isn't just our national interest in protecting our own elections. It's not just our national interest in making sure that the Ukraine remains strong and on the front lines so they fight the Russians there and we don't have to fight them here.
It's also our national interest in promoting democracy worldwide, and if we look hypocritical about this, if we look like we're asking other countries to interfere in our election, if we look like we're asking other countries to engage in criminal investigations of our President's political opponents, then we're not doing our job of promoting our national interest in being that shining city on a hill.
She said: "We have become the shining city on a hill." Here is a list of just a few of the democratically elected presidents and prime ministers in foreign countries whom the U.S. regime overthrew, by coups, in order to install brutal dictatorial regimes there that would do sweetheart deals with America's international corporations. Also, unsuccessful, merely attempted, U.S. coups are discussed there.
Furthermore, the scientific studies of whether the U.S. Government is controlled by the public (a democracy) or is instead controlled only by its very wealthiest (an aristocracy) are clear: this country is an aristocracy, not a democracy at all, except, perhaps, in the purely formal senses of that term — our great Constitution. Far-right judges have recently been interpreting that Constitution in the most pro-aristocratic, anti-democratic, ways imaginable, and this might have something to do with why the scientific studies are finding that the U.S. is now a dictatorship. And this fact, of America's now being a dictatorship, was blatantly clear in America's last Presidential election, which was actually a s'election' by Americas' billionaires — not by the American public.
How, then, can Professor Karlan be respected about anything, if she lives in a dictatorship (by its aristocracy) and is deluded to think that it's still (which it never was completely) a democracy?
Furthermore: her statements about Ukraine are equally deluded. She is obviously unaware that the Obama Administration started planning its coup against Ukraine in 2011 and started implementing it in the U.S. Embassy in Ukraine on 1 March 2013, and started in June 2013 soliciting bids from U.S. companies to renovate at least one building in Crimea for use by the U.S. Navy to replace Russia's main naval base — which Russian naval base was and is in Crimea — by a new U.S. naval base to be installed there.
The craziest thing of all about Karlan's statement, however, is this part: "It's not just our national interest in making sure that the Ukraine remains strong and on the front lines so they fight the Russians there and we don't have to fight them here."
Imagine if someone said, "It's not just our national interest in making sure that the Mexico remains strong and on the front lines so they fight the Americans there and we [Russians] don't have to fight them here."
If a Russian were to assert that, would the statement be any more justifiable than what Karlan said regarding Ukraine? Of course not! Even an idiot can recognize this fact. But Karlan can't.
On December 5th, the anonymous "Moon of Alabama" blogger, whose opinions and predictions turn out to have been correct at perhaps the highest rate of anyone on the internet, headlined "The Delusions Of The Impeachment Witnesses Point To A Larger Problem" and he not only pointed out the "delusional" beliefs of Professor Karlan ("One must be seriously disturbed to believe such nonsense. How can it be that Karlan is teaching at an academic level when she has such delusions?"), but he noted that:
How is it in U.S. interest to give the Ukraine U.S. taxpayer money to buy U.S. weapons? The sole motive behind that idea was greed and corruption, not national interest:
[U.S. special envoy to Ukraine] Volker started his job at the State Department in 2017 in an unusual part-time arrangement that allowed him to continue consulting at BGR, a powerful lobbying firm that represents Ukraine and the U.S.-based defense firm Raytheon. During his tenure, Volker advocated for the United States to send Raytheon-manufactured antitank Javelin missiles to Ukraine — a decision that made Raytheon millions of dollars.
The missiles are useless in the conflict. They are kept near the western border of Ukraine under U.S. control. The U.S. fears that Russia would hit back elsewhere should the Javelin reach the frontline in the east and get used against the east-Ukrainians. That Trump shortly held back on some of the money that would have allowed the Ukrainians to buy more of those missiles thus surely made no difference.
To claim that it hurt U.S. national interests is nonsense.
It is really no wonder that U.S. foreign policy continuously produces chaos when its practitioners get taught by people like Karlan. …
The Democrats are doing themselves no favor by producing delusional and partisan witnesses who repeat Reaganesque claptrap. They only prove that the whole affair is just an unserious show trial.
In the meantime Trump is eliminating food stamps for some 700,000 recipients and the Democrats are doing nothing about it. Their majority in the House could have used the time it spent on the impeachment circus to prevent that and other obscenities.
Do the Democrats really believe that their voters will not notice this?
(Of course, they do, and they might be right. After all, polls show that Democrats still believe that Barack Obama was a terrific President, just as Republicans believe that George W. Bush was a terrific President. The fact that both — and Trump himself —were/are among the worst in American history eludes the voters in both Parties. But though I disagree with his opinion on that particular matter, he's just asking a question there, and I hope that his more optimistic take than mine turns out to be right, and that the voters — in both Parties — are coming to recognize that American politics right now is almost 100% a con-game, in both Parties.)
Why do people pay subscription-fees, to Jeff Bezos's Washington Post, and to the New York Times, and to other media that are controlled by America's billionaires, when far higher-quality journalism, like that of "Moon of Alabama" (and like the site you're reading here) is freely available on the internet? Who needs the mainstream 'news'-media, when it's filled with such unreliable claptrap, as respects (instead of exposes) what persons such as Karlan say? Jonathan Turley is to be taken seriously, and he is at the very opposite end from Karlan's opinions in the impeachment hearings (and regarding much else). (And the hearings-transcript in which both law-professors testified is here.) But the exception is Turley, and Karlan is far more the norm in the U.S.-media mainstream. And virtually all Democratic-Party propaganda-organs ('the liberal press') are playing up the Karlan claptrap. So: yes, I do think that "the Democrats [referring to the ones in the House of Representatives, of course] really believe that their voters will not notice this." Most voters are just as "deluded" (misinformed by the 'news'-media) as Professor Karlan is.
Coronavirus is Trump's most important electoral rival
The Earth is intertwined with space in various group, ethnic, religious, national, and other forms. National spaces within countries are the most important phenomena shaping the geographic space of the Earth. These spaces have been divided into more than 200 countries in the form of different democratic and non-democratic political systems as dominant spaces in different forms. Citizens in each of these countries, especially in democratic countries, are struggling to elect people to serve as political directors of the President and Prime Minister and representatives of the political space in order to organize the best program for ordering the country. Although sometimes in the specific geographical environment and the shortcomings of how people vote, they have a profound effect on the way of some candidates vote, but with the transition to calm and a return to calm, the geography and timing of citizens' responsibilities and duties expects the President-elect, Prime Minister, etc, not only to work well in that constituency-based environment, such as economic problems, but also in all areas able to manage and advance geographic space as an active and powerful actor. As a matter of fact, any lack of planning in various areas, especially in security issues, would be a disadvantage not only for citizens but also as an impediment to sending political leaders to space.
In the meantime, the current conditions on the global space caused by the coronavirus in various ways have targeted the security of geographical spaces and citizens. Citizens expect their managers to have the best strategy and plan to control and cope with the crisis. There are two types of clashes between politicians. There are a group of real politicians who, with their systematic and scientific minds, understand the situation and try to enter the country with the least challenge and cross the geographical space of their country with the least difficulty, the least social and cultural harm. Among them is the German Prime Minister Angela Merkel, who, as a real politician based on understanding the situation, responded quickly, removing the country's geographical space from a passive confrontation with coronavirus and preventing strategy, to a large extent control these issues and problems within the country.
On the other hand, some politicians who are not real and have been able to enter into the political management of space in various forms of bargaining, surfing, etc. in the face of coronavirus, have taken the most passive plan and strategy in the form of denial, failure and seriousness. And so they have taken their geographic space to crisis. In the meantime, it is worth mentioning the US president Trump who dealt with cronavirus unintentionally and led the country into a crisis. With this kind of confrontation with Trump, coronavirus (of course, among other things) no longer seems to have any hope of an upcoming election.
Overall, we hope that citizens in different countries will opt for real politicians, because the wrong choices based on looks, decorations, fleeting needs, etc. will not only regulate the geographical space of their lives, but also will cause widespread mismanagement and even shaping, it will provide them with a life of insecurity. In today's complex global conditions we need real politicians not politician players in the local, national, regional and even global arena. In this way, this vast interconnected can be organized and provided security and peace for its citizens.
Covid-19: Why the US is hit so hard?
Negative approach, delayed actions, and wrong policies resulted in making the US the most hard-hit country in the world. With confirmed cases 104,256, the US has surpassed the rest of the world. The second highest cases were reported 86,498 in Italy and third 81,394 in China. Italy is a country with the highest number of deaths 9,134, Spain5, 138, and China 3,295.
Globally, the confirmed Coronavirus cases have reached 597,501, and deaths 27,371. The figure kept on increasing rapidly over time. This figure is not close to facts, as the number of tests conducted are very much limited. Even it is beyond the capacity of the Developed World to test each suspect individually, no way to talk about the developing world and underdeveloped countries. It has already entered into a horrible threat to humankind.
Although the Trump Administration has taken good initiative now, but the delay has caused enormous damage already. In time decisions and right policies might have saved a lot. 2 Trillion Dollars package is a very positive step, and other measures are Encouraging. The US is one of the largest economies, the wealthiest nation, and most developed and advanced in Science & Technology. The US can overcome the epidemic. Just have to bear a high cost only.
The Chinese government and Chinese people have been brave as they took on this formidable task. Since the beginning, they fought against the outbreak, put people's life and health first. They acted according to the overall principle of shoring up confidence, strengthening unity, ensuring science-based control and treatment, and imposed targeted measures. China mobilized the whole nation, set up collective control and treatment mechanisms, and acted with openness and transparency. China has put up a strenuous struggle and made tremendous sacrifices. Now the situation in China is moving steadily in a positive direction with very few new cases and deaths.
Last two months, China was struggling to overcome epidemic and focused only on its goal to save human lives and eliminate the virus. China ignore all criticism, pressures, and bashing from the outside world and concentrated all energies to fight against Covid-19. China mobilized all national resources, supported by the public, and finally won over the epidemic.
When China was over-engaged in its war against Coronavirus, the US administration was engaged, blaming China, bashing China, criticizing China, and trying to undermine China. Using the derogatory remarks and media was publishing anti-China sentiments in the form of articles or cartoons. Humiliating Chinese nationals in the western world were witnessed. But could not harm China at all. President US administration wasted time unintentionally.
The Trump Administration also failed to help out its allies at the most challenging moment, when Italy, France, UK, Spain were at a very initial stage. If, since the beginning, the US has helped its allies, it might not spread so widely and may not reach the US.
It is true, no single country was prepared for such an awkward situation, and no single country trounce the outbreak. But collectively, it should have been suppressed in Wuhan only. There is a shortage of Masks, Testing Kits, Ventilators, and Sanitizers, etc. If the whole world pooled all possible resources and helped China, the situation must be different today. I think the evacuation of foreigners from China has caused a lot of damage too. The hostility, selfishness, and casual attitude toward China proved wrong.
China is helping many countries, especially the hard-hit countries like Italy, Spain, Iran, etc. China is donating medical supplies, and dispatching medical teams to support the respective government to fight against the epidemic. Chinese proved-experience can be used as guidelines. China is sharing its experience publically with everyone.
Virus is not bias, do not recognize boundaries, race, religion, or ethnicity. Why we discriminate against each other, I believe it is time to think seriously and unite to defeat any epidemic.
I believe, if the US administration keeps politics aside, and think for humanity, realign its approach and correct its policies, still can recover. Late, but better than never.
The recommendations put forward by the virtual G-20 Summit held on 26 March 2020, are pertinent and can be implemented immediately. I am sure the US congress is full of wise people, either from the opposition or ruling side, may ensure the right steps toward defeating the epidemic globally.
Covid-19 Exposes the Good and the Indifferent
The coronavirus crisis has brought out the worst … and the best in people. Hoarding, panic buying is one result — but who can blame anyone in a country where the president awash in platitudes, has essentially left people to fend for themselves.
There is now a fairer $2 trillion package, with help for individuals and not mostly for businesses, that required the hand of Congress. With people forced to sit at home, many are not getting paid and need the help.
Amid the chaos and insensitivity of billionaire presidents, there is hope in man's natural inclination for sacrifice in extremis. Father Giuseppe Berardelli, 72, died in Lovere, Bergamo, (in the epicenter of the epidemic) early this month. His parishioners had bought a respirator for him when he was afflicted by the virus, but Father Berardelli, instead of using is for himself, instructed the hospital staff to give it to a younger person. He was the main priest in the nearby town of Casnigo, where his parishioners applauded from balconies and windows as his coffin was taken for burial.
Italy is now the worst affected country in the world. As of Thursday night, it has had 80,589 cases and 8215 deaths, the latter more than double anywhere else — China, where the epidemic began, has reported 81,782 cases but far fewer deaths. Measures taken to stop the spread including gradually strung out lockdown measures taken from February 23 on have not been as effective as hoped. If the virus is that infectious, is the answer complete lockdown with police patrols to ensure it?
At the other end of the scale from Father Berardelli is the supposed 'leader of the free world'. It would have to be a most irresponsible, reprehensible, shamelessly disgraceful and indifferent plutocrat who did not educate himself on an affliction endangering his people.
At his press conferences we see a host of officials huddled close to him, not just to dilute his responsibility, but also violating the social distancing precept being advocated.
Since the early days, Donald Trump has called the virus first a "hoax", then in control, the epidemic itself "pretty much shut down", and always adding the platitudinous "it's going to be fine".
He has said the cases were "going substantially down," and then that the virus "would disappear". When the virus had spread widely enough to be named a pandemic by the World Health Organization, he claimed he had "always known" about the severity of the threat. He now says it will be over by Easter.
In times of crisis, the American people rally behind their president. For example, after the 9/11 attack, President George W. Bush's ratings were hitting the high 80s to over 90 percent, as the country awaited a response to overcome the crisis. Yet even then the country did not come to a standstill as it is in many parts at present. Trump's approval ratings are at his highs — 49 percent (Gallup), 46 percent (Monmouth University) the best in three years.
The stunning information on coronavirus infections from the John Hopkins University dashboard shows the US now leading the world with more than 86,000 cases. Then there is Donald Trump. We cannot go on like this, he said, "We've got to open up," so the economy can get back on track … meaning business wins hands down over people's lives in his calculus.