Why finance is at the heart of Chile's crisis
The outsized role of unfettered finance in Chile has only worsened inequality that led to recent uprisings
In September this year, less than a month before frustrated Chileans took to the streets in Santiago, on Chile Day, former finance Minister Felipe Larrain announced new legislation that, it was hoped, would make Chile into a regional financial center. The new bill would contains regulatory changes to facilitate registration of foreign securities in Chile and eliminate tax differences between locals and foreigners that affected the ability of finance to move seamlessly in the domestic economy. These measures were announced to commemorate ChileDay in London, where Conor Burns, minister in the UK government praised Chile's macro-economic growth and fiscal management under the Sebastian Pinera government.
After years of trying to make the country into a financial regional center, the new bill concretized the government's intentions. Larrain explained that the initiative meant to relax existing rules of financial regulations through a number of areas, including reduce paperwork for foreign investors, introduce new international practices in the local fixed income market for investors to access liquidity, simplify tax laws and contracts for short-term finance and make mutual funds more flexible. In this way the government sought to enable growth in profits of financial assets, which are primarily held by wealthy investors and high net worth Chileans. Protestors' move into the affluent Providencia neighbourhood to up the ante a few days ago – known as Chile's financial district – ironically represent the apogee of this relationship.
After unease spread about the social conditions in Chile after the increase on metro fares, Minister Felipe Larrain, who retained the position from Pinera's 2010 administration, was sacked. Larrain's firing is emblematic for several reasons. Much of the recent analysis while rightly focusing on worsening social conditions for the majority of Chileans, few commentators have pinpointed one, if not the most important culprit, of high inequality since Chile became a democracy ended in 1990. Chile's embrace of financial globalization has been at the forefront of higher levels of inequality in Chile for over the last 2 decades during both left- and right-wing governments.
The planned growth of the financial sector, while good for investors and those with idle assets, it is not positive for the majority of Chileans. The United Nations Economic Commission for Latin America and the Caribbean shows ownership of financial assets are concentrated in the pocket books of the 1 per cent. In 2017, the net worth of households was extremely distorted. While the poorest 50% of households had an average net worth of US$ 5,000, the sum for the wealthiest 10% averaged US$ 760,000, and the richest 1% owned US$ 3 million. To make matters worse, the richest 10% made a whopping 92.2% of investments in shares and mutual funds, other forms of equity holdings and investment portfolios, and 77.4% of deposits in savings accounts and long-term fixed deposits. In comparison, the lower 50 per cent of the population held just 7.7% of total physical assets like motor vehicles and real estate. As a result, many Chileans are swimming in debt, owing a total of US$116 billion (about 44 percent of gross domestic product) – a significant portion due to mortgages and showing increases by 12 per cent since 2010.
In its 2018 economic survey, the OECD laid out the conditions that have led to the current crisis: as many 30 per cent of Chilean workers engage in informal work or on short-term contracts, with high concentrations among women, youth, low-skilled and indigenous groups, while unemployment benefits are virtually nonexistent. Self-employed workers earn 20% less than a formal waged employee with the same skills and experience. Financial sector employees also make more than twice the average worker and even mining sector workers. Over the years, this wage inequality and labour informalisation have been facilitated by deregulating labour markets whereby workers have less bargaining power of labour unions. Labour unions' calls to increase their stake in the congress therefore offer some hope for workers to gain more of the share of national wealth. Increases in labour income, as ECLAC shows, have a positive effect on macro-economic growth. Pinera's obstinacy to these initiatives seem to protect his economic standing rather than promote a resolution in workers' favour. Government resistance would only encourage further polarization.
Chile's financial sector has expanded at a rate more than any other economic sector, and realized a significant portion of total income and profits in the country. In terms of asset base as a percentage of GDP, the financial sector (including money bank deposits and of other financial institutions) it has growth from 64% in 1984 to 67% in the late 1990s, surpassing the 100% mark in 2010. In 2016, this ratio reached 117%. After Mexico, Chile has the highest capital penetration of foreign banks in Latin America which has counter intuitively reduced the amount of credit available to small local businesses to finance production in new products and sectors. In the meanwhile, foreign investment has however expanded in areas that do not employ great numbers. Large mining businesses which employ fewer numbers of Chileans also have a disproportionate access to international markets for credit. Chile's pension system is also privatized and seen as source for financial sharks to make a killing, which fluctuates according to traders' optimism and can lose as it did in late 2018 when investors lose confidence.
Increased privatization of the state, and narrow industrial policies promoted by agencies like the Inter-American Development Bank bolster the role of finance using a number of instruments and incentives. Compared to years prior to the dictatorship, and for a short period during Pinochet reign after the banking crisis of the 1980s, finance was largely well regulated and credit expanded to sectors that generated a large number of jobs. Now, rather than expanding employment and increasing high-value industrial exports, Chile has since the 2000s suffered becoming more and more specialized in mining. Even as private investment flows increased in copper mining during the 2000s, this has not had a broad effect on re-industrializing the Chilean economy. The opposite is true. In fact, the majority of the country's lithium is manufactured outside of the country.
While some economists have suggested that that higher inequality was due to the end of the high-price commodity boom in Chile in 2014, the historical record shows that inequality was rampant during Pinochet's dictatorship and only slightly decreased from the 1990s onwards. Inequality was practically baked into the tax system, as well as the housing and transport policies of successive governments, as Chileans found it hard to seek work opportunities in its capital city Santiago. This has earned Chile the infamy of the most unequal country in Latin America and the OECD as a whole according to certain analyses.
As the world awakens to the reality that the expanding finance do not lift all boats or 'trickle down', if there is to be a successful resolution to the current calamity that dates back to the reforms of Pinochet, democratizing finance is critical to return power to the hands of Chileans.
Not a Usual "Trump Blunder" Rather US has Used a Cleverly Manipulated Strategy in Iran
There is a little doubt that the recent move by Washington have already started having short term impacts in the Middle East but there are many other aspects which should not be forgotten and they might compensate for those short-term mishaps in the region.
Limited Menu of options for Tehran
Although Iran has started using its options of warfare in the region against US troops it has to be noted that it has a very limited scope of options available presently. It does have the warfare tools but present circumstances are such that Tehran is in no position to use them up to their maximum plausible extent. Washington seems to have taken a clear advantage of the crisis that Iran has been facing after the decision that White House took to revoke the Nuclear Deal with Iran in mid of 2018. Given the fact that Iran is suffering from domestic crisis and its citizens are echoing the democratic values inside the country, for US it could have been no better time to make an attempt to destabilize the Foreign policy aspects of Tehran. Soleimani, as an influential leader in the region, had an ability to easily gameplay the political affairs of other neighbouring countries and thereby increasing a probability of "Iran Friendly" region but after his assassination the vacuum created by him would not be filled sooner. In this context, Iran's ability to persuade its neighbours in its favour during any possible conflict with US in future has also got a severe blow.
The options which Iran could have used are harming US bases in its nearby borders – which it has already done by blowing US bases in Iraq; using a covert warfare against Washington troops and officials – which yet again has been used when US embassy in Iraq came directly into attack from one of the radical military organisation known to have links with Tehran – the Hezbollah; it could also continue going against the provisions of Nuclear Deal up to an extent but not completely – because of segregation that it might face, in a worst case scenario, from other partners of Trade Deal which are also essentially members of European Union. Simultaneously considering the Syria problem and its own domestic issues, it is highly unlikely that Iran at this moment would like to have an excessive influence of Kremlin beyond a particular limit.
Also given the global slowdown; US Congress' opinion in the further tussle with Iran; Tehran's own economic issues; and a regional political instability in Middle East, a full-fledged war is a hypothetical situation which is highly unlikely to take place in near future. So, Tehran, even after having a potential to compete US up to some extent wouldn't be able to do so in the present global order.
Iran's Domestic Problems
Presently Iran is stuck into its own domestic problems which revolve around its political and economic spectrum. After the Iranian Revolution of 1980s, the realities have changed when it comes to Iranian politics and its various important components. A complete contrast can easily be observed in the country. In the early years, there was more of a single party system having only Islamic Republican Party and more than half of the representatives belonged to one particular section of the society – the clerics. More profoundly, the electorates or the people weren't literate enough, the media was not free from the state influence, and overall a much more conservative and non-vocal society was there.
Presently there's a multi-party system in the country having a much more educated group of electorates which occasionally raises its voice on various issues, there's no more unlimited censorship on the media and women participation in the parliament has also seen a growth.
Given the economic slowdown in the country after the US imposed the sanctions in 2019 on the countries importing the oil and other natural resources from Tehran and failure of JCPOA in long term to create employment among the youth of the country backed by the changed political reality has created a domestic turmoil in the country. People have come out on the streets and have shown their anger to the decision makers by raising their concerns of unemployment amid the economic backlash that country has been going through. Furthermore, the issues of corruption and shutting down the protesters by present regime have just escalated the turmoil.
In this situation where the regime was going through its domestic crisis, it faced a severe disadvantage of having a lack of public support and thereby giving an optimum chance to Washington to strike on its another stronger branch – the military. Now by striking the military and assassinating Iran's one of the most prominent military leader since decades, it has left Iran in a situation where it is shaken from both within inside – by internal challenges as well as from outside – by loss of a military leader thereby affecting its influence in the region as well as in the direct warfare.
Middle East without US is Not Possible at the Moment
Thinking of Middle East, presently, without US involvement would be immature. The region has always been high on the political instability having a constant tussle among the regional players. Trump, for his political motivations, might have had announced his will to free the region from US military but the policy makers in the Washington themselves are aware that leaving Middle East in the an era which has marked the chaos of political instability could be a major risk and certainly couldn't be afforded as it would directly or indirectly lead to the regional tussle as well as hurdle in the global imports and exports of the trade of oil, petroleum, and other natural resources. Given this, Trump has yet again got an excuse to maintain US's presence in the region as well as countering his political opponents for not fulfilling the election promise which he had made.
The Economy that US would like to Excel
The core benefit that Trump would be getting from this warfare with Iran – which is quite far away from a direct full-fledged war – is the economic boost for US and simultaneous exponential economic loss for Tehran. Since 2018, world has seen a complete flip in an overall picture of Washington's net import and export of oil and other natural resources. This initially had created a conundrum for the OPEC countries and their respective policies. Now Trump is using it as a covert warfare weapon against Iran in the given circumstances. In September 2019, the US exported 140,000 bpd more total crude oil and petroleum products than it imported; and total exports exceeded imports by 550,000 bpd in October. Also, the expected estimate for the same in 2020 is 13.2 billion bpd.
OPEC countries are mostly from Middle East and the political instability in the region clearly implies the hurdles in the exports of oil, petroleum and shale giving direct benefit in the trade and exports of these resources to the US. Moreover, the already imposed US sanctions on the countries importing the resources from Iran backed by the fact that deadline of May 2020 for exemptions of sanctions to those countries like India which didn't face sanctions at first place will further reduce Iranian market of export of resources and giving a clear edge to US in near future.
Thus, it would be very much incorrect to perceive the killing of military leader of Iran mainly as a mistake of White House. Trump might have a history of doing blunders but this time he has played cleverly in the region. It would be noteworthy to have a look at future implications and how Iran – after suffering few major blows – finds a way to deal with the situation which presently is not in its favour and in future too is moderately likely to be reinforced on the US side unless a major mistake is committed by Washington.
Reading tea leaves: US backs off support for regime change in Iran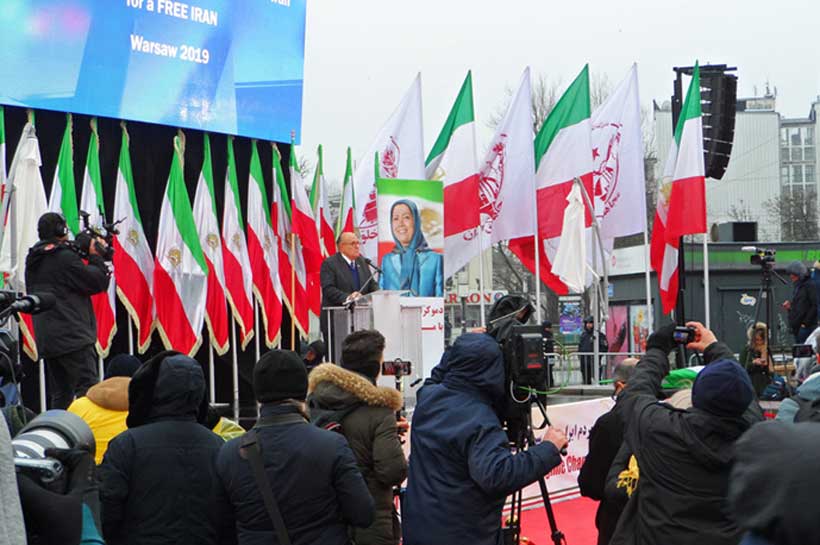 An Iran hawk who advocated killing general Qassim Soleimani, US Secretary of State Mike Pompeo has ordered his diplomats to limit contacts with militant Iranian exile and opposition groups that support either regime change or greater rights for ethnic groups like Kurds and Arabs.
Coming on the back of the Soleimani killing, Mr. Pompeo's directive appears to put an end to the Trump administration's hinting that it covertly supports insurgent efforts to at the very least destabilize the Iranian government if not topple it.
A litmus test of the directive by Mr. Pompeo, known to have a close relationship with Donald J. Trump, is likely to be whether the president's personal lawyer, Rudolph Giuliani, distances himself from the controversial National Council of Resistance of Iran (NCRI), an offshoot of the Mujahedeen-e-Khalq, a group that was taken off the US Treasury's list of designated terrorists several years ago.
Mr. Giuliani is a frequent, well-paid speaker at gatherings of the group that has built a significant network among Western political elites. The council and the Mujahedeen openly call for regime change in Iran.
The Mujahedeen were moved with US assistance from their exile base in Iraq to a reportedly Saudi-funded secretive facility in Albania.
A New Jersey-based lobbying firm hired by the NCRI, Rosemont Associates, reported last year in its filing as a foreign agent frequent email and telephone contact on behalf of its client with the US embassy in the Albanian capital of Tirana as well as Brian Hook, the US Special Representative for Iran, and Gabriel Noronha, an aide to Mr. Hook.
In his directive, Mr. Pompeo said that "direct US government engagement with these groups could prove counterproductive to our policy goal of seeking a comprehensive deal with the Iranian regime that addresses its destabilizing behaviour."
The secretary went on to say that Iranian opposition groups "try to engage US officials regularly to gain at least the appearance of tacit support and enhance their visibility and clout."
Mr. Pompeo's cable, while keeping a potential negotiated deal with Iran on the table, does not stop other US government agencies from covertly supporting the various groups, that also include Arab Struggle Movement for the Liberation of al-Ahwaz (AMLA), the Komala Party of Iranian Kurdistan, and the Kurdish Democratic Party of Iran (KDPI).
Iran, which has long believed that the United States, alongside Saudi Arabia and Israel, supported the Mujahedeen as well as ethnic militants that intermittently launch attacks inside Iran, is likely to take a wait-and see-attitude towards Mr. Pompeo's directive that could be seen as a signal that the Trump administration is not seeking regime change.
The timing of the directive is significant. Iran responded to the killing of Mr. Soleimani with carefully calibrated missile attacks on US facilities in Iraq in a bid to create an environment in which backchanneling potentially could steer the United States and Iran back to the negotiating table.
While it was uncertain that one round of escalated tensions would do the trick, potential efforts were not helped by the death of Oman's Sultan Qaboos bin Said al Said, a key interlocutor who has repeatedly helped resolve US-Iranian problems and initiated contacts that ultimately led to the 2015 international agreement that curbed Iran's nuclear program.
In his directive, Mr. Pompeo, referring to Komala, acknowledged that "Iran's regime appears to assess that the United States and/or Israel support this group of militant Kurds."
Iranian perceptions were reinforced not only by calls for regime change by senior figures like Mr. Giuliani and Saudi prince Turki al-Faisal, a former head of the kingdom's intelligence service and ex-ambassador to Britain and the United States, but also the appointment in 2018 of Steven Fagin as counsel general in Erbil in Iraqi Kurdistan.
Shortly before moving to Erbil, Mr. Fagin met In Washington as head of the State Department's Office of Iranian Affairs, with Mustafa Hijri, leader of the KDPI as it stepped up its attacks in Iranian Kurdistan.
Iranian perceptions were further informed by the appointment of John Bolton, Mr. Trump's since departed national security advisor and like Mr. Giuliani a frequent speaker at NCRI events, who publicly advocates support of ethnic insurgencies in Iran in a bid to change the regime.
As Mr. Trump's first director of the Central Intelligence Agency, Mr. Pompeo named Michael D'Andrea, a hard-charging, chain-smoking covert operations officer, alternatively nicknamed the Dark Prince or Ayatollah Mike, whose track record includes overseeing the hunt for Osama Bin Laden, as head of the CIA's Iran operations.
The appointment was followed by publication by a Riyadh-based think tank believed to be close to crown prince Mohammed bin Salman of a study for Saudi support for a low-level Baloch insurgency in Iran. Prince Mohammed vowed around the same time that "we will work so that the battle is for them in Iran, not in Saudi Arabia."
Pakistani militants have claimed that Saudi Arabia had stepped up funding of militant madrassas or religious seminaries in the Pakistani province of Balochistan that allegedly serve as havens for anti-Iranian fighters.
The New York Times reported this week that aides to Prince Mohammed had in the past discussed with private businessmen the assassination of Mr. Soleimani, an architect of Iran's regional network of proxies, and other Iranians as well as ways of sabotaging the country's economy.
Mr. Pompeo's directive is unlikely to persuade Iran that Washington has had a change of heart. Indeed, it hasn't. Mr. Trump maintains his campaign of maximum pressure and this week imposed additional sanctions on Iran.
Nonetheless, potentially taking regime change off the table facilitates backchanneling that aims at getting the two nations to talk again.
Entangling between Escalation De-escalation
The US airstrike in Iraq has further fueled the already bloody race of having regional influence between the US and Iran. The Middle East has been hub of resources and encompasses crucial Sea Lines of Communications(SLOCs) i.e. Persian Gulf and Strait of Hormuz. These two SLOCs have been main trade routes for regional and extra-regional states for oil transportation. The region is significant so that's why it has always been in conflict-prone situation. Interstate and intrastate actors have been involved. The wave of Arab Spring and emergence of Islamic State of Iraq and Syria (ISIS) have already put region in chaos. Now US killing of prominent Iranian leader (Soleimani) of Quds force in Iraqmay takes region to the verge of war. In 2018, Trump declared Islamic Revolutionary Guard Corps Quds Force as a terrorist force. Trump has justified killing by saying that " Soleimani was a terrorist and that assassinating him was a defensive action that stopped an imminent attack". Now Iran is also following for tit for tat mechanism by declaring all US forces as terrorists and Iran did missile attack on US military bases held in Iraq and justified this attack in the same as the US did.
Trump acted unilaterally ,in which will of Iraq and world community were not included and this is true depiction of its imperial arrogance as Middle eastern region has been in warlike situation and this incidence may escalate the situation. There are chance of war as Iran unfurl red flag on mosque Jamkaran in first time in history and in Shiite religion red flag symbolizes vengeance. Gen Qasim Soleimani was close to Iran's supreme leader, Ayatollah Ali Khamenei, who on Friday issued a statement calling for "three days of public mourning and forceful revenge, in a declaration that amounted to a threat of retaliation against the United States andhis departure to God does not end his path or his mission".
Iran has made retaliation in response to Soleimani killing with missile attack on US bases; Al asad and Erbiland opted same time at which US attacked on Iranian general. In counter response to Iranian attack US put strict economic sanctions on Iran and also reiterated that NATO should strengthen its position in Middle east. While on the other hand, Trump said that US does not want war but peace. This is true illustration 'Carrot and stick' diplomacy. The Soleimani'successor Major General Ismail Qaani has given statement yesterday that "We promise to continue Martyr Soleimani's path with the same strength and his martyrdom will be reciprocated in several steps by removing the US from the region". After attack supreme leader of Iran said that this attack is slap on US face and it is not enough that US did. Moreover Iranian foreign minister , Javad Zarif also said that "we will defend our own territory, we will defend our people," Zarif told CNN's Fred Pleitgen. "The United States can defend the United States, but the United States cannot claim to be defending the United States several thousand miles away." This is how Iran can retaliate and zaarif's statement depicts that Iran wants to wipe out US from the region. US is extra regional states , whereas Iran is regional state and has allies and proxies in the countries.
"We have people on our side in this region," Zarif said. "Beautiful military equipment doesn't rule the world, people rule the world. President Trump has to wake up to the reality that the people of this region are enraged, the people of this region want the United States out."
The statements from the Iranian personnel are true depiction that this airstrike it is possibility of full fledge war. Because the US has also military presence in the region i.e. Thousands of US troops have been deployed to Saudi Arabia, and there are some 5,000 at bases in Iraq. The US also has a chief air base in Qatar and a naval occurrence in Bahrain not only this also has troops in United Arab Emirates, Kuwait and Jordan. Tehran said that she is not in urgency and they will choose target wisely and will respond with decisive deterrent effect. Trump reiterated that "If Iran attacks an American Base, or any American, we will be sending some of that brand new beautiful equipment their way…and without hesitation". Iran responded to it as , it was US, who started war now get ready to face the music. Iran has deployed it ballistic missiles( short and medium range) on ready mode and US bases in region are also vulnerable to threat but US also exercising its satellite for surveillance.
The US has been an established World Power so its US responsibility to not to escalate tensions as Great powers always have to choose the path; soft power or hard power. In the present situation diplomacy is best solution to de-escalate the crisis. After Iranian attack Trump mentioned in his speech that US wants peace but on the other hand also stress NATO to strengthen its position in Middle east and put sanctions on Iran. So still danger is there between Iran and US as Iran also has missiles and proxies that can hit America. On the other hand , US has been an unrivaled power and its alliances from Israel to Europe may damage Iran. US war with Iran, whether it be asymmetric or proxy, will be horrible.
Hence the region has been hub to regional and extra-regional powers and in any sort of conflict. State, non state actors, regional and extra-regional states may also engage which can in turn lead towards full fledged war. Moreover in the fighting of two, third part can take advantage of the situation i.e. ISIS in the Middle east can strengthen its roots in the region while US and Iran are busy in confrontation with one another. The world community should and will have to come with solutions to avoid inadvertent escalation between US and Iran and standoff between the two states may bring the region on the verge of war and in which no one will get anything but destruction.