Authors: Apurva Sanghi and Glenn-Marie Lange Vedemosti (Russia)
Which would you rather be: rich or wealthy? And what exactly is the difference?
Being rich is related to your regular paycheck: the monthly income you receive from your employer or your business. The fatter the paycheck, the richer you are. Being wealthy, on the other hand, is the value of all your assets: how much you have in savings in your bank account, your house, your car, and so on. The more of these assets you have, the wealthier you are.
Now you can be rich without being wealthy. But that will not be sustainable if you do not keep adding to your stock of assets. So, your economic well-being is a function of both your income and wealth.
What applies to you as an individual applies to a nation as well. Focusing only on national income, i.e. GDP, can be misleading. Wars or disasters increase GDP because reconstruction counts towards GDP, but this is in an accounting sense. Common-sense tell us they do not improve welfare of those affected. Yet policymakers and economists are obsessed with GDP. Perhaps it is because GDP is a relatively easy thing to measure. In our latest semi-annual report, we upgrade Russia's growth numbers (1.2% for 2019, 1.6% and 1.8% for 2020 and 2021), which no doubt will generate much public attention but as mentioned above, can be misleading. Changes in income need to be complemented with a measure that captures changes in wealth. But how do you measure the wealth of a nation – especially one as large and diverse as Russia?
Our report aims to answer the question: "How wealthy is Russia" by measuring, for the first time, the country's wealth from 2000–2017. The analysis comprehensively measures four types of assets:
Produced capital: Russia's buildings, bridges and infrastructure;
Human capital: the cumulative experience, knowledge and skills of Russians;
Natural capital: the lakes, forests, soil, air, water, oil and gas from which Russians derive a range of services;
Foreign capital: the net value of overseas assets owned by Russia.
The good news is that the typical Russian citizen was 1.8 times wealthier in 2017 than in 2000, with accumulated wealth of about 9 million rubles (or approximately US$ 153,000). The bad news is that this is only about a quarter of the wealth of a typical resident in member countries of the Organization for Economic Co-operation and Development (OECD).
Here is another question: which of the above four wealth components do you think comprises the largest share of overall wealth in Russia? It is not foreign capital; Russia simply does not own that many assets overseas. Is it natural capital? After all, Russia is blessed with abundant natural resources appropriately captured by the song in the famous 1936 Soviet film Circus: "Wide is my Motherland, Of her many forests, fields, and rivers!… From Moscow to the borders, From the southern mountains to the northern sea." Or is it physical capital? From the shiny skyscrapers of Moscow to all the infrastructure spread around the world's largest country — this surely must add up to a lot?
Well, the answer is neither of the above: rather, it is human capital – the cumulative experience, knowledge and skills of Russians – that comprises almost half of all Russia's wealth, only then followed by physical capital (about a third), and natural capital (about a fifth). However, in comparison, the wealth composition of OECD countries on average is 70 percent human capital, 28 percent produced capital, 3 percent natural capital, and minus 1 percent net foreign assets (Figure 1).
Figure 1: Human capital comprises the largest share of wealth in Russia, but this is much lower than the OECD average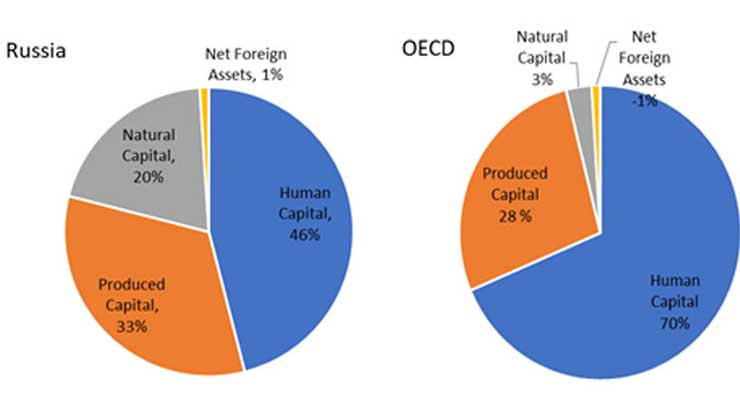 Here again, there is good news and bad news. The good news is that during 2000–2017, Russia's per capita human capital grew massively at 80 percent, dwarfing growth in OECD countries and other commodity exporters. The bad news is that average annual growth has slowed from 4.7 percent in the 2000–2010 period to 1.8 percent during 2010–2017. Indeed, at this slower rate of 1.8 percent, it would take Russia almost 100 years to catch up with the OECD average. For Russia to grow wealthier, the policy focus is clear: increase both the returns to and share of human capital wealth.
Increasing returns to human capital, especially in education, ranges from improving the quality of vocational and college education throughout Russia's regions to improving the 3 Cs of softer skills of Russian students: creativity, collaboration, and communication. One puzzle is why Russia's human capital proportion of its total wealth (46 percent), is significantly lower than OECD's (70 percent). After all, Russia's education performance appears to be even better than the OECD's in certain areas. For example, the proportion of the labor force with university degrees is higher in Russia than the OECD. And the quality of education as measured by certain global standardized tests is on par with the OECD. One possible explanation is that Russians are simply not earning adequate returns on their education.
Increasing the share of human capital would require a decrease in the share of something else. A good candidate for Russia would be natural capital; specifically, oil and gas related assets, which remain a significant part of Russia's wealth. Russia's large share of carbon-based wealth faces increased risk due to future price uncertainty and large-scale attempts at global decarbonization. Additionally, better managing Russia's forests is an immediate priority and can also enhance Russia's role as an "ecological donor" to the planet. As a rough estimate, Russia's forests provide annual absorption of about 640 million tons of CO2 equivalent or around 30,000 billion rubles (over US$ 500 billion) over their lifetime.
After all, nothing lasts forever, so this abundance needs to be sustainably managed if Russia is indeed to be more than just a rich tale. Otherwise pursuing riches without building wealth would be a bit like building mansions on a foundation of sand.
COVID-19 has exposed the fragility of our economies
The human dimensions of the COVID-19 pandemic  reach far beyond the critical health response. All aspects of our future will be affected – economic, social and developmental. Our response must be urgent, coordinated and on a global scale, and should immediately deliver help to those most in need.

From workplaces, to enterprises, to national and global economies, getting this right is predicated on social dialogue between governments and those on the front line – the employers and workers. So that the 2020s don't become a re-run of the 1930s.

ILO estimates are that as many as 25 million people could become unemployed, with a loss of workers' income of as much as USD 3.4 trillion. However, it is already becoming clear that these numbers may underestimate the magnitude of the impact.

This pandemic has mercilessly exposed the deep faultlines in our labour markets. Enterprises of all sizes have already stopped operations, cut working hours and laid off staff. Many are teetering on the brink of collapse as shops and restaurants close, flights and hotel bookings are cancelled, and businesses shift to remote working. Often the first to lose their jobs are those whose employment was already precarious – sales clerks, waiters, kitchen staff, baggage handlers and cleaners.

In a world where only one in five people are eligible for unemployment benefits, layoffs spell catastrophe for millions of families. Because paid sick leave is not available to many carers and delivery workers – those we all now rely on – they are often under pressure to continue working even if they are ill. In the developing world, piece-rate workers, day labourers and informal traders may be similarly pressured by the need to put food on the table. We will all suffer because of this. It will not only increase the spread of the virus but in the longer-term dramatically amplify cycles of poverty and inequality.

We have a chance to save millions of jobs and enterprises, if governments act decisively to ensure business continuity, prevent layoffs and protect vulnerable workers. We should have no doubt that the decisions they take today will determine the health of our societies and economies for years to come.

Unprecedented, expansionary fiscal and monetary policies are essential to prevent the current headlong downturn from becoming a prolonged recession. We must make sure that people have enough money in their pockets to make it to the end of the week – and the next. This means ensuring that enterprises – the source of income for millions of workers – can remain afloat during the sharp downturn and so are positioned to restart as soon as conditions allow. In particular, tailored measures will be needed for the most vulnerable workers, including the self-employed, part-time workers and those in temporary employment, who may not qualify for unemployment or health insurance and who are harder to reach.

As governments try to flatten the upward curve of infection, we need special measures to protect the millions of health and care workers (most of them women) who risk their own health for us every day. Truckers and seafarers, who deliver medical equipment and other essentials, must be adequately protected. Teleworking offers new opportunities for workers to keep working, and employers to continue their businesses through the crisis. However, workers must be able to negotiate these arrangements so that they retain balance with other responsibilities, such as caring for children, the sick or the elderly, and of course themselves.

Many countries have already introduced unprecedented stimulus packages to protect their societies and economies and keep cash flowing to workers and businesses. To maximize the effectiveness of those measures it is essential for governments to work with employers' organizations and trade unions to come up with practical solutions, which keep people safe and to protect jobs.

These measures include income support, wage subsidies and temporary layoff grants for those in more formal jobs, tax credits for the self-employed, and financial support for businesses.

But as well as strong domestic measures, decisive multilateral action must be a key stone of a global response to a global enemy. The G20's virtual Extraordinary Summit on the COVID-19 response  on 26 March was a welcome first step to get this coordinated response going.

In these most difficult of times, I recall a principle set out in the ILO's Constitution: Poverty anywhere remains a threat to prosperity everywhere. It reminds us that, in years to come, the effectiveness of our response to this existential threat may be judged not just by the scale and speed of the cash injections, or whether the recovery curve is flat or steep, but by what we did for the most vulnerable among us. ILO
The reforms and the current situation of the State budget and accounts
As we have all realized, since the COVID-19 epidemics broke out the number of regulations enacted – especially by the Italian Presidency of the Council of Ministers – has literally sky-rocketed.
The starting date of the sequence of regulations is certain. It is, in fact, January 31, 2020 with the declaration of the state of emergency connected to the onset of diseases resulting from transmissible viral agents, pursuant to Article 7, paragraph 1, sub-paragraph c) of Legislative Decree No. 1 of 2018 (Civil Protection Code).
The Prime Minister's Decrees, the many Guidelines, Directives and Ministerial Orders, as well as the many Orders of the Head of the Civil Protection Department and, finally, the many Regional and even Municipal Orders have added to the Emergency Ordinances and the many – probably too many – decree-laws to be quickly converted into laws after the Parliament's vote, pursuant to the Constitution.
There has never been an exception to the eternal rule – mathematical, at first, and then legal – according to which the greater the number and complexity of rules, the greater the indecision and misunderstanding inherent in their implementation.
Even in such a severe and complex situation, the messy regulatory system created with the Emergency Ordinances and Decrees for the COVID-19 infection is, therefore, a source of ambiguity, indecisiveness and potential conflict between State apparata and Local Administrations.
This is the reason why, even in the State administration, the old maxim of medieval logic, simplex sigillum veri, should apply.
Hence which is the final criterion for solving the inevitable regulatory ambiguity? The criterion is Politics, seen as Alexander's Sword cutting the Gordian Knot immediately.
This is, in fact, the real function of democratic representation, in a highly-regulated context, as is the case in every modern Western country.
Parliament is always the decision-maker, together with the Government and the Presidency of the Republic, responsible for both budget items and the hierarchy of rules, which should be as simple as possible, as already taught us by Beccaria.
Reverting – after this example – to the issue of Italy's current Budget Law, what is it, in fact?
As is well-known, the Budget Law is the legislative instrument, provided for by Article 81 of the Constitution, which lays down how the Government – with a preliminary accounting document – communicates to Parliament the public expenditure and revenue forecast for the following year, pursuant to the laws in force.
At first, it should be noted that much of the expenditure is bound to be fully hypothetical – as happens also in private budgets – and cannot be completely organized by means of a single old or new rule. Finally, some budget items depend on cash flows and expenses which can never be fully predictable in the budget.
Again pursuant to Article 81 of the Constitution, unlike what currently happens for the Stability Law, the law for adopting the State Budget cannot introduce new taxes and new expenses.
The structure of the State Budget, namely the network of fixed items, must be only that one.
The reason is obvious but, given this asymmetry, it is difficult to put together the Budget Law and the Stability Law in a reasonable way.
It should be recalled that the Stability Law, also known as Finance Act or Budget Package, is the ordinary law proposed by the Government, which regulates the economic policy of the State (and also of civil society) for three years.
Well, but in three years, as they say in French, chosir son temps, c'est l'épargner.
In three years everything is done and everything can be destroyed or change, especially with the kind of international economy we are dealing with now.
The Stability Law has been so called, almost officially, since 2009 mainly as a result of the introduction of "fiscal federalism", implemented with the constitutional reform of 2001, which requires that the activity of the "central" State is coordinated with the local one, which has autonomous and different assets – albeit not always – from the "central" State finance.
I believe that the famous "federalism" has been a long-standing illusion from which the sooner we wake up the better.
The distribution of revenue among the Regions – increasingly eager for money, especially after the reckless "Reform of Title V" of the Constitution, invented by the leftist governments in the belief they could take votes away from the Northern League Party – has been detrimental. It has made the Local Authorities increasingly powerful, and therefore large and very expensive, with an efficiency that, except for the Northern regions, which would have been efficient anyway, has plummeted throughout the rest of Italy.
Again as a result of the Treaty of Maastricht – a city previously unknown except for the French siege of 1673, in which D'Artagnan stood out – the Stability Law must comply with the requirements of economic and financial convergence between the EU countries, but also with the criteria regarding the rules of coordination between the local, regional and State levels of public finance of the various EU-27 Member States. Sicily will coordinate with the economy of Finland, all based on cellulose and mobile phones, while Piedmont, with its precious white truffles, will coordinate with the Tayloristic and low-cost factories of the Czech Republic.
Beyond a certain level, the economies are incomparable with one another and there is no single currency that can put them in communication.
If anything, we would need public accounting like the one that is implemented – even at European level – with the Power Purchasing Parity criteria.
For the first time, in the 2009 Stability Law, an additional instrument was added on welfare – which currently, in the European bureaucratic jargon, also means "Health" – in which there are regularly also rules on labour, social security and competitiveness, which have little to do with Welfare and is drafted according to a deadline of missions, multi-year programs and functions, which is very hard, if not impossible, to monetize.
Furthermore, pursuant to Law No. 234/2012, the Stability Law has also provided that, as from 2016, the Stability Law shall be a Consolidated Act together with the Budget Law.
This is anomalous, considering that the latter can regulate and create new taxes and duties, while the former cannot.
However, the Reform of the State Budget, implemented with Law No. 163/2016 adopted on July 28, 2016, was definitively approved with over 80% of votes in Parliament.
The Stability/Budget Law must be submitted by the Government to Parliament every year by October 15 and Parliament must adopt or amend it otherwise by December 31 of the same year. It is too short a lapse of time. Beyond the initial deadline, Article 81, paragraph 2, of the Constitution provides for the subsequent deadline of April 30 – a term which, however, shall be authorized by law.
The Stability Law shall mandatorily include: a) the net balance to be financed; b) the balance of the recourse to market instruments, i.e. the final amount of money in the annual or three-year cycle for which to resort to loans (and this is certainly a vulnus, because the speculative markets know in advance the amount that can be financed); c) the amount of the special budget funds – and this is another vulnus, since all the other countries know how much the Services, the Special Operations, the Off The Record actions, etc. will cost; d) the maximum amount for renewing the public employment contracts – another vulnus, because this allows to calculate the industrial policy and, therefore, the possible effects of the labour cost on public and private markets, with obvious advantages for the E.U. competitors; e) the appropriations for refinancing the capital expenditure already provided for by the laws in force, and hence also the three-year stop of subsequent capital expenditure; f) the long-term expenditure forecasts.
This is another vulnus since this allows to infer the sum available to a State for any E.U. military or foreign policy program, or for any other strategically important program.
Not to mention the reserves for mergers and acquisitions of strategically important companies within the European Union, or even outside it, but permitted by the other European partners.
A "mutualization" of the public budget which creates many dangers, but corresponds to the mental level of many E.U. accountants.
This structure of the Stability Law leads to a situation in which only two choices are possible. Either the so-called austerity policy, when it comes to restoring possible balance to public funds (but this is always decided by others). We may think that a cyclical austerity policy must also be able to spend more on certain budget items, but much less on the others, while here the amount that counts is only the final one, which automatically determines the market behaviour. The only thing that markets have in mind, like conscripts, is the purchase of our public debt instruments at the best price and with the best interest rate, often carrying out trading operations, as also happens to certain States that profit from the difference – often completely rhetorical – between their debt instruments and ours.
Or there is also the possibility of expansionary spending, which resorts always and only to deficit public spending – i.e. by issuing more public debt instruments – which can be "Keynesian" if it regards investment, but simply expansionary if rents, annuities and current expenses are privileged, in addition to investment.
Sometimes even this may be necessary.
The British economist, however, maintained that public spending applies above all to new investment, while for the "old markets" – as he called them – the self-equilibrium of private enterprises is also good.
The childish idea underlying this conceptual duality is that you can be either "big spenders" (especially if "you come from the South") or "strict" (especially if you are self-controlled and you come from the North), but this is just a vaudeville skit, not a serious economic policy idea.
Thinking – as many people within the EU institutions believe – that "family" rigour has an impact on the State budget is a "paralogism" – just to use an ancient philosophy concept.
The equivalence between households and States – a concept often reiterated by unexperienced economists – would be fine only if households could issue face value money, which could be spent immediately according to their needs. These needs, however, would be linked to the credibility of their private "money".
People believe in these fairy tales, especially within the European Commission.
However, the European constraints of any Stability Law are the following: 1) a 3% ratio between the actual and the forecast public deficit and the national GDP – a fully specious and abstruse ratio, even in a phase of restrictive policies; 2) 60% of the ratio between public debt and GDP, another bizarre figure, which may also regard non-Keynesian policies when – for example – a "mature" sector has to be restructured or investment must be made in new and promising areas; 3) the average inflation rate, which cannot exceed by over 1.5 percentage points the one of the three best performing Member States in the sector during the previous three years. Are EU experts aware that there is also 'imported inflation'?
This happens when the prices of goods and services purchased abroad rise – although this formula is already quite wrong.
Inflation is imported when the costs of imported products increase and obviously countries like Italy, which are processing economies, are also great importers. God knows – in these economic phases – how import-related inflation (just think of oil products) is important for the European economies.
Furthermore, the EU has no strategic, military, geoeconomic and financial ability to change the oil and gas producers' treatment towards it. The same holds true for the other particularly important raw materials.
Let us now focus on constraint 4): compliance with the long-term Nominal Interest Rate, which must not exceed by over 2 percentage points the one of the best performing Member States in terms of price stability.
This is the Taylor Rule. As the U.S. Treasury Secretary Taylor said in 1993, it is an equation in which the interest rate is a dependent variable, while inflation and national income are regressors.
The rule is the following: ii = i*+α(πi- π*) +βγ+εi
The long-term inflationary target is π. It is the inflation rate that will prevail in the long term. Taylor here assumed that the long-term inflation rate should be 2%, as often happens in the United States, but the current interest rate is π that, only for the USA is a GDP deflator. If we were all just stockbrokers, it might also be true.
But there are costs that are included in the GDP and are neither predictable nor changeable from outside.
The actual nominal interest rate in the equation is γ. The rest is easily calculable.
Hence what does the Taylor Rule mean? When inflation starts reawakening the rates are expected to rise.
This is not at all implicit in the Maastricht rules, which also stem from these formulas.
As the Taylor Rule also shows, the increase in interest rates reflects a decrease in the supply of real monetary rates.
Not necessarily so because there may be many balances available, but with a less "attractive" monetary composition.
Again according to Taylor, investment is inversely correlated with interest rates, but this holds true for the economies that live on loans, not for many of our entrepreneurs who use – almost exclusively – "own resources" or bank loans to secure own resources.
Because of this pseudo-mathematical sequence of events, if investment decreases, the national income and also unemployment increase – which is here the only cure for inflation. But where did these guys study?
Another theory resulting from the Taylor Rule is that when the economic activity slows down, the medium-term interest rate must fall.
This has never happened, not even in the recent U.S. history. Just think of the 2006-2008 crisis.
It is also strange – and I say so from a purely analytical viewpoint – that the purpose of economic theory is only to reduce inflation, considering that – as already pointed out above – it does not depend solely on the excess of public spending, of the availability of low-cost capital (which, instead, is considered in the Taylor Rule) and the use of "moderate" budgets, according to the theories of the ignorant economists à la page.
Let us revert, however, to the procedure of the Italian Stability Law.
According to the procedure known as European Semester, the EU Member States must submit their budgets to the European Commission and the European Council by the end of April, which ipso facto limits our legislation, which also provides for a budgetary role until December 31 of the same current year.
For the time being, the penalties envisaged for some delays can be reduced, at most, to the single penalty equal to 0.2% of GDP for the year under consideration.
The principles of the State budget and the related Stability Law are again the traditional ones established by Law 468/1978, including specification, whereby all budget items must be defined analytically so as to avoid ambiguities in their intended use; truthfulness, whereby no revenue overestimations or expenditure underestimations are allowed and, finally, publicity, whereby the budget must be made known with the most suitable means.
There is also the issue arising from the adoption of Law No. 1/2012, which amended Article 81 of the Constitution, thus enshrining the principle of "balanced budget" in the Constitution.
It is a laughing matter: since the invention of the double-entry accounting by Frà Luca Pacioli – Leonardo da Vinci's friend and sometimes drinking companion – all budgets "break even" by definition.
Otherwise they are not budgets.
In fact, the term "break even" is never used in the rule. The more cryptic term "balanced budget" is used. We all know that, in physics, the balance can also be unstable.
As already noted above, it is an unintended funny rule.
What could we do if the Vesuvius erupted – an event which may be sure in the future, but unpredictable? Would we issue debt instruments, but for ten years at least, so as not to disturb or offend the E.U. accountants and their search for a liquid monetary base for an improbable and incorrectly calculated immediate fiscal liquidity to support debt instruments?
Hence are millions of homeless people to be left in the city of Naples, possibly in the Vomero and Pietanella neighbourhoods, or in the Sanseverino Chapel, waiting for these accountants to decide to study economics and political economy on the right handbooks?
This is a rule that should not only be deleted, but should also be mocked by some famous comedian, better if with some knowledge of political economy.
In addition to the "balanced budget" requirement, as from January 1, 2014, Law 243/2012 provided for the establishment of the "Parliamentary Budget Office", with the task of carrying out "analyses, verifications, checks and evaluations" – thus replacing the role of politicians who should be the sole ones responsible for distributing the resources available and the forecast ones among the most suitable budget items.
Moreover, in the summer of 2016, Legislative Decrees No. 90 and 93, as well as Law 164, were enacted, which amended Law 243 in relation to the Local Authorities' balanced budgets.
Another mistake, albeit a partial one: Local Authorities live on a complex mechanism – on which we need not to elaborate here – of remittances and transfers from the Central State and of sums partially withheld by these Authorities, which are then recalculated by the Central State, again in a too complex way that need not be explained here in great detail.
In this case, how can we repay the local administrations' colossal debt? Just think that the European Court has already condemned us for these matters. If the current legislation remains in force, there is no way out.
In short, the "European cure" on the State Budget has worsened its ambiguities. It has depoliticized the selection of budget items, thus often moving it away from voters' and citizens' real needs. It has not allowed a modern solution to the Local Authorities' financial crisis. It has also devised the funny mechanism of the "balanced budget", which literally means that there is no longer a provisional budget (hence how can the real items be calculated?). Finally, it forces us into a debt cycle that is both excessive and, at times, burdensome, but always uncontrollable.
Coronavirus: Now a two headed monster
Coronavirus, like a two headed monster killing people on one side the other side global economy;
The warrior leaderships of rich nations now creating a rain of trillions of dollars to drown one of the heads. Rich nation and their printing machines have just approved trillions of dollars, as this aggressive move will help each other and also less fortunate economies to safeguards global economic order as one global goal.

Most significant is the largest amount allocated to support Small Medium Businesses…
USA alone has allocated 350 billion dollars and many other countries doing similar initiatives, this largest ever, once in a lifetime boost to abandoned and struggling SME of the world may just open a bright new future to transform into pillar of superior performance and a pleasant surprise to all.
Coronavirus is still a global force to reckon while massive shortages may create havocs…uncertainty lingers, the stimulus packages will keep the morale and nations safer.  As rightly mentioned by President Trump, the depression and suicides rates are major concerns.
Today, nation by nation, no other local economic power base as strong as the small medium business economy of the land, and increasingly with technology the same sectors in the unfolding future stand like very powerful pillars; a random collection of many, many millions small medium businesses around the globe, like smart entities, globally savvy, technologically driven, block-chained, AI+AR+VR, entrepreneurial centered creating local grassroots prosperity.
Difficult questions: As most of these funding offered as easy loans;if SME wish no more additional loans or create additional debts to further risk their own future; but what if they rather get smart-help, global-age upskilling and re-skilling for their enterprises or global exportability guidance and customer connectivity expertise, how far will the loans concepts work? Like receiving full y subsidized payrolls or full funded digitization to improve market size. Fully funded programs, on special upskilling and skilling grants to make the fields of SME new upgrading and learning battlefields is another option. With loans only format where will they go out and shop what levels of solutions and how will they uplift on performance and exportability? They were already stuck before, now for fears of new debt, they may remain stuck again. Leadership must explore National Mobilization of Entrepreneurialism Protocols
Simultaneous synchronization of national SME base is the novel art and science of the National Mobilization of Entrepreneurialism Protocols. Not to be confused with some MBA curriculum or export promotion agency guidelines.  Nations without digital platforms on SME upskilling and reskilling beyond post Coronavirus world would look like nations without Internet in the nineties.
Two steps for Midsize Business Economy to advance on grassroots prosperity:

ONE: Identify 1000 or 1000,000 high potential small and midsize enterprises within a region or a nation, and create a national agenda to quadruple their performance on innovative excellence and exportability.
Deploy digitization of top national trade associations and chambers of commences to upgrade to world-class digital platforms so that their entire membership can skate nationally and globally showcasing their goods and services. This is a global age revolution based on entrepreneurial mobilization… study Pentiana Project

TWO: Upskilling, reskilling million small medium businesses and women entrepreneurs across nation:How do you place 10,000 or 1,000,000 SME owners on digital platforms to boost exports and innovative excellence? Why such ideas are not major funding dependent but mobilization hungry and execution starved? What special skills are required to uplift midsize business economy in 2020, how to transform? How did Alibaba generated USD$39 Billion within 24 hours on 11–11–2019, how to optimize? How Round-tables and Cabinet Level discussions are a good starting point?
Rest is easy…