Latvia: "Armed to the teeth"
Latvia has fallen into the trap. It all started with a sincere desire to increase the military capabilities of the state.
Thus, according to the Ministry of Defence, five years ago Latvia and the UK agreed on supply of 123 used Combat Vehicle Reconnaissance Tracked or CVR(T) for €48.1 million euros to Latvia.
In November 2018, it signed a deal for four UH-60M Black Hawk helicopters.
In addition, Latvia has purchased 47 M109 self-propelled artillery pieces from Austria and Stinger man-portable air-defense missile systems (MANPADs) from Denmark.
Latvia has also expressed interest in procuring a medium-range ground-based air-defense system (GBADS) and is investing $56 million annually through 2022 on military infrastructure, with two-thirds of this amount being spent to upgrade Ādaži military base, headquarters of the Canadian-led EFP battle group.
It could be seen that Latvia allocates great amount of money to increase its defence capabilities by buying used military vehicles, ammunition and equipment from its NATO and EU partners.
All this sounds impressive, but in practice all the equipment needs major repairs and modernization.
Latvian authorities should admit that huge part of such military equipment is worn-out.
Experts underline that even if equipment is bought only for training purposes not for the battle, it should serve even longer. But worn-out vehicles or helicopters will be "killed" by military in the training process faster than by the enemy in real battle.
Latvian authorities recognized that supplied British Combat Vehicle Reconnaissance Tracked were far from being new: they were produced in the mid-sixties of the last century. When Latvia launched this large-scale army mechanization project, the goal was set to engage the local industry as much as possible. Still, even today, most serious repairs of the armored vehicles are not conducted in Latvia. Latvia does not have spare parts as well. Repairs of the CVR(T) are still conducted in the UK instead of Latvia.
Nevertheless , then Latvian Defence Minister Raimonds Bergmanis insisted that this was an important step towards strengthening Latvia's self-defense capacity." New Defence Minister has just the same point of view on the issue.
But this means that Latvia, seeking to pursue a self-fulfilling policy in military sphere, becomes more and more dependent on foreign industrial capacity and simply on the political will of its partners.
"Armed to the teeth", as they say.
Contemporary World and the Era of Hybrid Warfare
From the start of time, mankind is involved in many wars and conflicts for different reasons. Not so far, in the 20th century World has witnessed two major Wars of Human History also known as the World Wars, where every country was fighting either directly or indirectly with its opponent to serve their self-interests. It is a matter of fact that only World War-I caused around 40 Million Civil and Military casualties around the globe out of which 20 Million deaths were reported and 21 Million wounded cases were reported.
Similarly, World War II caused the death of around 75 million people out of which 20 Million Military and 40 Million Civilian deaths were reported. Not only was that but there were also some 10-15 Million deaths that were caused by war-related disease and famine. But with the start of the 21st century, the new concept of hybrid warfare is introduced in the strategic community that not only covers the traditional means of warfare but also involves the non-traditional means such as proxies, exploitation of population, trade, and economy.
The point to understand is, traditional wars were based on only state-centric approaches, but the hybrid war is not only limited to the state-centric approach as it can also target the individuals of any country easily to serve its interests.
Considering the tools of Hybrid Warfare and Pakistan's internal security, the importance of drugs and Narcoterrorism cannot be ignored. Pakistan is sharing a border with Afghanistan that is well known for its opium production. Unfortunately, Afghanistan soil was used against Pakistan during recent years under the influence of India and it was reported that several drug trafficking and narcoterrorism activities were conducted by Indian sponsored groups. However, The Taliban Government has announced that they will no longer support the opium production on their land.
But this confirmation from the Taliban Government is not enough to maintain the internal security of Pakistan. Pakistan needs to protect its young generation from this narcoterrorism as the young generation of Pakistan is also one of the most important assets of the country and to whom the future of Pakistan belongs. No doubt, Pakistani Law enforcement agencies are playing their vital role to control drug trafficking but there are numerous weak points in the system that are affecting the whole infrastructure.
According to recent reports, almost every educational institution in Islamabad is a haven for drug dealers and drug suppliers where they are easily targeting the young minds of Pakistan. It's a matter of fact that authorities are not successfully getting hold of these drug dealers as easily as a young college-going student can easily find them. And in the end, these drugs and narcotics not only affect the mental and physical health of young students but also cost them financially, emotionally, and socially by lacking their confidence and competitiveness.
Authorities need to handle this security threat to the young minds of the nation by controlling the spread of drugs and narcotics in educational institutions. A drug test should be mandatory in educational institutes with strict compliance to be followed. Authorities should also need to engage youth in more extracurricular sports activities by encouraging them with rewards on the national level so that they may find the true reason to stay away from the company of drugs and narcotics. And on the least level, authorities with the contribution of Parents and Teachers, need to share the consequences of drugs on life and a healthy body as an awareness campaign on every platform so that we can make sure that we are protecting our young generation from the silent yet destructive tool of hybrid warfare in the contemporary world.
S-400 Ballistic Missile Defence System and South Asian Strategic Stability Dynamics
The actual use of nuclear weapons by the two south Asian nuclear rivals has been barred since overt nuclearization and the sense of mutual vulnerability is there. The mutual vulnerability entails that the two states has the power and capability to attack each other but due to the fear of terrible relation in response, they refrained from indulging in such activity, and the nuclear deterrence prevails, which becomes the reason for regional stability. India, however in its pursuit to attain regional hegemony and prestige, trying to remove this sense of mutual vulnerability by going for the aggressive military force postures and attainment of technology. India intends for a multi-layered defensive shield, and has indigenously developed a part of it, and has attained the technology form US, Russia, and Israel as well in order to complete its four –layered defensive shield, in its capital New Delhi and Mumbai. This pursuit of BMD system can create a false sense of security in the minds of Indian policy makers, and that could destabilize the region as they could go for any aggressive action against Pakistan, with the intention of defeating enemy at every level.
Besides the procurement of Israeli Iron Dome system, India has acquired Russain S-400 Triumf Air Defence System as well, in $5.43 billion deal between India and Russia, in 2016. The delivery of this system has recently been started. The S-400 system is developed by the Almaz Central Design of Russia and can primarily engage the cruise missiles, Unmanned Aerial Vehicles and aircrafts, at an altitude of 30km and 400km in the range.
The introduction of ballistic missile defence system in South Asia can make the already volatile region even more unstable, by increasing the chances of war in the region. The acquisition of such system will make India even more aggressive and could potentially lead to instability. India could potentially attack Pakistan's Political, economic and strategic sites, with a view that they can halt the attack in response to that, which is really absurd.
India is trying to destabilize the deterrence equation, and hence Pakistan has to take appropriate steps before hand in order to maintain the credibility of its deterrence. Pakistan, keeping in view the economic constraints has not indulged in the development of BMD System, but is looking for more viable options to maintain the strategic stability in the region.
Though BMD system has some vulnerability as well, as no system could give 100% protection, as it is effective against the UAVs, aircrafts and cruise missiles, and not against the ballistic missiles, hence, the credibility get undermined. Moreover, India will be only protecting a few cities under this umbrella, and not the whole of the country falls under this, which will spark outrage amongst the Indians as well. Furthermore, given the short flight time between the two countries, the debris can still fall on the Indian side, causing damage over there as well. Moreover, the efficacy of Multiple Independent Re-entry Vehicles (MIRVs) can't be undermined, as BMD can hit only one missile at a time, and the MIRVs or the launch of multiple missiles simultaneously, BMD wouldn't be able to intercept them all, which undermines the credibility of the BMD System.
The end of cold war gave rise to the regional hegemonic mindset, to which South Asia also became the victim. This approach has become the reason for regional chaos and instability. India continues to aspire its hegemonic behavior, continuously indulge Pakistan in conventional and unconventional arms race, the negative impact of BMD will also be driven in South Asia by compelling the vertical arms proliferation, which will further the instability in the already volatile region. Though, Ballistic Missile Defence System is a defensive technology, but India wants to exploit it offensively against Pakistan, by creating a false sense of security and going aggressively towards Pakistan, and to exploit the strategic, economic and political assets for bargain. Furthermore, BMD also undermines the core of regional stability which is the concept of deterrence. The exclusion of the phenomenon of nuclear deterrence will accentuate the arms readiness, and 'use it or lose it' strategy by the other state for its protection. Hence, it could prove to trigger nuclear war in the South Asian region.
Bangladesh-France Defence Cooperation in the New Era of Geopolitics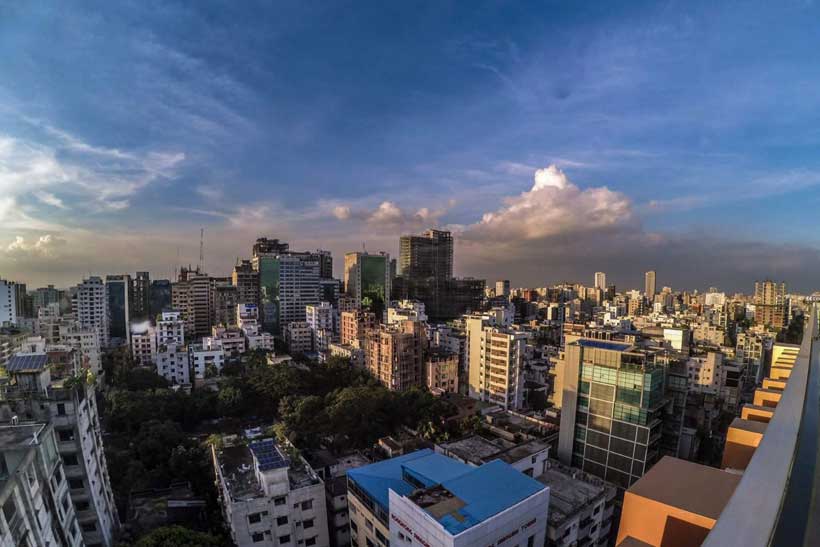 The journey of Bangladesh-France bilateral relations started from 14th February 1972 when France recognized Bangladesh as a sovereign state. On 17 March 1972, Bangladesh opened its resident Diplomatic Mission in Paris. France extended its valuable support of the government and people of the Republic of France during the War of Liberation in 1971. The people of France spontaneously came forward, under the leadership of the renowned French thinker and philosopher André Malraux, to mobilize international public opinion in support of the Liberation War in 1971. Since then, the relations have been going through a solid base of mutual cooperation involving high-level political visits and mutual understanding. Responding to the invitation of the President of the French Republic, Emmanuel Macron, the Prime Minister of Bangladesh, Sheikh Hasina has completed an official visit to France on 9-14 November 2021. The visit came when the bilateral relationship is ready to proceed to the next level given the issues and development of the engagement with progress in areas of the economy, trade as well as prospects of defence cooperation.
Notably, bilateral trade between Bangladesh and France is growing steadily. The two-way trade stands close to US$2 billion, France is now Bangladesh's 5th largest export destination. Readymade garments alone account for around 90% of Bangladeshi export earnings from France, and French exports to Bangladesh include spare parts for aircraft and vessels, naval ships. In South Asia, Bangladesh is the largest support receiver of AFD (Agency France Development). Moreover, the visit has been remarkable when the European countries namely Britain, Spain, Germany, Italy, Netherlands are flocking to strike defence cooperation and France is showing enthusiasm after the formation of AUKUS on the one hand, and Bangladesh is stepping forward to define its defence and security cooperation through technology transfer, development of indigenous capability of defence equipment. It has also been marked as a shift in the foreign policy approach of Bangladesh.
The Defence arragements
France and Bangladesh are now highlighting their shared will to develop and deepen all aspects of their partnership from economic to strategic security. The visit of PM Sheikh Hasina demonstrates how both the countries emphasise transforming the traditional relations into defence cooperation. Having accorded a warm reception at Elysee Palace on the first day of her five-day visit to France, PM Sheikh Hasina sat for a discussion with her counterpart French President Macron to further the current pace of relations. On the 9th November 2021, both the leaders signed a letter of intent (LoI) to mark the defence cooperation reaching in next level. The LoI includes a) capacity building, b) technology transfer, c) training facilities and d) providing defence equipment based on the needs expressed and each party's ability to respond to them. To that end, both countries agreed to strengthen dialogue and continue their cooperation which was launched during the visit.
Besides, Bangladesh Civil Aviation Authority has signed an agreement with France Civil Aviation Authority to strengthen the cooperation in knowledge sharing and training of employees. It thus will help organize different events including aviation safety which is mentionable progress in the field of civil aviation of Bangladesh. As Bangladesh is setting about developing aviation and aeronautical capacity building to advance indigenous defence and military equipment, the defence deal marking technology transfer, knowledge sharing as well as capacity building will be of great importance for Bangladesh. Moreover, it is also a remarkable achievement of Bangladesh foreign policy in striking such an ambitious and bold arrangement with France.
Significance of the defence cooperation
The recent defence and security arrangement between Bangladesh and France signifies profound importance in respect of political directions, geopolitical dynamism, geostrategic calculations and overall foreign policy moves. First, the defence deal denotes the rising political importance of Bangladesh in the global arena as the global power like France attaches priority to Bangladesh in South Asia and the Bay of Bengal region. Notably, the warm welcome to PM Sheikh Hasina in the Elysee Palace is a timely recognition of Bangladesh. Second, from the strategic point of view, the deal stipulates the growing geopolitical significance of Bangladesh amid shifting global power centre from Europe and North America to the Asia-Pacific region where Bangladesh is at the strategic juncture in the Bay of Bengal and Indian Ocean Region (IOR). The momentum has been created for at least two reasons: a) the confluence of strategic interest of both the countries in maritime security and blue economy put forward by a regional and global shift in strategic dimensions i.e. IPS, FOIP, BRI, QUAD, b) rising economies and flourishing markets in the region is turning the global market and supply chain into lucrative one to be flocked in here.
Third, it is notable that the major powers of the world including Europe, in recent years, have been placing increasing importance on defence cooperation with Bangladesh. Germany, France, Italy and Spain have become increasingly interested in supplying high-tech weapons when Bangladesh has taken the initiative of modernizing its armed forces through the "Forces Goal-2030" programme. During PM visit to France, Eric Trapier, CEO of Dassault discussed selling Dassault Rafale, a French twin-engine multi-role fighter aircraft. Fourth, as a common objective of both countries is to maintain regional peace and stability in the Asia-Pacific region, the defence cooperation thus will further the shared principles. Both countries, therefore, jointly expressed their support for counter-terrorism efforts and agreed to enhance their cooperation. It has been more salient while the South-Asian security architecture is going through a constant change after the fall of Kabul to the Taliban. The deal is addressed to counter the growing re-rise of the threats of terrorism as Bangladesh has a policy priority to halt the spread of terrorism. Finally, the defence cooperation along with the LoI will have positive impacts on further development in non-traditional security like climate change, trafficking and socio-economic and trade engagement.
Facing a new era of geopolitics
First, going beyond the traditional approach of economic diplomacy, this visit has heralded a new era in foreign policy initiating the foundation of defence diplomacy. It has proved that Bangladesh is rising as a middle power with its growing importance in the global order. Second, as economic development extends the policy orientation to defence engagement, therefore, the visit has demonstrated that Bangladesh is being regarded as the rising economic power that is paving the way for consolidating its position in the world. Third, global recognition of Bangladesh as a crucial partner in the regional and international arena has also been proved by it. Now, the world is recognizing Bangladesh as an important player in world politics and diplomacy that once was being ridiculed by some Western powers. Fourth, it has facilitated the bilateral engagement with powerful states and obviously, it will extend interests when the joint statement stipulates the very nature and development of bilateral relations in areas of the economy, business, and investment.
Fifth, significantly, Bangladesh can exploit the opportunity created by the visit to further its policy in repatriating the Rohingya while France has extended its warm hands to Bangladesh. In thejoint statement both the states have underscored the need to ensure funding for the UN's Joint Response Plan for the Rohingya in Bangladesh and to enable their voluntary, safe, dignified and sustainable return to Myanmar as soon as possible. Notably, in response to Bangladesh's request to take the Rohingya issue to the UN Security Council, France has assured that they would remain beside Bangladesh until the permanent solution of the Rohingya crisis. This is an outstanding achievement of Bangladesh's diplomatic manoeuvre.
Sixth, Bangladesh as a geopolitically and geo-strategically important country in the Indo-Pacific region, has once again been proved, when the world powers are trying to court Bangladesh in engaging in the Indo-pacific alliance and France is not an exception to it. Seventh, the defence deal proves that Bangladesh has changed its policy directives by diversifying its exporters of defence equipment that signifies the policy autonomy of Bangladesh. Arguably, when there are larger options, there are bigger opportunities, signifying the policy efficiency and sustainability in strategic manoeuvres. Finally, amid the great power competition in the region and especially in the Bay of Bengal, the defence cooperation will provide profound significance to Bangladesh as it signals something to other powers in the region. In brief, the visit will facilitate cooperation in other areas like economy, trade, climate change, combating terrorism when Bangladesh foreign policy priorities are giving emphasis on economic diplomacy, climate cooperation, sustainable development, maritime security, attracting FDI as well as boosting trade.
In conclusion, it can be argued that this visit will turn a new chapter in further strengthening the bilateral partnership between France and Bangladesh. As more European powers – France, Germany, Italy and Spain want the benefits of economic diplomacy using the channels of defence as well as economic sectors, Bangladesh can grab the opportunity. This visit will open up new paths for increasing cooperation and taking Bangladesh-France relations to a new height. That will be beneficial for both countries, considering the changing geopolitical realities and economic objectives. PM Sheikh Hasina's visit has reflected the changing dynamics of Bangladesh foreign policy priority by putting a timely emphasis on defence cooperation considering strategic, geopolitical as well as economic points of views.