The power of Siberia heralds a landmark of Sino-Russian solidarity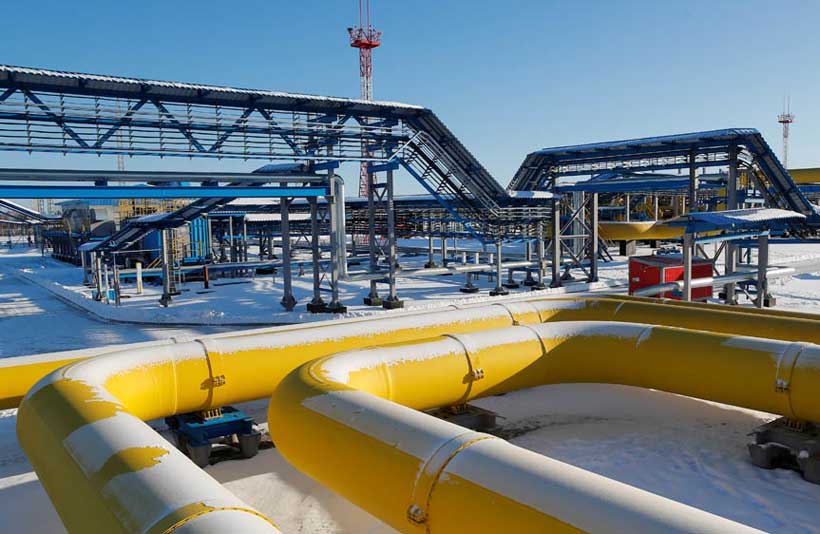 Authors: Zhou Dongchen, Paul Wang
Although China and Russia have forged their comprehensive strategic partnership into a de facto alliance, it is still opined in the way of the classical geopolitics. Yet, the east-route of China-Russia natural gas pipeline which was functional on December 2 has since heralded a new milestone for deepened energy cooperation between these two Eurasian powers. The project that was signed in 2014 is a $400-billion-gas supply deal and connects the world's largest natural gas supplier (with a total length of more than 5,000 km) and the most potential natural gas consumer market. It is the first natural gas pipeline between the two largest land powers and also the first cross-border gas pipeline in northeast China. Technically, it is scheduled to be completed in 2020.
China and Russia lost no time to show a video call on December 2 as the two heads of state, Xi and Putin, jointly witnessed the launching ceremony of the China-Russia east-route natural gas pipeline. Xi, in Beijing, hailed the pipeline as a historical deal of Sino-Russian energy cooperation, describing it as a win-win model of major powers' cooperation. He requested to ensure the project's safety and reliability and to promote sustainable economic and social development in areas along the pipeline.
For sure, the east-route pipeline is not only supplied to China, but also to the local consumers in Russia's Far East. In addition, the project would insure to create jobs and bring in more income for the local Russians, further promoting the economic and social development in Russia. Due to this, Putin announced in Russia's Sochi that inauguration of the pipeline is of historic significance and would bring bilateral strategic relations to new heights. The event itself can be perceived both historical and unprecedented because a gas route has been laid underneath the Eurasian gas space and now moving towards one of the largest geoeconomic formation. With this large-scale gas project started, a new page will open in bilateral relations not only in the energy field, but also there is enormous potential for further development and further cooperation.
Considering that China and Russia have cooperated in the fields of natural and oil projects for decades, why is the east-route gas so significant to the two sides? Firstly, trans-regional gas projects, also named as "the power of Siberia", contribute to the development of many regions inside and outside the two countries, which subsequently invest additional infrastructure and jobs. As the Chinese market is constantly growing, and in recent years has been growing at double-digit rates, Beijing's energy needs will continue to grow steadily. Secondly, while coal remains the main source of energy for Chinese economic leap, a further industrialization has led to increasing environmental backlash. Be aware of the plights of its dependence on coal, China has been driven by the urgent needs over the past years to have accelerated the use of clean and newer environmental standards backed up by its significant efforts to combat air pollution.
Accordingly, it is not surprising that China is keen in reducing greenhouse gas emissions, striving to reduce the use of coal and strictly implementing the Paris Accords, including China's large investments in its research and development of large-scale energy efficiency programs, and the rapid expansion of the renewable energy and nuclear energy. Therefore, the Power of Siberia gas pipeline will not only contribute to the socio-economic development of the Far East, but will also create conditions for gas supply and gasification of the Russian regions alongside the development of modern gas processing and gas-chemical industries in Russia. Taking into account a new map of the global energy being formed, it is fair to argue that "the Power of Siberia" would create a new pipeline system in the existing transport corridor of the Siberia to the borders of the two countries and beyond in the near future.
For sure, it is necessary to note the great merit of two leaders-Chinese President Xi and his Russian counterpart Putin-under the strategic leadership of which Sino-Russian relations of comprehensive coordination and strategic partnership have entered a new era. This is characterized by the highest degree of mutual trust, the highest level of interaction and strategic consensus. In light of the current international reality where the United States has always used the difference in political systems and diplomatic philosophies to attack China Russia with a cold war mentality, the further strengthening of the strategic interaction between the two Eurasian powers is of special meaning and the impacts on the world peace and security. In the coming decades, China will have become more dependent on the energy supply and agricultural goods from its northern neighbor, while the Russian economy in the vast Siberia will be benefited by substantial FDI from China. As a result, the current discrepancy between their strong political relations and the weak economic ties would be effectively addressed, together, the pipeline could revive the prosperity of China's north eastern provinces and Russia's Far East region, not mention of their current close cooperation in the field of information technology and space.
Accordingly, it is fair to argue that China and Russia play a decisive role in the formation of a new energy map of the world with the launch of the "Power of Siberia" gas pipeline project which sets a prime example of how the natural gas market is becoming mobile and cross-regional. Equally in terms of the public disagreements between the United States and its European allies, China and Russia working together have moved towards more dynamic relations with European countries and in particular the member states of the European Economic Union—Russia, Belarus, Kazakhstan, Tajikistan and Armenia.
All in all, China and Russia's foreign policy, based on the pursuit of mutual benefits, made the materialization of the power of Siberia energy deal feasible. The operationalization of the pipeline is proof that the world doesn't just function based on a single system. Americans may believe that theirs functions well, but that doesn't disqualify other systems from being equally functional or even superior in making and executing long-term goals that benefit the public. The pipeline has elevated the bilateral relationship to a new level and will benefit future generations. With this new linkage, Sino-Russian common interests would be more intertwined, making mutual benefits even more important going forward. This is what President Xi has reiterated as our true relationship will be of utmost importance in China's foreign policy.
Jordan, Israel, and Palestine in Quest of Solving the Energy Conundrum
Gas discoveries in the Eastern Mediterranean can help deliver dividends of peace to Jordan, Israel, and Egypt. New energy supply options can strengthen Jordan's energy security and emergence as a leading transit hub of natural gas from the Eastern Mediterranean. In fact, the transformation of the port of Aqaba into a second regional energy hub would enable Jordan to re-export Israeli and Egyptian gas to Arab and Asian markets.
The possibility of the kingdom to turn into a regional energy distribution centre can bevalid through the direction of Israeli and Egyptian natural gas to Egyptian liquefaction plants and onwards to Jordan, where it could be piped via the Arab Gas Pipeline to Syria, Lebanon, and countries to the East. The creation of an energy hub in Jordan will not only help diversify the region's energy suppliers and routes. Equal important, it is conducive to Jordan's energy diversification efforts whose main pillars lie in the import of gas from Israel and Egypt; construction of a dual oil and gas pipeline from Iraq; and a shift towards renewables. In a systematic effort to reduce dependence on oil imports, the kingdom swiftly proceeds with exploration of its domestic fields like the Risha gas field that makes up almost 5% of the national gas consumption. Notably, the state-owned National Petroleum Company discovered in late 2020 promising new quantities in the Risha gas field that lies along Jordan's eastern border with Iraq.
In addition, gas discoveries in the Eastern Mediterranean can be leveraged to create interdependencies between Israel, Jordan, and Palestine with the use of gas and solar for the generation of energy, which, in turn, can power desalination plants to generate shared drinking water. Eco-Peace Middle East, an organization that brings together environmentalists from Jordan, Israel and Palestine pursues the Water-Energy Nexus Project that examines the technical and economic feasibility of turning Israeli, Palestinian, and potentially Lebanese gas in the short-term, and Jordan's solar energy in the long-term into desalinated water providing viable solutions to water scarcity in the region. Concurrently, Jordan supplies electricity to the Palestinians as means to enhancing grid connectivity with neighbours and promoting regional stability.
In neighbouring Israel, gas largely replaced diesel and coal-fired electricity generation feeding about 85% of Israeli domestic energy demand. It is estimated that by 2025 all new power plants in Israel will use renewable energy resources for electricity generation. Still, gas will be used to produce methane, ethanol and hydrogen, the fuel of the future that supports transition to clean energy. The coronavirus pandemic inflicted challenges and opportunities upon the gas market in Israel. A prime opportunity is the entry of American energy major Chevron into the Israeli gas sector with the acquisition of American Noble Energy with a deal valued $13 billion that includes Noble's$8 billion in debt.
The participation of Chevron in Israeli gas fields strengthens its investment portfolio in the Eastern Mediterranean and fortifies the position of Israel as a reliable gas producer in the Arab world. This is reinforced by the fact that the American energy major participates in the exploration of energy assets in Iraqi Kurdistan, the UAE, and the neutral zone between Saudi Arabia and Kuwait. Israel's normalization agreement with the UAE makes Chevron's acquisition of Noble Energy less controversial and advances Israel's geostrategic interests and energy export outreach to markets in Asia via Gulf countries.
The reduction by 50% in Egyptian purchase of gas from Israel is a major challenge caused by the pandemic. Notably, a clause in the Israel-Egypt gas contract allows up to 50% decrease of Egyptian purchase of gas from Israel if Brent Crude prices fall below $50 per barrel. At another level, it seems that Israel should make use of Egypt's excess liquefaction capacity in the Damietta and Idku plants rather than build an Israeli liquefaction plant at Eilat so that liquefied Israeli gas is shipped through the Arab Gas Pipeline to third markets.
When it comes to the West Bank and Gaza, energy challenges remain high. Palestine has the lowest GDP in the region, but it experiences rapid economic growth, leading to an annual average 3% increase of electricity demand. Around 90% of the total electricity consumption in the Palestinian territories is provided by Israel and the remaining 10% is provided by Jordan and Egypt as well as rooftop solar panels primarily in the West Bank. Palestinian cities can be described as energy islands with limited integration into the national grid due to lack of high-voltage transmission lines that would connect north and south West Bank. Because of this reality, the Palestinian Authority should engage the private sector in energy infrastructure projects like construction of high-voltage transmission and distribution lines that will connect north and south of the West Bank. The private sector can partly finance infrastructure costs in a Public Private Partnership scheme and guarantee smooth project execution.
Fiscal challenges however outweigh infrastructure challenges with most representative the inability of the Palestinian Authority to collect electricity bill payments from customers. The situation forced the Palestinian Authority to introduce subsidies and outstanding payments are owed by Palestinian distribution companies to the Israeli Electricity Corporation which is the largest supplier of electricity. As consequence 6% of the Palestinian budget is dedicated to paying electricity debts and when this does not happen, the amount is deducted from the taxes Israel collects for the Palestinian Authority.
The best option for Palestine to meet electricity demand is the construction of a solar power plant with 300 MW capacity in Area C of the West Bank and another solar power plant with 200 MW capacity across the Gaza-Israel border. In addition, the development of the Gaza marine gas field would funnel gas in the West Bank and Gaza and convert the Gaza power plant to burn gas instead of heavy fuel. The recent signing of a Memorandum of Understanding between the Palestinian Investment Fund, the Egyptian Natural Gas Holding Company (EGAS) and Consolidated Contractors Company (CCC) for the development of the Gaza marine field, the construction of all necessary infrastructure, and the transportation of Palestinian gas to Egypt is a major development. Coordination with Israel can unlock the development of the Palestinian field and pave the way for the resolution of the energy crisis in Gaza and also supply gas to a new power plant in Jenin.
Overall, the creation of an integrating energy economy between Israel, Jordan, Egypt, and Palestine can anchor lasting and mutually beneficial economic interdependencies and deliver dividends of peace. All it takes is efficient leadership that recognizes the high potentials.
The EV Effect: Markets are Betting on the Energy Transition
The International Renewable Energy Agency (IRENA) has calculated that USD 2 trillion in annual investment will be required to achieve the goals of the Paris Agreement in the coming three years.
Electromobility has a major role to play in this regard – IRENA's transformation pathway estimates that 350 million electric vehicles (EVs) will be needed by 2030, kickstarting developments in the industry and influencing share values as manufacturers, suppliers and investors move to capitalise on the energy transition.
Today, around eight million EVs account for a mere 1% of all vehicles on the world's roads, but 3.1 million were sold in 2020, representing a 4% market share. While the penetration of EVs in the heavy duty (3.5+ tons) vehicles category is much lower, electric trucks are expected to become more mainstream as manufacturers begin to offer new models to meet increasing demand.
The pace of development in the industry has increased the value of stocks in companies such as Tesla, Nio and BYD, who were among the highest performers in the sector in 2020. Tesla produced half a million cars last year, was valued at USD 670 billion, and produced a price-to-earnings ratio that vastly outstripped the industry average, despite Volkswagen and Renault both selling significantly more electric vehicles (EV) than Tesla in Europe in the last months of 2020.
Nevertheless, it is unlikely this gap will remain as volumes continue to grow, and with EV growth will come increased demand for batteries. The recent success of EV sales has largely been driven by the falling cost of battery packs – which reached 137 USD/kWh in 2020. The sale of more than 35 million vehicles per year will require a ten-fold increase in battery manufacturing capacity from today's levels, leading to increased shares in battery manufacturers like Samsung SDI and CATL in the past year.
This rising demand has also boosted mining stocks, as about 80 kg of copper is required for a single EV battery. As the energy transition gathers pace, the need for copper will extend beyond electric cars to encompass electric grids and other motors. Copper prices have therefore risen by 30% in recent months to USD 7 800 per tonne, pushing up the share prices of miners such as Freeport-McRoran significantly.
Finally, around 35 million public charging stations will be needed by 2030, as well as ten times more private charging stations, which require an investment in the range of USD 1.2 – 2.4 trillion. This has increased the value of charging companies such as Fastnet and Switchback significantly in recent months.
Skyrocketing stock prices – ahead of actual deployment – testify to market confidence in the energy transition; however, investment opportunities remain scarce. Market expectations are that financing will follow as soon as skills and investment barriers fall. Nevertheless, these must be addressed without delay to attract and accelerate the investment required to deliver on the significant promise of the energy transition.
Lebanon and Syria: A Complicated Relationship between Energy and Geopolitics
Syria continues to offer the ground where Russia and the United States compete over control of oil and gas fields and the transportation routes that bring energy to consumers. Russia seeks to expand its energy footprint in Syria to build influence over rebel-controlled areas in Northeast Syria that are backed by the American military and over neighbouring Lebanon through Syria's Mediterranean coast.
The Syrian government's decision to sign exploration and production contracts with Russian energy companies Mercury LLC and Velada LLC for three blocks in different parts of Syria ensures delivery on Russian objectives. The contracts for oil and gas exploration include a gas field north of Damascus, and oilfields in west of Deir Ez-zor and near the oil-producing town of Rasafa in Northeast Syria. Russian energy companies have also reportedly taken over contracts for hydrocarbon exploration in three blocks off Syria's Mediterranean coast, while a Russian ship conducted geophysical mapping across Syrian and Lebanese territorial waters for gas exploration. The presence of Russian energy companies Mercury LLC and Novatek, both with direct ties to Kremlin, in Syrian and Lebanese maritime blocks signal a long-term involvement of Russia in the East Mediterranean's energy geopolitics.
New sanctions on Syria under the Caesar Act that took effect in June 2020 are an American tool to counter Russian companies from doing business in the Syrian petroleum and military sectors and in rehabilitating Syria's energy infrastructure. The presence of small sized American Delta Crescent Energy company in northeast Syria solidifies American energy interests in the region and cements U.S. alliance with the Syrian Democratic Forces. The fact that the U.S. Department of Treasury extended a waiver to Delta Crescent Energy to allow development of oil and gas fields and to revamp the energy infrastructure in northeast Syria shows American commitment to maintain a long-term presence in Syria.
In fact, Delta Crescent Energy plans to build a refinery in northeast Syria at a cost of 150 million dollars. The aim is to reduce the northeast's dependence from the Assad government where currently there is no refining capacity and as consequence, all extracted oil from the American-backed Syrian Democratic Forces is sold to the Assad government and is bought again after it is refined. Delta Crescent Energy signed a contract with the Syrian Democratic Forces that foresees not only exploration and development of energy resources but also construction of transportation infrastructure so that energy products reach the international market either through Turkey or the Kurdistan region of Iraq.
In this complex context, it seems that it would be of great value if revenues from oil and gas trade are directed to alleviate the humanitarian burden in Syria and to restore basic infrastructure.
In neighbouring Lebanon, the surge in coronavirus cases in Lebanon and global low oil prices prompted the government to postpone the second international licensing round for the third time to the end of 2021. This development along with the failure to identify commercially viable gas in block 4 impedes Lebanon from proceeding with long-anticipated projects like Liquefied Natural Gas (LNG) terminals and Floating Storage and Regasification Units (FSRU). In addition, the lack of bidders or potential financiers puts on hold the construction of power plants that will convert gas into electricity for domestic consumption.
The development of Lebanon's hydrocarbon reserves faces internal and external challenges ranging from lack of institutional mechanisms to enhance transparency and accountability to geopolitical complexities that hinder overall exploitation in block 9 that is located on the disputed Lebanon-Israel maritime border. Poor drilling results in block 4 that lies in the Lebanese Exclusive Economic Zone (EEZ) has surfaced the absence of transparency that favoured the diffuse of conspiracy theories. One such conspiracy held that the block's consortium found gas but was forced to falsify its report for political reasons. In fact, conspiracies have come to counterbalance perpetual failure of the existing political system to address deep-seated economic problems that plague Lebanon.
Lebanon's gas hopes are built on exploration of block 9 that is partly disputed by Israel. Lebanon has been sceptical about Israel's initiation of oil and gas exploration activities in a maritime area close to disputed Block 9 and within block 72, previously known as Alon D, that lies in the northern part of Israel's EEZ. Interestingly, Israel has released a map, in light of the upcoming 4th international offshore licensing round, that does not extend the northern limit of block 72 into the Lebanon-Israel disputed maritime area. This can be viewed as a token of de-escalating bilateral tensions while leaving room for third party mediation.
American mediation to settle the Lebanon-Israel maritime 854 km dispute resumed in October 2020 at a base of UNIFIL, the UN peacekeeping force. Discussions have been conducted upon a map that was registered with the UN in 2011 with Lebanon raising demands for an extra sea area of 1,430 sq. km further south extending partly to Israel's Karish gas field that is owned by Greek medium-sized company Energean Oil & Gas. On the other side, Israel demanded the maritime border to be moved further north in compliance with its traditional position that it is entitled to potential gas findings in Block 9.
For the resolution of the maritime dispute that could unleash Israel's and Lebanon's energy potential, various proposals have been put in place. The most representative is the 2019 proposal of David Satterfield, former US deputy assistant secretary of state, that centred on the establishment of a mutual trust fund under UN supervision so that profits are allocated to Lebanon and Israel in accordance with an agreement over gas fields' distribution and profit-sharing percentages. Another proposal that surfaced recently revolves around a likely constructive role of the UAE in the resolution of the Lebanon-Israel maritime dispute through the taking over of a development and operational stake in northern Israeli blocks and in Lebanese southern blocks. Overall, likely unitization agreements can ensure joint development and production of the reservoirs across the disputed maritime border maximizing the economic recovery of gas from licenses of the contract areas.
Evidently, Syria and Lebanon must explore opportunities in terms of financing, revenue sharing and political relations with third countries. Despite challenges both countries have an interest in ensuring that they are not excluded or left behind from regional energy cooperation. In this respect, time is of paramount importance.