India's De-Humanizing Path to Global Catastrophe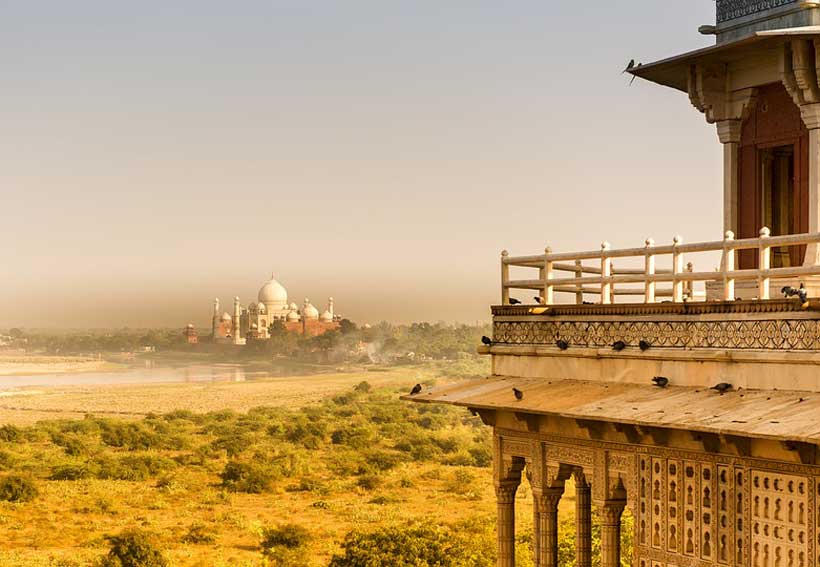 For a country that has since its inception prided itself as the world's largest democracy, India has seen its very identity being bastardized by the ruling Bhartiya Janata Party for well over a decade now. With its divisive and religious inspired brand of politics, the BJP's populism is based primarily on exploiting some of India's most deep seeded fault-lines in what has been repeatedly ascribed by many as nothing short of pure and simple fascism. Not only does this go against what India's founding fathers such as Jawaharlal Nehru and Mahatma Gandhi had envisioned for a united India, it also goes against the very principles of an inclusive more secular democracy in which India's minorities were afforded equal protection under its own constitution.
It is extremely distressing to see how lynch mobs, cow vigilantes and their enthusiastic apologists, some of whom hold the highest offices in the Indian state, have come to dominate mainstream socio-political discourse within the country. The rampant fanaticism that is being witnessed under the garb of preserving the age-old customs and traditions of India's Hindu majority, has led to a near unprecedented level of hate being directed at India's religious minorities. These include Christian, Sikh and especially Muslim and Dalit communities all of whom combined comprise of nearly 20% of India's population of 1.37 billion people.
What's more troubling is the fact that such hate is being directed in an almost systemic and carefully concerted manner at the state level. This has been evident throughout the BJP's divisive and exclusivist politics that has been clearly manifest in its policies. For instance, the ruling government's partisanship in the Ayodhya Dispute, its near overt support for the many cow vigilante groups that have sprung up, and its attempts at re-writing science and history being taught in Indian schools all represent a newfound zeal for culturally re-appropriating India's national identity as a predominantly Hindu one. Not to mention, the sizeable amount of funds and resources the Indian state has devoted to its revisionist and fundamentalist agenda. This for instance is evident in the $400 million annual budget set aside for its cultural ministry which its leaders have charged with enforcing its vision. A vision that is based on nothing more than religious inspired hegemony, that harks back to the glorious near mythic past of Hindu civilization. In addition, the government has also directed crucial staff and resources towards its religiously driven policies as apparent in its decision to assign State Police with 'cow protection' responsibilities. While the protection of animals may be justified along the lines of human decency, even when stripped off its more religious connotations; the fact that the same police and civil bureaucracy are forced to look the other way when innocent minorities are beaten, burnt and slaughtered by enraged mobs represents an appalling state of affairs.
The way such rampant abuse of power and privilege has come to define Indian society is extremely ironic when considering the vast body of work that has been done by Indian academics and policymakers in an attempt at better understanding and addressing such socio-political divisions. The likes of Shashi Tharoor and Arundhati Roy for instance have long written of the dangers of letting hardline zealots run rampant with official state affairs. In fact, the entire field of post-colonial studies owes a great deal to the likes of Homi Bhabha and Gayatri Spivak for their exposition and detailed explanation of concepts such as the 'subaltern'. Rooted in the politics of otherness, these concepts are derived primarily from the historic and cultural subjugation of some of the most oppressed cultures and peoples. These have historically included some of India's most vulnerable communities such as Dalits, whose historical and institutionalized marginalization as the voiceless subaltern has been enshrined in the very belief system that has now come to dominate Indian politics.
While the Indian state had in the past recognized and championed the secular foundations of the Indian Union as the basis for awarding equal rights to all its citizens, the present government is unabashedly dismantling those very foundations. Considering how vehemently mainstream socio-political discourse within India is geared towards simply dehumanizing the country's minorities through a perversion of its own ancient belief system, it is an absolute shame to see the ruling government use some of the most archaic aspects of its history to justify its own legitimacy and controversial vision of an ultranationalist society. A vision that already runs dangerous parallels with the many fascist and totalitarian regimes of the past. Hitler's Final Solution, Mussolini's justification of a glorious hereditary past, or the Khmer Rouge's purges along even the most basic socio-political and racial lines, all offer horrifying reminders to how the politics of hate and division can lead to some of the worst excesses of humanity upon one another, even in our modern world.
Considering how the same Indian government after consolidating such power within its borders is looking to project the same outwards; one wonders why the world watches in silence as its second most populous country with the second largest military embarks upon a direction that once saw the entire world embroiled in the throes of an unprecedented global war. Even with the benefit of such hindsight, should such a history really be allowed to rhyme let alone repeat itself?
Bangladesh's Fantasy of a Developing Country Status in Perplexity
Shaikh Hasina, the premier of Bangladesh, has long been accused of sacrificing her country's interests and selling out to India by her political critics. This narrative intensified when the videos of Abrar Farhad, a student at the elite Bangladesh University of Engineering and Technology, went viral which showed how Farhad was tortured and finally killed by student wing of the ruling party after he wrote a Facebook post questioning the deals with India in October 2019.
Though most Bangladeshis love the Bollywood and like to travel to India for different purposes but somehow an anti-India sentiments run deep within a sizeable portion of the country's population. And Farhad's death, which triggered countrywide protests by students, academics and ordinary people alike, has intensified these sentiments and fuelled questions about Hasina's alliance with India.
The matter has gotten worse for Hasina now after Citizenship Amendment Act (CAA) has been espoused by India. There is considerable discord across the country over whether Hasina got well along CAA. The political leadership is now concerned that India may push Muslim immigrants deemed illegal under CAA across the border inside Bangladesh. The Bangladesh government had been worried of such nuisance since the National Register of Citizens (NRC) exercise was carried out in Assam (India).
At that time also, the Bangladeshi government made a demand to its Indian counterpart to give surety that NRC will not in any away push Muslim migrants into Bangladesh. At that moment, India had given a verbal assurance. However, it had refused to give it in writing, stating that the exercise was carried out as per directions of the Supreme Court. The Indian side referred to NRC exercise in Assam as an 'internal' matter saying the government was not in a position to give a formal assurance of anything. Just a day after, the Border Security Force pushed back at least 32 'Bangladeshis' into no man's land in Jessore, which the Karnataka police had nabbed a month earlier.
It was just 4 years back when on 6 June 2015, Bangladesh and India agreed for the historic swapping of enclaves between the two nations. Prime Minister Modi ratified the agreement during his visit to the Bangladesh capital Dhaka. In the presence of Modi and Bangladeshi Prime Minister, the foreign secretaries of the two countries signed the instruments of the exchange of enclaves and land parcels in adverse possession thus resolving the decades old border issues. The enclaves were exchanged at midnight on 31 July 2015 and the boundary demarcation was completed by 30 June 2016 by Survey Departments of the respective countries.
At the end of the exercise it was concluded that around14,215 people (mostly Muslims) living in 51 Bangladeshi enclaves in India will become Indians. Similarly, some 37,334 people living in 111 Indian enclaves in Bangladesh will become citizens of that nation. Now some really intriguing questions arise after the CAA. India has already given a good share of people (37,334 to be exact) to Bangladesh already in the swap. Now after CAA what will be the fate of Muslims who were handed over to India as new entrants among those 14,215 people?
In India people fear that CAA will be used in conjunction with the NRC to deem minorities as "illegal immigrants". Especially after many top BJP leaders including Home Minister Amit Shah have proposed that the NRC should be implemented across India after a successful pilot test in Assam where over 1.9 million applicants failed to make it to the NRC list. The NRC very clearly states that people, to remain an Indian citizen, have to produce a documentary proof that their ancestors were residing in India before March 24, 1971 – like the 1951 NRC or electoral rolls up to March 24, 1971.The next step is to produce documents for oneself to establish relationship with those ancestors. That is a tough ask in a country with a poor documentation culture and millions of people with meagre financial resources. And finally the left outs from the final NRC list will approach the Foreigners' Tribunals and deemed as illegal immigrants will be ultimately send to detention camps or beyond borders as a worst case.
These enclave dwellers who have been living there for decades had one recurrent problem: that of identity crisis, says Brendan R. Whyte in his detail research on the issue. This, in turn, resulted in illegal migration where the dearth of reliable data has added to the complexity of the problem. Since Census had never been conducted in these areas, many created fake voter ID cards to work and more to avoid becoming an illegal migrant. This is all a result of India's inability to implement the 1958 treaty with Pakistan, and her continued delay in ratifying a subsequent 1974 treaty with Bangladesh to exchange the enclaves. That the delays have been rooted in Indian internal politics is demonstrated, he underscores.
Bygone the past, now this non-seriousness on India's part has become a matter of serious concern for Bangladesh. With a population of above 163 million (eighth most populous country in the world), Bangladesh has achieved 7-8 percent growth in recent times(partly thanks to the dire business conditions in Pakistan which led industrialist to shift their industries to Bangladesh). If remained as envisioned, the country will also be eligible to graduate to developing status from its Least Developed Country status by 2024.Amidst all going well, a wave of people being sent back from across the border after being branded 'illegal migrants' would be Bangladesh's worst nightmare. That too at a time when Wajid has been compelled to accept nearly one million Rohingyas migrants from Myanmar.
Though Bangladesh has played well so far by balancing Chinese interests to progress and India's desire to protect its influence in the region, but the uncertainty about the consequence of NRC in Assam and fear of forced pushbacks of Muslim migrants can harm Indo-Bangla ties irreparably. In Bangladesh concerns have grown in recent times over Modi policies in India, many of which not only destabilized the internal situation at home but also give rise to multiple regional problems and crisis. Sheikh Hasina is all troubled by having to explain to her people what Bangladesh has gained for the long list of favours she has done to India. Adding salt to the injuries is the no Indian support on the Rohingya issue, persecution of Muslims in India and oppression of Kashmiri Muslims at the hands of Hindu Rulers.
Regardless of its phenomenal economic growth, Bangladesh is an overpopulated country. If India continues with its NRC-linked pushbacks, it would certainly affect New Delhi's bilateral ties with Dhaka. Worse, it would weaken Wajid's grip on the country while spurring anti-India sentiments among its residents. Also, China might take advantage of this situation. And this certainly does not augur well for India at a time when other neighbours are already turning towards China.
Genocide: Terrible and scaring ground situation in India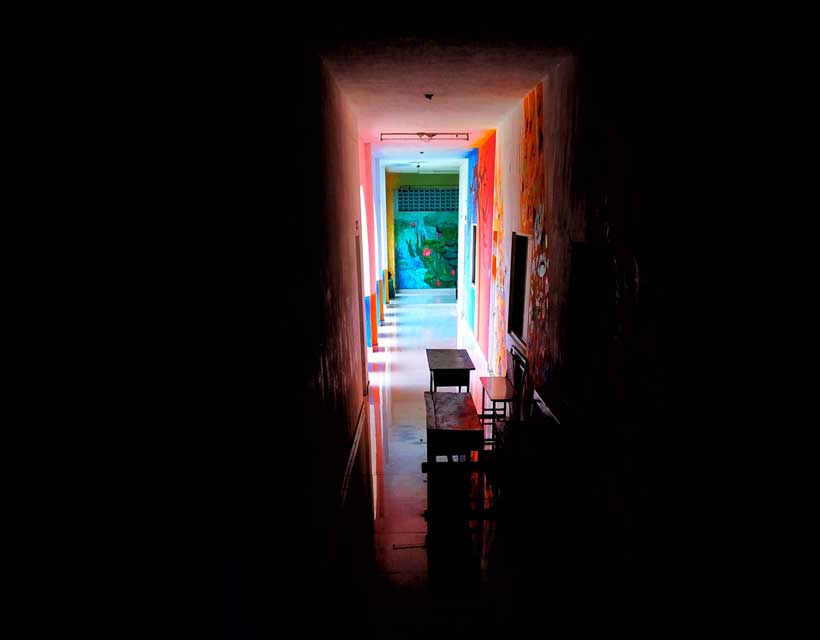 Washington D.C: Dr. Gregory Stanton, founder of Genocide Watch, addressed an audience of Congressional and Government officials at a briefing titled Ground Reports on Kashmir and NRC in Washington D.C on December 12 where he said, "Preparation for a genocide is definitely under way in India." He said that persecution of Muslims in Assam and Kashmir "is the stage just before genocide, "adding, "The next stage is extermination — that's what we call a genocide.""
The ground reports from India are terrible and it is heading toward genocide. The international community's attention is withdrawn for immediate steps to be taken to avert any big disaster.
Dr. Stanton created the world-famous "Ten Stages of Genocide" as a presentation to the U.S. Department of State when he worked there in 1996. According to Dr. Stanton, the ten stages of genocide are as follows:
•The first stage was "classification" of "us versus them".
RSS is an extremist organization, established in 1920, under the influence of Hitler with the same ideology of Nazism. But since they came into power and formed their Government in India in April 2019. They have created hate and classified "us" and "them".
•The second stage, "symbolization", named the victims as "foreigner".
With the legislation under Citizenship Act 2019, India has proved that Muslim Minorities as "Foreigners".
•The third stage, "discrimination", "classified [the victims] out of the group accepted for citizenship" so that they had no "human rights or civil rights of citizens" and were "discriminated against legally".
India has already established this stage under the amended law.
•The fourth stage, dehumanization, "is when the genocidal spiral begins to go downwards. You classify the others as somehow worse than you. You give them names like 'terrorists', or even names of animals, start referring to them as cancer in the body politic, you talk about them as a disease that must be somehow dealt with."
According to RSS ideology, all non-Hindus are not Indian and they must go back to Europe if they are Christians and go back to Middle-East if they are Muslims. Muslims are labeled as "Terrorists".
•The fifth stage was creating an "organization" to commit the genocide: the role played by the "Indian army in Kashmir and the census takers in Assam".
RSS is a well-organized, well-equipped and well-trained, well-funded organization, with the full backing by state. RSS is empowered to execute the genocide of Muslims.
•The sixth stage was "polarization", which is achieved by propaganda.
Unholy media, controlled by Government, is playing its dirty role to polarize the society.
•The seventh stage was "preparation"
India has established concentration camps and all imposed curfew in Kashmir. Kashmir is completely cut-off from the rest of the world. Mobile and Internet Services have been suspended. No journalist can travel to Kashmir without Government permission. Freedom of Speech or expression is halted. No foreigner is allowed to travel to Kashmir. 900,000 troops have been deployed already. Similarly, In Assam and another part of India is also isolated and cut-off internet and mobile services. The Media has been limited to report the ground realities and facts. India has almost completed all preparations for the execution stage.
•The eighth "persecution", where Assam and Kashmir currently were.
India is almost ready for execution and can move forward at any moment.
•The ninth stage is "extermination" and;
Almost entered into this stage
•The tenth stage is "denial".
As usual, India kept on denying all its acts in this direction and still denying as nothing happened.
Dr. Stanton also drafted UN Security Council resolutions that created the International Criminal Tribunal on Rwanda and the Burundi Commission of Inquiry, two places where genocides had occurred. A former President of the International Association of Genocide Scholars, his research on genocides in Cambodia and Rwanda, and of the Rohingyas, is recognized worldwide.
It is appealed to the International community to break silence and helplessness. Under the UN charter, peacekeeping force may be deployed in India to avert the expected disaster. UN Charter must be respected and implemented. This appeal is to everyone nation and individual who believes in "humanity".
Kashmir: India's services chief confesses blinding protesters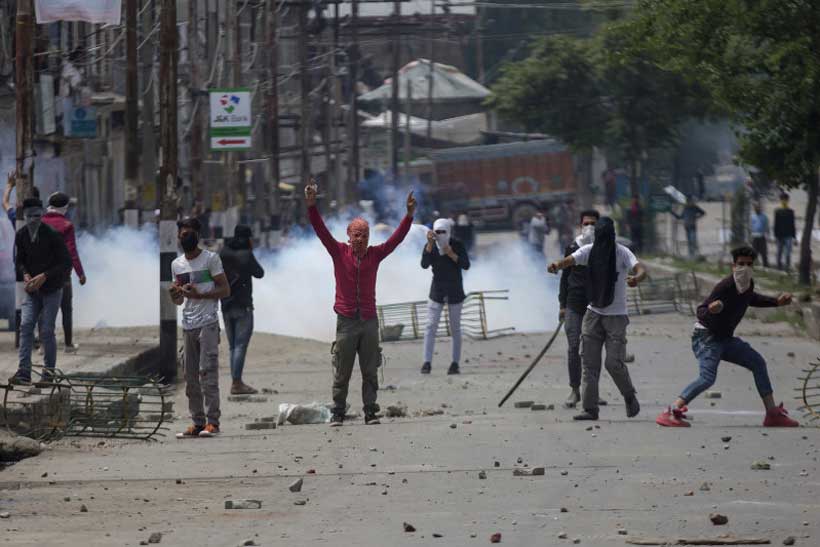 Through a host of draconian measures, India has gagged digital and voice protests in disputed Kashmir. It has barred local and foreign journalists from visiting Kashmir. Indian forces fire pellets (called `birdshots') with pump-action shot-guns against unarmed protesters or stone throwers, even women, and children five to eight years' old.
India cheated Kashmiris. Indian forces fire pellets (called `birdshots') with pump-action shot-guns against unarmed protesters or stone throwers, even women, and children five to eight years' old. A New York Time report portrays a gruesome picture ("An Epidemic of 'Dead Eyes' in Kashmir as India Uses Pellet Guns on Protesters", New York Times, August 28, 2016`) It says` the patients have mutilated retinas, severed optic nerves, irises seeping out like puddles of ink'. Doctors call them `dead eyes'. A similar report in Washington Post (December 12, 2017) is no less poignant.
Let India realise it can't stifle Kashmiris' dissent. To stifle the Kashmiri's fighting spirit, the dogra (1846-1947) punished even Kashmiri children who played with fork-slings (ghulail in Urdu) and stones (Muhammad Yousaf Saraf, Kashmiris Fight for Freedom, vol. 1, p. 50). Struggle for freedom goes on despite Indian forces' reign of terror (abductions, custodial deaths, rapes, arson, and pellet shelling). `The Security Council should make clear that it opposes Mr. Modi's brutal tightening of India's control on Kashmir. While Mr. Modi may think he can control this volatile conflict on his own, he almost certainly cannot' (The U.N. Can't Ignore Kashmir Anymore, New York Times, October 2, 2019).
Defence services chief's ergonomic confession: Irked by international-media censures, Bipen Rawat, India's ex-army chief, now Chief of Defence Services has tendered a funny explanation.
He says, ` Most of the eye injuries are caused because those pelting stones bend to the ground to pick up stones and because pellet guns are fired at the legs they get hit them in the eyes (Indian Express, January 17, 2020). Indian opposition took him to task for explaining how Kashmiris were being "radicalized". They advised him to desist from dabbling in politics. Asaduddin Owaisi asked him, `Who'll deradicalise lynchers and their political masters? `Yogi (UP chief minister] and "Pakistan jao" Meerut SP?
An unending struggle: An immutable lesson of history is that Kashmiris never reconciled with foreign rule. If they could no longer fight an invader with arms, they pelted stones on invaders (Moghal). The stone throwers were called dilawars, and the Moghal, were addressed as shikas mogle. This Kashmiri-language expression, akin to French C'est dommage (it's too bad), is spoken when something is lost. The Moghal were Muslim. Yet, the Kashmiri hated them. Shikas mogle affords a peek into the Kashmiri heart and mind. They cursed foreigners, be they be Muslim.
Kashmiris hate cheating and consider Akbar `the Great' an epitome of treachery. Akbar invited Kashmir ruler Yusuf Chak (1579 – 1586) for talks. But, he treacherously imprisoned and killed him in Bihar state. Be it noted that Akbar had failed to subjugate Kashmir in his earlier two expeditions. After take-over, the Moghal lived in a walled nagri (city), later called Sri nagar. The helpless Kashmir used to throw stones at walled city to express their anguish. The general feeling of hatred, kashmiriat, was akin to what Ibn-e-Khuldoon calls asabiya (national cohesion). It ran across all sects (shia-sunni), religions, castes and creed.
Let India realise it can't stifle Kashmiris' dissent. To stifle the Kashmiri's fighting spirit, the dogra (1846-1947) punished even Kashmiri children who played with fork-slings (ghulail in Urdu) and stones (Muhammad Yousaf Saraf, Kashmiris Fight for Freedom, vol. 1, p. 50). Struggle for freedom goes on despite Indian forces' reign of terror (abductions, custodial deaths, rapes, arson, and pellet shelling). `The Security Council should make clear that it opposes Mr. Modi's brutal tightening of India's control on Kashmir. While Mr. Modi may think he can control this volatile conflict on his own, he almost certainly cannot' (The U.N. Can't Ignore Kashmir Anymore, New York Times, October 2, 2019).
RSS's role in persecuting minorities: The present-day anti-minority India caricatures Mahatma Gandhi's and Ambedkar's vision of India. They both envisioned India as a modern country with due place for minorities. Gandhi did not care a fig for Rashtrya Swayem Sevak Sangh leaders in his life-time. So was the case with Ambedkar also. Yet, tragically RSS-BJP conglomerate and their offshoots are trying to portray Gandhi-Ambedkar as Hindu communalists. They are v trying to co-opt Gandhi and pitch him against the Congress.
What a wonder it is hard to find RSSs' founding father, Hedgewar's mention in the 21 volumes of the writings and speeches of Ambedkar. Hedgewar thought of Hindu raj, rule by Hindu Rashtra. Chiplunkar, Tilak and their disciple Hedgewar abhorred Gandhi `a Bania leading the freedom movement'. After Tilak's death, Hedgewar left the Congress-led freedom struggle and began struggle to regain past glory of Aryavarta. Ambedkar explicitly rejected idea of the Hindu Rashtra. He stressed, ` No matter what the Hindus say, Hinduism is a menace to liberty, equality and fraternity. On that account it is incompatible with democracy. Hindu Raj must be prevented at any cost.' Renowned lawyer AG Noorani rightly said `their [RSS's] bible is V.D. Savarkar's essay 'Hindutva' published in 1925. He called Muslims `hissing Yavana snakes' (Dawn, October 5, 2019).
RSS is a terrorist organisation: Terrorism Research Centre, an American think-tank based in East Virginia, enlisted RSS among the world's leading terrorist organisations. It is significant to note that the Indian media is heavily tilted towards the RSS. In fact the RSS has of late become the unofficial spokesman of the Indian government. Even the enlightened Hindu and the military writers believe that India's prosperity during various periods of history, for example during the Maurya and the Gupta periods, rose or fell pari passu with rise or fall of military leadership (Major General Rajendra Nath, Military Leadership in India: Vedic Period to Indo-Pak Wars.1990.Lancers Books).
Upsurge in Hindutva: Hindutva ideology is being pupularised in India to persecute minorities, particularly Musims in Kashmir and other Indian states. It is controversially defined in Vinayak Damodar Savarkar in his book Hindutva, and adopted by Hedgewar as the basis of his ideology (An Indian parliamentary committee resurrected him as a hero by allowing his portrait to be hung in Indian parliament). The RSS's aims are a mix of cultural, religious and political objectives – To serve Hindu dharma (religion), sanskriti (culture) and rashtra (nation). Sarvarkar distinguishes 'Hinduism' from 'Hindutva'. He clarified that the `Hinduism' was concerned with `relevance of life after death, the concept of God and the Universe'. 'Hindutva', on the other hand, was 'Hindus being a nation, bound by a common culture, a common history, a common language, a common country and a common religion'. Koota yuddha is an article of faith with the Rashtriya Swayemsewak Sangha. All its recruits, 10 years' old and above, are obliged to take the following pratigya (oath): In the name of God and my ancestors. I hereby become a member of the Rashtriya Swayamsewak Sangh for the all-round progress of Bharatvarsh (ancient name of India) by strengthening the holy Hindu dharma (religion). Hindu sanskiti (culture and Hindu society). I shall do the Sangha work with all my heart to the best of my ability and that I shall be bound by this oath for the whole of my life. Bharat Mata Ki Jai ! (Glory to Mother India!).
Minority Lynching: Beef eating people are lynched in public. A Christian priest was murdered right in front of his son. The RSS's genocidal role is a caricature of Preamble to The Constitution of India which states: "WE THE PEOPLE OF INDIA, having solemnly resolved to constitute India into a [SOVEREIGN SOCIALIST SECULAR DEMOCATIC REPUBLIC] …" Besides, Article 15 of the Constitution prohibits discrimination on the grounds of religion, race, caste, sex or place of birth.
Not only the RSS, but also Vishwa Hindu Parishad, and Indian political parties tacitly believe in koota yuddha. Reason: The minorities together are not more than one third of the Hindu population (read Brihaspati's udyog parva principle justifying 2,800 years back merciless attack when one is numerically three times superior). Illustrations of koota yuddha are Gujarat carnage under prime minister Narendra Modi, then chief minister, burning of Christians' alive, attack on Golden Temple, anti-sikh riots of 1984, killing of beef-eating minorities by cow guards (gao rakhshak), persecution of Kashmiri students in Indian states, and so on. A crystal-clear manifestation of this mentality was ruling-BJP-supported then Gujarat chief minister Narendra Modi's 11-phase gaurav or papadshahiyatra (pride parade) in July 2002. Earlier, in June 2002, Bal Thackray had said, 'Muslims can never be trusted. They are like snakes'.
Wake-up call for Pakistan: History tells that only countries with a stable equilibrium between its centrifugal and centripetal forces stay afloat in comity of nations. At the time of Partition, it was predicted that both India and Pakistan would break up into 'congeries of states'. The basis of this prediction was inability of the new republics to deal with myriad centrifugal forces gnawing into the body politic. In post-independence period, India was fortunate to have visionary leaders who tactfully muzzled centrifugal forces like insurgencies in East Punjab and eastern states, besides the Dravidian and Naxal Bari movements. Indian Union bowed to insurgents' demands for creation of new states. And, insurgency leaders became chief ministers! India forgot yester years when they burnt to ashes copies of Indian constitution, uprooted rail tracks, immobilizing everyday life. Tamil Nadu, Andhra Pradesh, Nagaland and the East Punjab appeared to secede from the Union. India stayed united because of its resilience, we disintegrated.
Pakistan learnt nothing from East-Pakistan debacle (Asghar Khan, We've learnt nothing from history). India is now engaged against Pakistan in what Kautliya calls maya yuddha (war of tricks) or koota yuddha (all-out warfare). She is out to isolate Pakistan, get it dubbed as a terrorist state, and corner it by presence in Chahbahar and some Central Asian airbases (Aeini or Farkhor airbases in Tajikistan). Ibn-e-Khaldun says that it is asabia (nationalism) that enables a country to withstand challenges. Toynbee's Challenge and Response Theory also reminds that if challenges are too heavy, a nation becomes apathetic to environment. Apathy leads to mental degradation, decay and extinction.
Pakistani leaders, including prime-ministers-weres and prime-ministers-to-be should take off their blinkers and try to understand how India, through koota yuddha, hands in glove with likeminded countries, is trying to wreck their economy and country.
Inference: History tells that ebbs and flows of Kashmiris' resistance never ceased. Palliatives failed to stifle the struggle. A lasting solution is to allow Kashmiris to determine their own fate. It's no use harping integral-part (atoot ang) mantra any longer. In marked contrast to India's colonizing policy, Pakistan gives an iron-clad constitutional assurance to Kashmiris to re-craft their relation with Pakistan under Article 257 of its Constitution. It states: `when the people of the State of Jammu and Kashmir decide to accede to Pakistan, the relationship between Pakistan and that State shall be determined in accordance with the wishes of the people of that State'.