Masatsugu Asakawa Elected ADB President
Masatsugu Asakawa has been unanimously elected President of the Asian Development Bank (ADB) by its Board of Governors.
Mr. Asakawa, 61, currently Special Advisor to Japan's Prime Minister and Minister of Finance, will assume office as ADB's 10th President on 17 January 2020. He will succeed Takehiko Nakao, who will leave office on 16 January 2020. Mr. Asakawa will finish the unexpired term of President Nakao, which ends on 23 November 2021.
"Mr. Asakawa's extensive and diverse experience in international finance and development will serve ADB well in pursuing its vision of a prosperous, inclusive, resilient, and sustainable Asia and the Pacific," said Deputy Prime Minister and Minister of Economy and Finance of the Republic of Korea and Chair of the ADB Board of Governors Mr. Hong Nam-Ki. "The ADB Board of Governors looks forward to working with Mr. Asakawa."
In a career spanning close to four decades, Mr. Asakawa has held a range of senior positions at the Ministry of Finance of Japan, including Vice Minister of Finance for International Affairs, and gained diverse professional experience in development policy, foreign exchange markets, and international tax policy.
He served as Finance Deputy for the 2019 G20 Osaka Summit and the G20 Finance Ministers and Central Bank Governors meeting in Fukuoka, Japan. Furthermore, in the immediate aftermath of the Global Financial Crisis, he took part in the first G20 Leaders' Summit Meeting in his capacity as Executive Assistant to the then Prime Minister Taro Aso. Mr. Asakawa has had frequent engagement with the Organisation for Economic Co-operation and Development, including as Chair of the Committee on Fiscal Affairs from 2011 to 2016.
Mr. Asakawa served as a Visiting Professor at the University of Tokyo from 2012 to 2015 and at Saitama University from 2006 to 2009.
He obtained his Bachelor of Arts from the University of Tokyo in 1981 and MPA from Princeton University in 1985.
A beginner's guide to sustainable farming
Industrialized farming has been a reliable way to produce lots of food at a relatively low cost. But it's not the bargain it was once believed to be. Unsustainable agriculture can pollute water, air and soil; is a source of greenhouse gases, and destroys wildlife. All told that costs economies about $3 trillion every year. And to top it all off, some farming practices have been linked to the emergence of zoonotic diseases, such as COVID-19.
18 June is Sustainable Gastronomy Day, which celebrates local cuisine that is produced in ways that are both environmentally friendly and minimize waste. To mark the occasion, we take a closer look at how to make agriculture more sustainable and what that would mean for the economy, the environment and human health.
What exactly is sustainable agriculture?
It is farming that meets the needs of existing and future generations, while also ensuring profitability, environmental health and social and economic equity. It favours techniques that emulate nature–to preserve soil fertility, prevent water pollution and protect biodiversity. It is also a way to support the achievement of global objectives, like the Sustainable Development Goals and Zero Hunger.
Does sustainable agriculture really make a difference to the environment?
Yes. It uses up to 56 per cent less energy per unit of crops produced, creates 64 per cent fewer greenhouse gas emissions per hectare and supports greater levels of biodiversity than conventional farming.
Why does sustainably produced food seem more expensive?
It may be more costly because it is more labour-intensive. It is often certified in a way that requires it to be separated from conventional foods during processing and transport. The costs associated with marketing and distribution of relatively small volumes of product are often comparatively high. And, sometimes, the supply of certain sustainably produced foods is limited.
Why are some foods so much more affordable–even when they require processing and packaging?
The heavy use of chemicals, medicines and genetic modification allows some foods to be produced cheaply and in reliably high volumes, so the retail price tag may be lower. But this is deceiving because it does not reflect the costs of environmental damage or the price of healthcare that is required to treat diet-related diseases. Ultra-processed foods are often high in energy and low in nutrients and may contribute to the development of heart disease, stroke, diabetes and some forms of cancer. This is particularly concerning amid the COVID-19 pandemic; the disease is especially risky for those with pre-existing health problems.
Do we all have to be vegan?
No. But most of us should eat less animal protein. Livestock production is a major cause of climate change and in most parts of the world, people already consume more animal-sourced food than is healthy. But even small dietary shifts can have a positive impact. The average person consumes 100 grams of meat daily. Reducing that by 10 grams could improve human health while reducing greenhouse gas emissions.
Is sustainable agriculture possible in developing countries?
Yes. Because sustainably produced food is typically more labour-intensive than conventionally made food, it has the potential to create 30 per cent more jobs. And because it can command higher prices, it can also generate more money for farmers.
Is it possible to make sustainably produced food that is affordable for everyone?
Yes. As demand for certain foods increases, the costs associated with production, processing, distribution and marketing will drop, which should make them less expensive for consumers. Policymakers can also play a role, facilitating market access and leveling the financial and regulatory playing field.
If it is so important, why hasn't sustainable farming been adopted as a global standard?
There is a lack of understanding of the way that agriculture, the environment and human health intersect. Policymakers do not typically consider nature as a form of capital, so legislation is not designed to prevent pollution and other kinds of environmental degradation. And consumers may not realize how their dietary choices affect the environment or even their own health. In the absence of either legal obligations or consumer demand, there is little incentive for producers to change their approach.
What are some ways to consume food more sustainably?
Diversify your diet and cook more meals at home. Eat more plant-based foods; enjoy pulses, peas, beans and chickpeas as sources of protein. Eat local, seasonal foods. Purchase sustainably produced foods and learn more about farming practices and labeling. Avoid excessive packaging, which is likely to end up as landfill. Don't waste food: eliminating food waste could reduce global carbon emissions by 8-10 per cent. Cultivate your own garden, even if it is a small one in your kitchen. Support organizations, policies and projects that promote sustainable food systems. And discuss the importance of healthy and sustainable foods with producers, vendors, policymakers, friends and family.
Turkish Airlines and Turkish Cargo Rise to the Top Amid Pandemic
Turkish Airlines successfully ended the fiscal year 2020 with 6.7 billion USD revenue, which accounts for 50% of the preceding year's level, with a net loss of only 836 million USD. During these uncertain times, the airline was also able to maintain its robust route network. According to Eurocontrol, in April 2021 Turkish Airlines operated an average of 685 flights per day – almost double the number of the closest competitor in Europe, Lufthansa. In 2020, Turkish Airlines flew 28 million passengers, with an impressive load factor of 71%. Currently, the airline serves 179 international destinations with 16 intercountry and 58 intercontinental flights. The new Istanbul Airport also stayed on top: even with a 68% loss of traffic, it was still Europe's most successful airport as of March 2021, with 616 departing and arriving flights.
This success is based on cost cutting activities, capex reduction and active capacity management. In fact, Turkish Airlines achieved such performance without relying on any governmental cash injections. Furthermore, agreements with Boeing and Airbus on fleet growth will further decrease the aircraft financing needs of Turkish Airlines by around 7 billion USD in the coming years.
"Our success as the best performing flag-carrier airline in Europe is not coincidental. Apart from the multiple measures we took, we owe this success to our dedicated staff. While other airlines faced layoffs, we did not part ways with any of our colleagues during this process. Instead everyone within Turkish Airlines accepted salary cuts from up to 50% depending on the role and responsibilities. The exceptional sense of unity within our staff is what sets Turkish Airlines apart: together as a family, we decided that no member of the Turkish Airlines family would be left behind during this crisis.", says Turkish Airlines' Chairman of the Board and the Executive Committee, M. İlker Aycı.
Turkish Airlines also turned the pandemic into an opportunity to increase its cargo operations, with 50 of its passenger aircrafts being reconfigured to increase its cargo fleet capacity. Turkish Cargo managed to become one of the top five air cargo companies in the world and the 6th largest cargo company. The company increased its market share in total global cargo revenue from 0.6% in 2009 to 4.7% in 2020. As of February 2021, one in 20 cargo flights around the world were handled by Turkish Cargo.
This allowed Turkish Cargo to deliver 50,000 tons of medical supplies, including more than 45 million doses of COVID-19 vaccines, to destinations all over the world. In addition, new technologies and innovative solutions have been developed. One example is SmartIST, one of the largest air cargo facilities in the world, which is scheduled to open this year. Located at Istanbul Airport, the facility uses modern technology such as drones and automated robots to process and deliver goods even faster.
Famine risk spikes amid conflict, COVID-19 and funding gaps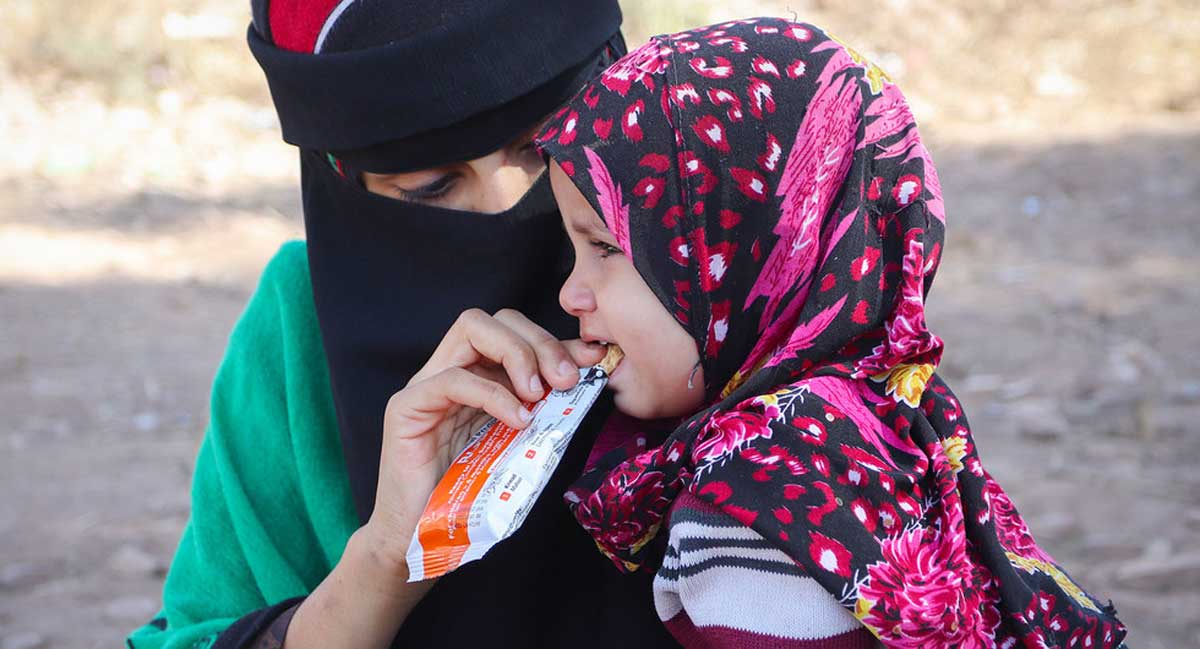 The impact of conflicts old and new, climate shocks and COVID-19, in addition to a lack of funding, have left millions more on the verge of famine than six months ago, the World Food Programme (WFP) said on Friday.
In an appeal for $5 billion "to avoid famine" and support the "biggest operation in its history", WFP spokesperson Phiri Tomson said that millions of refugees faced "uncertainty and hunger" as the impact of the pandemic on emergency aid budgets became clearer.
"The number of people teetering on the brink of famine has risen from 34 million projected at the beginning of the year, to 41 million projected as of June", he said. "Without immediate emergency food assistance, they too face starvation, as the slightest shock will push them over the cliff into famine conditions."
From bad to worse
According to the latest IPC food insecurity assessments – which humanitarians use to assess needs on a scale of one to five – the 41 million "are people who are in IPC phase 4 – emergency", the WFP spokesperson explained.
New refugee influxes linked to conflict and drought have increased needs for people in "IPC phase 5 – catastrophe" and "that number stands at 584,000 people", Mr. Phiri continued. "These are people in Ethiopia's Tigray region, Madagascar, particularly the southern part; South Sudan, especially as we are now at the height of the lean season in that country, and Yemen."
'Brutal choices'
Launching its Global Operational Response Plan, the UN agency highlighted operations in no less than eight countries and regions where it has had to make "brutal choices" because of significant funding shortfalls.
In practice, this has meant reduced rations "across east and southern Africa, as well as the Middle East…among some of the world's most vulnerable people who rely on WFP to survive", said Mr. Phiri.
"In some cases it's 40 per cent, in some cases it's 25 per cent, in some cases it's 60 per cent…The fact is, the assistance we provide is a basic need, the assistance we provide is just enough to help people get by."
West and Central Africa in crisis
For many vulnerable aid recipients in West and Central Africa, the COVID-19 pandemic has left them without the opportunity to work to supplement their rations and unable to pay for increasingly expensive staple foods. "Countries like Chad, Niger and Burkina, Mauritania; these are all countries of concern, including Sierra Leone as well," said Mr. Phiri, after a warning by the UN agency that the world was no longer moving towards Zero Hunger.
"Progress has stalled, reversed, and today, more than 270 million people are estimated to be acutely food insecure or at high risk in 2021," it said in a statement.