"To them, I said, the truth would be literally nothing but the shadows of the images."[1]–Plato, The Republic
For US President Donald J. Trump, policy making by imposed chaos has become normal. Again and again, we see that this president's decisions are founded upon manipulation and contrivance; inevitably, his choices(both conspicuous and inconspicuous) injure American interests and ideals….and at the same time. Should they be left insufficiently opposed, such injuries will impair the most rudimentary expectations of American national security and international justice.
There is more. These markedly grave impairments continue on several intersecting (and sometimes synergistic) levels.[2] Most ominously, there have been satellite images confirming that North Korea is moving ahead aggressively with its ballistic missile program. As corollary, we may now also learn, prima facie, that Mr. Trump's earlier reassurances about "peace" with North Korea were not merely silly fabrications, but also deliberate falsifications. Prospectively, there are corresponding nuclear consequences for America's close allies in South Korea and Japan, some of them potentially existential.[3]
"We fellin love," said Trump after first meeting Kim Jung Un in Singapore a few years back. But by the most basic standards of prudent policy-making, any such alleged "romance" must remain beside the point. In any event, as the recent and recurrent missile tests by Pyongyang reveal, Trump's declared love is glaringly unrequited.
Credo quia absurdum, warned the ancient philosophers. "I believe because it is absurd." With great deliberateness, systematically, this president studiously avoids any knowledge-based judgments. Another recent example is Trump's blaming of California "mismanagement" for the raging wildfires in that state ("They should have raked…."). The president also abrogated this country's legal obligations under the INF treaty, a destabilizing termination that has already shattered codified American promises at international and domestic legal levels, This is apt to be followed by US rejection of New Start treaty obligations.[4]
Of course, even before launching this particular presidential assault on legal order, international law and national law, Trump formally withdrew the United States from the July 2015 Iran deal (the JCPOA), a multilateral agreement that the UN's IAEA had several-times reaffirmed was being respected by Tehran.
There are, to be sure, all-too-many additional examples of US President Trump undermining America's indispensable legal and moral obligations. All of these examples, some of them plausibly irrational,[5]reflect the unsupportable core assumption that "attitude, not preparation" is what matters in diplomatic negotiations. For some unimaginable reason, moreover, Jared and Ivanka (the president's "hidden geniuses" according to Trump's previous UN ambassador) have not yet been able to fashion an impressively coherent plan to save the Middle East.[6]
What a surprise. Naturally, we are routinely advised, the failure must be someone else's fault. Perhaps Hillary. Using Trump "logic," that conclusion would seem to be a frequent and generally applicable remedy.
There is more. A self-declared "very stable genius," US President Donald Trump still wages a bewildering war against his own intelligence agencies and national legal institutions. What remains detached from any competent national assessment is Trump's underlying abhorrence of intellect and learning. Should anyone doubt this perilous loathing, one need just "tune in" to the latest presidential "rally."
"I love the poorly educated," intones Trump to his assembled acolytes.
"Intellect rots the brain," said Third Reich Propaganda Minister Joseph Goebbels.
Not much erudition here; just a cultivated incoherence.
Donald Trump is no scholar. To be fair, no one should ever have expected anything else. But this president is notoriously weak on most vital matters of law and justice, so much so that he believes manipulating US foreign aid to injure his domestic political foes is altogether reasonable and permissible, whatever the deleterious effects upon another state's most vulnerable populations. A conspicuous case in point is the extortion-like leverage seemingly exerted against an already-fragile Ukraine.
Unsurprisingly, this particular Trump dereliction was intended to benefit not only the American president himself, but also his regularly and strangely venerated Cold War II "rival," Vladimir Putin.[7]
Though not generally known, international law remains an integral part of the law of the United States. Inter alia, among other authoritative sources, it says this explicitly in the Constitution, the very same document that Mr. Trump's supporters are fond of citing in their recurrent reverential references to "gun rights." Various express codifications can be discovered at Article 6 (the "Supremacy Clause") and at certain corresponding U.S. Supreme Court decisions (see particularly the Paquete Habana, 1900 and Tel-Oren vs. Libyan Arab Republic, 1981).
There is more. Article 6 of the US Constitution clarifies that "…all treaties made, or which shall be made, under the authority of the United States, shall be the supreme law of the land…." The United States is party to the 1951 Refugee Convention, which contains (at Article 33) the basic principle of non-refoulement: "No Contracting State shall expel or return ("refouler") a refugee in any manner whatsoever to the frontiers of territories where his life or freedom would be threatened on account of his race, religion, nationality membership of a particular social group or political opinion."
Nonetheless, from the beginning, under Donald Trump's fitfully-released and often self-contradictory executive orders, impermissible expulsions and returns have become "official" policies of the United States. Earlier, "ground-zero" for such evident presidential manipulations had been the refugee "caravan" and its alleged "invasion." At that time, Trump not only ignored Russian-Iranian-Syrian war crimes, but openly praised the principal architect of these derelictions, Vladimir Putin.
There is more. Most recently, against the wishes of his most senior military, Trump issued pardons for certain US soldiers accused of egregious war crimes. Among other derelictions, these pardons undermined the peremptory expectations of the laws of war or humanitarian international law. By definition, therefore, they also represented stark violations of duly "incorporated" US law.
Still, despite his serious violations of US and international law, Trump is not the genuinely underlying "pathology." Rather, his law and government-violating presidency is"merely" the symptom of a much wider and more deeply systemic disorder. This disorder is an insistently anti-intellectual American society,[8] one that frowns upon virtually any original expressions of logical explanation or independent thought.[9]
When the infant children of desperate refugees were being housed in cages, this president, tanned and bemused, journeyed to Florida or New Jersey foryet another round of golf. Significantly, though generally unknown to Americans, the due process clauses of the US Constitution protect all "persons," and not just "citizens."[10] Jurisprudentially, this authoritative scope of competence – one drawn from fully invariant Natural Law or Higher Law bases of the American Republic – is "beyond legal question."[11]
In life and law, truth is exculpatory. Derivatively, we are not witnessing a normal and law-abiding American presidency. Accordingly, we must now finally inquire:"Is this an excusable and remediable legal deformation, or is it rather an execrable dress rehearsal for astill-widening chaos"?[12]
It's high time for candor. What Donald Trump values most in both national and international politics is chaos. A deeply troubling affection, it is impossible to reconcile such curious affections with even the most rudimentary legal expectations of US government or law.
At very basic levels of explanation, Trump's feverishly loyal supporters, who still number in the tens of millions, yearn for the tangible warmth of "belonging, " of being part of a perpetually shrill and shrieking crowd, of enjoying the numbingly false pleasures bestowed by deceptively simplistic explanations. Always, after all, complexity is anathema to those who loathe serious thought. It is excruciatingly daunting for those who would reject intelligence and intellect in virtually any form, whether by offering loud belligerent chants or more cautiously, softly, almost sotto voce.[13]
"Intellect rots the brain," cautioned Third Reich Propaganda Minister Joseph Goebbels at the 1935 Nuremberg rallies.
"I love the poorly educated," offered candidate Donald Trump during the 2016 US presidential campaign.
These crude sentiments are not altogether dissimilar. Palpably, though many years apart, they still resonate warmly with each other, across the years. Inter alia, both display a species of "truth" that corrupts absolutely any hint of history or science.
This truth is "literally nothing but the shadows of images."

---
[1]Plato's theory, offered in the fourth century B.C.E, seeks to explain politics as an unstable realm of sense and matter, an arena formed and sustained by half-truths and distorted perceptions. In contrast to the stable realm of immaterial Forms, from which all genuine knowledge must be derived, the political realm is dominated by the uncertainties of the sensible world. At the basis of this political theory is a physical-mental analogy that establishes a correlation between the head, the heart and the abdomen, and the virtues of intelligence, courage and moderation.
[2] On these levels, the "whole" of such Trump-induced impairments will exceed the simple sum of its "parts." In other words, the cumulative impact of these presidential impairments will actually be far worse than what first meets the eye.
[3] For authoritative early accounts by this author of nuclear war effects, see: Louis René Beres, Apocalypse: Nuclear Catastrophe in World Politics (Chicago: University of Chicago Press, 1980); Louis René Beres, Mimicking Sisyphus: America's Countervailing Nuclear Strategy (Lexington, Mass., Lexington Books, 1983); Louis René Beres, Reason and Realpolitik: U.S. Foreign Policy and World Order (Lexington, Mass., Lexington Books, 1984); and Louis René Beres, Security or Armageddon: Israel's Nuclear Strategy (Lexington, Mass., Lexington Books, 1986). Most recently, by Professor Beres, see: Surviving Amid Chaos: Israel's Nuclear Strategy (New York, Rowman & Littlefield, 2016; 2nd ed. 2018).
[4] See Louis René Beres, "Nuclear Treaty Abrogation Imperils Global Security," Yale Global Online November 1, 2018 https://yaleglobal.yale.edu/content/nuclear-treaty-abrogation-imperils-global-security
[5]Recalling the 20th-century German philosopher, Karl Jaspers: "The rational is not thinkable without its other, the non-rational, and it never appears in reality without it." This insight can be found in Jaspers' "Historical Reflections" on Kierkegaard and Nietzsche.
[6] The Middle East is not the only task placed upon Jared Kushner by his father-in-law. He has also been given a lead role in fashioning US trade policy, reorganizing thegovernment of the United States, reforming the entire American criminal justice system and overseeing construction of the border wall.
[7]Acknowledging the emergence of "Cold War II" means expecting the world system to become increasingly bipolar. For early conceptual writings by this author on the global security implications of any such expanding bipolarity, see: Louis René Beres, "Bipolarity, Multipolarity, and the Reliability of Alliance Commitments," Western Political Quarterly, Vol. 25, No.4., December 1972, pp. 702-710; Louis René Beres, "Bipolarity, Multipolarity, and the Tragedy of the Commons," Western Political Quarterly, Vol. 26, No.4., December 1973, pp, 649-658; and Louis René Beres, "Guerillas, Terrorists, and Polarity: New Structural Models of World Politics," Western Political Quarterly, Vol. 27, No.4., December 1974, pp. 624-636.
[8]Along these lines, Sigmund Freud had maintained a general antipathy to all things American. In essence, he most objected, according to Bruno Bettelheim, to this country's "shallow optimism," and its seemingly corollary commitment to a disturbingly crude form of materialism. America, thought Freud, was very evidently "lacking in soul." See: Bruno Bettelheim, Freud and Man's Soul (New York: Alfred A. Knopf, 1983), especially Chapter X.
[9] See pertinent essay by this writer at The Daily Princetonian:http://www.dailyprincetonian.com/article/2018/06/a-core-challenge-of-higher-education
[10] The founding fathers of the United States – believing firmly in natural law and natural rights – held that the human rights expectations of the Declaration of Independence must apply to all peoples, for all time, and can never be properly reserved solely to Americans.
[11] Under international law, the idea of a Higher Law – drawn originally from the ancient Greeks and ancient Hebrews – is contained, inter alia, within the principle of jus cogens or peremptory norms. In the language of pertinent Article 53 of the Vienna Convention on the Law of Treaties (1969: "A peremptory norm of general international law….is a norm accepted and recognized by the international community of States as a whole, as a norm from which no derogation is permitted, and which can be modified only by a subsequent norm of general international law having the same character."
[12] Although composed in the seventeenth century, Thomas Hobbes' Leviathan still offers an illuminating vision of chaos in world politics. Says the English philosopher in Chapter XIII, "Of the Natural Condition of Mankind, as concerning their Felicity, and Misery:" During chaos, a condition which Hobbes identifies as a "time of War," it is a time "…where every man is Enemy to every man… and where the life of man is solitary, poor, nasty, brutish, and short." At the time of writing, Hobbes believed that the condition of "nature" in world politics was less chaotic than that same condition existing among individual human beings -because of what he called the "dreadful equality" of individual men in nature being able to kill others – but this once-relevant differentiation has effectively disappeared with the global spread of nuclear weapons.
[13] "Reason," warns the philosopher Karl Jaspers, "is confronted again and again with the fact of a mass of believers who have lost all ability to listen, who can absorb no logical argument, and who hold unshakably fast to the Absurd…." (See: Reason and Anti-Reason in Our Time, Archon Books, 1971, p. 78).
Harry Truman, Too, Was a Self-Described Democratic Socialist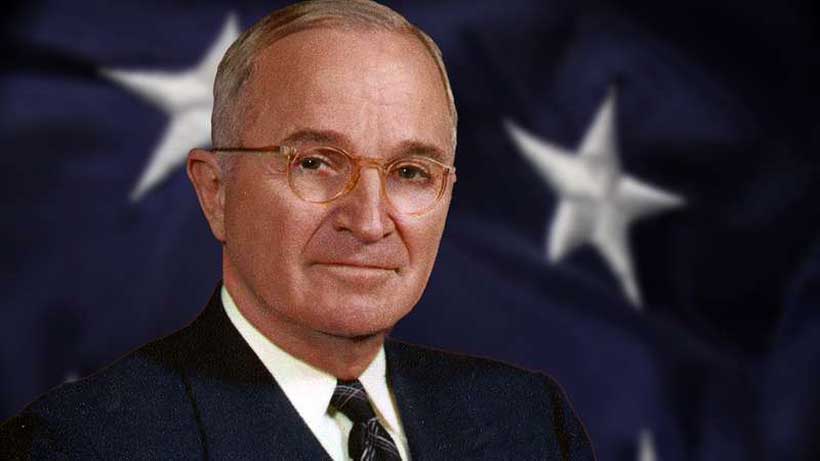 This is from the public papers of U.S. President Harry S. Truman in 1952: "Public Papers, Harry S. Truman, 1945-1953, October 10, 1952" [rail-car campaigning for Adlai Stevenson in N.Y. State to become Truman's successor, against Dwight Eisenhower]
Socialism is a scare word they have hurled at every advance the people have made in the last 20 years.
Socialism is what they called public power. Socialism is what they called social security.
Socialism is what they called farm price supports.
Socialism is what they called bank deposit insurance.
Socialism is what they called the growth of free and independent labor organizations.
Socialism is their name for almost anything that helps all the people.
When the Republican candidate inscribes the slogan "Down With Socialism" on the banner of his "great crusade," that is really not what he means at all.
What he really means is, "Down with Progress–down with Franklin Roosevelt's New Deal," and "down with Harry Truman's fair Deal." That is what he means.
Politico headlined on February 24th, "Sanders sends Democratic establishment into panic mode" and reported that "A renewed sense of urgency washed over establishment Democrats, who fear it's quickly becoming too late to stop Sanders."
Today's Democratic Party Establishment — the Clintonites and Obamaites and the supporters of every one of the current crop of Democratic Presidential candidates except for Bernie Sanders — are not in the tradition of Truman, and of his immediate predecessor Franklin Delano Roosevelt, but are instead in the post-Reagan tradition of the Democratic Party, the tradition that was well represented by Bill Clinton when he, for example, created "don't ask, don't tell," and then joined with the Republicans in Congress to abolish FDR's Glass-Steagall Act and also to allow unregulated trading in investment-derivatives, and generally to deregulate the economy, and to sign into law and promote NAFTA, which expanded U.S. corporate profits at the expense of America's working-class. His wife wanted also that there would be expanded fracking, just like the Republicans wanted, and she wanted Iraq to be invaded, just like George W. Bush and Dick Cheney did. And the Democratic Establishment nowadays is pushing lots of proposals that the Republican Party had pushed for prior to the Reagan revolution, proposals for unleashing the nation's mega-corporations and producing enormous wealth-inequality.
Bernie Sanders is the only Democrat who is running in today's 'Democratic' Party Presidential primaries. All of the other candidates in those primaries are warmed-over pre-Reagan Republicans. Only Sanders is running against the Republican 'Democrats', who are, basically, spitting on FDR's grave.
The revolt against Sanders, by the Democratic National Committee, and maybe by its 700+ superdelegates at the upcoming Convention so as to throw its nomination to Elizabeth Warren or one of the other 'moderate' 'Democrats', is simply the revolt against Franklin Delano Roosevelt's Democratic Party. It is their revolt against progressivism, and for conservatism, so as to keep today's Democratic Party, a liberal instead of progressive party. Liberalism blends progressivism and conservatism. The founder of liberalism was the man who had blended conservatism and progressivism, John Locke, about whom John Quiggin has noted, with an honestly that is stunningly rare: "As secretary to the Earl of Shaftesbury, then chancellor of the exchequer, Locke assisted in drafting the Fundamental Constitutions of Carolina. He was secretary to the Council of Trade and Plantations (1673–74) and a member of the Board of Trade (1696–1700), with responsibility for the American colonies. He was a major investor in the English slave trade through the Royal African Company and the Bahama Adventurers company." This is what today's Democratic National Committe (DNC) represents — that tradition, of the British aristocracy, even the slave-traders amongst them, not the progressive tradition, which FDR created in the Democratic Party, and which Bernie Sanders calls simply "democratic socialism" and cites Denmark and other Scandinavian countries as being contemporary examples of what has worked well elsewhere that can also work well here. (Although FDR created it in the Democratic Party, he was simply copying and adapting from the best of the European nations; for example, Social Security was instituted in 1935 but already six European nations had it by that time — and what Bernie Sanders is trying to do is in that tradition, of copying and adapting the best from abroad, not just continuing exceptionally bad existing U.S. practices.)
Today's DNC, and its 'Third Way' mouthpieces (Third Way is now propagandizing against Sanders in South Carolina) are scaremongering against Sanders being a "socialist," and (as that news-report said) "When Third Way held a meeting in Charleston in June 2019, one of the group's founders referred to Sanders as an 'existential threat' to the future of the Democratic Party." This is the line that the Democratic Party's billionaires are now spreading. They're determined to retain control over the Party, just as the Republican Party's super-rich have always had control over the Republican Party since the very moment when Abraham Lincoln was assassinated in 1865.
Abraham Lincoln had said:
The insurrection is largely, if not exclusively, a war upon the first principle of popular government — the rights of the people. Conclusive evidence of this is found in the most grave and maturely considered public documents, as well as in the general tone of the insurgents. In those documents we find the abridgement of the existing right of suffrage and the denial to the people of all right to participate in the selection of public officers, except the legislative boldly advocated, with labored arguments to prove that large control of the people in government, is the source of all political evil. Monarchy itself is sometimes hinted at as a possible refuge from the power of the people.
In my present position, I could scarcely be justified were I to omit raising a warning voice against this approach of returning despotism.
It is not needed, nor fitting here, that a general argument should be made in favor of popular institutions; but there is one point, with its connexions, not so hackneyed as most others, to which I ask a brief attention. It is the effort to place capital on an equal footing with, if not above labor, in the structure of government. It is assumed that labor is available only in connexion with capital; that nobody labors unless somebody else, owning capital, somehow by the use of it, induces him to labor. This assumed, it is next considered [Page 52] whether it is best that capital shall hire laborers, and thus induce them to work by their own consent, or buy them, and drive them to it without their consent. Having proceeded so far, it is naturally concluded that all laborers are either hired laborers, or what we call slaves. And further it is assumed that whoever is once a hired laborer, is fixed in that condition for life.
Now, there is no such relation between capital and labor as assumed; nor is there any such thing as a free man being fixed for life in the condition of a hired laborer. Both these assumptions are false, and all inferences from them are groundless.
Labor is prior to, and independent of, capital. Capital is only the fruit of labor, and could never have existed if labor had not first existed. Labor is the superior of capital, and deserves much the higher consideration. Capital has its rights, which are as worthy of protection as any other rights. Nor is it denied that there is, and probably always will be, a relation between labor and capital, producing mutual benefits. The error is in assuming that the whole labor of community exists within that relation. A few men own capital, and that few avoid labor themselves, and, with their capital, hire or buy another few to labor for them. A large majority belong to neither class — neither work for others, nor have others working for them. In most of the southern States, a majority of the whole people of all colors are neither slaves nor masters; while in the northern a large majority are neither hirers nor hired. Men with their families — wives, sons, and daughters — work for themselves, on their farms, in their houses, and in their shops, taking the whole product to themselves, and asking no favors of capital on the one hand, nor of hired laborers or slaves on the other. It is not forgotten that a considerable number of persons mingle their own labor with capital — that is, they labor with their own hands, and also buy or hire others to labor for them; but this is only a mixed, and not a distinct class. No principle stated is disturbed by the existence of this mixed class.
Would the post-Lincoln Republican Party assert any such thing as that "Labor is prior to, and independent of, capital. Capital is only the fruit of labor, and could never have existed if labor had not first existed. Labor is the superior of capital, and deserves much the higher consideration."?
To anyone who would spout the line of America's billionaires (either Republican or Democratic ones), Bernie Sanders would, as the Presidential nominee of, and standard-bearer for, a restored progressive Democratic Party, be able to quote both Harry Truman and Abraham Lincoln, in order to expose those persons' frauds and take the White House away from them and restore it to the people.
Officers Exchanged Fire With Troops Near National Palace As Government Announced Carnival
According to reports, Haitian police officers exchanged gunfire for hours on Sunday (February 23th, 2020) with soldiers of the newly reconstituted army outside the National Palace, in a dangerous escalation of protests over police pay and working conditions.
Police officers began protests for weeks from now, and some of the protests being led by Former police officer Madame Yanick Joseph who was fired and other political leaders.
At least three police officers were wounded, fellow officers told AP and other media across the country. The army's high command said in an online statement that a soldier had been wounded by a bullet in the back.
Haiti's raucous three-day Carnival celebration was to have started Sunday afternoon in Port-au-Prince and other major cities but the government announced Sunday night that Carnival was canceled in the capital "to avoid a bloodbath." Police protesters and their backers had burned dozens of Carnival floats and stand at recent protests, saying they did not believe the country should be celebrating during a crisis.
As the afternoon wore on, uniformed officers joined their colleagues in the street outside the palace, firing at the military base with semi-automatic pistols and rifles. Many wore masks along with their uniforms to hide their identities.
Other armed men spotted a drone that appeared to be taking images of the violence and followed it to the offices of Radio Caraibes, then began shooting at the broadcaster's building. There were no immediate reports of casualties in the attack.
"These protests won't stop until the current Haitian Government resigns.", said Mr. Werley Nortreus, a political leader and the founder of Vanyan Sòlda Ayiti and A New Haiti Before 2045 (ANHB 2045).
Police protests began this month after a half-dozen officers were fired over their attempt to unionize. The demonstrations are not directly linked to anti-corruption protests that roiled Haiti for most of last year, but they draw on the same widespread dissatisfaction with Haiti's shrinking economy and President Jovenel Moise's inability to improve the quality of life.
A uniformed police officer in a black-and-white clown mask told reporters outside the palace that officers were demanding the reinstatement of their fired colleagues as well as a pay raise for all officers.
"Until this is done we will not sit and talk," said the officer, who declined to provide his name. "The president has proven that he does not care about our demands."
President Jovenel Moise said at a news conference on Saturday (Feb 22th, 2020) that he recognized the legitimacy of many police complaints and would increase some collateral benefits for officers, but police said Sunday that the concessions were not enough.
According to reports of the shootout between police officers and troops on Feb 23, at least three men were taken to a hospital near the shooting with wounds to the legs and feet that did not appear to be life-threatening. Uniformed police officers told journalists that the wounded men were fellow officers. The uniformed officers spoke on condition of anonymity because they were not authorized to speak to the press.
How Bernie Sanders Will Destroy the Deep State if He Becomes President
Joe Lauria at Consortium News headlined on February 21st, "Apparent US Intel Meddling in US Election With 'Report' Russia is Aiding Sanders", and he noted that,
If the story is true and if intelligence agencies are truly committed to protecting U.S. citizens, the Sanders campaign would have been quietly informed and shown evidence to back up the claims.
Instead the story wound up on the front page of the [Washington] Post, "according to people familiar with the matter." Zero evidence was produced to back up the intelligence agencies' assertion.
"It is not clear what form that Russian assistance has taken," the Post reported. That would tell any traditional news editor that there was no story until it is known.
Instead major U.S. media are again playing the role of laundering totally unverified "information" just because it comes from an intelligence source. Reporting such assertions without proof amounts to an abdication of journalistic responsibility. It shows total trust in U.S. intelligence despite decades of deception and skullduggery from these agencies.
Despite the untrustworthiness of the intelligence agencies that had told President George W. Bush that they would be able to present to the American public a "slam-dunk" case that Saddam Hussein had WMD and was to blame for the 9/11 attacks, and despite their similar serial lying up to the present time, Senator Sanders issued a public statement that "Unlike Donald Trump, I do not consider Vladimir Putin a good friend. He is an autocratic thug who is attempting to destroy democracy and crush dissent in Russia." Regardless of whether he actually believes that Putin is an "autocratic thug," his saying this was necessary in the context of the ceaseless anti-Putin propaganda in America's 'news'-reporting and from America's 'intelligence' agencies, all of which have for decades been effectively controlled by America's billionaires, who are now terrified that Sanders might actually become President. Their agents are consequently smearing him. America's hundreds of billionaires ARE America's Deep State, and those hundreds of individuals are the only people who are actually represented by their media and 'our' Government.
This is the reason why we invaded and occupy and destroyed Iraq, all on the basis of lies.
This is the reason we invaded and destroyed Libya, all on the basis of lies.
This is the reason why we hired Al Qaeda in Syria to lead the hundreds of jihadist groups that have since been trying to overthrow and replace Syria's secular non-sectarian President Bashar al-Assad.
None of the American billionaires' fronts — not the CIA, nor any others — have publicized, but they instead all have hidden, all of these realities and basically all of the really important historical events during the past twenty years which shape the international world in which we all are living. Democracy in America is impossible under such circumstances as this.
Back in 2002, Sanders was able to refuse to authorize George W. Bush to invade Iraq and yet still not have his career in Congress destroyed by that 'unpatriotic' (actually courageously patriotic) act. But in today's environment, any member of Congress who fails to demonize Vladimir Putin is 'unpatriotic' — as if the Cold War which was ended by Russia in 1991 has secretly continued by America ever since — which it HAS.
America's billionaires are even more opposed to ending the Cold War than they are opposed to increasing taxes on the rich up to international standards for industrialized nations. They will accept high taxes — and during the 1950s the super-rich accepted even a 90% marginal rate of taxation — but they will not, under any circumstances, accept ending America's recent quest to replace the U.N as the basis of international law and order; they DEMAND that the U.S. Government, which they control, must control the entire world, including Russia. This is essential to their all-encompassing global empire, the global dictatorship by America's international corporations. That is the core belief of the Deep State, and no Sanders Presidency will be able to succeed unless a President Sanders will strip America's billionaires of the control they enjoy over the American Government through the Deep State. The Deep State is the U.S. billionaires; it is the control they have over the U.S. Government. Only by ending that control will America's Deep State be brought to an end. Sanders is the only viable U.S. Presidential candidate who authentically does threaten the billionaires' control over 'our' government; and the only way that he will be able to succeed is by destroying their Deep State, their control over the Government and over their press or 'news' media. This is an internal U.S. war, right now, between the Deep State and not only Donald Trump on the right (who constantly caves to their demands) but also Bernie Sanders on the left (who has yet to be in a position really to challenge their control over America).
So: how can Sanders do it, if he becomes the President? Fight like hell and be willing to sacrifice even himself, if need be, so as to destroy their control over America. Be what Trump only pretends to be. This is the only way that it might be able to be done. Sincerity. Determination. Mono-focus. And great courage. Never backtracking.
Right now, America accounts for about half of the entire world's military expenditures, and that can't go on if America is to take care of its real problems. Those corporations, such as Lockheed Martin, are not going to yield without there being now a second American revolution, a revolution of control. It will have to be a total revolution of control — not just over Wall Street, and not just over the hedge funds, and not just over the private equity funds, and not just over the healthcare system, and not just over the universities, and not just over the private foundations and other 'non-profits' (which largely privatize to billionaires the decisions as to what 'needs' to be done for the good of the entire country). Why do billionaires get tax-breaks for funding 'nonprofits' which expand their own power not only over commerce but especially over national priorities and the government itself? The corruption is so deep and so pervasive.
Right now, the corruption is focused on getting the Democratic Party's superdelegates, instead of the voters in the primaries and caucuses, to choose whom the Party's nominee for the U.S. Presidency will be.