It's that time of the year again — everyone's favorite holiday and the perfect excuse to indulge in endless feasting and shopping. Instead of opting for conventional festivities, why not celebrate while also clocking in good karma points? Check out these five destinations that are putting their own joyous spin to Christmas and see how you can be part of celebrations that make a difference — a Christmas you certainly will not forget.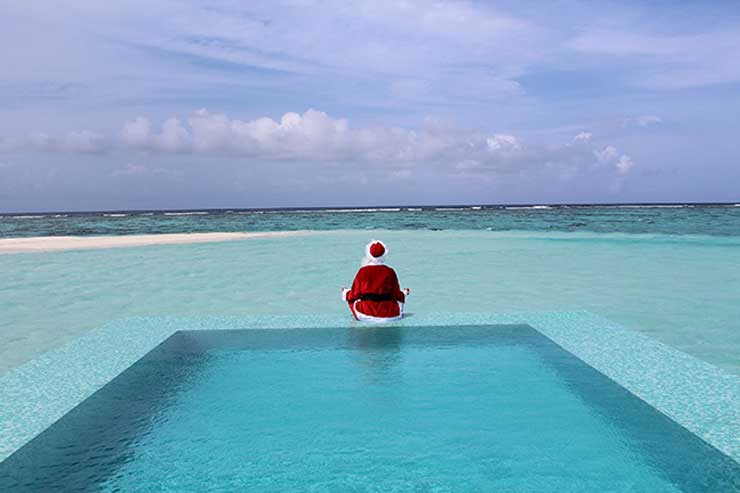 1. Embark on an eco-journey in the Maldives
This festive season, Conrad Maldives has put sustainability at the forefront of its holiday celebrations — at the same time that the rest of the world is busy engaging in fast consumerism, this island resort is encouraging its guests to embark on a refreshing eco-journey instead. Their very first Maldivian Artisanal Market (26 December) will host local artists and designers, offering products handmade by Maldivian women or made from natural, organic and sustainably harvested ingredients. You definitely won't feel guilty buying these goodies, and rest assured that these local artisans will get to keep 100% of the proceeds.

The hotel is also hosting a Christmas tree competition where hotel Team Members will challenge each other to create the most beautiful and sustainable Christmas Tree, made completely with recycled materials! These creative works of art will later be displayed around the resort, and guests can go on a mini scavenger hunt to find them all. Don't forget to cast your vote for your favorites and get some inspiration for your own tree for next year!
2. Go zero-waste in Chengdu
Feast your eyes on a Christmas tree like no other at Hilton Chengdu Chenghua. The hotel is setting up at seven-meter-tall tree, made entirely from recycled plastic bottles — to top things off, team members are powering the tree themselves by riding bicycles to generate electricity. Talk about commitment to a green Christmas. Guests also get to play their part by not using any plastic bottles or disposable amenities — you'll even be rewarded with an extra 500 Hilton Honors points! Definitely a win-win.
3. Chase the Christmas Train in Japan and Korea
Keep an eye out for the Hilton Christmas Train in Japan and Korea — across properties in Tokyo, Osaka, Nagoya, Odawara and Seoul, the popular charity event will make its return to spread some warm Christmas cheer. The train differs from city to city, showcasing beautiful dioramas and displays to take centerstage in the hotel lobby. While serving as an alluring backdrop for your next #instaworthy shot, its main purpose is to rally guests to do good and raise funds for nonprofit organisations and charities. It's the perfect chance for you to give back this Christmas!
4. Make a sustainability statement in Xiamen
DoubleTree by Hilton Xiamen-Wuyuan Bay is going back to basics with their "Reduce, Reuse and Recycle"–themed Christmas while at the same time making a statement with their unique tree. They're completely redefining conventional designs by constructing their tree out of tables and decorating with plastic items! Be sure to check it out and take pictures with this one-of-a-kind tree. Additionally, the team is setting up an installation of toothbrushes to showcase the effects of collective plastic consumption — you'll definitely remember to pack your own toothbrush in for the next trip.
5. Explore local alternatives in Indonesia
For the very first time, Hilton Bandung is introducing their very own festive tree — grown from scratch in single-use plastic waste from the hotel. The tree is comprised of smaller, organic plants and serves as a good reminder that we can always consider alternative, local options before rushing to buy new things. Head on to the lobby to learn the whole process and story behind the tree; you may even be inspired to make Christmas gifts of your own!