Christmas with a Twist: Make a Difference This Festive Season
It's that time of the year again — everyone's favorite holiday and the perfect excuse to indulge in endless feasting and shopping. Instead of opting for conventional festivities, why not celebrate while also clocking in good karma points? Check out these five destinations that are putting their own joyous spin to Christmas and see how you can be part of celebrations that make a difference — a Christmas you certainly will not forget.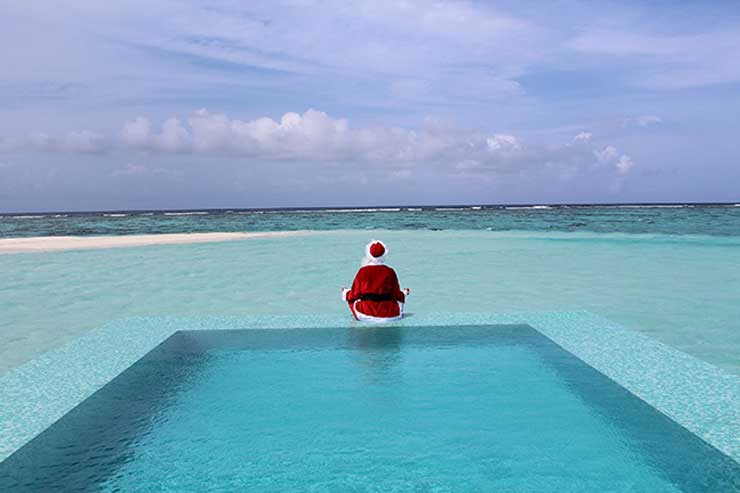 1. Embark on an eco-journey in the Maldives
This festive season, Conrad Maldives has put sustainability at the forefront of its holiday celebrations — at the same time that the rest of the world is busy engaging in fast consumerism, this island resort is encouraging its guests to embark on a refreshing eco-journey instead. Their very first Maldivian Artisanal Market (26 December) will host local artists and designers, offering products handmade by Maldivian women or made from natural, organic and sustainably harvested ingredients. You definitely won't feel guilty buying these goodies, and rest assured that these local artisans will get to keep 100% of the proceeds.

The hotel is also hosting a Christmas tree competition where hotel Team Members will challenge each other to create the most beautiful and sustainable Christmas Tree, made completely with recycled materials! These creative works of art will later be displayed around the resort, and guests can go on a mini scavenger hunt to find them all. Don't forget to cast your vote for your favorites and get some inspiration for your own tree for next year!
2. Go zero-waste in Chengdu
Feast your eyes on a Christmas tree like no other at Hilton Chengdu Chenghua. The hotel is setting up at seven-meter-tall tree, made entirely from recycled plastic bottles — to top things off, team members are powering the tree themselves by riding bicycles to generate electricity. Talk about commitment to a green Christmas. Guests also get to play their part by not using any plastic bottles or disposable amenities — you'll even be rewarded with an extra 500 Hilton Honors points! Definitely a win-win.
3. Chase the Christmas Train in Japan and Korea
Keep an eye out for the Hilton Christmas Train in Japan and Korea — across properties in Tokyo, Osaka, Nagoya, Odawara and Seoul, the popular charity event will make its return to spread some warm Christmas cheer. The train differs from city to city, showcasing beautiful dioramas and displays to take centerstage in the hotel lobby. While serving as an alluring backdrop for your next #instaworthy shot, its main purpose is to rally guests to do good and raise funds for nonprofit organisations and charities. It's the perfect chance for you to give back this Christmas!
4. Make a sustainability statement in Xiamen
DoubleTree by Hilton Xiamen-Wuyuan Bay is going back to basics with their "Reduce, Reuse and Recycle"–themed Christmas while at the same time making a statement with their unique tree. They're completely redefining conventional designs by constructing their tree out of tables and decorating with plastic items! Be sure to check it out and take pictures with this one-of-a-kind tree. Additionally, the team is setting up an installation of toothbrushes to showcase the effects of collective plastic consumption — you'll definitely remember to pack your own toothbrush in for the next trip.
5. Explore local alternatives in Indonesia
For the very first time, Hilton Bandung is introducing their very own festive tree — grown from scratch in single-use plastic waste from the hotel. The tree is comprised of smaller, organic plants and serves as a good reminder that we can always consider alternative, local options before rushing to buy new things. Head on to the lobby to learn the whole process and story behind the tree; you may even be inspired to make Christmas gifts of your own!
Mandarin Oriental Ritz, Madrid to Open in Summer 2020
The iconic Hotel Ritz, Madrid is set to open in Summer 2020 as Mandarin Oriental Ritz, Madrid, following the most extensive restoration in its 110-year history.
The hotel, which was designed and built under the supervision of legendary hotelier César Ritz, first opened its doors in 1910. The restoration will significantly enhance the hotel's facilities and services, while maintaining its unique character, encapsulated in the Belle Époque style of the original building. Spanish architect, Rafael de La-Hoz, has been instrumental in providing the context for the historical restoration, while French designers, Gilles & Boissier, have overseen the interiors with the aim of increasing the property's appeal to local and international guests alike while celebrating César Ritz's pioneering spirit. The re-design of the public spaces has focused on restoring the hotel's many fine interior architectural features, while incorporating a number of valuable artistic pieces from the property's collection, including crystal chandeliers, antique paintings and sculptures.
The hotel has always been an intregral part of society in Spain's capital, and has been host to royalty, politicians, corporate leaders and celebrities. It is situated within the 'Golden Triangle of Art', an area defined by the most important museums in the city – the Prado, the Thyssen-Bornemisza and the Reina Sofía Museum of Modern Art. The property's location within a prestigous residential area close to Madrid's financial and commercial district and to El Retiro Park, adds to its appeal.
"We are proud and excited to be opening Mandarin Oriental Ritz, Madrid this summer, our second hotel in Spain. The meticulous restoration is designed to ensure that this legendary property is once again recognised as one of Europe's greatest hotels," said James Riley, Group Chief Executive of Mandarin Oriental Hotel Group. "We are confident that the local community will be even more proud of this historic landmark, and we look forward to providing our guests with memorable experiences, in majestic surroundings, all underpinned by Mandarin Oriental's exceptional service," he added.
Guestrooms and Suites
Gilles & Boissier have created a sophisticated design for the hotel's new guestrooms, encapsulating a classic but contemporary residential style for the 153 rooms including 53 suites. Within the suite inventory, there are several one-of-a-kind speciality suites, featuring unique design elements inspired by the hotel's historic connections to the city, Spanish culture and art. A spacious Royal Suite and the Presidential Suite feature magnificent views over the Prado museum. Located in the top floor turrets are two new suites, each with private balconies and views over the Prado Museum and Lealtad Square.
Restaurants and Bars
Chef Quique Dacosta, one of the most celebrated chefs in Spain, has been appointed to design, develop and oversee all culinary operations at the hotel's five restaurants and bars. The award-winning chef is renowned for the three Michelin starred restaurant, Dénia, in Alicante, and the two Michelin starred El Poblet restaurant in Valencia. At Mandarin Oriental Ritz, Madrid, a signature Quique Dacosta restaurant, overlooking the famous hotel garden, is set to be a destination in its own right. All day dining and traditional afternoon tea will be served in the elegant surroundings of The Palm Court, under a spectacular glass canopy ceiling that formed an integral part of the original building but had been lost for 80 years and will be reconstructed. Guests will also be able to dine in the Ritz Garden or enjoy the charm of the Ritz Bar. Finally, the Champagne Bar will offer an ever-changing selection of exclusive champagnes paired with a signature tapas menu.
"I am very excited to work on the culinary offering of Mandarin Oriental Ritz, Madrid to provide unique gastronomic experiences across all restaurants, bars and banquet facilities," said Quique Dacosta.
"We look forward to welcoming Quique Dacosta to Mandarin Oriental Ritz, Madrid. His desire to deliver more than a culinary experience, with his sense of creativity and his unique character, matches perfectly our mission to delight and satisfy our guests," said Gérard Sintès, General Manager of Mandarin Oriental Ritz, Madrid.
Leisure & Wellness
The hotel's new leisure and wellness facilities include a heated indoor swimming pool, a vitality pool, experience showers, a steam room and a contemporary fitness centre. A dedicated treatment room has been designed as a hidden sanctuary, providing a range of exclusive local and signature beauty and massage treatments.
Event Spaces
As one of the most iconic buildings in the Spanish capital, Mandarin Oriental Ritz, Madrid is ideally placed for memorable social events. The ballroom and functions spaces, with their large windows facing the Prado Museum will be beautifully restored and designed to ensure the hotel is once again the venue of choice for weddings, private dinners and parties.
Hyatt Regency Manchester and Hyatt House Manchester Officially Open
Hyatt Hotels Corporation announced today the opening of the 212-room Hyatt Regency Manchester and 116-room Hyatt House Manchester in the city's landmark building "The Lume." The openings represent a significant milestone for Hyatt's brand growth in the U.K. and the debut of Hyatt's extended stay segment, the Hyatt House brand.
Hyatt Regency Manchester offers empathetic service that anticipates the needs of guests and event planners to ensure they have a seamless and personalized experience. The hotel will stay true to the brand promise of making travel free from stress by providing guests everything they need under one roof. Hyatt House Manchester is designed to make guests feel at home, offering residents spacious, apartment-style living paired with amenities that help them maintain work and personal routines while on the road.
Situated in the Innovation District on the Oxford Road Corridor, both hotels are close to Manchester's major transportation hubs and provide easy access to major attractions such as the Manchester Museum, the Whitworth Art Gallery and the world-famous football stadiums of Manchester United F.C and Manchester City F.C.
"We look forward to welcoming guests to the first Hyatt hotels in Manchester – one of the UK's most multicultural cities and a hub for innovative start-ups," said Assumpta McDonald, general manager of Hyatt Regency and Hyatt House Manchester. "A city popular for leisure and business travelers, Manchester and its growing commercial center is an ideal destination for having two brands within one building. Located in close proximity to the University, the city center and a number of tourist attractions, we believe that both hotels will attract business and leisure travelers alike."
The properties offer a variety of shared facilities, including The Laureate Restaurant, The Graduate Bar, seven state-of-the-art meeting rooms and a fully equipped 24-hour fitness center. Additionally, guests staying at Hyatt House Manchester have access to the Omelet Bar and the 24/7 H Market.
Guestrooms
Hyatt Regency Manchester offers 212 contemporary guestrooms and suites, all featuring floor-to-ceiling windows with city views. Guests can opt for Regency Club rooms or suites and enjoy additional amenities including complimentary breakfast, evening cocktails, and canapés.
For travelers looking for an extended stay, Hyatt House Manchester offers 116 studios and one-bedroom suites, all featuring fully equipped kitchens, free wi-fi and stylish living and working spaces. Guests of the hotel can also enjoy 24-hour access to complimentary laundry facilities, inclusive breakfast, and the 24/7 H Market.
Dining and Drinking
Hyatt Regency Manchester and Hyatt House Manchester share two distinctive gastronomic offerings – The Laureate Restaurant and The Graduate Bar.
The Laureate Restaurant boasts a menu that celebrates Manchester as one of the UK's most multicultural cities. Executive chef Nathaniel Farrell serves inspiring, seasonally curated dishes combining fresh, locally sourced ingredients. While the name pays tribute to the world-leading educational institutions on its doorstep, the décor makes The Laureate the perfect spot for guests and locals alike to gather, recharge and dine.
Aptly named to reflect the academic brilliance of the hotel's surroundings, The Graduate Bar is a vibrant, airy oasis inspiring guests and locals to relax and unwind. It offers cocktails, quality beers and gourmet bites.
Exclusively accessible for guests of Hyatt House Manchester, the H Market is open 24/7 and provides a range of groceries and on-the-go snacks. Guests can also enjoy access to the Omelet Bar, offering a chef-inspired omelet of the day or the option to create one to their own liking each morning.
Meetings and Events
Hyatt Regency Manchester offers an array of flexible meeting spaces, with seven state-of-the-art meeting rooms. The hotel pays tribute to some of Manchester's best-known academics, naming the meeting rooms after famous alumni and those working closely with the University. These include former chief executive of Manchester City Council Sir Howard Bernstein and renowned mathematician Alan Turing, best known for his work in breaking the German Enigma code during World War II.
Hyatt House Manchester offers two intimate event spaces: The Conservatory and The Living Room, both located on the 18th floor of the hotel.
The varied selection of meeting spaces offered by the two hotels provide guests of both properties the option to book from a range of options to ensure a seamless environment for every event. The meeting rooms are equipped with LCD projectors and screens for presentations, and the on-site business center is open 24 hours a day. Additionally, all meeting rooms and event spaces offer expert catering services.
The Hyatt Regency Brand Debuts in Kerala, India
Hyatt Hotels Corporation announced the opening of Hyatt Regency Thrissur in the cultural capital of Kerala, India. With 77 well-appointed guestrooms, this contemporary hotel aims to bring the Hyatt Regency brand's signature hospitality to business and leisure guests travelling to the region. The hotel marks the continued growth of the Hyatt Regency brand in India and joins more than 195 hotels under the brand, including 12 locations across the country.
"We are thrilled to announce the opening of our very first Hyatt Regency hotel in the beautiful and vibrant state of Kerala," said Sunjae Sharma, vice president – India operations, Hyatt. "The Hyatt Regency brand caters to leisure as well as business travellers, which are steadily growing in the state. This launch underlines the importance of the globally celebrated Hyatt Regency brand in India, which is now present in 13 cities across the country. True to the brand's lineage, the all new Hyatt Regency Thrissur is the embodiment of contemporary accommodations designed for productivity and peace of mind."
With offerings tailored to suit both leisure and business travellers alike, Hyatt Regency Thrissur aims to provide guests with a seamless, stress-free experience in Kerala. Conveniently located near prime cultural centers, the Thrissur IT Park, iconic monuments, museums, galleries and shopping at the Kalamandalam Centre, an hour away from Cochin International Airport and 10 minutes from the railway station, the hotel will allow guests to seamlessly conduct business while also allowing for the opportunity to visit some of the city's best attractions.
Guestrooms
The 77-room hotel features 69 spacious guestrooms and eight suites, including a presidential suite. Ranging from 323 to 1,335 square feet (30 to 124 square meters), each guestroom is equipped with best-in-class amenities and offer scenic views of the pool or gardens.
Dining
Regency Café is open 24-hours and offers a creative menu with a range of selections including local Kerala fare, traditional North Indian dishes and authentic Asian and Continental cuisine. The restaurant's vibrant aesthetic and ambience make it the perfect venue for family celebrations, business lunches, or an intimate gathering. Additionally, for guests looking for a sweet treat, visit Nougat, which also offers a wide selection of unique desserts.
Meetings and Events
An ideal venue for conferences and weddings with 27,469 square feet (2,552 square meters) of indoor and outdoor space, Hyatt Regency Thrissur offers guests and event planners flexible options for gatherings of all sizes.
The stylish Regal Ballroom features 9,289 square feet (862 square meters) of space and can easily accommodate up to 900 guests. The Regency Ballroom is spread over 7,535 square feet (700 square meters) and can accommodate up to 800 guests, along with an accompanying 3,229 square foot (300 square meter) pre-function area to welcome guests. Additionally, Nattika serves as a meeting room ideal for intimate gatherings and business conferences for up to 150 guests, while the Ruby VIP lounge is ideal for small groups with its warm and inviting design. The hotel also incorporates three studios each covering 645 to 1,076 square feet (60 to 100 square meters) of space.
Wellbeing
Guests can relax in the hotel's refreshing outdoor pool or enjoy an energizing workout at the hotel's fully equipped fitness center. The hotel also offers a rejuvenating selection of services at Santata Spa, with signature traditional and international treatments, including fun chocolate treatments for kids.
Location
Hyatt Regency Thrissur provides guests with seamless access to the region's most popular attractions. Guests can easily visit the Bible Tower, the tallest church tower in Asia, along with Athirapally Falls–an extraordinary waterfall on the Chalakudy River. A cultural trip to Kerala Kalamandalam, which is one of the biggest tourist attractions of the city, promises to be a memorable experience with celebrated performances of the classical arts of Kerala.