The Intellectual Vector: Where Russian Interventionism Is Imperative
In an interesting contribution to a valuable volume, Prof T.V. Bordachev of the HSE Centre for Comprehensive European and International Studies makes a superbly insightful point: "Russia in Asia should play the role that France played in Europe at the dawn of European integration— the main intellectual engine of the new format of relations between the states [1] ."
In a period characterized by hysteria over alleged Russian intervention in everything from conflicts to elections, I would like to point out a deficit or indeed absence of such intervention in a vector it should, could and indeed must intervene: the intellectual vector. Just as the USA and France, Russia has been a seedbed of ideas and concepts during the period of Modernity, and still is, but with a difference. Unlike France and the USA, it has seemingly abandoned the vocation of the globalization of its ideas and concepts; of its very perspective.
In this brief note, I wish to spotlight a few thematic areas in which a Russian intellectual intervention is imperative and feasible. These are the Cold war and the clash of contending world orders in the 21st century, the phenomenon and problems of globalization and the Greater Eurasia concept/project.
The Battle of (Big) Ideas
While a vast number of books on the end and the history of the Cold War have been published in the West, with widely diverse perspectives; of the Cold War seen teleologically, from the standpoint of how it ended, there isn't a single major, recognized Russian work, even an anthology, in English—which for better or worse, is a quasi-universal language—on the same theme and topic. Thus, teleological western perspectives of contemporary history dominate if not monopolize, by default.
The same is true of perspectives of the post-Cold war world. The 'big ideas' framing the future of the post-Cold war world came from the West, from Fukuyama and Huntington (and others with less impact, like Robert Kaplan). There is a dearth of 'big ideas' from Russia for and of the world, in the English language. Were there counters in Russia to Fukuyama and Huntington? Were there the counter-perspectives from Russia to neoliberalism and neoconservatism as paradigms or even as conceptual frameworks? Was there an ideology or doctrine from Russia that is a counter to both neoliberalism and neoconservatism? Did the Third Rome venture a Third Ideology, a Third Doctrine, not just for itself, but for and of the world—not only Russian versions/variants of neoliberalism and neoconservatism, of either Fukuyama or Huntington? There cannot be a third space in ideas globally without such a Russian intervention in ideology and political thought.
(If I may strike a personal note, I have ventured an alternative narrative and explanatory framework from the global South. The Fall of Global Socialism—A Counter-Narrative from the South | D. Jayatilleka | Palgrave Macmillan).
Eurasia, Greater Eurasia
In the aftermath of the important recent conference "5 years of the 'Greater Eurasia' concept : issues and accomplishments" held at the Higher School of Economics, Moscow, and the question that was posed at the conference "What is to be done?", I suggest that one of the intellectual tasks is to create a Eurasian/Greater Eurasian intelligentsia and a Greater Eurasian Idea, which I might add is not coterminous with the 'The idea of Greater Eurasia'.
In developing a Greater Eurasian Idea, the future work requires both institutional and intellectual thrusts. The institutional work simply means that in a situation in which there seem to be no academic institutions, be they universities, think tanks, or centers of Advanced Studies, dedicated explicitly and specifically to Greater Eurasia or at least Eurasia itself, these should be created. A network of such institutions will be the material basis or substructure of the creation of a greater Eurasian intelligentsia.
But still more important is the Greater Eurasia Idea, which goes beyond the idea of Greater Eurasia, and develops an idea of a greater Eurasian perspective and world outlook. One of the most important means of a Greater Eurasian idea is that of excavation. By this I mean an exploration and auditing of the ideas of thinkers (including political leaders) past and present, of and from Greater Eurasia, about the existing world order and a more desirable world order. I refer not only to the ancient wisdom from this area, but much more importantly, the thinking from the period of Modernity, encompassing personalities such as Sun Yat-sen (China), Rabindranath Tagore, MN Roy (India), Renato Constantino (Philippines) and Soedjatmoko (Indonesia).
Such an audit can take the form of a multivolume anthology of writings and speeches, but would need to be extended to tracing the alternative models of a world order that was suggested by thinkers from Greater Eurasia, resulting in a conceptual reconstitution or 'holographic projection' of such an alternative world order.
The crucial questions concerning Eurasia and Greater Eurasia are those of architecture and organization. At the heart of such questions is that of the all-important 'Primakovian' triangle the RIC, i.e. Russia, India, China, which Lenin in his last published writing of March 1923, said would determine the direction of the world's destiny. What are the structural relations that are possible in the ensemble R-I-C? Should or should not other powers be included in it? Should the architecture of Eurasia and Greater Eurasia be one of concentric circles and what criteria would determine which circle which power is in—or would that change situationally?
The history of the Russian Revolution of 1917 demonstrated the crucial strategic importance of organization exemplified by the two models or types: Menshevik and Bolshevik. The organizational or architectural question—though the two terms may not be identical—can also be used in the international arena. Decades after the Bolshevik-Menshevik split, the pith and substance of the Bolshevik organizational philosophy was summed up by Lenin in his later writings, with the phrase "Better Fewer, but Better"—meaning quality over quantity.
In today's global context it will mean grappling with the problem that the Chinese Communists raised in the early 1960s, namely "friendly and fraternal", which they posed as a choice "do you support the friendly or the fraternal states?" Thankfully in today's context, such a zero-sum game is not necessary, but the question remains of priority and hierarchy. Should the relations ship between those states which face a military strategic, and in some cases, existential, threat from a common source, have a relationship of a qualitatively higher level than those who do not, however powerful and friendly the latter may be? Should a new global architecture or a new global policy privilege such relationships, especially in a context of real or attempted global encirclement of Eurasia?
The complex problem is made slightly easier when one recalls that the tighter and looser, qualitative and quantitative, Bolshevik and Menshevik organizational models were in fact merged in the 1930s formula of the Anti-Fascist Popular Front, which had a national and broader international version. Does the thinking of Stalin, Dimitrov, Gramsci and Togliatti have an international relevance and applicability today in the face of a project of global encirclement, grand strategic offensive to preserve unipolarity and wage globalized hybrid war? What would a global united front or bloc against unipolarity, war and intervention look like in the current context?
State, the Nationalities Question and Terrorism
The theoretical, strategic and policy questions that await a perspective by Russian and Eurasian thinkers are at least three:
How to reconcile the contradiction between state sovereignty, unity and territorial integrity on the one hand and the right of self-determination of nations and nationalities on the other. What are the limits of state sovereignty and of the right of nations to self-determination, respectively? Where does one stop and the other start?
How to reconcile the contradiction between the need for strong sovereign states, and forms of autonomy or regions and peoples? What are the non-federal forms of autonomy that can be designed for states in which federalization is strongly felt, for historical reasons, to be fissiparous?
What are the universal criteria by which legitimate struggles of resistance and for liberation can be distinguished from terrorism? Is it not possible for a global consensus reflected in a universal charter to be signed which unconditionally rejects the intentional targeting of unarmed civilians as a legitimate tactic of struggle, and registers this as the defining criteria of terrorism , irrespective of the causes involved, however legitimate, and while remaining agnostic of the issue of armed resistance/armed liberation struggles as such?
Globalization
As Marx made clear in the Communist Manifesto, capitalism was a globalized and globalizing system (which Immanuel Wallerstein was to call a 'world system'). What then is new about 'globalization'? "Globalization" refers to the collapse of an alternative and parallel socialist system, and the incorporation of Russia and China in the world economy, which is essentially capitalist in character; a capitalist world economy. The problem, indeed the root of the crisis today is not globalization per se, it is the specific form of globalization which can be summed up as neoliberal globalization at the economic level and unipolar globalization at the geopolitical and geostrategic level. That is what I call asymmetric globalization.
The contradictions arising from these two specific forms of globalization has resulted in a hydra-headed reaction which threatens globalization itself. Therefore, globalization has to change if it is to survive and resume its pace. The dangerously false choice of "globalization or no globalization", "globalization or de-globalization", should be reframed. Thus, the question should be, what kind of globalization and who benefits from it? The search must be to define a model that is not an alternative TO globalization but an alternative model OF globalization. My own view is that the real choice must be framed as 'neoliberal and unipolar globalization or Alt-globalization?' as I call it, or 'Asymmetric Globalization, Anti-Globalization or Alt-Globalization?'
Multipolarity
There are two conceptual problems which have to be cleared up regarding multipolarity. The first is the increasing tendency to either conflate multipolarity and multilateralism and or to surrender the project of multipolarity and settle for multilateralism. The second problem is the question of how to arrive in a multipolar world. As for the first problem, it should be clear that a multipolar and multilateral world order is the desirable goal, but that these two aspects are separable and the multipolar aspect is more important than the multilateral one. In the post-Cold War period, the western liberals used multilateralism in service of the unipolar project, while the neoconservatives did so only exceptionally or hardly at all, but the essence was the same: a unipolar hegemonistic policy. Multilateralism is an institutional pathway which is preferable to unilateralism, but the central issue is not the institutional aspect of the world order, but the politico-military aspect of the world order; the aspect of power. The (Leninist) question is "which will prevail?" The unipolar project or the multipolar project will prevail?
The second problem area concerning multipolarity is that of the transition. How will we get from here to there? From the unipolar project to a multipolar world order? As in the old question of the transition from capitalism to socialism, there are the mechanistic and evolutionary interpretations; the ones that say that the transition will take place inevitably and inexorably, as a result of the working out of the process of historical change; indeed, as an evolution. A Realist interpretation would hold however, that the transition will involve a protracted struggle along all vectors, taking place over an entire historical period, and which will involve a tipping of the scales in favour of Greater Eurasia with Eurasia as its core.
The West
The conventional attitude to the West in the world as a whole is either that it remains the fount of all enlightened norms and values or that it is in irretrievable decline and decay, incapable of yielding anything of value. There is, however, a third possibility, namely that the West is in deep crisis and from within that crisis a surprising new development may arise which Eurasia and Greater Eurasia may do well to regard with objectivity and open-mindedness. The great surprise arising from the West is that in the USA, recent polls show that 50% of millennials regard 'socialism' as positive, and that the mainstream US Democratic party has shifted to the Left. Similarly, in the UK, the mainstream opposition Labour Party is led by a leftwing anti-interventionist personality. Is this potential or latent transformation in and of the West, an essential component in the transition to a truly multipolar world?
Russia's intellectual intervention in these and other areas of contemporary concern is imperative and needs to be globalized, in order for Russia to fulfil the role of the 'intellectual engine of the new format of relations between the states' (Bordachev, 2019).
These are the purely personal views of the author.
From our partner RIAC
[1] 'What Russia can give to Asia?', Russia in the Forming Greater Eurasia, Problems of Geography, Volume 148, eds. VM Kotlyakov, VA Shuper, Moscow Kodeks Publishing House 2019, p. 71
Putin: Ukraine Is to Russia What Cuba Was to America in the 1962 Cuban Missile Crisis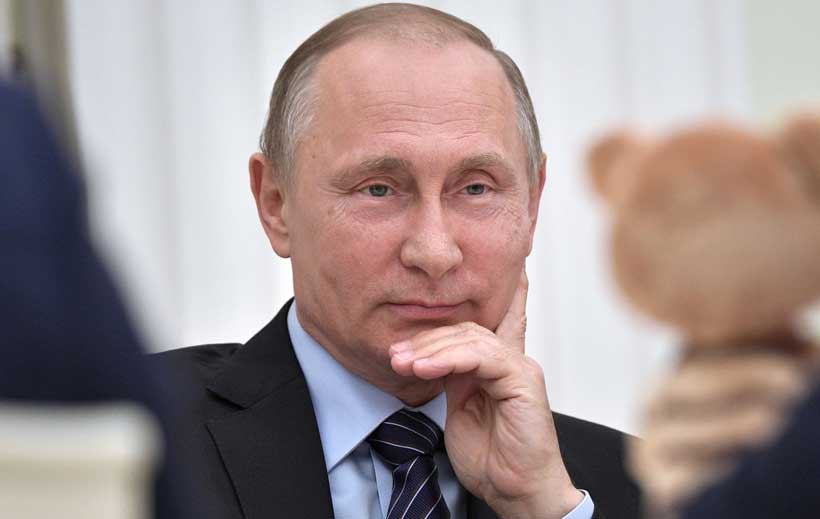 In an almost universally ignored speech by Putin, on December 1st (titled "Ceremony for presenting foreign ambassadors' letters of credence"), he said, merely as an aside [and I here shall add clarifications in brackets]:
By the way, the threat on our western border [he was referring mainly to Ukraine] is really growing, and we have mentioned it many times. It is enough to see how close NATO military infrastructure has moved to Russia's borders. This is more than serious for us. [He meant that it is an existential threat against Russia, just as the Soviet Union's placement of nuclear weapons in Cuba would have been an existential threat to America in 1963. But he always tries to be non-alarmist, because his real audience regarding such matters is the people who control U.S. foreign policies, and he doesn't want to draw the public's attention to matters of existential consequence between the superpowers.]
In this situation, we are taking appropriate military-technical measures. But, I repeat, we are not threatening anyone and it is at the very least irresponsible to accuse us of this, given the real state of affairs. This would mean laying the blame at the wrong door, as the Russian saying goes.
In my speech at the Ministry of Foreign Affairs I already stressed that the priority facing Russian diplomacy at this juncture is to try to ensure that Russia is granted reliable and long-term security guarantees.
While engaging in dialogue with the United States and its allies, we will insist on the elaboration of concrete agreements that would rule out any further eastward expansion of NATO and the deployment of weapons systems posing a threat to us in close proximity to Russia's territory. We suggest that substantive talks on this topic should be started.
I would like to note in particular that we need precisely legal, juridical guarantees, because our Western colleagues have failed to deliver on verbal commitments they made. Specifically, everyone is aware of the assurances they gave verbally that NATO would not expand to the east. But they did absolutely the opposite in reality. In effect, Russia's legitimate security concerns were ignored and they continue to be ignored in the same manner even now.
We are not demanding any special terms for ourselves. We understand that any agreements must take into account the interests of both Russia and all other states in the Euro-Atlantic region. A calm and stable situation should be ensured for everyone and is needed by all without exception.
That said, I would like to stress that Russia is interested precisely in constructive collaboration and in equitable international cooperation, and this remains the central tenet of Russian foreign policy. I hope that you will convey this signal to the leaders of your states.
He was referring there to the fact that the U.S. Government — which had, in 2013, been planning to replace Russia's largest naval base, which had long been on Crimea, and to transform it into yet another U.S. naval base, and which U.S. Government, since 2011, had been planning and then in February 2014 actually perpetrated a coup in Ukraine so as to have a new Ukrainian government which would join NATO and allow America to position U.S. nuclear weapons less than a ten-minute flight-time away from nuking Moscow — that this U.S. Government had broken its repeated verbal promises to Mikhail Gorbachev in 1990 that if the Soviet Union would end its side of the Cold War, then America would do likewise, and NATO would not expand "one inch to the east" (toward Russia's border).
Putin has many times expressed his regret that the Soviet Union had agreed to quit (in 1991) the Cold War without getting ironclad commitments from the U.S. to simultaneously do the same on its side. However, this new speech from Putin (as was so brilliantly pointed out by the great geostrategic analyst Alexander Mercouris in this recent video from him — starting at 9:55 in that video) is entirely new from Russia: "The Russians have never actually set out their position on NATO's eastward expansion in this way. They have never previously, at any point since the end of the Cold War [on Russia's side — America never left the Cold War], or even, by the way during the Cold War, said that they now insist that there is to be in effect an international treaty which will limit the expansion of NATO eastward and which will reduce NATO military forces in areas close to Russia's borders. The fact that Putin is talking in this way is a sign of growing Russian confidence. … (18:35) For the first time, since the end of the Cold War [on Russia's side], it is the Russians who are now making demands of The West [the U.S. regime and its satellite states or colonies — 'allies']. They are saying that they now want legal guarantees that NATO's expansion eastward [i.e., closer to Russia's border] must stop. What they are saying is that they will not tolerate NATO expansion into places like Ukraine, Georgia, Moldova, and the rest, and that they insist that there must be a treaty agreed by the Western powers, that that will not happen. They also want some form of treaty which will restrict the deployment of Western military systems close to Russia's borders. The Russians have never made this sort of demand before, but they are making it now. … It speaks of a major belief in Russian self-confidence. … Putin, in that speech which he made, at the Russian Foreign Ministry — a speech which, to my mind is going to become one of the most important speeches of the Cold War era — is going to become gradually understood to mark a fundamental break in Russian foreign policy. … until the point is finally reached, when the NATO powers, the Western powers, finally accept that the Russians have fundamental security interests in Eastern Europe, and negotiate in earnest to acknowledge those [as Khrushchev did with JFK in October 1963 regarding Cuba]. … It may take five years, it might take ten years; it might take even longer than that. But in time that negotiation … will take place, and an agreement will be reached; or, alternatively, there will be something far more dramatic."
Mercouris's statement got me to wondering why Putin would be demanding, now, after all of these decades when he wasn't, that the lying promises that George Herbert Walker Bush's representatives had been making to Gorbachev and to his representatives, that the U.S. and its allies had no goal of conquering Russia if the Soviet Union and its communism and its Warsaw-Pact copy of America's NATO military alliance, all would end, and that NATO would then NOT expand closer to Russia's border, turned out to have been lies (by G.H.W. Bush) that were clearly demonstrated by all subsequent U.S. Presidents to have been lies. WHY would Putin now want those lies to be signed by the U.S. Government and its vassal-nations, after the U.S. regime's entire record ever since the end of WW II has been one of lying? Why would he want the U.S. signature being now placed on those promises? It's a worthless signature, entirely untrustworthy, isn't it? Look at what the U.S. regime did to the START Treaty, Intermediate Nuclear Forces Treaty, the Iran Nuclear Agreement, and to so many other Treaties that it had signed-onto — unilaterally trashed them, by unilaterally abandoning the Agreement on its side. What would actually be to be gained by such a trashy signature — a signature from a nation whose trustworthiness has been so conclusively disproven?
Maybe Putin's strategy is to get it in writing (though the U.S. routinely cancels its international agreements and therefore its "signature" is meaningless), in order subsequently to announce that if and when the U.S. ever violates what it had signed (and this follow-up by Russia will then automatically make the signed Agreement effectively inviolable-noncancellable), then, at that moment, both the full force of the Russian (and maybe also of the Chinese) nuclear forces that are targeted against the snake's head (D.C., NYC, London, Toronto, Canberra, and Israel) will be promptly unleashed. That would be an unannounced and unwarned first-strike nuclear attack against the snake's head. Then Russia (and maybe also China) will wait for any possible counter-attack (body-twitches from the snake) before unleashing a second unannounced nuclear attack, which would be against and destroying all nations that had participated in that counterstrike against those participating U.S.-allied nations' counter-attack.
Iff that is the reason why he is now demanding that the promise be put in writing, then I think that he was correct to assert what he said. Indeed: what OTHER geostrategy from a Russian (and perhaps also from a Chinese) leader who has been placed (by that snake) into such an existentially precarious position, would make any sense, at all?
(I say this in full recognition that any WW III would produce nuclear winter and terminate all human life and perhaps all life on this planet; however, the U.S. regime, ever since at least 2006, has been planning to 'win' such a war; and the only way that Russia and China might possibly be able to deter such insanity would be for them to pursue a very clear path forward that includes the real possibility of their initiating the nuclear stage of the conflict. The U.S. — including NATO — regime's rabidly neoconservative presumptions are that it will scare its opponents into ultimately complying with the regime's imperialistic demands. If a slave is about to be killed by its master, then its only choice — if any — is to kill its master in the process, regardless whether that will save the slave's life. If this is the only way to end imperialism, then still it must be done, and the side that issues the first-strike will be on the right side of it, and the imperialist opponent will be on the wrong side of it. The slave who kills its master is in the right, because the slave-master is always on the wrong side of the relationship. My next book, due out soon, will be about this, and will be titled America's Empire of Evil.)
Putin Stresses Broadening Economic Cooperation With African States
Russian President Vladimir Putin has reiterated some aspects of Russia's foreign policy agenda when he received letters of credence from 20 foreign ambassadors, including seven from Africa, who had arrived in the country to begin their duty tour.
The seven new African ambassadors are from Republics of Angola, Benin, Ghana, Guinea, Nigeria, Mauritania and Somalia. The ceremony formally marks the official beginning of the ambassadors' duties in the Russian Federation, and it usually takes place twice a year in the St. Alexander Hall of the Great Kremlin Palace.
President Vladimir Putin made concrete reference to his earlier speech delivered in November at the expanded meeting of the Foreign Ministry Board, in which he outlined the priorities of Russia's foreign policy and gave a detailed overview of the current difficult international situation, as well as approaches to settling acute global and regional problems.
He has been consistently pursuing the idea that it is possible to effectively cope with the numerous challenges and threats only through joint efforts of the entire global community, that Russia was ready for such cooperation.
"In fact, I believe that without joining the efforts of all states, without establishing mutually beneficial and equal cooperation it will be impossible to address such difficult global problems and achieve success in fighting climate change, or countering terrorism and organized crime, or ensuring sustainable development," the Russian leader stressed.
During his speech at the ceremony, Putin said Russia was ready to raise economic cooperation including developing investment and deepening trade, as well as increasing humanitarian assistance to African countries. He then describes, in brief, the state of relations between Russia and each of the countries the ambassadors represent.
Putin told Ambassador Augusto da Silva Cunha form the Republic of Angola, that Russia has long friendly relations with Angola. "What matters most is that, together with our Angolan friends, we intend to fully develop a comprehensive cooperation, to promote political dialogue and carry on joint work in trade, investment, and culture among other things." These, in particular, were discussed during the Angolan Foreign Minister's visit to Russia in October.
At the ceremony was Akambi Andre Okounlola-Biaou from the Republic of Benin. He was reminded that Russia continues expanding interaction with Benin. Notably, it is currently drafting an intergovernmental agreement on military cooperation and a memorandum of understanding in the area of sport. Russian companies are interested in participating in joint geological prospecting, energy and infrastructure projects in Benin.
Ghana's ambassador Lesley Akyaa Opoku-Ware is serving her second term in Moscow. Putin noted the steady development of the bilateral relations, and pointed to efforts at expanding interaction in the field of trade and energy, including the peaceful nuclear development in that country. "We jointly produce minerals and hydrocarbons. And, of course, we will continue to train professionals for various sectors of Ghana's economy," Putin added.
With the Republic of Guinea, represented by the newly arrived Ambassador Maju Kake, Russia hopes that political life in this West African country will soon stabilize, and will attain a national accord. For many years, Russia has been offering substantial investment into the Guinean economy. Russian companies have been producing and processing mineral commodities in Guinea. According to Putin, it is now time to implement new interesting projects, including those in the sphere of energy, infrastructure, fisheries and agriculture.
Abdullahi Yibaikwal Shehu is the new ambassador from the Federal Republic of Nigeria. Russia is satisfied with Nigeria as a key partner in Africa. Putin said: "We talked with President Muhammadu Buhari during the Russia-Africa Summit held in Sochi two years ago. We hope that the Nigerian leadership will support Russia's initiative to hold another meeting between the Russian and African leaders in 2022."
Russia leader added "As for specific areas of bilateral cooperation, we find expansion of the detailed dialogue on topical problems related to supporting stability on the global hydrocarbon markets, countering terrorism and religious extremism, to be quite promising."
At the ceremony, Putin told Mohamed Mahmoud Dahi (Islamic Republic of Mauritania) that "There are favorable opportunities for expanding trade and economic ties with the Islamic Republic of Mauritania, including in the area of high-seas fisheries where we cooperate closely." Russia, however, appreciates Mauritania's substantial contribution to fighting terrorism in the Sahara-Sahel zone.
With Hassan Abdi Daud from Somalia located in the Horn of Africa, Putin told him that Russia has advocated for an expanded cooperation with the Federal Republic of Somalia.
Reports indicate that currently Russian-Somali relations are at a very low level, with Russia having sent humanitarian aid to Somalia several times. That the Somalian Government is working actively to strengthen the country's sovereignty and territorial integrity, it is fighting terrorism and extremism, striving to create favorable conditions for the socioeconomic revival. "We hope that all these efforts will be crowned with success," asserted Putin.
Putin hopes that with ambassadors' active participation, these relations will be filled with new content, further hopes for mutually beneficial projects and useful initiatives and, in general, will make rapid progress for the benefit of the people and in the interests of international security and stability.
The newly arrived ambassadors have important diplomatic tasks: to promote the development of comprehensive relations, make conscious efforts in strengthening trade and economic ties, deepening cultural exchanges and promoting people-to-people contacts, facilitating stronger friendship and mutual understanding between their countries and the Russian Federation.
Due to the unfavorable pandemic situation, Kremlin still had to hold the ceremony for the newly arrived ambassadors to present their letters of credence in a strict and limited format. At the gathering, Putin congratulated them on the official start of their diplomatic assignments in the Russian Federation. Russian authorities pledged to help and offer necessary assistance to all the foreign envoys in pursuit of their official assignments in the Russian Federation.
The Russia-China-Iran Alliance
NATO, the U.S. Government, and all other "neoconservatives" (adherents to Cecil Rhodes's 1877 plan for a global U.S. empire that would be run, behind the scenes, by the UK's aristocracy) have been treating Russia, China, and Iran, as being their enemies. In consequence of this: Russia, China, and Iran, have increasingly been coordinating their international policies, so as to assist each other in withstanding (defending themselves against) the neoconservative efforts that are designed to conquer them, and to add them to the existing U.S. empire.
The U.S. empire is the largest empire that the world has ever known, and has approximately 800 military bases in foreign countries, all over the planet. This is historically unprecedented. But it is — like all historical phenomena — only temporary. However, its many propagandists — not only in the news-media but also in academia and NGOs (and Rhodesists predominate in all of those categories) — allege the U.S. (or UK-U.S.) empire to be permanent, or else to be necessary to become permanent. Many suppose that "the rise and fall of the great powers" won't necessarily relate to the United States (i.e., that America will never fall from being the world's dominant power); and, so, they believe that the "American Century" (which has experienced so many disastrous wars, and so many unnecessary wars) will — and even should — last indefinitely, into the future. That viewpoint is the permanent-warfare-for-permanent-peace lie: it asserts that a world in which America's billionaires, who control the U.S. Government (and the American public now have no influence over their Government whatsoever), should continue their 'rules-based international order', in which these billionaires determine what 'rules' will be enforced, and what 'rules' won't be enforced; and in which 'rules-based international order' international laws (coming from the United Nations) will be enforced ONLY if and when America's billionaires want them to be enforced. The ideal, to them, is an all-encompassing global dictatorship, by U.S. (& UK) billionaires.
In other words: Russia, China, Iran, and also any nation (such as Syria, Belarus, and Venezuela) whose current government relies upon any of those three for international support, don't want to become part of the U.S. empire. They don't want to be occupied by U.S. troops. They don't want their national security to depend upon serving the interests of America's billionaires. Basically, they want the U.N. to possess the powers that its inventor, FDR, had intended it to have, which were that it would serve as the one-and-only international democratic republic of nation-states; and, as such, would have the exclusive ultimate control over all nuclear and other strategic weapons and military forces, so that there will be no World War III. Whereas Rhodes wanted a global dictatorship by a unified U.S./UK aristocracy, their 'enemies' want a global democracy of nations (FDR named it "the United Nations"), ruling over all international relations, and being settled in U.N.-authorized courts, having jurisdiction over all international-relations issues.
In other words: they don't want an invasion such as the U.S. and its allies (vassal nations) did against Iraq in 2003 — an invasion without an okay from the U.N Security Council and from the General Assembly — to be able to be perpetrated, ever again, against ANY nation. They want aggressive wars (which U.S.-and-allied aristocracies 'justify' as being necessary to impose 'democracy' and 'humanitarian values' on other nations) to be treated as being the international war-crimes that they actually are.
However, under the prevailing reality — that international law is whatever the U.S. regime says it is — a U.N.-controlled international order doesn't exist, and maybe never will exist; and, so, the U.S. regime's declared (or anointed, or appointed) 'enemies' (because none of them actually is their enemy — none wants to be in conflict against the U.S.) propose instead a "multilateral order" to replace "the American hegemony" or global dictatorship by the U.S. regime. They want, instead, an international democracy, like FDR had hoped for, but they are willing to settle merely for international pluralism — and this is (and always has been) called "an international balance of powers." They recognize that this (balance of powers) had produced WW I, and WW II, but — ever since the moment when Harry S. Truman, on 25 July 1945, finally ditched FDR's intentions for the U.N., and replaced that by the Cold War for the U.S. to conquer the whole world (and then formed NATO, which FDR would have opposed doing) — they want to go back (at least temporarily) to the pre-WW-I balance-of-powers system, instead of to capitulate to the international hegemon (America's billionaires, the controller of the U.S. empire).
So: the Russia-China-Iran alliance isn't against the U.S. regime, but is merely doing whatever they can to avoid being conquered by it. They want to retain their national sovereignty, and ultimately to become nation-states within a replacement-U.N. which will be designed to fit FDR's pattern, instead of Truman's pattern (the current, powerless, talking-forum U.N.).
Take, as an example of what they fear, not only the case of the Rhodesists' 2003 invasion of Iraq, but the case of America's coup against Ukraine, which Obama had started planning by no later than 2011, and which by 2013 entailed his scheme to grab Russia's top naval base, in Crimea (which had been part of Russia from 1783 to 1954 when the Soviet dictator transferred Crimea to Ukraine). Obama installed nazis to run his Ukrainian regime, and he hoped ultimately for Ukraine to be accepted into NATO so that U.S. missiles could be installed there on Russia's border only a five-minute missile-flight away from Moscow. Alexander Mercouris at The Duran headlined on 4 July 2021, "Ukraine's Black Sea NATO dilemma", and he clearly explained the coordinated U.S.-and-allied aggression that was involved in the U.S.-and-allied maneuvering. U.S.-and-allied 'news'-media hid it. Also that day, Mercouris bannered "In Joint Statement Russia-China Agree Deeper Alliance, Balancing US And NATO", and he reported a historic agreement between those two countries, to coordinate together to create the very EurAsian superpower that Rhodesists have always dreaded. It's exactly the opposite of what the U.S.-and-allied regimes had been aiming for. But it was the response to the Rhodesists' insatiable imperialism.
To drive both Russia and China into a corner was to drive them together. They went into the same corner, not different corners. They were coming together, not coming apart. And Iran made it a threesome.
So: that's how the U.S. regime's appointed 'enemies' have come to join together into a virtual counterpart to America's NATO alliance of pro-imperialist nations. It's a defensive alliance, against an aggressive alliance — an anti-imperialist alliance, against a pro-imperialist alliance. America's insatiably imperialistic foreign policies have, essentially, forced its 'enemies' to form their own alliance. It's the only way for them to survive as independent nations, given Truman's abortion of FDR's plan for the U.N. — the replacement, by Truman of that, by the U.N. that became created, after FDR died on 12 April 1945.