Europeans show record support for the euro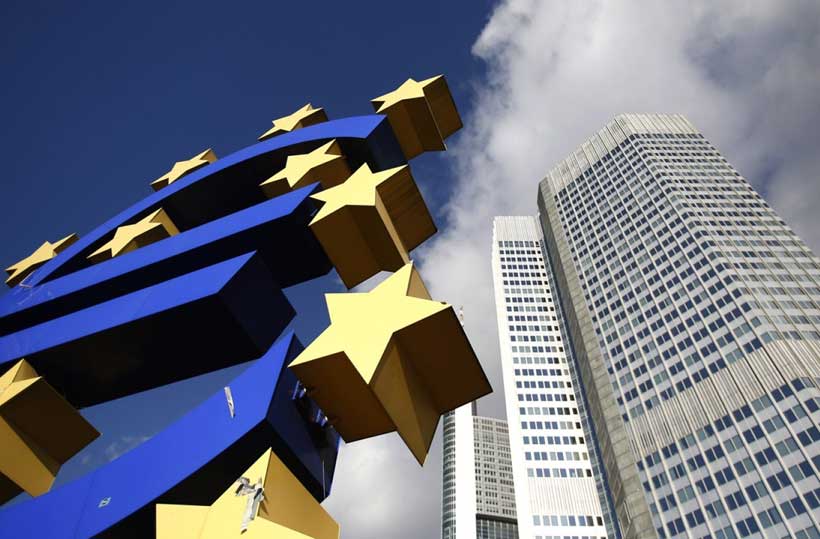 More than three in four citizens think that the single currency is good for the European Union, according to the latest Eurobarometer results. This is the highest support since surveys began in 2002.
According to the results of the latest Eurobarometer survey on the euro area, 76% of respondents think the single currency is good for the EU. This is the highest support since the introduction of euro coins and banknotes in 2002 and a 2-percentage point increase since last year's already record levels. Similarly, a majority of 65% of citizens across the euro area think that the euro is beneficial for their own country: this is also the highest number ever measured. The common currency is supported by a majority of citizens in all 19 euro area Member States.
Jean-Claude Juncker, President of the European Commission, said: "Almost 28 years after I added my name to the Maastricht Treaty, I remain convinced that this was the most important signature I ever made. The euro – now 20 years young – has become a symbol of unity, sovereignty and stability. We have worked hard over the past five years to turn the page of Europe's crisis, ensure that the benefits of jobs, growth and investment are reaching all Europeans and make Europe's Economic and Monetary Union stronger than ever. The euro and I being the only survivors of the Maastricht Treaty, I am glad to see this record-high support for our single currency on my last days in office as President of the European Commission. The euro has been the fight of a lifetime and it is one of Europe's best assets for the future. Let's make sure that it continues to deliver prosperity and protection to our citizens."
Valdis Dombrovskis, Vice-President for the Euro and Social Dialogue, also in charge of Financial Stability, Financial Services and Capital Markets Union, said: "The euro today is stronger than ever, bringing numerous benefits for people, businesses and countries from replacing 19 different currencies with one. It is not a coincidence that most Europeans support the euro. This record-high support gives us a clear mandate to work on further strengthening of our Economic and Monetary Union and reinforcing the international role of the euro."
Pierre Moscovici, Commissioner for Economic and Financial Affairs, Taxation and Customs, said: "Long gone are the days when the integrity of the single currency was in question. The euro is one of the biggest European success stories, and ithas brought tangible benefits to European citizens, businesses and governments alike. We have strengthened our Economic and Monetary Union since the crisis and since the start of this Commission, but the work is not yet finished. The future of the euro is still to be written. We must make sure that this support continues to rise and that the benefits of the euro are shared more equally among all of our citizens."
The euro makes it easy
Still a young currency, the euro has just turned 20 this year. Nevertheless, Europeans clearly see the very practical benefits it has brought to their everyday lives. Four fifths of respondents agree that the euro has made it easier to do business across borders, compare prices and shop in other countries, including online. An absolute majority in the euro area also think that the euro has made traveling easier and less costly.
The euro is more than just the coins and notes in our pockets: it is a symbol of Europe's unity and global strength. Today, it is already the currency of 340 million Europeans in 19 Member States. It has brought tangible benefits to all: stable prices, lower transaction costs, protected savings, more transparent and competitive markets, increased trade, easier travel and higher living standards. Some 60 countries around the world link their currencies to the euro in one way or another.
Strong support for reforms, coordinated economic policies, but also for abolishing one- and two-cent coins
Asked about their views on the coordination of economic policy, including budgetary policies, 69% of Europeans see the need for more coordination in the euro area, whilst only 7% would like to see less cooperation.There is also continued strong support at 80% for economic reforms to improve the performance of national economies. This is also reflected in national results, with clear majorities in all euro area countries.
A majority of 65% of respondents said they were in favour of doing away with inconvenient one- and two-euro cent coins through the mandatory rounding of the final price of purchases in shops and supermarkets to the nearest five cents. An absolute majority supports this idea in 16 out of the 19 euro area countries.
Background
Citizens replied to a set of questions focusing on issues ranging from perception and practical aspects of the euro to their assessment of the economic situation, policy and reforms in their country and in the euro area. In addition, the survey asked citizens about their views and expectations regarding household income and inflation.
Some 17,500 respondents across the 19 euro area countries were interviewed by phone between 14 and 19 October 2019.
EU-UNIDO projects highlight gender equality as key to climate action
Ensuring that women and girls equally lead, participate in and benefit from environmental action are key priorities for the European Union (EU) and the United Nations Industrial Development Organization (UNIDO). Speaking at an event held in connection with the Stockholm+50 conference, three women who participate in EU-UNIDO projects around the world told their stories.
Opening the event, Gerd Müller, UNIDO Director General, and Virginijus Sinkevičius, European Commissioner for Environment, Oceans and Fisheries, both underlined that a healthy planet is impossible if gender inequalities persist. Therefore, women's voices as leaders of circular economy, climate technologies and environmental preservation must be recognized and amplified.
Three projects from the EU-UNIDO cooperation portfolio were highlighted during the event.
Amira Saber, Member of the Egyptian Parliament and Secretary General of the Foreign Relations Committee, participates in the Parliamentary action on climate and energy project, which helps catalyze greater engagement of women MPs in renewable energy, energy access and sustainable transport issues. She said that "voices of women are not well represented in the issue of climate change, neither as negotiators, nor as policymakers. Through my NGO, which was founded to close the gap between civil society organizations and policymakers, we've been helping with many trainings to build the capacity of women-led organizations, to train women, to give them data and to help implement their projects on the ground."
She continued, "I want all the women figures in senior policymaking who are influential in their countries and in their surroundings to understand and to stand very solid on the importance of the critical issues, which we're talking about: climate change."
Lep Mary, a Cambodian business owner, is part of the CAPFISH project, which supports the Cambodian government's efforts to achieve sustainable development, climate resilience and inclusivity of the country's freshwater and marine fisheries resources. Mary noted that "with the support of the UNIDO-CAPFish project, we are able to address most of our challenges related to food safety compliance while enhancing capacity of our suppliers along the value chain on food safety practices. The support will also help to improve environment plans regarding waste management and the safety of workers."
The Youth Rising project supports vocational education and training for young people in Liberia. Esther Gheh Isatta Javillie, who is part of the project, said that "the local carpenter producers are all-male. We have this stereotype in Liberia that technical and vocational education and training (TVET) is really for males".
The event was organized by UNIDO and the EU in association with the Stockholm+50 conference, which commemorates the 1972 UN Conference on the Human Environment and celebrates 50 years of global environmental action. It was moderated by Cecilia Ugaz Estrada, Director of UNIDO's Office for Gender Equality and Empowerment of Women.
New Project Will Support Improved Mobility and Accessibility in Indonesia's Bandung
The World Bank's Board of Executive Directors has approved the $224 million Indonesia Mass Transit (MASTRAN) Project on May 20, 2022. The project will support improved urban mobility and accessibility in key cities while strengthening the country's institutional capacity for mass transit development.
The project, which is aimed at improving transportation efficiency for Indonesia's fast-growing urban populations and provide public transportation alternatives to cars and motorbikes, will finance development of bus rapid transit (BRT) systems in the metropolitan areas of Medan, North Sumatra, and Bandung, West Java.
"With the active participation and cooperation of the local government, we will create an environmentally friendly urban mass transportation system by lowering the usage of private vehicles in order to promote community mobility and access to new possibilities that are in accordance with the National Medium-Term Development Plan's goals via the implementation of MASTRAN project," said Budi Karya Sumadi, Minister of Transport of the Republic of Indonesia at the National Public Transportation Movement event.
The metropolitan areas of Medan and Bandung were selected as pilot cities under the project based on readiness and viability. Greater Bandung is the third largest urban agglomeration in Indonesia and Bandung City was ranked as the second most congested of 38 Indonesian cities in a recent World Bank study. The Mebidang area, which covers Medan, the capital of North Sumatra Province, the city of Binjai, and the district of Deli Serdang, is the largest metropolitan area outside of Java, and the fourth largest metropolitan area in the country. It ranked third most congested among Indonesian cities in the World Bank study.
The success of the project will be evaluated based on reduced travel times for users of public transportation, increased numbers of riders, greater satisfaction regarding safety and security, and a higher percentage of women employed in BRT system operations. The project is also intended to support the establishment of national and sub-national agencies that are able to plan, develop, and manage mass transit systems in Indonesia. The project will facilitate reductions in greenhouse gas emissions through avenues such as a shift to more fuel-efficient vehicles, shift from personal modes to public transport, reduced congestion, and expected electrification of the BRT fleet, and transit-oriented-development impacts over the longer term.
"Almost 60 percent of Indonesia's GDP comes from urban areas, so mobility in cities is crucial to ensuring economic competitiveness," said Satu Kahkonen, Country Director for World Bank in Indonesia and Timor-Leste. "This project will strengthen the collaboration between Indonesia's central and local governments and improve the technical expertise needed to plan and operate urban transport systems. By upgrading the quality of public transportation, the project will offer alternatives to motorcycles and cars and rein in pollution and congestion."
In addition to support from the World Bank, the project will receive financial support from the Indonesian government, Agence française de développement (AFD), and the private sector, bringing the total financing to US$364 million.
African nations leading the way on 'food systems transformation'
African countries are at the vanguard of a vital transformation of food systems to simultaneously address food security, nutrition, social and environmental protection – all while boosting resilience – said the UN chief on Thursday.
António Guterres was addressing the start of a high-level policy dialogue at UN Headquarters in New York, part of the Africa Dialogue Series 2022, convened to strengthen resilience in food supplies across the continent, at a time when "decades of progress on hunger are being reversed."
Deep connections
He said for too long, nutrition, food security, conflicts, climate change, ecosystems and health have been treated as separate concerns, "but these global challenges are deeply interconnected. Conflict creates hunger. The climate crisis amplifies conflict", and systemic problems are just getting worse.
He noted that after more than a decade of improvements, one in five Africans were undernourished in 2020, while 61 million African children are affected by stunting. Women and girls bear the brunt, and when food is scarce, "they are often the last to eat; and the first to be taken out of school and forced into work or marriage."
Mr. Guterres said that UN humanitarians and partners were doing their utmost to meet Africa's needs amidst crisis, but aid "cannot compete with the systemic drivers of hunger."
Other "external shocks" were exacerbating the situation, such as an uneven recovery from the pandemic and the war in Ukraine, with African countries among the most heavily impacted by grain shortages and rising debt.
Climate crisis frontline
Building resilience also requires addressing the climate crisis.
"African farmers are on the frontlines of our warming planet, from rising temperatures to droughts and floods," he said.
"Africa needs a massive boost in technical and financial support to adapt to the impact of the climate emergency and provide renewable electricity across the continent."
He added that developed countries must deliver on their $100 billion climate finance commitment to developing countries, with the help of international financial institutions, so African countries, in particular, can invest in a strong recovery from the COVID-19 pandemic, on the tide of renewable energy.
Food systems, said the Secretary-General, "connect all these challenges", as highlighted at last September's UN Food Systems Summit.
"Many African Member States led the call for fundamental change, through inclusive transformation pathways, which aim to address – simultaneously – food security, nutrition, social protection, environmental conservation and resilience to shocks."
He welcomed the African Union (AU) decision to designate 2022 as the Year of Nutrition – a pledge to act on the strong commitments made at the Summit.
Collective expertise
"Through national, regional and global cooperation, we must build on lessons learned and harness collective expertise. Together, we must deliver on these pathways", Mr. Guterres added.
"The international community must rise to the occasion", he declared, adding that scaling back support when demand is at an all-time high, was "not an option."
Official Development Assistance, or ODA, based on a percentage of available public funds, is more necessary than ever, he said.
"I urge all countries to demonstrate solidarity, invest in resilience, and prevent the current crisis from escalating further."
The UN chief said that during his recent visit to Senegal, Niger, and Nigeria, he had been inspired by the resilience and determination of the people he met.
"Women and young people in particular were committed to lasting, sustainable solutions that enable them to live in peace with their neighbours and with nature."
"If we work together, if we put people and planet before profit, we can transform food systems, deliver on the Sustainable Development Goals (SDGs) and leave no one behind."
The ambitious goals, he concluded, of ending hunger and malnutrition by the fast-approaching 2030 deadline, were realistic, and achievable.
"The United Nations stands by your side, every step of the way."