Bring women to the table to build peace in Africa, say gender experts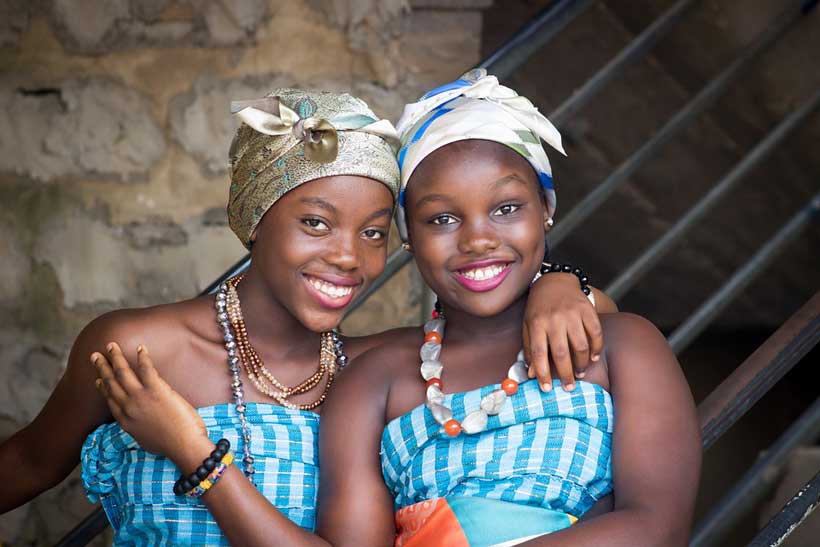 Women bear the brunt of conflict and for peace building to be successful they must be involved in conflict resolution and reconstruction at every stage, said gender experts at the 2019 Global Gender Summit in Kigali on Tuesday.
Speakers at a plenary session on peacebuilding called for home-grown solutions to conflict and the participation of women in policy and decision making at local, national and regional levels.
"Africa needs to silence the guns. We need to develop our own action plans, not waiting for donor organizations and development partners," said Bineta Diop, the African Union's Special Envoy on Women, Peace and Security. "Most of the time we don't look at what fuels the conflicts. We need to invite women to the table of discussions and negotiations."
The Senegalese women's rights activist noted that Africa is home to one third of the global refugee population, the majority of them women and children. Frameworks on peace and conflict resolution need to be urgently implemented, she said.
"The African Union is leading with initiatives in this regard, but we require everyone one board," Diop said, noting the African Development Bank's Affirmative Finance Action for Women in Africa (AFAWA), initiative.
The African Development Bank and the government of Rwanda are hosting the Global Gender Summit from 25 to 27 November in Kigali. The Summit, held for the first time in Africa, is being organized by the Multilateral Development Banks' (MDBs) Working Group on gender.
Government representatives from Côte d'Ivoire and Rwanda shared insights into how they incorporated women into post-conflict peace processes.
Euphrasie Kouassi Yao, special advisor on gender to Côte d'Ivoire President Alassane Ouattara, said women's empowerment and inclusion were critical to the peace process following civil conflicts in her country.
"If we want Africa to be at peace, women must be empowered. And as we move towards elections next year, we are preparing women to be ambassadors of peace. It is about getting all women involved and empowered, from rural, urban, and even those in the diaspora," Kouassi Yao said.
She said Cote d'Ivoire was the first African country to develop a conflict resolution plan independent of donor agencies.
"From our experience, for sustainable peace to happen, women should be at [the centre of] decision making. Women must be involved in peace planning, implementation, and reconstruction," she said. "The peace process and mechanism must be home grown and not led by donors."
Goretti Mwenzangu, the Director of Gender Promotion at the Rwanda National Police told the session: "When women are in decision making, you experience peace."
The police officer, who is also the coordinator of Rwanda's Isange One Stop Centre for gender-based violence, said Rwanda was willing to share knowledge and experience after the 1994 genocide in the country.
"Getting women from crisis to leading the process of peace is critical," Mwenzangu said.
The Coordinator of the G5 Sahel women's platform, Justine Coulidiati-Kielem, said without women onboard, it is difficult to achieve peace in any context.
"Women are constantly killed and targeted during conflicts. The challenges of women in peace building requires inclusion," said Coulidiati-Kielem. "More than ever before, women have to be at the forefront of peace building."
She also called on African countries to support each other in peace and development initiatives, with the multilateral organizations such as the African Development Bank at the forefront.
"We need to find a holistic solution to conflicts, with women in the lead, and we need to move very fast. The bus needs to move faster towards results," Coulidiati-Kielem added.
After conflict, it is often women who pick up the pieces, said Fatima Zohra Karadja of the Panel of Eminent Persons of the African Peer Review Mechanism (APRM).
"Women end up taking up the responsibility of coming up with strategies to rebuild what has been destroyed. We just need society to recognize this and enshrine it," she said.
Eritrea: Release journalists and politicians arrested 20 years ago
The Eritrean authorities must immediately and unconditionally release 21 journalists and politicians who were arrested in a sweeping crackdown on dissent 20 years ago, said Amnesty International as it launched a new campaign #WhereAreEritreasDissidents
The arrests of the journalists between 21 and 23 September 2001 followed the arrest on 18 September 2001 of politicians popularly known as G-15 and the banning of independent media after they had published an open letter urging reforms.
"It is unconscionable that these brave prisoners of conscience are still languishing in jail 20 years since they were arrested for exercising their human rights, with no word from the authorities on their current circumstances, and that the ban on independent media remains in place," said Deprose Muchena, Amnesty International's Regional Director for East and Southern Africa.
"Days have turned into months, months into years and now years have turned into decades of unending anguish for these detainees, their families and loved ones. We call on President Isaias Afewerki to take meaningful steps to bring an end to this travesty of justice."
The journalists arrested between 21 and 23 September 2001 are Dawit Isaak, Seyoum Tsehaye, Dawit Habtemichael, Mattewos Habteab, Fesseaye "Joshua" Yohannes, Amanuel Asrat and Temesegn Gebreyesus, Said Abdelkader, Yosuf Muhamed Ali and Medhanie Haile. The politicians – all members of Isaias' ruling People's Front for Democracy and Justice (PFDJ) – include former Vice-President Mahmoud Ahmed Sheriffo and his wife and independence war heroine Aster Fissehatsion, and former foreign ministers Haile Woldetensae and Petros Solomon. Nine of the politicians and journalists have previously been reported to have died in detention, a claim the Eritrean authorities refuse to confirm.
"There are also many other politicians, journalists and activists that were arrested and detained without charge before September 2001 and since then and they must be released too," said Deprose Muchena
Some of the high-profile detainees in Eritrea include former Finance Minister Berhane Abraha, who was arrested in September 2018 following his publication of a book considered critical of President Isaias, and Ciham Ali, the daughter of the defected former Minister of Information Ali Abdu, who was arrested in 2012 aged 15, as she tried to flee the country.
Amnesty International has documented extremely poor prison conditions in Eritrea, in some cases amounting to cruel, inhuman or degrading treatment. Prisons in Eritrea are generally overcrowded, with inadequate water and sanitation facilities and providing poor-quality food and drinking water.
Torture, killings, lawlessness, still blight Burundi's rights record
The people of Burundi continue to endure serious human rights violations including possible crimes against humanity, the majority committed by those with links to the ruling party, UN-appointed independent investigators said on Thursday.
Despite a pledge by President Evariste Ndayishimiye to address the situation in the country after years of violent repression, crimes including arbitrary detention and execution, torture and intimidation, have not stopped, according to the UN Commission of Inquiry on Burundi.
"Not only have grave human rights violations continued to occur, but in some respects the situation has deteriorated", since President Ndayishimiye's took office in June last year, Commission chair Doudou Diene told journalists in Geneva.
These abuses happened against a backdrop of "multiple armed attacks" by opponents of the Government since August 2020, Mr. Diene explained.
"While seeking persons allegedly involved in the armed attacks or collaborating with rebel groups, the security forces targeted mainly members from the main opposition party, the National Congress for Liberty (CNL), former members of the Tutsi-dominated Burundian Armed Forces (ex-FAB), returnees and some of their family members. Some were executed, others disappeared or were tortured while detained arbitrarily."
Dire situation
The Commission noted that although the level of political violence in the Great Lakes nation decreased immediately after the 2020 elections – and with the country appearing to be "on the road to normalization" – the human rights situation remains "dire".
The national poll was held after the death of President Pierre Nkurunziza, whose decision to stand for a controversial third term in 2015 sparked major protests and mass displacement, and ultimately the establishment of the Commission of Inquiry by the Human Rights Council, in 2016.
The political climate today is "highly intolerant of dissent", the Commissioners maintained in their fifth and final report to the Human Rights Council, highlighting how members of opposition parties – notably the CNL – have been targeted, in particular since June 2021.
Imbonerakure impunity
Many security officers and others linked to the ruling party, the CNDD-FDD, continued to go unpunished for their crimes, they added, pointing to agents of the National Intelligence Service (SNR), police officers – including from the Mobile Rapid Intervention Groups (GMIR) – and the Imbonerakure youth-league, whose brutality has been documented in previous Commission of Inquiry reports.
Individuals belonging to these groups are "the main perpetrators of those violations, some of which could amount to crimes against humanity", the Commission of Inquiry report said. "They continue to enjoy widespread impunity for their actions, as has been the case since 2015."
Justice reforms lacking
Highlighting the lack of promised structural reforms to promote accountability in the country, Commissioner Françoise Hampson said that the "rule of law in Burundi continues to erode, despite the stated intention of President Ndayishimiye to restore it".
In common with the Commission's previous findings, Ms. Hampson noted how testimonies gathered for its latest report pointed to an organized campaign "against those elements of the civilian population that were seen as or thought to be hostile to the government in power" – a potential crime against humanity. "Some of the violations that this year's report detail, seem to be a continuation of that policy," she added.
In Burundi, the judicial system could not be relied upon "to curb or remedy human rights violations", Ms. Hampson continued, warning that the newly elected Government "has only been strengthening its control over the judiciary".
For the past five years, the Commission of Inquiry on Burundi has documented, monitored and reported alleged human rights violations in Burundi.
It has conducted more than 1,770 interviews, including remotely, in the Democratic Republic of the Congo (DRC), Rwanda, Tanzania, Uganda, as well as Burundi.
The Commission is scheduled to present its report to the Human Rights Council on 23 September, 2021.
Women in Albania to Gain Greater Access to Global Digital Jobs Market
"Digital Jobs Albania" is a new World Bank initiative that will help women in Albania gain better access to online work opportunities and connect with the global economy. The initiative will provide intensive 3-month training in digital skills for women aged 16-35 years, empowering them to access online freelancer job opportunities in graphic design, web development and digital marketing.
The emergence of online freelancer job markets is creating new opportunities for Albanians to connect with the global economy. Websites such as Upwork, Fiverr and People Per Hour allow Albanians with the right skills to access online project work commissioned by companies and individuals anywhere in the world, while staying in their local communities.
Women in particular stand to gain. The female labor force participation in Albania is still 14.6 percentage points lower than for males. The gender pay gap remains 6.6 percent, according to 2020 data from the Albanian National Statistical Authority (INSTAT). The emerging online freelancing work model can play an important role in narrowing these gaps. Flexible work hours and the ability to work from home can help more women with the right skills stay in the labor market and gain financial independence.
The Digital Jobs Albania initiative, implemented in partnership with the Government of Albania, Coderstrust (an international digital skills training provider), and EuroPartners Development (a local consulting company), will provide an online training program to equip selected participants with in-demand technical skills. It will also provide mentorship to participants and help them develop the soft skills needed to successfully compete for project work on online freelancer websites.
"This initiative offers an exciting new opportunity for Albanian women to acquire digital skills and join the online economy – a blueprint to inspire future projects in this space," says Emanuel Salinas, World Bank Country Manager for Albania. "No one can afford to be left behind in the ongoing digital transformation."
The initiative is part of broader ongoing World Bank engagement in Albania to help the country leverage the economic opportunities associated with digital trade in goods and services.
"Albania has recognized the importance of digital markets as an opportunity for economic development. We have mobilized a team from across the World Bank to support this effort, through this new initiative and others in the future," says Christoph Ungerer, the World Bank task team leader for the Albania Digital Trade Project.