Bring women to the table to build peace in Africa, say gender experts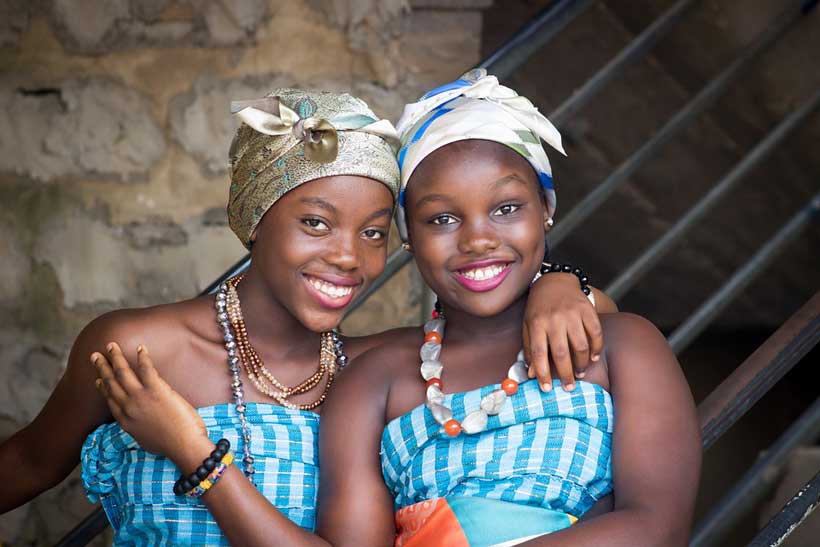 Women bear the brunt of conflict and for peace building to be successful they must be involved in conflict resolution and reconstruction at every stage, said gender experts at the 2019 Global Gender Summit in Kigali on Tuesday.
Speakers at a plenary session on peacebuilding called for home-grown solutions to conflict and the participation of women in policy and decision making at local, national and regional levels.
"Africa needs to silence the guns. We need to develop our own action plans, not waiting for donor organizations and development partners," said Bineta Diop, the African Union's Special Envoy on Women, Peace and Security. "Most of the time we don't look at what fuels the conflicts. We need to invite women to the table of discussions and negotiations."
The Senegalese women's rights activist noted that Africa is home to one third of the global refugee population, the majority of them women and children. Frameworks on peace and conflict resolution need to be urgently implemented, she said.
"The African Union is leading with initiatives in this regard, but we require everyone one board," Diop said, noting the African Development Bank's Affirmative Finance Action for Women in Africa (AFAWA), initiative.
The African Development Bank and the government of Rwanda are hosting the Global Gender Summit from 25 to 27 November in Kigali. The Summit, held for the first time in Africa, is being organized by the Multilateral Development Banks' (MDBs) Working Group on gender.
Government representatives from Côte d'Ivoire and Rwanda shared insights into how they incorporated women into post-conflict peace processes.
Euphrasie Kouassi Yao, special advisor on gender to Côte d'Ivoire President Alassane Ouattara, said women's empowerment and inclusion were critical to the peace process following civil conflicts in her country.
"If we want Africa to be at peace, women must be empowered. And as we move towards elections next year, we are preparing women to be ambassadors of peace. It is about getting all women involved and empowered, from rural, urban, and even those in the diaspora," Kouassi Yao said.
She said Cote d'Ivoire was the first African country to develop a conflict resolution plan independent of donor agencies.
"From our experience, for sustainable peace to happen, women should be at [the centre of] decision making. Women must be involved in peace planning, implementation, and reconstruction," she said. "The peace process and mechanism must be home grown and not led by donors."
Goretti Mwenzangu, the Director of Gender Promotion at the Rwanda National Police told the session: "When women are in decision making, you experience peace."
The police officer, who is also the coordinator of Rwanda's Isange One Stop Centre for gender-based violence, said Rwanda was willing to share knowledge and experience after the 1994 genocide in the country.
"Getting women from crisis to leading the process of peace is critical," Mwenzangu said.
The Coordinator of the G5 Sahel women's platform, Justine Coulidiati-Kielem, said without women onboard, it is difficult to achieve peace in any context.
"Women are constantly killed and targeted during conflicts. The challenges of women in peace building requires inclusion," said Coulidiati-Kielem. "More than ever before, women have to be at the forefront of peace building."
She also called on African countries to support each other in peace and development initiatives, with the multilateral organizations such as the African Development Bank at the forefront.
"We need to find a holistic solution to conflicts, with women in the lead, and we need to move very fast. The bus needs to move faster towards results," Coulidiati-Kielem added.
After conflict, it is often women who pick up the pieces, said Fatima Zohra Karadja of the Panel of Eminent Persons of the African Peer Review Mechanism (APRM).
"Women end up taking up the responsibility of coming up with strategies to rebuild what has been destroyed. We just need society to recognize this and enshrine it," she said.
Commission presents first reflections on building a strong social Europe for just transitions
The Commission today presents a Communication on building a strong social Europe for just transitions. It sets out how social policy will help deliver on the challenges and opportunities of today, proposing action at EU level for the months to come, and seeking feedback on further action at all levels in the area of employment and social rights. Already today the Commission launches the first phase consultation with social partners – businesses and trade unions – on the issue of fair minimum wages for workers in the EU.
Valdis Dombrovskis, Executive Vice-President for an Economy that Works for People, said: "Europe is going through a momentous shift. As we go through the green and digital transformation, as well as an ageing population, the Commission wants to ensure that people remain centre stage and that the economy works for them. We already have an instrument, the European Pillar of Social Rights. Now we want to ensure that the EU and its Member States, as well as stakeholders, are committed to its implementation."
Nicolas Schmit, Commissioner for Jobs and Social Rights, said: "The working lives of millions of Europeans will change in the coming years. We need to take action to allow the future workforce to flourish. Europe's innovative and inclusive social market economy must be about people: providing them with quality jobs that pay an adequate wage. No Member State, no region, no person can be left behind. We must continue to strive for the highest of standards in labour markets, so that all Europeans can live their lives with dignity and ambition."
Europe today is a unique place where prosperity, fairness and a sustainable future are equally important goals. In Europe, we have some of the highest standards of living, best working conditions and most effective social protection in the world.That said, Europeans face a number of changes such as the move to a climate-neutral economy, digitalisation and demographic shifts. These changes will present the workforce with new challenges and opportunities. The European Green Deal – our new growth strategy – must ensure that Europe remains the home of the world's most advanced welfare systems and is a vibrant hub of innovation and competitive entrepreneurship.
Today's publications build on the European Pillar of Social Rights, proclaimed by EU institutions and leaders in November 2017. The Commission asks all EU countries, regions and partners to present their views on the way forward as well as their plans to deliver on the Pillar's objectives. This will feed into the preparation of an Action Plan in 2021 that reflects all contributions, and that will be submitted for endorsement at the highest political level
For its part, the Commission today sets out planned initiatives that will already contribute to the implementation of the EU Pillar. Key actions in 2020 include:
Fair minimum wages for workers in the EU
A European Gender Equality Strategy and binding pay transparency measures
An updated Skills Agenda for Europe
An updated Youth Guarantee
Platform Work Summit
Green paper on Ageing
Strategy for persons with disabilities
Demography Report
European Unemployment Re-insurance Scheme
These actions build on work already done by the EU since the Pillar's proclamation on 2017. But action at EU level alone is not enough. The key to success lies in the hands of national, regional and local authorities, as well as social partners and relevant stakeholders at all levels. All Europeans should have the same opportunities to thrive – we need to preserve, adapt and improve what our parents and grandparents have built.
Consultation on fair minimum wages
The number of people in employment in the EU is at a record high. But many working people still struggle to make ends meet. President von der Leyen has expressed her wish that every worker in our Union has a fair minimum wage that should allow for a decent living wherever they work.
Today the Commission launches a first phase consultation of social partners – businesses and trade unions – on the issue of a fair minimum wage for workers in the EU. The Commission is in listening mode: we want to know whether social partners believe EU action is needed, and if so, if they wish to negotiate it between themselves.
There will not be a one-size-fits-all minimum wage. Any potential proposal will reflect national traditions, whether collective agreements or legal provisions. Some countries already have excellent systems in place. The Commission wishes to ensure all systems are adequate, have sufficient coverage, include thorough consultation of social partners, and have an appropriate update mechanism in place.
Background
Social justice is the foundation of the European social market economy and at the heart of our Union. It underpins the idea that social fairness and prosperity are the cornerstones for building a resilient society with the highest standards of well-being in the world.
The moment is one of change. Climate change and environmental degradation will require us to adapt our economy, our industry, how we travel and work, what we buy and what we eat. It is expected that artificial intelligence and robotics alone will create almost 60 million new jobs worldwide in the next 5 years, while many jobs will change or even disappear. Europe's demography is changing; today we live longer and healthier lives, thanks to progress in medicine and public health.
These changes, opportunities and challenges affect all countries and all Europeans. It makes sense to face them together and address change upfront. The European Pillar of Social Rights is our answer to these fundamental ambitions. The Pillar expresses 20 principles and rights essential for fair and well-functioning labour markets and welfare systems in 21st century Europe.
Zimbabwe: AfDB, UN and World Bank launch 2019 Needs Assessment Report to spur economic recovery
The African Development Bank, United Nations and World Bank Group recently launched the Zimbabwe 2019 Joint Needs Assessment Report.
The study, the first to be prepared jointly in Zimbabwe by the three organizations, was produced after the Government of Zimbabwe requested them to assess the scope of challenges and needs.
The southern African nation has engaged on a path to accelerate policy and legal reform for economic recovery and inclusive growth. This includes investments in quality social services; social cohesion and peace; improved governance; and re-engagement with the international community.
"I urge the Zimbabwean government to take advantage of the knowledge embedded in the report in its reform efforts," Damoni Kitabire, Country Manager of the African Development Bank in Zimbabwe, said.
Similarly, respect for the rule of law, consolidation of peace, protection of human rights and gender equality will be critical for a successful transition, following the country's political changes in November 2017.
The report estimates that Zimbabwe will require $16 billion to restore infrastructure and support governance and other institutional reforms. Most of the resources would be needed for physical infrastructure, with roads accounting for $7.5 billion. Social services, including education and health, account for $3.4 billion of the target.
The report produced after intensive consultations with various government agencies, the private sector, civil society and development partners was prepared following a request from the government.
The exercise was carried out between March 2018 and August 2019.
The new government has been seeking to re-engage fully with the international community, attract foreign direct investment (FDI), and restore confidence in politics, governance and the economy of the country.
In October 2018, the government launched the Transitional Stabilization Programme (TSP) 2018-2020 to kick-start the journey towards Vision 2030, which seeks to move the country to an Upper Middle-Income Economy by 2030.
The report, which remains a preliminary assessment, offers a tentative bridge between the TSP and delivery on Vision 2030.
Italy funds projects for agri-business development in Egypt and investment promotion in Iraq
The Italian Development Cooperation is contributing more than €4.55m to two United Nations Industrial Development Organization (UNIDO) projects in Egypt and Iraq. A signing ceremony to launch the projects took place today at the UNIDO headquarters.
The Egypt project has been developed after an in-depth analysis of the Egyptian tomato value chain. Egypt produces about eight million tonnes of fresh tomatoes per year and is the world's fifth largest producer, which can be attributed to its suitable climate, dual seasonality and fertile lands. However, only three to four per cent of the tomato crop is processed, and the processing sector suffers from a lack of integration with the supply chain.
The project will enhance the linkages between supply and processing factories, improve the quality of tomato production and processing, strengthen the technical skills of workers and managers in the processing factories, and improve existing marketing strategies in order to tap into new markets. It aims at value-addition and enhanced technical capacities of youth, thereby increasing employability and job opportunities.
The goal of the Iraq project is to promote existing and potential investments in Iraq in order to expand the share of the private sector's contribution to the country's GDP and to create employment opportunities for poverty alleviation and accelerated economic growth of Iraq.
It will have a dual focus, on one hand, increasing direct foreign investment, and on the other, increasing the impact of existing direct foreign investment through skills upgrading and increased local supply chain linkages.
In 2018 Italy was the largest governmental donor providing voluntary contributions to UNIDO, and in his statement at the signing ceremony, UNIDO Director General, LI Yong, expressed his appreciation of Italy's important financial and political support. Li said, "Italy has always been an effective advocate of UNIDO and of the 2030 Agenda for Sustainable Development. We share a common vision to promote inclusive and sustainable industrial development to tackle inequalities at all levels."
Li noted that the Egypt project will be implemented with the Ministry of Trade and Industry, and the Ministry of Agriculture and Land Reclamation, as well as the local private sector, which will be the initiative's primary beneficiary.
With regard to the Iraq project, Li stated that UNIDO's Investment and Technology Promotion Office in Italy "has already developed a strong expertise and technical skills in the promotion of investment projects through the establishment of close working relationships with Italy's industrial private sector."
In his statement, Ambassador Alessandro Cortese, Permanent Representative of Italy to the International Organizations in Vienna, said, "We believe both projects in Egypt and Iraq represent well our longstanding cooperation with UNIDO and the Italian way of "doing business" with our highly qualified expertise and advanced technologies, while contributing to the implementation of the 2030 Agenda."
Ambassador Cortese also stated that "these two agreements confirm that the partnership between UNIDO and Italy is deep rooted and very well grounded. It is based on shared geographical and thematic priorities and has brought remarkable results in terms of quality and quantity of technical cooperation delivered through many successful initiatives".