Bring women to the table to build peace in Africa, say gender experts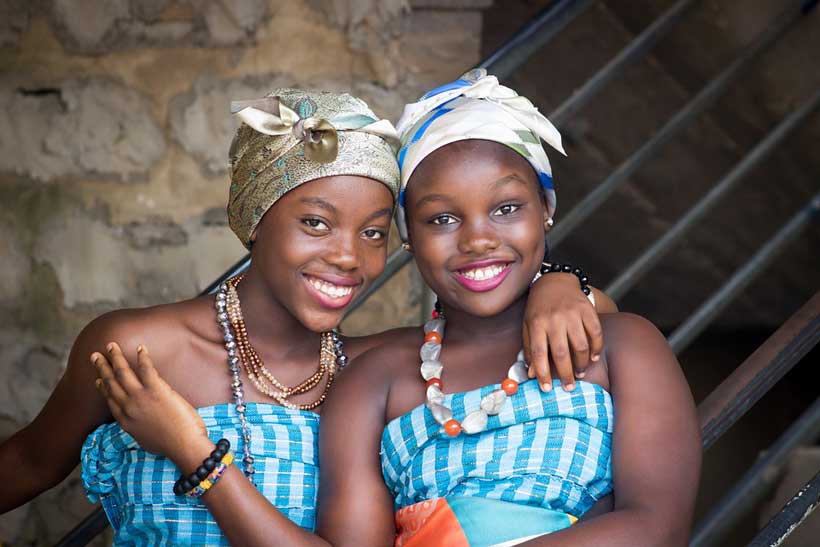 Women bear the brunt of conflict and for peace building to be successful they must be involved in conflict resolution and reconstruction at every stage, said gender experts at the 2019 Global Gender Summit in Kigali on Tuesday.
Speakers at a plenary session on peacebuilding called for home-grown solutions to conflict and the participation of women in policy and decision making at local, national and regional levels.
"Africa needs to silence the guns. We need to develop our own action plans, not waiting for donor organizations and development partners," said Bineta Diop, the African Union's Special Envoy on Women, Peace and Security. "Most of the time we don't look at what fuels the conflicts. We need to invite women to the table of discussions and negotiations."
The Senegalese women's rights activist noted that Africa is home to one third of the global refugee population, the majority of them women and children. Frameworks on peace and conflict resolution need to be urgently implemented, she said.
"The African Union is leading with initiatives in this regard, but we require everyone one board," Diop said, noting the African Development Bank's Affirmative Finance Action for Women in Africa (AFAWA), initiative.
The African Development Bank and the government of Rwanda are hosting the Global Gender Summit from 25 to 27 November in Kigali. The Summit, held for the first time in Africa, is being organized by the Multilateral Development Banks' (MDBs) Working Group on gender.
Government representatives from Côte d'Ivoire and Rwanda shared insights into how they incorporated women into post-conflict peace processes.
Euphrasie Kouassi Yao, special advisor on gender to Côte d'Ivoire President Alassane Ouattara, said women's empowerment and inclusion were critical to the peace process following civil conflicts in her country.
"If we want Africa to be at peace, women must be empowered. And as we move towards elections next year, we are preparing women to be ambassadors of peace. It is about getting all women involved and empowered, from rural, urban, and even those in the diaspora," Kouassi Yao said.
She said Cote d'Ivoire was the first African country to develop a conflict resolution plan independent of donor agencies.
"From our experience, for sustainable peace to happen, women should be at [the centre of] decision making. Women must be involved in peace planning, implementation, and reconstruction," she said. "The peace process and mechanism must be home grown and not led by donors."
Goretti Mwenzangu, the Director of Gender Promotion at the Rwanda National Police told the session: "When women are in decision making, you experience peace."
The police officer, who is also the coordinator of Rwanda's Isange One Stop Centre for gender-based violence, said Rwanda was willing to share knowledge and experience after the 1994 genocide in the country.
"Getting women from crisis to leading the process of peace is critical," Mwenzangu said.
The Coordinator of the G5 Sahel women's platform, Justine Coulidiati-Kielem, said without women onboard, it is difficult to achieve peace in any context.
"Women are constantly killed and targeted during conflicts. The challenges of women in peace building requires inclusion," said Coulidiati-Kielem. "More than ever before, women have to be at the forefront of peace building."
She also called on African countries to support each other in peace and development initiatives, with the multilateral organizations such as the African Development Bank at the forefront.
"We need to find a holistic solution to conflicts, with women in the lead, and we need to move very fast. The bus needs to move faster towards results," Coulidiati-Kielem added.
After conflict, it is often women who pick up the pieces, said Fatima Zohra Karadja of the Panel of Eminent Persons of the African Peer Review Mechanism (APRM).
"Women end up taking up the responsibility of coming up with strategies to rebuild what has been destroyed. We just need society to recognize this and enshrine it," she said.
AfDB presents findings of the Angola Green Mini-Grid Market Assessment
The African Development Bank hosted a webinar to present the findings and recommendations of the Angola Green Mini-Grid Market Assessment report, implemented through the Sustainable Energy Fund for Africa.
The assessment was conducted with the technical assistance of Carbon Trust, in collaboration with the Government of Angola, and in consultation with key stakeholders such as development partners and private sector representatives. The report assesses key enabling factors required for large scale mini-grid development, as well as the overall potential of the mini-grid market in Angola, in alignment with the country's energy sector development strategy.
The report estimates that 9.9 million people, representing 32% of Angola's total population, and 47% of the non-electrified population, could be best served by mini-grid solutions. It also highlighted the regulatory gaps that exist in the mini-grid market, including insufficient incentives for private sector participation. Overall, the assessment recommends that addressing the gaps could unlock an estimated demand for mini-grids of approximately $252.5 million in Angola, based on the average annual electricity expenditure per capita, in rural areas.
The webinar held on 23 July 2020, provided a platform for over 100 participants to discuss opportunities and challenges relating to the development of green mini-grids in Angola, as well as enhanced coordination and partnerships towards the advancement of sustainable expansion of clean energy in the Southern African country.
Among participants were representatives of the government, from the Ministry of Energy and Water, the Ministry of Culture, Tourism and Environment, and the Ministry of Economy and Planning. Development partners, private sector actors, and national and regional associations in the sector also took part.
In his opening remarks, the African Development Bank Country Manager for Angola, Joseph Ribeiro, noted that the energy sector plays a vital role in national efforts towards poverty reduction and sustainable socio-economic development, as per the country's economic diversification agenda.
Angola's National Director for Rural Electrification in the water and energy ministry, Serafim Silveira, underscored the importance of mini-grids to the government's rural electrification objectives. The other speakers were Executive Director of the Lusophone Renewable Energy Association, Isabel Abreu, and the representative of the Establishment Committee of the Angolan Renewable Energies Association, Pedro Torres.
The Bank's Division Manager for Renewable Energy, João Cunha, said the report will inform the design of technical assistance by the Bank to the Angolan government in preparation for the rollout of a mini-grid scale-up program
Ten Years to Midnight: Four urgent global crises and their strategic solutions
The world has 10 years to solve its urgent challenges or it will be too late. In his new book, TEN YEARS TO MIDNIGHT: Four Urgent Global Crises and Their Strategic Solutions (August 4, 2020; Berret-Koehler), Blair Sheppard sets out why that timeline is so crucial, what the most urgent challenges are and the key elements of a solution.
He argues that the 70-year period of economic and social progress kicked off by the Marshall Plan has now unraveled. Instead of a steady story of progress, the world faces four crises:
A crisis of prosperity, with rising inequality, poor life choices for young people, the squeezed middle class and a mass of people on the brink of retirement but lacking the savings to sustain them;
A crisis of technology, as our economic system drives innovation but fails to manage unintended negative consequences which pollute key elements of life support, from our atmosphere to our news;
A crisis of institutional legitimacy, as traditional institutions try to maintain their existing structures in the face of major global forces, and find themselves buckling and warping rather than adapting; and,
A crisis of leadership, as those who should help us manage these crises instead focus on narrow priorities rather than leading the world towards holistic solutions.
Drawing on new data and analysis conducted in Sheppard's role as Global Leader for Strategy and Leadership for the PwC network, the author argues that businesses, governments and civil society should adopt a fundamentally different approach to the one that drove 20th Century economic development. He argues for greater emphasis on local economies (local first) as well as on scaling innovative solutions quickly (massive, fast), a fundamental reshaping of innovation policy to bake societal outcomes into technological development, greater use of public private partnerships with clear goals, and more inclusive measures of success.
Having worked with global leaders across a range of fields, Sheppard argues this change requires a new approach to leadership that embraces apparently contrasting elements – to be humanly and technologically savvy, heroic and humble, rooted in tradition as a ballast but also innovative.
The book began with a question: What are the world's most pressing global concerns and how can they be solved together? What he and his team discovered is a new path to rebuilding and reinvigorating institutions, redefining what it means to be a nation or economy, forging shared cultural and social bonds, and rekindling innovation for social good instead of harm. To press these solutions forward as the clock ticks toward a global unwinding, Sheppard also calls for a new level of imagination, cooperation and urgency from the world's leaders in every sector and every country.
For more information, please visit the book's webpage.
Blair Sheppard is the Global Leader for Strategy and Leadership at PwC, a network of professional services firms committed to building trust in society and solving important problems. He is also the Dean Emeritus and Professor Emeritus of Duke University's Fuqua School of Business, where he taught for thirty-three years. He was the principal force behind opening Duke's campus in China, and the founder and CEO of Duke Corporate Education. He was born in Hamilton, Ontario (Canada) and lives in Durham, North Carolina (US).
Global Top 100 companies bounce back from March 2020 lows but volatility remains elevated
Global equity markets have seen a strong bounce back from the low points seen in March 2020, but volatility remains elevated, according to a new quarterly update to the Global Top 100 companies by market capitalisation rankings, released today by PwC.
The report notes that, most immediately, a disappointing reporting season for H1 2020 earnings could cause a re-evaluation of recession risks and associated stock valuations.
Having decreased by 15% ($3,905bn) from December 2019 to March 2020, the market capitalisation of the Global Top 100 as at June 2020 was only 1% ($335bn) behind December 2019.
By comparison as at 30 June 2020 the MSCI World Index (representing large and mid-cap equity performance across 23 developed markets) was 7% behind December 2019, having recovered most of the ground lost in the first quarter of 2020.
Ross Hunter, IPO Centre Leader at PwC, says,
'With the significant volatility in financial markets, the world's largest companies provide relative security for investors. The concentration of Technology and Consumer Services companies is a key driver of the Global Top 100 outperforming the wider market index.
'This is a challenging environment for all companies, but there are clear distinctions in the relative performance of different regions and sectors. I hope this quarterly review will provide interesting insights into how the markets are viewing the world's largest businesses as they adapt to this uncertain landscape.'
Regional analysis
Global Top 100 companies from the US and China and its regions recovered first quarter losses in March to June 2020 – Europe and the rest of the world did not recover the lost ground.
Technology companies contributed to a 21% market capitalisation increase for US companies from March to June 2020.
The performance in China and its regions since December 2019 benefitted from a combination of being further advanced in recovering from the effects of COVID-19 and a strong Technology and e-commerce (Consumer Services) component.
Companies highlights
Eighty seven of the Global Top 100 companies as at June 2020 saw an increase in market capitalisation from March to June 2020, compared with just ten from January to March 2020
10 companies included in the Global Top 100 as at March 2020 have dropped out and did not qualify for the June 2020 list.