Entrepreneurs of the World Rise: 2020 Strategies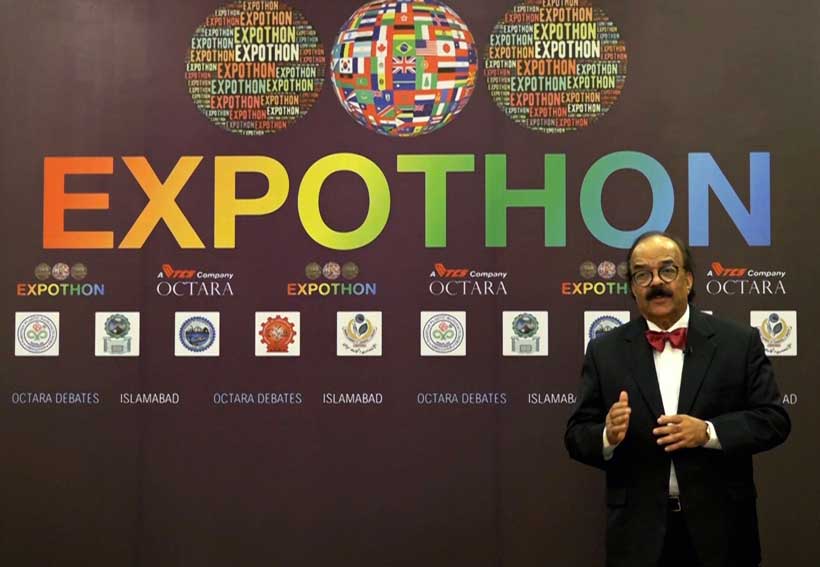 A billion new entrepreneurs are on the march; young and old, big and small, from rich nations and from poor nations, this time most entrepreneurs all over the world have same access to latest technologies and similar global access to markets. Only the smart nations with smart cities with smart entrepreneurial management will be able to understand how to harness such mega forces. How will they create local grassroots prosperity and solid midsize economies across their nation? A new world of entrepreneurial freedom is emerging as an alternate to old-perpetual-economic-slavery-working-model.
What occupies the world today; Brexit fiascos of once the mighty British Empires, American Impeachment circus of once mighty global leader and the rest are wars of sorts, the list can be long, but the global masses tired and treasuries empty…entrepreneurial revival is a new mighty frontier. The national mobilization of entrepreneurialism of talented citizenry on platform economies demands understanding of the new definitions and answering some serious questions. When restless citizenry starts becoming visible, populism becomes louder and separatism issues as new fears urgently needed to create grassroots prosperity are new agendas and strategies.
Nothing more important than entrepreneurialism must fill such vacuum as the art of national mobilization of entrepreneurialism on digital platforms economies turns into a science of the day.
Re-definitions of midsize economy: The optimization of small medium enterprises of the nation to quadruple exportability and innovative excellence performance are new frontiers where battalions of entrepreneurs allowed to bounce all across 200 nations and show case their talents, goods and services to enjoy the powers of the brand of Canada and its people. The new thought leadership on new global age skills on national deployments becomes a test.
Re-definitions of work: work of future now determined by algorithms, elimination of white-collar expertise would morph towards entrepreneurialism as smart work for very smart worker not only erases 9-5 rat races, creating new living styles and new intellectualism; how will Canada mobilize working citizenry to adopt such dramatic changes?
Re-definitions of work-space: When workless, officeless, jobless workers start leaving downtown office buildings, corporate hierarchies morph, impacting downtown economies and redefining their purpose against suburbia. New styles of consumerism, distribution starts confusing future of smart cities starts bouncing amidst super-smart-living. Now Canada as a hot spot to such transformations offering best destination for living, foreign investments and opportunities; what will Canada table as solid options to highlight growth and stability?
Re-definitions of management: When free technologies replace senior and middle management impacting social adjustments, a hyper productive inter-connected-age with new styles of debates and engagements will force new state of mind, how will Canada identify, organize one million small and midsize enterprises as part of Platform Economy, showcase them in bright colors creating bounce with 200 other nations, where already some new billion other entrepreneurs are headed?
Re-definitions of time: now business operation time is 24x7x365 how will these new cultural-realities start overtaking old-style timelines and lazy calendars slots how do you train masses to work much less but with more productive technologies. New habits merge with new occupations optimizing with talented hobbies and here nouveau entrepreneurialism starts taking shape. Ease of processing and unlimited global access becomes the new and long awaited arena for women entrepreneurs to shine. The human productivity, juxtaposed with hyper accelerated automation will also create massive boredom and mental chaos.
Re-definition of digital-divide: Today globally speaking digital divide is now mental-divide.These issues demand new thinking and new answers. Such vacuums cannot allow filling with divisive politics or non-stop media rhetoric but with constant high quality contents and pragmatic global-age entrepreneurial solutions and grassroots prosperity ideas. Classicism of Entrepreneurialism proves that by nature entrepreneurism is diverse, tolerant and a real local community builder.
Re-definitions of national transformation: This is a fact, all over the world Public-Sectors and large bureaucracies for having a different mandate have proven again and again for not being entrepreneurial in action and for that reason alone, entrepreneurs much like mushrooms in the forest grow at random, but now on massive digital platform economies this is now like organized mushroom farming. How does something like this translates to a nation where majority is youth and anxious to find grassroots prosperity. Authoritative understandings, mobilization with deployment skills are the prerequisites.
The Entrepreneurial Rebellions:
Understanding entrepreneurial knowledge: The superiority of the message embedded in the art and science of entrepreneurialism clearly written in the language and symbology of 'tacit knowledge' and should not be the deterrent for academic or government agencies. Rather this is an open invitation to bold and open dialogue.
FACTS: Classroom education is 'explicit knowledge' like bookkeeping, something that can be written. Entrepreneurialism is 'tacit knowledge' like riding a bike, something that can only be practiced.
Understanding classicism of entrepreneurialism: The advanced study of classicism of entrepreneurialism brings us closer to global age mobilization and deployments of entrepreneurial as a new phenomenon. This is new thinking that advances and mobilizes masses of entrepreneurs, impacting grassroots prosperity that captured by superpower-technology-platforms.
Understanding mobilization of entrepreneurialism: Many nations around the world have tried very hard to create entrepreneurialism but frequently failed. However, these same nations were able to create well trained armies and high-ranking officers because they all trained in tactical battlefield engagements and by veterans from the real battlefields. Soldiers do not draw pictures of battlefields on whiteboards and run around with water pistols. They practice real situations in boot camp fashion and live the battles.
Understanding Platform Economies:
Alibaba records $38 Billion of sales within 24 hours November 11th 2019: Around the world, currently, there are 100 nations with less than $38 Billion dollars in annual GDP. Imagine if this single company performed at the same rate for next 365 days, it would equal to annual GDP of Japan, Germany, India, France, UK and Canada all combined. Bravo Alibaba, well done, the world in shock is now fondling in own toolboxes looking for a screwdriver.
Nations without digital platforms in 2020 would look like nations without Internet in the nineties.
Which nations are ready? Ready to explore how national mobilization of entrepreneurialism on platform economies can uplift local grassroots prosperity, and if there are enough trade-groups, Chambers of Commerce, Trade Associations anxious to play on these AI centric digitally advanced and globally friendly market-places? Outside a miniscule number, around the world, out-dated trade-groups are in rapid transformation so they too would become shiny butterflies for the new global-age. Which nations are open to national debates?Can a nation declare top priority to discover its hidden and untapped talents of their citizenry? Can it demonstrate superior skills to mobilize small and medium businesses across the nation? Can it adopt continuous self-learning to foster occupational superiority for the nation? Can it isolate trade-wars and prioritize internal skills-wars as national agenda? Can it create national debates and bring trade-groups all under one umbrella?
Fact: The world can easily absorb unlimited exportable ideas in unlimited vertical markets. Fact: The well-designed innovative ideas are worthy of such quadrupled volumes. Fact: The entrepreneurial and dormant talents of a nation are capable of such tasks. Fact: The new global age skills, knowledge and execution are now the missing links
Three steps for Midsize Economy to advance on grassroots prosperity:
ONE: Identify 1000 to 100,000 small and midsize entrepreneurs within a nation, and create a national agenda to quadruple their performance on innovative excellence and exportability. Caution–this is not to be confused with old out-dated-old-data rather it requires the assembly of ultra-modern-digital and current-profiles of individual midsize enterprises within a nation.
TWO: Deploy digitization of top national trade associations and chambers of commences to upgrade to world-class digital platforms so that their entire membership can skate nationally and globally showcasing their goods and services. Caution–this is not to be confused with old websites with odd text and emails; this is more like LinkedIn format and ten times more richer information with colorful and highly interactive platforms.
THREE: Study Expothon Strategy and how over a decade it has perfected the model; observe how Worldbank also adopted similar approach with their well executed Econothon project. Expect some more serious deployments in this arena. Caution– this is not to be confused with a single award night; this is all about outstanding performance of the remaining 364 days of the year each filled with active and daily engagements.
Serious Questions: Was there ever a senior level national debate and authoritative discussion on such deep and specialized integrations? In the meantime outside minuscule percentages there are some 10,000 Chambers of Commerce of the world and 100,000 National Trade Associations uplifting thinking when it comes to advanced level digital platforms but still afraid about their future roles and return on investment on membership fees. They will all shine under new flags of creating new global bounce and prosperity.
By all means, such transformations are no easy task; but however, they are less dependent on new-funding but are heavily dependent on global-age-execution and strategic agenda
How to improve current status of the national issues: Nations are already flooded with massive innovations, but lack massive commercialization. Nations have over certifications and degrees but seriously lack business directions. Nations have empty incubators and exhausted accelerators like real estate projects. Nations have random economic development programs but often without mega punch. Focused and timely Round-tables and Cabinet Level discussions are always good starting points.
2020 is a great start for tabling pragmatic solutions and presenting a special series of exclusive programs on uplifting midsize economies of any nation so long there are large numbers of small and midsize enterprises. Special announcements on exclusive events and large scale digital platforms under planning announced very soon. Study very deeply on Google…
Copyright 2015-2019 Naseem Javed
Why Wealthy Countries Must Step Up Their Contribution to Fight Global Poverty
Member countries of the International Development Association (IDA), a part of the World Bank Group, are meeting shortly to discuss the 19th replenishment of IDA, which will set the agenda for assistance to the poorest developing countries for the three-year period starting in July 2020. Algeria, Egypt, Iran, Kuwait, and Saudi Arabia contributed funds for the 18th replenishment for IDA, which covers the period July 1, 2017 to June 30, 2020. It is critical that these countries — and others in the Middle East and North Africa (MENA) region who could potentially contribute — sustain and increase their presence and participation in this important international forum and support a global public good.
This coming IDA replenishment is an opportunity for MENA countries to make their contribution and presence felt. Starting in 2020, MENA will be the epicentre of several global discussions and events: The Kingdom of Saudi Arabia is hosting the G20 members, Egypt is the chair of the African Union, the first World Expo in the region will be held in Dubai, the 2021 World Bank-IMF Annual Meetings will take place in Marrakech, and the region will see its first soccer World Cup in Doha in 2022. While these events are significant in their own right, a substantially higher financial contribution from MENA countries to IDA will demonstrate the region's capacity to lead on long-term global challenges such as poverty reduction, inclusive growth, and climate change.
IDA was created in 1960 to provide 'soft-loans' — grant funding, concessional loans, debt relief — to the poorest developing countries who could not afford to borrow on the terms that could be offered by the International Bank for Reconstruction and Development (IBRD). IDA has become one of the largest sources of assistance for the world's 77 poorest countries and the foremost instrument to channel multilateral funding where it is needed the most and in the quickest and most efficient way possible. There is no bigger source of donor funds for basic services in these countries.
Since 1960, IDA has provided almost $400 billion for investments in over 100 countries. IDA's support has paved the way toward equality, economic growth, job creation, higher incomes, and better living conditions. IDA's work covers primary education, basic health services, clean water and sanitation, agriculture, business climate improvements, infrastructure, and institutional reforms. More recently, IDA has intervened in a big way to bring hope to people affected by conflict and violence, including in the MENA region. Of course, IDA is now prioritizing investments to deal with the worst impacts of climate change.
Since 2000, IDA has provided more than $88 billion in financial assistance to Arab and Muslim countries. In IDA18, more than 50% of the resources were allocated to 28-member countries of the Organization of Islamic Cooperation. Countries like Bangladesh, Pakistan, Burkina Faso, Niger and Mali are among the biggest beneficiaries of IDA. In the MENA region, Djibouti, Syria, and Yemen are IDA beneficiaries.
In Yemen, through its many contributions, IDA has played a critical role to provide relief and mitigate the long-lasting impacts of the country's tragic conflict. Quite literally, IDA has saved lives! It has helped Yemenis fight diseases and famine. IDA helped train nearly 12,000 health personnel and immunize 6.9 million children (five million of them under 5 years old). Through an emergency program, IDA has helped ensure around 9 million vulnerable Yemenis have access to food and other basic necessities.
In Djibouti, from 2014–18, IDA provided essential services to 1.9 million people. Thousands of pregnant and lactating women, adolescent girls, and children under age 5 benefited from basic nutrition services. During the same period, over 24,000 women gave birth attended by a qualified health practitioner, up from just 1,000. IDA also helped immunize 78% of children before their first birthday in 2018, up from 33% in 2012.
The conflict in Syria, now into its eighth year, continues to take a heavy toll on the life of Syrian people and on the Syrian economy. The death toll in Syria directly related to the conflict as of early 2016 is estimated to be between 400,000 (UN, Apr 2016) and 470,000 (Syrian Center for Policy Research, Feb 2016), with many more injured, and lives upheaved. The conflict has internally displaced about 6.2 million people, including 2.5 million children. Over 5.6 million are officially registered as refugees (UNHCR, 2019). In Lebanon, IDA is helping the country enrol 200,000 Syrian children in public schools. In Jordan, IDA assistance is creating 100,000 jobs for Jordanian nationals and Syrian refugees.
Beyond the MENA region, from the conflict ravaged Democratic Republic of Congo to the earthquake affected Pakistan, or from Haiti and Nepal to Tajikistan and Myanmar, IDA is a strong development partner for the poorest countries. Building on its experience of supporting Syrian refugees and host communities, IDA has helped reintegrate displaced people in more than 10 countries including Afghanistan, Bangladesh, Niger, and Pakistan.
International institutions, of which IDA is a recognized leader, remain important for some of the most lagging regions and communities in the world. Independent assessments have documented the tremendous benefits of IDA's support for the development of poor countries. Many people are unaware that countries such as China, India, and South Korea were beneficiaries of IDA assistance in the past, but now they have become donors giving back to the international community.
Institutions like IDA deserve our utmost support because when misfortune strikes countries, the knowledge and financial resources of institutions such as IDA can save, protect, and nurture lives. These institutions can provide ideas for development strategies and funds for critical infrastructure. To eliminate extreme poverty and boost shared prosperity, institutions like IDA are a valuable ally for governments and citizens.
The World Bank Group is grateful for generous financial contributions to IDA from the international donor community. However, I believe that the more fortunate MENA countries can and must enhance their contribution to IDA. Some countries in the MENA region are among the wealthiest in the world. Their good fortune presents an opportunity for the MENA region to take on a leadership role in this important forum. It is also a wonderful opportunity to help those in need, which is fully in line with the region's rich history of generosity towards the less fortunate.
IDA has a critical global mission — and its successes to date are only possible because of the generosity of its members. More substantial financial contributions to IDA are good for MENA's standing in the international community. It is also the right thing to do.
BRICS countries deem a single crypto currency
Speaking on the sidelines of the BRICS summit, which took place in Brazil in mid-November, President of the Russian Direct Investment Fund (RDIF) Kirill Dmitriev came up with a proposal to create a common crypto currency for servicing a unified payment system of the member countries. According to RBC, the idea of a unified payment system has already received the backing of the BRICS Business Council. The parties concerned held a heated discussion on the possibility of using a single digital currency for conducting payments.
Virtual currencies or crypto currencies, and the blockchain technology that underlies them have been major trends in the information technology market since the early 2010s. Experts deem the blockchain technology as revolutionary: we are talking about a distributed electronic database (a register, ledger), in which each "cell" contains information about all others. Cryptographic methods are used to ensure the functioning and protection of the "register". Such characteristics of block chain technology as its distributed decentralized nature and the availability of information about all transactions make it useful in those areas of business where many participants are involved who are not able to verify the credibility of counterparties. Resources transferred via a blockchain cannot be blocked (or arrested), even temporarily, by anyone except their owner. Meanwhile, what remains a major problem of all private and corporate crypto currency projects is their credibility.
If a digital currency is issued by the state or a community of states, then most, if not all, problems private crypto currencies are faced with are solvable. In this case, the advantages of Bitcoin and the underlying block chain technology are preserved, while the risks, such as the anonymity and simplicity of uncontrolled cross-border operations, which evoke the anxiety of authorities around the world, are neutralized. The issue of crypto currency would make it possible for the authorities to assume control of the technology that can otherwise reinforce global speculators, and even, according to critics, undermine the very existence of states in their classical format.
Meanwhile, many capitals have been keeping a close eye on the growing concern of the US authorities over the prospect of a global spread of crypto currencies. Washington's major fears are that the "foes of America," be it states or non-state entities, will be able to create a financial network independent of the US dollar. In this case, the United States would lose the most important instrument of non-military pressure that it uses to influence its opponents.
At present, more than 85 percent of all currency exchange transactions are made in dollars. All Washington has to do to block unwanted financial transactions is just add suspicious individuals, organizations or states to the "black list" which is sent to all banks in the world. For fear of falling under sanctions or losing the ability to make payments in dollars, the overwhelming majority of financial institutions have until now been following the instructions of the American authorities. In May this year, Republican Brad Sherman submitted a bill which proposes to ban US citizens from buying or selling crypto currency. In July, a number of Congressmen from the Democratic Party drafted a bill that prohibits online platforms and social networks with an annual income of at least $ 25 billion from providing financial services and issuing crypto currencies. According to commentators, the authors of both bills make no secret of the fact that their initiatives are motivated by by geopolitical considerations. For one, Congressman Sherman argued during the hearings: "Crypto currencies must be nipped in the bud also because the lion's share of our international influence is based on the fact that the dollar is the standard of the international financial system. For oil and other transactions, it is vital that they be cleared by the federal reserve … Crypto currencies undermine our international policy … ".
According to RT columnist Max Keiser, an ever more number of countries are beginning to understand what influence the United States has on other states only because the dollar is the principal currency for commercial and intergovernmental settlements. In addition to gaining profit from the dominant role of the dollar in international trade, Washington possesses levers of influence that affect the policies of most countries through sanctions or threat of sanctions and are beyond the reach of anyone else. Keiser deems sanctions as an "act of aggression," because, in his opinion, the dollar has long turned into a weapon. Not surprisingly, countries that value their sovereignty are looking for ways to minimize or completely neutralize America's ability to exert pressure through denial of dollar transactions. Before the arrival of crypto currencies, gold was a major protective shield. Nowadays, national digital currencies are considered a new powerful tool, devoid of many shortcomings of gold in terms of everyday use.
Given the circumstances, as reported by one of the most authoritative Russian resources in the field of crypto currencies, DeCenter, all BRICS members are either on the point of issuing digital fiat money, "or are looking into such a possibility." The BRICS countries are thereby following the global trend as the prospect of issuing digital currencies by central banks, the Central bank digital currency (CBDC), has been attracting the attention of governments in an increasing number of countries. On November 26, Vice President of the European Commission Valdis Dombrovskis spoke about plans of the European Union to launch a EU digital currency by the end of 2021. One of the problems that could be solved with the help of such a system, according to ECB Board member Benoit Kere, is putting an end to Europe's dependence on US-based international payment services, such as MasterCard, Visa, Apple, PayPal and Amazon.
What could serve as an example for the rest of the BRICS members is the position of Beijing, which has changed its attitude to crypto currencies by "180 degrees" over the past few months. According to Leonid Kovachich of the Moscow-based Carnegie Center, "President Xi Jinping refers to blockchain as a breakthrough technology, while major Chinese media outlets are talking at length about the benefits of blockchain and urge the community not to miss the historic opportunity to challenge the global hegemony of the dollar."
This fall, representatives of the People's Bank of China said they were "considering the possibility of launching a digital yuan at an early date." President of the Digital Currency Development Center of the Central Bank of China Mu Changchun has identified the basic criteria for issuing the crypto currency of the PRC. "CryptoYuan will not function only on the basis of blockchain, the issue will proceed in two stages: from the Central Bank to commercial banks and then into further circulation." The digital yuan will replace the M0 aggregate, while the processing capacity of the payment system will be "up to 300 thousand transactions per second". As an official currency, the digital yuan will be issued on a centralized basis and regulated by the government. The digital yuan is set to incorporate the best characteristics of crypto currencies, including minimum transaction time, "reliability, invariability and irreversibility", and fiat money – its sovereignty and liquidity guarantees.
The fact that the Central Bank and the Ministry of Finance are considering the possibility of introducing crypto currency in Russia was reported by Kommersant back in 2016. In June 2017, Deputy Chairperson of the Central Bank of the Russian Federation Olga Skorobogatova announced prospects for launching a national digital currency. Skorobogatova said Central Bank specialists had started work on a digital ruble project. Similarly to the digital yuan, it is assumed that the issue of the Russian virtual currency will be strictly regulated, its exchange for rubles and other currencies will be possible only on special electronic platforms and the identity of the crypto currency buyer will have to be established. According to DeCentre, the draft law on digital financial assets (DFA) was adopted by the State Duma in the first reading in 2018. However, amendments have been made and continue to be made since then, also regarding the very definition of crypto currency.
Russian experts view the digital ruble as one of the options to respond to the intensifying Western sanctions. As Iran's disconnection from the SWIFT banking system at the request of the United States demonstrated, the creation of an interbank payment system that can replace SWIFT is "of paramount importance for the BRICS countries". As an instrument for conducting mutual payments in such a system, the central banks could issue a limited volume of digital currency and all transactions in this currency will be registered in a single register and will be verified by agents appointed by the authorities of the BRICS countries. The use of a common crypto currency would make such a payment system universal and would safeguard payments against foreign sanctions.
In this respect, at the initial stage, the BRICS digital currency may not become a payment instrument in the full sense of the word. A couple of years ago, Russian venture investor Evgeny Gordeev called for launching a government program to attract investments and ensuring the safety of capital at the blockchain level. Technically, such an investment mechanism would enable Russia's foreign partners interested in investing in Russian assets to avoid the legal consequences of the sanctions that have been imposed on the Russian Federation in recent years. A member of the State Duma's expert panel, Nikita Kulikov, believes that a common crypto currency that is currently being considered by BRICS experts could become a means of "fixating obligations", a conversion tool, and an instrument to ensure the "autonomy of interstate remittances".
Thus, as experts continue to speculate about the extent to which crypto currencies are capable of revolutionizing the entire system of financial relations, the changes that have occurred in the economic and monetary policies of some of the world's leading states in recent years demonstrate that they are beginning to take crypto currencies more and more seriously regarding them as a useful tool to strengthen their national economic sovereignty.
From our partner International Affairs
Is Russia Rich or Wealthy?
Authors: Apurva Sanghi and Glenn-Marie Lange Vedemosti (Russia)
Which would you rather be: rich or wealthy? And what exactly is the difference?
Being rich is related to your regular paycheck: the monthly income you receive from your employer or your business. The fatter the paycheck, the richer you are. Being wealthy, on the other hand, is the value of all your assets: how much you have in savings in your bank account, your house, your car, and so on. The more of these assets you have, the wealthier you are.
Now you can be rich without being wealthy. But that will not be sustainable if you do not keep adding to your stock of assets. So, your economic well-being is a function of both your income and wealth.
What applies to you as an individual applies to a nation as well. Focusing only on national income, i.e. GDP, can be misleading. Wars or disasters increase GDP because reconstruction counts towards GDP, but this is in an accounting sense. Common-sense tell us they do not improve welfare of those affected. Yet policymakers and economists are obsessed with GDP. Perhaps it is because GDP is a relatively easy thing to measure. In our latest semi-annual report, we upgrade Russia's growth numbers (1.2% for 2019, 1.6% and 1.8% for 2020 and 2021), which no doubt will generate much public attention but as mentioned above, can be misleading. Changes in income need to be complemented with a measure that captures changes in wealth. But how do you measure the wealth of a nation – especially one as large and diverse as Russia?
Our report aims to answer the question: "How wealthy is Russia" by measuring, for the first time, the country's wealth from 2000–2017. The analysis comprehensively measures four types of assets:
Produced capital: Russia's buildings, bridges and infrastructure;
Human capital: the cumulative experience, knowledge and skills of Russians;
Natural capital: the lakes, forests, soil, air, water, oil and gas from which Russians derive a range of services;
Foreign capital: the net value of overseas assets owned by Russia.
The good news is that the typical Russian citizen was 1.8 times wealthier in 2017 than in 2000, with accumulated wealth of about 9 million rubles (or approximately US$ 153,000). The bad news is that this is only about a quarter of the wealth of a typical resident in member countries of the Organization for Economic Co-operation and Development (OECD).
Here is another question: which of the above four wealth components do you think comprises the largest share of overall wealth in Russia? It is not foreign capital; Russia simply does not own that many assets overseas. Is it natural capital? After all, Russia is blessed with abundant natural resources appropriately captured by the song in the famous 1936 Soviet film Circus: "Wide is my Motherland, Of her many forests, fields, and rivers!… From Moscow to the borders, From the southern mountains to the northern sea." Or is it physical capital? From the shiny skyscrapers of Moscow to all the infrastructure spread around the world's largest country — this surely must add up to a lot?
Well, the answer is neither of the above: rather, it is human capital – the cumulative experience, knowledge and skills of Russians – that comprises almost half of all Russia's wealth, only then followed by physical capital (about a third), and natural capital (about a fifth). However, in comparison, the wealth composition of OECD countries on average is 70 percent human capital, 28 percent produced capital, 3 percent natural capital, and minus 1 percent net foreign assets (Figure 1).
Figure 1: Human capital comprises the largest share of wealth in Russia, but this is much lower than the OECD average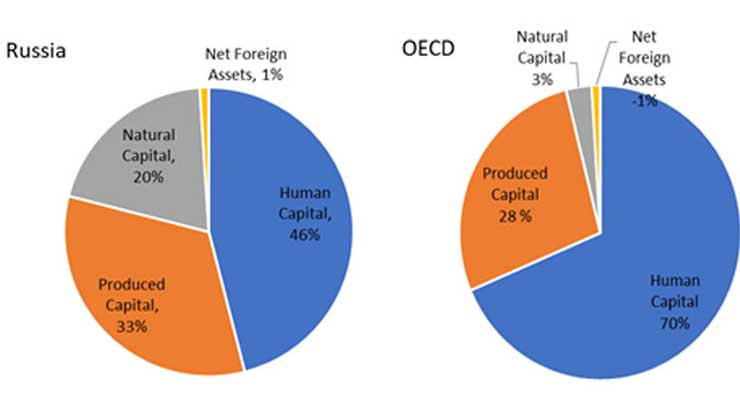 Here again, there is good news and bad news. The good news is that during 2000–2017, Russia's per capita human capital grew massively at 80 percent, dwarfing growth in OECD countries and other commodity exporters. The bad news is that average annual growth has slowed from 4.7 percent in the 2000–2010 period to 1.8 percent during 2010–2017. Indeed, at this slower rate of 1.8 percent, it would take Russia almost 100 years to catch up with the OECD average. For Russia to grow wealthier, the policy focus is clear: increase both the returns to and share of human capital wealth.
Increasing returns to human capital, especially in education, ranges from improving the quality of vocational and college education throughout Russia's regions to improving the 3 Cs of softer skills of Russian students: creativity, collaboration, and communication. One puzzle is why Russia's human capital proportion of its total wealth (46 percent), is significantly lower than OECD's (70 percent). After all, Russia's education performance appears to be even better than the OECD's in certain areas. For example, the proportion of the labor force with university degrees is higher in Russia than the OECD. And the quality of education as measured by certain global standardized tests is on par with the OECD. One possible explanation is that Russians are simply not earning adequate returns on their education.
Increasing the share of human capital would require a decrease in the share of something else. A good candidate for Russia would be natural capital; specifically, oil and gas related assets, which remain a significant part of Russia's wealth. Russia's large share of carbon-based wealth faces increased risk due to future price uncertainty and large-scale attempts at global decarbonization. Additionally, better managing Russia's forests is an immediate priority and can also enhance Russia's role as an "ecological donor" to the planet. As a rough estimate, Russia's forests provide annual absorption of about 640 million tons of CO2 equivalent or around 30,000 billion rubles (over US$ 500 billion) over their lifetime.
After all, nothing lasts forever, so this abundance needs to be sustainably managed if Russia is indeed to be more than just a rich tale. Otherwise pursuing riches without building wealth would be a bit like building mansions on a foundation of sand.