Belarus Risks Prolonged Period of Slow Growth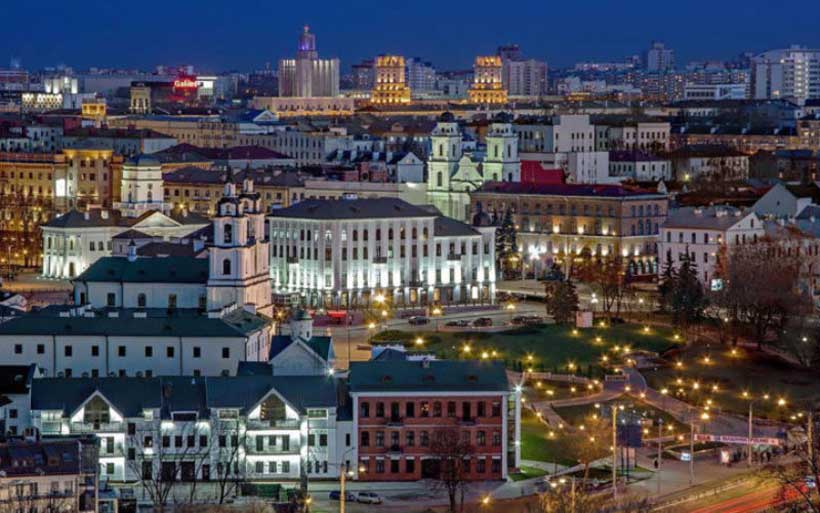 Economic growth slowed sharply in 2019, as exports fell and sectoral recovery dissipated, says the World Bank's latest Economic Update for Belarus, released today. The World Bank has revised its growth forecast slightly downwards, based on expectations of a weak external environment, limited space for demand stimulus, and uncertainties surrounding the outcomes of Belarus-Russia economic integration and bilateral financial support.
"The expected period of slow growth could be shortened, however, if the foundations for accelerated recovery are put in place without delay," said Alex Kremer, World Bank Country Manager for Belarus. "Some essential steps have already been taken, such as maintaining macroeconomic stability and lowering inflation. However, more actions are required in the areas of state-owned enterprise restructuring, financial sector reform, and better targeting of social protection."
The Economic Update also summarizes findings from the recent Business Environment and Enterprise Performance Survey (BEEPS) for Belarus, conducted jointly by the World Bank and the European Bank for Reconstruction and Development in 2018. The survey focuses on businesses' perception of factors that can be helpful or constraining for private firms.
"Improvements in the business environment, implemented since 2008, have helped the private sector to expand. Results of the survey confirm that private companies find the domestic business environment more favorable," said Kiryl Haiduk, Belarus Country Economist at the World Bank. "However, access to finance is still perceived as a constraint. Experience shows that government credit schemes have limited impact, while more systemic measures that enable funds to be channeled from lenders to borrowers can help alleviate the credit constraints facing businesses."
Since the Republic of Belarus joined the World Bank in 1992, lending commitments to the country have totaled $1.9 billion. In addition, the country has received grants in the total amount of $31 million, including to programs involving civil society partners. The active investment lending portfolio financed by the World Bank in Belarus includes nine operations in the total amount of $942.7 million.
Erasmus+ and its predecessors: A life-changing experience for 10 million young Europeans
The 2018 annual report on Erasmus+, published today, shows that over the last three decades, more than 10 million people have participated in what turned out to be a life-changing experience for many of them.
Vice-President for Promoting our European Way of Life, Margaritis Schinas, said: "People across Europe engage, exchange and learn when they participate in education, youth and sporting activities across borders. Erasmus+ is a fantastic common success and we should aim for more. More participants, more mobility, more diversity, more opportunities."
At the opening of a stakeholder event on the new Erasmus+ programme in Brussels today, Commissioner for Innovation, Research, Culture, Education and Youth, Mariya Gabriel, said: "Erasmus+ has become for our younger generations a gateway to Europe and to the world. It is one of the EU's most tangible achievements: uniting people across the continent, creating a sense of belonging and solidarity, raising qualifications, and improving the prospects of participants."
With a budget of €2.8 billion, a 10% funding increase compared to 2017, 2018 was yet another record year. Erasmus+ funded more than 23,500 projects and overall, it supported the mobility of over 850,000 students, apprentices, teachers, and youth workers in 2018. Nearly 10% of the 470,000 students, trainees, and staff in higher education who received a grant during the 2017/2018 academic year, travelled to and from partner countries across the world.
In addition to university students and staff, Erasmus+ supported 40,000 teachers and school staff, 148,000 vocational education and training learners, 8,400 adult education staff, and 155,000 young people and youth workers.
The programme also financed 199 sports projects, 118 of which were run by grassroots sport organisations. Erasmus+ supported the annual European Week of Sport, which saw unprecedented success with more than 50,000 events across Europe.
Building on synergies with the European Year of Cultural Heritage in 2018, many actions supported by Erasmus+ addressed the importance of Europe's cultural heritage.
Since 2018, Erasmus+ also supports the initiative to make the European Education Area a reality by 2025. The European Universities initiative helps higher education institutions to form strong new alliances.
Background
Erasmus+ and its predecessors are among the most successful EU programmes. Since 1987, they have been offering young people opportunities to gain new experiences by going abroad. The current Erasmus+ programme, running from 2014 to 2020, has a budget of €14.7 billion and will provide opportunities for 3.7% of young people in the EU to study, train, gain work experience, and volunteer abroad. The geographical scope of the programme has expanded from 11 countries in 1987 to 34 in 2020 (which includes all 28 EU Member States as well as Iceland, Liechtenstein, Norway, North Macedonia, Serbia and Turkey). The programme is also open to partner countries across the world.
In May 2018, the Commission presented its proposal for an ambitious new Erasmus programme, seeking to double the budget to €30 billion in the EU's next long-term budget for the period 2021-2027. The aim is to make the programme even more inclusive, more international and accessible to people from a diverse range of backgrounds.
'Green economy' pioneer Pavan Sukhdev wins 2020 Tyler Prize for Environmental Achievement
Renowned environmental economist and UN Environment Programme (UNEP) Goodwill Ambassador Pavan Sukhdev was awarded on Monday the 2020 Tyler Prize for Environmental Achievement, recognizing his groundbreaking 'green economy' work.
Mr. Sukhdev, who received the award alongside conservation biologist Gretchen C. Daily, was the Special Adviser and Head of UNEP's Green Economy Initiative, a major project launched by then-UN Secretary-General Ban Ki-moon, to demonstrate that greening of economies is not a burden on growth but rather a new engine for growing wealth, increasing decent employment, and reducing persistent poverty.
He was also appointed Study Leader (2008-2010) of the landmark initiative on 'The Economics of Ecosystems & Biodiversity' (TEEB), a global UNEP-hosted study.
When the first TEEB report was published, during the peak of the 2008 global financial crisis, news outlets around the world began to dedicate headlines to the staggering cost of deforestation to the global economy.
The TEEB report would go on to become a foundation for the Green Economy movement – an achievement for which Mr. Sukhdev is being awarded the 2020 Tyler Prize.
"This award is equally a recognition of UNEP and its vibrant and active TEEB community," said Mr. Sukhdev.
But he stressed that: "You don't have to be an environmentalist to care about protecting the environment. Just ask a farmer who now must rent beehives to pollinate his crops, because there are no longer enough bees in wild nature to do the job for free. But bees don't send invoices, so the value of their services is not recognized."
Achim Steiner, former UNEP chief who's currently the UNDP Administrator, has said: "Pavan Sukhdev and Dr. Gretchen Daily have generated groundbreaking insights into the economic value of our natural environment – prompting decision-makers to implement new measures to protect our planet's ecosystems and biodiversity.
Having worked closely with Mr. Pavan over many years, Mr. Steiner added that he considered his work on the TEEB to be "truly transformative – it has generated a new narrative on the economic and social importance of nature's services, and a new community of practice."
Mr. Sukhdev currently serves the World Wildlife Fund as President and Chairman of the Board, as well as Board Member for TEEB Advisory Board, Stockholm Resilience Centre, and the Cambridge Conservation Initiative.
Often described as the 'Nobel Prize for the Environment', the Tyler Prize is administered by the University of Southern California.
On 30 April 2020, Mr. Sukhdev and Ms. Daily and will deliver a public presentation about their work at the New York Academy of Sciences in New York City.
In a private ceremony on 1 May, the Tyler Prize Executive Committee and distinguished members of the international environmental community will join to honour the two new Laureates during a ceremony at the Intercontinental Barclay Hotel in New York City.
New ADB President Masatsugu Asakawa Assumes Office
Masatsugu Asakawa assumes office as the 10th President of the Asian Development Bank (ADB) today.
"I am honored to assume the role of ADB President and to begin working in close cooperation with our 68 members. ADB has been a trusted partner of the region for more than half a century, supporting strong growth that has improved the lives of people across Asia and the Pacific. I will strive to ensure ADB remains the preferred choice of its clients and partners," Mr. Asakawa said.
Mr. Asakawa succeeds Mr. Takehiko Nakao, who stepped down on 16 January 2020.
In a career spanning close to four decades, Mr. Asakawa has held a range of senior positions at the Ministry of Finance of Japan, including Vice Minister of Finance for International Affairs, and gained diverse professional experience in development policy, foreign exchange markets, and international tax policy.
He served as Finance Deputy for the 2019 G20 Osaka Summit and the G20 Finance Ministers and Central Bank Governors meeting in Fukuoka, Japan. Furthermore, in the immediate aftermath of the Global Financial Crisis, he took part in the first G20 Leaders' Summit Meeting in his capacity as Executive Assistant to the then Prime Minister Taro Aso. Mr. Asakawa has had frequent engagement with the Organisation for Economic Co-operation and Development, including as Chair of the Committee on Fiscal Affairs from 2011 to 2016. Mr. Asakawa's extensive international experience includes service as Chief Advisor to ADB President Mr. Kimimasa Tarumizu between 1989 and 1992, during which period he spearheaded the creation of a new office in ADB focused on strategic planning.
"I am thrilled to be in Manila, where I will dedicate myself to ADB members in the region and beyond, while listening carefully to their voices. With the expertise of ADB staff, and by further enhancing its effectiveness and efficiency, I am confident that ADB can stand up to the challenges that the region faces. I pledge to do my best to achieve a more prosperous, inclusive, resilient, and sustainable Asia and the Pacific," Mr. Asakawa said.
Mr. Asakawa served as a Visiting Professor at the University of Tokyo from 2012 to 2015 and at Saitama University from 2006 to 2009.
He obtained his Bachelor of Arts from the University of Tokyo in 1981 and MPA from Princeton University in 1985.