Cut global emissions by 7.6 percent every year for next decade to meet 1.5°C Paris target
On the eve of a year in which nations are due to strengthen their Paris climate pledges, a new UN Environment Programme (UNEP) report warns that unless global greenhouse gas emissions fall by 7.6 per cent each year between 2020 and 2030, the world will miss the opportunity to get on track towards the 1.5°C temperature goal of the Paris Agreement.
UNEP's annual Emissions Gap Report says that even if all current unconditional commitments under the Paris Agreement are implemented, temperatures are expected to rise by 3.2°C, bringing even wider-ranging and more destructive climate impacts. Collective ambition must increase more than fivefold over current levels to deliver the cuts needed over the next decade for the 1.5°C goal.
2020 is a critical year for climate action, with the UN climate change conference in Glasgow aiming to determine the future course of efforts to avert crisis, and countries expected to significantly step up their climate commitments.
"For ten years, the Emissions Gap Report has been sounding the alarm – and for ten years, the world has only increased its emissions," said UN Secretary-General António Guterres. "There has never been a more important time to listen to the science. Failure to heed these warnings and take drastic action to reverse emissions means we will continue to witness deadly and catastrophic heatwaves, storms and pollution."
The Intergovernmental Panel on Climate Change (IPCC) has warned that going beyond 1.5°C will increase the frequency and intensity of climate impacts.
"Our collective failure to act early and hard on climate change means we now must deliver deep cuts to emissions – over 7 per cent each year, if we break it down evenly over the next decade," said Inger Andersen, UNEP's Executive Director. "This shows that countries simply cannot wait until the end of 2020, when new climate commitments are due, to step up action. They – and every city, region, business and individual – need to act now."
"We need quick wins to reduce emissions as much as possible in 2020, then stronger Nationally Determined Contributions to kick-start the major transformations of economies and societies. We need to catch up on the years in which we procrastinated," she added. "If we don't do this, the 1.5°C goal will be out of reach before 2030."
G20 nations collectively account for 78 per cent of all emissions, but only five G20 members have committed to a long-term zero emissions target.
In the short-term, developed countries will have to reduce their emissions quicker than developing countries, for reasons of fairness and equity. However, all countries will need to contribute more to collective effects. Developing countries can learn from successful efforts in developed countries; they can even leapfrog them and adopt cleaner technologies at a faster rate.
Crucially, the report says all nations must substantially increase ambition in their Nationally Determined Contributions (NDCs), as the Paris commitments are known, in 2020 and follow up with policies and strategies to implement them. Solutions are available to make meeting the Paris goals possible, but they are not being deployed fast enough or at a sufficiently large scale.
Each year, the Emissions Gap Report assesses the gap between anticipated emissions in 2030 and levels consistent with the 1.5°C and 2°C targets of the Paris Agreement. The report finds that greenhouse gas emissions have risen 1.5 per cent per year over the last decade. Emissions in 2018, including from land-use changes such as deforestation, hit a new high of 55.3 gigatonnes of CO2 equivalent.
To limit temperatures, annual emissions in 2030 need to be 15 gigatonnes of CO2 equivalent lower than current unconditional NDCs imply for the 2°C goal; they need to be 32 gigatonnes lower for the 1.5°C goal. On an annual basis, this means cuts in emissions of 7.6 per cent per year from 2020 to 2030 to meet the 1.5°C goal and 2.7 per cent per year for the 2°C goal.
To deliver on these cuts, the levels of ambition in the NDCs must increase at least fivefold for the 1.5°C goal and threefold for the 2°C.
Climate change can still be limited to 1.5°C, the report says. There is increased understanding of the additional benefits of climate action – such as clean air and a boost to the Sustainable Development Goals. There are many ambitious efforts from governments, cities, businesses and investors. Solutions, and the pressure and will to implement them, are abundant.
As it does each year, the report focuses on the potential of selected sectors to deliver emissions cuts. This year it looks at the energy transition and the potential of efficiency in the use of materials, which can go a long way to closing the emissions gap.
Norwegian scientists finally find good news from Norilsk Nickel
The state of the environment in the border areas is the main topic of the «Pasvikseminaret 2021», organized by the public administrator in Troms county and Finnmark in cooperation with the municipality of Sør-Varanger municipality.
The purpose of the annual Pasvik seminar is to provide the local population and local politicians all information about the environmental situation in the border area Norway – Russia. Program focused on pollution from the Nickel Plant and monitoring of the environment in the border area.
The activities of Norilsk Nickel have been the main focus of the workshop for many years.
For the first time in many years, Norwegian scientists have found only positive news from Russia.
Tore Flatlandsmo Berglen, a researcher at the Norwegian Institute for Atmospheric Research (NILU), noted a significant improvement in air quality in the border area. Berglen remembered the 70-80s of the last century, when one of the divisions of Norilsk Nickel "Pechenganikel" annually emitted 400 thousand tons of sulfur dioxide into the atmosphere, in the 90s this figure dropped to 100 thousand tons. After the closure plant in Nikel in December 2020, the content of sulfur dioxide and heavy metals in the atmosphere at the border between Norway and the Murmansk region meets all international requirements.
"And I know that these emissions from the Kola MMC will continue to decline. Compared to 2015, this figure will be 85 percent. This is very positive news. Air quality issues are being addressed in the right direction. We have been talking about this for many years and finally the problem has been resolved, emissions significantly reduced. This is the most excellent presentation I have ever make! " – said Tore Berglen.
Earlier it was reported that Russia's Norilsk Nickel, the world's largest producer of nickel and palladium, closed its smelter in the city of Nickel in northern Russia at the end of 2020. Kola is a subsidiary of Norilsk Nickel on the Kola Peninsula with mines, processing plants and pellets in Zapolyarny, as well as metallurgical plants in Monchegorsk and a plant in Nikel, which closed at the end of December 2020.
The Norwegian environmentalists who participated in the workshop also noticed positive changes.
"The smelter is closed and Norilsk Nickel is working hard to become a 'green' metallurgical company – it reduces emissions, uses advanced technology and cooperates with Pasvik nature reserve which is our good partner in Russia. Today, a lot of interesting things are happening in the border areas. We have many common interests and there is a certain key to ensuring that everything works out for us – this is good coordination, cooperation, a large knowledge base," said the representative of the environmental center NIBIO Svanhovd.
Other studies examining water resources, fish, berries, also prove that nature in the border area is recovering. All this testifies to the work of ecologists who care about the environment.
"We see examples of what has already been done. And this allows us to plan with confidence our future joint work, projects," says senior adviser representative Anne Fløgstad Smeland at the county governor in Finnmark.
New project to help 30 developing countries tackle marine litter scourge
A UN-backed initiative aims to turn the tide on marine litter, in line with the global development goal on conserving and sustainably using the oceans, seas and marine resources.
The GloLitter Partnerships Project will support 30 developing countries in preventing and reducing marine litter from the maritime transport and fisheries sectors, which includes plastic litter such as lost or discarded fishing gear.
The project was launched on Thursday by the Food and Agriculture Organization (FAO) and the International Maritime Organization (IMO), with initial funding from Norway.
Protecting oceans and livelihoods
"Plastic litter has a devastating impact on marine life and human health", said Manuel Barange, FAO's Director of Fisheries and Aquaculture. "This initiative is an important step in tackling the issue and will help protect the ocean ecosystem as well as the livelihoods of those who depend on it."
Protecting the marine environment is the objective of Sustainable Development Goal 14, part of the 2030 Agenda to create a more just and equitable future for all people and the planet.
The GloLitter project will help countries apply best practices for the prevention and reduction of marine plastic litter, in an effort to safeguard the world's coastal and marine resources.
Actions will include encouraging fishing gear to be marked so that it can be traced if lost or discarded at sea. Another focus will be on the availability and adequacy of port reception facilities and their connection to national waste management systems.
"Marine litter is a scourge on the oceans and on the planet", said Jose Matheickal, Head of the IMO's Department for Partnerships and Projects. "I am delighted that we have more than 30 countries committed to this initiative and working with IMO and FAO to address this issue."
Five regions represented
The nations taking part in the GloLitter project are in Asia, Africa, the Caribbean, Latin America and the Pacific.
They will also receive technical assistance and training, as well as guidance documents and other tools to help enforce existing regulations.
The project will promote compliance with relevant international instruments, including the Voluntary Guidelines for the Marking of Fishing Gear, and the International Convention for the Prevention of Pollution from Ships (MARPOL), which contains regulations against discharging plastics into the sea.
Paris goals still 'long way off'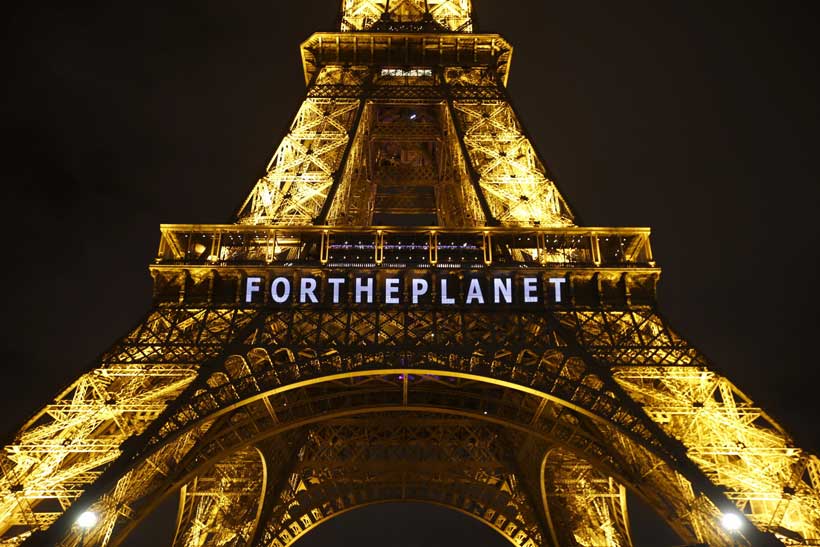 The world is "a long way off" from meeting the goals of the landmark Paris Agreement on Climate Change, the President of the crucial upcoming UN climate conference, COP26, said on Thursday.
British politician Alok Sharma was speaking during a global discussion on the 'green' transition in sectors such as energy, transport and food systems, held as part of the 2021 Spring Meetings of the World Bank and the International Monetary Fund (IMF).
"Oceans are warming, storms are intensifying, and yet we are a long way off meeting the goals of the Paris Agreement", he told the virtual meeting. "Unless we act now, the human, economic and environmental cost will dwarf anything that humanity has seen before."
John Kerry: Last chance to get serious
COP26, which will be held this November in Glasgow, Scotland, aims to accelerate action towards the Paris treaty goals, which centre around limiting global temperature rise to 1.5 degrees above pre-industrial levels by curbing greenhouse gas emissions.
John Kerry, US Special Presidential Envoy for Climate, called the conference "the last best opportunity we have to get real and serious." He particularly urged developed countries to step up efforts to reduce emissions.
"It is essential we raise ambition; we make Glasgow the next step in defining not what we're willing to do but what we really need to do in order to be able to get the job done."
Prince William: Invest in nature
For Prince William, the Duke of Cambridge, COP26 represents an opportunity to put nature at the heart of the climate fight. He called for banks to invest in nature, noting that spending so far has been minimal.
"We cannot recover sustainably from coronavirus, eradicate global poverty, achieve net-zero emissions, or adapt to climate change, without investing in nature", he said.
UN envoy on energy for all
Energy access must also be part of the green transition, according to Damilola Ogunbiyi, Chief Executive Officer at Sustainable Energy for All (SEforALL), a UN partner.
Globally, nearly 800 million people do not have access to electricity, while 2.8 billion lack access to clean cooking sources, she said, which is equivalent to the populations of Africa, Europe and China combined.
To change their lives, she recommended that governments focus on policies in the areas of promoting renewable and sustainable energy, and on ease of doing business and regulations. Again, financing here is needed, together with commitment.
"We all see that globally, when we come together, just the amazing work we can do, and the COVID vaccine is a perfect example", said Ms. Ogunbiyi, who is also the Special Representative of the UN Secretary-General for Sustainable Energy for All.
"We literally have to have a COVID vaccine response to help a lot of developing countries because it's not that they don't want to transition, or they don't want to do the right thing. It's a fact that if you do need to transition, there is a lot of funding that is needed.