Simple Indo-Pak border disputes: Complicated by lack of political will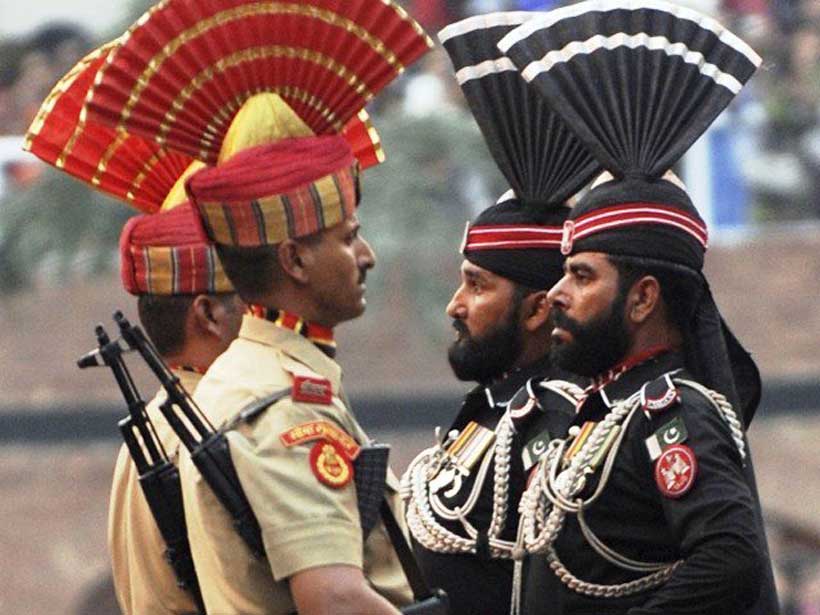 Once again, Pakistan's prime minister has stressed that `the President must continue his efforts for [the] facilitation of a peaceful solution of the Jammu and Kashmir dispute'. Besides Kashmir, there are Sir Creek and Siachen Glacier issues. These issues were almost resolved, but Indian politicians left them in limbo at last minute.
Siachen Glacier and Sir Creek: India's former foreign secretary Shyam Saran, in his book How India Sees the World (pp. 88-93) makes startling revelations about how this issue eluded solution at last minute.. India itself created the Siachen problem. Saran reminisces, in 1970s, US maps began to show 23000 kilometers of Siachen area under Pakistan's control. Thereupon, `Indian forces were sent to occupy the glacier in a pre-emptive strike, named Operation Meghdoot. Pakistani attempts to dislodge them did not succeed. But they did manage to occupy and fortify the lower reaches'.
He recalls how Siachen Glacier and Sir Creek agreements could not fructify for lack of political will or foot dragging. He says 'NN Vohra, who was the defence secretary at the time, confirmed in a newspaper interview that an agreement on Siachen had been reached. At the last moment, however, a political decision was taken by the Narasimha Rao government to defer its signing to the next round of talks scheduled for January the following year. But, this did not happen…My defence of the deal became a voice in the wilderness'.
Similarly, demarcation of Sir Creek maritime boundary was unnecessarily delayed. Saran tells ` if we accepted the Pakistani alignment, with the east bank of the creek as the boundary, then Pakistan would get only 40 per cent of the triangle. If our alignment according to the Thalweg principle was accepted, Pakistan would get 60 per cent. There was a keen interest in Pakistan to follow this approach but we were unable to explore this further when the Siachen deal fell through. Pakistan was no longer interested in a stand-alone Sir Creek agreement' (Thalweg principle places the dividing line mid-channel in the river).
Saran says, `Kautliyan template would say the options for India are sandhi, conciliation; asana, neutrality; and yana, victory through war. One could add dana, buying allegiance through gifts; and bheda, sowing discord. The option of yana, of course would be the last in today's world' (p. 64, ibid.). It appears that Kautliya's last-advised option, as visualised by Shyam Saran, is India's first option nowadays.
Kashmir dispute
Kashmir issue has remained unresolved since creation of two independent states, India and Pakistan, in 1947. This issue led to wars between the two countries in 1948, 1965, 1971 and 1999, besides a quasi-war or military stand-off (operation parakaram) in year 2001-02. Kashmir is considered a dangerous flashpoint as both India and Pakistan are nuclear powers.
In his memoirs In the line of fire (pp.302-303), president Musharraf has proposed a personal solution of the Kashmir issue. This solution, in essence, envisions self-rule in demilitarised regions of Kashmir under a joint-management mechanism. The solution pre-supposes reciprocal flexibility.
The out-of-box Musharraf Kashmir solution is in fact a regurgitation of Mehta's proposals. He understood that plebiscite was the real solution. But, India was not willing to talk about it. So, he says, before seeking a solution, `requirements prelusive to a solution' should be met. He presented his ideas in his article, 'Resolving Kashmir in the International Context of the 1990s' (Hindustan Times editor Verghese also gave similar autonomy-inclined proposals). Some points of Mehta's quasi-solution are: (a) Conversion of the LoC into "a soft border permitting free movement and facilitating free exchanges…" (b) Immediate demilitarisation of the LoC to a depth of five to 10 miles with agreed methods of verifying compliance. (c) Pending final settlement, there must be no continuing insistence by Pakistan "on internationalisation, and for the implementation of a parallel or statewide plebiscite to be imposed under the peacekeeping auspices of the United Nations". (d) Final settlement of the dispute between India and Pakistan can be suspended (kept in a 'cold freeze') for an agreed period. (e) Conducting parallel democratic elections in both Pakistani and Indian sectors of Kashmir. (f) Restoration of an autonomous Kashmiriyat. (g) Pacification of the valley until a political solution is reached. Voracious readers may refer for detail to Robert G. Wirsing's book India, Pakistan and the Kashmir Dispute (1994, St Martin's Press).
Text-books are full of solutions that could apply to the Kashmir scenario: (a) Status quo (division of Kashmir along the present Line of Control with or without some local adjustments to facilitate the local population, (b) Complete or partial autonomy of Muslim-majority tehsils of Rajauri, Poonch and Uri with Hindu-majority areas merged in India, (c) Trieste'-like solution, (d) Indus-basin-related solution (Chenab solution), (e) Aland-island-like solution, and (f) Plebiscite.
Let us look more closely at some of the tentative solutions. Status quo is now no longer a solution. It is not acceptable to any of the 'necessary' parties (particularly Kashmiris) to the dispute. This solution had envisaged a boundary that followed peaks of Pir Panjal Range in northern Jammu and included districts of Riasi, Kotli, and Poonch in Pakistan. India was to control Riasi and parts of the other two districts. Riasi was to include the middle reach of Chenab River, vital to Pakistan. Indian foreign minister Swaran Singh offered to cede to Azad Kashmir and the Northern Area additional 3,000 square miles of territory from India-controlled Kashmir. However, the negotiations between India and Pakistan remained inconclusive. As for autonomy proposal, it suggested that both, India and Pakistan, should grant independence to disputed areas under their control and let Kashmir emerge as a neutral country. The Trieste'-type solution, as agreed between Italy and Yugoslavia after the World War II, partitioned the territory around the port of Trieste'. The Security Council's resolutions guaranteed demilitarisation of the free city of Trieste'. The citizens of Trieste' enjoyed unhindered access to neighbouring Yugoslavia and Italy. Applied to Kashmir situation, the Trieste solution meant division of the Kashmir state on communal lines. Under this solution, the Hindu majority areas of Jammu and the Buddhist-dominated region of Ladakh would join India. The Northern and the Kashmir Valley (under India's control), along with Azad Kashmir, would join Pakistan. Free access would be given to people living on both sides of Kashmir. In historical context, the short-lived Trieste' solution is considered an ineffective solution. To India, autonomy as well as joint control, also, is Utopian solutions.
Some writers have suggested an Indus-Basin-based solution: The Indus, Jhelum, and Chenab Rivers, along with their basins, would join Pakistan. The Sutlej, Ravi, and Beas Rivers and their basins, as well as the remaining parts of Kashmir, would join India. The basin of the Jhelum would fall within the exclusive domain of Pakistan. Aland's international accord settled the territorial dispute between Finland and Sweden. The problem got solved as Finland was sincere, unlike India. When the dispute with Sweden arose after the First World War, Finland's Parliament passed an autonomy law on May 6, 1920 for Aland. Two other autonomy laws were passed on December 28, 1951 and August 16, 1991 to give greater autonomy to Aland, allow it to use its own flag and coat of arms, and appoint governors. On December 31, 1994, Aland joined the European Union voluntarily.
The South -Tyrol agreement between Australia and Italy provided an autonomy framework (vouchsafed by Paris Peace Agreement 1946). The framework accommodated aspirations of ethnic inhabitants of the region.
Now, a few words about the United Nations' solution. There are fifteen United Nations resolutions guaranteeing right of self-determination to the Kashmiris. Despite its best efforts, India has not yet been able to get the 'India-Pakistan Question' deleted from the UN agenda. The UN observers are still posted along the two sides of the Line of Control.
The inhabitants of the state of Kashmir would themselves decide to accede to India or Pakistan (UNCIP Resolution1949). India's attitude negates the cardinal principles in inter-state relations, that is, pacta sunt servanda `treaties are to be observed' and are binding upon signatories. Sir Owen Dixon's plebiscite's proposal is the best solution, preceded by demilitarisation and self-governance. Demilitarisation of Kashmir has been the basis of United Nations Security Council resolutions on Kashmir. The UN Security Council stipulated 30 days' period for India and Pakistan to agree on demilitarisation. This deadline was incorporated in UN Security Council Resolution No 98 of 23 December 1952. The resolution called upon India to reduce its troops in Kashmir to a range between 12,000 to18, 000. Pakistan was required to reduce her troops to between 3000-6000. History tells that the demilitarisation, and, by corollary, plebiscite, could not be held in Kashmir because of India's obduracy. India kept insisting upon keeping a minimum of 21,000 troops. India, currently, has over seven lac troops in the occupied Kashmir. The demilitarization proposals were based on General McNaughton's and Australian prime minister, Robert Gordon Menzes' proposals (Korbel, Danger in Kashmir, pp.159, 168, 176-177 and186).
India's successive defence minister ruled out demilitarisation . India's home minister told India's house of peoples (lok sabha) that 'there is no question of withdrawal of forces and certainly no question of demilitarization'. Former prime minister Manmohan Singh also considered the existing LOC as sacrosanct.
Then there is Ireland's Good Friday Agreement of 1998 model to Kashmir situation. The agreement had five main constitutional provisions. First, Northern Ireland's future constitutional status was to be in the hands of its citizens. Secondly, if the people of Ireland, north and south, wanted a united Ireland, they could have one by voting for it. Thirdly, Northern Ireland's current constitutional position would remain within the United Kingdom. Fourthly, Northern Ireland's citizens would have the right to "identify themselves and be accepted as Irish or British, or both." Fifthly, the Irish state would drop its territorial claim on Northern Ireland and instead define the Irish nation in terms of people rather than land. The consent principle would be built into the Irish constitution. The Andorra model also offers food for thought.
Andorra, is a small principality in the Pyrenees whose heads of state are the President of France and the Bishop of Urgell, called the Coprinceps. Andorra has its own government and constitution and freedom in most internal matters; in external relations the Coprinceps play a major role. The ideal is that while the status quo on the other regions can be maintained (the Northern Region with Pakistan, Jammu and Ladakh with India), in the Valley, whose overwhelmingly Muslim population have for long been agitating against Indian rule, the Andorra model can be applied. This means India would retain some control, jointly with Pakistan, over matters of defence and external affairs, but in internal and cultural matters, the Valley would be more or less completely autonomous.
Ibarretxe Proposal for the Basque conflict in Spain also offers insights. The Basque agreement is supported by three basic premises:(a) The Basques are a People with their own identity; (b) they have the right to decide their own future; and (c) it is based on respect for the decisions of the inhabitants of the different legal political spheres in which they are situated.
At present, the Basque people are organised in three legal-administrative communities. On the one hand are the Basque Autonomous Community, composed of the provinces of Alava, Bizkaia and Gipuzkoa, and the Province of Navarre, both of which are situated within the Spanish state. On the other are the territories of Iparralde (Lapurdi, Zuberoa and Benafarroa) situated within the French state that do not have their own political administration.
Another creative example is the Sami Parliamentary Assembly, established in 2000, as a joint forum of the parliaments of the Sami indigenous people who reside in the northern regions of Norway, Sweden and Finland. The Sami have been demanding greater control over the land, water and natural resources of their ancient homeland. They elect representatives to their own regional parliaments but are now trying to develop a pan-Sami political institution to better protect their rights. The three Nordic countries have all been pulled up by the UN for their treatment of the Sami and many issues—such as Norway's decision to allow expanded bombing ranges for NATO warplanes—affect the indigenous population cutting across sovereign state borders. The Sami example is a case of an attempt by a partitioned people to craft meaningful political institutions from below, often in the face of indifference from above.
New Caledonia Model Noumea Agreement has fine advice for disputed Kashmir. In 1774, the island was discovered by English captain James Cook. In 1853, under Napoleon III, France officially took its possession. The 1999 Noumea agreement on New Caledonia, where the indigenous Kanaks are now outnumbered by the descendants of European settlers and by other non-Melanesians, maintains French nationality over the colonial possession while establishing the idea of New Caledonia citizenship over a 20-year transition period till a referendum on final status. This example is unappealing in the South Asian context because Kashmir is not a colonial possession. Nevertheless, the notion of shared sovereignty is an interesting one.
Inference: Given sincerity, there is nothing intractable about the Kashmir issue (Dawn December 31, 2017). It is a simple problem involving right of self-determination. An independent Kashmir, as a neutral country, was the favourite choice of Sheikh Abdullah and from the early 1950s to the beginning of the crisis in 1989."Sheikh Abdullah supported 'safeguarding of autonomy' to the fullest possible extent" (Report of the State Autonomy Committee, Jammu, p. 41). Abdullah irked Nehru so much that he had to put Abdullah behind the bars. Bhabani Sen Gupta and Prem Shankar Jha assert that "if New Delhi sincerely wishes to break the deadlock in Kashmir, it has no other alternative except to accept and implement what is being termed as an 'Autonomy Plus, Independence Minus' formula, or to grant autonomy to the state to the point where it is indistinguishable from independence". (Shri Prakash and Ghulam Mohammad Shah (ed.), Towards understanding the Kashmir crisis, p.226).
India should heed advice by its own two foreign secretary J.N. Dixit. He says it is no use splitting legal hair. "Everybody who has a sense of history knows that legality only has relevance up to the threshold of transcending political realities. And especially in inter-state relations… so to quibble about points of law and hope that by proving a legal point you can reverse the process of history is living in a somewhat contrived utopia. It won't work." This is a quote from V Schofield's Kashmir in the Crossfire. Let India begin to talk.
True, honesty, not legal rigmarole will solve the Kashmir tangle.
Sans sincerity, the only Kashmir solution is a nuclear Armageddon. Or, perhaps divine intervention.
Proxy War and the Line of Control in Kashmir
Who has not heard of the Vale of Cashmere, with its roses the brightest that earth ever gave.–Thomas Moore
The Backdrop
Kashmir has a way of arousing strong emotions, even among those like the Irish poet Thomas Moore, who never set foot on its soil. At the time of partition of British India, Kashmir was one of the largest princely states and like the rest of the princely states, it had the option of joining either of the two dominions of India and Pakistan or else declare independence. Maharaja Hari Singh of Kashmir had a similar choice to make but unable to take a stand he chose to sign a Standstill Agreement with Pakistan in order to buy time. India delayed signing such an agreement. It was following this agreement, that Pakistan with an eye on taking over Kashmir, started to act up and enforced a virtual economic blockade of this landlocked state, in a bid to force the Maharaja to accede to Pakistan (Singh, 1989).
The Maharaja desperate for supplies turned to India for help and matters soon took a turn for the worse, when Pashtun Tribals funded and equipped by Pakistan, invaded Kashmir, in October 1947(Haque, 2010). Facing imminent takeover of his state, Hari Singh again turned to India for help, but the Indian Government expressed its inability to intervene militarily in the absence of an Instrument of Accession. The Maharaja had dithered for too long to his detriment, he then signed the agreement and Indian troops were airlifted to the valley, immediately. The Indian Army successfully routed the tribal force,code named 'Operation Gulmarg',and it was the Pakistani Army which now took up the slack and stepped in continue the battle.
With winter creeping in, fighting was resumed only in the spring of 1948. It was to be almost a year before a UN sponsored cease fire took effect in January 1949, and the cease fire line became the de facto border pending resolution of the dispute. In retrospect, the Pashtun invasion was in effect the first proxy war waged by Pakistan and the resulting cease fire line was to become the Line of Control in a later 'avatar'. It is in the context of Kashmir that we shall examine the coming in to being of these twin concepts of 'Line of Control' and 'Proxy War' and see how they created and shaped the flow of events as they un folded, in the intervening decades. Also examined, will be the role of the two state actors in a bid to identify likely outcomes and possible course corrections.
Proxy War and Kashmir
Proxy wars cannot be understood, unless they are placed in the context of their existence and usage. For Pakistan, the benefit in this manner of engagement, lies not only in its deniability (for political reasons) but also because it minimises the chances that such a conflict could escalate into a full blown act of war (Byman, 2018).
As an added corollary, there is the added incentive of reduced financial and human costs. Contextually, of even more significance, is the fact that India has military superiority which Pakistan would find hard to counter, if it were to engage in direct combat in a bid to annex Kashmir. Moreover, from a strategic point of view, when Pakistan plays the religion card for motivation, the results exceed expectations as it radicalises Islam in a Kashmir which originally subscribed to Sufi Islam. The incentive of 'Azaadi' is just a metaphor for annexation.
In Kashmir, there is a chain of causality, that began when, Major General Akbar Khan, a serving Pakistani Army officer, used Pashtun Tribals to stage an armed insurrection in Kashmir in October 1947 (Haque, THE KASHMIR CONFLICT: WHY IT DEFIES SOLUTION, 2010). The tribals in this operation were the first in a long list of non -state actors used by Pakistan in the relentless proxy war being waged, across the line of control, till today. Praveen Swami chooses to call this an "informal war" and rightfully says it has had a greater impact than both the 1947 and 1965 wars, as it set the stage for a seemingly endless engagement (Talbot, 2007).
Line of Control and Kashmir
In international parlance there was no such term like the line of control, until it was coined in 1972, when the Simla Accord was signed between India and Pakistan, after the post war (1971) negotiations between the two countries. The physical origins of the line of control, date back to the first Indo-Pak war in 1947, an invasion, gone wrong. Pakistan had committed this act of aggression, covert and overt, in spite of having signed a standstill agreement with the Maharaja of Kashmir, and for no identifiable reason except to further Jinnah's interpretation of the Two Nation Theory. In spite of speculation about the exact timing of the signing of the Instrument of Accession by the Maharaja, the fact remains that Indian troops intervened with this accession instrument in place and the UN mediated a cease fire between the two countries and the cease fire line was formalised in a Karachi agreement signed in July 1949. Approximately one third of Kashmir was now with Pakistan and India had the balance two thirds. In the following years, there were three major wars with Pakistan and out of them it was the 1971 war which metamorphosed the cease fire line in to the Line of Control (LOC), as part of a larger political settlement. This line of control was in effect 'cordon sanitaire' based on military realities and political exigencies. Virtually unaffected by the wars of 1965 and 1999, the 742 km LOC still traverses majorly mountainous terrain with the Siachen Glacier as its end point. It has now been fenced over much of its length to discourage infiltration from Pakistan.
Proxy War and Line of Control
In Juxtaposition
Regardless of nomenclature, with the war of 1947, the matters of proxy war and the line of control, became inextricably linked to the very existence of the countries of India and Pakistan. Just like the first war of 1947, Pakistan, unsuccessfully tried the proxy route again in 1965, with 'Operation Gibraltar' but the infiltrators could not garner local support and 'conventional' war broke out. The UN then negotiated a cease fire, and the Tashkent Agreement restored the sanctity of the 1949 cease fire line. In subsequent years, the 1971 war mutated the cease fire line, in to the LOC, and this war was more to do with the liberation of East Pakistan, anyway. Finally, it was Zia, who ultimately formalised this bid to "bleed India with a thousand cuts"(Katoch, 2013). The juggernaut he set rolling in 1988, never quite stopped and the Kargil war of 1999, was to see the pattern repeated, in terms of the use of non-state actors.
In the intervening years, since, only the 'face' of proxy war has changed and evolved, the heavily militarized LOC is a constant. To start with, in the eighties, it was the pro-independence JKLF with indigenous recruits, which held sway, only to be replaced by a pro-Pakistan, Hizbul-Mujahideen and later the Lashkar-e-Taiba and Jaish-Mohammed. Even now, the youth of Kashmir, is being radicalised and trained in Pakistan Occupied Kashmir, for 'Jihad', but 'terrorism fatigue' is setting in. Militants are losing support of the local population, more and more, just as Pakistan uses its Afghan experience to use different nationalities as cannon fodder. Peace talks make no headway in this paradigm and there are no winners in this war, social and economic development is the casualty, damaged goods abound amongst the public and the security forces, alike.
In Search of a Settlement
Taking the time of partition as a point of reference, Pakistan was convinced in its mind that given geographical contiguity, and the fact that the state was predominantly Muslim, Kashmir should be its own. Clearly this was a political issue which Pakistan turned in to a military conflict. From thereon, Pakistan's strategies ensured that the situation was turned in to a regional conflict with international dimensions. So much so Clinton referred to the LOC as the "most dangerous place in the world"(Popham, 2000). Playing its cards well, Pakistan turned a political stalemate in to a militaristic, socio-religious and political quagmire. With no noteworthy democratic institutions to speak of, Pakistan wants to liberate Kashmir, choosing to forget that accession was the instrument of choice when the princely states decided their fate at the time of partition. How was Kashmir's choice being invalidated if this was so.
Today, the Kashmir Valley is a land transformed. From a paradise of untold natural beauty, it is a landscape of concertina wire fences and concrete bunkers. Its residents are in a state of siege, emotionally scarred, unable to cast off the twin yokes of militancy and counter-insurgency, with the military and militants lurking at every corner (literally). Brutality abounds. Opportunistic politicians, flawed elections, corrupt bureaucrats, a protecting force which behaves like an occupation force, are faces of this brutality that have been unleashed on the people of Kashmir. This was not always so.
Clearly, somewhere along the way India lost her bearings. It failed to take in to account the aspirations of the people. Kashmirayat, was secular, but it was not taken seriously and it did not take much to ignite the flames of 'Azaadi' which almost engulfed the valley. The secular bond was broken with the forced migration of the Kashmiri Pundits out of the valley. Regardless of the prevailing political dispensation, over time, with the growth of militancy, repression was the dominant reaction and the 'mailed fist' gained precedence. Radicalised Islam began to replace Sufi Islam((RETD), 2018). Fear and suspicion ruled the psyche of the people. The youth felt disenfranchised. India had fallen in to the trap of enforcing a siege instigated by Pakistan. Kashmiris felt betrayed. Article 370 which granted unprecedented autonomy, had been diluted until it was just symbolic, when it was abrogated in 2019, by a fiercely nationalistic government which had only just snapped ties with an electoral partner perceived as soft on separatists.
Coming back to the time of independence, Dionisio Anzilotti, former President of the Permanent Court of International Justice, says that Pakistan's invasion in 1947 was "against all canons of international law" and "a clear violation of the Charter, the Security Council's resolution of 17 January, 1948" (Pan, 1998).Just as interesting is the fact that, the accession document is deemed to be legal under international law even if it is signed under duress(Ayoob, 1967). As for the oft touted failure to institute a plebiscite, the UNSC resolution signed by both countries, clearly calls for first off withdrawal of Pakistani troops from Kashmir, with India keeping its forces at a minimum. Pakistan will never pull back and the stalemate therefore continues.
Clearly, there is an impasse and an impossibility for either side to blink. In Pakistan, the army cannot possibly abandon a conflict through which it exercises control over the body politic that sustains its economic, political and economic interests. It is almost as if, Kashmir is the very reason for the existence of the army and for the public of Pakistan, Kashmir's liberation and annihilation of its bête noire, India, is the only national priority. Muhammad Shaffi Qureshi, a Kashmiri politician put it well when he said, that the Pakistan Army has "been feeding the tiger for a long time" for it to just walk away(Kifner, 2001). The danger in proxy warfare being that after a time proxies begin to "act according to their own interest and impulses"(Byman, ORDER FROM CHAOS Why engage in proxy war? A state's perspective, 2018)(ibid).Pervez Musharraf and others have realized this truth much to their chagrin.
India, too is riding its own tiger, as it is caught in a 'low-level equilibrium trap 'in terms of being, in a state of no war accompanied by no peace(Carciumaru, 2015). The fear being that any let up in military presence will escalate militancy. The abrogation of Article 370 and the division of the state of Jammu & Kashmir in to centrally administered divisions, has destabilized already vulnerable democratic processes, turning Kashmir in to a simmering cauldron. The current political dispensation at the centre is still going ahead andrapidly making changes in domicile laws, in a bid to alter the demographics of the region. Previous state governments had done this for different reasons when they allowed the settling of Rohingya refugees in Jammu and thereabouts, for obvious reasons. Admittedly, matters can take a serious turn from hereon, with resentment boiling over among the populace at large.
Attempting to deal with the abrogation of Article 370, Pakistan is consequently changing its strategy. A leaked policy document from the 'Green Book 2020',indicates that the proxy war will now move towards, a'non kinetic domain'(Osborne, 2020).Cyber warfare and psychological warfare being used to aid and abet a native uprising, so as to be able to defend Pakistan's position on international forums. With a defensive and weakened Pakistan, India, too must move differently and realize that it cannot have a decisive win against militancy, using brute force. With militancy, currently at an ebb, the time is in fact opportune to move towards a 'negotiated settlement' as the militants are politically discredited in a scenario where India has the moral high ground as it does not believe in building terror launch pads on its soil. Its people of Kashmir are decidedly at an advantage economically, when compared to their 'compatriots' across the LOC and they have a 'voice', in a country where rule of law still prevails. Aberrations like the AFSPA, can surface in any dispensation, you don't throw the baby with the bath water.
In Conclusion
Bashir Manzar wrote on twitter, "From Geelani to Farooq Abdullah, we have a luxury to say anything and everything against India, ridiculing it for rejecting our right of self-determination,independent Kashmir, autonomy, self-rule etc. But when Pakistan rejects all these things, we turn into non-speaking species. Are we more scared of Pakistan than India?"
Seven decades later, peace is still intractable in the Kashmir Valley.Violations across the line of control continue, by both sides and the proxy war initiated and sustained by Pakistan, has been a constant for long.Kashmir is ina 'mutually hurting-stalemate'(Carciumaru, Beyond the 'Low-Level Equilibrium Trap': Getting to a 'Principled Negotiation' of the Kashmir Conflict, 2015) (ibid).Perhaps, the most elegant solution to this imbroglio would be acceptance of the line of control as an international border with greater autonomy for Kashmir (as suggested by Farooq Abdullah)so that the people of Kashmir couldthen move on with their lives, which in a paradoxical manner seem to be in a state of suspended animation, as long as the conflict continues to play itself out. This is not utopian, all it needs is political will and some give and take(Sharma, 2017).
Increasing Need for Global Cooperation and Solidarity- Interview with Dr. Tandi Dorji
Covid-19 has invoked challenges worldwide that require us to formulate innovative solutions. Dr.Tandi Dorji , the foreign minister of Bhutan talks about the need to foster and increase transnational cooperation during these trying times.
Dr. Tandi Dorji has played a significant role in fostering Indo-Bhutan relations, and in the interview, he discussed future areas of collaboration, cultural understanding, and international engagement among the youth of the two countries. Having been a public health researcher before, Dr. Dorji reflects that the pandemic has rendered the population of Bhutan really vulnerable, and thinks that a challenge of such nature and scale can be surmounted only with global solidarity, cooperation and diligent efforts.
Some nations have a lot of financial, technical and human resources to tackle the pandemic, but others with weak public health systems and constrained by lack of resources cannot be sustained by sole efforts. There is a need to recognize this disparity and acknowledge that a weak link could jeopardize efforts aimed at global collaboration. Governments, health organizations, private sectors, scientists and researchers need to work with a common aim.
Countries that have research and financial capabilities need to come forward and support organizations like WHO that are responding to the current crisis through vaccine research. The collaborations in vaccine research need to be speeded up, and in order to make them more accessible and affordable for all countries, there needs to be a proper regulatory framework put in place.
This calls for a renewal in diplomatic efforts and increased funding programs by nations that already possess resources to tackle the crisis.
As someone who studied and lived in India for more than 15 years of his life, Dr. Dorji really appreciates the cultural richness and diversity present across states in India. He says that cultural understanding can play a very vital part in creating empathy within a population for the other side's paradigm and mindsets. Being informed of a person's or a culture's peculiarities enables us to comprehend them better.
Cultural differences, according to him, have not prevented people from working together. Rather, the fact that different countries in the past have come together under the purview of common international frameworks has provided opportunities to different cultures to reach out to one another, and to understand as well as accept the differences among them.
Dr. Dorji also believes that the principles and values that construct out society play a crucial role in informing our education system, so the need of the hour is to collectively create an environment that would make the youth feel more involved and develop the ability in them to engage in constructive discussion and exercise other forms of proactive citizenship, including in the areas of foreign affairs and international relations.
From politics to economics to health, the world has become a lot more interconnected than before, and to succeed in this global age it is very important to instil in students the ability to think globally, communicate across cultures, and act on issues of global significance; and while school education could play a role by incorporating foreign affairs and international relations in the curriculum, to foster greater awareness and intercultural empathy among nations we would also need to enable young minds to understand how the foreign policy objectives constructed by a nation affects their daily lives and the society at large.
More exchange programs between the schools and colleges of India and Bhutan in the fields of sports, culture and science and more youth-focused programs is one way to enhance the probability of intercultural understanding.
Dr. Dorji also says that India being one of the largest economies of the world, and predicted to become the second largest by 2050, there is much scope for collaboration between India and Bhutan within sectors such as Science, technology, tourism, Information technology, space and satellites, and pharmaceuticals. Indian investments in such sectors could be explored in the near future.
His Majesty the King of Bhutan (Jigme Khesar Namgyel Wangchuk) has particularly stressed the importance of STEM in harnessing technological advances, which can only happen by investing in these subjects. Economies are progressing and the world is gradually becoming more digital, so the national labour market is also going to require skills with an added emphasis on technical abilities, and it is highly important that our children are prepared to participate in discoveries and technologies that would unfold in future. One of them is space, and although Bhutan lacks resources and is a small country, it is important for more Bhutanese young people to realise the value of, and take up space studies.
The government, as per Dr. Dorji, shall be ready to encourage and promote the same.
Dr. Tandi Dorji concluded by saying that he appreciates the strong cultural heritage of India and how the country has managed to preserve and promote it.
Reimagining Pakistan Transforming a Dysfunctional Nuclear State- Book Review
Pakistan: A Lost Cause?
In his book, 'Reimagining Pakistan', Husain Haqqani discusses the origins of Pakistan as a state while laying bare the genesis of the state it has evolved into, ultimately culminating with his formula, for a reimagined Pakistan. As he rightly points out, Jinnah, when calling for a separate state of Pakistan, invoked religion as a way of giving a semblance of unity and solidity to his divided (by ethnicity, language, geography) Muslim constituents. Consequently, his demand for Pakistan was perforce "specifically ambiguous and imprecise" (p.7) (Jalal)so as to command general support. This base of religious nationalism also became the country's foundation for successive governments.
Then, taking a look behind the scenes, Haqqani says, even as the new state of Pakistan, was formed disadvantageously, with no functioning capital city, government or financial resources, its ill prepared founders unlike their Congress counterparts had no plans for the smooth functioning of a new country. Even, the concept of a common Governor General with India was rejected and Jinnah became the first head of state thereby losing for Pakistan all advantages financial and otherwise of having a moderating influence of a common governor general. Delineating the chemistry of Pakistani politics since independence, Husain with absolute clarity tells us that almost from the beginning part of the state apparatus used religion and religious groups for political ends. This unleashed a rampaging genie of religious–political chaos from time to time with the army stepping in to return the rampaging genie to its proverbial bottle. In this context Haqqani tells us that it was Zia's US backed "religious militancy" (p.100)in the form of jihad which Pakistan is dealing with till this day.
The author succinctly says Pakistan has thus become home to the world's "angriest Muslims" (p.112), with successive civilian and military governments choosing to appease "dial-a-riot" (ibid)Islamist hardliners, rather than confronting them. Drawing upon Shuja Nawaz's telling comment that "Pakistan's history is one of conflict between an under developed political system and a well – organized army"(Nawaz), Husain invokes this argument to point to consistent authoritarianism in the history of Pakistan when he refers to its four key military dictators.
The author also invokes Bengali leader Suharwardy's prophetic commentary on possible economic chaos in Pakistan, wherein he had warned that there would be no commerce, business or trade if Pakistan were to keep "raising the bogey of attacks" (p.58), and engage in constant "friction with India" (ibid). Husain in his book, 'India vs Pakistan – Why can't we just be Friends' talks of this pathological obsession with India and the consequent pressure points in their relationship. Ignoring, Jinnah's vision of two countries, with porous borders, "like the United States and Canada" (Jinnah, p.58).Unfortunately, with policy making playing second fiddle to national pride and morale, the narrative in Pakistan has become that of a victim not only of conspiratorial enemies but also an army which expands the magnitude of threats to match its size.
Hence, as the author points out most Pakistani leaders, except Ayub Khan have shown little interest in economic matters. Ignoring fundamentals of economics, aid gathered internationally by Pakistan as rentier to the western world, was frittered away in building military capacity just as it sank ever lower in terms of human development indices. With the culture being one of extolling the "warrior nation" (p.62) over the "trader nation" (ibid), Pakistan then fell into a state of "ideological dysfunction" (p.63). Like Husain says, Justice Munir of the Munir Commission in 1953 was prescient when he said that, "you can persuade the masses to believe that something they are asked to do is religiously right or enjoined by religion, you can set them to any course of action, regardless of all considerations discipline, loyalty, decency, morality or civic sense"(p.83). The author quickly links this up to "Islamist Rage" (p.96), with jihad as a panacea for all the ills that befell the nation. Before long, the self-proclaimed Pakistani upholders of the honour of Islam and its prophet re-wrote their history with falsehoods to fit a fictional narrative born from an inherent insecurity which even acquisition of nuclear weapons could not assuage.
Ultimately, in his quest to offer a roadmap for a reimagined Pakistan, the most telling suggestion that comes from Haqqani is his exhortation that Pakistan should embrace its "multi-ethnic" (p.274) and "multi lingual reality" (ibid)just like Belgium did many years back and forever rid itself of the spectre of disintegration. He would thus, like his country to draw away from its focus on survival and resilience, a concept partially imparted by its military moorings and truly reimagine itself as a non- confessional state where the "individual can be pious and the society can be religious"(p.120). Going further, to him Pakistan has to have a national identity other than its self -obsessive and ever draining competition with India and not forever depend on God alone to ensure its survival.
Thus, wanting Pakistan to stop its "march of folly"(Tuchman), by creating a national identity which bypasses the nexus between power and bigotry, quoting Ayesha Jalal he talks of the damaging lack of territorial nationalism in the definition of Pakistan as an Islamic State. In this context he traces the breaking away of East Pakistan and possible future disintegration of Pakistan along ethnic lines just as it happened in say, Russia. Undeniably, Haqqani exhibits great courage when he says that if Pakistan has to have a future different from its past, it must identify the various confabulations of its leaders so as to not fulfill Barbara Tuchman's "march of folly", due to "governmental folly and obstinacy" (p.244).
All this notwithstanding, in this book Husain has laid bare the origins and development of Pakistan, in to what it is today. As an expert on radical Islamic movements, he traces the stranglehold that the jihadists and Islamic movements have on the state players and also tells us that it is the army which acts as a check and balance whatever else the other negatives might be in allowing the army to play such a pivotal role in the formation of the Pakistan nation and creation of jihadist movements. Quoting extensively from primary and secondary sources, he shows the proverbial mirror to the collective psyche of his nation. Jinnah's speeches and Munir Commission's findings are excellent primary sources in this regard, while among others Ayesha Jalal and Shuja Nawaz add credibility and meaningful insights to Husain's process of reasoning. At the same time research and data is indeed exhaustive and the research team not lacking in extending support to his rubric, while Haqqani himself does not draw away from some uncomfortable truths that Pakistan must face. Even though, Husain has done a remarkable and honest job in analysing the dysfunctional aspects of the state of Pakistan, where the book lacks is that though the title suggests we are going to read about a roadmap to reimagine Pakistan, the emphasis is more on how the state was formed, its ideological moorings, and the role of the various players as it evolved over time. The suggestions for reimagining obviously need more reimagining as the suggestions provided by the author are not in the form of a coherent roadmap and his suggestions are few and far between besides being scattered randomly at times, through the course of the book. Also, to my mind, the author does not face the real tough questions as to how the cat (army) is to be belled, the monolithic behemoth that it has become. Over here, G Parthasarthy's comment, "Every country has an army but in Pakistan, an army has a country"(G.Parthasarthy), comes to mind, something which its leaders would do well to remember. Besides this Husain does not seem to hold the western powers to account as they were probably just as much to blame for the current state of affairs when they played the renewed "great game"(Hopkirk)in this part of the world. From his unique perspective as an advisor to four ex-prime-ministers and the ambassadorship to U.S.A at a time when there was a global war on terrorism(Haqqani, Hudson Institute ), Haqqani should have dwelt as much on reimagining as he did on cautioning his homeland from its precipitous "march to folly" (p.264)(.Tuchman). Perhaps a second volume could take up this slack wherein the excellent foundational analysis of the state of Pakistan is the launch pad for a futuristic road map for reimagining.
Reimagining Pakistan Transforming a Dysfunctional Nuclear State by Husain Haqqani, Harper Collins ,2018