THE CENTRALITY OF UKRAINIAN OLIGARCH IHOR KOLOMOYSKY
The real person who was the benefactor to, and the boss of, Vice President Joe Biden's son, Hunter Biden, at the Ukrainian gas-exploration company Burisma Holdings, was not the person that the American press says was, Mykola Zlochevsky, who had been part of the Ukrainian Government until Ukraine's President Viktor Yanukovych was overthrown in February 2014, but it was instead Ihor Kolomoysky, who was part of the newly installed Ukrainian Government, which the Obama Administration itself had actually just installed in Ukraine (and that phone-conversation appointing Ukraine's new leader is explained here), in what the head of the "private CIA" firm Stratfor has correctly called "the most blatant coup in history." (Here's more explanation of that coup which was done by Obama.)
One cannot even begin accurately to understand the impeachment proceedings against America's current President Donald Trump ("Ukrainegate"), unless one first knows and understands accurately what the relationships were between Trump and the current Government of Ukraine, and the role that the Obama Administration had played in forming that Government (installing it), and the role that Hunter Biden had been hired to perform for his actual boss at Burisma, Kolomoysky, soon after Obama (via Obama's agent Victoria Nuland) had installed Ukraine's new Government.
As I had written on 28 September 2019, "In order to understand why Ukraine's President Voldomyr Zelensky doesn't want the dirt about Joe Biden to become public, one needs to know that Hunter Biden's boss and benefactor at Burisma Holdings was, at least partly, Zelensky's boss and benefactor until Zelensky became Ukraine's President, and that revealing this would open up a can of worms which could place that former boss and benefactor of both men into prison at lots of places."
That article, at the phrase "dug up in 2012," discussed and linked to a careful 2012 study of Burisma which had actually been done in Ukraine by an investigative nonprofit (Antac) funded by America's billionaire George Soros (who was another major funder of the 2014 Ukrainian coup, as well as of Barack Obama's political career itself) in order to help to bring down Yanukovych. However, what this study found was not the incriminating evidence against Zlochevsky which had been hoped. It found instead that the person who owned the controlling interest in Burisma was not really the Yanukovych-supporter Mykola Zlochevsky; it was, in fact, the Ukrainian billionaire Ihor Kolomoysky, who supported Yanukovych's overthrow. Kolomoysky, shortly after the coup, became appointed as the governor in a region of Ukraine, by the Obama Administration's post-coup Ukrainian Government. Obama's financial backer Soros knew, or should have known, that Zlochevsky had sold almost all of his Burisma holdings to Kolomoysky in 2011, but Obama's Administration was nonetheless trying to get the newly installed Ukrainian Government to prosecute Zlochevsky because Zlochevsky was associated with the Ukrainian President whom Obama had just overthrown. Hunter Biden's function was to help to protect Mr. Kolomoysky against being targeted by the newly installed Government in the anti-corruption campaign that the Obama Administration and the EU were pressing upon that new Ukrainian Government. Hunter Biden was to serve as a U.S. fixer for his new boss Kolomoysky, to deflect the anti-corruption campaign away from Kolomoysky as a target and toward Zlochevsky as a target. And Hunter's father, Joe Biden, followed through on that, by demanding that Ukraine prosecute Zlochevsky, not Kolomoysky. Soros isn't really against corruption; he is against corruption by countries that he wants to take over, and that he uses the U.S. Government in order to take over. Neoconservatism is simply imperialism, which has always been the foreign-affairs ideology of aristocrats and of billionaires. (In America's case, that includes both Democratic and Republican billionaires.) So, it's just imperialism in America. All billionaires who care at all about international relations are imperialists; and, in America, that's called "neoconservative." The American issue regarding Ukraine was never actually Ukraine's corruption. Corruption is standard and accepted throughout the U.S.-and-allied countries; but against countries they want to take over it becomes a PR point in order to win acceptance by the gulls, of their own country's imperialism and its own associated corruption. "Our country's corruption is acceptable, but yours is not," is the view. That's the standard imperialist view. Neoconservatism — imperialism anywhere, actually — is always based on lies. Imperialism, in fact, is part of nationalism, but it is excluded by patriotism; and no nationalist is a patriot. No patriot is a nationalist. Whereas a nationalist supports his country's billionaires, a patriot supports his country's residents — all of them, his countrymen, on a democratic basis, everyone having equal rights, not the richest of the residents having the majority or all of the rights. A nationalist is one-dollar-one-vote; a patriot is one resident one vote. The only people who are intelligently nationalist are billionaires and the agents they employ. All other nationalists are their gulls. Everyone else is a patriot. Ordinarily, there are far more gulls than patriots.
Information hasn't yet been published regarding what Trump's agent Rudolph Giuliani has found regarding Burisma, but the links in the present article link through to the evidence that I am aware of, and it's evidence which contradicts what the U.S.-and-allied press have been reporting about the Bidens' involvement in Ukraine. So: this information might be what Trump's team intend to reveal after the Democratic-Party-controlled House of Representatives indicts Trump (send to the Republican Senate a recommendation to replace him by Mike Pence as America's President), if they will do that; but, regardless, this is what I have found, which U.S.-and-allied news-media have conspicuously been not only ignoring but blatantly contradicting — contradicting the facts that are being documented by the evidence that is presented here. Consequently, the links in this article prove the systematic lying by America's press, regarding Ukrainegate.
After the Soros-funded Antac had discovered in 2012 that Kolomoysky ruled Burisma, the great independent Australian investigative journalist who has lived for 30 years in and reported from Moscow, John Helmer, headlined on 19 February 2015 one of his blockbuster news-reports, "THE HUNT FOR BURISMA, PART II — WHAT ROLE FOR IGOR KOLOMOISKY, WHAT LONDON MISSED, WHAT WASHINGTON DOESN'T WANT TO SEE", and he linked there not only to Ukrainian Government records but also to UK Government records, and also to corporate records in Cyprus, Panama, and elsewhere, to document that, indeed, Kolomoysky controlled Burisma. So, all of the U.S.-and-allied 'news'-reporting, which merely assumes that Zlochevsky controlled this firm when Hunter Biden became appointed to its board, are clearly false. (See this, for example, from Britain's Guardian, two years later, on 12 April 2017, simply ignoring both the Antac report and the even-more-detailed Helmer report, and presenting Zlochevsky — Kolomoysky's decoy — as the appropriate target to be investigated for Burisma's alleged corruption.) So: when Joe Biden demanded that Ukraine's Government prosecute Zlochevsky, Biden was not, as he claims he was, demanding a foreign Government to act against corruption; he was instead demanding that foreign Government (Ukraine) to carry out his own boss, Barack Obama's, agenda, to smear as much as he could Viktor Yanukovych — the Ukrainian President whom Obama had overthrown. This isn't to say that Yanukovych was not corrupt; every post-Soviet Ukrainian President, and probably Prime Minister too, has been corrupt. Ukraine is famous for being corrupt. But, this doesn't necessarily mean that Zlochevsky was corrupt. However, Kolomoysky is regarded, in Ukraine, as being perhaps the most corrupt of all Ukrainians.
Perhaps Kolomoysky's major competitor has been Victor Pinchuk, who has long been famous in Washington for donating heavily to Bill and Hillary Clintons' causes. For example, on 11 March 2018, the independent investigative journalist Jeff Carlson, bannered "Victor Pinchuk, the Clintons & Endless Connections" and he reported that
Victor Pinchuk is a Ukrainian billionaire.
He is the founder of Interpipe, a steel pipe manufacturer. He also owns Credit Dnipro Bank, some ferroalloy plants and a media empire.
He is married to Elena Pinchuk, the daughter of former Ukrainian President Leonid Kuchma.
Pinchuk's been accused of profiting immensely from the purchase of state-owned assets at severely below-market prices through political favoritism.
Pinchuk used his media empire to deflect blame from his father-in-law, Kuchma, for the September 16, 2000 murder of journalist Georgiy Gongadze. Kuchma was never charged but is widely believed to have ordered the murder. A series of recordings would seem to back up this assertion.
On April 4 through April 12 2016, Ukrainian Parliamentarian Olga Bielkov had four meetings – with Samuel Charap (International Institute for Strategic Studies), Liz Zentos (National Security Council), Michael Kimmage (State Dept) and David Kramer (McCain Institute).
Doug Schoen filed FARA documents showing that he was paid $40,000 a month by Victor Pinchuk (page 5) – in part to arrange these meetings.
Schoen attempted to arrange another 72 meetings with Congressmen and media (page 10). It is unknown how many meetings took place.
Schoen has worked for both Bill and Hillary Clinton.
Schoen helped Pinchuk establish ties with the Clinton Foundation. The Wall Street Journal reported how Schoen connected Pinchuk with senior Clinton State Department staffers in order to pressure former Ukrainian President Yanukovych to release Yulia Tymoshenko – a political rival of Yanukovych – from jail.
The relationship between Pinchuk and the Clintons continued.
A large network of collaborators, all connected to NATO's PR agency the Atlantic Council, were also discussed and linked to; and, in one of the video clips, Victoria Nuland headed a panel discussion in Munich Germany at which numerous leading Democratic Party neoconservatives, and neoconservative foreign leaders, discussed how wonderful the "Deep State" is, and praised the Republican neocon John McCain, who had helped Victoria Nuland to install the fascist Government of Ukraine.
On 6 October 2019, Helmer headlined "UKRAINIAN OLIGARCH VICTOR PINCHUK IS PUTTING HIS MONEY ON JOE BIDEN FOR PRESIDENT AT $40,000 PER MONTH – THAT'S $3,000 MORE PER MONTH THAN BURISMA WAS PAYING HUNTER BIDEN". He reported:
Joe Biden's campaign for president, as well as his defence against charges of corrupt influence peddling and political collusion in the Ukraine, are being promoted in Washington by the Ukrainian oligarch Victor Pinchuk through the New York lobbyist, candidate adviser and pollster, Douglas Schoen (left).
This follows several years of attempts by Pinchuk and Schoen to buy influence with Donald Trump, first as a candidate and then as president; with Trump's lawyer Rudy Giuliani; and with John Bolton, Trump's National Security Adviser in 2018 and 2019. Their attempts failed.
Pinchuk has been paying Schoen more than $40,000 every month for eight years. The amount of money is substantially greater than Biden's son Hunter Biden was paid by Pinchuk's Ukrainian rival Igor Kolomoisky through the oil company Burisma and Rosemont Seneca Bohai, Biden's New York front company.
Pinchuk's message for the Democratic candidates and US media, according to Schoen's Fox News [4] broadcast in August, is: "Stop killing your own, stop beating up on your own frontrunner, Joe Biden."
On November 12th, the New York Times headlined "Ukraine's President Seeks Face-to-Face Meeting With Putin" and reported that Zelensky is now sufficiently disturbed at the declining level of the EU's and Trump Administration's continuing support for Ukraine's Government, so that Zelensky is desperately trying to restore friendly relations with Russia. The next day, that newspaper bannered "A Ukrainian Billionaire Fought Russia. Now He's Ready to Embrace It." This report said: "Mr. Kolomoisky, widely seen as Ukraine's most powerful figure outside government, given his role as the patron of the recently elected President Volodymyr Zelensky, has experienced a remarkable change of heart: It is time, he said, for Ukraine to give up on the West and turn back toward Russia." Kolomoysky, in other words, who had been on Obama's team in Ukraine, no longer is on the U.S. team under Trump. A reasonable inference would be that Kolomoysky increasingly fears the possibility of being prosecuted. Continuation of the Obama plan for Ukraine seems increasingly unlikely.
Here are some crimes for which Kolomoysky might be prosecuted:
Allegedly, Kolomoysky, along with the newly appointed Ukrainian Interior Minister, Arsen Avakov, masterminded the 2 May 2014 extermination of perhaps hundreds of people who had been trapped inside Odessa's Trade Unions Building after those victims had distributed anti-coup flyers.
Allegedly, Kolomoysky, on 20 March 2015, brought to a board meeting of Ukraine's gas-distribution company UkrTransNafta, of which Kolomoysky was a minority shareholder, his hired thugs armed with guns, in an unsuccessful attempt to intimidate the rest of the board to impose Kolomoysky's choice to lead the company. Ukraine's President, Petro Poroshenko, soon thereafter, yielded to the pressure from Ukraine's bondholders to fire Kolomoysky as a regional governor, and then nationalized Ukraine's biggest bank, PrivatBank, which had looted billions of dollars from depositors' accounts and secreted the proceeds in untraceable offshore accounts, so that the bank had to be bailed out by Ukraine's taxpayers. (Otherwise, there would have been huge riots against Poroshenko.) Zelensky is squeezed between his funder and his public, and so dithers. For example, on 10 September 2019, the Financial Times reported that "The IMF has warned Ukraine that backsliding on Privatbank's nationalisation would jeopardise its $3.9bn standby programme and that officials expect Ukraine to push for recovery of the $5.5bn spent on rescuing the bank." Stealing $5.5B is a big crime, and this was Obama's Ukrainian Government. Will it also be Trump's?
There are others, but those could be starters.
So, both Kolomoysky and Zelensky are evidently now considering to seek Moscow's protection, though Kolomoysky had previously been a huge backer of, and helped to fund, killing of the Donbassers who rejected the Obama-imposed Russia-hating Ukrainian regime.
Any such prosecutions could open up, to international scrutiny, Obama's entire Ukrainian operation. That, in turn, would expose Obama's command-complicity in the ethnic cleansing operation, which Kolomoysky's co-planner of the 2 May 2014 massacre inside the Odessa Trade Unions Building, Arsen Avakov, euphemistically labelled the "Anti Terrorist Operation" or "ATO," to eliminate as many as possible of the residents in the former Donbass region of Ukraine, where over 90% of the voters had voted for Yanukovych.
It could also open up the enormous can of worms that is George Soros, because though Trump doesn't at all care about corruption in Ukraine (nor should he, since that's a Ukrainian domestic matter and therefore not appropriate and certainly not a matter of U.S. national-security interest), Soros himself was quite possibly breaking both national and international laws in his interventions in Ukraine, and possibly also in his related investments or his threats not to invest there. Not only was he deeply involved in the coup but afterward he was regularly advising Victoria Nuland. Whether even America's laws against insider-trading were violated should also be considered.
TRUMP'S MANY POLICY-DILEMMAS REGARDING UKRAINE
If Putin offers no helping hand to Zelensky, what will happen to Ukraine, and to Ukrainians? Might Trump finally campaign for the United States to become one of the "States Parties" to the International Criminal Court, so that Obama, Nuland, Soros, and others who had overthrown Ukraine's democratically elected Government could be tried there? How would Trump be able to immunize himself for such crimes as his own 14 April 2018 unprovoked missile-attack against Syria? How likely is it that he would ever actually become a supporter of international law, instead of an imperialist (such as he has always been) and therefore opponent of international law? He, after all, is himself a billionaire, and no billionaire has ever fought for international law except in an instance where he benefited from it — never for international law itself. Trump isn't likely to be the first. But here's how it could happen:
Donald Trump has surrounded himself with neoconservatives. There's not much distance between his policies toward Ukraine versus Barack Obama's and Joe Biden's. However, after Trump becomes impeached in the House (if that happens) and the impeachment trial starts in the Republican U.S. Senate, there will then be a perfect opportunity for Trump to embarrass the Democratic Party profoundly by exposing not only Joe Biden but Biden's boss Obama as having caused the war in Ukraine. In order for him to do that, however, he'd also need to expose the rot of neoconservatism. Nobody in Washington does that, except, perhaps the rebelling Democrat, Tulsi Gabbard, and she's rejected in the national polls now by the public within her own Party. Neoconservatism is the uniform foreign-policy ideology of America's billionaires, both Republican and Democratic, and this is why Washington is virtually 100% neocon. In America, wealth certainly doesn't trickle down, but ideology apparently does — and that's not merely neoliberalism but also its international-affairs extension: neoconservatism. Nonetheless, if a Trump re-election ticket were Trump for President, and Gabbard for Vice President, it might be able to beat anything that the Democrats could put up against it, because Trump would then head a ticket which would remain attractive to Republicans and yet draw many independents and even the perhaps 5% of Democrats who like her. Only Sanders, if he becomes the Democratic nominee (and who is the least-neoconservative member of the U.S. Senate), would attract some of Gabbard's supporters, but he wouldn't be getting any money from the 607 people who mainly fund American politics. The 2020 U.S. Presidential contest could just go hog-wild. However, America's billionaires probably won't let that happen. Though there are only 607 of therm, they have enormous powers over the Government, far more than do all other Americans put together. The U.S. Supreme Court made it this way, such as by the 1976 Buckley decision, and the 2010 Citizens United decision.
So: while justice in this impeachment matter (and in the 2020 elections) is conceivable, it is extremely unlikely. The public are too deceived — by America's Big-Money people.
As the neoconservative Democratic Representative from Vermont, Peter Welch, said in the impeachment hearings, on November 19th:
And you know, I'll say this to President Trump. You want to investigate Joe Biden? You want to investigate Hunter Biden? Go at it. Do it. Do it hard. Do it dirty. Do it the way you do, do it. Just don't do it by asking a foreign leader to help you in your campaign. That's your job, it's not his.
My goal in these hearings is two things. One is to get an answer to Colonel Vindman's question ["Is it improper for the President of the United States to demand a foreign government investigate a United States citizen and political opponent?"]. And the second coming out of this is for us as a Congress to return to the Ukraine policy that Nancy Pelosi and Kevin McCarthy both support, it's not investigations, it's the restoration of democracy in Ukraine and the resistance of Russian aggression.
He wants a return to Obama's anti-Russian Ukraine-policy. Though Zelensky had won Ukraine's Presidency by a record-shattering 73% because he had promised to end the war (which the U.S. had started), America's Deep State are refusing to allow that — they want to force him to accept more U.S.-made weapons and more U.S. training of Ukraine's troops in how to use them against its next-door neighbor Russia.
Furthermore, in some respects, Trump is even more neoconservative than Obama was. Trump single-handedly nullified Obama's only effective and good achievement, the Iran nuclear deal. Against Iran, Trump is considerably more of a neocon than was Obama. Trump has squeezed Iranians so hard with his sanctions as to block other countries from buying from and selling to Iran; and this blockade has greatly impoverished Iranians, who now are rioting against their Government. Trump wants them to overthrow their Government. His plan might succeed. Trump's biggest donor, Sheldon Adelson, hates Iranians, and Trump is his man. On Iran, Trump remains a super-neocon. Perhaps Adelson doesn't require him to hate Russians too.
Furthermore, on November 17th, the same day when riots broke out in Iran against Iran's Government, Abdullah Muradoğlu headlined in Turkey's newspaper Yeni Safak, "Bolivia's Morales was overthrown by a Western coup just like Iran's Mosaddeg", and he presented strong circumstantial evidence that that coup, too — which had occurred on November 10th — had been a U.S. operation. How could Trump criticize Obama for the coup against Ukraine when Trump's own coup against Bolivia is in the news? America is now a two-Party fascist dictatorship. One criminal U.S. President won't publicly expose the crimes of another criminal U.S. President who was his predecessor.
The next much-discussed witness that the Democrats brought forth to testify against Trump was America's Ambassador to the EU, Gordon Sondland, on November 20th. Sondland was a hotels and real-estate tycoon like Trump. Prior to Trump's becoming President, Sondland had had no experience in diplomacy. At the start of 2017, "four companies registered to Sondland donated $1 million to the Donald Trump inaugural committee"; and, then, a year later, Trump appointed him to this Ambassadorial post. Sondland evasively responded to the aggressive questioning by Senate Democrats trying to get him to say that Trump had been trying to "bribe" Zelensky. Then, the Lawfare Blog of the staunchly neoconservative Brookings Institution's Benjamin Wittes headlined "Gordon Sondland Accuses the President of Bribery" and Wittes asserted that "today, Amb. Gordon Sondland, testifying before the House in the ongoing impeachment inquiry, offered a crystal clear account of how President Trump engaged in bribery." But Sondland provided no evidence except his opinion, which can be seen online at "Opening Statement before the United States House of Representatives", when he said:
Fourth, as I testified previously, Mr. Giuliani's requests were a quid pro quo for arranging a White House visit for President Zelensky. Mr. Giuliani demanded that Ukraine make a public statement announcing investigations of the 2016 election/DNC server and Burisma. Mr. Giuliani was expressing the desires of the President of the United States, and we knew that these investigations were important to the President.
However, in his prior (closed-door) 17 October 2019 testimony to the Senators, he had said (pp. 35-6) that on September 9th:
I asked the President, what do you want from Ukraine? The President responded, nothing. There is no quid pro. The President repeated, no quid pro. No quid pro quo multiple times. This was a very short call. And I recall that the President was really in a bad mood. I tried hard to address Ambassador Taylor's concerns because he is valuable and [an] effective diplomat, and I took very seriously the issues he raised. I did not want Ambassador Taylor to leave his post and generate even more turnover in the Ukraine Mission."
That "Ambassador Taylor" was William. B. Taylor Jr., a West Point, Army, and NATO neoconservative, whom George W. Bush had made U.S. Ambassador to Ukraine in 2006-9, and whom Trump, at the suggestion of Trump's neoconservative Secretary of State Mike Pompeo, had appointed to succeed Ambassador Yovanovitch in May.
The testimony of all of these people was entirely in keeping with their neoconservatism and was therefore extremely hostile toward anything but preparing Ukraine to join NATO and serve on the front line of America's war to conquer Russia. Trump might be too stupid to understand anything about ideology or geostrategy, but only if a person accepts neoconservatism is the anger that these subordinates of his express toward him for his being viewed by them as placing other concerns (whether his own, or else America's for withdrawing America from Obama's war against Russia) suitable reason for Congress to force Trump out of office. Given that Trump, even in Sondland's account, did say "The President responded, nothing. There is no quid pro. The President repeated, no quid pro. No quid pro quo multiple times," there is nothing that's even close to a "beyond a reasonable doubt" standard which is provided by their personal feelings that Trump had a quid-pro-quo about anything regarding Ukraine — a policy of Obama's that Trump should instead firmly have abandoned and denounced as soon as he became President. Testimony from his own enemies, whom Trump had been stupid enough to have appointed, when he hadn't simply extended Obama's neoconservative policies and personnel regarding Ukraine, falls far short of impeachable. But right and wrong won't determine the outcome here anyway, because America has become a two-party, one-ideology, dictatorship.
This is what happens when billionaires control a country. It produces the type of foreign policies the country's billionaires want, rather than what the public actually need. This is America's Government, today. It's drastically different than what America's Founders had hoped. Instead of its representing the states equally with two Senators for each, and instead of representing the citizens equally, with proportional per-capita representation in the U.S. House, and instead of yet a third system of the Electoral College for choosing the Government's Chief Executive and Commander-in-Chief, it has become thoroughly corrupted to being, in effect, just one-dollar-one-vote — an aristocracy of wealth controlling the entire Government — exactly what the Founders had waged the Revolution in order to overthrow and prevent from ever recurring: a dictatorial aristocracy, as constituting our Government, today.
PS: Though I oppose almost everything that the hearings' Ranking Minority Member, the neoconservative (and, of course, also neoliberal) Republican Devin Nunes, stands for, I close here with his superb summary of the hearings, on November 21st, in which he validly described the Democrats' scandalously trashy Ukrainegate case against Trump (even though he refused to look deeper to the issues I raise in this article — he dealt here merely with how "shoddy" the case the Democrats had presented was):
Throughout these bizarre hearings, the Democrats have struggled to make the case that President Trump committed some impeachable offense on his phone call with Ukrainian president Zelensky. The offense itself changes depending on the day ranging from quid pro quo to extortion, to bribery, to obstruction of justice, then back to quid pro quo. It's clear why the Democrats have been forced onto this carousel of accusations. President Trump had good reason to be wary of Ukrainian election meddling against his campaign and of widespread corruption in that country. President Zelensky, who didn't even know aid to Ukraine had been paused at the time of the call, has repeatedly said there was nothing wrong with the conversation. The aid was resumed without the Ukrainians taking the actions they were supposedly being coerced into doing.
Aid to Ukraine under President Trump has been much more robust than it was under President Obama, thanks to the provision of Javelin anti-tank weapons. As numerous witnesses have testified, temporary holds on foreign aid occur fairly frequently for many different reasons. So how do we have an impeachable offense here when there's no actual misdeed and no one even claiming to be a victim? The Democrats have tried to solve this dilemma with a simple slogan, "he got caught." President Trump, we are to believe, was just about to do something wrong and getting caught was the only reason he backed down from whatever nefarious thought crime the Democrats are accusing him of almost committing.
I once again urge Americans to continue to consider the credibility of the Democrats on this Committee, who are now hurling these charges for the last three years. It's not president Trump who got caught, it's the Democrats who got caught. They got caught falsely claiming they had more than circumstantial evidence that Trump colluded with Russians to hack the 2016 election. They got caught orchestrating this entire farce with the whistleblower and lying about their secret meetings with him. They got caught defending the false allegations of the Steele dossier, which was paid for by them. They got caught breaking their promise that impeachment would only go forward with bipartisan support because of how damaging it is to the American people.
They got caught running a sham impeachment process between secret depositions, hidden transcripts, and an unending flood of Democrat leaks to the media. They got caught trying to obtain nude photos of President Trump from Russian pranksters pretending to be Ukrainians, and they got caught covering up for Alexandra Chalupa, a Democratic National Committee operative, who colluded with Ukrainian officials to smear the Trump campaign by improperly redacting her name from deposition transcripts, and refusing to let Americans hear her testimony as a witness in these proceedings. That is the Democrats pitiful legacy in recent years. They got caught.
Meanwhile, their supposed star witness testified that he was guessing that President Trump was tying Ukrainian aid to investigations despite no one telling him that was true, and the president himself explicitly telling him the opposite, that he wanted nothing from Ukraine. Ladies and gentlemen, unless the Democrats once again scramble their kangaroo court rules, today's hearing marks the merciful end of this spectacle in the Impeachment Committee, formerly known as the Intelligence Committee. Whether the Democrats reap the political benefit they want from this impeachment remains to be seen, but the damage they have done to this country will be long lasting. Will this wrenching attempt to overthrow the president? They have pitted Americans against one another and poison the mind of fanatics who actually believe the entire galaxy of bizarre accusations they have levelled against the president since the day the American people elected him.
I sincerely hope the Democrats in this affair [end this] as quickly as possible so our nation can begin to heal the many wounds it has inflicted on us. The people's faith in government and their belief that their vote counts for something has been shaken. From the Russia hoax to this shoddy Ukrainian sequel, the Democrats got caught. Let's hope they finally learn a lesson, give their conspiracy theories a rest, and focus on governing for a change. In addition, Mr. Chairman, pursuant to House Rule XI, clause 2(j)(1), the Republican members transmit a request to convene a minority day of hearings. Today you have blocked key witnesses that we have requested from testifying in this partisan impeachment inquiry. This rule was not displaced by H.Res.660, and therefore under House Rule 11 clause 1(a), it applies to the Democrats impeachment inquiry. We look forward to the chair promptly scheduling an agreed upon time for the minority day of hearings so that we can hear from key witnesses that you have continually blocked from testifying.
I'd also like to take a quick moment on an assertion Ms. Hill made in the statement that she submitted to this Committee, in which she claimed that some Committee members deny that Russia meddled in the 2016 election. As I noted in my opening statement on Wednesday, but in March, 2018, Intelligence Committee Republicans published the results of a year long investigation into Russian meddling. The 240 page report analyzed 2016 Russian meddling campaign, the US government reaction to it, Russian campaigns in other countries and provided specific recommendations to improve American election security. I would [have] asked my staff to hand these reports to our two witnesses today just so I can have a recollection of their memory. As America may or may not know, Democrats refused to sign on to the Republican report. Instead, they decided to adopt minority views, filled with collusion conspiracy theories. Needless to say, it is entirely possible for two separate nations to engage in election meddling at the same time, and Republicans believe we should take meddling seriously by all foreign countries regardless of which campaign is the target.
Later that same day, the New York Times headlined "The Impeachment Hearings Revealed a Lot — None of It Great for Trump", and CNN headlined "The public impeachment hearings were a total GOP disaster". The non-mainstream news-medium Zero Hedge instead bannered, "Amid Impeachment Circus, Dems Sneak PATRIOT Act Renewal Past The American People", and reported that the "bill was pushed through with not a single Republican vote." The following day, the AP headlined "Analysis: Mountain of impeachment evidence is beyond dispute" and closed "Asked what the consequences are if Congress allows an American president to ask a foreign government to investigate a political rival, [Fiona] Hill said simply, 'It's a very bad precedent.'"
The latest (2019) Reuters international survey in which over 2,000 people in each one of 38 countries were asked whether they agree that "You can trust most news most of the time" shows that the United States scores #32 out of the 38, at the very top of the bottom 16% of all of the 38 countries surveyed, regarding trust in the news-media. Reuters had previously found, in their 2018 edition, that, among Americans, "those who identify on the left (49%) have almost three times as much trust in the news as those on the right (17%). The left gave their support to newspapers like the Washington Post and New York Times while the right's alienation from mainstream media has become ever more entrenched." In the 2019 edition, what had been 49% in America rose now to 53%, and what had been 17% sank now to 9%: the billionaires' (i.e., mainstream) media are trusted almost only by liberals here. What the media report is considered trustworthy almost only by liberals, in today's America. By 53% to only 9% — an almost 6 to 1 ratio — the skeptics of the billionaires' press are Republicans. Of course, if the media are distrusted, then the nation can't be functioning as a democracy. But the media will be distrusted if they lie as much as America's do. Untrusted 'news'-media are a sure indication that the nation is a dictatorship (such as it is if the billionaires control the media). In America, only liberals think that America is a democracy and therefore might possess the basic qualification (democracy) to decide what nations need to be regime-changed (such as America did to Iran, Iraq, Libya, Honduras, Bolivia, and is still trying to do to Venezuela, Cuba, Nicaragua, Iran again, Syria, and Yemen; but not to — for examples — Saudi Arabia, UAE, and Israel); and which ones don't (such as America's governmentally-anointed 'allies', including some barbaric dictatorships). Liberals trust America's dictatorship as if it were instead a democracy. Conservatives do not; nor, of course, do progressives. FDR's vision, of a United Nations which would set and enforce the rules for international relations (neither the U.S. nor any other country would do that), is now even more rejected by the Democratic Party than it is by the Republican Party. And the politically topsy-turvy result is Democrats trying to impeach the Republican Trump for his trying to cut back on Obama's imperialistic (anti-FDR) agenda. Trump, after all, didn't do the coup to Ukraine; Obama did.
Not a Usual "Trump Blunder" Rather US has Used a Cleverly Manipulated Strategy in Iran
There is a little doubt that the recent move by Washington have already started having short term impacts in the Middle East but there are many other aspects which should not be forgotten and they might compensate for those short-term mishaps in the region.
Limited Menu of options for Tehran
Although Iran has started using its options of warfare in the region against US troops it has to be noted that it has a very limited scope of options available presently. It does have the warfare tools but present circumstances are such that Tehran is in no position to use them up to their maximum plausible extent. Washington seems to have taken a clear advantage of the crisis that Iran has been facing after the decision that White House took to revoke the Nuclear Deal with Iran in mid of 2018. Given the fact that Iran is suffering from domestic crisis and its citizens are echoing the democratic values inside the country, for US it could have been no better time to make an attempt to destabilize the Foreign policy aspects of Tehran. Soleimani, as an influential leader in the region, had an ability to easily gameplay the political affairs of other neighbouring countries and thereby increasing a probability of "Iran Friendly" region but after his assassination the vacuum created by him would not be filled sooner. In this context, Iran's ability to persuade its neighbours in its favour during any possible conflict with US in future has also got a severe blow.
The options which Iran could have used are harming US bases in its nearby borders – which it has already done by blowing US bases in Iraq; using a covert warfare against Washington troops and officials – which yet again has been used when US embassy in Iraq came directly into attack from one of the radical military organisation known to have links with Tehran – the Hezbollah; it could also continue going against the provisions of Nuclear Deal up to an extent but not completely – because of segregation that it might face, in a worst case scenario, from other partners of Trade Deal which are also essentially members of European Union. Simultaneously considering the Syria problem and its own domestic issues, it is highly unlikely that Iran at this moment would like to have an excessive influence of Kremlin beyond a particular limit.
Also given the global slowdown; US Congress' opinion in the further tussle with Iran; Tehran's own economic issues; and a regional political instability in Middle East, a full-fledged war is a hypothetical situation which is highly unlikely to take place in near future. So, Tehran, even after having a potential to compete US up to some extent wouldn't be able to do so in the present global order.
Iran's Domestic Problems
Presently Iran is stuck into its own domestic problems which revolve around its political and economic spectrum. After the Iranian Revolution of 1980s, the realities have changed when it comes to Iranian politics and its various important components. A complete contrast can easily be observed in the country. In the early years, there was more of a single party system having only Islamic Republican Party and more than half of the representatives belonged to one particular section of the society – the clerics. More profoundly, the electorates or the people weren't literate enough, the media was not free from the state influence, and overall a much more conservative and non-vocal society was there.
Presently there's a multi-party system in the country having a much more educated group of electorates which occasionally raises its voice on various issues, there's no more unlimited censorship on the media and women participation in the parliament has also seen a growth.
Given the economic slowdown in the country after the US imposed the sanctions in 2019 on the countries importing the oil and other natural resources from Tehran and failure of JCPOA in long term to create employment among the youth of the country backed by the changed political reality has created a domestic turmoil in the country. People have come out on the streets and have shown their anger to the decision makers by raising their concerns of unemployment amid the economic backlash that country has been going through. Furthermore, the issues of corruption and shutting down the protesters by present regime have just escalated the turmoil.
In this situation where the regime was going through its domestic crisis, it faced a severe disadvantage of having a lack of public support and thereby giving an optimum chance to Washington to strike on its another stronger branch – the military. Now by striking the military and assassinating Iran's one of the most prominent military leader since decades, it has left Iran in a situation where it is shaken from both within inside – by internal challenges as well as from outside – by loss of a military leader thereby affecting its influence in the region as well as in the direct warfare.
Middle East without US is Not Possible at the Moment
Thinking of Middle East, presently, without US involvement would be immature. The region has always been high on the political instability having a constant tussle among the regional players. Trump, for his political motivations, might have had announced his will to free the region from US military but the policy makers in the Washington themselves are aware that leaving Middle East in the an era which has marked the chaos of political instability could be a major risk and certainly couldn't be afforded as it would directly or indirectly lead to the regional tussle as well as hurdle in the global imports and exports of the trade of oil, petroleum, and other natural resources. Given this, Trump has yet again got an excuse to maintain US's presence in the region as well as countering his political opponents for not fulfilling the election promise which he had made.
The Economy that US would like to Excel
The core benefit that Trump would be getting from this warfare with Iran – which is quite far away from a direct full-fledged war – is the economic boost for US and simultaneous exponential economic loss for Tehran. Since 2018, world has seen a complete flip in an overall picture of Washington's net import and export of oil and other natural resources. This initially had created a conundrum for the OPEC countries and their respective policies. Now Trump is using it as a covert warfare weapon against Iran in the given circumstances. In September 2019, the US exported 140,000 bpd more total crude oil and petroleum products than it imported; and total exports exceeded imports by 550,000 bpd in October. Also, the expected estimate for the same in 2020 is 13.2 billion bpd.
OPEC countries are mostly from Middle East and the political instability in the region clearly implies the hurdles in the exports of oil, petroleum and shale giving direct benefit in the trade and exports of these resources to the US. Moreover, the already imposed US sanctions on the countries importing the resources from Iran backed by the fact that deadline of May 2020 for exemptions of sanctions to those countries like India which didn't face sanctions at first place will further reduce Iranian market of export of resources and giving a clear edge to US in near future.
Thus, it would be very much incorrect to perceive the killing of military leader of Iran mainly as a mistake of White House. Trump might have a history of doing blunders but this time he has played cleverly in the region. It would be noteworthy to have a look at future implications and how Iran – after suffering few major blows – finds a way to deal with the situation which presently is not in its favour and in future too is moderately likely to be reinforced on the US side unless a major mistake is committed by Washington.
Reading tea leaves: US backs off support for regime change in Iran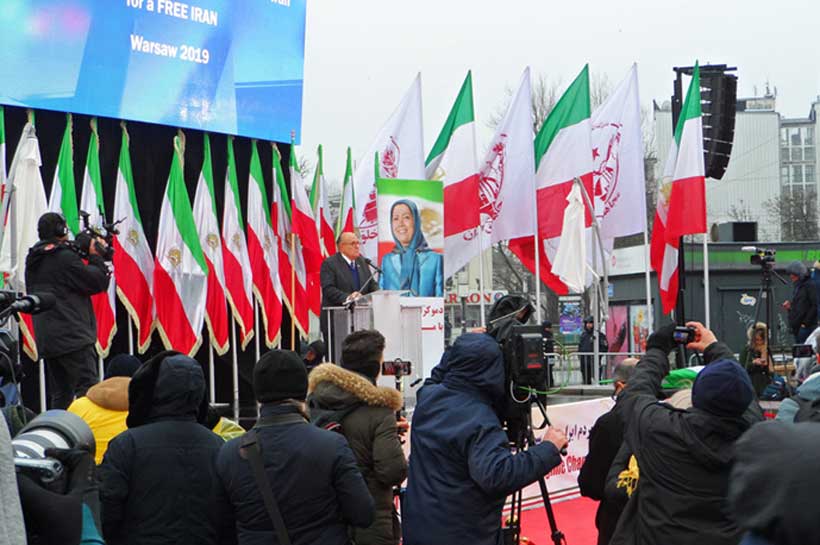 An Iran hawk who advocated killing general Qassim Soleimani, US Secretary of State Mike Pompeo has ordered his diplomats to limit contacts with militant Iranian exile and opposition groups that support either regime change or greater rights for ethnic groups like Kurds and Arabs.
Coming on the back of the Soleimani killing, Mr. Pompeo's directive appears to put an end to the Trump administration's hinting that it covertly supports insurgent efforts to at the very least destabilize the Iranian government if not topple it.
A litmus test of the directive by Mr. Pompeo, known to have a close relationship with Donald J. Trump, is likely to be whether the president's personal lawyer, Rudolph Giuliani, distances himself from the controversial National Council of Resistance of Iran (NCRI), an offshoot of the Mujahedeen-e-Khalq, a group that was taken off the US Treasury's list of designated terrorists several years ago.
Mr. Giuliani is a frequent, well-paid speaker at gatherings of the group that has built a significant network among Western political elites. The council and the Mujahedeen openly call for regime change in Iran.
The Mujahedeen were moved with US assistance from their exile base in Iraq to a reportedly Saudi-funded secretive facility in Albania.
A New Jersey-based lobbying firm hired by the NCRI, Rosemont Associates, reported last year in its filing as a foreign agent frequent email and telephone contact on behalf of its client with the US embassy in the Albanian capital of Tirana as well as Brian Hook, the US Special Representative for Iran, and Gabriel Noronha, an aide to Mr. Hook.
In his directive, Mr. Pompeo said that "direct US government engagement with these groups could prove counterproductive to our policy goal of seeking a comprehensive deal with the Iranian regime that addresses its destabilizing behaviour."
The secretary went on to say that Iranian opposition groups "try to engage US officials regularly to gain at least the appearance of tacit support and enhance their visibility and clout."
Mr. Pompeo's cable, while keeping a potential negotiated deal with Iran on the table, does not stop other US government agencies from covertly supporting the various groups, that also include Arab Struggle Movement for the Liberation of al-Ahwaz (AMLA), the Komala Party of Iranian Kurdistan, and the Kurdish Democratic Party of Iran (KDPI).
Iran, which has long believed that the United States, alongside Saudi Arabia and Israel, supported the Mujahedeen as well as ethnic militants that intermittently launch attacks inside Iran, is likely to take a wait-and see-attitude towards Mr. Pompeo's directive that could be seen as a signal that the Trump administration is not seeking regime change.
The timing of the directive is significant. Iran responded to the killing of Mr. Soleimani with carefully calibrated missile attacks on US facilities in Iraq in a bid to create an environment in which backchanneling potentially could steer the United States and Iran back to the negotiating table.
While it was uncertain that one round of escalated tensions would do the trick, potential efforts were not helped by the death of Oman's Sultan Qaboos bin Said al Said, a key interlocutor who has repeatedly helped resolve US-Iranian problems and initiated contacts that ultimately led to the 2015 international agreement that curbed Iran's nuclear program.
In his directive, Mr. Pompeo, referring to Komala, acknowledged that "Iran's regime appears to assess that the United States and/or Israel support this group of militant Kurds."
Iranian perceptions were reinforced not only by calls for regime change by senior figures like Mr. Giuliani and Saudi prince Turki al-Faisal, a former head of the kingdom's intelligence service and ex-ambassador to Britain and the United States, but also the appointment in 2018 of Steven Fagin as counsel general in Erbil in Iraqi Kurdistan.
Shortly before moving to Erbil, Mr. Fagin met In Washington as head of the State Department's Office of Iranian Affairs, with Mustafa Hijri, leader of the KDPI as it stepped up its attacks in Iranian Kurdistan.
Iranian perceptions were further informed by the appointment of John Bolton, Mr. Trump's since departed national security advisor and like Mr. Giuliani a frequent speaker at NCRI events, who publicly advocates support of ethnic insurgencies in Iran in a bid to change the regime.
As Mr. Trump's first director of the Central Intelligence Agency, Mr. Pompeo named Michael D'Andrea, a hard-charging, chain-smoking covert operations officer, alternatively nicknamed the Dark Prince or Ayatollah Mike, whose track record includes overseeing the hunt for Osama Bin Laden, as head of the CIA's Iran operations.
The appointment was followed by publication by a Riyadh-based think tank believed to be close to crown prince Mohammed bin Salman of a study for Saudi support for a low-level Baloch insurgency in Iran. Prince Mohammed vowed around the same time that "we will work so that the battle is for them in Iran, not in Saudi Arabia."
Pakistani militants have claimed that Saudi Arabia had stepped up funding of militant madrassas or religious seminaries in the Pakistani province of Balochistan that allegedly serve as havens for anti-Iranian fighters.
The New York Times reported this week that aides to Prince Mohammed had in the past discussed with private businessmen the assassination of Mr. Soleimani, an architect of Iran's regional network of proxies, and other Iranians as well as ways of sabotaging the country's economy.
Mr. Pompeo's directive is unlikely to persuade Iran that Washington has had a change of heart. Indeed, it hasn't. Mr. Trump maintains his campaign of maximum pressure and this week imposed additional sanctions on Iran.
Nonetheless, potentially taking regime change off the table facilitates backchanneling that aims at getting the two nations to talk again.
Entangling between Escalation De-escalation
The US airstrike in Iraq has further fueled the already bloody race of having regional influence between the US and Iran. The Middle East has been hub of resources and encompasses crucial Sea Lines of Communications(SLOCs) i.e. Persian Gulf and Strait of Hormuz. These two SLOCs have been main trade routes for regional and extra-regional states for oil transportation. The region is significant so that's why it has always been in conflict-prone situation. Interstate and intrastate actors have been involved. The wave of Arab Spring and emergence of Islamic State of Iraq and Syria (ISIS) have already put region in chaos. Now US killing of prominent Iranian leader (Soleimani) of Quds force in Iraqmay takes region to the verge of war. In 2018, Trump declared Islamic Revolutionary Guard Corps Quds Force as a terrorist force. Trump has justified killing by saying that " Soleimani was a terrorist and that assassinating him was a defensive action that stopped an imminent attack". Now Iran is also following for tit for tat mechanism by declaring all US forces as terrorists and Iran did missile attack on US military bases held in Iraq and justified this attack in the same as the US did.
Trump acted unilaterally ,in which will of Iraq and world community were not included and this is true depiction of its imperial arrogance as Middle eastern region has been in warlike situation and this incidence may escalate the situation. There are chance of war as Iran unfurl red flag on mosque Jamkaran in first time in history and in Shiite religion red flag symbolizes vengeance. Gen Qasim Soleimani was close to Iran's supreme leader, Ayatollah Ali Khamenei, who on Friday issued a statement calling for "three days of public mourning and forceful revenge, in a declaration that amounted to a threat of retaliation against the United States andhis departure to God does not end his path or his mission".
Iran has made retaliation in response to Soleimani killing with missile attack on US bases; Al asad and Erbiland opted same time at which US attacked on Iranian general. In counter response to Iranian attack US put strict economic sanctions on Iran and also reiterated that NATO should strengthen its position in Middle east. While on the other hand, Trump said that US does not want war but peace. This is true illustration 'Carrot and stick' diplomacy. The Soleimani'successor Major General Ismail Qaani has given statement yesterday that "We promise to continue Martyr Soleimani's path with the same strength and his martyrdom will be reciprocated in several steps by removing the US from the region". After attack supreme leader of Iran said that this attack is slap on US face and it is not enough that US did. Moreover Iranian foreign minister , Javad Zarif also said that "we will defend our own territory, we will defend our people," Zarif told CNN's Fred Pleitgen. "The United States can defend the United States, but the United States cannot claim to be defending the United States several thousand miles away." This is how Iran can retaliate and zaarif's statement depicts that Iran wants to wipe out US from the region. US is extra regional states , whereas Iran is regional state and has allies and proxies in the countries.
"We have people on our side in this region," Zarif said. "Beautiful military equipment doesn't rule the world, people rule the world. President Trump has to wake up to the reality that the people of this region are enraged, the people of this region want the United States out."
The statements from the Iranian personnel are true depiction that this airstrike it is possibility of full fledge war. Because the US has also military presence in the region i.e. Thousands of US troops have been deployed to Saudi Arabia, and there are some 5,000 at bases in Iraq. The US also has a chief air base in Qatar and a naval occurrence in Bahrain not only this also has troops in United Arab Emirates, Kuwait and Jordan. Tehran said that she is not in urgency and they will choose target wisely and will respond with decisive deterrent effect. Trump reiterated that "If Iran attacks an American Base, or any American, we will be sending some of that brand new beautiful equipment their way…and without hesitation". Iran responded to it as , it was US, who started war now get ready to face the music. Iran has deployed it ballistic missiles( short and medium range) on ready mode and US bases in region are also vulnerable to threat but US also exercising its satellite for surveillance.
The US has been an established World Power so its US responsibility to not to escalate tensions as Great powers always have to choose the path; soft power or hard power. In the present situation diplomacy is best solution to de-escalate the crisis. After Iranian attack Trump mentioned in his speech that US wants peace but on the other hand also stress NATO to strengthen its position in Middle east and put sanctions on Iran. So still danger is there between Iran and US as Iran also has missiles and proxies that can hit America. On the other hand , US has been an unrivaled power and its alliances from Israel to Europe may damage Iran. US war with Iran, whether it be asymmetric or proxy, will be horrible.
Hence the region has been hub to regional and extra-regional powers and in any sort of conflict. State, non state actors, regional and extra-regional states may also engage which can in turn lead towards full fledged war. Moreover in the fighting of two, third part can take advantage of the situation i.e. ISIS in the Middle east can strengthen its roots in the region while US and Iran are busy in confrontation with one another. The world community should and will have to come with solutions to avoid inadvertent escalation between US and Iran and standoff between the two states may bring the region on the verge of war and in which no one will get anything but destruction.