TRUMP'S 25 JULY 2019 PHONE-CALL TO ZELENSKY
Since this news-report is going to be especially harsh regarding today's Democratic Party in the United States, readers should be aware that until that Party nominated Hillary Clinton in 2016, this writer was, and consistently voted as, a Democrat, and that I have never been, and never could be, a Republican. In no way does this article reflect a Republican viewpoint. It is not partisan — not favoring one person's viewpoint over any other's. (Though it does favor trustworthy evidence over untrustworthy hearsay and witnesses, etc.) This article is written by a consistent progressive, which means a person whose top value is truth, nothing else than 100% honesty and reflecting only personally verified sources, real facts. Intense care has therefore been taken in checking and cross-checking and validating information before accepting here anything as constituting information instead of as being disinformation (which is sadly rampant). The following article is written only because it reports what my own independent researches have found to be the actual case regarding what is now commonly called "Ukrainegate" (the focus of the impeachment-proceedings against U.S. President Donald Trump).
The 'news'-media and the Democrats have been grossly misrepresenting what the "Ukrainegate" narrative and the impeachment proceedings against the current U.S. President are all about; and, as a result of this widespread misinformation, ABC News headlined on November 18th, "70% of Americans say Trump's actions tied to Ukraine were wrong: POLL", and reported that "32%, say they made up their minds about impeaching the president before the news broke about Trump's July phone-call with Ukrainian President Volodymyr Zelenskiy, in which Trump urged his Ukrainian counterpart to investigate former Vice President Joe Biden and his son, Hunter." This poll found that 100% of the 506 scientifically sampled respondents had heard at least some of the impeachment hearings, and that 51% of them agreed with the statement, "President Trump's actions were wrong and he should be impeached by the House and removed from office by the Senate," while 6% agreed instead with "President Trump's actions were wrong and he should be impeached by the House but NOT removed from office by the Senate." 25% agreed instead with "President Trump's actions were NOT wrong."
However, far more was actually involved in this phone-call than allegations against the Bidens; and those allegations regarding the Bidens have themselves been grossly misrepresented in the press, as this article will show, and will document in its links to the actual and most trustworthy evidence in the case. (Of course, the very best evidence is the call itself, and that will therefore be the first thing linked to and discussed here.)
Furthermore, the American public should have been far more skeptical about the Ukrainegate narrative than they were, because, at first, Democrats were trying to use, as their ground on which to impeach Trump — and thereby to install the current Vice President Mike Pence as being America's President — Trump's having colluded with Russia in order to win the 2016 election against Hillary Clinton, but that effort failed because it was false and was based on highly questionable evidence, supplied largely through a firm, Crowdstrike, that the Democratic National Committee had hired in order to find dirt against then-candidate and now-President Trump. Now the Democrats' ground, for replacing President Donald Trump by his Vice President Mike Pence, is that in Trump's 25 July 2019 phone-call to Ukraine's new President Volodmyr Zelensky, Trump supposedly pressured Zelensky to have Joe Biden investigated.
One of the first signs of a liar is that the person switches his story — changes to a new and different reason for 'justifying' his actions (in this case, impeachment) — and this clearly is being done now by the Democrats and the 'news'-media, in order to replace President Donald Trump by his Vice President Mike Pence. Consequently: Americans are insufficiently suspicious against the present impeachment hearings. Americans need to examine carefully beyond the mere surface — much deeper. The links here are provided in order to facilitate the reader's direct access to the highest quality (i.e., most trustworthy) evidence in the case, so that the reader may see, on one's own, what the 'news'-media do not report.
25 September 2019 was when a clear and copyable version of the transcript of that complete July 25th phone conversation finally became published, online, by Rhode Island's Providence Journal; and here is the only passage in the complete transcript where Trump mentioned Biden (three times, in fact — the only three times that the word "Biden" appears in the entire transcript):
Rudy [Giuliani] very much knows what's happening and he is a very capable guy. If you could speak to him, that would be great. The former ambassador
[to Ukraine]
from the United States, the woman [Marie Yovanovitch], was bad news and the people she was dealing with in the Ukraine were bad news so I just want to let you know that. The other thing, there's a lot of talk about Biden's son, that Biden stopped the prosecution and a lot of people want to find out about that so whatever you can do with the [U.S.] Attorney General [William Barr] would be great. Biden went around bragging that he stopped the prosecution, so if you can look into it … It sounds horrible to me.
What "prosecution," of whom, for what, and why? The media ignore those questions. when they aren't simply assuming an answer to them. But no such answer ought to be assumed. Nor should these important questions be ignored. Here, the answers to those questions will be documented.
Furthermore, elsewhere in that conversation, Trump said:
I would like you to do us a favor though because our country has been through a lot and Ukraine knows a lot about it. I would like you to find out what happened with this whole situation with Ukraine, they say Crowdstrike. I guess you have one of your wealthy people. The server, they say Ukraine has it.
Zelensky responded by asserting that "the next prosecutor general [in Ukraine] will be 100% my person" and that "he or she will look into the situation, specifically to the company [Crowdstrike] that you mentioned in this issue." Nothing at all was said by Zelensky about any Biden, at any point in the entire phone-call. It wasn't mainly about the Bidens such as the press alleges to be the case.
In fact: the "favor" that Trump was asking about wasn't concerning the Bidens, but it instead concerned the investigation that Trump's Attorney General (referenced here when Trump said "whatever you can do with the Attorney General would be great") is now heading, into the question of why Obama's FBI and entire intelligence community had proceeded with the highly suspect Christopher Steele and Crowdstrike report that the Democratic National Committee had hired under Obama in order to come up with allegations to use against Trump, and why the Obama Administration never demanded to inspect the DNC's own server in order to examine the key physical evidence in the alleged Russiagate case against Trump — much less, what testimony and evidence Julian Assange might have in the alleged Russiagate case. What did Trump mean when he said "The server, they say Ukraine has it"? Did Trump actually think that Zelensky could supply that physical evidence? What did he mean? What was he asking of Zelensky when Trump said, "The server, they say Ukraine has it"?
One can't understand the impeachment proceedings against Donald Trump unless one understands accurately what was happening in Ukraine and what the motivations were of the persons who were involved in U.S.-Ukraine policy, first under U.S. President Barack Obama, and then under his successor Donald Trump. Information will be presented here, about those matters, which probably won't come up in the House impeachment hearings. These matters are likelier to be publicly discussed afterward, when the case goes to the Senate, but might be too 'sensitive' to be brought up even there — especially if they make both Democratic and Republican officials look bad, such as, for example, if both Democrats and Republicans had participated in a February 2014 coup against, and overthrowing, Ukraine's democratically elected Government, and — if that happened, as we will show it did — how this fact might affect Trump's relationship with Zelensky. So: a lot is to be shown here, and this will be information that the 'news'-media have been hiding from the public, not reporting to the public.
There are many instances of U.S. coups that the Government lied about and that afterward had negative blowback. The 1953 U.S. coup against Iran's democratically elected Government wasn't revealed to the American public until decades after it had happened. It had long been alleged to have been a 'democratic revolution' in Iran. Our Government and media have been lying to us for a long time, and not only about 'WMD in Iraq'. We shall be documenting here that that 1953 coup in Iran (and other similar instances by the U.S. Government) is being repeated (yet again) in the case of the February 2014 U.S. coup that occurred in Ukraine. The regime is very effective at lying, at deceiving, at manipulating, its public, no less now than it was then. Without understanding the reality of Obama's coup in Ukraine, there is no way of honestly explaining Ukrainegate. The 1953 Iran coup produced, as blowback, the Islamic Revolution in Iran in 1979. Obama's 2014 coup in Ukraine likewise is having its blowbacks, but of different types.
TRUMP'S PURPOSE IN THE 25 JULY 2019 CALL TO ZELENSKY
The argument to be presented here is that Trump, in this phone-call, and generally, was trying not only to obtain help with evidence-gathering in the "Crowdstrike" matter (which A.G. Barr is now investigating, and which also is the reason why Trump specifically mentioned "Crowdstrike" at the only instance in the phone-call where he was requesting a "favor" from Zelensky), but to change the policy toward Ukraine that had been established by Obama (via Obama's coup and its aftermath). This is a fact, which will be documented here. Far more than politics was involved here; ideology was actually very much involved. Trump was considering a basic change in U.S. foreign policies. He was considering to replace policies that had been established under, and personnel who had been appointed by, his immediate predecessor, Barack Obama. Democrats are extremely opposed to any such changes. This is one of the reasons for the renewed impeachment-effort by Democrats. They don't want to let go of Obama's worst policies. But changing U.S. foreign policy is within a President's Constitutional authority to do.
Trump fired the flaming neoconservative John Bolton on 10 September 2019. This culminated a growing rejection by Trump of neoconservatism — something that he had never thought much about but had largely continued from the Obama Administration, which invaded and destroyed Libya in 2011, Syria in 2012-, Yemen in 2015-, and more — possibly out-doing even George W. Bush, who likewise was a flaming neocon. Trump's gradual turn away from neoconservatism wasn't just political; it was instead a reflection, on his part, that maybe, just maybe, he had actually been wrong and needed to change his foreign policies, in some important ways. (He evidently still hasn't yet figured out precisely what those changes should be.)
For example, on 15 November 2019, the impeachment focus was on the testimony of Marie Yovanovitch, whom Trump had recently (in May 2019) fired as the Ambassador to Ukraine. Democrats presented her as having been the paradigm of professionalism and nonpartisanship in America's foreign service. She was actually a neoconservative who had been appointed as an Ambassador first by President George W. Bush on 20 November 2004, after her having received an M.S. from the National War College in 2001. Obama appointed her, on 18 May 2016, to replace Geoff Pyatt (shown and heard in this video confidentially receiving instructions from Obama's agent controlling Ukraine-policy, Victoria Nuland) as the Ambassador to Ukraine. Obama had selected Yovanovitch because he knew that (just like Pyatt) she supported his polices regarding Ukraine and would adhere to his instructions. Yovanovitch was part of Obama's team, just as she had previously been part of George W. Bush's team. All three of them were staunch neoconservatives, just as Ambassador Pyatt had been, and just as Victoria Nuland had been, and just as Joe Biden had been.
A neoconservative believes in the rightfulness of American empire over this entire planet, even over the borders of the other nuclear superpower, Russia. Obama's standard phrase arguing for it was "The United States is and remains the one indispensable nation", meaning that all other nations are "dispensable." This imperialistic belief was an extension of Yale's 'pacifist' pro-Nazi America First movement, which was supported by Wall Street's Dulles brothers in the early 1940s, and which pro-Nazi movement Trump himself has prominently praised. Unlike the progressive U.S. President Franklin Delano Roosevelt, who had planned the U.N. in order to be the anti-imperialist emerging first-ever global world government of nations, which would democratically set and ultimately enforce international laws of a new global federation of nations — a global democratic federation of sovereign republics — neoconservatives are U.S. imperialists, who want instead to destroy the U.N., and to extend American power over the entire world, make America not only the policeman to the world but the lawmaker for the world, and the judge jury and executioner of the world, the global dictator. The U.N. would be weakened to insignificance. This has gradually been occurring. It continued even after what had been thought to have been the 1991 end of the Cold War, and after Obama won a Nobel Peace Prize in 2009 for his deceptive rhetoric. Yale's John Bolton was the leading current proponent of the America First viewpoint, much more straightforward in his advocacy of it than the far wilier Obama was; and, until recently, Trump supported that unhedged advocacy for the neoconservative viewpoint: U.S. imperialism. Regarding the campaign to take over Russia, however, he no longer does — he has broken with Bolton on that central neoconservative goal, and he is trying to reverse that policy, which had been even more extreme than Obama's policy towards Russia was (which policy had, in fact, produced the coup in Ukraine).
When the Cold War had supposedly ended in 1991, it ended actually only on the Russian side, but secretly it continued and continues on as policy on the American imperialists' side. The neoconservative side, which controlled the U.S. Government by that time (FDR's vision having been destroyed when Ronald Reagan entered the White House in 1981), has no respect whatsoever for Russia's sovereignty over its own land, and certainly not over the land of Russia's neighbors, such as Ukraine, which has a 1,625-mile border with Russia. Neoconservatives want U.S. missiles to be pointed at Moscow all along Russia's border. That would be as if Russia had wanted to position Russian missiles all along Canada's and Mexico's borders with the U.S.; it would disgust any decent person, anywhere, but neoconservatives aren't decent people. Neoconservatives (U.S. imperialists) seek for all of Russia's neighbors to become part of the U.S. empire, so as to isolate Russia and then become able to gobble it up. All neoconservatives want this ultimately to happen. Their grasp for power is truly limitless. Only in the tactical issues do they differ from one-another.
In her testimony behind closed doors to Senators, on 11 October 2019, Yovanovich stated her views regarding what America's policies toward Ukraine should be, and these were Obama's policies, too; these views are the neoconservative outlook [and my own comments in brackets here will indicate her most egregious distortions and lies in this key passage from her]:
Because of Ukraine's geostrategic position bordering Russia on its east, the warm waters of the oil-rich Black Sea to its south, and four NATO allies to its west, it is critical to the security of the United States [this is like saying that Mexico and Canada are crucial to the security of Russia — it's a lie] that Ukraine remain free and democratic [meaning, to neoconservatives, under U.S. control], and that it continue to resist Russian expansionism [like Russia cares about U.S. expansionism over all of the Western Hemisphere? Really? Is that actually what this is about? It's about extending U.S. imperialism on and across Russia's border into Russia itself] Russia's purported annexation of Crimea [but, actually, "Clear and convincing evidence will be presented here that, under U.S. President Barack Obama, the U.S. Government had a detailed plan, which was already active in June 2013, to take over Russia's main naval base, which is in Sevastopol in Crimea, and to turn it into a U.S. naval base."], its invasion of Eastern Ukraine, and its defacto control over the Sea of Azov, make clear Russia's malign intentions towards Ukraine [not make clear Russia's determination not to be surrounded by enemies — by U.S.-stooge regimes. For Russia to avoid that is 'malign', she says]. If we allow Russia's actions to stand, we will set a precedent that the United States will regret for decades to come. So, supporting Ukraine's integration into Europe and combating Russia' s efforts to destabilize Ukraine [Oh, America didn't do that destabilization?] have anchored our policy since the Ukrainian people protested on the Maidan in 2014 and demanded to be a part of Europe and live according to the rule of law [But Ukrainians before Obama's takeover of Ukraine in February 2014 didn't actually want to be part of the EU nor of NATO, and they considered NATO to be a threat to Ukraine. "In 2010, Gallup found that whereas 17% of Ukrainians considered NATO to mean 'protection of your country,' 40% said it's 'a threat to your country'."] That was U.S. policy when I became ambassador in August 2016 [after Obama's successful coup there took over its media and turned Ukrainian opinion strongly against Russia], and it was reaffirmed as that policy as the policy of the current administration in early 2017. [Yes, that's correct, finally a truthful assertion from her. When Trump first came into office, he was a neoconservative, too.] The Revolution of Dignity [you'll see here the 'dignity' of it] and the Ukrainian people's demand to end corruption forced the new Ukrainian Government to take measures to fight the rampant corruption that long permeated that country's political and economic systems [and that still do, and perhaps more now than even before].
That's just one example — it's about the role of Ambassador Yovanovitch. But the focus of Ukrainegate isn't really that. It's not Yovanovitch. It is what Trump was trying to do, and what Joe Biden was trying to do, and what Obama had actually done. It is also about Joe Biden's son Hunter, because this is also about contending dynasties, and not only about contending individuals. Trump isn't certain, now, that he wants to continue being a full-fledged neoconservative, and to continue extending Obama's neoconservative policies regarding Ukraine. So: this is largely about what those policies actually were. And here is how Joe Biden comes into the picture, because Democrats, in trying to replace President Donald Trump by a President Mike Pence, are trying to restore, actually, Barack Obama's policy in Ukraine, a policy of which the Bidens themselves were very much Obama's agents, and Mike Pence would be expected to continue and extend those policies. Here will be necessary to document some personal and business relationships that the U.S. news-media have consistently been hiding and even lying about, and which might not come up even in the expected subsequent Senate hearings about whether to replace Trump by Pence:
Hardened US and Iranian positions question efficacy of parties' negotiating tactics
The United States and Iran seem to be hardening their positions in advance of a resumption of negotiations to revive a 2015 international nuclear agreement once Iranian President-elect Ebrahim Raisi takes office in early August.
Concern among supporters of the agreement to curb Iran's nuclear program which former US President Donald J. Trump abandoned in 2018 may be premature but do raise questions about the efficacy of the negotiating tactics of both parties.
These tactics include the Biden administration's framing of the negotiations exclusively in terms of the concerns of the West and its Middle Eastern allies rather than also as they relate to Iranian fears, a failure by both the United States and Iran to acknowledge that lifting sanctions is a complex process that needs to be taken into account in negotiations, and an Iranian refusal to clarify on what terms the Islamic republic may be willing to discuss non-nuclear issues once the nuclear agreement has been revived.
The differences in the negotiations between the United States and Iran are likely to be accentuated if and when the talks resume, particularly concerning the mechanics of lifting sanctions.
"The challenges facing the JCPOA negotiations are a really important example of how a failed experience of sanctions relief, as we had in Iran between the Obama and Trump admins, can cast a shadow over diplomacy for years to come, making it harder to secure US interests," said Iran analyst Esfandyar Batmanghelidj referring to the nuclear accord, the Joint Comprehensive Plan of Action, by its initials.
The Biden administration may be heeding Mr. Batmangheldij's notion that crafting sanctions needs to take into account the fact that lifting them can be as difficult as imposing them as it considers more targeted additional punitive measures against Iran. Those measures would aim to hamper Iran's evolving capabilities for precision strikes using drones and guided missiles by focusing on the providers of parts for those weapon systems, particularly engines and microelectronics.
To be sure, there is no discernable appetite in either Washington or Tehran to adjust negotiation tactics and amend their underlying assumptions. It would constitute a gargantuan, if not impossible challenge given the political environment in both capitals. That was reflected in recent days in Iranian and US statements.
Iranian Spiritual Leader Ayatollah Ali Khamenei suggested that agreement on the revival of the nuclear accord was stumbling over a US demand that it goes beyond the terms of the original accord by linking it to an Iranian willingness to discuss its ballistic missiles program and support for Arab proxies.
In a speech to the cabinet of outgoing President Hassan Rouhani, he asserted that the West "will try to hit us everywhere they can and if they don't hit us in some place, it's because they can't… On paper and in their promises, they say they'll remove sanctions. But they haven't lifted them and won't lift them. They impose conditions…to say in future Iran violated the agreement and there is no agreement" if Iran refuses to discuss regional issues or ballistic missiles.
Iranian officials insist that nothing can be discussed at this stage but a return by both countries to the nuclear accord as is. Officials, distrustful of US intentions, have hinted that an unconditional and verified return to the status quo ante may help open the door to talks on missiles and proxies provided this would involve not only Iranian actions and programs but also those of America's allies.
Mr. Khamenei's remarks seemed to bolster suggestions that once in office Mr. Raisi would seek to turn the table on the Biden administration by insisting on stricter verification and US implementation of its part of a revived agreement.
To achieve this, Iran is expected to demand the lifting of all rather than some sanctions imposed or extended by the Trump administration; verification of the lifting; guarantees that the lifting of sanctions is irreversible, possibly by making any future American withdrawal from the deal contingent on approval by the United Nations Security Council; and iron-clad provisions to ensure that obstacles to Iranian trade are removed, including the country's unfettered access to the international financial system and the country's overseas accounts.
Mr. Khamenei's remarks and Mr. Raisi's anticipated harder line was echoed in warnings by US officials that the ascendancy of the new president would not get Iran a better deal. The officials cautioned further that there could be a point soon at which it would no longer be worth returning to because Iran's nuclear program would have advanced to the point where the limitations imposed by the agreement wouldn't produce the intended minimum one year 'breakout time' to produce enough enriched uranium for a bomb.
"We are committed to diplomacy, but this process cannot go on indefinitely. At some point, the gains achieved by the JCPOA (Joint Comprehensive Plan of Action) cannot be fully recovered by a return to the JCPOA if Iran continues the activities that it's undertaken with regard to its nuclear program…The ball remains in Iran's court, and we will see if they're prepared to make the decisions necessary to come back into compliance," US Secretary Antony Blinken said this week on a visit to Kuwait.
Another US official suggested that the United States and Iran could descend into a tug-of-war on who has the longer breath and who blinks first. It's a war that so far has not produced expected results for the United States and in which Iran has paid a heavy price for standing its ground.
The official said that a breakdown in talks could "look a lot like the dual-track strategy of the past—sanctions pressure, other forms of pressure, and a persistent offer of negotiations. It will be a question of how long it takes the Iranians to come to the idea they will not wait us out."
Wendy Sherman's China visit takes a terrible for the US turn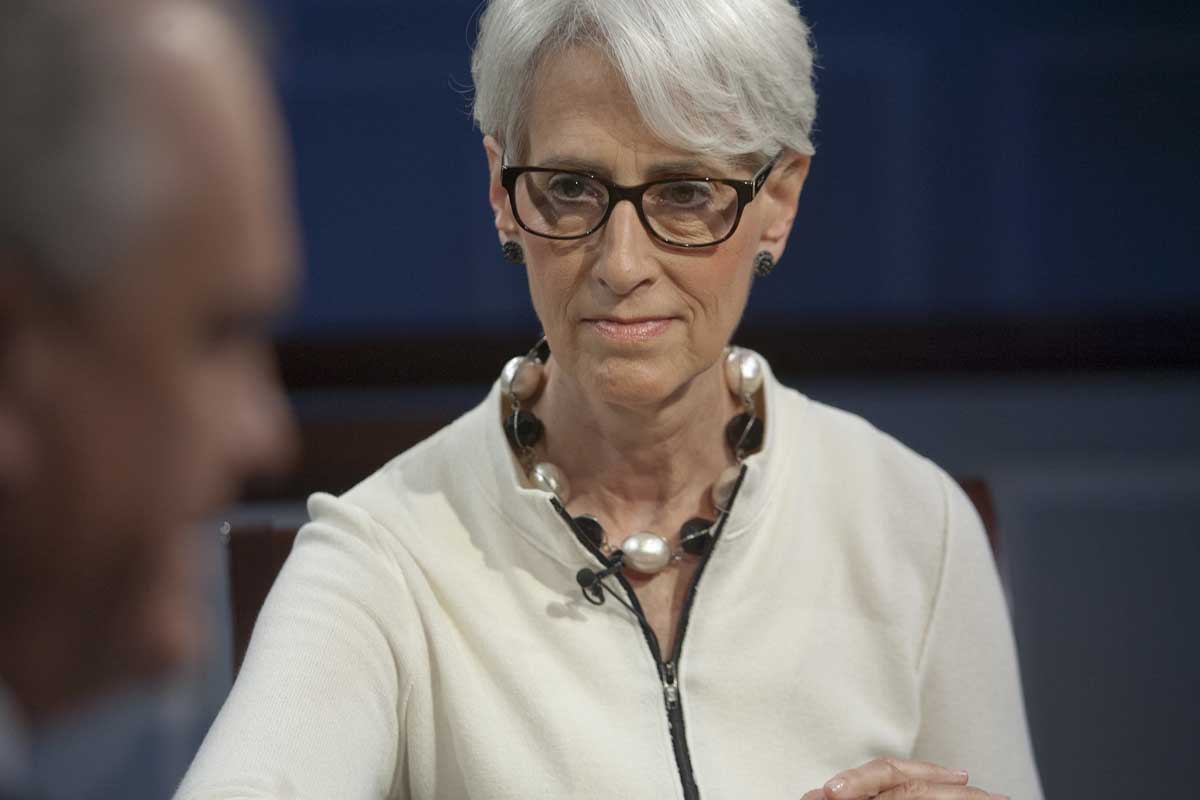 US Deputy Secretary of State, Wendy Sherman, had high hopes for the meeting in China. At first, the Chinese side did not agree to hold the meeting at all. The reaction had obvious reasons: Antony Blinken's fiasco in Alaska left the Chinese disrespected and visibly irritated. This is not why they travelled all the way.
So then the State Department had the idea of sending Wendy Sherman instead. The US government actually needs China more than China needs the US. Sherman was in China to actually prepare the ground for Biden and a meeting between the two presidents, expecting a red carpet roll for Biden as if it's still the 2000s — the time when it didn't matter how the US behaved. Things did not go as expected.
Instead of red carpet talk, Sherman heard Dua Lipa's "I got new rules".
That's right — the Chinese side outlined three bottom lines warning the US to respect its system, development and sovereignty and territorial integrity. In other words, China wants to be left alone.
The bottom lines were not phrased as red lines. This was not a military conflict warning. This was China's message that if any future dialogue was to take place, China needs to be left alone. China accused the US of creating an "imaginary enemy". I have written about it before — the US is looking for a new Cold War but it doesn't know how to start and the problem is that the other side actually holds all the cards.
That's why the US relies on good old militarism with an expansion into the Indo-Pacific, while aligning everyone against China but expecting the red carpet and wanting all else in the financial and economic domains to stay the same. The problem is that the US can no longer sell this because there are no buyers. Europeans also don't want to play along.
The headlines on the meeting in the US press are less flattering than usual. If the US is serious about China policy it has to be prepared to listen to much more of that in the future. And perhaps to, yes, sit down and be humble.
Why Jen Psaki is a well-masked Sean Spicer
When Sarah Huckabee Sanders showed up on the scene as White House Press Secretary, the reaction was that of relief. Finally — someone civil, normal, friendly. Jen Psaki's entry this year was something similar. People were ready for someone well-spoken, well-mannered, even friendly as a much welcome change from the string of liars, brutes or simply disoriented people that the Trump Administration seemed to be lining up the press and communications team with on a rolling basis. After all, if the face of the White House couldn't keep it together for at least five minutes in public, what did that say about the overall state of the White House behind the scenes?
But Psaki's style is not what the American media and public perceive it to be. Her style is almost undetectable to the general American public to the point that it could look friendly and honest to the untrained eye or ear. Diplomatic or international organization circles are perhaps better suited to catch what's behind the general mannerism. Jen Psaki is a well-masked Sean Spicer, but a Sean Spicer nevertheless. I actually think she will do much better than him in Dancing With The Stars. No, in fact, she will be fabulous at Dancing With The Stars once she gets replaced as White House Press Secretary.
So let's take a closer look. I think what remains undetected by the general American media is veiled aggression and can easily pass as friendliness. Psaki recently asked a reporter who was inquiring about the Covid statistics at the White House why the reporter needed that information because Psaki simply didn't have that. Behind the brisk tone was another undertone: the White House can't be questioned, we are off limits. But it is not and that's the point.
Earlier, right at the beginning in January, Psaki initially gave a pass to a member of her team when the Politico stunner reporter story broke out. The reporter was questioning conflict of interest matters, while the White House "stud" was convinced it was because he just didn't chose her, cursing her and threatening her. Psaki sent him on holidays. Nothing to see here folks, move along.
Psaki has a level of aggression that's above average, yet she comes across as one of the most measured and reasonable White House Press Secretaries of the decade. And that's under pressure. But being able to mask that level of deflection is actually not good for the media because the media wants answers. Style shouldn't (excuse the pun) trump answers. And being able to get away smoothly with it doesn't actually serve the public well. Like that time she just walked away like it's not a big deal. It's the style of "as long as I say thank you or excuse me politely anything goes". But it doesn't. And the American public will need answers to some questions very soon. Psaki won't be able to deliver that and it would be a shame to give her a pass just because of style.
I think it's time that we start seeing Psaki as a veiled Sean Spicer. And that Dancing with the Stars show — I hope that will still run despite Covid.