Disinformation in age of technology: How India isolated Pakistan through fake news
In a startling disclosure, EU-based non-governmental organisation EU DisinfoLab revealed an India-sponsored fake, dis-informational network of 265 fake media outlets in 65 countries, including US, Canada, Brussels, and Geneva. The network is run by Srivastava Group of India. It lists New Delhi Times as one of its assets, and also runs a think tank called International Institute for Non-Aligned Studies. The Institute paid for the travel and accommodation of an unofficial far-right delegation of 23 European Union parliamentarians to Srinagar on October 30, 2013. The trip was arranged by Indian –intelligence surrogate Madi Sharma who posed as a self-styled "international business broker". The delegation's shikara (boat) ride in Kashmir Lake (dal) pictured Kashmir as a heaven in serene peace. Some members however smelt a rat and abandoned the free joy ride.
After connecting the dots, the disinformation watchdog found that The Times of Geneva Online, EP (European parliament) Today and "4newsagency.com" had shady links to a large network of think tanks, Non-Governmental Organisations, and fake news websites in over 65 countries. The network worked day in and day to create a `mirage' of anti-Pakistan perceptions by influencing world's political leaders, international institutions, as well as gullible ordinary folk alike.
Already EP Today has apologised for aping Russia Today's content and promised to desist from doing so in future. India used fake websites; together with India's financial relations (Rafale and AS-400 deals, and trade) with world to isolate Pakistan. The fake website described themselves as "independent not-for-profit news cooperatives' headquartered in Switzerland".
It appears India has meticulously implemented Hitler's propaganda theorems: `The bigger the lie, the better the results. The success of any propaganda campaign ultimately depends on the propagandist's down-to-earth understanding of the "primitive sentiments of the popular masses". Mein Kampf (pp. 179-180). According to New York Times dated April 29, 2019, the only antidote to fake information is public awareness like hand-washing techniques during health crisis.
`Isolation' not an overnight exploit: India doetailed its disinformation policy with structural reforms in army and intelligence set-up to achieve its objective of isolating Pakistan. Sanjiv Tripathi, the longest serving Research and Analysis chief said `the entire J&K, including PoK, is part of India'. He stressed, `R&AW should carry out psychological operations … through seminars, articles and discussions." Tripathi believed `Pakistan's step-motherly treatment of its minorities, particularly the Pashtuns, Sindhis, Baluchis and Baltis, offers excellent ground for hosting Indian agents. However, very little is being done, except in PoK' .Lo! India under prime minister Narendar Modi modified Indian maps to include Pakistani, Nepalese and Chinese
Territories into India
RAW was restructured to play a more effective role in curbing centrifugal movements (freedom movements in Kashmir, North East, and Naxalbari footholds). All security agencies and advisers now report to new security czar, India's National Security Adviser Ajit Doval. He is aided by four deputies (earlier there was only one). The deputies include former spymasters, Rajinder Khanna, R.N. Ravi, and Pankaj Saran, besides a military adviser (Lt Gen V.G. Khandare).
India's Strategic Policy Group, idle since Manmohan Singh's second term, has been revived (to create troubles in Sindh, Balochistan, and KPK). NSA's head has replaced hitherto head, the cabinet secretary. He will also head the newly set up Defence Planning Committee and the four-member National Security Advisory Board (Lt Gen S.L. Narasimhan, a China expert, former RAW hand, A.B. Mathur, and Bimal Patel, an academic). A new post of national cyber security coordinator was created under Computer Emergency Response Team head Gulshan Rai (who reports to the prime minister). K. Ilango, who manipulated Sri Lanka elections in 2015 has been reactivated.
Cyber- and psy-war slots: Indian army chief said, `A jawan costs the army Rs 6-8 lakh a year, compared to an officer who earns Rs 20-22 lakh annually. Simply put, cutting down four or five officers will help save a crore'. He indicated (October 2, 2018) `army could cut over one lakh troops in the next few years and some of them could be assigned new roles' (cyber and psy-war). Not only state – but also non-state actors are engaged in so-called fifth-generation warfare.
Influence of fake news in elections: In the lead-up to the elections, the Indian government summoned the top executives of Facebook and Twitter to discuss the crisis of coordinated misinformation, fake news and political bias on their platforms. In March, Joel Kaplan, Facebook's global vice president for public policy, was called to appear before a committee of 31 members of the Indian Parliament, who were mostly from the ruling Bharatiya Janata Party, to discuss "safeguarding citizens' rights on social/online news media platforms."
The hearing was a hoax as B.J.P. was the chief beneficiary of divisive content that reaches millions because of the way social media algorithms, especially Facebook, amplify "engaging" articles. Facebook, Twitter and YouTube are too timid to tackle the problem head-on for fear of offending politicos. A large proportion of messages shared on social networks in India are not verifiable. Facebook India has a small 11- to 22-member fact-checking team for content related to Indian elections.
India also has a vast publicly funded Press Information Bureau, and a television and radio network, to monitor, track and debunk fake news. They are good for nothing being under governmental control.
Disinformation or fifth-generation war in history: 'Disinformation' (Russian deziinformatzia) is a concept which finds mention in Sun Tzu's Ping Fa (Principles of War). Even before Sun Tzu, Kautliya in Arthashastra supported disinformation as a civil and military warfare tool within his concept of koota yuddha (unprincipled warfare as distinguished from dharma yuddha, righteous warfare).
Tzu's and Kautliya's principles were used not only in the World War II but also in the Cold War period (to hoodwink own and foreign people). Richard Deacon says, 'Truth twisting…unless it is conducted with caution and great attention to detail, it will inevitably fail, if practiced too often… It is not the deliberate lie which we have to fear (something propaganda), but the half-truth, the embellished truth and the truth dressed up to appear a something quite different' (The Truth Twisters, London, Macdonald & Company (Publishers) Limited, 1986/1987, p. 8). He gives several example of disinformation including subliminal disinformation by which the truth can be twisted so that the distortion is unconsciously absorbed something which both television and radio commentators have subtly perfected' (Ibid., p. 9). In USA, Creel Committee, through false anti-German propaganda turned pacifist Americans against Germans.
Now, technology is being used as a complement to media propaganda. Some trolls, recruited by Russian intelligence (GRU), were punished in USA, They provided goldmine of information about Russian tactics. Russian hackers (including Kevin Mitnick) hacked servers, including allegedly Hillary Clinton's private server ("DC Leaks" and "Guccifer 2.0). They disseminated false information though fake trolls and accounts. They polarized American public opinion in Trump's favour. A billionaire Russian businessman and Putin associate established a network of troll factories to develop fake news articles and commentary to build anti-Democrat public opinion.
A leading Russian troll factory, the Internet Research Agency, recruited young Americans between ages 18 to 20 years for creating fake social media accounts and blogs, incendiary comments and fake posts on political forums.
Clinton campaign chairman John Podesta was hoodwinked into unwittingly handing over more than 50,000 emails to the Russians. Information warfare and cyber warfare were used as political tools to advance the interests of people in Russia. Kudos to India for glitching NADRA result transmission system and portraying Pakistan's `election' as a blatant `selection'. Election Commission and NADRA made contradictory statements about delay in result announcement. Malicious articles by Bruce Riedel, and others tried to sully Army image though it had done a commendable job.
On page 144 of his autobiography Mein Kampf(My struggle), Hitler applauds his adversaries for successful propaganda. He lambast Germans `who thought that the work of propaganda could be entrusted to the first ass that came along, braying of his own special talents, and they had no conception of the fact that propaganda demands the most skilled brains that can be found'. Hitler's propaganda theorems are quoted in American political-science text-books.
USA's experience: `information and its influence upon masses is a well-known fact. Even in the pre-internet age, the propaganda, disinformation, psychotronics(pamphlets, handbills, photos, etc) was used in World Wars, and thereafter. Information power, as funneled by computer explosion and telecommunications, is stronger than military, economic, social and political power. An information revolution is already underway with increase in the world's population of Internet users. Recall flare-up of Arab Spring. Pakistan, too, has established an information corps.
The USA realised true potency of information warfare during operations in Rwanda, Bosnia, Kosovo, and, above all in, Somalia. US General Leigh Armistead says, "General Aideed of Somalia manipulated the media to keep the militarily superior U.S. forces off-balance throughout most of the operations during 1993. In fact, with the use of $ 600 video camera, Aideed changed forever U.S. foreign policy in the region. It was Aideed a true information warrior, whose actions in Somalia, perhaps more than any other U.S. military operation, showed the innate power of information…By no means is Somalia on par with the United States in a comparison of power of any kind. Yet because Aideed effectively used the mass media to his advantage, he in fact controlled the flow of events'. Since that time, IO has evolved to serve as a model for future…international relations" . I quote from Information Operations: Warfare and the Hard Reality of Soft Power, Brassey's, Inc., 2004, p. 16). This textbook, taught at US military academies, was produced in conjunction with the [US] Joint Forces Staff College and the National Security Agency, Washington D. C. Armistead reveals `not only the computers connected to the world-wide web but also the air-gapped stand-alone systems are vulnerable to the attack. (Armistead, op.cit. 115).
In 1999, President Clinton signed Presidential Decision Directive 68, titled International Public Information, which was an attempt to gain control over the external messages sent abroad from Washington (ibid., p. 5). Recall Musharraf's nod to `with us or without' message.
Lieutenant General S. Bogdanov, Chief of the General Staff for Strategic Studies (1991) points out, "Iraq lost the war before it even began…Iraqi troops were blinded and deafened…modern war can be worn by informatika and that is now vital for the U.S and USSR". IW is waged not only against the enemy but also one's own people (recall how Creel Committee, in just about six months. Whipped up anti-German hysteria and later Red-Square McCarthyism).
Scientists of different countries are now studying not only the ability of information warfare to effect the values, emotions, and belief of target audiences (traditional psychological warfare theory), but also methods to affect the objective reasoning process of soldiers and civilians. That is affecting not only the data-processing capability of hardware and software but also the data-processing capability of the human mind.
American researchers are studying influence of information technology on the minds of civilians and soldiers (combat fatigue, youth violence, disobedience, etc.). Books on social psychology contain research which indicates that a man can be motivated to do a crime or act against his own conscience or value system.
Inference: Fifth-generation war is believed to be a vague term. George Orwell (Politics and the English Language) suggested that that trying to find a clear-cut definition of fifth-generation or hybrid war would reveal exactly that kind of vagueness, with the use of important-sounding, pseudo-technological words to impress readers and convince them that this war is being fought at a level the layperson cannot comprehend. India has proved that it understands dimensions of the fifth generation war or fake news. It knows how to apply its techniques to achieve its objectives. Time for Pakistan to wake up.
Kashmir: India's services chief confesses blinding protesters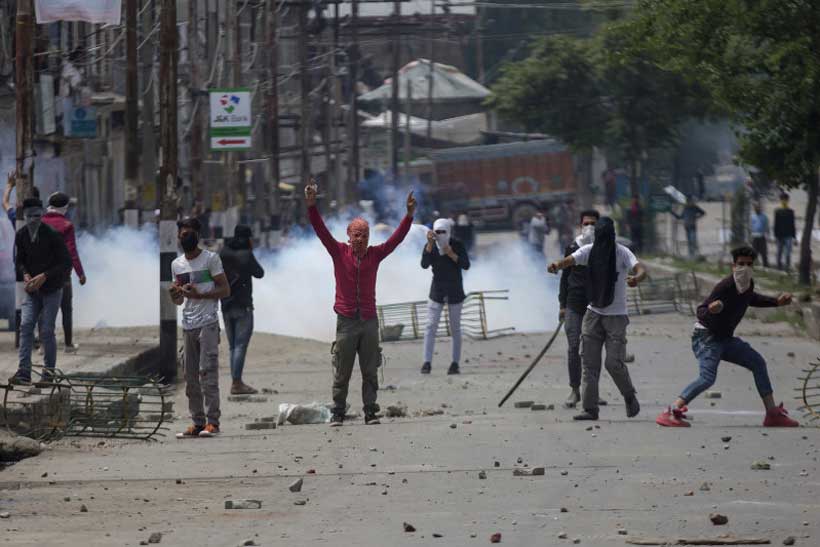 Through a host of draconian measures, India has gagged digital and voice protests in disputed Kashmir. It has barred local and foreign journalists from visiting Kashmir. Indian forces fire pellets (called `birdshots') with pump-action shot-guns against unarmed protesters or stone throwers, even women, and children five to eight years' old.
India cheated Kashmiris. Indian forces fire pellets (called `birdshots') with pump-action shot-guns against unarmed protesters or stone throwers, even women, and children five to eight years' old. A New York Time report portrays a gruesome picture ("An Epidemic of 'Dead Eyes' in Kashmir as India Uses Pellet Guns on Protesters", New York Times, August 28, 2016`) It says` the patients have mutilated retinas, severed optic nerves, irises seeping out like puddles of ink'. Doctors call them `dead eyes'. A similar report in Washington Post (December 12, 2017) is no less poignant.
Let India realise it can't stifle Kashmiris' dissent. To stifle the Kashmiri's fighting spirit, the dogra (1846-1947) punished even Kashmiri children who played with fork-slings (ghulail in Urdu) and stones (Muhammad Yousaf Saraf, Kashmiris Fight for Freedom, vol. 1, p. 50). Struggle for freedom goes on despite Indian forces' reign of terror (abductions, custodial deaths, rapes, arson, and pellet shelling). `The Security Council should make clear that it opposes Mr. Modi's brutal tightening of India's control on Kashmir. While Mr. Modi may think he can control this volatile conflict on his own, he almost certainly cannot' (The U.N. Can't Ignore Kashmir Anymore, New York Times, October 2, 2019).
Defence services chief's ergonomic confession: Irked by international-media censures, Bipen Rawat, India's ex-army chief, now Chief of Defence Services has tendered a funny explanation.
He says, ` Most of the eye injuries are caused because those pelting stones bend to the ground to pick up stones and because pellet guns are fired at the legs they get hit them in the eyes (Indian Express, January 17, 2020). Indian opposition took him to task for explaining how Kashmiris were being "radicalized". They advised him to desist from dabbling in politics. Asaduddin Owaisi asked him, `Who'll deradicalise lynchers and their political masters? `Yogi (UP chief minister] and "Pakistan jao" Meerut SP?
An unending struggle: An immutable lesson of history is that Kashmiris never reconciled with foreign rule. If they could no longer fight an invader with arms, they pelted stones on invaders (Moghal). The stone throwers were called dilawars, and the Moghal, were addressed as shikas mogle. This Kashmiri-language expression, akin to French C'est dommage (it's too bad), is spoken when something is lost. The Moghal were Muslim. Yet, the Kashmiri hated them. Shikas mogle affords a peek into the Kashmiri heart and mind. They cursed foreigners, be they be Muslim.
Kashmiris hate cheating and consider Akbar `the Great' an epitome of treachery. Akbar invited Kashmir ruler Yusuf Chak (1579 – 1586) for talks. But, he treacherously imprisoned and killed him in Bihar state. Be it noted that Akbar had failed to subjugate Kashmir in his earlier two expeditions. After take-over, the Moghal lived in a walled nagri (city), later called Sri nagar. The helpless Kashmir used to throw stones at walled city to express their anguish. The general feeling of hatred, kashmiriat, was akin to what Ibn-e-Khuldoon calls asabiya (national cohesion). It ran across all sects (shia-sunni), religions, castes and creed.
Let India realise it can't stifle Kashmiris' dissent. To stifle the Kashmiri's fighting spirit, the dogra (1846-1947) punished even Kashmiri children who played with fork-slings (ghulail in Urdu) and stones (Muhammad Yousaf Saraf, Kashmiris Fight for Freedom, vol. 1, p. 50). Struggle for freedom goes on despite Indian forces' reign of terror (abductions, custodial deaths, rapes, arson, and pellet shelling). `The Security Council should make clear that it opposes Mr. Modi's brutal tightening of India's control on Kashmir. While Mr. Modi may think he can control this volatile conflict on his own, he almost certainly cannot' (The U.N. Can't Ignore Kashmir Anymore, New York Times, October 2, 2019).
RSS's role in persecuting minorities: The present-day anti-minority India caricatures Mahatma Gandhi's and Ambedkar's vision of India. They both envisioned India as a modern country with due place for minorities. Gandhi did not care a fig for Rashtrya Swayem Sevak Sangh leaders in his life-time. So was the case with Ambedkar also. Yet, tragically RSS-BJP conglomerate and their offshoots are trying to portray Gandhi-Ambedkar as Hindu communalists. They are v trying to co-opt Gandhi and pitch him against the Congress.
What a wonder it is hard to find RSSs' founding father, Hedgewar's mention in the 21 volumes of the writings and speeches of Ambedkar. Hedgewar thought of Hindu raj, rule by Hindu Rashtra. Chiplunkar, Tilak and their disciple Hedgewar abhorred Gandhi `a Bania leading the freedom movement'. After Tilak's death, Hedgewar left the Congress-led freedom struggle and began struggle to regain past glory of Aryavarta. Ambedkar explicitly rejected idea of the Hindu Rashtra. He stressed, ` No matter what the Hindus say, Hinduism is a menace to liberty, equality and fraternity. On that account it is incompatible with democracy. Hindu Raj must be prevented at any cost.' Renowned lawyer AG Noorani rightly said `their [RSS's] bible is V.D. Savarkar's essay 'Hindutva' published in 1925. He called Muslims `hissing Yavana snakes' (Dawn, October 5, 2019).
RSS is a terrorist organisation: Terrorism Research Centre, an American think-tank based in East Virginia, enlisted RSS among the world's leading terrorist organisations. It is significant to note that the Indian media is heavily tilted towards the RSS. In fact the RSS has of late become the unofficial spokesman of the Indian government. Even the enlightened Hindu and the military writers believe that India's prosperity during various periods of history, for example during the Maurya and the Gupta periods, rose or fell pari passu with rise or fall of military leadership (Major General Rajendra Nath, Military Leadership in India: Vedic Period to Indo-Pak Wars.1990.Lancers Books).
Upsurge in Hindutva: Hindutva ideology is being pupularised in India to persecute minorities, particularly Musims in Kashmir and other Indian states. It is controversially defined in Vinayak Damodar Savarkar in his book Hindutva, and adopted by Hedgewar as the basis of his ideology (An Indian parliamentary committee resurrected him as a hero by allowing his portrait to be hung in Indian parliament). The RSS's aims are a mix of cultural, religious and political objectives – To serve Hindu dharma (religion), sanskriti (culture) and rashtra (nation). Sarvarkar distinguishes 'Hinduism' from 'Hindutva'. He clarified that the `Hinduism' was concerned with `relevance of life after death, the concept of God and the Universe'. 'Hindutva', on the other hand, was 'Hindus being a nation, bound by a common culture, a common history, a common language, a common country and a common religion'. Koota yuddha is an article of faith with the Rashtriya Swayemsewak Sangha. All its recruits, 10 years' old and above, are obliged to take the following pratigya (oath): In the name of God and my ancestors. I hereby become a member of the Rashtriya Swayamsewak Sangh for the all-round progress of Bharatvarsh (ancient name of India) by strengthening the holy Hindu dharma (religion). Hindu sanskiti (culture and Hindu society). I shall do the Sangha work with all my heart to the best of my ability and that I shall be bound by this oath for the whole of my life. Bharat Mata Ki Jai ! (Glory to Mother India!).
Minority Lynching: Beef eating people are lynched in public. A Christian priest was murdered right in front of his son. The RSS's genocidal role is a caricature of Preamble to The Constitution of India which states: "WE THE PEOPLE OF INDIA, having solemnly resolved to constitute India into a [SOVEREIGN SOCIALIST SECULAR DEMOCATIC REPUBLIC] …" Besides, Article 15 of the Constitution prohibits discrimination on the grounds of religion, race, caste, sex or place of birth.
Not only the RSS, but also Vishwa Hindu Parishad, and Indian political parties tacitly believe in koota yuddha. Reason: The minorities together are not more than one third of the Hindu population (read Brihaspati's udyog parva principle justifying 2,800 years back merciless attack when one is numerically three times superior). Illustrations of koota yuddha are Gujarat carnage under prime minister Narendra Modi, then chief minister, burning of Christians' alive, attack on Golden Temple, anti-sikh riots of 1984, killing of beef-eating minorities by cow guards (gao rakhshak), persecution of Kashmiri students in Indian states, and so on. A crystal-clear manifestation of this mentality was ruling-BJP-supported then Gujarat chief minister Narendra Modi's 11-phase gaurav or papadshahiyatra (pride parade) in July 2002. Earlier, in June 2002, Bal Thackray had said, 'Muslims can never be trusted. They are like snakes'.
Wake-up call for Pakistan: History tells that only countries with a stable equilibrium between its centrifugal and centripetal forces stay afloat in comity of nations. At the time of Partition, it was predicted that both India and Pakistan would break up into 'congeries of states'. The basis of this prediction was inability of the new republics to deal with myriad centrifugal forces gnawing into the body politic. In post-independence period, India was fortunate to have visionary leaders who tactfully muzzled centrifugal forces like insurgencies in East Punjab and eastern states, besides the Dravidian and Naxal Bari movements. Indian Union bowed to insurgents' demands for creation of new states. And, insurgency leaders became chief ministers! India forgot yester years when they burnt to ashes copies of Indian constitution, uprooted rail tracks, immobilizing everyday life. Tamil Nadu, Andhra Pradesh, Nagaland and the East Punjab appeared to secede from the Union. India stayed united because of its resilience, we disintegrated.
Pakistan learnt nothing from East-Pakistan debacle (Asghar Khan, We've learnt nothing from history). India is now engaged against Pakistan in what Kautliya calls maya yuddha (war of tricks) or koota yuddha (all-out warfare). She is out to isolate Pakistan, get it dubbed as a terrorist state, and corner it by presence in Chahbahar and some Central Asian airbases (Aeini or Farkhor airbases in Tajikistan). Ibn-e-Khaldun says that it is asabia (nationalism) that enables a country to withstand challenges. Toynbee's Challenge and Response Theory also reminds that if challenges are too heavy, a nation becomes apathetic to environment. Apathy leads to mental degradation, decay and extinction.
Pakistani leaders, including prime-ministers-weres and prime-ministers-to-be should take off their blinkers and try to understand how India, through koota yuddha, hands in glove with likeminded countries, is trying to wreck their economy and country.
Inference: History tells that ebbs and flows of Kashmiris' resistance never ceased. Palliatives failed to stifle the struggle. A lasting solution is to allow Kashmiris to determine their own fate. It's no use harping integral-part (atoot ang) mantra any longer. In marked contrast to India's colonizing policy, Pakistan gives an iron-clad constitutional assurance to Kashmiris to re-craft their relation with Pakistan under Article 257 of its Constitution. It states: `when the people of the State of Jammu and Kashmir decide to accede to Pakistan, the relationship between Pakistan and that State shall be determined in accordance with the wishes of the people of that State'.
Justifying a Pakistani Response to India's Hybrid Warfare Campaign
Hybrid warfare has irreversibly changed the dynamics of war in the contemporary era. In a way, it can be perceived as forming a 'new normal' that has also transformed the nature of warfare in South Asia, one of the most volatile regions of the world. There is no doubt in claiming that Pakistan has been a victim of 'hybrid warfare' widely perceived to be launched and sponsored by India. This has remained evident even in the region's history where the situation in East Pakistan in 1971 involving the promotion of Mujib's six-point plan, and the training and support offered to the Mukti Bahini's violent separatist movement were all led by India. In the same vein, the current extent of hybrid warfare against Pakistan can also be analyzed from the fact that India is still waging a Low-Intensity Conflict (LIC), through the employment of its proxies in the region. These are further bolstered by its Anti-Pakistan psychological operations, mainstream and social media campaigns, information operations, false flag operations, and undermining Pakistani interests economically, politically and diplomatically at various international forums. As a result, Pakistan is being forced to counter this hybrid warfare campaign through greater preparedness and a concerted strategy as this 'new normal continues to threaten Pakistan's national security.
These hybrid threats to the national security of Pakistan have resultantly become a major concern for its politico-strategic outlook. In view of this, the unrest in Baluchistan, which is all the more pertinent because of CPEC, is not acceptable to Indian interests at the present. Hence, this forms one of the primary reasons behind its sustained campaign against Pakistan. This is evident for instance in how Kulbhushan Jadhav, a serving Indian military officer was convicted for spying inside Pakistan and supporting terrorism in Baluchistan. Furthermore, the Balochistan Liberation Army (BLA), a terrorist group that has been known for decades as being backed by India was also reportedly involved in an attack on the Chinese Consulate in Karachi back in November 2018. Similarly, the Pashtun Tahafuz Movement (PTM) movement which is evidently involved in anti-state activities is also widely understood as being sponsored by India's Research and Analysis Wing (RAW) and Afghanistan's National Directorate for Security (NDS). has All the above have thus carried all the hallmarks of both the NDS's and RAW's past activities and nefarious motives with regard to destabilizing Pakistan.
In addition to this, Pakistan has been the target of multiple Indian sponsored 'hybrid' campaigns at the international diplomatic level specifically when it comes to Pakistan's nuclear program. In this regard, India has been working for quite some time to project Pakistan as a country involved in nuclear proliferation. As a result, significant lobbying at various multilateral forums has been carried out by India to paint Pakistan as an irresponsible or even 'rogue' nuclear weapons state. Whereas, in fact, the irony is that it is Mr. Modi's BJP led Hindu Nationalist and Extremist government that is willfully acting the role of the irresponsible near unhinged nuclear weapons state through his consistent and deliberate negative nuclear signaling against Pakistan. Thus, it is instead India which coupled with its sustained hybrid warfare campaign against Pakistan manifests a very real danger in terms of the present situation escalating towards the nuclear realm. This, for instance, is further evident in how Mr. Modi has repeatedly threatened Pakistan with the use of nuclear weapons – such as thermonuclear weapons – solely for the sake of political and electoral goals. As such, India has actively aimed to portray Pakistan's nuclear posture and doctrines as a 'Nuclear Bluff', blaming Pakistan for 'Nuclear Blackmailing'. All while the Indian Nuclear Arsenal, which unfortunately still remains under the control of Hindu Extremists, and presents a more pressing and immediate danger.
The fact, however, remains that within the current scenario in India; conditions are ripe for Pakistan to wage its own campaign to bolster its stance at the international as well as the domestic level within India by launching its own hybrid warfare campaign. For instance, the Indian government's unilateral revocation of the special status of the Kashmir region that had been previously granted under Articles 370 and 35(A) of the Indian constitution has played a key role in bringing to surface deep-seeded and pre-existing communal tensions. In the same way, the discriminatory decision by the Indian Supreme Court regarding the demolition of the Babri Mosque which the court has ironically based on preserving the balance between Hindus and Muslims has also inflamed tensions even further. Similarly, the recent controversy surrounding the 'Citizen Amendment Bill' (CAB)has also come to represent India's failed attempts at justifying its Anti-Muslim agenda. In view of all these challenges being posed to Indian Muslims, Pakistan can opt for a more offensive stance in helping further accelerate the widely foreseen demise of the ruling BJP government, which in itself is primarily of its own making. At the very least Pakistan can provide moral and logistical support to some of India's most marginalized groups to help lay bare the injustices and wickedness of the ruling BJP. Thus, appealing to a more principled stance aimed at a domestic Indian as well as a wider international audience.
Hence while Pakistan is facing a variety of threats from India, it has not yet undertaken a similar campaign of its own to counter and respond to such threats in kind. Despite the Indian government's continued atrocities, the fact remains that Pakistan still holds a highly principled stance vis-à-vis the tactics currently being employed byIndia. The difference remains that based on this scenario, any action taken by Pakistan would be based on championing a purely more inclusive and pluralist approach promoting human rights in the face of a violent extremist ideology. The recent opening of the Kartarpur Corridor stands as a valid case in point. As such Pakistan's stance remains miles apart from India's deliberate, deep-seeded and destabilizing divisions fueled by hate and indifference. In essence, championing 'A New Normal' that is worth fighting for.
Pakistan Seeks Peace in the Region as well as Globally
Pakistani narrative is gaining momentum worldwide. Pakistan's peace efforts in the Middle-East, Afghanistan, and any other part of the world are lauded and got well recognition. In fact, Pakistan was the victim of Afghan-War for 4 decades and suffered huge economic, political, and social losses. Pakistan is willing to share its bitter experiences and trying its best to promote Peace globally.
PM Imran Khan, in an interview with German broadcaster Deutsche Welle (DW), said "Then there is Afghanistan. Pakistan is doing its best to bring peace to Afghanistan. It is a country that has suffered so much in the past 40 years. We pray that the Taliban, the Americans, and the Afghan government achieve peace".
"I think they are heading towards a ceasefire. We are hoping that the US-Taliban talks succeed, as we have a new government in power in Afghanistan with President Ashraf Ghani being re-elected," PM Imran remarked when asked about the Afghan situation.
"Peace in Afghanistan would open up trading opportunities in Central Asia. It [Afghanistan] would also become an economic corridor for us. If there is peace in Afghanistan, our people in Khyber Pakhtunkhwa province, which borders Afghanistan, will also benefit," he said.
"Pakistan has played its part in peace talks. There was a hostage situation and with Pakistan's efforts, two out of three Western hostages were released. So, we are doing our best with whatever influence we have," he added.
Pakistan has emerged as a Peace-Loving nation and well matured, responsible state. The Visionary leadership in Pakistan has taken several initiatives for Peace and Stability. Our role in Afghanistan, to bring the Taliban to the negotiation table with The US is one of its big success. PM Imran Khan has visited Tehran and Riyadh, to diffuse tension between Saudi Arabia and Iran. Pakistan supports to diffuse US-Iran Tension. Foreign Minister of Pakistan has been traveled to Tehran, Riyadh, Oman, and the US for dissolving tension. Pakistan has such experience and influence in the region to mediate among stake-holders for Peace and overcoming the differences.
While India is the opposite case. PM Imran Khan, in an interview with German broadcaster Deutsche Welle (DW), said that India had been taken over by an extremist ideology known as Hindutva which is inspired by the German Nazis, and its [Hindutva's] founding fathers believed in racial supremacy. It is really a big tragedy for the region that India has been taken over by the extremist Rashtriya Swayamsevak Sangh (RSS) and warned the global community that the nuclear-armed country was being run by extremists.
PM Imran Khan said "It is a tragedy for India itself — and for all its neighbors — that the country has been taken over by RSS, an organization which also assassinated the great Mahatma Gandhi. A nuclear-armed country is being run by extremists, and Kashmir has been under siege for over five months".
His remarks came in a response to questions, about tensions in South Asia and the occupation of Kashmir by Indian troops. "Just as the Nazi ideology was built on hatred for minorities, the RSS ideology is also based on hatred for Muslims and other minorities, including Christians." India is building detention camps in the same lines as Nazi in Germany. In fact, there exist similarities between RSS ideology and Nazi ideology. So one should expect a similar outcome, or even worse. He further said that he was the first leader to warn the world about what is happening in India. India has been taken over by an extremist ideology known as Hindutva. India is no longer a Secular or democratic country. It is the ideology of RSS. The RSS, a political organization founded in 1925, inspired by the German Nazis, and following its steps in a much bigger and advanced manner.
It is worth mentioning that India and Pakistan, both are nuclear countries and possess enough compiles of weapons to destroy each other completely. If the international community keeps its role of spectators, it might lead to a big disaster not only for India itself but as well as for Pakistan, all neighboring states, whole region and global.
In response to a question about the disproportionate coverage accorded to protests in Hong Kong as opposed to the siege of occupied Kashmir, PM Imran said that the tragedy of Kashmir was much greater but commercial interests are more important for western countries. "Unfortunately, commercial interests are more important for Western countries. India is a big market and that is the reason behind the lukewarm response to what is happening to some eight million people in Kashmir, as well as to minorities in India," he noted. Although the general public in such countries stands with the Peace and protests against India atrocities in Kashmir and against its minorities. The general public around the world condemned Indian record violations of Human Rights.
It is appealed to the UN, the International Community, All peace-loving nations and Individuals to approach India and take appropriate measures to defuse tension in the region.
Save Humanity! Avert Disaster!