Disinformation in age of technology: How India isolated Pakistan through fake news
In a startling disclosure, EU-based non-governmental organisation EU DisinfoLab revealed an India-sponsored fake, dis-informational network of 265 fake media outlets in 65 countries, including US, Canada, Brussels, and Geneva. The network is run by Srivastava Group of India. It lists New Delhi Times as one of its assets, and also runs a think tank called International Institute for Non-Aligned Studies. The Institute paid for the travel and accommodation of an unofficial far-right delegation of 23 European Union parliamentarians to Srinagar on October 30, 2013. The trip was arranged by Indian –intelligence surrogate Madi Sharma who posed as a self-styled "international business broker". The delegation's shikara (boat) ride in Kashmir Lake (dal) pictured Kashmir as a heaven in serene peace. Some members however smelt a rat and abandoned the free joy ride.
After connecting the dots, the disinformation watchdog found that The Times of Geneva Online, EP (European parliament) Today and "4newsagency.com" had shady links to a large network of think tanks, Non-Governmental Organisations, and fake news websites in over 65 countries. The network worked day in and day to create a `mirage' of anti-Pakistan perceptions by influencing world's political leaders, international institutions, as well as gullible ordinary folk alike.
Already EP Today has apologised for aping Russia Today's content and promised to desist from doing so in future. India used fake websites; together with India's financial relations (Rafale and AS-400 deals, and trade) with world to isolate Pakistan. The fake website described themselves as "independent not-for-profit news cooperatives' headquartered in Switzerland".
It appears India has meticulously implemented Hitler's propaganda theorems: `The bigger the lie, the better the results. The success of any propaganda campaign ultimately depends on the propagandist's down-to-earth understanding of the "primitive sentiments of the popular masses". Mein Kampf (pp. 179-180). According to New York Times dated April 29, 2019, the only antidote to fake information is public awareness like hand-washing techniques during health crisis.
`Isolation' not an overnight exploit: India doetailed its disinformation policy with structural reforms in army and intelligence set-up to achieve its objective of isolating Pakistan. Sanjiv Tripathi, the longest serving Research and Analysis chief said `the entire J&K, including PoK, is part of India'. He stressed, `R&AW should carry out psychological operations … through seminars, articles and discussions." Tripathi believed `Pakistan's step-motherly treatment of its minorities, particularly the Pashtuns, Sindhis, Baluchis and Baltis, offers excellent ground for hosting Indian agents. However, very little is being done, except in PoK' .Lo! India under prime minister Narendar Modi modified Indian maps to include Pakistani, Nepalese and Chinese
Territories into India
RAW was restructured to play a more effective role in curbing centrifugal movements (freedom movements in Kashmir, North East, and Naxalbari footholds). All security agencies and advisers now report to new security czar, India's National Security Adviser Ajit Doval. He is aided by four deputies (earlier there was only one). The deputies include former spymasters, Rajinder Khanna, R.N. Ravi, and Pankaj Saran, besides a military adviser (Lt Gen V.G. Khandare).
India's Strategic Policy Group, idle since Manmohan Singh's second term, has been revived (to create troubles in Sindh, Balochistan, and KPK). NSA's head has replaced hitherto head, the cabinet secretary. He will also head the newly set up Defence Planning Committee and the four-member National Security Advisory Board (Lt Gen S.L. Narasimhan, a China expert, former RAW hand, A.B. Mathur, and Bimal Patel, an academic). A new post of national cyber security coordinator was created under Computer Emergency Response Team head Gulshan Rai (who reports to the prime minister). K. Ilango, who manipulated Sri Lanka elections in 2015 has been reactivated.
Cyber- and psy-war slots: Indian army chief said, `A jawan costs the army Rs 6-8 lakh a year, compared to an officer who earns Rs 20-22 lakh annually. Simply put, cutting down four or five officers will help save a crore'. He indicated (October 2, 2018) `army could cut over one lakh troops in the next few years and some of them could be assigned new roles' (cyber and psy-war). Not only state – but also non-state actors are engaged in so-called fifth-generation warfare.
Influence of fake news in elections: In the lead-up to the elections, the Indian government summoned the top executives of Facebook and Twitter to discuss the crisis of coordinated misinformation, fake news and political bias on their platforms. In March, Joel Kaplan, Facebook's global vice president for public policy, was called to appear before a committee of 31 members of the Indian Parliament, who were mostly from the ruling Bharatiya Janata Party, to discuss "safeguarding citizens' rights on social/online news media platforms."
The hearing was a hoax as B.J.P. was the chief beneficiary of divisive content that reaches millions because of the way social media algorithms, especially Facebook, amplify "engaging" articles. Facebook, Twitter and YouTube are too timid to tackle the problem head-on for fear of offending politicos. A large proportion of messages shared on social networks in India are not verifiable. Facebook India has a small 11- to 22-member fact-checking team for content related to Indian elections.
India also has a vast publicly funded Press Information Bureau, and a television and radio network, to monitor, track and debunk fake news. They are good for nothing being under governmental control.
Disinformation or fifth-generation war in history: 'Disinformation' (Russian deziinformatzia) is a concept which finds mention in Sun Tzu's Ping Fa (Principles of War). Even before Sun Tzu, Kautliya in Arthashastra supported disinformation as a civil and military warfare tool within his concept of koota yuddha (unprincipled warfare as distinguished from dharma yuddha, righteous warfare).
Tzu's and Kautliya's principles were used not only in the World War II but also in the Cold War period (to hoodwink own and foreign people). Richard Deacon says, 'Truth twisting…unless it is conducted with caution and great attention to detail, it will inevitably fail, if practiced too often… It is not the deliberate lie which we have to fear (something propaganda), but the half-truth, the embellished truth and the truth dressed up to appear a something quite different' (The Truth Twisters, London, Macdonald & Company (Publishers) Limited, 1986/1987, p. 8). He gives several example of disinformation including subliminal disinformation by which the truth can be twisted so that the distortion is unconsciously absorbed something which both television and radio commentators have subtly perfected' (Ibid., p. 9). In USA, Creel Committee, through false anti-German propaganda turned pacifist Americans against Germans.
Now, technology is being used as a complement to media propaganda. Some trolls, recruited by Russian intelligence (GRU), were punished in USA, They provided goldmine of information about Russian tactics. Russian hackers (including Kevin Mitnick) hacked servers, including allegedly Hillary Clinton's private server ("DC Leaks" and "Guccifer 2.0). They disseminated false information though fake trolls and accounts. They polarized American public opinion in Trump's favour. A billionaire Russian businessman and Putin associate established a network of troll factories to develop fake news articles and commentary to build anti-Democrat public opinion.
A leading Russian troll factory, the Internet Research Agency, recruited young Americans between ages 18 to 20 years for creating fake social media accounts and blogs, incendiary comments and fake posts on political forums.
Clinton campaign chairman John Podesta was hoodwinked into unwittingly handing over more than 50,000 emails to the Russians. Information warfare and cyber warfare were used as political tools to advance the interests of people in Russia. Kudos to India for glitching NADRA result transmission system and portraying Pakistan's `election' as a blatant `selection'. Election Commission and NADRA made contradictory statements about delay in result announcement. Malicious articles by Bruce Riedel, and others tried to sully Army image though it had done a commendable job.
On page 144 of his autobiography Mein Kampf(My struggle), Hitler applauds his adversaries for successful propaganda. He lambast Germans `who thought that the work of propaganda could be entrusted to the first ass that came along, braying of his own special talents, and they had no conception of the fact that propaganda demands the most skilled brains that can be found'. Hitler's propaganda theorems are quoted in American political-science text-books.
USA's experience: `information and its influence upon masses is a well-known fact. Even in the pre-internet age, the propaganda, disinformation, psychotronics(pamphlets, handbills, photos, etc) was used in World Wars, and thereafter. Information power, as funneled by computer explosion and telecommunications, is stronger than military, economic, social and political power. An information revolution is already underway with increase in the world's population of Internet users. Recall flare-up of Arab Spring. Pakistan, too, has established an information corps.
The USA realised true potency of information warfare during operations in Rwanda, Bosnia, Kosovo, and, above all in, Somalia. US General Leigh Armistead says, "General Aideed of Somalia manipulated the media to keep the militarily superior U.S. forces off-balance throughout most of the operations during 1993. In fact, with the use of $ 600 video camera, Aideed changed forever U.S. foreign policy in the region. It was Aideed a true information warrior, whose actions in Somalia, perhaps more than any other U.S. military operation, showed the innate power of information…By no means is Somalia on par with the United States in a comparison of power of any kind. Yet because Aideed effectively used the mass media to his advantage, he in fact controlled the flow of events'. Since that time, IO has evolved to serve as a model for future…international relations" . I quote from Information Operations: Warfare and the Hard Reality of Soft Power, Brassey's, Inc., 2004, p. 16). This textbook, taught at US military academies, was produced in conjunction with the [US] Joint Forces Staff College and the National Security Agency, Washington D. C. Armistead reveals `not only the computers connected to the world-wide web but also the air-gapped stand-alone systems are vulnerable to the attack. (Armistead, op.cit. 115).
In 1999, President Clinton signed Presidential Decision Directive 68, titled International Public Information, which was an attempt to gain control over the external messages sent abroad from Washington (ibid., p. 5). Recall Musharraf's nod to `with us or without' message.
Lieutenant General S. Bogdanov, Chief of the General Staff for Strategic Studies (1991) points out, "Iraq lost the war before it even began…Iraqi troops were blinded and deafened…modern war can be worn by informatika and that is now vital for the U.S and USSR". IW is waged not only against the enemy but also one's own people (recall how Creel Committee, in just about six months. Whipped up anti-German hysteria and later Red-Square McCarthyism).
Scientists of different countries are now studying not only the ability of information warfare to effect the values, emotions, and belief of target audiences (traditional psychological warfare theory), but also methods to affect the objective reasoning process of soldiers and civilians. That is affecting not only the data-processing capability of hardware and software but also the data-processing capability of the human mind.
American researchers are studying influence of information technology on the minds of civilians and soldiers (combat fatigue, youth violence, disobedience, etc.). Books on social psychology contain research which indicates that a man can be motivated to do a crime or act against his own conscience or value system.
Inference: Fifth-generation war is believed to be a vague term. George Orwell (Politics and the English Language) suggested that that trying to find a clear-cut definition of fifth-generation or hybrid war would reveal exactly that kind of vagueness, with the use of important-sounding, pseudo-technological words to impress readers and convince them that this war is being fought at a level the layperson cannot comprehend. India has proved that it understands dimensions of the fifth generation war or fake news. It knows how to apply its techniques to achieve its objectives. Time for Pakistan to wake up.
United States snubs India for its excessive maritime claim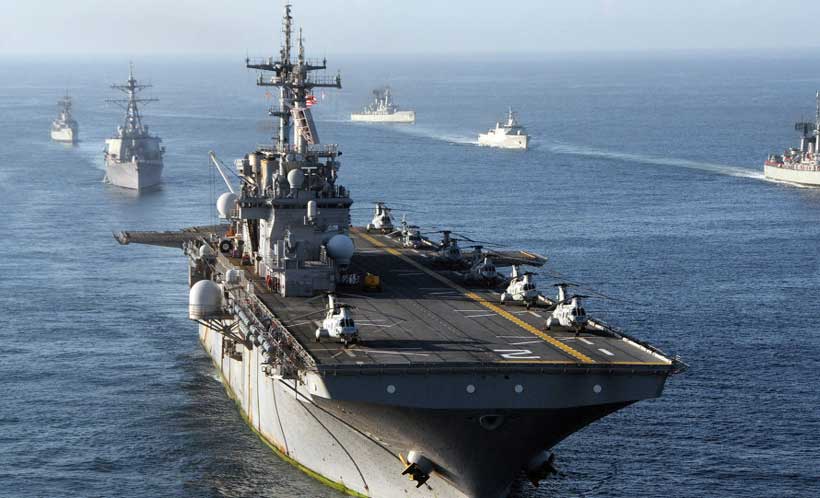 On April7, 2021, a 9,000-ton guided-missile destroyer, USS John Paul Jones (US 7th Fleet), waded (not strayed as it was deliberate) into the vicinity of India's Lakshadweep Islands. The ship was 131 nautical miles away from India's coast (12 nautical miles territory) but well within its exclusive economic zone (200 nautical miles, 370.4 kilometre).
Shockwaves
The trespass by the US destroyer triggered indignation through all walks of life. It conjured up memories of the arrival of the 7th fleet during the Indo-Pak war of 1971. The fleet gave a message, loud and clear, to India that it should not dare finish West Pakistan, its long cherished desire. Even Nehru, an ostensibly liberal leader, regarded the creation of Pakistan a blunder. His rancour against Pakistan reaches a crescendo in his remarks: "I shall not have that carbuncle on my back." (D. H. Bhutani, The Future of Pakistan, page 14). During 1971, Pakistan was a US ally. Now India is in the anti-China US-backed basket.
Yet, the `destroyer' conjured up memory in India's mind of `bitter' American intervention. Congress leaders voiced surprise at the U.S. move. In a tweet, Manish Tewari said, "This never happened in the 10 years of UPA [Congress-led rule] or perhaps even before that as far as I can recall. The last time I remember it being so rather in your face was 1971 – Task Force 74 – 7th Fleet. What then happened is History. Hope the NDA/BJP shows some Oomph?" Echoing the surprise, former Union Minister Jairam Ramesh, said, "And this happened when the former U.S. Secretary of State and Climate Envoy, John Kerry, was meeting Ministers in New Delhi."
The euphoria created by US gung-ho support for Quad, and Pakistan's exclusion from the climate conference petered out.
India's foreign office tried to play down the event by stating that it was not a "military manoeuvre". So, the USA was not bound to inform India about it. But, to India's chagrin, the U.S. The Navy announced that its ship the USS John Paul Jones had carried out Freedom of Navigation Operation (FONOP) in the Indian EEZ, adding that its operations had "challenged" what the U.S. called India's "excessive maritime claims." The U.S. defends its actions saying they were in compliance with international laws. Even Pentagon spokesperson John Kirby justified what India calls "intransigence' by announcing the US Navy's move was in compliance with international law. He told reporters, "I can tell you that the USS John Paul Jones, a Navy destroyer, asserted navigational rights and freedoms in the vicinity of the Republic of the Maldives by conducting innocent passage through its territorial sea in normal operations within its exclusive economic zone without requesting prior permission. We conduct routine and regular FONOPs, as we have done in the past and will continue to in the future. FONOPs are not about one country, nor are they about making political statements'.
India compelled to protest
As a face-saving gesture, India was forced to protest the U.S. decision to conduct a patrol in the Indian Exclusive Economic Zone (EEZ) in the western Indian Ocean, rejecting the U.S.'s claim that its domestic maritime law was in violation of international law. India's external-affairs ministry retorted, 'The Government of India's stated position on the United Nations Convention on the Law of the Sea (UNCLOS) is that the Convention does not authorise other States to carry out in the EEZ and on the continental shelf, military exercises or man oeuvres, in particular those involving the use of weapons or explosives, without the consent of the coastal state.' The ministry insisted that the USS John Paul Jones was "continuously monitored" transiting from the Persian Gulf towards the Malacca Straits.
The incident is a rare falling out between the two partners in the Quadrilateral Grouping that had recently committed to upholding freedom of navigation in the Indo-Pacific together.
Bone of contention
The USA shrugged off India's ennui. According to the annual FONOP reports released by the U.S. Department of Defence for each fiscal year, the U.S. had been regularly conducting FONOPs in Indian EEZ. The FONOPs were carried out in several c continental shelves of several countries including its allies and partners. The USA regarded Indian maritime claim as "excessive" and in violation of International Law. From 2007 onwards till 2017, the U.S. carried out multiple FONOPs every year challenging "excessive" Indian maritime claims. No FONOP was carried out in 2018 and 2020 and one FONOP in 2019.
Difference of opinion is due to the fact that the USA has not ratified the UN Convention on the Law of Seas. India and China have ratified it with some reservations. But, the USA does not care a fig about provisos attached by China and India.
Ashamed of USA's crass rebuttal, India is coining excuses to mitigate its embarrassment. To relieve pressure on Indian government, former Navy Chief Admiral Arun Prakash interpreted the US "trespass" as if it were a message to China that the USA has unfettered "freedom of navigation". Prakash Tweeted
"While India ratified UNCLOS in 1995, the U.S. has failed to do it so far. For the 7th Fleet to carry out FoNOPs missions in Indian EEZ in violation of our domestic law is bad enough. But publicising it? USN please switch on IFF (Identification, friend or foe)! Prakash added FONOPs by U.S. Navy ships, "ineffective as they may be," in South China Sea, are meant to "convey a message to China that the putative EEZ" around the artificial SCS islands is an "excessive maritime claim." "But what is the 7th Fleet message for India?" he asked.
Might is Right
Obviously, the USA is acting upon might-is-right policy. India itself acted upon this policy to devour princely states, and annex Nepalese territory. Junagadh and Kashmir disputes are still unresolved on UN agenda. Indian Union is an artificial sally.
In its entire history India had never been a single nation, or one country, until united at gun point by the British. The artificial nature of modern India created by the British colonialists and adopted by post-colonial India generated insurgencies and separatist movements.
At the time of partition, India was in grip of virulent insurgencies and separatist movements (Dravidian South, Khalistan, Seven Sisters in the North East, so on). Wikipedia lists 68 major organizations as terrorist groups. Of them, nine are in the northeast (seven sisters states), four in the center and the east (Maoist/Naxalites), seventeen in the west (Sikh separatist groups), and thirty eight in the northwest (Kashmir). India kept afloat as a union only at the barrel of gun. The Indian army chief paid a five-day visit to Bangladesh as a prelude to conducting a massive operation against the Naxalbari militants.
UK and USA's Diego Garcia headache
International Court of Justice advisory opinion on Chagos Islands has catapulted Indian Ocean into limelight. The ICJ `advisory' is a blow to UK's forcible occupation of Chagos Islands, including the strategic US airbase of Diego Garcia atoll (leased out to the USA by the UK).
The ICJ President Abdulqawi Ahmed Yusuf observed, `The UK has an obligation to bring to an end its administration of Chagos archipelago as rapidly as possible'. The court ruled that separation of Chagos Islands from Mauritius during decolonisation in the 1960s constituted an "unlawful detachment" and was a "wrongful act".
In 1966, the U.S. signed a secret agreement with Great Britain allowing the Pentagon to use the Indian Ocean territory as an airbase in exchange for a big discount on Polaris nuclear missiles. Three years later, hundreds of Navy Seabees arrived by ship and began pouring out two 12,000-foot runway that would become a bulwark of American Cold War strategy in the region, and a key launching pad for the first and second Gulf wars, the 1998 bombing of Iraq and invasion and carpet-bombing of Afghanistan.
The base can house more than 2,000 troops and 30 warships at a time. It has two bomber runways, a satellite spy station and facilities enabling the use of nuclear-armed submarines. It served as a CIA black site (like Guantanamo Bay) to interrogate and torture terror suspects including those from Afghanistan, Pakistan and Indonesia.
The base holds key to America's Afghan exit plan, by year 2024, to avoid a rout at the hands of Taliban.
Hand aloft
To India's chagrin, the USA wants to exert its authority on Indian Ocean also. Forty seven countries have the Indian Ocean on their shores. The Indian Ocean is the third largest body of water in the world. It occupies 20 percent of the world's ocean surface – it is nearly 10,000 kilometers wide at the southern tips of Africa and Australia and its area is 68.556 million square kilometers, about 5.5 times the size of the United States. India's motto is 'whoever controls the Indian Ocean dominates Asia'. Admiral Alfred T. Mahan (1840-1914) of the United States Navy highlighted the strategic importance of the Indian Ocean in these words: "whoever attains maritime supremacy in the Indian Ocean would be a prominent player on the international scene. The Indian peninsula (i.e. the Deccan and below) juts 1,240 miles into the Indian Ocean. 50 per cent of the Indian Ocean basin lies within a 1,000 mile radius of India, a reality that has strategic implications. Under the law of the sea, it has an exclusive economic zone of 772,000 square miles. Chennai is a mere 3,400 miles away from Perth in Australia, slightly more than the distance between New York and Los Angeles.
To dominate Straits of Malacca (bordering Indonesia and Malaysia), India established its Far Eastern Marine Command at Port Blair in the Andamans. It has developed Port Blair as a strategic international trade center and built an oil terminal and trans-shipment port in Campal Bay in the Nicobar Islands.
Concluding remarks
In diplomacy, there are no permanent friends or foes, only permanent interests. Afghan exit plan requires the USA continues to retain Diego Garcia.
US-China Developing Confrontation: India and QUAD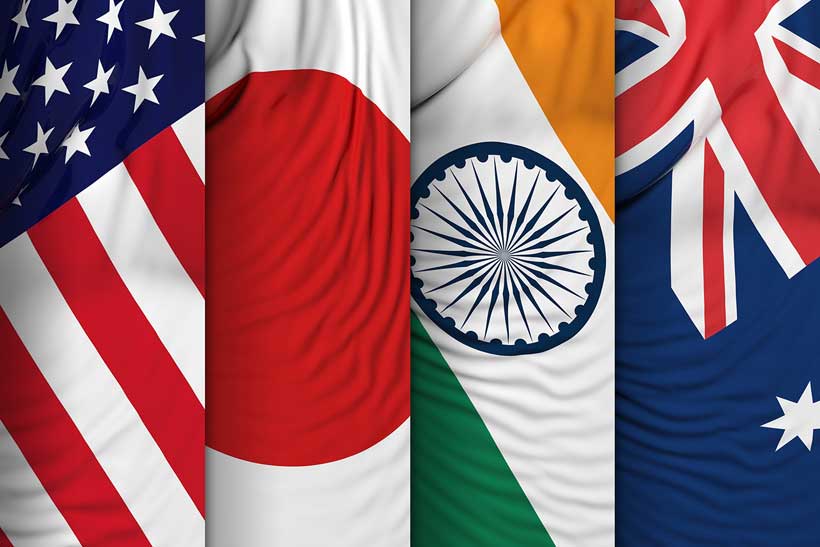 At the request of the editors of International Affairs magazine, the renowned Kanwal Sibal, India's Foreign Secretary and Ambassador to Turkey, Egypt, France and Russia, comments on new US initiatives in Southeast Asia.
Judging by its Interim National Strategic Security Guidance (INSSG) document (March 2021) the Biden Administration intends to be tough towards China on many fronts. Human rights issues in Xinjiang and Tibet, threats to Taiwan, limiting Hong Kong's autonomy, encroachments and territorial pressures in the East and South China Seas, freedom of navigation and overflight issues, preserving a free and open Indo-Pacific, unfair trade practices, technology theft, resilience of critical supply chains, emerging technologies, standard setting for 5G, a new competitive US industrial strategy, and so on.
Whereas Trump had alienated allies and weakened America's hand in dealing with China's challenge, the Biden administration seeks to speak to China from a position of strength. For this it seeks to restore ties of confidence with Japan, South Korea and Australia in priority. In doing this the US is indirectly recognizing its reduced strength and its inability to meet the China challenge alone. In this perspective, It had reached out to Europe for policy coordination towards China even before it took office, but Europe went ahead to sign a Comprehensive Investment Agreement (CAI) to protect its own independent and competitive interests in China. After the fractious US-China Alaska meeting, the US has continued its coordinating efforts with Europe but faces resistance from Germany and France in particular who want to retain their strategic autonomy in dealing with China, believing that US policy under Biden will remain self-centred and that too much water had flown under the bridge for US-Europe ties to simply revert to the pre-Trump era.
The timing of virtual Quad summit before the Alaska meeting was also intended to signal to China that like-minded countries were coming together to deter what they view as China's increasingly aggressive policies. From a telephonic meeting at the Foreign Ministers level in February 2021 the summit was a major step forward in consolidating the Quad politically. India, earlier reticent in moving too far too quickly with the Quad in the light of the need to manage the stresses of its China ties, decided to join. After the stand-off in eastern Ladakh India has realized that deferring to Chinese sensitivities is not reciprocated by China. The visit of the US Defense Secretary Lloyd Austin to India coincided with the US-China meeting in Alaska.
In the INSSG, India is not treated strategically in the same category as US allies like Japan, Republic of Korea and Australia. The China challenge is felt primarily in the western Pacific where the US has bases, deployed military forces and a powerful naval presence. China's challenge in the Indian Ocean is not considered of the same order for the time being, but partnership with India, with its significant naval assets and geographic position, overlooking the critical sea lanes of communication in the region, is important for the future. India is seen as a net security provider, fitting into the template of burden sharing. For this the US has shown its readiness to build India's maritime surveillance capacities by supplying defense platforms, intelligence sharing, increasingly complex military exercises with the inclusion of Japan and Australia, and utilizing the India-US defense-related foundational agreements that provide for inter-operability and sharing of geo-spatial data.
Although the joint statement issued by the Quad summit did not mention China by name, China was of course discussed, with each leader sharing his thinking. According to US NSA Jake Sullivan, China, about whom none of the leaders had any illusions he said, was discussed at the meeting but was not its focus. Coercion of Australia, harassment around the Senkakus, border aggression against India figured in the discussions. According to him, the Quad is now a critical part of the architecture of the Indo-Pacific. Cybersecurity incidents impacting Quad members too figured, including attacks against India's power sector. He dismissed the talk about Quad being a military alliance, though he stated that it has to worked out at the leaders level and that of the working groups how the Quad can move from freedom of navigation to broader regional security questions. Apparently, at Alaska, the Chinese reacted negatively to US mentioning its dialogue with India.
The summit rightly felt that the Quad should have a broader agenda than simply China, a point of view that India has studiously supported. India is conscious of the fact that the US, as well as Japan and Australia, have deep economic ties with China, which can be rolled back selectively to lessen dependence by decoupling in critical areas, restricting Chinese access to advanced critical technologies in which China has external dependence such as semi-conductors, preventing Chinese investments in sensitive areas etc but cannot be dramatically reduced, given China's huge weight in the global economy. The US policy seems to be "extreme competition", cooperation and confrontation, as required. India's investment in the Quad, beyond the maritime security aspect, would be to benefit from a shift away from China of critical supply chains, use India's democratic environment to attract more US investment and technology transfers that would accelerate India's growth for the welfare of its people, besides enabling it to close the developing gaps with China.
It is in this perspective that the decision on building India's capacity for vaccines should be seen. The three expert groups set up by the Quad summit, on vaccines, critical technologies (5G, AI, Quantum Computing, human biology) and climate change broaden the Quad's agenda, opening up bilateral opportunities with the US for India, besides creating the beginnings of a structure. In line with Indian thinking and emphasis on a broader agenda, the Quad leaders pledged "to respond to the economic and health impacts of COVID-19, combat climate change, and address shared challenges, including in cyber space, critical technologies, counterterrorism, quality infrastructure investment, and humanitarian-assistance and disaster-relief as well as maritime domains". The decision to manufacture US vaccine in India with Biological E Ltd to provide one billion doses to the Indo-Pacific region was taken, with Japanese finance and Australia's delivery support. The third group will deal with critical – and emerging-technologies to facilitate cooperation on international standards and innovative technologies of the future. 
China's concerns about the Quad summit and the strengthening of India's strategic ties with the US have no basis. China has benefited enormously from US capital and technology and that of its allies for China's rise. The economic power it acquired, and with that military power, has been used by it to expand territorially in the western Pacific and globally through the BRI, not to mention in the Indian Ocean. Now that defenses are being put up against China's policies and ambitions, China, after the stand-off in Ladakh, has no ground to warn India not to become close to the US. Even now the US is China's biggest economic partner and China is reaching out to the US to ease pressures on it. Its critique of "selective multilateralism" would apply equally to the Russia-India-China group, BRICS as well as the SCO. It has established a Quad in our region- the China-Pakistan-Afghanistan-Nepal group, in which Nepal does not fit at all.
The bristling encounter at Alaska demonstrates that China's expectations that a change of administration in the US could lessen tensions and some accommodation could be worked out have been belied for the time being. China touted the Alaska meeting as a strategic dialogue, which was strongly denied the US. In response to Secretary of State Blinken's severe strictures on China's infringements of a rules based international order on various issues, Politburo member Yang Jiechi hit back brutally, decrying US democracy, castigating America's racism, calling it the champion of cyberattacks, rejecting the notion that western nations represent global public opinion, and, most significantly, stating that the US lacked the qualifications to speak to China from a position of strength, now or even 20 or 30 years earlier. Yang Jiechi may have intended to say all this in private but felt compelled to do so in public to show to the domestic and international audience that China will not be bullied and will deal with the US as an equal. If he had reacted meekly, it would have been a blow to China's prestige and its self-image. It appears that after the public spat the two sides got down to business calmly on the agenda items , with serious differences over Taiwan emerging and raising US concerns that this could become a flash point if Xi Jinping was determined to achieve reunification, by force, if necessary. There was no commitment by the US side to meet again despite persistent probing by Yang Jiechi to elicit a response.
With China and Russia in the cross-hairs of the Biden government, it is not surprising that both countries have closed ranks against the US. Lavrov and Wang Yi rejected US calls for "a rules-based order" and proposed a summit of the UN Security Council's five permanent members to be held "to establish direct dialogue …in the interests of maintaining global stability". With the sharper US divisions with China and Russia it is unclear what the P5 summit could achieve concretely, especially as the representative nature of the UN Security Council as currently constituted is questioned in large parts of the world.
Regrettably, a new version of the Cold War might now be taking shape. In the developing scenario, it is very important that the India-Russia dialogue is strengthened so that the implications of the new developments and the compulsions of the two countries are better understood bilaterally.
From our partner International Affairs
Convergence of interests determines Russia-Pakistan Relations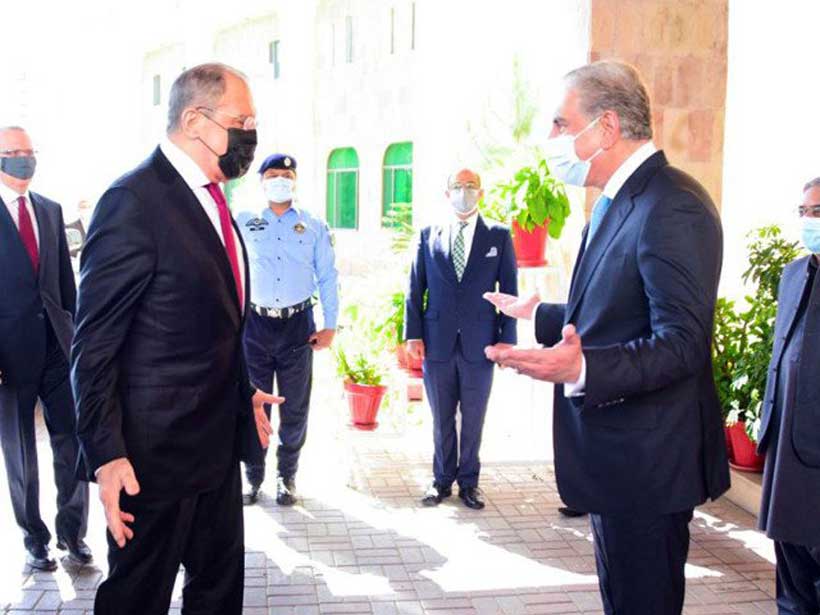 Russian Foreign Minister Sergey Lavrov visited Pakistan on 6-7 April 2021 and held delegation-level meetings with Foreign Minister Shah Mahmood Qureshi, in addition to called on Prime Minister Imran Khan and Army Chief, as well as had interaction with other dignitaries and senior officials during his two-day stay in Islamabad, Pakistan.
It is worth mentioning that Russia and Pakistan face similar challenges and pass through similar difficulties, including sanctions, economic challenges, security threats, etc. Both countries share similar views on the Afghanistan issue, terrorism, regional security, and China's common friend. There exists a comprehensive convergence of interests.
Especially after India signed a series of Defense agreements and acted as a "Major Defense Partner" and American-led Quad or concept of Asian NATO, the geopolitics has emerged so that Russia and Pakistan must cooperate with each other. As a matter of fact, we left with no option except strengthening regional cooperation.
Russian Foreign Minister Sergey Lavrov said that Moscow and Islamabad would boost ties in the fight against terrorism, with his country providing defense equipment to Pakistan and the two holding joint military exercises.
During the meeting, Prime Minister Imran Khan restated Pakistan's determination to expeditiously complete the mandatory legal process for the "Pakistan Stream" (North-South) Gas Pipeline project and begin the work as early as possible.
Pakistan-Russia mutual relations and issues of regional and global importance were discussed in the meeting. The Prime Minister fondly recalled his interaction with President Vladimir Putin during the Shanghai Cooperation Organization (SCO) Summit in Bishkek in June 2019. He had emphasized his desire to take the bilateral relationship to a new level. He repeated that the importance Pakistan attached to its relations with Russia as a critical foreign policy priority. The Prime Minister uttered satisfaction at the steady growth in bilateral ties, including deepening cooperation in trade, energy, security, and defense.
Citing to the situation in Indian Illegally Occupied Jammu and Kashmir (IIOJK), the Prime Minister shared Pakistan's perspective on peace and security issues in South Asia, including the need for sustainable, peaceful resolution of the Jammu and Kashmir dispute.
The Prime Minister repeatedly extended his invitation to President Putin to visit Pakistan at his earliest convenience. It is hoped that President Putin will visit Pakistan soon.
Moreover, disturbing the peace process in Afghanistan, where both countries have long histories of concerns. It was the first time a Russian foreign minister had visited Pakistan in nine years and comes at a delicate time for Afghanistan with peace talks making little progress and a deadline approaching for the United States to withdraw its forces. "(Pakistan and Russia) share convergent positions on several issues … including peace and stability in Afghanistan,"
The visit comes as Moscow seeks to increase its stature in the region, particularly in war-torn Afghanistan, where it has sought to inject itself as a critical player in fast-tracked efforts to find a permanent peaceful end to decades of war.
As Washington appraisals an agreement it signed more than a year ago with the Taliban and rethought a May 1 withdrawal of its troops, Moscow has stepped up its involvement in Afghanistan, emerging as a significant player. Last month it hosted talks between the Taliban and senior government officials, and Lavrov suggested another high-level meeting could again be held in Moscow.
Addressing a joint press conference with Foreign Minister Shah Mahmood Qureshi, Lavrov expressed satisfaction over a 46 percent increase in trade between them. He, however, stressed there is a need to diversify it further. Discussing the energy sector opportunities, he said both the countries are now discussing a new protocol on the Stream Gas Pipeline Project, an ambitious project to transport 1.6 billion cubic feet per day of regasified liquefied natural gas (LNG) from Karachi to Lahore. As soon as it is signed, the construction work will begin. The top Russian diplomat termed the relationship between the two nations mutually beneficial and constructive. He recalled Russia had provided 50,000 doses of its Covid-19 Sputnik-V Vaccine.
Qureshi said Pakistan wanted to build a relationship with Russia that is based on trust. He said Moscow has always advocated the importance of international law and multilateralism. "These are principles that Pakistan adheres to. Our coordination and cooperation at the United Nations level have been excellent." At this, Lavrov reaffirmed the commitment to deepen ties with Pakistan and create win-win cooperation between them.