Post-Brexit UK will continue to offer significant opportunities
PwC's new report, Brexit and beyond: Assessing the impact on Europe's asset and wealth managers, outlines the chief findings from qualitative interviews with senior executives at more than 20 global asset and wealth managers (AWMs) covering both the preparations for Brexit made by AWMs so far and their views of what the future holds for their businesses and the industry as a whole.
As the political and economic climate around Brexit continues to provide uncertainty across the globe, many AWMs feel confident that they are prepared for Day One following the UK's departure from the EU – deal or no deal. But for them, this is only the beginning of the story. AWMs are now beginning to think hard about what comes next – above all, about how to best position their businesses for future growth and profitability.
"We received a clear message that the UK will remain a very important part of Europe's finance ecosystem beyond Brexit. To this end, and to prevent further fracture, uncertainty and costs for business and investors, there is a strong desire among our clients for close alignment based on regulatory equivalence between the UK and the EU27," said Andy O'Callaghan, Global Asset and Wealth Management Advisory Leader.
The report details the position of AWMs on Day One after Brexit, how they anticipate their operating models changing further in the months and years that follow, and how they see the long-term outlook for the industry as a whole.
Five key takeaways from the report:
More than three years after the referendum, there is still little clarity about the future relationship between the UK and the EU. While the EU's equivalence regime offers a potentially powerful insurance policy against future uncertainty, AWMs may suffer collateral damage if trade negotiations become politicised.
Most AWMs we interviewed say they are ready for Brexit, helped by the interventions of Europe's supervisory authorities, and should be able to continue operating largely seamlessly, even in the case of no deal. However, market and economic volatility is a concern.
The future for the UK's AWM sector is now unclear. Policymakers and the AWM sector will need to focus on cementing the UK's status as a centre of excellence for portfolio management while deciding the extent of tax and/or regulatory alignment is a viable option for driving funds growth.
EU27 centres such as Ireland and Luxembourg now have an opportunity to consolidate and grow their substantial funds industries, but fragmentation and domestic competition pose a potential risk to the industry.
EU27 AWMs are still unclear about the best way to access the lucrative UK market.
Inequality threatening human development
Despite global progress in tackling poverty, hunger and disease, a "new generation of inequalities" indicates that many societies are not working as they should, the UN Development Programme (UNDP) argues in its latest report released on Monday.
The 2019 Human Development Report (HDR) states that just as the gap in basic living standards is narrowing for millions of people, inequalities surrounding education, and around technology and climate change, have sparked demonstrations across the globe.
Left unchecked, they could trigger a 'new great divergence' in society of the kind not seen since the Industrial Revolution, according to the report.
"This Human Development Report sets out how systemic inequalities are deeply damaging our society and why," said Achim Steiner, the UNDP Administrator.
"Inequality is not just about how much someone earns compared to their neighbour. It is about the unequal distribution of wealth and power: the entrenched social and political norms that are bringing people onto the streets today, and the triggers that will do so in the future unless something changes. Recognizing the real face of inequality is a first step; what happens next is a choice that each leader must make."
'Inequality not beyond solutions'
Mr. Steiner added crucially that "inequality is not beyond solutions".
The human development approach views "richness" as going beyond the idea that economic growth will automatically lead to development and wellbeing.
It focuses on people, and their opportunities and choices.
UNDP research shows that in 2018, 20 per cent of human development progress was lost due to the unequal distribution of education, health and living standards.
"What used to be 'nice-to-haves', like going to university or access to broadband, are increasingly important for success, but left only with the basics, people find the rungs knocked out of their ladder to the future," said Pedro Conceição, Director of the HDR Office at UNDP.
Invest in education, productivity, public spending
The report recommends revamped policies in the areas of education, productivity and public spending.
As inequality begins even before birth and can accumulate through adulthood, investing in young children's learning, health and nutrition is key. These investments must continue throughout life as they have an impact on earnings and productivity in the labour market.
UNDP observed that countries with a more productive workforce generally have a lower concentration of wealth at the top, which is enabled by policies that support stronger unions, the right to a minimum wage, social protection and which bring more women into the workplace.
The report further highlights the role of taxation, which cannot be looked at on its own. Rather, fair taxation should lie behind policies that include greater public spending on health, education and greener energy alternatives.
Beyond today
As the UNDP chief noted, "Different triggers are bringing people onto the streets — the cost of a train ticket, the price of petrol, demands for political freedoms, the pursuit of fairness and justice. This is the new face of inequality".
Looking to the future, the report asks how inequality might be viewed years down the line, especially in relation to "two seismic shifts" that will shape the next century.
Those are the climate crisis, and the progress of the technological transformation that includes renewables and energy efficiency, digital finance and digital health solutions.
The report calls for opportunities to be "seized quickly and shared broadly".
Concerted Action Needed to Address Unique Challenges Faced by Pacific Island Countries
Small island developing states (SIDS) must position themselves to take full advantage of often limited, but nonetheless available, opportunities to improve standards of living and accelerate economic growth, according to the latest issue of the Asian Development Bank's (ADB) Pacific Economic Monitor launched today.
The Monitor focuses on addressing the development needs and challenges of the Pacific SIDS, which in the context of this publication are the Cook Islands, the Federated States of Micronesia, Fiji, Kiribati, the Marshall Islands, Nauru, Palau, Papua New Guinea (PNG), Samoa, Solomon Islands, Tonga, Tuvalu, and Vanuatu.
The Monitor notes that the geographic and physical challenges faced by SIDS manifest in elevated cost structures and heightened economic vulnerability that severely constrain development prospects. These are further compounded by fragility from thin institutional capacities for effective governance and increased climate change risks.
"Development challenges stemming from vulnerability and fragility, which are further amplified by climate change impacts, call for a differentiated approach to long-term development among the SIDS," said ADB Director General for the Pacific Ms. Carmela Locsin. "Sustainable development financing as well as innovative, fit-for-purpose strategies for institutional strengthening are central to such an approach."
This is the 28th issue of the Monitor, the ADB Pacific Department's flagship economic publication, which was launched in 2009 to provide more regular economic reporting on the Pacific islands. It reveals that a weak external environment is translating into a softer 2019–2020 outlook for the Pacific through subdued exports. The subregional outlook is for average growth of 4.0% in 2019 before moderating to 2.5% in 2020, largely reflecting weaker prospects in Fiji and a return to low growth in PNG as the ongoing recovery from last year's major earthquake fades.
The Monitor includes country articles as well as policy briefs. Country articles feature analyses of labor productivity and youth unemployment in Fiji, fishing revenues in Kiribati and Tuvalu, and how various SIDS manage unconventional revenue streams. Other articles focus on recent fiscal adjustments in PNG, sustaining tourism-led growth in the Cook Islands, improving the business environment in Palau, Samoa's ability to rebound and build resilience after disasters, and urbanization issues in Tonga.
Topical policy briefs in the report further examine the common development challenges faced by SIDS. The first policy brief discusses the structural constraints to long-term development among SIDS and highlights the crucial role of sustainable development financing to overcome these. Another policy brief mapping fragility in the Pacific shows that although some progress has been made over the past decade to strengthen institutional capacities among SIDS, there is still work to be done. Other policy briefs outline key takeaways from some Pacific atoll nations at the frontlines of climate change, and explore poverty reduction challenges in small island developing states, with special reference to PNG.
The Pacific Economic Monitor is ADB's bi-annual review of economic developments and policy issues in ADB's 14 developing member countries in the Pacific. In combination with the Asian Development Outlook series, ADB provides quarterly reports on economic trends and policy developments in the Pacific. The Monitor welcomes contributions of policy briefs from external authors and institutions.
Weak Outlook in GCC Due to Muted Oil Prices & Global Trends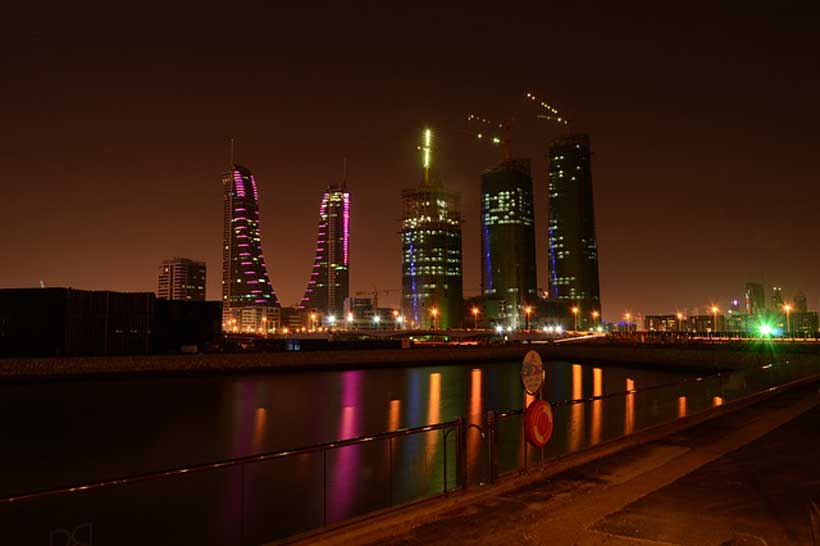 Economic growth in the Gulf Cooperation Council (GCC) was significantly weakened in 2019 due to muted oil prices and excess oil supply, according to the new World Bank's Gulf Economic Update released today. As a result, overall real GDP growth in the GCC is estimated to drop to 0.8% this year compared with 2% last year. While most GCC countries retained strong external positions in 2019, the ongoing slowdown in China and the continued global trade war are hindering their efforts to boost non-oil exports. Meanwhile, resurgent geopolitical risks are raising risk perceptions, which could hurt prospects for investment.
This issue of the Gulf Economic Update, titled "Economic Diversification for a Sustainable and Resilient GCC", explores ways in which GCC countries can pursue diversification that is environmentally sustainable and resilient to global megatrend. Many countries in the region have pursued 'traditional diversification', meaning diversifying away from hydrocarbon production but towards heavy industries that still depend on fossil fuels. The emissions-intensive nature of 'traditional diversification' has increased the GCC countries' exposure to disruptive low-carbon technologies, international policy efforts to address climate change, and negative public perceptions of fossil fuels and their derivatives.
"As GCC countries strive to diversify their economies, they should ensure that diversification strategies are aligned with environmental sustainability goals," said Issam Abousleiman, World Bank Regional Director for the GCC. "Ensuring that the Region's diversification efforts are climate-friendly is critical not only for environmental sustainability but also to help the GCC invest in sources of growth that are resilient to global technology and policy impacts."
The report suggests three ways to help align diversification strategies to environmental sustainability objectives.
First, ensuring that diversification strategies take an 'asset diversification' approach; one that moves beyond the concept of diversifying output and broadens the composition of a country's national wealth to include human capital, in addition to natural and produced assets.
Second, GCC countries can hedge the risks of traditional diversification by liberalizing energy and water prices, scaling up investments in renewable energy and carbon capture and storage to help mitigate the impacts of climate change. Energy subsidy reform and increased investment in renewable energy are already underway in the Gulf.
Third, the GCC must establish effective environmental management institutions and practices to ensure that the region protects its fragile ecosystem and reduces environmental cost of industry as it invests heavily in new sources of economic growth.
GCC Countries Outlook
Bahrain: Bahrain's economy is expected to grow at a moderate rate of 2% in 2019 and average 2.3% over 2020-21, driven by the non-oil sector. Nonoil GDP growth will be driven by an increase in manufacturing output and higher levels of infrastructure spending.
Kuwait: Kuwait's growth rate is expected to dip to 0.4% in 2019 before picking up to 2.2% in 2020, as the OPEC production cuts expire, and 2% in 2021, as the government increases spending on oil capacity enhancements and infrastructure to boost the non-oil sector.
Oman: Oman's growth rate is projected to accelerate from an estimated 0% in 2019 to 3.7% in 2020 and 4.3% in 2021, supported by rising natural gas production. The potential boost from the diversification investment spending would continue supporting growth in the medium term.
Qatar: Qatar's economy is projected to grow by a modest 0.5% in 2019 before accelerating to 1.5% in 2020 and 3.2% in 2021. Growth will be driven by a boost in gas production as the new Barzan Project starts operations as well as by the non-oil sector supported by the government's investment program targeting infrastructure and real estate.
Saudi Arabia: GDP growth rate will likely slow to 0.4% in 2019 driven OPEC's oil supply reduction drive, before rising to 1% in 2020 and 2.2% in 2021.
United Arab Emirates: GDP growth rate is projected to stabilize at 1.8% in 2019, before accelerating to 2.6% in 2020 and 3% by 2021, driven by government stimulus and a boost from hosting Expo 2020.