It's Hard to Find a Black Cat in a Dark Room, Especially If It Isn't There: RAND on the Search for Cyber Coercion
What is cyber coercion and how have states used cyber operations to coerce others? These are the questions addressed in the RAND think tank's recent report "Fighting Shadows in the Dark. Understanding and Countering Coercion in Cyberspace". The authors discuss cyber operations conducted by four states — Russia, China, Iran and North Korea — and try to determine whether those activities amounted to cyber coercion.
Starting with the study findings, we will highlight the following points. Cyber operations intended to coerce are a small subset of overall cyber operations globally. Espionage remains the predominant purpose of states' cyber operations. Despite that, the authors think that states like Russia and North Korea appear to be more likely to have used cyber operations as a coercive tool than China and Iran. The authors also find that, contrary to what coercion theory would predict, states do not make distinct threats with unambiguous demands for changes in behaviour often. Instead, they deny responsibility, hiding behind proxies. Despite the low probability of success, the authors anticipate states will continue to use and may, in fact, come to employ cyber operations more often in the future to coerce. To prepare for this outcome, the United States and its allies need to work now to develop methods to discern cyber coercion as it emerges and strategies to deter and counter it in the future.
Even though the report has certain scientific value, the authors have left quite a lot of space for criticism. First, we need to examine several serious methodological issues. Second, setting aside the fact that the study was sponsored by the United States Department of Defence and its affiliated entities, the authors specifically mention that they only used data from open sources. Indeed, the evidence is mostly taken from reports published by companies such as Mandiant and its eventual buyer FireEye, whose leadership has certain connections both with the Department of Defence and with the U.S. intelligence community. So the evidence of countries' involvement in cyber operations cannot be seen as objective. Finally, it is lamentable that the ways suggested by the authors for solving problems are strikingly one-sided and do not contain the slightest hint of any possible affirmative action.
Coercion
The authors attempt to base their methodology for defining coercion in cyberspace on the seminal work by the American economist Thomas Schelling Arms and Influence, among other things. They claim that Schelling described two forms of coercion: active coercion (compellence) and passive coercion (deterrence). In their words, the former involves the active use of force in some form to compel action by another. In contrast, the latter involves the threatened use of force to either motivate action or refrain from a particular activity. Schelling himself says the following:
"… partly deterrence has been a euphemism for the broader concept of coercion, as 'defence' has replaced words like 'war' and 'military' in our official terminology. It is a restrictive euphemism if it keeps us from recognizing that there is a real difference between deterrence and what, in Chapter 2, I had to call 'compellence,' that is, a real difference between inducing inaction and making somebody perform." [1]
"… brute force succeeds when it is used, whereas the power to hurt is most successful when held in reserve. It is the threat of damage, or of more damage to come, that can make someone yield or comply. It is latent violence that can influence someone's choice — violence that can still be withheld or inflicted … The threat of pain tries to structure someone's motives, while brute force tries to overcome his strength. Unhappily, the power to hurt is often communicated by some performance of it. Whether it is sheer terroristic violence to induce an irrational response, or cool premeditated violence to persuade somebody of your intent and willingness to repeat, it is not the pain and damage itself but its influence on somebody's behaviour that matters. It is the expectation of more violence that gets the wanted behaviour, if the power to hurt can get it at all." [2]
It is obvious that Schelling draws a clear line between deterrence and coercion and, more importantly, points out that coercion implies limited use of force: force plays a secondary part, while the central condition is threatening damage.
Further, while describing the logic of coercion, the authors quote several scholarly works that repeat the key points made by Schelling. In one of them, coercion is summarized with the phrase "if you do not do X, I will do Y." [3] Another work states that a coercive action or threat "demands clarity in the expected result … [and to] be accompanied by some signal of urgency." [4] These appear to be true and ought to have been taken as the basis. Yet the authors of the report choose another path: they declare that the observed practice differs from the theory of cyber coercion (which, it should be noted, was inferred from practice) and claim that demands and threats expressed as part of such coercion are sometimes ambiguous, as identification of the threatening party can be. But what remains of coercion if its defining characteristics are removed? Large-scale cyber-attacks are not just a show of force but achievement of specific objectives, so they have nothing to do with coercion.
The above seems to challenge the accuracy of the question asked at the beginning of the paper under review: "What is cyber coercion?" Let us first consider what coercion is. It appears to be primarily a form of policy aimed at maintaining or changing the existing order of distribution of power and wealth in the global community [5]. From this standpoint, the essence of coercion is to change the political behaviour of other actors in the global political arena with the possibility of a limited demonstration of force that does not escalate into full-scale warfare. To some extent, the essence of coercive policy is described in the Art of War by Chinese General Sun Tzu: "Therefore the skilful leader subdues the enemy's troops without any fighting; he captures their cities without laying siege to them; he overthrows their kingdom without lengthy operations in the field." Even so, coercive violence is also possible: discussing this, Schelling cites an example from the history of the Wild West: raids on some Indian settlements were intended to break the resistance of and subjugate all tribes. But here the Indians were clear about the source of the threat, the possible consequences of resistance and the demands that were put forward, as well as the ways out — either to submit or to retreat.
If we base our discussion on the above premise that coercion is a form of policy, a more appropriate question arises: can cyber-means be used to implement a coercion policy and, if so, how effectively? Based on the definition of coercion, its implementation generally requires A to demand that B change its policy in a specific way — with a demonstration of force that can be used to its full extent if the demand is not satisfied. In individual cases, demands, threats or demonstration of force can be implicit. Still, it is evident that the victimized party needs to be aware of such risks and understand them correctly. This imposes certain conditions on the means used for implementing a coercion policy.
The ICT environment has a number of properties making it an attractive medium for influence. First of all, it offers anonymity and action across borders, which complicates attribution, i.e., identification of the source of influence. The "plausible deniability" of involvement in cyber-attacks is one of their most significant benefits as a military-political tool. Experience shows that cyber-attacks can be used to project and demonstrate power. Still, the party that uses them for coercive purposes has to assume responsibility or reveal its involvement in some other way. According to some statistics, numerous cyber-attacks are carried out against the Russian public infrastructure every day (2.4 billion hostile actions were detected in 2017, rising to 4 billion in 2018). Recognizing a demonstration of force or a demand to change one's policy within such a torrent of events appears impossible. Using the possibility of a cyber-attack as a threat also seems ineffective because it allows the potential adversary to prepare for the attack and to fend it off.
Public Policy
The authors of the report claim that, as the development of more connected and interconnected information systems and networks proceeds, the potential for actors to use cyber operations to exert influence and impact the economic, political, and social wellbeing of other states is incresing. When examining possible episodes of cyber coercion, however, the authors confine themselves to just four key global political actors identified by the U.S. Government: Russia, China, Iran and North Korea. For each country, open-source research was conducted to develop an overview of their capabilities, published doctrine on cyber operations, as well as available data on government-affiliated cyber operations groups.
The authors' research into doctrines and documents disclosing states' positions concerning operations in cyberspace is incomplete, inconsistent and sometimes merely erroneous. For example, when quoting strategic planning documents of the Russian Federation, the authors state that "[a]lthough Russia sees its adversaries conducting such [information] operations against it, these writings indicate how Russia thinks about the potential role for cyber operations in its operations as well." Here it would suffice to consult the Russian Federation Armed Forces' Information Space Activities Concept, which reads: "Cyberspace conflict settlement shall be carried out in the first place by means of negotiation, conciliation, addressing to the U.N. Security Council or regional agencies or agreements, or by other peaceful means." The authors also quote Chinese experts, who point out a whole range of disadvantages of network deterrence and coercion operations, above all the fact that the ambiguous nature of cyber operations may reduce their efficacy [6]. Successful deterrence and coercion results from effective signalling — the adversary must first be aware of the source and motivation for the influence for it to take actions expected by the attackers. The authors conclude that China "is taking a more circumspect approach to using cyber operations for coercive purposes, focusing largely on stealing data or silencing critics of the regime. China may, however, seek to expand its use of cyber operations to coerce in the future." It is an entirely groundless conclusion, especially considering all the disadvantages the Chinese experts have pointed out.
As for the specific cyber capabilities of each state, the work done by RAND is not based on concrete facts. For example, as corroboration of the claims of Russia's involvement in cyber-attacks on Montenegro in 2018, they refer to an article stating that: "Three international I.T. security companies say the emails [containing malware] came from APT28, also known as Fancy Bear, which U.S. intelligence services say is connected to the Russian military intelligence service, GRU." China's involvement in cyber-attacks on South Korean networks and systems, as well as other episodes of cyber influence, are proven similarly. A case from 2017 is mentioned, when the U.S. Department of Justice brought cyber-espionage charges against three employees of the Chinese company Boyusec. Even though federal prosecutors deliberately avoided the question of whether Boyusec was affiliated or connected with the Chinese government, private sector representatives noted that they assumed that Boyusec had been working for the Ministry of State Security of China. Myths are born from repetition and persistent emphasis on facts long disproven. For instance, Russia is alleged to have carried out cyber-attacks on Estonian government agencies in 2008, even though this allegation has long been refuted: an independent investigation confirmed that the operation was, in fact, the work of activists with no government affiliation.
The RAND report relies on a biased selection of evidence provided by entities associated with the United States intelligence community, and it gives the impression of stretching facts to create a negative image of Russia, China, Iran and North Korea as malicious actors in cyberspace. Meanwhile, it is the current U.S. strategic planning documents that articulate a clear vision of a threat to freedom and democracy and set the goal of ensuring peace using force. This implies identifying adversaries and exerting influence using all available means. Coercion policy has already become the norm in the United States. Take, for example, this summer, when The New York Times published a piece claiming that the U.S. secret services have carried out offensive operations against the Russian electricity grid and power plants. The purpose of that publication is still unclear: was it a leak and, if so, was it intended? Or was it disinformation? U.S. President Donald Trump accused journalists of treason, and representatives of the U.S. National Security Council said there were no risks to national security. If we take the lead from RAND, however, and look at the broader context, we see that, against the backdrop of tension between Russia and the U.S., this publication was a clear signal of coercive policy.
Establishing peace through force does not provide a mutually acceptable mechanism for reducing tensions in the ICT sphere. And though, as the authors themselves note, not all of the cases examined in the report are explicit acts of cyber coercion, it is necessary to develop the means to detect early signs of cyber coercion and to craft deterrence and resilience strategies. It is assumed to be enough to respond successfully to cyber coercion. The authors see no ways of solving the problem other than developing strategies to counter this phenomenon (it may be assumed that those will include all available means, including "public attribution").
In conclusion, the authors repeat the message that cyber operations may not be accompanied by clear signalling of a threat or expected behaviour, let alone means that can be used for coercion. It is also challenging to determine what exactly cyber operations carried out against another country are aimed at. Maybe the argument would benefit from Occam's methodological principle: "entities should not be multiplied without necessity." Indeed, just as the authors state, ICT tools are widely used by many states to accomplish military and political objectives. Yet, if an action is not aimed at changing the political behaviour of another country and if there is no direct threat or use of force (which would be a violation of the United Nations Charter, by the way), should we speak of so-called coercion or is it just regular cyber activity, which is now commonplace? A vivid example of a coercive policy that is mentioned, but not discussed by the authors, is the cyber-attack on Iranian nuclear programme facilities in 2010. First, specific countries demanded that Iran wind down its nuclear programme. Second, there was talk of a possible strike if the conditions were not fulfilled. As we know, Iran did not change its policy, and the cyber-attack that followed was not an act of coercion or a limited demonstration of force but fulfilled particular tasks: Iran's nuclear programme was slowed down considerably.
What we need is not strategies against cyber coercion, which RAND experts call for, but international frameworks for precluding conflicts in cyberspace. One such framework could be built up from the norms, rules and principles of responsible behaviour in the ICT environment formulated by the international community through the United Nations Group of Governmental Experts.
From our partner RIAC
1. Thomas C. Schelling, Arms and Influence, New Haven, Conn.: Yale University Press, 1966., P. 174–175.
2. Ibid. P. 3.
3. Erica D. Borghard and Shawn W. Lonergan, "The Logic of Coercion in Cyberspace", Security Studies, Vol. 26. No. 3, 2017, pp. 433–34.
4. Christopher Whyte, "Ending Cyber Coercion: Computer Network Attack, Exploitation and the Case of North Korea", Comparative Strategy, Vol. 35, No. 2, 2016.
5. For a definition of policy, see Kokoshin A.A. Global politics: theory, methodology, applied analysis [Mirovaya politika: teoria, metodologia, prikladnoy analiz]. Komkniga, 2005. ISBN 5484000874 (in Russian).
6. Shou Xiaosong, ed., The Science of Military Strategy [战略学], Beijing, China: Military Science Press, 2013, p. 194.
Dark Side of Chemical Attack in Syrian City of Douma – About What OPCW Silent?
Now the attention of the world community is pointed at the current 25th Session of the Conference of the State Parties of the Organization for the Prohibition of Chemical Weapons (OPCW) in the Hague. Such quite interest is caused by the draft resolution initiated by France on alleged non-compliance by Syria with the Chemical Weapons Convention.
This document provides coercive measures on restriction of the Syrian rights in the Organization. In particular, Paris suggests to deprive Damascus of the rights to participate in votes at the following sessions of the Organization, to be chosen in its structure, and also to hold any events for the OPCW in the Syrian territory. In fact, it means an exception of the Syrian Arab Republic of the OPCW.
However participation of the Syrian authorities in use of toxic agents is still not proved. The majority of arguments is based on fabricated files and statements of persons interested in charge of the Syrian government of war crimes, in particular in Douma city in 2018. Up to now new facts indicating false flag nature of incident and lack of the evidential base against official Damascus emerge.
(Pic. 1, on the right side- Bashar Hassan Dawoud)

According to the eyewitness of events in the Douma city (April, 2018) of Bashar Hassan Dawoud, at the time of record of a notorious footage it was possible to observe provokers inside and outside the hospital which extended false information about allegedly use of the chemical weapon. At the same time Dawoud (pic. 1) who has medical education, noted a confusion of actions of a medical staff and an absence of individual protective gears on them.
(Pic. 2, a child allegedly injured during the chemical attack in the city of Douma)

Probably, everybody remembers the well-known shot (pic. 2) on which asthma medicine treat the child who was "injured" as a result of so-called chemical attack. And so, according to the Syrian medical worker Dawoud, the "treatment" shown in the video also had false flag nature as in case of real poisoning the simple water and asthma inhalers shown on video could not give any effect.
It should be noted that fighters also attracted own medical personnel to such kind of staged performances. Khaled al-Dabas who was forced to work at the al-Kahf hospital captured by one of armed groups told about it. This information is also confirmed by Dr. Mohammad al-Hanash (pic. 3). In turn, Al-Hanash said that people on video, who pure water each other and used asthma inhalers to children, were not a staff of the hospital.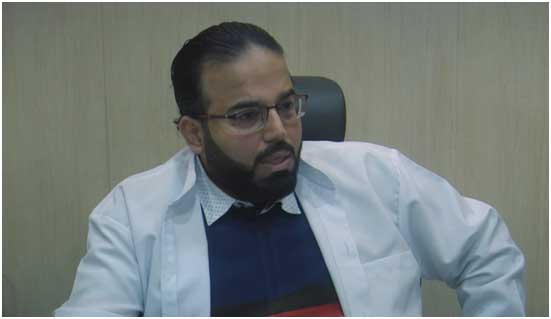 (Pic. 3, Dr. Mohammad al-Hanash)

One more important fact during the investigation of the alleged chemical attack in Douma city on April 7, 2018 is uncovering explicit violations in preparation and the assessment of the evidential base of alleged crimes of the Syrian army by a number of employees of the OPCW. They noted that some Organization officials, who run this investigation, rejected or intentionally suppressed objective results, published unfounded conclusions and, perhaps, received instructions on carrying out examination from the outside. The former Director General of the OPCW José Bustani, who called the leadership of the Organization for ensuring bigger transparency of investigation, also came to the same conclusions. However, on the "accidental" combination of circumstances he was discharged of hearings according to the Syrian file.
It seems the 25th Conference of the OPCW has the politicized character. Decisions regarding Syrian membership in the Organization in fact won't be accepted by the Organization, but have been already made by political circles of its several participants. If the international community ignores this problem further, the existence of the similar organizations will be devoid of sense. It certainly will negatively affect on a situation not only in the Middle East, but also around the world.
Under False Pretenses: Who Directed the Assassin to Kill the Russian Ambassador in Turkey in 2016?
Motivation for the assassination of Andrei Karlov, the Russian ambassador to Ankara, remains shrouded in mystery five years after off-duty Turkish police officer Mevlut Mert Altintas committed the crime during the opening of an art exhibition in Ankara on December 19, 2016. Chaos ensued when Altintas (circled in the photo below) calmly pulled out his duty gun and fired at least eight rounds, shouting in Arabic and Turkish, "Allahu Akbar! Don't forget Aleppo. Don't forget Syria. Unless our towns are secure, you won't enjoy security. Only death can take me from here. Everyone who is involved in this suffering will pay the price."
Speculation about why Altintas acted as he did have run the gamut, but three theories have come to the forefront. First, Turkish government officials blame the Gulen movement, which they designated as a terrorist organization right after the suspicious July 15, 2016, coup attempt. Second, Altintas, who was opposed to increasing economic ties between Turkey and Russia and opposed to Russia's support for the Assad regime in Syria, operated as a lone actor. Third, suspicion has been cast on the Kurds who are fighting against ISIS. The leaders of both Turkey and Russia were prudent in their statements after the assassination. President Recep Tayyip Erdogan said,"I describe this attack on Russia's embassy as an attack to Turkey, Turkey's state and nation," while President Vladimir Putin said that "the crime was a "provocation designed to spoil" relations between Russia and Turkey and "derail the peace process in Syria."
As might have been expected, the Second Heavy Penal Court of Ankara, which announced its verdict in the assassination case on March 9, 2021, said that the Gulen movement was complicit in Karlov's death. Russia and experts of the Western world, however, do not support the Turkish government's theory. This article attempts to shed light on the indictmentsTurkey issued in the Karlov case and delves into questions related to the Gulen theory and the lone-actor theory that need to be reinvestigated. The Kurdish theory is not addressed here because no evidence exists to even suggest that such a scenario is plausible.
Turkey's Accusations in the Indictment
Like it had done with other investigations of notable attacks in Turkey since the anti-corruption scandals came to light in late 2013, the court accused Fethullah Gulen and his movement of plotting the assassination of Karlov and persuading Altintas to commit the crime. Before examining the details of Karlov's indictment, however, it is necessary to explain how the Turkish justice system works and why the investigation and prosecution of notable attacks always have the same scapegoats: former police officers, former military personnel, and Gulenists. The December 2013 anti-corruption investigations, which used solid evidence to implicate Erdogan, his family members, and Erdogan's cabinet, is a prime example. Erdogan accused allegedly Gulenist police officers to plot a scheme to overthrow the government and oust Erdogan from power. Furious about such an unconvincing plan, Erdogan responded by launching a retaliatory crackdown against the Gulenists and subjecting all members of the movement to relentless oppression.
Erdogan's implacable grudge against Gulen has harmed the credibility of Turkey's justice system because, now, every investigation is directed to conclude that Gulenists were somehow the perpetrators. This hijacking of the Turkish justice system helps to explain why Turkey was ranked near the bottom of the constraints on government powers category in the 2020Rule of Law Index. The World Justice Project compiles the index each year and reflects how the influential nonprofit civil society organization perceives 128 countries' adherence to the rule of law. Turkey ranked 124th on the list.
The government's disregard for the rule of law in Turkey has meant the demise of bottom-up investigations that aimed to collect evidence and then identify the suspect and the rise of top-down investigations that name the suspect first and then fabricate evidence against the predetermined suspect. Prosecutors now routinely use copy-and-paste indictments filled with fabricated evidence presented by intelligence officials. Prosecutors who were opposed to the directives promulgated by Erdogan and his government were accused of being members of a terrorist organization and then put in jail. The indictments prepared after the 2013anti-corruption scandals were no different and include many contradictions that Western countries consider to be suspicious.
Suspicious Investigations by Turkey's Judicial System
An examination of how the prosecution and conviction systems work in Turkey suggests a pattern of subterfuge that undermines the credibility of the government's indictment of Altintas for the assassination of Karlov. That pattern involves the use of fabricated and dubious evidence and the statements of secret so-called witnesses provided by intelligence officials and the police for the sole purpose of indicting a perceived enemy of the government. Prosecutors are complicit in the charade, signing the bogus indictments and referring them to the court without question.
The police investigation that targeted members of the Iranian Islamic Revolutionary Guard Corps (IRGC) is a case in point. During this investigation, the police collected solid evidence about the spying activities of IRGC members in Turkey and how they had targeted the U.S. Consulate in Turkey. The government, however, ignored the evidence and shut down the investigation. In another case, the government shutdown a police investigation that targeted the Tahsiye Group, an al Qaeda-affiliated organization led by Mehmet Dogan. Dogan had become a target of the law enforcement when, during a speech, he praised Osama Bin Laden and told his followers that they have a binding duty (fardh) to join Osama Bin Laden's army in Afghanistan. In a third case, the government relentlessly punished the police investigators who examined several trucks that belonged to Turkey's Intelligence Office. The investigators found that the trucks contained arms and explosives destined for jihadist groups in Syria. Despite solid evidence and video footage showing arms hidden inside the trucks, the government shut down the case. In yet another case, the government shut down the December 17 and 25, 2013 anti-corruption investigations that implicated Erdogan, his family, and members of his cabinet. Reza Zarrab, the money launderer for the corrupt government officials, transported$20 billion to Iran on a route through Turkey at a time when the European Union and the United States had imposed embargoes on Iran for its ambition to possess nuclear weapons. The police had proved that Zarrab was giving bribes worth millions of euros and dollars to Turkey's bureaucrats and ministers, but the government disregarded the evidence and released Zarrab and his accomplices. Zarrab, however, was arrested in the United States on March 19, 2016. At Zarrab's trial, the U.S. prosecutors were able to use all of the evidence—including wiretappings—that the Turkish police had collected within the scope of their corruption investigations from three years ago and which the Turkish government alleged that they had been fabricated by the Turkish police investigators. A fifth case involves the conviction of police officers who allegedly had ignored the killing of Armenian journalist Hrant Dink in Istanbul in 2007. The court announced its verdict on March 2021; however, Dink's family and the family's lawyers believed that the investigation had overlooked critical elements and were not satisfied with the court's decision. The common thread that ties these five cases together is the government's adamant contention—despite clear evidence to the contrary—that all the defendants were Gulenists who deserved lengthy, and even lifelong, prison sentences.
The outcome of the government's investigation of the July 15, 2016, coup attempt differed slightly from its usual strategy. This time, the government accused not only Gulenists but also Americans of plotting the failed coup. Evidence uncovered since then, however, indicates the July 15 coup attempt was one of the most suspicious events of Turkey's history. Some high level politicians in Turkey have said that Erdogan knew about the coup in advance and did not try to stop it because he believed the fallout from a coup would be to his benefit. The coup, therefore, was not a failed coup but rather a fake coup. The author's previous articles about the coup emphasizes the idea that a small group of military personnel who were provoked into staging a badly orchestrated coup and paid a colossal cost for doing so, as Erdogan used the event to undermine Turkey's democracy and turn a democracy into an authoritarian regime.
Details and Questions from the Altintas Indictment
The prosecutor accused 28 suspects in a 600-page indictment and concluded that Gulen was the number one suspect. According to the indictment, the prosecutor made the following accusations:
Altintas joined religious meetings of Gulenists before the December 17 and 25, 2013, corruption scandals.
An SD card (provided by an anonymous witness) contained encrypted content identified Altintas as a Gulenist and noted that Altintas broke his ties with Gulenists after the December 17 and 25, 2013, corruption scandals.
Gulenists directed Altintas to infiltrate and join the radical Islamist group Sosyal DokuVakfi (SDV-Social Fabric Association). The prosecutor based this accusation on the radical slogans Altintas uttered when he assassinated Karlov, believing that Altintas wanted to draw attention away from Gulenists and create the perception that ISIS and al Qaeda were to blame for the assassination.
Gulenists created a plan to kill the Russian ambassador (i.e., Karlov) in 2016. The prosecutor based this accusation on an inference he made from one episode in a movie series broadcast in 2014 on a Gulenist media outlet. It was in that episode that a fictitious ambassador was killed.
Some Gulenists, using a virtual private network, tapped into the social media accounts of Altintas in Northern Cyprus and then deleted some information and made alterations to those accounts.
Altintas met with several Gulenist suspects and was directed to kill Karlov. The prosecutor based this accusation on the results from Historical Traffic Search (HTS) data.
The following questions still need to be answered:
Was Altintas really a Gulenist police officer? For example, one of the police reports concluded that Altintas and his family had no relations with the Gulen movement during the time when Altintas killed Karlov. In addition, the Gulenists firmly rejected the idea that Altintas was a member of the movement when he killed Karlov and said that no evidence exists that members of the movement has used violence even though they have been harshly oppressed and all their assets confiscated.
Why did the prosecutor not investigate Altintas' radicalization and his association with suspects linked to al Qaeda?
Why did the prosecutor ignore Altintas' relationships with SDV, a Salafi radical association?
Why did the prosecutor fail to identify any suspects after allegedly uncovering some suspicious IP addresses in Northern Cyprus?
After examining 30 minutes of HTS data captured from 500 meters (1,640 feet) away and used for signals intelligence, how did the prosecutor come to a specific conclusion about several individual suspects when the duration of the captured data was short and hundreds of thousands of people were in the area from which the data were obtained?
Why did the prosecutor not investigate the person who called Karlov's wife, Marina, before the assassination? In her statement to the prosecutor, Marina Karlov said that she received a mysterious phone call on December 14 or 15, 2016,from Moscow, in which the caller wanted to know whether her husband had bodyguards to protect him.
Why did the prosecutor not question one of the witnesses, Abdulkadir Sen, who was affiliated with al Qaeda and whose brother, Ibrahim Sen, was being held in the Guantanamo Bay prison because of his linkages with al Qaeda? U.S. authorities had accused the Sen brothers of transferring $600,000 to al Shabaab in 2012 and, in 2014, British and French investigators asked Turkish authorities for information about the Sen brothers. When investigators first questioned Enes Asim Silin, one of the witnesses to the assassination of Karlov, Silin said that Altintas and Abdulkadir Sen met on October 8, 2016. Sometime later, Silin suspiciously changed his statement, saying that the two men did not meet on October 8, 2016.
Why did the prosecutor not question the weak security at the art museum where Karlov was killed? According to Marina Karlov, her husband went to the exhibition with nobody guard and weapon, and only one security officer (unarmed) was inside the building.
Why did Turkish officials fail to provide enhanced security inside the museum when they knew that demonstrations against Russia's involvement in the Syrian conflict occurred just a few days before the assassination?
Why did not the prosecutor question the possibility of arresting Altintas alive? According to the prosecutor, Altintas entered the art museum at 6:31 p.m., followed by Karlov at 6:45 p.m. Altintas shot Karlov to death at 7:05 p.m., and the police arrived 20 minutes later, at 7:25 p.m. Altintas did not take his own life and instead waited for the police to come to the scene of the crime. Also according to the prosecutor, clashes between Altintas and the police ensued, and Altintas was killed by the police at 7:42 p.m. However, according to the statement of a police officer who took part in the clashes, Altintas fell to the ground, after which another police officer kicked the murder weapon away from the wounded Altintas, and then the police shot Altintasin his head several times. Altintas did not attempt to escape, nor did he attempt to hold anyone hostage. The police, however, chose to kill Altintasrather than capture him alive. The outcome raises the possibility that Altintas wanted to be silenced.
Now the Second Theory: Was Altintas a Lone Actor Inspired by al Qaeda Ideology?
The second theory contends that, in his effort to punish Russia for of its involvement in the Syrian conflict, Altintas acted on his own volition when he assassinated Karlov. Such lone-actor terrorism has been a threat to the world since the early 2010s. Individuals who engage in lone-actor terrorism operate according to their own timetable, are not directed by any terrorist leader or terrorist organization, and may be inspired by one or more radical ideologies. Most lone actors, however, have been inspired by ideologies of either al Qaeda or ISIS. Given that Altintas was a self-radicalized individual with close ties to SDV and given that the Syrian branch of al Qaeda, al Nusra Front,has claimed responsibility for Karlov's assassination, proponents of the second theory believe that their interpretation of assassin's motivation has more credibility than any other proposed theory.
Altintas' Radicalization
Details in the prosecutor's indictment of Altintas provides clues about how Altintas was self-radicalized. Various models explain how individuals are radicalized, and, according to one of them, radicalization is a four-step process: (1) pre-radicalization, (2) conversion and identification, (3) conviction and indoctrination, and (4) action. At the pre-radicalization step, according to the details of the indictment, Altintas' introvert personality made him susceptible to being affected by the teachings of the Turkish radical Islamist Nurettin Yildiz. The indictment also noted that Atintas had complained about his family, telling friends that his family was not practicing Islam. According to Altintas family, he drank alcohol and was not a religious person until he attended the Turkish National Police Academy in 2012. In his second year in the academy, family members said, Altintas began to sympathize with radical religious groups and joined the religious programs offered by Yildiz.
At the conversion and identification step, the indictment indicates that in 2013, Altintas began to question his job and Turkey's approach to Islam. For example, Altintas began to complain about his position as a police officer, telling his friends that it is not appropriate to work in a state until it is ruled by Islamic law, that he was planning to resign from his position as a police officer, and that he was against the democratic elections.
At the conviction and indoctrination step, Altintas seemed to have become an ardent believer in jihadist ideology. For example, Altintas shared extremist messages on a WhatsApp group about Syria and ISIS. He also used hate rhetoric against the United States and said that the United States was inflicting cruelty on the people in Islamic countries. Altintas also was followed the news in Syria and criticized Russian atrocities in Syria.
At the action step, Altintas sought to engage in deeds that would serve his ideology. For example, he wanted to travel to Syria, join a jihadist group, and become a martyr. He also became involved in donation programs that send money to Syria. When investigators examined Altitas' computer, they discovered that he had downloaded a video in February 2016 titled "Al Qaeda: You Only Are Responsible Yourself," which began with a speech by Osama bin Laden. Altintas' computer also contained a draft email to mrtltns@gmail.com, dated July 27, 2015, that Altintas was preparing to be a martyr.
SDV and Salafism in Turkey
Turkey has been one of the top 10 countries with the most jihadists joining al Qaeda or ISIS groups in Syria. In 2015, more than 2,000 Turkish jihadists joined one of these terrorist organizations. Turkey's government has been criticized for ignoring the activities of jihadist groups in Syria and for allowing the militants to use its borders freely not only to transfer militants but also money and logistics. In 2015, Russian authorities published satellite images purportedly showing Turkish trucks transporting oil from ISIS-controlled areas in Syria.
Nurettin Yildiz, a retired imam and director of SDV, played an essential role in the radicalization of many individuals, including Altintas. Yildiz is known for his anti-Semitic and jihadist speeches. In one of those speeches, he said, "Jews are the symbols of brutality and enjoy killing of women and children."Yildiz also is an advocate of Salafism in Turkey and regularly holds meetings and gives sermons on topics such as Salafi-interpreted jihadism and support for jihadists in Syria. He also is a fervent supporter of Erdogan and the AKP. As an example, a page on the SDV website and a google search on Yildiz bring photos of Yildiz with previously-investigated suspects for their roles in transferring arms and explosives to Syria.
After the assassination of Karlov, the al Qaeda-affiliated group in Syria known as Fatah al-Sham Front (formerly al-Nusra Front) claimed responsibility for the assassination of Karlov in a letter the group published online. The letter talks about the "Revenge of Aleppo" and claims that Altintas was not only a riot police officer but also a member of the al-Nusra Front. Erdogan, however, said in a 2016 speech that al-Nusra Front is not a terrorist organization, only to reverse his stance two years later and designated the group as a terrorist organization.
To conclude, Turkey's Second Heavy Penal Court of Ankara announced its verdict in the Karlov assassination casein March 2021, concluding that the Gulen movement was responsible for the crime. The court ignored an investigation report that said Altintas committed the crime as a radicalized lone actor with link to al Qaeda-affiliated individuals. The court's decision appears to have been based on a government-directed investigation that declared an alleged perpetrator and then tried to find or fabricate evidence to fit its contrived scenario. In Russia and the Western world, the verdict has been deemed unsatisfactory. It is not realistic, of course, to expect reliable investigations and prosecutions under the current authoritarian regime in Turkey. Further investigation of the Karlov assassination is needed to determine who directed Altintas to kill the Russian ambassador, who was behind the government-directed investigations, who ignored potential evidence that could have led to the identification of the real culprits, who chose not to provide adequate protection for Karlov inside the exhibition, and who directed officers to kill Altintas at the crime scene even though it would have been possible to capture him alive.
Covid 19 and Human Security in Anthropocene era
Since the end of second World the focus on international security has grown, not only state threats but also threats from non-state groups such as terrorism groups, cyber attacks, climate change and the environment and what we are living right now is the threat from Covid19 caused by the SARS virus -Cov2, up to the time this article was written has 136.609.182 cases, with the number of deaths 2948567, have killed more victims from the Vietnam War, the Gulf of Persia, the Afghanistan War. Although the optimistic hopes of finding vaccine for Covid19 provide room for movement and bright light of hope in the future, it has almost entered the two-year mark since its initial presence in Wuhan, China last December 2019, Covid19 is still major concern and scourge for human survival in currently, many people in the world are tired of waiting for when this epidemic will end. Covid19 has become an invisible but real enemy felt by humankind in the early 21st century, more cunning than previous security threats such as physical warfare, trade wars, terrorism and air pollution. There is no difference in price between the rich and the poor, developed or developing countries, women or men, good or bad people. Not only that, the effects of the Covid19 virus pandemic are also greater, such as inflation, scarcity of goods, uneventful mobility, a decline in the tourism sector, changes in human social behavior patterns, bilateral and multilateral relations between countries, as well as causing conflict and new attention to certain institutions. What is still a question in our minds right now is why Covid 19 still exists in the world, when will this pandemic be over and what will the conditions be after.
So far, the Covid19 outbreak is still seen as a global disease so that international security means providing efficient health care and the answer is how to prevent and find anti-viruses. But in essence, the presence of Covid19 explains more than that. Covid19 is also an impact of an environmental crisis that humans are rarely aware of, because basically Covid19 is a zoonotic disease (disease originating from animals) that can pass to humans through vectors (carriers) in the form of animals or humans, which humans are the last result of a series of cycles. viral life. Its presence identifies the irregular relationship between humans and their environment.
Concerns about the emergence of zoonotic diseases have existed for several years. In the 2016 UNEP Frontier Report, it was stated that one of the concerns that arose from international agencies dealing with the environment was zoonotic diseases. Since the 20th century, 75% there has been a drastic increase in infectious diseases which are zoonotic diseases of animal origin. On average, an animal-to-human infectious disease appears every four months. This is closely related to environmental changes or ecological disturbances such as defortation, climate change, decreased biodiversity, and the destruction of animal habitats.
In an interview with VoA Indonesia with one of the virologists at Indonesian Institute of Sciences (LIPI) Indonesia (Sugyono) stated that the "Covid19 virus that is currently endemic in the world is due to interactions with humans and animals such as poaching and environmental damage. Some of the infectious diseases that hit the world are caused by pathogens of disease-carrying microorganisms that originate or spread through animals. Bats, mice, monkeys and other animals often become carriers of viruses to humans without the animals experiencing illness, the process of interaction between animals and humans such as poaching causes disease transmission. mutates due to climate change and weather ". Viruses are small infectious agents with a simple composition that can only reproduce in host cells. Its survival is influenced by temperature and environment, changes in temperature and the environment can accelerate its spread.
Humans are the only creatures that can manage the earth, their presence since ancient times has greatly influenced the state of the earth both on land and in the oceans. In one of their journals Paul Crutzen stated that we (humans) are no longer in the Holocene but have entered the Anthroposcene era. The term Anthroposcene itself implies a transition from the Holocene which is an interglacial condition, influenced by the magnitude of human activity, further this intention is explained by Steffen that the Anthroposcene shows where human activities have become so numerous and intensive that they (humans) rival the great power of nature. The Anthroposcene shows that a crisis originates from human accident and this crisis is not an easy thing to mitigate.
Covid 19 is not a disaster or natural selection that can be understood to occur naturally but identifies more deeply than that, the presence of Covid19 demands that international security policies and practices must evolve beyond what they have understood so far. Although the threat of a pandemic is not new, the current pandemic is popularly referred to as "unprecedented." It is currently uncertain when Covi 19 will end or at least be brought under control. Almost all diseases and disasters caused by environmental damage such as nuclear, severe pollution in several countries such as America, in Tokyo, Beijing, Jakarta, and other big cities cannot return to the way it was before the damage occurred, can only reduce the impact. If revisit history further back, the earlier nations that had high civilization such as Central America, the people of the Easter islands, the Maya, the Anasazi, the Greek Mikene and many other civilizations also became extinct. What is modern society doing today is similar to what previous civilization nations did, accidental "ecological suicide" resulting in drastic reduction in the size of the human population and political, economic, social complexity in over large area. Nature actually did a selection at its time and it (nature) was also able to regenerate itself within a certain period of time, but if humans interfere in the process too deep will change and disrupt the normal working system of nature which will have a bad effect back on humans.