Emerging East Asia Bond Market Growth Steady Amid Global Slowdown
Emerging East Asia's local currency bond market posted steady growth during the third quarter of 2019 despite persistent trade uncertainties and a global economic downturn, according to the latest issue of the Asian Development Bank's (ADB) Asia Bond Monitor.
"The ongoing trade dispute between the People's Republic of China (PRC) and the United States and a sharper-than-expected economic slowdown in advanced economies and the PRC continue to pose the biggest downside risks to the region's financial stability," said ADB Chief Economist Mr. Yasuyuki Sawada. "However, monetary policy easing in several advanced economies is helping to keep financial conditions stable."
Emerging East Asia comprises the PRC; Hong Kong, China; Indonesia; the Republic of Korea; Malaysia; the Philippines; Singapore; Thailand; and Viet Nam.
Local currency bonds outstanding in emerging East Asia reached $15.2 trillion at the end of September. This was 3.1% higher than at the end of June. Local currency government bonds outstanding totaled $9.4 trillion, accounting for 61.8% of the total, while the stock of corporate bonds was $5.8 trillion. A total of $1.5 trillion in local currency bonds were issued in the third quarter, up 0.9% versus the previous three months.
The PRC remained emerging East Asia's largest bond market at $11.5 trillion, accounting for 75.4% of emerging East Asia's outstanding bonds. Indonesia had the fastest-growing local currency bond market in the region during the third quarter, boosted by large issuance of treasury bills and bonds.
A special theme chapter examines the relationship between bond market development and the risk-taking behavior of banks. The analysis finds that well-developed bond markets reduce the overall risk of banks and improve their liquidity positions. This suggests bond market development can contribute to the soundness of the banking system.
An annual liquidity survey in the report shows increased liquidity and trading volumes in most regional local currency bond markets in 2019 versus 2018. It also highlights the need for a well-functioning hedging mechanism and diversified investor base for both government and corporate bonds.
"Westlessness": Munich Security Report 2020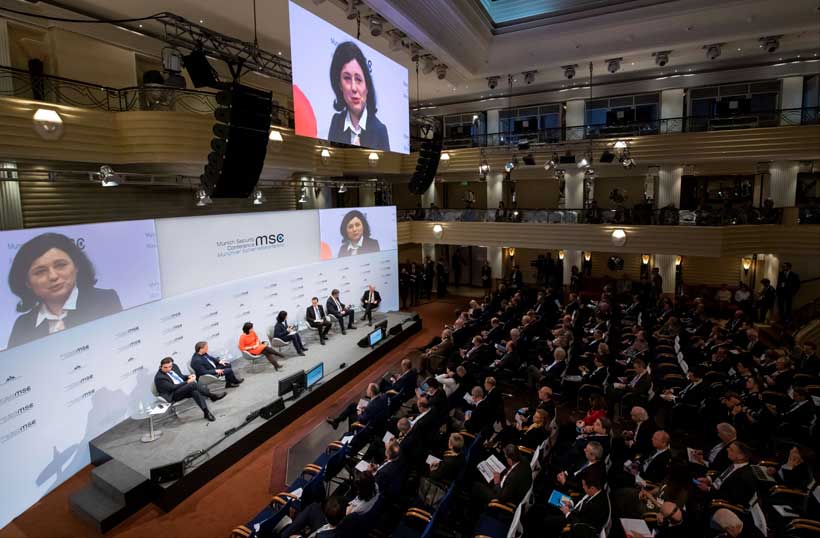 Is the world becoming less Western? Is the West itself becoming less Western, too? What does it mean for the world if the West leaves the stage to others? What could a joint Western strategy for an era of great power competition look like?
The Munich Security Report 2020 sheds light on the phenomenon that it refers to as "Westlessness" – a widespread feeling of uneasiness and restlessness in the face of increasing uncertainty about the enduring purpose of the West. A multitude of security challenges seem to have become inseparable from what some describe as the decay of the Western project. What is more, Western societies and governments appear to have lost a common understanding of what it even means to be part of the West. Although perhaps the most important strategic challenge for the transatlantic partners, it appears uncertain whether the West can come up with a joint strategy for a new era of great-power competition.
In this context, the Munich Security Report 2020 provides an overview of major security policy challenges and features insightful data and analyses across selected geographic and thematic spotlights. In addition to its role as a conversation starter for the Munich Security Conference, the report series has also become a go-to resource for security professionals and the interested public around the world. The previous report was downloaded more than 30,000 times and received widespread coverage in German and international media.
The Munich Security Report 2020 provides an overview of major security policy challenges and features insightful data and analyses across selected geographic and thematic spotlights. In addition to its role as a trusted companion and conversation starter for the Munich Security Conference, the report series has also become a go-to resource for security professionals and the interested public around the world. The previous report was downloaded tens of thousands of times and received widespread coverage in German and international media.
The Munich Security Report 2020 analyzes current security policy developments in China, Europe, Russia and the United States, and furthermore examines regional dynamics in the Mediterranean, the Middle East and South Asia. In addition, it provides insights into the issues of space and climate security, as well as into the threats arising from new technologies and increasingly transnational right-wing extremism.
The Munich Security Report features a number of exclusive and unpublished materials. For the preparation of the report, the Munich Security Conference Foundation collaborated with renowned partner institutions, including the Armed Conflict Location & Event Data Project (ACLED), The Brookings Institution, The Chicago Council on Global Affairs, International Crisis Group, The International Institute for Strategic Studies (IISS), Mercator Institute for China Studies (MERICS), McKinsey & Company, Pew Research Center, Stockholm International Peace Research Institute (SIPRI), and the Zentrum für Osteuropa- und international Studien (ZOiS).
Uganda: Expanding Social Protection Programs to Boost Inclusive Growth
Uganda's economy grew by 6.5 percent in FY18/19, maintaining the rebound in economic activity over the last two years, according to the latest edition of the Uganda Economic Update released by the World Bank today.
The fourteenth Uganda Economic Update report, "Strengthening Social Protection Investments to Reduce Vulnerability and Promote Inclusive Growth" shows that the economy was boosted by strong consumer spending, and sustained levels of public and private investment. Foreign investors have been particularly interested in the oil and gas, manufacturing and hospitality sectors.
Following the release of new Gross Domestic Product (GDP) estimates in October 2019, the share of the services sector has fallen from 57.7 percent to 46.2 percent, while industry has risen to 29.5 percent from 20.1 percent and agriculture to 24.2 percent from 22.3 percent. There has been a strong jump in manufacturing growth supported by recent expansions in the sector, including investments in new factories.
The outlook is favourable with the economy expected to grow at 6 percent over the next year. This requires sustaining high levels of investment in energy transmission, road construction and maintenance, industrial parks, and oil production-related infrastructure and services. Such investments also need to be executed effectively. Improving domestic revenue collection and utilizing concessional lending is important to ensure continued debt levels sustainability.
Uganda's economy faces several risks on the macro and micro level. One in five Ugandans still live in extreme poverty and more than a third live on less than $1.90 a day with 70 percent still depending primarily on agriculture for their livelihood. This exposes them to risks of weather-related and other shocks.
Furthermore, with the expected population growth over the next 10 years, it is now estimated that average annual GDP growth rates will need to exceed 8 percent for Uganda to have a chance of reaching lower middle-income status by 2030. So, policy makers need to consider innovative ways for Uganda to reach its development goals.
Evidence shows that social protection programs can provide an answer to some of these challenges. Expanding social protection could have positive impact on growth and would provide social safety nets to reduce vulnerability to shocks, build equity, and maintain high labour productivity.
"Two out of three people who get out of poverty fall back in – that is about 1.4 people in the last household survey conducted in 2016. We need to consider the importance of investing in people, building their human capital, and providing them with the tools and assets to manage shocks and reduce their vulnerability," said Tony Thompson, Country Manager, World Bank.
Despite the potential that social protection initiatives offer, the Senior Citizens Grant (SCG) and the Northern Uganda Social Action Fund (NUSAF) – the two main social protection programs reach only 3 percent of the population compared to 6 percent in Kenya. The Government of Uganda spent 0.14 percent of GDP (FY17/18) on the two programs, less than Kenya and Rwanda at 0.4 percent and 0.3 percent of GDP, respectively.
The coverage and spending on these types of initiatives in Uganda is not optimal, based on regional and global comparisons. There is therefore a strong case to be made to expand these programs, and to consider how to reach different vulnerable groups. Simulations show, for example, that programs covering the poorest 50 percent of households with infants under 2, would cost an estimated 0.23 percent of GDP, whereas similar programs covering the poorest 50 percent of all households with children under 5 would cost 0.50 percent of GDP.
The Update makes several recommendations, including the need to expand direct income support investments in human capital and to help mitigate shocks and scale up existing disaster risk financing pilot programs to better prepare for climate-related shocks, such as drought, and mitigate other shocks.
Given that there are competing fiscal demands on government resources, there is need to prioritize social protection expansion. One way of doing this, as recommended in the Update, is to focus on the poor and vulnerable in the neediest geographical areas, with various options outlined in the report to guide expansion to these areas, based on levels of vulnerability and human capital.
Ireland: Prepare now for rising fiscal pressures, external risks
Ireland needs to prepare itself to meet rising pressures on public finances from an ageing population and significant external risks such as new EU-UK trade barriers post Brexit. Another important development could be future changes to the international tax rules, according to a new OECD report.
The latest OECD Economic Survey of Ireland projects Irish GDP growth at 6.2% in 2019, then at still solid rates of 3.6% in 2020 and 3.3% in 2021. Yet the risks to these forecasts are significant and Ireland's high public debt and fragilities in the banking system could exacerbate any economic shock. The coming years will also be marked by rising health and pension costs, as the population ages, and a possible end to several years of tax windfalls.
The Survey recommends taking concrete steps to improve public spending efficiency and find new sources of revenue. It is also vital to maintain Ireland's attractiveness as an investment hub for multinationals, for example through addressing skills shortages in the workforce, lowering barriers to competition such as complex licensing procedures, and ensuring good transport infrastructure and affordable housing in Dublin. Improving skills and the use of new technologies could also help to narrow the productivity gap between Irish and foreign firms.
"Ireland's open economy has helped it emerge stronger from the crisis, yet the country is very exposed to external factors. Fiscal prudence will be vital with health and pension costs set to rise just as the economy faces disruption from Brexit and a potential drop in corporate tax receipts," said OECD Chief Economist Laurence Boone. "This is a crucial time for Ireland and the focus for the incoming government should be to keep the economy on a solid track."
Ireland has enjoyed windfall tax receipts as an investment hub for multinationals, but a planned overhaul of global tax rules is expected to lower related tax receipts by changing how and where corporate tax is paid. In recent years, Ireland has partly used one-off tax receipts to fund cost overruns in health and welfare. Future windfalls should go towards paying off debt or into the country's strategic 'rainy day' investment fund, and cost overruns should be reined in through better budget planning.
Health spending per person is already high in Ireland. Ageing will push it higher, while reducing revenues from labour taxes. Simulations suggest that public health and pension costs could rise by 1.5% of GDP annually by 2030 and by 6.5% of GDP by 2060. Basic pension benefits have risen much faster than inflation in recent years; indexing future increases to consumer prices would produce budgetary savings.
New revenue sources could focus on property and consumption taxes, which are less distortive for economic activity than income tax. Property values should be regularly reassessed for calculating local property taxes – today's are based on 2013 values – and VAT should be streamlined from five rates to three. Low-income households should be cushioned from any adverse impacts. Separately, efforts to increase housing supply should continue as a way to curb soaring property prices.
Ireland stands particularly exposed to Brexit risks. The United Kingdom is an important trading partner, particularly in agriculture and food, and a vital land bridge for the majority of Irish exports that are bound for Europe. Exports of machinery, equipment, chemicals and tourism to the UK have stagnated or fallen since the 2016 UK referendum on EU membership, and any re-imposition of customs and border controls would hurt flows of goods to EU destinations.
Such risks make it even more important that Ireland reap as much benefit as it can from the digital economy. Irish businesses have tended to embrace new technologies well, the special digital chapter shows, but the impact on firm-level productivity growth has been modest.