UNIDO, Ethiopia and China agree to strengthen cooperation on agri-business development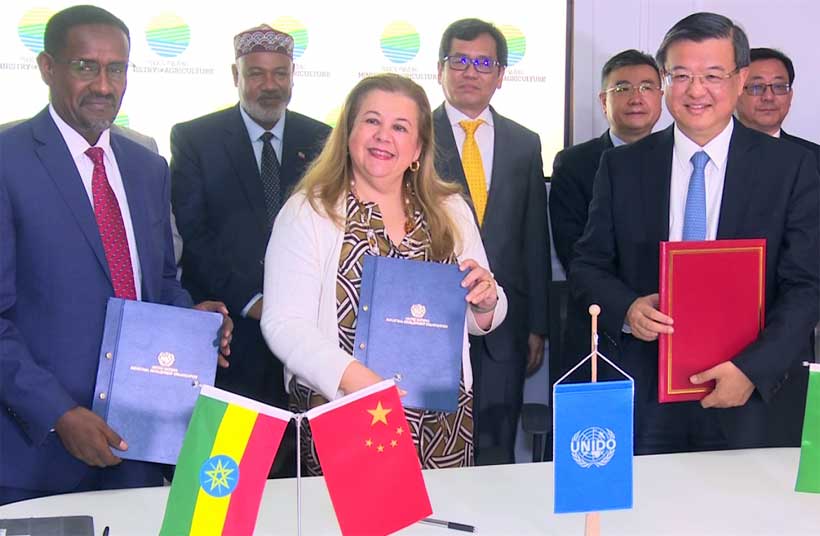 Ethiopia, China and the United Nations Industrial Development Organization (UNIDO) have agreed today to further strengthen collaboration on improving the agricultural system in Ethiopia, in particular the livestock value chain development. This agreement will support Ethiopia in creating a modern and a highly productive agriculture system and promote trade.
A Joint Declaration was signed by Ethiopia's Ministry of Agriculture (MOA), the General Administration of Customs of China (GACC) and UNIDO, with the overall objective of contributing to the Sustainable Development Goals (SDGs) of the 2030 Agenda for Sustainable Development. The cooperation will focus on capacity-building for food safety; promotion of bilateral trade between Ethiopia and China; and knowledge sharing on relevant best practices, regulations and technical standards.
The cooperation is designed and to be implemented within the framework of the South-South and triangular cooperation (SSTC) and Ethiopia's Programme for Country Partnership (PCP). It also aims to fulfil the Memorandum of Understanding signed between UNIDO and GACC on 26 April 2019 on enhancing cooperation, including within PCP framework to promote inclusive and sustainable industrial development (ISID) and trade facilitation in developing countries. Moreover, a livestock value chain development project in Ethiopia, which is being implemented by MOA, GACC and UNIDO, will also benefit from this enhanced cooperation. The livestock project is funded by the contribution of the Chinese government for South-South cooperation through UNIDO.
Why Biden administration has imposed sanctions on five Turkish companies?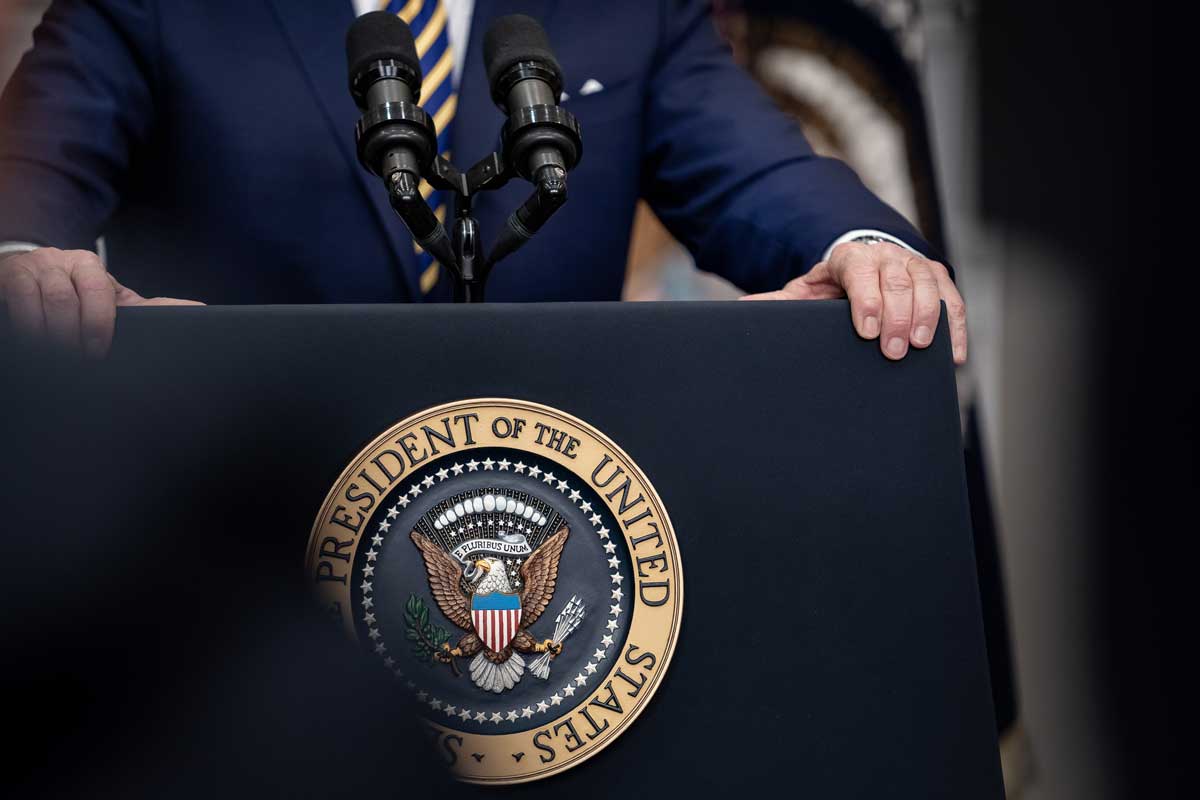 Secondary sanctions are all the rage as Washington gets more desperate to crack down on unaligned countries. The Biden administration has imposed sanctions on five Turkish companies and one Turkish national accused of helping Russia evade sanctions and supporting Moscow in its invasion of Ukraine, turning up the pressure on Ankara over its neutral stance on the Ukraine war, writes Mark Episkopos, an adjunct professor of history at Marymount University, writing on national security and international relations issues.
The new round of designations — part of a larger sanctions package targeting a wide array of Russian entities — included Turkish companies Margiana Insaat Dis Ticaret and Demirci Bilisim Ticaret Sanayi, accused of facilitating the transfer of dual-use goods to Russia.
Ankara sharply broke ranks with its fellow NATO member states, rejecting the West's maximum pressure strategy against the Kremlin in an effort to position itself as a possible mediator between Moscow and Kyiv.
Not only has Turkey refused to participate in the Western sanctions regime, but Ankara's trade relations with Moscow have boomed in the invasion's aftermath. Reuters reported earlier in 2023 that Turkey's exports to Russia jumped 262 percent year over year, reflecting the stark degree to which Ankara has profited from the vacuum caused by the withdrawal of Western economic actors from Russian markets.
Moscow and Ankara have even agreed on the construction of a new gas hub on Turkish territory that would provide Russia with alternate supply routes for gas exports, though the ambitious project is apparently being held up by management disputes.
Russia's economy has proven highly resilient against successive waves of U.S. and EU sanctions packages in large part because it has maintained and even deepened trade ties with much of the non-western world, notably including Turkey, key Middle Eastern actors, and the other BRICS countries. The Biden administration has sought to tighten the screws on Russia by levying secondary sanctions on Chinese, UAE, Turkish, and other entities accused of helping Moscow acquire advanced technology and other goods that U.S. officials say can be used to bolster the Russian war effort in Ukraine.
Turkish President Recep Tayyip Erdogan has built a political brand, cemented well before the 2022 Ukraine invasion with his decision to import S-400 missile defense systems from Russia, as a swing player between Russia and the West. Erdogan has proven adept at exploiting the geopolitical leverage afforded by Turkey's position as a strategically situated Eurasian crossroads, maneuvering between Moscow and Western capitals to advance a ruthlessly pragmatic foreign policy vision that flouts and occasionally even defies broader NATO objectives.
The Ukraine war has provided Erdogan with a surfeit of opportunities to advance this signature brand of statesmanship. Rushing to fill the diplomatic void left by Western states pursuing a maximum-pressure strategy against Moscow, Turkey has cemented its status as one of the war's most important brokers with its role in hosting the ill-fated Spring 2022 Russia-Ukraine peace talks and implementing the Black Sea Grain Initiative, better known as the Ukraine grain deal.
It appears unlikely that Erdogan will be dissuaded from his nonaligned stance by this latest round of secondary sanctions, which follows a similar set of designations announced in April 2023; nor is there any indication that the Biden administration is contemplating upping the ante with more direct punitive actions against Ankara, Mark Episkopos notes.
The Financial Dilemma: All You Need To Know About Credit Checking
In personal finance, most people prioritize taking care of their credit scores and raise considerations about credit checking. Simply put, good credit is vital in determining your financial health and access to a broad range of financial services, which is helpful if you're working on loans, credit cards, or acquiring investment assets like housing and cars.
This article will cover the essential parts of credit checking and credit scores, what it entails, and how it can affect your financial lifestyle.
Understanding Credit Checking
Credit checking, commonly known as a credit score check or credit inquiry, is a process in which banks, lenders, and landlords assess a client's creditworthiness. It involves a brief assessment of a person's credit report and score to evaluate their capacity to manage their obligations and repay debts.
Credit checking exists in most cases where an investment or loan is involved, and based on the results of their credit checks, lenders or landlords reserve the right to decline or approve a lease request or loan, which emphasizes the importance of building a good credit score.
Types of Credit Checking
In credit checking, two types of evaluation can affect your credit score, these are:
1. Soft Pull
Soft pulls or soft inquiries are credit checks that don't impact a person's credit score when evaluating their creditworthiness. This happens when you typically check your credit reports, ask a potential employer for background checks, or receive pre-approved credit offers from banks or other establishments.
2. Hard Pull
On the other hand, hard inquiries occur when a lender reviews your credit report as part of their approval process, like real estate, getting another credit card, or a loan. Hard inquiries may harm your credit score. Fortunately, it is only temporary, and you can recover from it through suitable financial activities like paying debts or settling accounts.
Credit Score vs. Credit Checking Reports
You might think that credit scores and credit reports are the same. Although closely related, credit scores are a numerical system that evaluates your creditworthiness. In contrast, a credit report or check is a detailed breakdown of your financial activities.
For example, inside your credit report are your recent credit card transactions, pre-approval processes, and recent financial activities that, in turn, reflect your overall credit score.
Considering the information above, you must understand that you know how to read your reports and understand the reason behind your credit scores. After all, self-checking your credit report is free, and you can manage it before lenders or other financial entities can incur a hard pull.
What Makes Credit Checking Important
Your credit score is a tangible representation of your creditworthiness. In other words, it reports how banks and financial institutions can trust you as a responsible borrower. A stern analysis of your credit activities allows you and your bank to work together in making favorable loan or investment programs.
To give you an idea, here's how credit checks impact your financial well-being in various ways:
Interest Rates
Determining your credit score through a hard pull often determines the interest rate you'll receive in loans and credit card debts. A higher score can lead to favorable terms and lower interest rates, saving you money.
Loan Approvals
Financial lenders use credit checks as part of their decision-making process. Depending on whether your score is high or low, it may result in denying your application or approving it and proceeding to a curated loan agreement contract.
Real Estate
In housing, landlords are typically more flexible in accepting would-be tenants. A good credit score approves them of their rental request, while a bad one may either outright deny their application or adjust for a higher security deposit instead. Overall, such flexibilities are unique from one property to another and may depend on the state's housing regulations.
Employment
Not all companies do this, but some employers conduct soft credit checks for background checks, especially for positions involving financial management or handling sensitive accounts. After all, why would they hire someone in a financial position with bad financial credit?
Insurance Policies
Your credit scores affect your payment terms for insurance premiums, especially for home or auto insurance. A lower credit score may result in higher insurance costs. Fortunately, most insurance companies still offer the same policies, so you'd still get the same benefit whether you have a higher or lower credit score.
Final Thoughts
Given the importance of credit checks and their significant impact on financial well-being, you must manage your finances. The good thing is that you're always entitled to do a self-credit check on most banks for free and report inaccuracies before settling down to an investment. Nevertheless, your credit is a fundamental aspect of personal finance, and good standing can help you go through most financial decisions and secure your future.
The 13th IPACC for Indo-Pacific, hosted by India and the U.S.
The comments on the strategic landscape came at the Indo-Pacific Armies Chiefs Conference (IPACC), being attended by military leaders from 30 countries, 'Hindustan Times' informs.
"The region faces a complex web of security challenges, including boundary disputes. The need to comprehensively deal with these challenges has led to the full involvement of the states in the region, with all their organisations, including their armies," Indian Defence minister Rajnath Singh (photo) said in his inaugural speech at the 13th IPACC, hosted by India and the US.
Rajnath Singh pointed out that states must recognise that global issues involve multiple stakeholders and no one country can address these challenges in isolation.
The defence minister said peace and prosperity in the Indo-Pacific can be achieved in consonance with the ancient Indian ethos of 'Vasudhaiva Kutumbakam' (The world is one family).
Singh emphasised that the Indo-Pacific is no more a maritime construct, but a full-fledged geo-strategic construct, and the region is facing a complex web of security challenges, including boundary disputes and piracy.
He explained his vision for the region through a theoretical model by American author Stephen R Covey, which is based on two circles – 'Circle of Concern' and 'Circle of Influence'.
"There may be instances when the 'Circle of Concern' of different nations overlap with each other. International maritime trade routes passing through high seas, beyond the exclusive economic zones of any country, are relevant examples," he said.
"This can either result in conflict between nations or they can decide to coexist by mutually deciding the rules of engagement. The concept of these circles underscores the importance of strategic thinking and prioritisation," he added.
Singh pointed out that states must recognise that global issues involve multiple stakeholders and no one country can address these challenges in isolation.
He stressed the need to engage with the broader international community and work collaboratively through diplomacy, international organisations and treaties to tackle common concerns within the overlapping 'Circle of Concern'.
Singh was of the view that states, at the same time, must identify and seek to expand their 'Circle of Influence' to promote national interests on the global stage.
"This conference is an exercise where we all are trying to expand our 'Circle of Influence' while harmonising the overlaps of our 'Circle of Concern'," he added.
Rajnath Singh said security considerations have elevated the strategic significance of the Indo-Pacific and the vast stretch confronts a web of challenges that no country can tackle alone, with army chief General Manoj Pande describing it as a theatre of complexities with manifestations of inter-state competitions and a top US general calling for deepening partnerships in the region to jointly promote peace and stability.
Pande said India's outlook for the Indo-Pacific emphasised respect for the sovereignty and territorial integrity of all countries, peaceful resolution of disputes, avoidance of force and adherence to international law.
"While efforts by countries are converging towards effecting a free and stable Indo-Pacific, yet we are witnessing manifestations of inter-state contestations and competitions."
The army chief listed territorial disputes over landmasses and the militarisation of artificial islands in contested waters as key security concerns in the region.
India's efforts to build robust military partnerships with friendly countries underscore its commitment to safeguard national interests and address global challenges, Singh said. "The Indo-Pacific Region has emerged as a pivotal geopolitical and strategic concept in recent years, transforming from a primarily maritime concept into a comprehensive strategic framework."
Singh reiterated that India stands for a "free, open, inclusive and rules-based Indo-Pacific region."
"States must recognise that there are global issues and challenges involving multiple stakeholders that no one country can address in isolation. They need to engage with the broader international community and work collaboratively through diplomacy, international organisations, and treaties to tackle common concerns," he said.
In a joint press briefing with US army chief of staff General Randy George, General Manoj Pande said the Indo-Pacific construct has come to occupy central space in the contemporary geostrategic canvass in recent years. "Its significance reflects the evolving global dynamics in the political, security, economic and environmental domains. The region is a theatre of complexities and challenges. Periodic ideation and discussions among partners are necessary, with efforts focussed on the shared responsibility for achieving and sustaining peace and stability," Pande said.
Responding to a question on China, the army chief said the IPACC construct was not a military alliance directed against any country or group of countries, with its goal being bringing military leaders together to enhance collaboration and understanding in the Indo-Pacific, sharing best practices, planning effective humanitarian assistance and disaster relief and charting a roadmap for the future. "The aim is to build trust and strengthen friendships."
General George said IPACC was looking at building a security architecture that would bind the region together and lead to unity and collective commitment. "Unity and commitment are the best deterrents," he said, adding that the partnership between the US and Indian armies was vital for stability in the region. In a challenging global security environment, having great allies and partners is more important than ever before."
The diplomatic row with Canada will not impact the participation of its army in the conference, and the country is an "important partner" in the IPACC journey, said Major General Abhinaya Rai, additional director general, Strategic Planning.
"It doesn't impact us. The Canadian (deputy) chief is coming here. His delegation is coming here. Even when we look at the relationships with some of our neighbours… where we may have had a standoff but we continue to engage them at all levels, be it the military level and at the diplomatic level. And I am referring directly to China here," Rai said at a curtain-raiser to the conference that was attended by a battery of defence attaches from the participating countries, including Colonel Todd Braithwaite from Canada.
The Indo-Pacific Armies Management Seminar (IPAMS) and Senior Enlisted Leaders Forum (SELF) will also be held alongside IPACC.
The events will provide a unique opportunity "to build common perspectives towards a shared vision" and help build partnerships and strengthen friendships across the Indo-Pacific, said Army Vice Chief Lieutenant General MV Suchindra Kumar: "It is indeed fortuitous and a matter of great pride that the triad of IPACC, IPAMS and SELF is being hosted by the Indian Army in the same year as India's G-20 and SCO Presidency."