As someone who has dedicated his entire professional career to higher education, to engaging young minds and striving to advance new thinking across a whole host of critically important global issues, it is with great sadness that I write this article. Not only do all of the scientific surveys point to a coming calamity, my own career provides extensive anecdotal confirmation of the sad reality that we are, as a human society, pushing ourselves down into an intellectual abyss from which we might not be able to emerge. Perhaps most disturbing of all, this pushing momentum is not done by accident. Rather, most of society today seems hell-bent on orgiastically rejoicing in our diminishing skills and our dismissal of 'smartness.' Refined thinking, nuanced analysis, and subtle reasoning are now the supposed domain of out-of-touch elite, of people who do not know about reality and are therefore happily removed from the debate/discussion stage. This is not the same kind of anti-elitism we have seen in decades past. This is not simply a fight between the benefits of 'book learning' versus 'experiential wisdom.' This is more about total war being waged against the intellectual process itself with adjacent side-battles against research, open-mindedness, and scientific thinking. It is not about the quality of the journey of intellectual engagement. It is about the attempt to annihilate discussion in total, surrounding ourselves with our own anti-intellectual camps of sycophantic chatter amounting to nothing. It is not about inquiry leading to epiphany. It is about the biased construction of self-affirmation. We are a society of self-delusional dullards. May this be a not-so-subtle early warning to stop our own dumb and dumber destruction.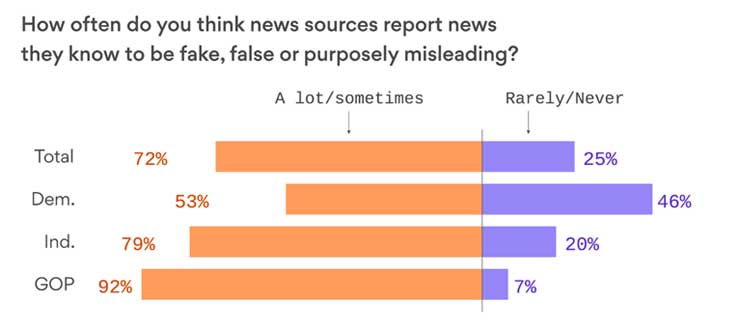 The above chart is fairly self-explanatory. The chief aspect to focus on is how most Democrats will actually use this as supposed 'proof' of their open-mindedness and ability to think more independently, far more so than the other two representative groups covering most of society in America. While I can grant it is horrifically appalling to see percentages amongst Republicans to go all the way to 92% and even "independents" proving they are not so independent at all by going up to 4/5 of their numbers, the surveys still show one out of every 2 democrats, slightly more than that actually, are in the exact same boat as the other members of society. Why does this matter? It matters because on one very crucial aspect this chart explains the secret ingredient that currently powers the base rationalization and self-justification most people use to fuel their purposeful refusal to seek out alternative arguments, embrace people with differing viewpoints, and understand the crucial humility needed in the world of politics and social order, that being there are very few, if any, questions that have one single undebatable answer that should rationally end all further debate. When you can reject all of these things, it allows you to be content with rejecting even the search for multiple sources, the comparative analysis crucial to any real truth-finding, and the rational thinking that creates true deep thought and nuanced intellectualism. The rejection of the impartiality of news sources as an entity de facto turns into behavior that rejects the need to be discerning about sources overall. If the sources are all tainted, then why do we need them at all? All we need is our own thinking, backed of course by the resident echo chambers we create by surrounding ourselves only with like-minded people. As long as the people I spend most of my time with (and that is increasingly becoming a measure based on 'virtual exposure' rather than 'face-to-face living engagement') agree with me, why do I need to care about other fools with different opinions?
The above chart clusters Republican (red) and Democrat (blue) representatives on a spectrum of ideology (defined by how often they vote with the rest of their party) then links opposite party members according to their votes together. The links grow larger and darker the more often representatives vote across party lines. In this case, that symbolizes the positive representation of independent thinking and the ability to make decisions NOT according to knee-jerk party lines or blind ideological allegiance. The graphs' evolution over time is simply remarkable in that not only does the prevalence of cross-party line votes diminish radically over the decades, the behavior by 2011 de facto evaporates while adhering staunchly to party ideology. Exclusionary thinking becomes intensely concentrated and exclusive. It is also disappointing to note that this fascinating study ended in 2011: one year before the second term of President Barack Obama and fully five years before the controversial first term of President Donald Trump. It is not scientifically radical to say the ideological tendencies in American partisanship have only worsened since that 2011 end-of-study date. In fact, heading into 2020, most political discussions in America no longer even include the possibility of any cross-party thinking, let alone behavior. The idea itself is dismissed as being symbolic NOT of independent thinking but of social betrayal that should be shunned and punished.
This final chart is the cherry on top of the stupid sundae. It shows the clear and inevitable path that global IQ is taking from 1950 all the way to 2110. Some may say that a decline from an average of 92 to a new average of 84 is not much given it is covering 160 years. Some might even be motivated to invoke the old "Malthusian Dilemma" to criticize the data, pointing out that such long-term extrapolations are only based on current trends remaining immutable and cannot, therefore, take into account what future counter-measures might be taken by society to right the wrong indicators. I would like to be a member of the Malthusian camp, quite honestly. In its own way, this article is an effort to kick-start those supposed Malthusian strategies, bringing future resolutions to our 'stupid problem' sooner to the forefront rather than later. But all of this is wishful thinking. It is not hard science. My hopes, in fact, are based on the opposite of what the data shows, what society currently rejoices in, and what so many individual people profess as being an advancement in 'popular intelligence.' As long as our global society, led most decidedly by the most powerful and influential country on earth, continues to revel in anti-intellectualism as proof of its own grassroots intelligence, as long as people rationalize away critical reasoning and analytical thinking as just so much elite ivory tower snobbery, then the only path we craft for ourselves as a society is one of blissful ignorance, confrontational delusion, and self-righteous obliviousness. The only society to emerge from this path is a dead society. A society of stagnation and regression. The intellectual doomsday clock is at 30 seconds to midnight. The ability to shift the ticking second hand backwards, back to enlightenment and dynamic knowledge engagement, may already be gone. May the Malthusian Army appear soon.
Coronavirus is Trump's most important electoral rival
The Earth is intertwined with space in various group, ethnic, religious, national, and other forms. National spaces within countries are the most important phenomena shaping the geographic space of the Earth. These spaces have been divided into more than 200 countries in the form of different democratic and non-democratic political systems as dominant spaces in different forms. Citizens in each of these countries, especially in democratic countries, are struggling to elect people to serve as political directors of the President and Prime Minister and representatives of the political space in order to organize the best program for ordering the country. Although sometimes in the specific geographical environment and the shortcomings of how people vote, they have a profound effect on the way of some candidates vote, but with the transition to calm and a return to calm, the geography and timing of citizens' responsibilities and duties expects the President-elect, Prime Minister, etc, not only to work well in that constituency-based environment, such as economic problems, but also in all areas able to manage and advance geographic space as an active and powerful actor. As a matter of fact, any lack of planning in various areas, especially in security issues, would be a disadvantage not only for citizens but also as an impediment to sending political leaders to space.
In the meantime, the current conditions on the global space caused by the coronavirus in various ways have targeted the security of geographical spaces and citizens. Citizens expect their managers to have the best strategy and plan to control and cope with the crisis. There are two types of clashes between politicians. There are a group of real politicians who, with their systematic and scientific minds, understand the situation and try to enter the country with the least challenge and cross the geographical space of their country with the least difficulty, the least social and cultural harm. Among them is the German Prime Minister Angela Merkel, who, as a real politician based on understanding the situation, responded quickly, removing the country's geographical space from a passive confrontation with coronavirus and preventing strategy, to a large extent control these issues and problems within the country.
On the other hand, some politicians who are not real and have been able to enter into the political management of space in various forms of bargaining, surfing, etc. in the face of coronavirus, have taken the most passive plan and strategy in the form of denial, failure and seriousness. And so they have taken their geographic space to crisis. In the meantime, it is worth mentioning the US president Trump who dealt with cronavirus unintentionally and led the country into a crisis. With this kind of confrontation with Trump, coronavirus (of course, among other things) no longer seems to have any hope of an upcoming election.
Overall, we hope that citizens in different countries will opt for real politicians, because the wrong choices based on looks, decorations, fleeting needs, etc. will not only regulate the geographical space of their lives, but also will cause widespread mismanagement and even shaping, it will provide them with a life of insecurity. In today's complex global conditions we need real politicians not politician players in the local, national, regional and even global arena. In this way, this vast interconnected can be organized and provided security and peace for its citizens.
Covid-19: Why the US is hit so hard?
Negative approach, delayed actions, and wrong policies resulted in making the US the most hard-hit country in the world. With confirmed cases 104,256, the US has surpassed the rest of the world. The second highest cases were reported 86,498 in Italy and third 81,394 in China. Italy is a country with the highest number of deaths 9,134, Spain5, 138, and China 3,295.
Globally, the confirmed Coronavirus cases have reached 597,501, and deaths 27,371. The figure kept on increasing rapidly over time. This figure is not close to facts, as the number of tests conducted are very much limited. Even it is beyond the capacity of the Developed World to test each suspect individually, no way to talk about the developing world and underdeveloped countries. It has already entered into a horrible threat to humankind.
Although the Trump Administration has taken good initiative now, but the delay has caused enormous damage already. In time decisions and right policies might have saved a lot. 2 Trillion Dollars package is a very positive step, and other measures are Encouraging. The US is one of the largest economies, the wealthiest nation, and most developed and advanced in Science & Technology. The US can overcome the epidemic. Just have to bear a high cost only.
The Chinese government and Chinese people have been brave as they took on this formidable task. Since the beginning, they fought against the outbreak, put people's life and health first. They acted according to the overall principle of shoring up confidence, strengthening unity, ensuring science-based control and treatment, and imposed targeted measures. China mobilized the whole nation, set up collective control and treatment mechanisms, and acted with openness and transparency. China has put up a strenuous struggle and made tremendous sacrifices. Now the situation in China is moving steadily in a positive direction with very few new cases and deaths.
Last two months, China was struggling to overcome epidemic and focused only on its goal to save human lives and eliminate the virus. China ignore all criticism, pressures, and bashing from the outside world and concentrated all energies to fight against Covid-19. China mobilized all national resources, supported by the public, and finally won over the epidemic.
When China was over-engaged in its war against Coronavirus, the US administration was engaged, blaming China, bashing China, criticizing China, and trying to undermine China. Using the derogatory remarks and media was publishing anti-China sentiments in the form of articles or cartoons. Humiliating Chinese nationals in the western world were witnessed. But could not harm China at all. President US administration wasted time unintentionally.
The Trump Administration also failed to help out its allies at the most challenging moment, when Italy, France, UK, Spain were at a very initial stage. If, since the beginning, the US has helped its allies, it might not spread so widely and may not reach the US.
It is true, no single country was prepared for such an awkward situation, and no single country trounce the outbreak. But collectively, it should have been suppressed in Wuhan only. There is a shortage of Masks, Testing Kits, Ventilators, and Sanitizers, etc. If the whole world pooled all possible resources and helped China, the situation must be different today. I think the evacuation of foreigners from China has caused a lot of damage too. The hostility, selfishness, and casual attitude toward China proved wrong.
China is helping many countries, especially the hard-hit countries like Italy, Spain, Iran, etc. China is donating medical supplies, and dispatching medical teams to support the respective government to fight against the epidemic. Chinese proved-experience can be used as guidelines. China is sharing its experience publically with everyone.
Virus is not bias, do not recognize boundaries, race, religion, or ethnicity. Why we discriminate against each other, I believe it is time to think seriously and unite to defeat any epidemic.
I believe, if the US administration keeps politics aside, and think for humanity, realign its approach and correct its policies, still can recover. Late, but better than never.
The recommendations put forward by the virtual G-20 Summit held on 26 March 2020, are pertinent and can be implemented immediately. I am sure the US congress is full of wise people, either from the opposition or ruling side, may ensure the right steps toward defeating the epidemic globally.
Covid-19 Exposes the Good and the Indifferent
The coronavirus crisis has brought out the worst … and the best in people. Hoarding, panic buying is one result — but who can blame anyone in a country where the president awash in platitudes, has essentially left people to fend for themselves.
There is now a fairer $2 trillion package, with help for individuals and not mostly for businesses, that required the hand of Congress. With people forced to sit at home, many are not getting paid and need the help.
Amid the chaos and insensitivity of billionaire presidents, there is hope in man's natural inclination for sacrifice in extremis. Father Giuseppe Berardelli, 72, died in Lovere, Bergamo, (in the epicenter of the epidemic) early this month. His parishioners had bought a respirator for him when he was afflicted by the virus, but Father Berardelli, instead of using is for himself, instructed the hospital staff to give it to a younger person. He was the main priest in the nearby town of Casnigo, where his parishioners applauded from balconies and windows as his coffin was taken for burial.
Italy is now the worst affected country in the world. As of Thursday night, it has had 80,589 cases and 8215 deaths, the latter more than double anywhere else — China, where the epidemic began, has reported 81,782 cases but far fewer deaths. Measures taken to stop the spread including gradually strung out lockdown measures taken from February 23 on have not been as effective as hoped. If the virus is that infectious, is the answer complete lockdown with police patrols to ensure it?
At the other end of the scale from Father Berardelli is the supposed 'leader of the free world'. It would have to be a most irresponsible, reprehensible, shamelessly disgraceful and indifferent plutocrat who did not educate himself on an affliction endangering his people.
At his press conferences we see a host of officials huddled close to him, not just to dilute his responsibility, but also violating the social distancing precept being advocated.
Since the early days, Donald Trump has called the virus first a "hoax", then in control, the epidemic itself "pretty much shut down", and always adding the platitudinous "it's going to be fine".
He has said the cases were "going substantially down," and then that the virus "would disappear". When the virus had spread widely enough to be named a pandemic by the World Health Organization, he claimed he had "always known" about the severity of the threat. He now says it will be over by Easter.
In times of crisis, the American people rally behind their president. For example, after the 9/11 attack, President George W. Bush's ratings were hitting the high 80s to over 90 percent, as the country awaited a response to overcome the crisis. Yet even then the country did not come to a standstill as it is in many parts at present. Trump's approval ratings are at his highs — 49 percent (Gallup), 46 percent (Monmouth University) the best in three years.
The stunning information on coronavirus infections from the John Hopkins University dashboard shows the US now leading the world with more than 86,000 cases. Then there is Donald Trump. We cannot go on like this, he said, "We've got to open up," so the economy can get back on track … meaning business wins hands down over people's lives in his calculus.