Authors: Do Quynh Anh & Francis Kwesi Kyirewiah*
Over the past decades, there have been numerous arguments about China's relations with Africa which is seen as the foundation of Beijing's diplomacy. Some scholars have linked China-Africa relations to a new form of colonialism and resources diplomatic strategy of China. For historical and political reasons, China has been close with African countries because they share common past of their former colonial suffering and the common tasks of promoting their economic development. Now as the largest developing country as well as the second largest economy of the world, China's economic relations with Africa en bloc is obviously changing from the previous low-technology aid to a rapidly medium- and high-technology assistance. To that end, China is able to provide more financial aid to all the developing countries including Africa.
To be sure, it is normal for any country to provide aid to each other in terms of borrowing and lending. Historically and politically, the parties involving international financial interactions might end up as enemies. Professor J. A. Frieden, of Harvard once argued, in general, developing countries are by definition short of capital, so most of their governments are eager to borrow abroad. It is therefore presupposed that the prospect of using borrowed money is to speed up growth and increase national output. Yet, sometimes the borrowers could have little incentive to use the money wisely. It is also true that the lending powers have used or misused or even abused the financial weapons available: they can cut off debtor governments from future lending, and they may be able to retaliate in related areas, such as freezing debtor governments' bank accounts or taking other government-owned properties. Equally noted is that lending governments are able to use broader foreign policy considerations to induce the borrowing side into compliance with the lenders' demands. That is true in terms of many cycles of lending and debt crises. For example, all through the 19th and early 20th centuries, rapidly growing countries borrowed heavily from the major European financial creditors, primarily London but also Paris, Amsterdam and Berlin. Usually, debts appear to have contributed to economic development, but there are also plenty of crises and political disputes. Therefore, debt crises have existed in world politics for centuries, and now it appears in a new face as "debt trap."
China's relation with Africa is relatively new due to the fact that the rise of China and the independence of Africa are the most recent scenario over the past 40-60 years. As Dr. DambisaMoyo, a scholar in international affairs anda native from Zambia, argued, "No country has come to symbolize the profound economic transformation witnessed in the past half-century than China. It has become the largest exporter and the largest foreign currency-holder of the world and it has already surpassed Japan to rank second in terms of GDP." By 1978, China's world GDP share was only 1.75%, but since then, it share has risen up to 17% in 2017.Today China is the largest FDI source to Africa and the bilateral trade has been rising substantially. The resultant fact is not necessarily because of China's smart policy, but equally due to the West's own folly policymaking.
Yet, China has been targeted by the West headed by the United States as the "debt-trap maker". The reasons might be different but it argues that China has tried to use its increasing financial power to dictate its Communist will and nationalistic goal in the world affairs, in particular towards the Africans. This is really ridiculous. First, a closer look into the Marshal Plan endorsed by the United States in 1948 to assist European recovery from the war-time destruction, the West called it the "European Recovery Plan" which aimed to invest billions of U.S. dollars to help the war-worn states of Europe. However, when they discuss the economic plan from Beijing and Moscow, they use the terms of traps and conspiracy, such as "Beijing's expansion is inexorable, has a global scope and is driven by the depression in the West." Ideologically, the United States has tried to distort any Chinese economic plan including the "Belt & Road Initiative". Second, the United States and many other countries of the West as well have entertained the mentality of their superiority. They do hold the perception that Europeans are the only most creative people on the Earth. Thus the rise of China is surely regarded as the loss of their superiority and prestige as well. In light of this, the third point is that they have perceived China as a potential or even a real rival or enemy in a geopolitical sense, as U.S. politician Mike Pompeo has repeatedly targeted China both publicly and privately.
However, the relationship between China and Africa has gone beyond the so-called "debt trap diplomacy". From the mid-1950s, China was committed to supplying all possible aid and supports to the African peoples who were struggling for their national independence, while newly-independent states consistently extend their supports to China diplomatically and politically. Since the last decades of the 20th century, China-Africa relations have been primarily focused on economic cooperation. With its economic power growing, China's aid has been focused on infrastructure development, consisting of constructing railways, roads and hydropower to business cooperation such as mining, farming and tourism. In return, Africa has made all possible efforts to improve its investment and business environment in order to protect the legitimate rights and interests of Chinese companies. This is now urgent for both sides need to work decisively to transform and upgrade the quality and efficiency of the cooperation in strategic terms. As Italian economist Vilfredo Pareto argued, it is quite possible for there to be an action in an economy that harms no one and helps at least one by one. Whether it is accepted or not, China's sustained growth can't be in isolation from the rest of the world in a long perspective.
China's aid to Africa has never been a lip-service as it believes that in order to insure sustainable economic growth, it is strategically necessary for any country, either small or large, to have a complete transportation network and reliable power-supply system. This is what is referred to as 'two wings theory for development.' Today, most African countries lack basic transportation system and sustainable power supply for accelerated and sustainable economic development. For example, agreements signed in various fields between China and Africa wasvalued at over $50 billion between 2015 and 2016. Most African states have been eager to accelerate their national industries' production capacity in order to achieve their economic independence. Thus far, Chinese companies have been instrumental in the construction of numerous symbolic infrastructure projects, including but not limited to the newly-completed railwayline connecting the capital of Kenya (Nairobi) to its coastal city and port hub of Mombasa, and the highly anticipated network of Chinese-built railway in East Africa. In addition, China is currently the largest contributor to peacekeeping missionin Africa,rangingfrom non-combat peacekeepers in medical and engineering servicesto the deployment of troops in Sudan.
For sure, China's overall capacity in Africa has been much greater than 50 years ago when it started the first railway from Tanzania to Zambia during the Cold War heydays. Now is the time for China to link infrastructure development to a grand strategy, such as "the Belt & Road Initiative" proposed by Chinese President Xi in 2013. This is manifested by the completion of the railway line from Nairobi to Mombasa in 2018. Politically, according to the consensus between China and Africa, the leaders of the two sides vowed to promote their comprehensive ties to a new-level of strategic partnership. Also unlike Western foreign-aid policies, which generally prioritize political issues and social values, China's aid has been primarily driven to economic issues. On one hand, this is consistent with China's adherence to non-intervention policy in domestic affairs of other states. On the other hand, both China and Africa look forward to a future of unprecedented transformation on the launch of the Nairobi-Mombasa railway that would not only revolutionized the transport sector of Kenya, but also more important stimulating investments in advanced manufacturing in Kenya and African as a whole.
For China, the pace of transformation of Africa has been remarkable. Even though its short-term goal remains economic and diplomatic, it seems inevitable that China's basic interests will eventually lead it to far greater involvement in the continent. Though diverse in both economics and politics, Africa remains sided with China on international issues, and this quasi-alliance strictly delimits the scope of Sino-African collaboration and the opportunity to assist in the formation of Chinese conceptions and strategy in the world politics for decades to come. It is true that Chinese leaders are well-aware of this advantage.
In conclusion, China has high expectations for Africa as the latter has an immense reservoir of resources to spur its envisioned growth and China's economic growth. As a rising power, Chinawillwork in conjunction with Africa towards the creation ofa more just and impartial world order and that places the East Asian giant in a stronger position to provide more substantial aid to Africa under win-win cooperation. As expressed at the G-20 FM meeting in Bonn in 2017, Chinese Foreign Minister reconfirmed that China would carry on enhancing strategic relationships with Africa. China would alsoabide by the key tenet which aims to develop the local, regional and international economics in light of "Africa's initiative, Africa's consent and Africa's first". Due to this, China's strategic partnership with Africa is patently beyond the debt trap diplomacyin terms of Beijing's global strategy.
*Francis Kwesi Kyirewiah, a PhD student in International Affairs, at SIPA, Jilin University, China.
Situation in central Mali 'deteriorating' as violence, impunity rise
The growing violence has contributed to a deteriorating security situation in central Mali, with impunity being one of the aggravating factors, an independent UN human rights expert warned on Friday.
"In central Mali, I observed an accumulation of security, judicial and administrative failures that facilitates mass violence with impunity. The Malian Armed Forces and MINUSMA (UN Multidimensional Integrated Stabilization Mission in Mali) have failed to provide adequate security for the civilians of the region," Alioune Tine, the UN Independent Expert on the human rights situation in Mali, said in a statement following his visit to the country.
He said that civilians have been victimized by transnational criminal organizations, terrorist groups and armed militia which are grasping control of the region.
The human rights expert was told that the perpetrators of previous attacks in different regions have not been held accountable, thus making impunity as one of the aggravating factors of the current violence.
The slow judicial process is due to the security situation, which makes arresting the alleged perpetrators complicated, as well as the climate of fear, with witnesses and victims afraid of reprisals.
"The current violence is increasingly difficult to control and could become a major threat to the entire sub-region," Mr. Tine warned, adding that the Economic Community of West African States (ECOWAS) and the African Union must urgently find effective remedies to end violence and serious human rights violations in central Mali.
He also urged the UN Security Council to reassess the situation and adjust the mandate of the MINUSMA accordingly.
Improvement in northern Mali a 'major turning point'
Despite the worsening situation in central Mali, there has been some positive progress in the north.
"The implementation of the Algiers Agreement in 2015 in northern Mali, with the gradual redeployment of the rebuilt Malian Armed Forces (FAMA) in Kidal and Timbuktu and their upcoming deployment in Menaka and Taoudeni, is an important step towards the return to peace," said Mr. Tine.
Calling this improvement "a major turning point", the UN expert also commended the efforts of the Malian state, armed groups and MINUSMA throughout this process.
"The resolutions currently being implemented bring a new hope for peace and for a gradual return to a peaceful political process in northern Mali, through the organization of legislative elections," he said.
The 2015 Algiers Agreement is an Algerian-brokered agreement for peace and reconciliation in Mali, signed among the Government of Mali, the Coordination of Movements of Azawad and the Plateforme armed group.
Independent experts are appointed by the Geneva-based Human Rights Council to examine and report back on a specific human rights theme or a country situation. The positions are honorary and the experts are not UN staff, nor are they paid for their work.
Escalating Burkina Faso violence brings wider Sahel displacement emergency into focus
Deadly attacks on villages in Burkina Faso have forced 150,000 people to flee in just the last three weeks, the UN refugee agency (UNHCR) said on Friday, warning of a displacement emergency in the wider Sahel region.
Amid a devastating surge in terrorist attacks against civilian and military targets which the UN says have risen five-fold in Burkina Faso, Mali and Niger since 2016, UNHCR spokesperson Andrej Mahecic said that survivors needed safety, shelter, food and water "everywhere".
Help is particularly needed in northern Burkina Faso, where displaced families are staying with host communities who have little in the way of resources themselves.
Some 4,000 people a day flee violence
The new arrivals are "occupying whatever space is available", the UNHCR official explained, stressing that more than 4,000 people a day have fled attacks in Burkina Faso, since 1 January.
"So far, 765,000 people have already been displaced, of whom more than 700,000 in the past 12 months," he noted.
Those forced to flee "report attacks on their villages by militant groups, killing, raping, and pillaging," the UNHCR official said. "Terrified of these attacks, residents have left everything behind to find safety."
A similar pattern of violence has driven people from their homes in Mali and Niger, adding to the longstanding insecurity crisis further afield in the Lake Chad region, where the UN humanitarian coordination office (OCHA) estimates that 2.3 million people are displaced.
Following a recent string of attacks in Niger's Tillaberi and Tahoua regions, UNHCR reported that 4,400 people have fled into neighbouring Mali, while the same wave of violence has displaced around 11,000 people inside Niger.
"They have found refuge in nearby towns of Banibangu and Ouallam, where assistance is being provided," Mr. Mahecic said, noting that the regions of Tillaberi and Tahoua host 58,000 refugees from Mali and nearly 81,000 displaced people.
In central Mali, the UNHCR official noted that the latest attacks on the village of Ogossagou on 14 February had claimed 30 lives.
'Too afraid to move'
"Safety is needed for these people," he said. "In some of these situations, people are so afraid of the insecurity and violence around them that even though they are under attack or fearing of an attack, they do not dare to move."
The Sahel region encompasses an area south of the Sahara Desert spanning 10 countries from Senegal in the west to Eritrea, in the east.
Violence there intensified after the 2011 revolution in Libya, and an uprising in Mali a year later. As a result, terrorist groups, organized criminal groups and others took advantage of weak governance and ethnic tensions to move across borders and terrorize local populations.
Highlighting severe challenges in accessing the needs of victims of violence throughout the Sahel region, Mr. Mahecic explained that safety, shelter food and water were a priority.
Clothing and other basic items, including dignity kits for women and girls, were also urgently needed, he said, along with counselling for survivors of atrocities.
"What we know right now, is that the violence and the frequency of these attacks have increased, the intensity has increased, and we know that this is the key reason behind this massive displacement," he said.
Safe access vital to traumatized communities
UNHCR and its partners have stepped up their response, including by strengthening health and education facilities for communities, Mr. Mahecic added, before appealing for safe access for humanitarians to deliver assistance.
According to the UN Special Representative and Head of the UN Office for West Africa and the Sahel (UNOWAS), violence in the Sahel claimed more than 4,000 lives in 2019, compared to 770 in 2013.
In a briefing to the Security Council last month, Mohamed Ibn Chambas described "relentless attacks" that had shaken public confidence in the authorities.
"Most significantly," he said, "the geographic focus of terrorist attacks has shifted eastwards from Mali to Burkina Faso and is increasingly threatening West African coastal States."
Mr. Chambas also explained how the attacks were often perpetrated by extremists looking to engage in illicit activities that included capturing weapons and illegal artisanal mining.
"Extremists provide safety and protection to populations, as well as social services in exchanged for loyalty", he said.
Violence in North and West Africa increasingly targeting civilian and border areas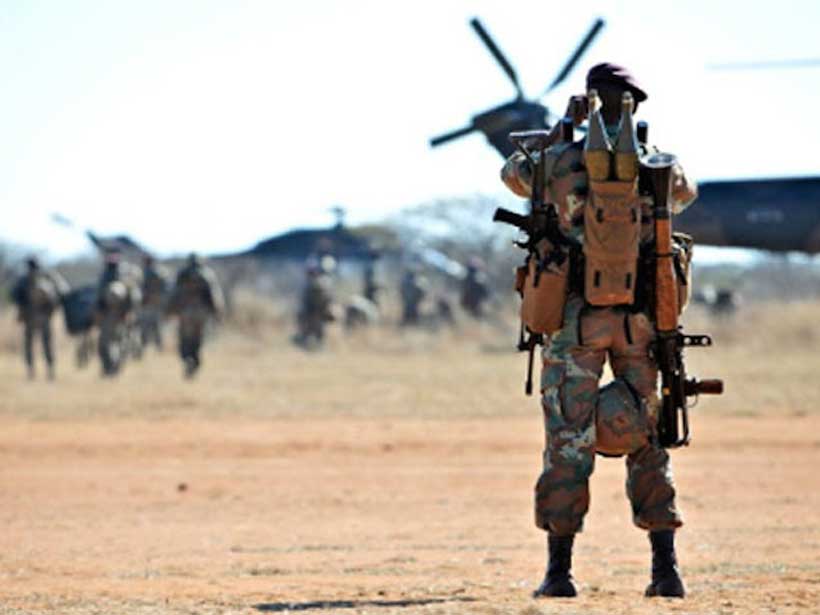 Violence in North and West Africa is increasingly targeting civilian and border regions as today's conflicts involve non-state actors with diverging agendas, according to a new report by the OECD's Sahel and West Africa Club (SWAC).
The report uses granular data to assess the intensity and geographical distribution of violence in the region since 1997. It finds that the last five years have been the most violent recorded in North and West Africa, with more than 60,000 people killed between January 2015 and the end of 2019. More than 40% of violent events and fatalities occur within 100 km of a land border, and 10% of deaths from political violence occur less than 10 km from a border. Civilians are increasingly specific targets of violence, rather than just being caught in cross fire.
The report uses a "Spatial Conflict Dynamics Indicator" to show which regions of North and West Africa experience the most conflict, how conflicts evolve geographically over time and how military interventions affect the intensity and spread of violence. It notes that attempts to stabilise the region are complicated due to the number of players involved and their shifting alliances.
"Paying close attention to the geography and dynamics of these deadly conflicts and the complex interactions between the large numbers of actors involved may help to find ways to resolve this worsening insecurity," said OECD Secretary-General Angel Gurría, presenting the report at the Munich Security Conference.
The Sahara-Sahel region is suffering from exceptional levels of political instability involving a combination of rebellions, jihadist insurgencies, coups d'état, protest movements and illegal trafficking of drugs, arms and migrants. Conflicts tend to regionalise across borders as armed groups defeated by counter-insurgency efforts relocate to other countries. The geographic spread and opportunistic relocation of conflicts is exacerbated by a lack of controls on many African borders that facilitates the circulation of fighters, hostages and weapons.
The study calls for states in the region and the international community to promote regional initiatives to restore state legitimacy, increase investment in border regions and improve protection of civilians — creating secure regions where inclusive forms of policies are put in place and a strong dialogue between states, local actors and populations is reinforced.