ADB Project to Improve Fiscal Management, Develop Capital Markets in Armenia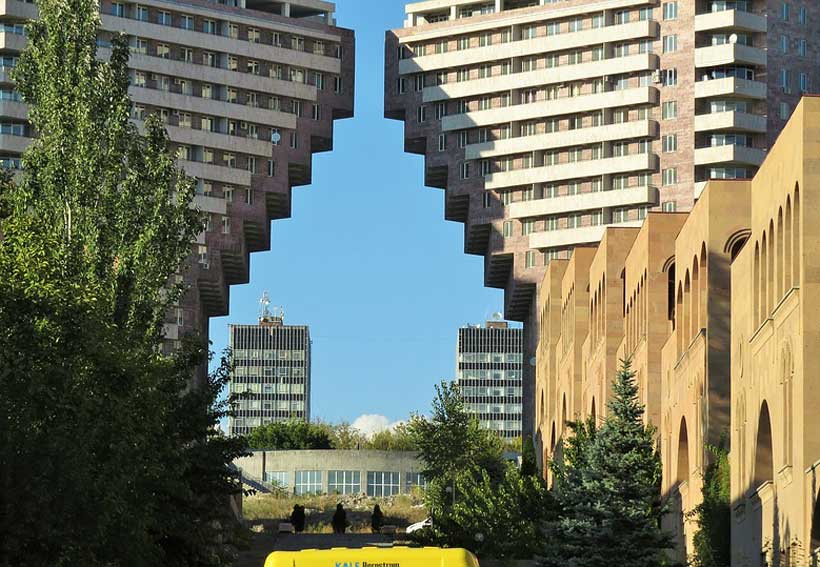 The Asian Development Bank (ADB) has approved a $40 million-equivalent policy-based loan attached to reforms that help strengthen fiscal sustainability and develop the financial and capital markets in Armenia. These are crucial enablers of private sector development.
Armenia's economic growth over the last few years has been hampered by low levels of investment, both foreign and domestic, given the high costs of local currency finance and related constraints in the financial system. Efficiency-promoting upgrades in public investment and fiscal management are also needed to ensure sustained improvements in fiscal outlook and sovereign risk pricing.
"Financial markets remain nascent in Armenia, which limits the development of the country's private sector and the banking industry," said ADB Senior Financial Sector Economist for Central and West Asia Mr. João Farinha Fernandes. "This also constrains public finance and fiscal management, while exposing the economy to financial stability risks. ADB's assistance is intended to help ensure that Armenia develops a conducive fiscal and financial intermediation environment where private sector players, both big and small, can contribute to growth and development."
ADB approved a $50 million policy-based loan in November 2018 as part of an ongoing programmatic engagement on financial reforms to strengthen public debt and fiscal risk management, and to develop financial markets in Armenia.
The Second Public Efficiency and Financial Markets Program continues these reforms by strengthening the effectiveness of the government's fiscal risk management function; promoting the development of fiscally responsible public–private partnerships; and enhancing market transparency and predictability in public debt management. The program will also improve the infrastructure of the government securities market and money market infrastructure, enhancing the sustainability and resilience of Armenia's finance sector.
More Companies and Government Ambition Required to Meet the "Net Zero" Challenge
Four years after the Paris Climate Agreement, tangible action from governments is falling short of trajectories needed to restrict global warming to 1.5° Celsius. This is well documented in the recently released UN Environment Closing the Gap report. To date, however, a minority of businesses are taking the necessary steps to reduce emissions and of those who are, much more ambition will be required based on the findings of a new report, The Net Zero Challenge, published today by the World Economic Forum.
The report is released as negotiators gather in Madrid at COP25 to discuss the finer details of the Paris Agreement which called for emissions reductions of 3-5% per year. This is a long way off the annual increase in emissions of 1.5% that we are seeing today.
"2020 is a crucial year for delivering on climate action ambition and it is vital that governments and businesses now work together. For both the public and private sector, collaborative action on climate can spur rapid innovation, growth and jobs in a sluggish economic outlook; what the world needs is a combination of public ambition, policy certainty and company leadership to create a tipping point," said Dominic Waughray, Managing Director at the World Economic Forum.
Governments: from a slow start, climate action ambitions are growing to address the challenge
67 countries have to date stated an ambition to reach net zero emissions by 2050. These countries account for c.15% of global GHG emissions. Of these countries, sixteen (accounting for less than 6% of emissions) have developed roadmaps and intermediate targets; and even fewer – seven – countries have instituted policy frameworks that could realistically support reaching a net zero emission goal. These countries – Bhutan, Costa Rica, Denmark, Iceland, The Netherlands, Suriname, Sweden, – account for just 2% of global GHG emissions.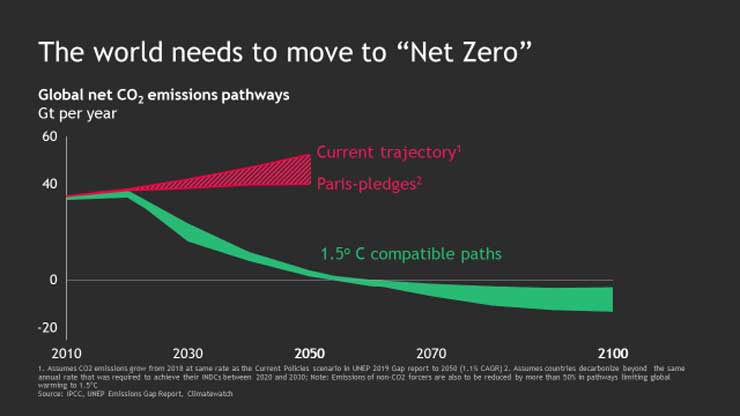 The report does, however, find signs of progress that some governments are beginning to set ambitious climate targets. For example, Morocco has developed the world's largest concentrated solar farm with a goal of sourcing 50% of its electricity from renewable sources in just 10 years. India is currently implementing the largest renewable power programme in the world, targeting 175 GW of installed capacity by 2022.
The report, done in collaboration with Boston Consulting Group (BCG), also finds signs of action at the sub-national level. For example, the state of South Australia is targeting 50% renewable power by 2025. In the United States, meanwhile, seven states are targeting zero-carbon energy systems by 2050.
Overall, the report adds to the evidence that there is much political work to be done to raise ambition levels for climate action ahead of when the Paris Agreement is due to begin in November 2020.
Companies and Climate Action: A New Impetus is Required
When it comes to companies and emissions, the report highlights the gap in corporate ambition that must be closed. While 7,000 businesses disclose their emissions to CDP, a non-profit organization that monitors global emissions, the report finds that only a third provide full disclosure, only a quarter set a specific emissions reduction target and only one in eight are so far reducing their emissions year-on-year.
The report also finds that, on average, both short-term and long-term targets are about half of what are needed for a 1.5°C world; on average, short-term targets currently aim for minus 15% instead of minus 30% reductions; while longer-term targets on average currently aim for 50% reductions instead of net zero by mid-century.
There is, however, some variation across industries. Financial and energy companies, are the most advanced when it comes to disclosing, setting targets and reducing emissions; and emissions reductions in the power sector provide a good case on how other sectors might respond to a mixture of smart policies and demand signals. In each sector there are examples of corporations acting decisively to build a first-mover competitive advantage through higher efficiency, lower risks and new green revenues.
The report identifies two major reasons why corporate climate action has so far not reached a tipping point. One is that chief executive officers still find themselves under greater pressure to deliver short-term returns than to demonstrate progress against climate goals. A plethora of ESG (environmental, societal and corporate governance) guidelines is not helping to create clarity or a clear benchmark to judge performance, leading – in the words of one banking CEO – to "real confusion and little action" in the investment world. The other is the lack of reliable policy frameworks at national and international level. All 25 CEOs interviewed as part of the project confirmed, for example, that without a meaningful price on carbon the transition cannot be accelerated at the speed and scale needed.
A call to action from the World Economic Forum
Whilst diplomatic and multilateral political efforts during 2020 will focus on raising ambition levels among governments, the World Economic Forum will use its platforms to promote a complimentary call to action for higher ambition levels among companies and the finance community and for more partnerships. This call for action, which will start in Davos 2020, includes:
An updated Davos Manifesto for 2020 on the universal purpose of a company, which notes that a company is more than an economic unit generating wealth, will be presented to all CEOs to consider. The Manifesto calls for performance to be measured not only on the return to shareholders but also on how it achieves it environmental, social and good governance objectives.
An initiative underway with the Forum's International Business Council to develop a definitive methodology for standard ESG principles that companies can adopt as a complement to standard financial metrics with support from the "Big Four" accounting firms, which will include common approaches on climate emissions target setting and tracking
The release of a catalogue of "Lighthouse Projects" that show concrete examples of how many leading companies are setting and implementing bold emissions reduction strategies in line with net zero by mid-century, and how other companies can join or replicate these efforts. Such Lighthouse Projects include the Mission Possible Platform, RE100, the UN-convened Net Zero Asset Owners Alliance, the CDSB and over 50 other specific examples of company actions and public-private collaborations in the climate and wider environmental agenda.
To support these efforts, the Forum has also convened a community of CEO Climate Leaders; these are leaders of some of the world's largest businesses that are committed to support assertive climate action.
"Climate change is the single greatest threat that humanity faces. Businesses that don't take climate action will be punished by their stakeholders as well as by the planet," said Alan Jope, CEO, Unilever.
Deloitte TMT Predictions 2020: Previously Hyped Innovations Become a Reality
Deloitte today released the 19th edition of its "Technology, Media & Telecommunications Predictions," which looks at three overarching themes: individual technologies are becoming ever more interconnected and interdependent, increasing their impact and value as a result; smartphones, computers, TVs, enterprise data centers and software, and IoT will drive most of the technology, media and telecommunications (TMT) industry's revenue; and lastly, many previously hyped services and products will finally become a reality in 2020.
"In 2020, we will start to see a canopy effect where industry players will work more closely together as individual technologies like edge artificial intelligence (AI) chips, robots and private 5G become better connected, and promising innovations like low-earth orbit satellites finally come to life," said Paul Sallomi, vice chairman, Deloitte LLP, global TMT industry leader and U.S. technology sector leader. "This year's predictions are a helpful guide for TMT business leaders to break through the clutter and understand what to do next in order to help be successful in 2020 and beyond."
"These disruptive forces will continue to challenge traditional tech, media and telecom companies to keep pace with new-age, digital native companies. Those that can innovate, swiftly bring the latest developments to market and satisfy the demands of increasingly savvy consumers are the ones most likely to be rewarded," said Sandra Shirai, vice chairman, Deloitte LLP and U.S. technology, media and telecommunications leader.
AI has the edge
A new generation of edge AI chips will reduce frustrations caused by lack of internet connection on smartphones by bringing AI to the device. Deloitte predicts that in 2020, more than 750 million edge AI chips — chips or parts of chips that perform or accelerate machine learning tasks on-device, rather than in a remote data center — will be sold, and that the edge AI chip market will continue to grow much more quickly than the overall chip market.
Private 5G: Enterprise untethered
Deloitte predicts that more than 100 companies worldwide will begin testing private 5G deployments by the end of 2020, collectively investing a few hundred million dollars in labor and equipment. For many of the world's largest businesses, private 5G will likely become the preferred choice, especially for industrial environments such as manufacturing plants, logistics centers and ports.
Meet your new colleague, a robot
Of the almost 1 million robots Deloitte expects to be sold for enterprise use in 2020, just over half of them will be professional service robots, generating more than US$16 billion in revenue — 30% more than in 2019. Professional service robots will pass industrial robots in terms of units in 2020 and revenue in 2021.
Can I have an ad with my content?
Deloitte predicts that global revenue from ad-supported video services will reach an estimated US$32 billion in 2020. Asia, including China and India, will lead with $15.5 billion in revenue in 2020, nearly half of the global total. In China, India and throughout the Asia-Pacific region, ad-supported video is the dominant model of delivering streaming video to consumers. By contrast, in the United States, most direct-to-consumer video offerings are pursuing an ad-free subscription model.
"As major networks and studios continue to launch their own direct-to-consumer streaming services in 2020, competitors will likely scramble to offer content libraries broad enough to both attract and retain customers. There is an opportunity for media and entertainment companies to reaggregate their content libraries with a wide array of offerings — from video, music and gaming services to ad-supported content," said Kevin Westcott, vice chairman, Deloitte LLP and U.S. telecommunications, media & entertainment leader. "For telecom providers, on the other hand, the emergence of 5G will offer unprecedented opportunities for companies to grow and achieve new levels of productivity. However, helping shape (and manage) customer expectation regarding its possibilities will be a big challenge in the coming year."
Terrestrial TV's surprising staying power
Antenna TV will thrive in 2020 with at least 1.6 billion people worldwide, representing 450 million households, enjoying some of their TV viewing via an antenna. Antenna TV will help the global TV industry keep growing even in the face of falling TV viewing minutes and, in some markets, increasing numbers of consumers cutting the pay-TV cord.
More insight from Deloitte's 2020 TMT predictions:
Low-earth orbit satellites soar: By the end of 2020, there will be over 700 satellites in low-earth orbit (LEO) seeking to offer global broadband internet, up from roughly 200 at the end of 2019. These new "mega-constellations" of orbiting broadband stations will potentially add more than 16,000 individual satellites to that count over the coming years.
Give a listen: In 2020, the global audiobook market will grow by 25% to US$5 billion and the global podcasting market will increase by 30% from 2019 to reach US$1.1 billion in 2020, surpassing the US$1 billion mark for the first time.
A smarter smartphone: The smartphone multiplier market (hardware, content, services) will drive US$459 billion of revenue in 2020 alone and will grow between 5 to 10% annually through 2023, lifted by continued robust growth in its largest components. This means that in 2023, the smartphone multiplier market is likely to generate revenues of more than a half-trillion dollars per year.
The workhorse of the internet: Deloitte also predicts the global Content Delivery Network (CDN) market will reach US$14 billion in 2020, up more than 25% from 2019's estimated US$11 billion. The market will double to US$30 billion by 2025, a compound annual growth rate of more than 16%.
Roll to work: Tens of billions of additional bicycle trips per year will take place in 2022. The increase in bicycling will double the number of regular bicycle users in many major cities around the world where cycling to work is still uncommon. Deloitte predicts a 1 percentage point rise in the proportion of people who bike to work during the three years from 2019 to 2022. Between 2020 and 2023, more than 130 million e-bikes (using all battery technologies) are expected to be sold.
"The rising competition for consumers' attention across technology, media and entertainment industries means companies that serve these consumers should focus on what matters most in order to succeed," concluded Dr. Jeff Loucks, managing director, Deloitte LLP and executive director, Deloitte Center for Technology, Media and Telecommunications. "Whether it's delivering on 5G, offering a streaming service that entertains and does not overwhelm or fulfilling the promise of AI in 2020, consumers will look to companies that demonstrate an understanding of their desires and an urgency for making those desires a reality."
Now in its 19th year, Deloitte's annual TMT Predictions provides an outlook on key trends in the technology, media and telecommunications industry sectors worldwide.
Climate-Neutral Davos: WEF's 50th Annual Meeting Will Be More Sustainable than Ever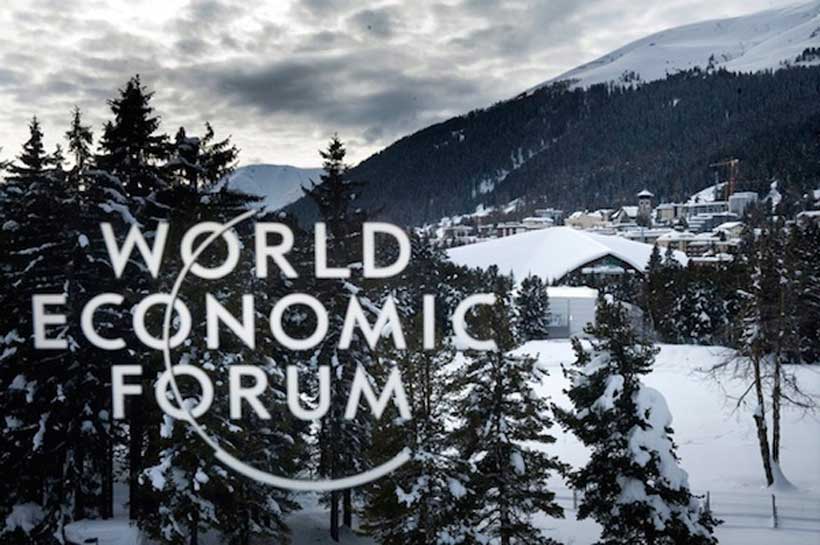 The World Economic Forum's 50th Annual Meeting, to be held in Davos on 21-24 January, will be climate-neutral for the fourth consecutive year, with new initiatives to boost resource efficiency and reduce emissions.
Building on its 2018 ISO 20121 certification for sustainable event management, the Forum in 2020 is working to make Davos one of the most sustainable international summits in four key areas:
Emissions:The Forum has been offsetting 100% of all emissions, including air travel, since 2017. Some 35,000 tons of CO2 equivalent were offset in 2019: this provided funding for sustainable production in the Amazon Basin, efficient cookstoves in China, Mali, India and South Africa, and biogas installations in local farms in Switzerland. The Forum also funds the restoration of peatlands across the canton of Graubunden, which hosts the Annual Meeting. The peatlands act as a natural carbon sink by absorbing greenhouse gases from the air. Learn more about the various projects here. The Forum has helped improve the sustainability of the Congress Centre in Davos with the installation of solar panels and geothermal heating in 2020. Moreover, the Annual Meeting relies on 100% renewable electricity in its temporary event spaces and utilizes best-in-class insulation and heating systems as well as efficient lighting devices.
Materials:The Forum promotes a circular economy, an economic system aimed at eliminating waste and the continual use of resources. It applies this principle in the logistics of the Annual Meeting by focusing on reducing, reusing and recycling materials. The Annual Meeting 2020 will reduce the amount of waste by 25% compared to 2019 by introducing new design concepts, repurposing more material and removing single-use plastics for bags and beverages.
Food: Some 90% of food will feature seasonal ingredients and there will be more plant-based meals using regional produce than in 2019. The provenance and ecological footprint of each food product will be checked and new artificial intelligence tools will be tested to reduce food waste. A full day of the Annual Meeting (22 January) will be designated as "Future Food Wednesday", with a menu that is rich in protein but meat- and fish-free.
Transport:The Forum will refund half of the cost of a first-class train ticket to any participant travelling by rail in 2020. Use of public transport will be further encouraged with a temporary railway station near the Congress Centre and a more frequent bus and shuttle service. Nearly 90% of the Forum's official vehicle fleet in Davos will either be electric or hybrid in 2020, compared to 66% in 2019. Walking remains the most efficient way to get about, with shoe grips and walking maps provided to participants and staff. The Forum encourages all participants to use the most environmentally friendly mode of air travel. Since 2018, commercial private aviation has declined by 20% for Zurich and St Gallen-Altenrhein, the two nearest airports to Davos. The Forum is now working with partners in the aviation industry to promote sustainable aviation fuel (SAF) that can reduce CO2 emissions by up to 80% over their full life cycle.
"The Forum is committed to improving the state of the world and this is why sustainability of our 50th Annual Meeting takes on the utmost importance," said Lee Howell, Managing Director and Head of Global Programming Group at the World Economic Forum.