Bangladesh Can Boost its Exports with Better Logistics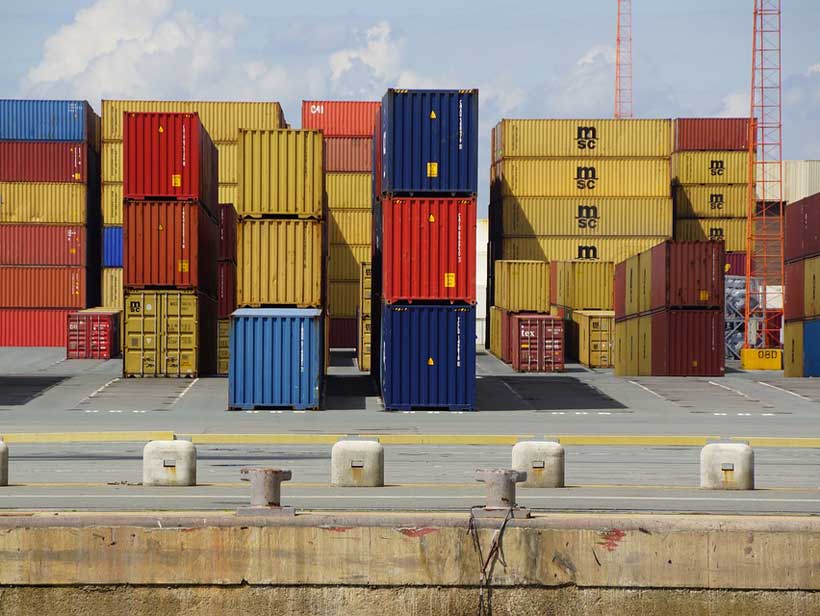 To meet the needs of its growing economy and to boost export growth, Bangladesh needs to improve its transport and logistics systems, says a new World Bank report launched today.
The report Moving Forward: Connectivity and Logistics to Sustain Bangladesh's Success, finds that by making logistics more efficient, Bangladesh can significantly boost export growth, maintain its position as a leading ready-made-garments and textile producer, and create more jobs. The report notes that congestion on roads and in seaports, high logistics costs, inadequate infrastructure, distorted logistics service markets, and fragmented governance hamper manufacturing and freight, further eroding Bangladesh's competitive edge and putting its robust growth path at risk.
"Bangladesh's congested transportation and often unsophisticated logistics systems impose high costs to the economy," said Mercy Tembon, World Bank Country Director for Bangladesh and Bhutan. "By making its logistics more efficient, Bangladesh can significantly optimize its connectivity, business environment, and competitiveness, putting the country on the right path to become a dynamic upper-middle-income country."
Efficient logistics, the report argues, has become one of the main drivers for global trade competitiveness and export growth and diversification. For Bangladesh, improving its logistics performance provides an opportunity to increase its world market share in garments and textiles, which account for 84 percent of its total exports, expand into new markets, and diversify its manufacturing and agriculture into high-value products.
The report notes that improving Bangladesh's logistics requires a system-wide approach based on greater coordination among all public institutions involved in logistics and with the private sector, increasing the effective capacity of core infrastructure, and removing distortions in logistics service markets to reduce costs and improve quality. At a regional level, harmonizing its logistics systems and aligning its customs with that of its neighbors could turn Bangladesh into an important node for regional freight flows and further boost its trade.
"There's no doubt that reforms and investments for better transport and logistics will yield Bangladesh substantial economic benefits and strengthen its competitive advantage," said Matías Herrera Dappe, Senior Economist at the World Bank and author of the report. "But the solution to logistics is not just to invest more but to invest better, by focusing on the service gap, and creating the incentives for high quality and competitive logistics services."
Green transformation will rival industrial revolution
The transition to a global economic model which will slow down climate change and create jobs will be the "biggest economic transformation since the industrial revolution" according to John Kerry, the US climate envoy.
Mr. Kerry expressed the view in a discussion with Kristalina Georgieva, the head of the International Monetary Fund as part of the 2021 Spring meetings of the IMF and World Bank.
They agreed that a "green and resilient recovery" from the COVID-19 pandemic is possible but economic growth globally is likely to be slow and uneven.
'No bank will fund a new coal plant'
John Kerry: There are many ways that we can address the climate challenge in America. President Biden has put a $2 trillion plan on the table, which will result in 500,000 charging stations for electric vehicles being built in the country, thousands of electric buses, including school buses, and a target of 100 per cent carbon-free power, by 2035.
All these measures will generate actions in the private sector. The decisions of some of the largest financial institutions in the world are being driven by environmental, social and governance (ESG) factors, and trillions of dollars is going to be invested in this new sector to avoid sheer catastrophe. We're way behind, but we believe that this is going to be the biggest economic transformation since the industrial revolution.
In Europe, no bank or financial institution or even private source will fund a coal-fired power plant, but we have to move away from coal faster. Many old coal-fired plants are operating at less than 50 per cent efficiency. They are losing money and are not even sending energy to the main grid. They could be phased out over a period of time. Gas will, to some degree, be a bridge fuel [to renewables].
The United States could help mobilize finance to reduce risk, and then bring more money to the table for a commercial investment in alternative fuel sources.
Kristalina Georgieva: At the IMF we have identified three pillars in the transition to a low-carbon economy. First of all, put a price on all carbon emissions. Today only 23 per cent of emissions are being priced. The average price is $2 per ton. By 2030, we need to be at $75 a ton.
Second, funding is needed for public investment in green infrastructure. The IMF can support countries in this regard. Five per cent of gross domestic product (GDP) invested now, would generate an additional 0.7 per cent growth every year. This means that the investment would pay for itself within 15 years and create at least 12 million net jobs.
The third, hugely important pillar, is to lessen the impact on those who are currently employed in the high carbon economy. For example, there must be a just transition for miners, so that they can have benefit from new job opportunities. If we raise revenues from carbon pricing, some of that money must be used to provide a buffer, to soften the pressure on those businesses that need to move away from carbon dependency. This is doable, and it must be done.
China and the US
John Kerry : Right now, China is saying that they are going to reach peak emissions by 2030, and that they may be able to reach that target earlier, maybe by 2025. The problem is that the current models shows China peaking but then basically staying at a plateau, rather than sufficiently lowering emissions.
Some 30 per cent of all the emissions on the planet are produced by China, so if we don't see a reduction between 2020 and 2030, we lose the capacity to keep the global temperature to 1.5 degrees above pre-industrial levels, and we lose the capacity to hit net-zero carbon emissions by 2050.
Every nation must work together on this. If the United States went to zero emissions tomorrow, it wouldn't make the kind of difference we need because we all have to reduce at the same time. That's the struggle we're facing.
China obviously has a need to continue to grow and to develop. We want that, and we're not begrudging that. We want to work with China and other countries to make sure that they don't make the mistakes that we made, and that we work together to develop new technologies such as hydrogen fuel, and biofuels for aircraft.
Doing nothing is too expensive
John Kerry: The United States is the number two emitter in the world. We need to do a better job at reducing emissions on an accelerated basis. President Biden is stepping up to do that. He's hosting a virtual climate summit in April, he has rejoined the Paris climate agreement, and he has put together a $2 trillion piece of infrastructure legislation.
Climate action means jobs, whether in the creation of new energy sources, or transitioning out of the existing ones, building new cars or retrofitting homes. Those are jobs for workers in all countries. We should embrace this.
The economists have warned us again and again: doing nothing is more expensive to our citizens, our taxpayers, than responding to the climate crisis. We spent $365 billion cleaning up after three storms a couple of years ago, but we haven't invested the $100 billion in the Green Climate Fund that would have provided resilience and adaptation to climate change, and prevented some of that damage from being done. We're just not making the right choices.
Kristalina Georgieva: We've already started offering a helping hand, especially to countries devastated by natural disasters. We have put measures in place to help countries to be in a better position when disaster hits. For example, we are discussing with our membership a provision that will make $650 billion available for countries to not only take the necessary measures to deal with the pandemic and its impact, but also to take on the investments necessary for transformation of their economy.
The urgency to act is evident, and vivid: over the last six months, 10 million people were displaced by floods and other forms of natural disasters. Fast-forward to a world in which there are more climate-related disasters, and more migration.
We have a chance to take advantage of a transformation for growth and for jobs. But we are also under tremendous pressure to prevent a future that would be bleak for those we love the most: our children and grandchildren.
Human rights experts demand UAE provide 'meaningful information' on Sheikha Latifa
United Nations independent human rights experts on Tuesday demanded that the United Arab Emirates provide "meaningful information" on the fate of Sheikha Latifa Mohammed Al Maktoum as well as assurances regarding her safety and well-being, "without delay".
Sheikha Latifa, the daughter of the Emir of Dubai, and Prime Minister of the UAE, Mohammed bin Rashid Al Maktoum, was reportedly abducted while attempting to flee the country in 2018. In February, footage was released that reportedly showed her being deprived of her liberty against her will.
Independent rights experts, including the UN Special Rapporteur on violence against women voiced concern that since the February video, and subsequent official request for further information on her situation, "no concrete information has been provided by the authorities".
"The statement issued by the Emirates authorities' merely indicating that she was being 'cared for at home' is not sufficient at this stage", they added.
The rights experts also said they were troubled by the allegations of human rights violations against Sheikha Latifa, and of the possible threat to her life.
Evidence of well-being 'urgently required'
According to the information received, she continues to be deprived of liberty, with no access to the outside world, they added, noting that "her continued incommunicado detention can have harmful physical and psychological consequences and may amount to cruel, inhuman or degrading treatment".
"Evidence of life and assurances regarding her well-being are urgently required", the human rights experts urged, calling for independent verification of the conditions under which Sheikha Latifa is being held, and for her immediate release.
In addition to the Special Rapporteur on violence against women, the call was made by the members of the working groups on enforced or involuntary disappearances; and on discrimination against women and girls; as well as the Special Rapporteurs on torture and other cruel, inhuman or degrading treatment or punishment; and on extrajudicial, summary or arbitrary execution.
The Special Rapporteurs and Working Groups are part of what is known as the Special Procedures of the Human Rights Council. The experts work on a voluntary basis; they are not UN staff and do not receive a salary. They are independent from any government or organization and serve in their individual capacity.
ADB, AFD Reaffirm Strong Cooperation in Key Sectors, Including Climate Action
Asian Development Bank (ADB) President Masatsugu Asakawa in a call today with Agence Française de Développement Group (AFD) Chief Executive Officer Rémy Rioux reaffirmed the importance of collaboration between the two institutions, particularly on key issues such as climate change and aspirations for COP26.
"ADB's partnership with France, through AFD, is strong and continues to build on our long history of collaboration on important development issues and projects across many countries and sectors in Asia," Mr. Asakawa said. "This solid foundation and our dynamic collaboration allows us to support an inclusive and resilient green recovery across the region as it emerges from the COVID-19 pandemic."
The two leaders met ahead of the agencies' annual high-level consultation on 14 and 15 April.
ADB and AFD signed their first partnership framework agreement in October 2016. They have since jointly funded 22 projects in 10 countries, in sectors such as energy, transport, public sector management, finance, agriculture, water, urban infrastructure, and health. AFD has provided $1.9 billion in cofinancing alongside $4.7 billion from ADB to fund these development programs across the region.
Mr. Asakawa updated Mr. Rioux on ADB's response to the coronavirus disease (COVID-19) pandemic, which includes a $20 billion support package for Asia and the Pacific announced in April last year. ADB has committed $17.1 billion through grants, technical assistance, and loans to governments and the private sector and has mobilized an additional $12.2 billion in cofinancing. Mr. Asakawa acknowledged with appreciation AFD cofinancing for ADB's $500 million COVID-19 response program in Pakistan. Mr. Asakawa stressed the importance of vaccine access to enable the post-COVID-19 recovery, and updated Mr. Rioux on the roll-out of ADB's $9 billion Asia Pacific Vaccine Access Facility (APVAX).
The two leaders discussed cooperation on mitigating the severe impact of climate change in Asia and the Pacific which threatens to further undermine development gains over the last several decades. As part of that endeavor, ADB and ADF have a shared objective to contribute to the success of the COP26 summit to be hosted by the UK government later in the year. In 2020, while responding to the COVID-19 pandemic, ADB committed $4.3 billion in climate finance and mobilized $729 million from external resources.