Latin America and Caribbean on the Brink of Massive Solar Power Growth
Latin America and the Caribbean could grow their installed solar capacity by a factor of 40 by 2050, a new report by the International Renewable Energy Agency (IRENA) shows. Annual investmens exceeding seven billion would see the region's solar PV capacity rise from 7 gigawatts (GW) today, to more than 280 GW by mid-century. While solar energy remains the highest in Asia, North America and Europe, market growth is set to shift to other regions in the world.
By that time, solar PV would represent the second-largest power source behind wind, generating a quarter of the world's power, "Future of Solar Photovoltaic" launched today at "Sun World 2019" in Lima finds. In total, global solar power capacity would rise from 480 GW in 2018 to over 8000 GW by 2050, growing by nearly 9 per cent every year.
"Solar PV and other renewables sources represent the most effective and ready solution for addressing growing energy demand and limiting carbon emission at the same time," said IRENA's Director-General Francesco La Camera. "Renewables are practical, affordable and climate-safe. They are key to sustainable development, enabling energy access, spurring economic growth, creating employment and improving health. Particularly solar energy is set to become one of the most prominent power sources in 2050. Projected growth rates in markets like Latin America showcase that we can extend the energy transition to all countries. It's possible."
If accompanied by sound policies, the transformation driven by renewables such as solar can bring substantial socioeconomic benefits, IRENA's new report finds. The global solar industry has the potential to employ over 18 million people by 2050, four times more than the 4.4 million jobs today.
Over the last decade, installed capacity of off-grid solar PV has grown more than tenfold, from roughly 0.25 GW in 2008 to almost 3 GW in 2018 around the world. With its modular and flexible nature, solar PV technology can be adapted to a wide range of off-grid applications and to local conditions. Indeed, off-grid solar PV is a key technology for achieving universal electricity access, in line with the UN Sustainable Development Goals.
Similarly, the deployment of rooftop solar PV systems has increased extensively, which today makes solar PV in some markets more attractive than buying electricity from the grid. The competitiveness of distributed solar power is clearly raising deployment in large markets, including Brazil, China, Germany and Mexico.
Statistical highlights:
Accelerating solar PV can cut energy-related CO2 emissions by 21 per cent in 2050.
With over 50 per cent of installed capacity in 2050, Asia (mostly China) would continue to dominate solar PV power, followed by North America (20%) and Europe (10%). The Latin American market would grow from 7 GW in 2018 to over 280 GW.
Annual solar PV investment would have to increase by 68 per cent on average globally, from USD 114 billion in 2018 to USD 192 billion in 2050.
Global levelised cost of electricity (LCOE) for solar PV will continue to fall from an average of USD 85 cents per kilowatt-hour (kWh) in 2018 to between USD 5-14 cents per kWh by 2050. A recent solar and wind power auction in Colombia was awarded for an average electricity price of USD 27 cents per kWh.
Due to innovations, solar PV remains a fast-evolving industry. Floating PV is one of the most prominent examples with global cumulative installed capacity exceeding 1 GW in 2018. Battery storage and electric vehicles are key solutions to support the grid and manage high shares of solar PV as well as to guarantee the flexibility of the power system.
The full report "Future of Solar Photovoltaic. Deployment, investment, technology, grid integration and socio-economic aspects" can be found here.
New Strategy to Help Vietnam Scale Up and Better Utilize Solar Power
A report based on two years of World Bank support to the Government of Vietnam recommends new approaches to bidding and deployment for solar projects that will help Vietnam substantially boost and effectively manage its abundant solar energy resources.
Such approaches could boost Vietnam's solar generation capacity from the current 4.5 gigawatts to the tens of gigawatts range in ten years, while creating thousands of new jobs, according to the new World Bank Vietnam Solar Competitive Bidding Strategy and Framework report. The deployment of new solar generation will be a critical factor for the Government of Vietnam to meet its Nationally Determined Contribution (NDC) climate change target and reduce its need for new coal generation.
The report comes as Vietnam is considering moving from a feed-in-tariff (FIT) policy to a competitive bidding scheme for solar projects to reduce the cost of solar generation. The FIT has been successful in recent years, spurring the fast deployment of projects at a time when Vietnam has also become a world leader in solar module manufacturing. However, this success has also given rise to new issues, including curtailment —or underuse of solar generation capacity.
The report, supported by the Global Infrastructure Facility (GIF) and the World Bank's Energy Sector Management Assistance Program (ESMAP), recommends two new deployment schemes for projects: competitive bidding for solar parks, and 'substation-based bidding'—competitive bidding based on available capacity at electrical substations. These approaches would address the curtailment issue as well as improve risk allocation between public and private investors.
The first pilot tenders—500 megawatts (MW) for substation-based bidding and another 500 MW for ground-mounted solar parks—are being planned for later in 2020 with the technical and financial support of the World Bank.
"The World Bank is fully committed to helping Vietnam achieve its sustainable energy ambitions," said Ousmane Dione, World Bank Country Director for Vietnam. "We expect that this new strategy will open up a new chapter in Vietnam's already successful solar power expansion."
Beyond the new approaches to competitive bidding, the report recommends setting yearly and medium-term solar deployment targets and revisions to the legal framework covering the competitive selection of independent power producers.
The report estimates that the expansion in solar generation capacity in Vietnam could generate as many as 25,000 new jobs in project development, services and operations and maintenance annually through 2030 and another 20,000 jobs in manufacturing provided Vietnam maintains its current share of the global solar equipment market.
"We are grateful for World Bank support to promote renewable energy in Vietnam," said Hoang Tien Dung, General Director of Electricity and Renewable Energy Authority, Ministry of Industry and Trade. "In particular, the World Bank's support to the Government's effort in shifting from FIT to a competitive bidding mechanism for solar PV could be applied for other types of renewable energy in the future. It contributes to the sustainable and transparent development of renewable energy in Vietnam by harmonizing the interests of private investors, the government and customers."
The World Bank has been instrumental in supporting the Government of Vietnam's solar development planning for years. Since 2017, with financing from ESMAP and GIF, the World Bank has provided a large portfolio of technical assistance ranging from solar resource mapping to strategic advice on mobilization of private investment in utility-scale solar projects.
Building a "Grand Coalition" to bridge the gap between energy and climate goals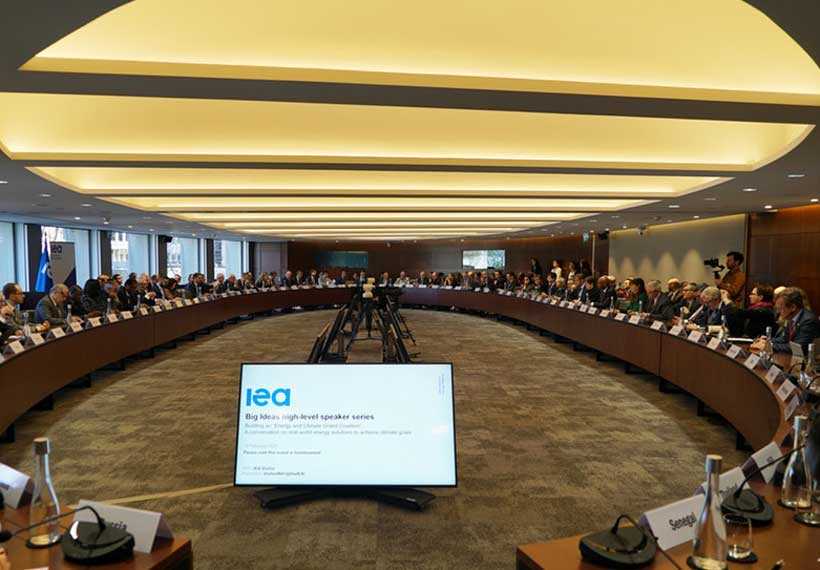 Ministers and high-level representatives from COP host countries met at the International Energy Agency on Wednesday to review ways the energy sector can meet climate and other sustainability goals.
The speakers included Kwasi Kwarteng, the Minister for Business, Energy and Clean Growth of the United Kingdom, which holds the Presidency of the upcoming COP26 this year; Michał Kurtyka, Poland's Minister of Climate and President of COP24; and Joan Groizard Payeras, Director-General of the Energy Agency at the Ministry for the Ecological Transition of Spain, which hosted the COP25.
Held at the IEA headquarters in Paris under the Agency's "Big Ideas" speaker series, the conference was attended by Ambassadors and senior representatives from about 50 countries, industry executives, and representatives from financial and international organizations.
The conference took place a day after the IEA announced that global carbon emissions had stopped growing last year, defying common expectations that they would increase in 2019. The news provided a positive backdrop for the discussions, which were chaired by Dr Fatih Birol, the IEA's Executive Director.
As part of its mandate as the leading global energy organization, the IEA is focusing on both energy security and global clean energy transitions, helping governments steer the energy sector towards international climate targets in a secure, sustainable and affordable manner. In his opening remarks, Dr Birol pointed out that the energy sector accounts for most of the global carbon emissions, and has a key role to play in global energy transitions.
"Without solving the challenge of the energy sector, we have no chance of solving our climate challenge," Dr Birol said in his opening remarks. "We want 2019 to be remembered as the year of peaking global emissions and the 2020s as the decade of the decline in emissions. And the energy sector is ready to be part of the solution."
As part of its commitment to bridging the gap between the energy sector and the climate goals, the Agency announced it would hold the IEA Clean Energy Transitions Summit on 9 July in Paris. This ministerial-level event will bring together key government ministers, CEOs, investors and other major stakeholders from around the world with the aim of accelerating the pace of change through ambitious and real world solutions.
The immediate aim will be to focus on concrete actions to reverse the growth in carbon emissions this decade, focusing on all the fuels and existing technologies that can help achieve that goal rapidly.
To support these objectives, the IEA will publish two major studies ahead of the summit. The first will be a World Energy Outlook Special Report that will map out how to cut global energy-related carbon emissions by one-third by 2030. The second will be the newest Energy Technology Perspectives report, which will focus on an energy sector pathway for reaching net-zero emissions, looking in detail into all technology opportunities that could help to reduce emissions in hard to abate sectors.
The IEA Clean Energy Transitions Summit will be preceded by the fifth edition of the Agency's annual energy efficiency ministerial conference, which will also take place in Paris on 8 July, and will be an opportunity to review the findings of the IEA's Global Commission for Urgent Action on Energy Efficiency.
"The debate around climate change is sometimes too heated and there is too much tension between the energy community and the climate change community," said Dr Birol. "We think this debate needs to be taken in a cool-headed manner. This calls for a grand coalition that brings together all the stakeholders that have a genuine commitment to reducing emissions – governments, industry, financial institutions, international organizations and civil society. Without this grand coalition, it will be very difficult to address this challenge."
IRENA and UN-Habitat Join Efforts to Accelerate Global Energy Transition in Cities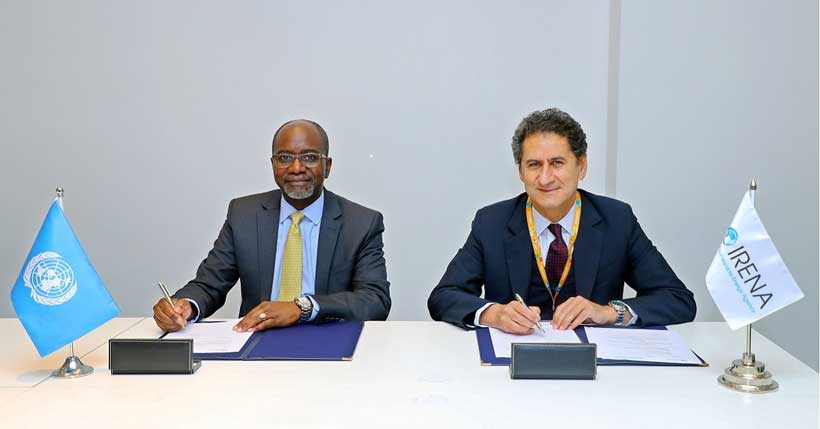 The International Renewable Energy Agency (IRENA) signed a memorandum of understanding (MoU) today with the United Nations Human Settlements Programme (UN-Habitat), to cooperate on sustainable energy in the context of urban development. IRENA's studies show that cities are responsible for 65 per cent of global energy demand and the Intergovernmental Panel on Climate Change data shows cities are responsible for 71-76 per cent of energy-related carbon dioxide emissions.
As such, high-level cooperation to support municipal governments in their energy transition is crucial.

Signed by IRENA Director-General Francesco La Camera and UN-Habitat Deputy Executive Director Victor Kisob during the Tenth Session of the World Urban Forum (WUF10) in Abu Dhabi, United Arab Emirates (UAE), the MoU will see the two organisations work to advance the role of cities in the global energy transformation whilst promoting cleaner, low-carbon urbanisation.

"Cities are the engines of modern economic growth, supporting prosperity and opportunity, and are also a source of significant energy demands and of carbon emissions," said IRENA Director-General Francesco La Camera. "In the pursuit of climate and sustainable development goals, municipal governments have an opportunity to strengthen policy frameworks that can help cities shift to renewable energy use. Cities can significantly contribute to the achievement of global energy transformation objectives and this partnership will help accelerate that process."

IRENA and UN-Habitat have been working together for several years by sharing expertise in different occasions. Commenting on this, UN-Habitat Deputy Executive Director Victor Kisob said: "The signing of this MoU is one of the many testaments of UN reforms to advance synergy and partnership. We are happy to strengthen our partnership with IRENA for a more sustainable energy future."

The cooperation agreed upon by the MoU covers among others the exchange of relevant information, expertise, and viewpoints in order to realise potential synergies, enhance public dialogue, and implement common positions. Under this MoU, both IRENA and UN-Habitat hope to be at the forefront of the global efforts to achieve sustainable urban development.