Contemporary politics and the ensuing organization of consensus currently employ techniques and methods never used before.
We are going through an era in which completely new mechanisms operate within the traditional Parliamentary political representation, inherited from the liberal and democratic thought of the eighteenth century and of the following century. These mechanisms are much more powerful than those that – in the modern imitation of the Athenian agora -formed the will of the people and the guidelines and directions of the government.
Democracy of Ancients and Democracy of Moderns – just to use the simile of Benjamin Constant – were basically similar, but different in their functioning.
The number of citizens did not constitute a substantial difference, except that, according to Constant, modern democratic citizens delegated to the ruling class what did not fall within their being "private individuals, with private interests".
Again according to Constant, the reason lay precisely in the new category of "private individuals" who, with a view to maintaining their wealth or work, deemed it right to delegate to someone else their power to make and break laws. Nowadays the private sphere does no longer exist. But not in the sense of the society of "one thousand eyes" and of continuous supervision and surveillance, but because the very category of "private" is over even in the political discourse.
Hence a mass totalitarian society, with a repressive apparatus that applies to everything would previously have been the subject of the strictly personal sphere of life.
Everything has currently changed, but everything still appears to be similar to the criteria and principles we have studied in the manuals of history of political doctrines. This is not the case.
Meanwhile, since the beginning of the 20th century, Eduard Bernays, Freud's nephew and the father and pioneer of public relations, had established some connections between Sigmund Freud's psychology (and with Gustave Le Bon's Psychology of the Crowds, Mussolini's favourite book) and political practice.
That was the beginning of what we now call "corporate communication".
The suffragettes smoked and that was an operation funded by Bernays through the US tobacco producers.
The exaltation of sex – following the publication of the Kinsey Report and the mass spread of the contraceptive pill-changed and upset the consumption styles and habits of vast masses of young people who, in the 1960s, were to shape the consumption habits of what Galbraith called the "affluent society".
That was the objective, not sex.
Hence, based on what discovered by Sigmund Freud, with a view to selling or prompting and inducing political behaviours, there was the need to "work" above all on the unconscious.
Currently, whatever is implanted from outside into the unconscious – if repeated constantly – always becomes real in the future.
The real for itself always becomes in itself, because what individuals think -in crowds, but solitarily (Riesman's "lonely crowd") -becomes either consumption or political behaviour, which is basically the same.
The subconscious has a huge power, i.e. controlling all subjective experiences. It is the autopilot of life, also from a practical viewpoint.
Nowadays no one speaks to the "reason", the myth of the eighteenth century, but to instincts, to the subconscious, even to the unconscious.
The whole mechanism of the subconscious is already well in place and ready at 7-8 years of age and continues all lifelong.
With a view to reprogramming it, we need at first to limit the external and environmental negativities.
Indeed, we need to look for fully "positive" people, things and environments, as well as information.
Needless to say, this rule is carefully followed by all political propagandists and, above all, by advertisers.
Currently politics always follows the rules of consumer goods advertising. The leader is a testimonial. The script is the program and the government an oligopoly.
With a view to de-programming the "negative" mind, we need instead to visualize – as in a daydream – positive situations which we have already experienced.
We also need to reprocess the feelings of joy, which reach the subconscious immediately, well before the other ones.
The subconscious mind always and only knows the present.
Past and future are conceptual notions and processing – hence they are conscious. The subconscious interprets the negative of a negative proposition only as negative.
Creating positive propositions that counteract the negative ones processed and produced by the subconscious and then continuously repeat these actions. This is the basic technique.
This is, in short, the subjective mechanism that is currently used in political and commercial communication.
What are, however, the current technologies used to program and reprogram people's minds?
We can mention the theory of social warfare, the virtual but all-out clashtaking place in the minds of citizens of a target country, using current technologies.
The aim of any reprogramming campaign is, in fact, to make the enemy (the enemy people, indeed) think like us.
It is a new kind of manipulation, much wider than the one carried out with the old disinformation or with the intelligence intoxication that was the non-violent part of the Cold War.
The most used information technologies are now Precision Targeting – which sends messages and behavioural inductions to a specific group – as well as the wide range of Artificial Intelligence mechanisms that are used to simulate online the behaviour and thought in relation to the primary information we wants to convey. There is also the algorithmic decision-making, which processes information through specific algorithms in view of formulating recommendations or taking fully automated decisions.
This holds true both for decision-makers and for the vast mass of users, citizens and voters of the aforementioned decision-makers.
We can also mention the Virtual Reality (VR) and Augmented Reality (AR) technologies, which create partially or completely artificial environments for both the programmers of the public opinion and the public itself.
But also the Internet of Things (IoT) is used in this field, by correlating machines and sensors for the construction of a Complete Reality, which becomes facts and data to be spread as such.
In this context of complete manipulation of information, which becomes the Complete Reality, also voice interfaces are useful. They allow to exchange information between the Source and the User or between Users, thus allowing the psychological reinforcement of news.
Again in the field of information manipulation, blockchains are also important. They allow to control and process information only through the users enabled to use the "chain".
We should also recall the computerized programs that generate completely false videos and images – fakes which, however, are absolutely plausible.
Precision Targeting is used above all to reprogram groups of pre-selected individuals, who provide the Web with a continuous flow of information, from mobile phones, from the Web and from the other channels, to those who can selectively access the Web. All this is currently used, above all, through social media.
In this case, we have already reached the phase of neuromarketing, which changes the desires and habits of specific population groups, by combining the mental effects with the emotional ones.
As if it were a sign which, according to De Saussure, is the indestructible connection between signified and signifier. But the product of neuromarketing is not at all a language sign.
In this case, the above mentioned technology could be used for indirect facial recognition, manoeuvred by Artificial Intelligence systems.
Facial recognition will enable those who manoeuvre -also temporarily – the Web to quickly check the emotions of millions of people, and we all know how important emotions are now to tamper with the psyche and communicate concepts that often have very little relevance at conceptual and even at emotional or mental levels.
By 2035 these technologies are expected to be spreading like wildfire, since they are very important both for commercial operations and for political marketing.
Artificial Intelligence is the primary axis of development of all the other technologies we are talking about. AI will be used above all in verbal and textual recognition, as well as in the collection and analysis of very broad spectrum data, and for the processing of raw initial data, again in a very large population.
AI, however, will above all be used for defining an automated decision-making that can support the human decision-makers when they do not know, remember or understand all facts and, above all, the underlying determinants of facts.
We will get to imitate, without realizing it, Elsa Morante's book "The World Saved by Kids" and certainly what is happening in global communication already guarantees this future to us. They are more manipulable. They have no memory and they are perfect for the Brave New World that stands before us.
We can easily imagine what all this means for advertising, for the selection of markets, for business decisions but, above all, for the development of political platforms, both in terms of the electoral process and for the more specific decision-making process.
The next level will be content, which will often be produced directly by AI systems.
But let us better analyse what algorithmic decision-making is.
It is often currently applied in medicine.
Disease analysis, therapy forecasting, statistical analysis of diseases and their effects, both at subjective and population levels. In the near future, however, other sectors will be ever more like the banking system. Human Resources, even political decision itself, will be the subject of these applications, which will often become so complex as not to be understood – in the future – by the computers using them.
If you collect a lot of data, it is increasingly likely that a sequence of decisions or simple new data is not recognized by the program operating in the computer.
Also for AI networks we will have a process of learning by doing.
There are two dangers. Firstly, that the private ownership of the most important databases makes competition between systems impossible; secondly that the algorithms are hackable or manipulable by third parties unknown to the system.
There are also Virtual Reality and Augmented Reality.
If we proceed with the increasingly analytical and obsessive adaptation of the devices to the Ego of the User, or to his/her tastes- considered, for some reason, immutable – we risk an ideological drift of new technologies, i.e. that of hyper-subjectivism and, as happens in current educational practice, that of the permanence of the mass Ego in an eternal childhood.
The "Minor Ego" advocated by some people is a very real risk and it is not even clear how a super-massified production can be adapted to the increasingly self-referential psychologies of the Consumer Ego.
Not to mention the natural limit – currently often evanescent – that the Augmented Reality keeps between the imaginary and reality – a limit that, in the propaganda and political implementation of the Virtual Reality, could become very dangerous to cross.
Immanuel Kant spoke of the 100 gold Thalers that can be in your pocket or just in your imagination, but that cannot certainly be mistaken one for the other.
Hence beyond any technological processing, Reality is never the Imaginary.
Although the imaginary can induce behaviours very similar to those that the subject would have if subjected to reality, the one that – as Voltaire said – has "hard head".
By Internet of Things (IoT) we generally mean an environment full of machines that interact with one another through the Web.
As can be easily guessed, the IoT information potential is huge.
Human consumption habits, but also communication, ways of life, lifestyles, exchanges between subjects, positions and information exchanged between individuals will be part of huge databases.
Probably, in the future, it will be difficult to find exactly what is needed in those databases, considering that the bias of the IT and data storage systems tends to increase with the quantity and complexity of data.
It is estimated that, by 2030, there will be over one and a half trillion sensors connected to IoT networks, which will be worth half of the entire Internet traffic of "simple" users.
According to Deloitte, the entire IoT market is expected to be worth a trillion, in addition to further 750 billion for IoT network connection modules.
It can be easily imagined to what extent this makes it possible to hack data not only from IoT networks, but also from all other networks connected to the Internet and ending up in an IoT structure.
By 2030 blockchains will be the basis of financial, control, check and analysis networks.
It will be the beginning of virtual monetization, which is, in itself, the opening of the financial gates of Hell.
The miserable level of the current economic thinking allows it.
Nevertheless, all this technological development – between imagination and reality – will lead us towards a society of the unverifiable and probable, with no possibility of responding to a government financial or information fake and with an increasing penetrability of information networks, to which the whole social fabric and not only its control will be delegated.
However, the society of the imaginary 100 Thalers – believing that the imagined ones are already in the pocket – will not be able to pay anything.
Lithium in Afghanistan: Gold or Dust?
With Lithium being much in focus due to the increasing demand for the electrification of many areas on the planet, expectations and dreams around the delicate metal grow by the day. Many electronics devices, most devices with rechargeable batteries, modern electric vehicles in particular, but also in storage and balancing battery systems for the electric grid – they require Lithium. All this is stirring the dreams of those governments, regions and countries having Lithium as one of their raw materials at hand. Like Afghanistan.
Besides some precious stones – which illegally are mined by many groups since decades – Afghanistan has several other raw materials, and a huge supply of Lithium among them. The war-worn country officially is led by the Taliban but with many regions under control by other groups and even terrorists. Situated in Nangarhar province, one of these opposing groups, the ISIS-K, seeks control over Ghazni province, with the goal to occupy the south of the capital Kabul and, therefore, having access to some of the raw materials as well as the smuggling routes towards Pakistan. One focus lies on Lithium in the Ghazni province. In parallel, the government seeks to find cooperating partners for mining Lithium as well – in the Ghazni province, for instance. Conflicts, therefore, can be expected. However, there are other areas where the Afghan people could mine Lithium, in the provinces of Helmand, Daykundi and Uruzgan, for instance.
Foreign countries and companies are interested in Lithium


This puts light onto a number of opportunities but even more on the obstacles. First and foremost, all known facts of the areas where Lithium can be found, and the calculated amount are based on Russian explorations from the mid 80ies and even earlier British information. Thus, the database is at least 40 years old. These figures neither have been thoroughly updated, nor verified, and not properly aggregated, too. Furthermore, there is a good chance to find more regions with Lithium as well as other sought-after minerals and metals.
Besides exploration, the infrastructure, dependability, safety, continuous supply, social and environmental sound mining are further obstacles which need to be overcome. And this are a huge tasks. As of today, there are five Chinese companies – like Ganfeng Lithium corporation – looking into the Lithium business in Afghanistan. Many of the country's Lithium deposits are in remote locations with limited infrastructure. Decades of war and economic hardship have deteriorated the situation. China has been willing to undertake risky projects to support strategic investments in other countries like Nigeria and learned it is not worth the hassle. As a result, the Chinese are interested, but also reluctant to go for the Lithium in Afghanistan.

What is needed to attract foreign countries and companies to go into the Lithium mining business in Afghanistan? To obtain the raw materials lots of rocks/minerals need to be transported to the processing plants, ideally located nearby. Thus, safe well-built roads for heavy-duty trucks or heavy-duty train tracks coming from the mines to the processing plants and from there to the borders for export are needed. Access to these remote areas, thus the infrastructure, plays a significant role.
To run these activities, many people are needed to do all the jobs and these people need accommodation as well as healthy food, medical help, transport, communications, entertainment, education, and more. Mining and particularly mining of Lithium needs lots of water. Water supply as well as environmental sound mining including saving water have become major issues. Many markets and the car & truck businesses in particular require a number of (independently controlled) actions to ensure social and environmental sound mining as well as the use of water: the car industry learned from the Cobalt disaster to closely monitor the situation at each mining facility.
Time and dependability
It takes about seven years to build, install and put a large and well monitored mining facility for Lithium into operation. In a situation of uncertain exploration data, two years for exploring the area, sources and mines must be added. These huge investments in geology, technology, labor, and time makes sense only if such a facility can safely run for as long as possible, preferably over decades. Thus, dependability is key. To make all parties profiting from such a mine, continuous supply, transport and sale of the metals and materials must be ensured. All this can only be achieved in a safe and stable environment. Frankly, Afghanistan neither will be able to provide the required infrastructure, nor the dependability, safety and continuous supply to achieve an economically successful operation. Not even mentioned the social and environmental sound mining which needs to be ensured, controlled, and confirmed.
Mining on a small scale as done today in Afghanistan is a way to sell raw materials like Lithium into secondary channels. These channels do not pay market prices and they do not ask questions. This might be an opportunity for ISIS-K and others, but it certainly isn't an option for the Afghan government in the long term since it is not economically sound. In order to properly and continuously make money with Lithium and other raw materials, the preconditions have to be established, adapted and improved, first
Lithium is not at short supply
With crude oil, we were informed to see peak [supply of] oil very soon. Such stories came up first about 100 years ago, but the fossil fuel companies found more oil in countless new areas worldwide. Today, we talk about peak [oil] demand and this is more likely to happen before peak oil. Same applies to Lithium. Several analysts said we already are facing a shortage of Lithium. This, as well, is not true. Lithium is at high supply and rising demand. Several new Lithium sources – many easily accessible – have been found during the past few years. There are large new ones in Iowa, a huge source underneath the river Rhine in Europe, many more have been found in several countries, including China, but most of them in South America. Furthermore, there is lots of Lithium in sea water, too. Why do we suddenly find so many Lithium sources, now? Simply said, if you search for something very specifically you probably will find some – like California's Salton Sea area which is abundant with Lithium and is enough to build tens of million electric vehicles. Furthermore, this Lithium source is easily accessible.
There is a high and rising demand for Lithium, but no, there is no need to go far into remote areas of instable countries like Afghanistan to obtain the metal. Prices for Lithium came to an all-time high in late 2018 but then gradually dropped and now are relatively stable. New battery designs require less Lithium while the battery sizes become bigger. Furthermore, recycling will become the most important source of Lithium within the next ten years. As a result, Afghanistan is no treasure trove, companies can more easily acquire Lithium (and other critical minerals) from alternative sources. Most countries and companies are well aware of the risks and headaches that come with doing business in and with Afghanistan. As a result, China is not going to rush into Afghanistan, nor does any other country.
In response to the question above Lithium is not the new gold for Afghanistan since the preconditions are so questionable: The Taliban and ISIS-K dreams of a money flow by Lithium will not happen. And this applies to other raw materials, too. For instance, many rare earth elements can be found in Afghanistan. But with their name comes a misunderstanding: rare earth elements are not rare by the means of abundancy, they are "rare" since they "rarely exist in their purified form". Thus, rare earth elements require extensive processing – which as well requires infrastructure locally.
For Afghanistan it becomes vital to sort the infrastructure issues out which not only means roads and train tracks, but also hospitals, educational facilities, stores, entertainment, and social life – since with the investments in mining and processing by foreign countries and companies' specialists are coming and will work in Afghanistan: they want a normal life. The government's plans for such investments are highly important for being able to profit from all the raw materials. Otherwise, it all remains dust.
Which would be very sad since the country and particularly the areas where raw materials can be found are of an exceptional beauty with inhabitants of unparalleled hospitality.
Somalia: Security Council adopts resolution to keep pirates at bay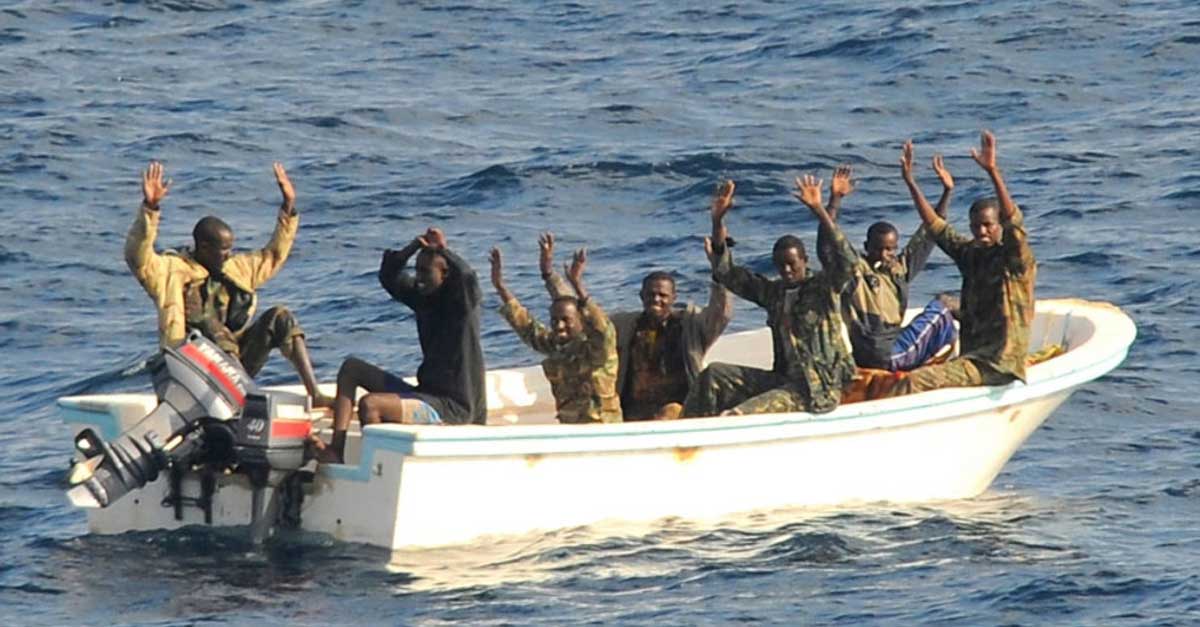 The UN Security Council on Friday adopted a resolution to combat the continuing threat of piracy off the coast of Somalia, as shipping and protection measures to keep vessels safe, have returned to levels not seen since before the COVID-19 pandemic.
The Secretary-General's latest report on the situation in the country illustrates that joint counter-piracy efforts have resulted in a steady decline in attacks and hijackings since 2011.
However, although piracy off the coast of Somalia has been "repressed", the ongoing threat of resurgence remains.
As such – under Chapter VII of the Charter, which provides for enforcement action – the Security Council adopted Resolution 2608, which, among other things, condemns piracy and armed robbery at sea off the Somali coast, underscoring that it exacerbates instability by introducing "illicit cash that fuels crime, corruption and terrorism".
Making amends
Through its resolution, ambassadors said that investigations and prosecutions must continue for all who "plan, organize, illicitly finance or profit from pirate attacks off the coast of Somalia".
The Somali authorities were called upon to put in place mechanisms to safely return effects seized by pirates and to patrol the coastal waters to prevent and suppress future acts of armed robbery at sea.
At the same time, they were requested to bring to justice those using Somali territory to "plan, facilitate, or undertake criminal acts of piracy and armed robbery at sea".
Member States were asked – at the request of the Somali authorities and with notification to the Secretary-General – to strengthen maritime capacity in the country and to appropriately cooperate on prosecuting suspected pirates for taking hostages.
The resolution also encourages the Somali Government to accede to the UN Convention against Transnational Organized Crime, and develop a corresponding legal architecture as part of its efforts to target money laundering and financial support structures on which piracy networks survive.
Authorization to fight piracy
The Security Council renewed its call to States and regional organizations to deploy naval vessels, arms, and military aircraft to combat piracy, and stressed that the importance of international coordination.
At the same time, the resolution authorized – for a further three-month period – States and regional organizations cooperating with Somali authorities, to fight against piracy and armed robbery at sea off Somalia, "for which advance notification has been provided by Somali authorities to the Secretary-General".
Calls to action
Through its resolution, the Council called upon all States to "take appropriate actions…to prevent the illicit financing of acts of piracy and the laundering of its proceeds…[and] to criminalize piracy under their domestic law".
Countries were also petitioned to cooperate in the investigation and prosecution of anyone responsible for or associated with acts of piracy and armed robbery off the coast of Somalia, including international criminal networks.
Resolution 2608 welcomed the continued work of the UN Office on Drugs and Crime's (UNODC) Global Maritime Crime Programme to ensure that those suspected of piracy are prosecuted, and those convicted, imprisoned in accordance with international legal standards.
Finally, the resolution recognized the International Maritime Organization's (IMO) role concerning privately contracted security personnel on board ships in high-risk areas and welcomed its continued anti-piracy role – particularly in coordination with UNODC, the World Food Programme (WFP), the shipping industry and all other parties concerned.
ISIS-K, Talc, Lithium and the narrative of ongoing jihadi terrorism in Afghanistan
Chinese and Russian efforts are underway to strengthen the Taliban government economically and militarily, along with legitimacy and international recognition. In return, Pakistan is trying to disrupt the Taliban government's relations with Iran and Tajikistan, as well as with China and Russia. Subsequent to the fall of the previous republican government, following Russia and China, Iran is a major supporter of the Taliban.
Iran plays a significant role in a new intelligence surge launched by major regional players in Afghanistan, which includes ISIS-K campaign against the Taliban government in country. Although Taliban have been able to crush, ISIS-K in several provinces of Afghanistan, but the group was able to mobilize a bunch of other terrorist organizations such as Turkistan Islamic Party, Khetabat Iman Ul Bekhari, Khetabat ultauhied Waljihad, Islamic Jihad Union, Jamaat Ansarullah and East Turkistan Islamic Movement, and The Army of Justice. According to sources on the ground, the group has also established contacts with the resistance front led by Ahmad Massoud to fight Taliban.
Seemingly, the group joined forces with the Resistance Front in northern part of the country to downfall the Taliban particularly in northern Afghanistan. In addition to defeating the Taliban in the central and southern provinces of Afghanistan, the group has started a sectarian war between the Sunnis and Shiites, which has partly soured relations between the Afghan Taliban and Iran. The group had the support of Pakistan as well as other regional countries and beyond. Furthermore, Lashkar-e-Taiba fighters entered Afghanistan with the help of the Pakistani army, joining the fight between Sunni and Shia in Afghanistan. Efforts are underway to start a civil war in the country. According to the information, ISIS militants have been mostly funded and financed by the Saudi government, as well as other Salafi Gulf States to minimize and even eradicate Shiites in the region.
In accordance with some sources, additional costs are being borne by the United States and Great Britain. Beside all such financial support, Islamic State (ISIS-K) militants also obtain some funding and thrive through mining and establishing business firms throughout the region.
Let us say, Islamic State militants relatively control the oil reserves in Iraq and they illegally extract it, meantime they have hands on talc and other precious stones in Afghanistan to cover their propaganda campaign expenses. ISIS-K uses the same tactics applied by Taliban during the US occupation; Taliban began illegal mining in Afghanistan to finance their activities in order to wage the war against the US aggression. During the Taliban's resistance, Taliban fighters had also a strong financial support from Pakistan, and the Pakistani government accordingly received that financial sustenance from other countries namely western and the Arab world. However, the Taliban forcibly mined Afghanistan's lapis lazuli and smuggled it to Pakistan. Under the auspices of the Pakistani government, the gems were shipped to the United States and the European countries. In return, the Taliban were paid in cash. Likewise, the Taliban, ISIS chose the same path, and made the most of money via mining in Afghanistan.
Subsequently, the ISIS group has chosen Nangarhar province as its stronghold in Afghanistan, since it has mineral deposits of talc, chromite, marble and other precious and rare earth minerals in addition, the group is also trying to control smuggling routes, to launch cross border terrorism.
Consequently, ISIS-K endeavors to bring Ghazni province under its control, since a huge Lithium, mine exists in the province. The group is well aware of its preciousness in the world market because the element is mainly used by automotive industries to produce batteries for electric cars.
The anti-corruption network of the former Afghan government reported that the Taliban and the Islamic State together received about 46 million in 2016 thru illegal mining from a single district of Nangarhar province. That is why ISIS has spent millions of dollars in Afghanistan because of holding its campaign and propaganda, allegedly, most of which came from mining.
Furthermore, district governors have been appointed by ISIS for Afghanistan's 387 major districts, with a monthly salary of up to 80,000 Afghanis. This is a huge financial burden for the Islamic State, but the Islamic State group's representatives say that they stick to their words, so that everyone will be paid on time. The ISIS group needs a large amount of financial support to achieve its major goals, but the group is not overstrained financially, because it receives a chockfull financial support.
Conversely, Iran is trying to increase the number of Shiite orientated proxies in the world and especially in Afghanistan to eliminate ISIS-K in return; the Saudi and other Gulf Sates want to prevent it. Therefore, they use ISIS and other associates of the group to counter Iran's ambitious trans-national agenda; ISIS-K takes advantage of having been provided with huge financial support by anti-Iran camp.
Iran has repeatedly tried to spread Shia religion around the world, most notably at Mustafa International School in Bamko, the capital of Mali in Africa. There have been several attempts by the Iranian government to convert the students to Shi'ism, an issue that has become the topic of international debate supported by Saudi Arabia. Finally, all of these events are currently having a direct and indirect impact on Afghanistan and the country's ongoing security crisis, which will affect the entire region at the end.