IRENA Facilitates Investment and Renewable Projects on Ground in Africa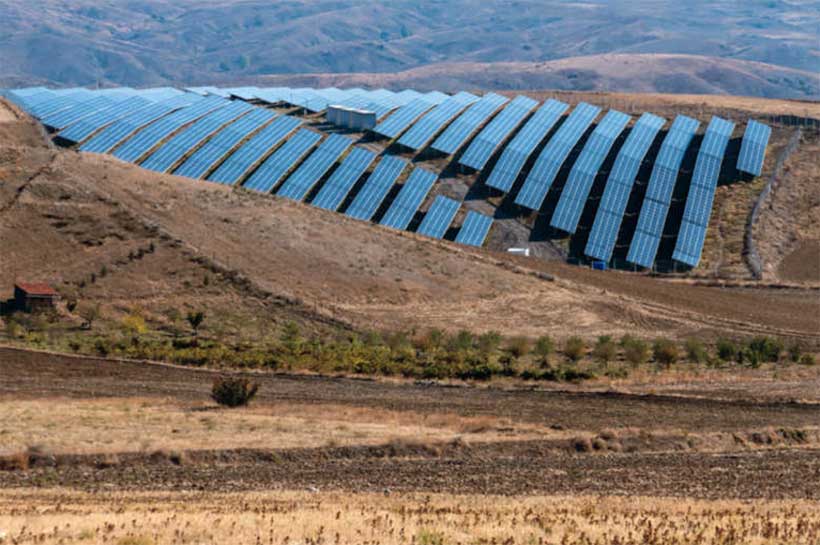 Boosting renewable energy projects on the ground requires scaling up investment. IRENA's state-of-the-art analysis of enabling policy frameworks and finance mechanisms channel public and private investment in markets like Africa, Latin America, Asia, South-East Europe and the Small Island Developing States (SIDS). Now, IRENA is taking its work one step further by increasing the Agency's on-ground impact with 15 regional and sub-regional platforms which aims at scaling up renewables deployment and investments.

One step in this new direction is the event that took place in Johannesburg as part of the Africa Investment Forum hosted by the African Development Bank. It facilitated renewable energy deal-making in Sub-Saharan Africa in partnership with Power Africa and the African Trade Insurance Agency. The event corresponds to IRENA's new direction and way forward ensuring an acceleration of the renewable energy transformation globally.
Speaking at the Investment Forum in South Africa, IRENA's Director-General Francesco La Camera underlined the importance of renewable energy to meet sustainable economic growth and Africa's climate and development ambitions. "Now more than ever, renewables have become a compelling investment proposition", said La Camera. "With renewable energy technology prices set to decline, the cost-competitiveness of renewables will strengthen further. IRENA's analysis shows that nearly a quarter of Africa's energy needs could be met from indigenous and clean renewable energy sources by 2030. This would result in a wide array of socio-economic benefits in terms of economic growth, welfare, employment and energy access. It's Possible".

IRENA has been committed to supporting African governments in their quest for a sustainable energy future. The Agency has supported countries in building attractive investment frameworks for renewables to strengthen institutional and technical capacity. It has also supported the development and financing of renewable energy projects through project facilitation tools.
"A lot remains to be done to address the key risks and barriers that hinder the scale-up of renewable investment in the region", La Camera continued. "There is no shortage of renewable energy project proposals which are competing for investor capital. But they are not always financially viable. Many proposals fail to materialize due to high cost of capital, limited access to risk mitigation solutions and long delays in projects".

By building on its extensive project pipeline in Sub-Saharan Africa with over 90 renewable energy projects, the Agency has showcased 10 renewable energy projects at the Investment Forum. Projects from Cameroon, Cote D'Ivoire, Kenya, Mali, Senegal, Sierra Leone and Togo which have a total capacity ranging from 6 MW to 70 MW – covering technologies like wind, solar, bioenergy and hydropower – were presented.

IRENA's project facilitation platform provides project owners and developers with increased visibility for their projects among financiers and other market players. Project owners have access to wide range of financial instruments provided by multiple investors from development finance institutions, private companies, utilities, private equity funds, donor and multi-donor facilities, commercial banks and more, as well as access to different services for example legal and financial advisory, environmental, project development and Engineering Procurement and Construction contracting.
More information about IRENA's project facilitation.
UNDP and IRENA Poised to Support Breakthroughs on Renewables
Nations around the world should embark on a massive and immediate shift to renewable energy, the United Nations and the International Renewable Energy Agency (IRENA) said today, adding that such a move would drastically cut emissions and help get the world on track to meet the Paris climate goals and limit global warming to 1.5 degrees Celsius.
Action by countries to stop the continued progression of fossil fuels is possible, UNDP and IRENA said at a joint event held at the UN Climate Summit in Madrid.
Renewable deployment would have to accelerate six-fold by 2030 if the world is to achieve the goal of cutting global carbon emissions by 45 percent and keep temperatures below 1.5 degrees Celsius above pre-industrial levels, IRENA said.
In September, UNDP launched a new initiative called the "Climate Promise", vowing to support as many countries as possible to revise and submit enhanced climate pledges known as Nationally Determined Contributions (NDCs) by 2020.
Working with the NDC partnership and other partners, UNDP will support 100 countries to accelerate the enhancement of national climate pledges by 2020, building on its climate action portfolio in over 140 countries. Energy is a crucial part of this work and IRENA will provide the necessary knowledge, and support countries to accelerate energy transitions driven by renewable energy. To date, 78 countries are drawing upon UNDP's experience in disaster risk reduction, gender, health and nature-based solutions.
"Shifting to renewables will create far-reaching development impacts, triggering an economic stimulus and creating millions of jobs around the world, not to mention widespread health and other welfare benefits. Renewable energy should be an integral part of countries' climate pledges," said Achim Steiner, the Administrator of UNDP. "We recognise the challenges, but this transition is achievable. At UNDP we stand ready to support countries to take bolder action on climate change."
"There is no sustainable development without renewable energy. It's possible to accelerate the low-carbon energy transition and achieve sustainable development, thereby creating inclusive and prosperous economies," Francesco La Camera, the Director-General of the International Renewable Energy Agency said at the Madrid Climate Summit.
According to IRENA, out of the 156 NDCs submitted to date, 135 countries mention renewables but most are underutilising renewables to raise their ambition. The agency also estimates that over USD 1.7 trillion would be needed by 2030 annually to implement adequate renewable energy targets, though much of that funding could come as a result of eliminating fossil fuel subsidies.
In September, both partners launched a global campaign called #ItsPossible, engaging policy-makers and investors to join and advocate a decisive renewables push in key countries around the world. The campaign will carry over into the next year.
During the joint event at COP25, IRENA also launched a new report on NDCs in 2020: Advancing Renewables in the Power Sector and Beyond.
Burkina Faso: AfDB approves €48,82 million for Desert to Power Yeleen programme
The Board of Directors of the Bank has approved a €48,82 million loan to the Government of Burkina Faso for the Yeleen solar plant, intended to boost national power supply.
Yeleen, which is to be implemented under the Bank's Desert to Power ( DTP) Initiative, and which will span a period of five years from 2020-2024, is the second project under the DTP initiative in Burkina Faso. The total project cost is estimated at €136.69 million. The rest of the financing for Yeleen is provided by Agence Française de Développement (AFD), European Union (EU), and Société Nationale d'électricité du Burkina Faso (SONABEL).
The electricity access rate in Burkina Faso is one of the lowest in Africa at around 21% at national level in 2018. Upon completion, the project will increase and diversify electricity supply through the construction of four new 52 MWc photovoltaic (PV) plants and extend power distribution networks to connect 30,000 new households, or about 200,000 people. It will also contribute to the avoidance of 48,000 tCO2eq emissions annually.
Wale Shonibare, the Bank's Acting Vice-President for Power, Energy, Climate Change & Green Growth said: "This project will augment the Bank's efforts to ensure inclusive access to energy through improvements in rural electrification, regional interconnections and energy sector reforms. Notably, it will increase Burkina Faso's generation capacity by 15%, which will greatly help to reduce Burkina Faso's reliance on fossil fuel imports."
Dr. Daniel Schroth, the Bank's Acting Director for Renewable Energy & Energy Efficiency also added that the approval would further the Desert to Power Initiative's momentum in line with commitments made at the Sahel G5 Summit on 13th September in Ouagadougou.
"With this project, we are making concrete progress on two of the five priority areas under the Desert to Power initiative which include adding new solar generation capacity and strengthening the transmission and distribution networks," said Schroth.
The current project is part of Burkina Faso's broader 2025 Solar Programme, known as "Yeleen" with three components: (i) Development of photovoltaic plants (PV) connected to the interconnected national grid; (ii) Increase in the electricity distribution network; and (iii) Rural electrification by mini-grids (isolated) and individual solar systems. The rural electrification " Yeleen rural electrification project" which aims to to increase electricity access in Burkina Faso by connecting 150,000 households to solar mini- grids (50,000 household) and through stand-alone solar kits systems (100,000 households) was approved by the Bank in December 2018 with joint financing with EU and GCF.
The project aligns with Bank's Country strategy paper for Burkina Faso (CSP 2017-2021), its High-5 "Light Up and Power Africa"initiative, and the Bank's Climate Change plan. Desert to Power initiative aims to accelerate economic development by adding solar energy generation capacity of up to 10 GW by 2025 through a combination of public and private interventions.
Improving gender diversity in the energy sector is an important measure of success
Energy industries have lacked female participation throughout their history, with women making up only about one-fifth of the traditional energy sector labour force.
The International Energy Agency, which promotes the need for equal opportunities, today hosted a high-level event focused on how to advance gender diversity in the energy sector to support future workforce needs.
Held in Paris ahead of the IEA's biennial Ministerial Meeting, the event was chaired by Christyne Tremblay, Canada's Deputy Minister of Natural Resources, and Megan Woods, New Zealand's Minister of Energy and Resources. At the event, the United States launched the C3E International Ambassador Programme, which gives all countries an opportunity to nominate individuals who will support governments' efforts in improving gender diversity in the energy sector.
Other participants included ministers or senior government officials from Austria, Australia, Belgium, Finland, Germany, Italy, the Netherlands, Sweden, the United Kingdom and other IEA Family countries, as well as executives from several major energy sector companies. During the meeting, participants expressed enthusiastic support for advancing gender diversity across the energy sector and its importance for clean energy transitions.
"Achieving a better gender balance is not only an issue of fairness. It is also good for results as well, as studies show that diverse organisations perform better," said Dr Fatih Birol, the IEA's Executive Director.
Participants at the meeting emphasised the importance of integrating gender into energy policies, promoting female employment and careers, and sharing best practices. They welcomed the activities of C3E TCP, which aims to build a community of women leaders across a range of clean energy sectors, and the Equal by 30 campaign, which secures commitments from public and private sector organisations to work towards equal pay, equal leadership and equal opportunities for women in the clean energy sector by 2030.
The meeting identified those two initiatives as platforms to exchange best practices and strengthen collaboration in several areas, including knowledge and data collection, recognition of female leadership, reducing barriers and raising ambition on implementation.
The 2019 IEA Ministerial Meeting is taking place in Paris on 5-6 December. It is chaired by Mr Michał Kurtyka, Poland's Minister of Climate and the President of COP24. Ministers of IEA Member, Accession and Association countries and CEOs of leading companies are attending the meeting.