IRENA Facilitates Investment and Renewable Projects on Ground in Africa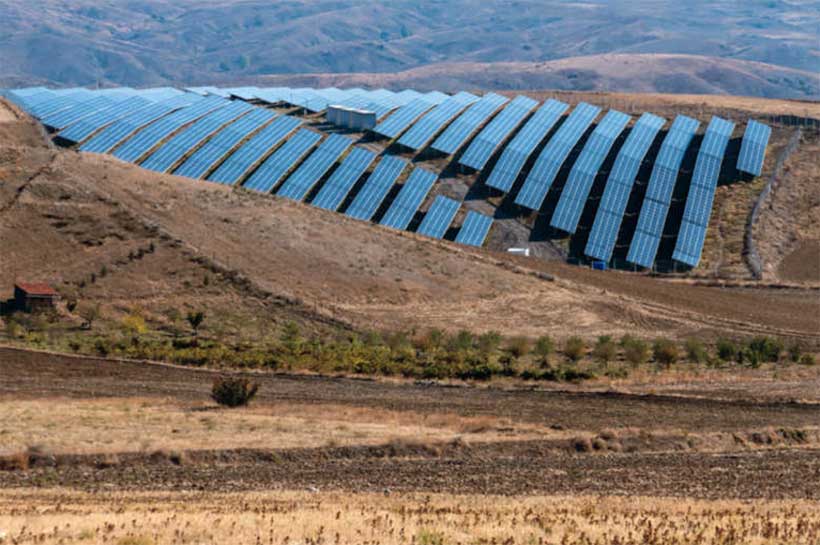 Boosting renewable energy projects on the ground requires scaling up investment. IRENA's state-of-the-art analysis of enabling policy frameworks and finance mechanisms channel public and private investment in markets like Africa, Latin America, Asia, South-East Europe and the Small Island Developing States (SIDS). Now, IRENA is taking its work one step further by increasing the Agency's on-ground impact with 15 regional and sub-regional platforms which aims at scaling up renewables deployment and investments.

One step in this new direction is the event that took place in Johannesburg as part of the Africa Investment Forum hosted by the African Development Bank. It facilitated renewable energy deal-making in Sub-Saharan Africa in partnership with Power Africa and the African Trade Insurance Agency. The event corresponds to IRENA's new direction and way forward ensuring an acceleration of the renewable energy transformation globally.
Speaking at the Investment Forum in South Africa, IRENA's Director-General Francesco La Camera underlined the importance of renewable energy to meet sustainable economic growth and Africa's climate and development ambitions. "Now more than ever, renewables have become a compelling investment proposition", said La Camera. "With renewable energy technology prices set to decline, the cost-competitiveness of renewables will strengthen further. IRENA's analysis shows that nearly a quarter of Africa's energy needs could be met from indigenous and clean renewable energy sources by 2030. This would result in a wide array of socio-economic benefits in terms of economic growth, welfare, employment and energy access. It's Possible".

IRENA has been committed to supporting African governments in their quest for a sustainable energy future. The Agency has supported countries in building attractive investment frameworks for renewables to strengthen institutional and technical capacity. It has also supported the development and financing of renewable energy projects through project facilitation tools.
"A lot remains to be done to address the key risks and barriers that hinder the scale-up of renewable investment in the region", La Camera continued. "There is no shortage of renewable energy project proposals which are competing for investor capital. But they are not always financially viable. Many proposals fail to materialize due to high cost of capital, limited access to risk mitigation solutions and long delays in projects".

By building on its extensive project pipeline in Sub-Saharan Africa with over 90 renewable energy projects, the Agency has showcased 10 renewable energy projects at the Investment Forum. Projects from Cameroon, Cote D'Ivoire, Kenya, Mali, Senegal, Sierra Leone and Togo which have a total capacity ranging from 6 MW to 70 MW – covering technologies like wind, solar, bioenergy and hydropower – were presented.

IRENA's project facilitation platform provides project owners and developers with increased visibility for their projects among financiers and other market players. Project owners have access to wide range of financial instruments provided by multiple investors from development finance institutions, private companies, utilities, private equity funds, donor and multi-donor facilities, commercial banks and more, as well as access to different services for example legal and financial advisory, environmental, project development and Engineering Procurement and Construction contracting.
More information about IRENA's project facilitation.
IEA Clean Energy Transitions Summit
Ministers from countries representing the vast majority of global GDP, energy use and greenhouse gas emissions will take part in the International Energy Agency's Clean Energy Transitions Summit on Thursday 9 July, gathering around a virtual table to discuss measures to boost economies, create jobs, reduce global emissions and make energy systems more resilient.
Ministers in attendance will represent almost 80% of global energy consumption and carbon emissions, making the Summit the highest-profile energy and climate discussion since the start of the Covid-19 pandemic. They will include representatives of the world's largest energy users: Minister Zhang Jianhua of China, Secretary Dan Brouillette of the United States, Minister R.K. Singh of India, Executive Vice-President Frans Timmermans of the European Commission, and Minister Kajiyama Hiroshi of Japan.
Among the high-level participants will be António Guterres, Secretary-General of the United Nations, and Alok Sharma, Secretary of State of the United Kingdom and President of the upcoming COP26, as well as Ministers representing the countries that held the past two COP meetings. They will be joined by the President of the Asian Development Bank, the President of the World Economic Forum (Davos), CEOs from across the energy sector, major investors, and representatives from civil society.
"The IEA Clean Energy Transitions Summit represents the key moment in 2020 to build momentum towards international energy and climate goals," said Dr Fatih Birol, the IEA's Executive Director. "Rather than letting the Covid-19 crisis undermine our clean energy transitions, we need to take advantage of the massive economic recovery plans to achieve a definitive peak in carbon emissions and put the world on path to sustainable recovery."
In addition to two plenary sessions, the Summit will consist of high-level panels. These will focus on Accelerating Clean Energy Technology Innovation, co-chaired by Tina Bru, Minister of Petroleum and Energy of Norway, and Juan Carlos Jobet, Minister of Energy of Chile; An Inclusive and Equitable Recovery, co-chaired by Seamus O'Regan, Minister of Natural Resources of Canada, and Aziz Rabbah, Minister of Energy, Mines and Environment of Morocco; and A Resilient and Sustainable Electricity Sector, co-chaired by Kadri Simson, European Commissioner for Energy, and Sontirat Sontijirawong, Minister of Energy of Thailand.
The IEA first announced plans to convene the Clean Energy Transitions Summit during its Ministerial Meeting in December – before Covid-19 became a global health emergency. As the pandemic escalated, the IEA led the calls worldwide for governments to put clean energy at the heart of their economic recovery plans in order to avoid the kind of sharp rebound in emissions that followed the 2008-2009 crisis. The IEA quickly refocused its work to analyse the impact of the Covid-19 crisis on the energy world, conducting in-depth assessments across fuels, technologies and emissions trends – and developing policy advice for governments to help them respond.
In the lead-up to the Summit, the IEA brought together numerous Ministers and other international decision-makers from industry, the investment community and civil society to address immediate energy issues arising from the crisis. These Ministerial-level meetings included Economic Recovery through Investments in Clean Energy (April); Mobilizing Investments for Secure and Sustainable Power Systems (May); the Fifth Annual Global Energy Efficiency Conference (June); and the Africa Energy Ministerial on Covid-19 Impacts (June). Ministers from Denmark, the United Kingdom and Senegal, who co-chaired these three events with Dr Birol, will each share the main outcomes of these roundtables.
The high-level discussions at the Summit, which the public can watch live online, will draw on key IEA reports, most notably the Sustainable Recovery Plan and the Special Report on Clean Energy Innovation. Together, those two reports provide both near-term and longer-term strategies for improving economic development and meeting energy and climate goals.
You can watch the sessions on our livestreams here, and follow the conversation around the event on social media via the hashtag #IEASummit.
The Gambia: World Bank to Strengthen Access to Energy and Water
The World Bank Board of Executive Directors approved today a $43 million grant from the International Development Association (IDA)* for The Gambia's Electricity Restoration and Modernisation Project (GERMP). The additional financing was made available through reallocation of IDA18 balance, thus augmenting the Banks initial funding envelope for The Gambia by 20 percent.
The people of The Gambia face many challenges in terms of access to electricity and water. Nearly 50% have still no access to electricity, and in urban areas, about 69 percent of the population has access to safe drinking water. Further, the quality of services is weak due to frequent service outages, with some neighbourhoods not receiving water for days, weeks or even months at a time. While the National Water and Electricity Company (NAWEC) has made significant improvements in its operational and financial performance in recent years, the utility has yet to achieve financial viability. Customers still face erratic supply of water and electricity, which have been exacerbated by the COVID-19 pandemic.
"This support will build on the ongoing efforts of the government to strengthen the electricity and water sectors, and further boost the national response to the COVID-19 pandemic through communications and targeted investments including hand washing facilities in the Greater Banjul Area," said Elene Imnadze, World Bank Resident Representative.
The additional financing will further strengthen NAWEC's transmission and distribution network, provide additional support to transform NAWEC into an efficient and credit-worthy utility, and expand the scope of the project to the water sector. Specifically, more than 1.6 million people will have gained or improved access to electricity; 17 km of transmission lines will be constructed or rehabilitated; 20 grid-connected photovoltaic system with storage will be installed; 20,000 water meters will be installed or replaced; and three water storage tanks will be repaired.
"This additional grant comes at an important moment in the reform process underway. We have already seen significant improvements in NAWEC's performance. Additional resources will help to solidify these gains," said Chris Trimble, Task Team Leader and Senior Energy Specialist, World Bank.
ADB Approves $200 Million Loan to Modernize Power Supply, Distribution System in Nepal
The Asian Development Bank (ADB) has approved a $200 million concessional loan to improve power supply and distribution systems in Nepal.
Nepal has made significant progress in electricity supply after years of chronic power shortages. However, its power transmission and distribution systems need further strengthening to increase network capacity, improve quality and reliability, and remove delays between generation hubs and load centers.
The project will finance, among others, the reinforcement and modernization of the power supply system in Kathmandu Valley, Bharatpur metropolitan area of Chitwan district in Bagmati Province and Pokhara of Kaski district in Gandaki Province, where supply interruptions are frequent and prolonged. The project also aims to support Province 2, where the quality of electricity supply is poor and about 20% of households are still without access to the national grid.
"The project will help sustain Nepal's improved electricity supply momentum over the past two years. This will facilitate meeting future demand from commercial and industrial activities as well as from communities, particularly women, who can now benefit from electricity-based enterprises and focus on productive economic and social activities," said ADB Principal Energy Specialist Jiwan Acharya. "It is also very timely because the project will create employment opportunities for skilled and unskilled labor during the construction phase as the country adopts measures to mitigate the socioeconomic impact of the coronavirus disease (COVID-19) pandemic."
Complementing ADB's loan, the Government of Norway is providing a $35 million cofinancing grant for the installation and upgrading of power distribution networks in Province 2 and various substations to evacuate hydropower in the country. In addition, it is providing a $5 million technical assistance grant for capacity development of the Nepal Electricity Authority to ensure that gender equality and social inclusion are strengthened, and new technologies are used to make electricity infrastructure resilient.
The project is aligned with the South Asia Subregional Economic Cooperation program on intraregional power trade through cross-border power exchange. The upgrading of substations in Khimti, Barhabise, and Lapsiphedi to 400 kilovolts will facilitate cross-border power exchange with India.
ADB and other development partners have been engaged in Nepal's power system reform efforts, including the approval of the Nepal Electricity Regulatory Commission Act of 2017, which created the Electricity Regulatory Commission as an independent regulatory body with respect to tariff-setting and consumer protection.