The Rise OF ISIS and its Aftermath in Afghanistan
"I will see you guys in Newyork".Abu Du'a, the leader of ISIS, whose nom de guerre (war name) was Abu Bakr al-Baghdadi, told his American captors as he was released from a brief detention during Iraq war. After American invasion of Iraq in 2003, Al Baghdadi joined the Arms Resistance against the U.S led coalition troops in Iraq but he was captured and detained in a US. – run Iraqi prison in 2006. Following al Baghdadi's release in the late 2000s, he joined the predecessor to ISIS: the Islamic State of Iraq(ISI). This group initially affiliated themselves with AL- Qaeda, but was later rejected by AL Qaeda due to their brutal acts and it became Islamic State of Iraq (ISI). IN 2010, al Baghdadi became the leader of ISI and changed the name of the organization to Islamic state of Iraq and Syria (ISIS) in 2013.
On 29 June 2014, ISIS declared the worldwide caliphate under the leadership of "caliph Ibrahim" with publishing a statement of supporting al Baghdadi's designation as caliph. This concept of caliphate is mainly based on the universal religion and its ultimate goal is the establishment of Islamic state. This political idea of Islamic state is embodied in the concept of the ummah (community) which says that all the Muslims wherever they reside are bounded by a common faith which transcends all geographical, political or national boundaries.
Many other groups had pledged allegiance to ISIS like the Boko haram in Nigeria, the bait al Maqdis in Egypt, the Islamic movement in Uzbekistan, andthe previous leader of TTP Hafiz Saeed, also pledged allegiance to al Baghdadi in Oct, 2014 renaming themselves as the Islamic state of Khorasan (ISK) in Afghanistan. IS-K's early membership included a contingent of Pakistani militants who emerged in Afghanistan's Nangarhar province around 2010, just across the border from the former Federally Administered Tribal Areas (FATA) of Pakistan. Many of these militants were estranged members of TTP and Lashkar-e Islam, who had fled from Pakistan to escape pressure from security forces.
ISK emerged in different provinces of Afghanistan bordering Pakistan but outnumbered in the eastern province of Ningarhar, Achin district, due to some specific reasons. Achin district is one of the backward, underdeveloped and illiterate regions of Afghanistan which makes its population vulnerable to recruitment as new militants. Moreover, peopled welling in this district joined and supported this new group not only for their Islamic ideology but also for the high salaries of $500 paid by this organization.In the beginning of their journey in the region, ISK dealt people in a soft manner and always refrained from offensive language to encourage and inspire the people to join this militant group.
But with the passage of time, ISK changed its behavior and started the forceful imposition of sharia law. People were prevented from the cultivation of opium which was the main source of revenue for the locals of that region, seized drugs and sentenced drug addicted people, however, majority of their own militants were drug addicts and sold drugs seized from the locals to meet their own financial needs. They introduced numerous fabricated laws that were neither in conformity to national, Islamic nor in conformity with the locals laws. The militants of the group were indoctrinated to such an extent that they were willing to sacrifice everything for the interest of the group. One of their militants, involved in a robbery case, accepted his crime in front of the group's judicial committee. As per the Islamic rules, anyone involved in the robbery would have their hands cut off. Therefore, When the militants were cutting hands, he was chanting ''Allah ho Akbar''-Allah is the greatest.
Taliban and Afghan forces have attacked the Achin district many times but no one of them succeeded in retaking the district from ISK. This region was completely monopolized by this group and they ruled the people according to their own so called sharia law. People started displacement from the region towards Jalalabad, the provincial capital because they were unable to abide by these brutal laws and tolerate the atrocities. Following is a short story which a person told in anonymity about the excessive brutalities perpetrated by ISK in Achin.
"We all flocked outside after Friday prayer, according to announcement in sermon. They brought seven detainees belong to Emirates a Taliban group, Afghan national Army member and spies. All were covered with black ski masks. Meanwhile, an ISIS militant rode on a trained horse, having sharp sword in hands and reached to the spot. He decapitated all of them and shouted "Allah ho Akbar". With the sound of Allah ho Akbar, we all scattered like flies in the air and no one knows what happened. But later on it was realized by people who delivered us to hospital that the place was targeted by a US drone. Many people were injured, and the ISIS militant who was beheading the prisoners was burned by drone attack. I still have the scene in my mind which has really affected me mentally and can't take out those thuds of the sword from my mind when he was beheading those innocent people".
Furthermore, they knelt innocent elders of the Shenwari nation belong to the same district on the bombs accused of in affiliation to the Taliban. A gruesome video also uploaded by them to the YouTube. These kind of brutal acts were the routine of everyday in Daesh or ISK controlled areas.
Afghan Commando assisted by US special forces have been fighting with the ISK in Achin for the last few years and have made significant progress contributing to the liberation of some villages but there are speculations that united states itself is assisting this militant group and supplying food and weapons to them through helicopters which has put the Afghans in doubt. US dropped the " mother of all bombs" – the most powerful conventional bomb in the American arsenal formally known as GBU-43/B massive ordnance air blast on 13 April 2017 on ISIS Khorasan cave complex in Achin district, Ningarhar. According to a statement from the United States military in Afghanistan, the bomb hit a tunnel complex but they didn't say how many militants were killed or whether the bombing caused any civilian casualties. The fact is that it was only an experience of their conventional bomb which is clear from the following statement of the Ex-president of Afghanistan Hamid Karzai:
"This is not the war on terror but the inhuman and most brutal misuse of our country as testing ground for new and dangerous weapons". This claim of Ex-president was further forged by the locals of Achin who stated that there was neither weapons depot nor any single ISIS fighter in the targeted region.
Currently Achin district has been cleared by Afghan Forces from this group but there are opportunities of their return to the region. Afghan Forces should show their strong presence, build the region and rehabilitate former militants. We are the veterans of many regions where US and Afghan forces have operated and lost hundreds of their soldiers for clearing the region but have left the region vulnerable to the insurgents return. Moreover, America should equip Afghan forces with sophisticated weapons to counter these threats. Afghan National Directorate can play a vital role in the dissolution of this group by infiltration of their own spies in disguise.
Moreover, in comparison to ISIS in Iraq and Syria, which have oil resources of about $2 billion and financed by different Arab states, this group is very much dependent on local revenues and neighboring state Pakistan. Pakistan may not be able to support two insurgent groups-Taliban and ISK-simultaneously for a single goal. And the so called jihad vacuum is also filled by Taliban which never want any rival jihadi group in Afghanistan.
Foreign fighters: 'One of the most serious dimensions' in global counter-terrorism struggle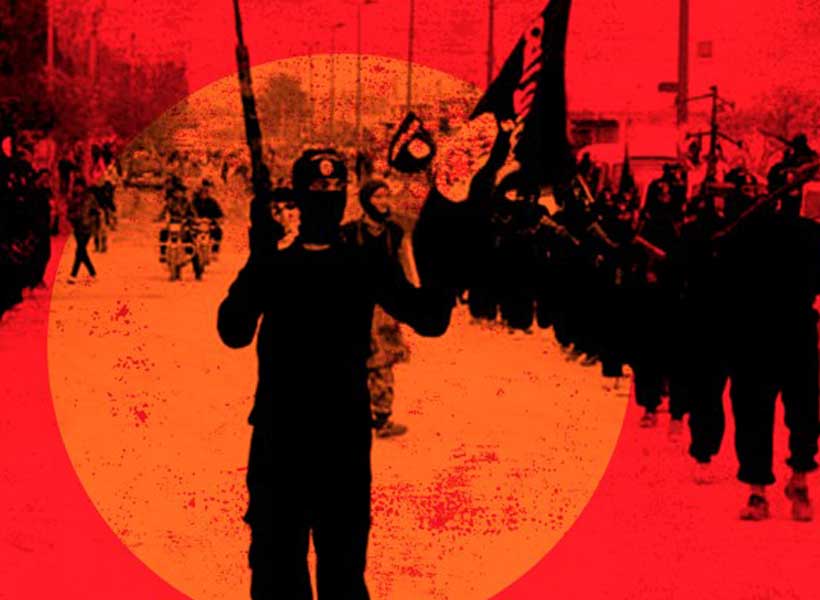 Over the past few years, ISIL and Al-Qaida terrorist fighters have posed an "unprecedented threat to international peace and security", the UN counter-terrorism chief said on Wednesday in Vienna, at the close of a joint UN- Organization for Security and Co-operation in Europe (OSCE) regional conference on addressing challenges posed by terrorists who have gone to fight overseas.
Under-Secretary-General of the UN Office of Counter-Terrorism, Vladimir Voronkov, recalled that last week he presented to the Security Council the Secretary-General's report on the continuing threat posed by ISIL.
"ISIL is resurgent as a covert network in Iraq and Syria", he said. "Thousands of foreign terrorist fighters remain at large, posing a threat to Iraq, Syria, and the countries they might return or relocate to".
Key conclusions
Mr. Voronkov stressed that all sessions of the conference underlined the need to further strengthen international, regional and bilateral counter-terrorism cooperation – with many participants highlighting the centrality of the UN Global Counter-Terrorism Strategy.
He highlighted that the Joint Plan of Action (JPOA) for implementing the Strategy in Central Asia "could serve as a model for collaboration in other regions".
"We are also working closely with the Arab Interior Ministers Council to strengthen Arab countries' measures to effectively counter terrorism", using JPOA as a model, he said.
According to the Counter-Terrorism chief, participants stressed the urgent need for gender and age-sensitive programmes to assist children linked with terrorist groups.
As thousands of children remain trapped in Syria and Iraq, facing a multitude of challenges, including rejection and life-long stigmatization, Mr. Voronkov stressed that Member States have "the primary responsibility to address the plight of their nationals, including children trapped in conflict zones".
"Children should always be seen as victims and efforts to address their plight should be based on the best interest of the child", he spelled out.
Disrupt terrorist travels
The need to prevent, detect and disrupt the travel of foreign terrorist fighters, in accordance with international law, was front and centre during discussions as well, drawing attention to the importance of enhancing Member States' capacities to do so.
"Both the OSCE and the UN are helping countries adopt and use Advance Passenger Information and Passenger Name Record data systems", he informed those gathered, calling the UN Countering Terrorist Travel Programme "a flagship demonstration" of how the UN system, together with international policing organization INTERPOL and others, are "working as one" to provide tailored, impactful assistance to Member States.
Noting that "the phenomenon of foreign terrorist fighters is one of the most serious dimensions of the terrorist threat", Mr. Voronkov concluded by urging Member States to continue working together, through the UN and other platforms, "not only to protect people on their own territory, but extend solidarity and assistance beyond their borders".
Global initiative launched to keep top sports events safe from terrorism
Representatives from international sporting federations and the private sector joined with ambassadors at UN Headquarters in New York on Monday to launch a global programme aimed at safeguarding major sporting events from terrorism-related threats.
The multi-year initiative looks to harness the positive values that sports promote to help crackdown on the spread of violent extremism, particularly among young people.
"Sport pushes people to be better, to aim higher and further. It promotes tolerance and gender equality. It strengthens communities, builds resilience and channels natural competitive instincts in a harmonious way", said Vladimir Voronkov, head of the UN Office of Counter-Terrorism (UNOCT).
"Sport is a fundamental and true human value: a strong vaccine against any kind of criminal disease. We have a moral obligation to protect and promote sport."
Sharing best practices and information
Despite being a unifying force, sporting events have been marred by deadly terrorist attacks.
The 1972 and 1996 Olympic Games, and, more recently, marathons in Sri Lanka and the United States, are some of the tragic examples.
The global programme will develop guidelines to enhance international cooperation, and public-private partnerships, to make sporting events safer for athletes and the public. The launch will be followed by a two-day expert meeting. Another meeting focusing on youth will be held in April.
Participants attending the launch included representatives from the International Olympic Committee (IOC), various national Olympic committees, the international football association, FIFA, and private companies.
"Protecting major sporting events entails multilevel cooperation and coordination, as well as complex security and policy arrangements. including securing locations, cyber security, crisis planning and management, (and) strategic communications" said Mr. Voronkov.
"Through our joint programme, we will focus on the exchange of information and best practices, and on sharing resources and facilitating partnerships."
It is essential to advance the consolidation of sport in development and peace strategies , according to the official at the helm of a UN platform which fosters intercultural dialogue, understanding and cooperation.
"Indeed, sports unites and heals," Miguel Moratinos, High Representative of the UN Alliance of Civilizations (UNAOC), told the gathering.
"It is also a universal language that both, fans and players understand. So, let's all capitalize on the full potential of sport , with youth in its heart, as a driver for peace and social change ."
Key support from Qatar
Qatar, host of the 2022 FIFA World Cup, is a key supporter of the initiative, alongside China and the Republic of Korea.
The country and the UN counter-terrorism office signed an agreement last year to establish the world's first hub for studying the behavioural roots of violent extremism conducive to terrorism.
Qatar is taking measures at the local and global level to ensure security at "the region's first sporting mega event", according to the Secretary-Genera of the World Cup preparatory committee.
"We are working hand-in-hand with our allies and partners around the world on exchanging best practice, information sharing, personnel sharing, and in assisting in maintaining the security of Qatar ahead of and during 2022", Hassan al-Thawadi said in a video message.
'Unprecedented terrorist violence' in West Africa, Sahel region
The top UN official in West Africa and the Sahel updated the Security Council on Wednesday, describing an "unprecedented" rise in terrorist violence across the region.
"The region has experienced a devastating surge in terrorist attacks against civilian and military targets," Mohamed Ibn Chambas, UN Special Representative and Head of the UN Office for West Africa and the Sahel (UNOWAS), told the Council in its first formal meeting of the year.
"The humanitarian consequences are alarming", he spelled out.
In presenting his latest report, Mr. Chambas painted a picture of relentless attacks on civilian and military targets that he said, have "shaken public confidence".
A surge in casualties
The UNOWAS chief elaborated on terrorist-attack casualties in Burkina Faso Mali and Niger, which have leapt five-fold since 2016 – with more than 4,000 deaths reported in 2019 alone as compared to some 770 three years earlier.
"Most significantly," he said, "the geographic focus of terrorist attacks has shifted eastwards from Mali to Burkina Faso and is increasingly threatening West African coastal States".
He also flagged that the number of deaths in Burkina Faso jumped from about 80 in 2016 to over 1,800 last year.
And displacement has grown ten-fold to about half a million, on top of some 25,000 who have sought refuge in other countries.
Mr. Chambas explained that "terrorist attacks are often deliberate efforts by violent extremists" to engage in illicit activities that include capturing weapons and illegal artisanal mining.
Intertwined challenges
Terrorism, organized crime and intercommunal violence are often intertwined, especially in peripheral areas where the State's presence is weak.
"In those places, extremists provide safety and protection to populations, as well as social services in exchanged for loyalty", he informed the Council, echoing the Secretary-General in saying that for these reasons, "counter-terrorism responses must focus on gaining the trust and support of local populations".
The Special Representative outlined that governments, local actors, regional organizations and the international community are mobilizing across the region to respond to these challenges.
On 21 December, the ECOWAS Heads of State summit "adopted a 2020-2024 action plan to eradicate terrorism in the sub-region", he said.
Calling "now" the time for action, Mr. Chambas drew attention to the importance of supporting regional Governments by prioritizing "a cross-pillar approach at all levels and across all sectors".
Turning to farmer-herder clashes, which he maintained are "some of the most violent local conflicts in the region", the UNOWAS chief highlighted that 70 per cent of West Africa's population depend on agriculture and livestock-rearing for a living, underscoring the importance of peaceful coexistence.
The Special Representative also pointed to climate change, among other factors, as increasingly exacerbating farmer-herder conflicts.
"The impact of climate change on security also spawns a negative relationship between climate change, social cohesion, irregular migration and criminality in some places", he upheld.
Stemming negative security trends
The UNOWAS chief noted that in the months ahead, Togo, Burkina Faso, Cote d'Ivoire, Ghana, Guinea and Niger would be democratically electing their leaders and maintained that "all-too-worrying" security trends must not distract from political developments.
"Unresolved grievance, incomplete national reconciliation processes and sentiments of manipulation of institutions and processes carry risks of tensions and manifestations of political violence", he warned.
In the months ahead, Mr. Chambas stressed that UNOWAS would continue to work with partners on the national and regional levels to promote consensus and inclusiveness in the elections.
"As UNOWAS' mandate is renewed, we count on the Council's continued full support", concluded the Special Representative.