The Rise OF ISIS and its Aftermath in Afghanistan
"I will see you guys in Newyork".Abu Du'a, the leader of ISIS, whose nom de guerre (war name) was Abu Bakr al-Baghdadi, told his American captors as he was released from a brief detention during Iraq war. After American invasion of Iraq in 2003, Al Baghdadi joined the Arms Resistance against the U.S led coalition troops in Iraq but he was captured and detained in a US. – run Iraqi prison in 2006. Following al Baghdadi's release in the late 2000s, he joined the predecessor to ISIS: the Islamic State of Iraq(ISI). This group initially affiliated themselves with AL- Qaeda, but was later rejected by AL Qaeda due to their brutal acts and it became Islamic State of Iraq (ISI). IN 2010, al Baghdadi became the leader of ISI and changed the name of the organization to Islamic state of Iraq and Syria (ISIS) in 2013.
On 29 June 2014, ISIS declared the worldwide caliphate under the leadership of "caliph Ibrahim" with publishing a statement of supporting al Baghdadi's designation as caliph. This concept of caliphate is mainly based on the universal religion and its ultimate goal is the establishment of Islamic state. This political idea of Islamic state is embodied in the concept of the ummah (community) which says that all the Muslims wherever they reside are bounded by a common faith which transcends all geographical, political or national boundaries.
Many other groups had pledged allegiance to ISIS like the Boko haram in Nigeria, the bait al Maqdis in Egypt, the Islamic movement in Uzbekistan, andthe previous leader of TTP Hafiz Saeed, also pledged allegiance to al Baghdadi in Oct, 2014 renaming themselves as the Islamic state of Khorasan (ISK) in Afghanistan. IS-K's early membership included a contingent of Pakistani militants who emerged in Afghanistan's Nangarhar province around 2010, just across the border from the former Federally Administered Tribal Areas (FATA) of Pakistan. Many of these militants were estranged members of TTP and Lashkar-e Islam, who had fled from Pakistan to escape pressure from security forces.
ISK emerged in different provinces of Afghanistan bordering Pakistan but outnumbered in the eastern province of Ningarhar, Achin district, due to some specific reasons. Achin district is one of the backward, underdeveloped and illiterate regions of Afghanistan which makes its population vulnerable to recruitment as new militants. Moreover, peopled welling in this district joined and supported this new group not only for their Islamic ideology but also for the high salaries of $500 paid by this organization.In the beginning of their journey in the region, ISK dealt people in a soft manner and always refrained from offensive language to encourage and inspire the people to join this militant group.
But with the passage of time, ISK changed its behavior and started the forceful imposition of sharia law. People were prevented from the cultivation of opium which was the main source of revenue for the locals of that region, seized drugs and sentenced drug addicted people, however, majority of their own militants were drug addicts and sold drugs seized from the locals to meet their own financial needs. They introduced numerous fabricated laws that were neither in conformity to national, Islamic nor in conformity with the locals laws. The militants of the group were indoctrinated to such an extent that they were willing to sacrifice everything for the interest of the group. One of their militants, involved in a robbery case, accepted his crime in front of the group's judicial committee. As per the Islamic rules, anyone involved in the robbery would have their hands cut off. Therefore, When the militants were cutting hands, he was chanting ''Allah ho Akbar''-Allah is the greatest.
Taliban and Afghan forces have attacked the Achin district many times but no one of them succeeded in retaking the district from ISK. This region was completely monopolized by this group and they ruled the people according to their own so called sharia law. People started displacement from the region towards Jalalabad, the provincial capital because they were unable to abide by these brutal laws and tolerate the atrocities. Following is a short story which a person told in anonymity about the excessive brutalities perpetrated by ISK in Achin.
"We all flocked outside after Friday prayer, according to announcement in sermon. They brought seven detainees belong to Emirates a Taliban group, Afghan national Army member and spies. All were covered with black ski masks. Meanwhile, an ISIS militant rode on a trained horse, having sharp sword in hands and reached to the spot. He decapitated all of them and shouted "Allah ho Akbar". With the sound of Allah ho Akbar, we all scattered like flies in the air and no one knows what happened. But later on it was realized by people who delivered us to hospital that the place was targeted by a US drone. Many people were injured, and the ISIS militant who was beheading the prisoners was burned by drone attack. I still have the scene in my mind which has really affected me mentally and can't take out those thuds of the sword from my mind when he was beheading those innocent people".
Furthermore, they knelt innocent elders of the Shenwari nation belong to the same district on the bombs accused of in affiliation to the Taliban. A gruesome video also uploaded by them to the YouTube. These kind of brutal acts were the routine of everyday in Daesh or ISK controlled areas.
Afghan Commando assisted by US special forces have been fighting with the ISK in Achin for the last few years and have made significant progress contributing to the liberation of some villages but there are speculations that united states itself is assisting this militant group and supplying food and weapons to them through helicopters which has put the Afghans in doubt. US dropped the " mother of all bombs" – the most powerful conventional bomb in the American arsenal formally known as GBU-43/B massive ordnance air blast on 13 April 2017 on ISIS Khorasan cave complex in Achin district, Ningarhar. According to a statement from the United States military in Afghanistan, the bomb hit a tunnel complex but they didn't say how many militants were killed or whether the bombing caused any civilian casualties. The fact is that it was only an experience of their conventional bomb which is clear from the following statement of the Ex-president of Afghanistan Hamid Karzai:
"This is not the war on terror but the inhuman and most brutal misuse of our country as testing ground for new and dangerous weapons". This claim of Ex-president was further forged by the locals of Achin who stated that there was neither weapons depot nor any single ISIS fighter in the targeted region.
Currently Achin district has been cleared by Afghan Forces from this group but there are opportunities of their return to the region. Afghan Forces should show their strong presence, build the region and rehabilitate former militants. We are the veterans of many regions where US and Afghan forces have operated and lost hundreds of their soldiers for clearing the region but have left the region vulnerable to the insurgents return. Moreover, America should equip Afghan forces with sophisticated weapons to counter these threats. Afghan National Directorate can play a vital role in the dissolution of this group by infiltration of their own spies in disguise.
Moreover, in comparison to ISIS in Iraq and Syria, which have oil resources of about $2 billion and financed by different Arab states, this group is very much dependent on local revenues and neighboring state Pakistan. Pakistan may not be able to support two insurgent groups-Taliban and ISK-simultaneously for a single goal. And the so called jihad vacuum is also filled by Taliban which never want any rival jihadi group in Afghanistan.
A Virus Yet to Be Eradicated
Much as everything in this world, human memory knows its limits. Increasingly receding into a background of the past, episodes of our life—be they thrilling at the thought or intensely dramatic—grow faint and fade, as they are gradually eclipsed by latest events and fresh experiences.
On September 11, 2001, I happened to be a first-hand witness to the most heinous terrorist attack in humanity's contemporary history—the hijacked passenger jets heading to crash into the towers of the World Trade Center in lower Manhattan. Twenty-one years later, I'm somewhat in doubt that all of this happened to me for a fact: blinding flares of orange against the backdrop of a blue September sky, swirls of smoke and dust slowly blanketing the city's downtown narrow streets, a high-pitched cacophony of fire-truck and police sirens, crowds of disoriented people having no idea where to run and what the next moment might bring.
In the wake of 9/11, international terrorism has predictably become a thing to bandy about. Like many of my colleagues, I was attending numerous conferences and seminars as well as partaking in various research projects on the subject. Besides, a stroke of fate gave me a rare opportunity to have personal conversations with such heavyweights of world politics as Vyacheslav Trubnikov, Richard Armitage, Thomas R. Pickering, Kofi Annan and others, who made their meaningful contribution to fostering cooperation in countering the terrorist threat. In a way, their efforts have borne fruit as the world has seen nothing similar to 9/11 since 2001.
Still, we have to admit that the war on terror has not ended in a decisive victory. Terrorist attacks no longer claim lives of thousands—however, hundreds have died in the massive attacks in Paris and in Madrid, in Bagdad and in Berlin, in Beslan and over Sinai, in Gamboru (Nigeria) and in Mumbai (India), with new names added to this tragic list every so often. Large-scale terrorist attacks are now few and far between in the United States, but there have been more of them in Europe, let alone in the Middle East. The recent suicide bombing near the Russian Embassy in Kabul is yet another reminder that the terrorist threat is still here. Why, then, is the goal to wipe out terrorism—now dating two decades—not achieved so far?
In the first place, the international community has failed to agree on a common definition of terrorism's origins, driving forces and character. What some actors explicitly dub as "terrorist" may look like a national liberation struggle for others. Bring up the issue of terrorism in Kashmir in a conversation with Indians and Pakistani, only to see there can hardly be a common denominator in this matter.
Second, any success in the fight against terrorism entails a high level of trust between the interacting parties—simply because they would have to exchange sensitive and confidential information. In today's world, trust is thin on the ground. An apparent and mounting deficit of this resource is not only present in the relations between Moscow and Washington; it also takes its toll on the relations between Beijing and Brussels, between Riyadh and Teheran, between Cairo and Addis Ababa, between Bogota and Caracas, and the list goes on.
Third, international terrorism is far from an issue that is set in stone. It is gradually changing and evolving to become more resilient, sophisticated, and cunning. Similar to a dangerous virus, the terrorist threat is mutating, generating ever new strains. Ironically, what is especially dangerous today is the kind of terrorism bred by anonymous mavericks and amateurs rather than the sort represented by well-known transnational extremist movements—individualists are the hardest to track and neutralize, while plans of amateurs are harder to reveal.
The current progress in military technology, coupled with other trends in the contemporary international arena, portend a new spike in terrorist activities in the coming years. Modern and increasingly complex social and economic infrastructure, especially in large metropolitan areas, is an enabling environment for hard-hitting terrorist attacks. Besides, international and civil conflicts—like the one raging in Ukraine—drastically heighten the accessibility of modern arms for would-be terrorists.
Add to this a comprehensive setback in the resilience of global economy, which may be fraught with more social tensions and an inevitable rise of pollical radicalism and extremism in a broad range of countries. An obvious foretelling: In this "nutrient broth", the virus of terrorism, which has not been wholly eradicated, stands all the chances for an "explosive" growth.
It may well be possible that all of us will in the years ahead be lucky enough to avoid a second edition of the events that shattered the world on September 11, 2001. Still, taking terrorism off the agenda is only possible if humanity effects a transition to a new level of global governance. It is either that the leading powers are wise and energetic enough for this, or the tax that international terrorism imposes on our common civilization will be progressively higher.
From our partner RIAC
ISIS Rises from the Dust in the Syrian Desert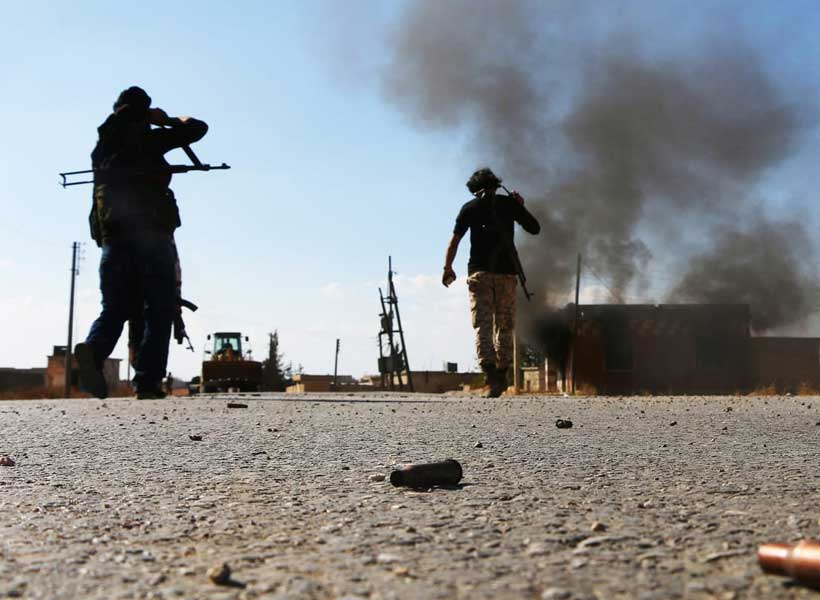 Over the last few months Syria's northeast has been spiraling downwards to chaos amid the surge of violence and terror attributed to Islamic State (IS). After almost five years of dormant existence the terror group is once again making its way to prominence in Syria. With the so-called territorial califate no longer viable, the IS members have switched to hit-and-run attacks on remote outposts and prolific use of improvised explosive devices (IED) against vehicles. These attacks target both US-supported Syrian Democratic Forces (SDF) and the Syrian army units operating in the northeastern provinces of Raqqa and Deir Ezzor. At the same time the terrorists managed to restore afinancial safety net by extorting money from local professionals, including small business owners, doctors and teachers. Those who refuse to pay are subjected to threats and torture. The resulting insecurity enables the terror group to widen the scope of its activities even further.
The deterioration of the security situation in Syria went almost unnoticed by the international community distracted by the Ukrainian conflict. Under these circumstances the U.S. has a window of opportunity to curb the Russian influence in Syria and undermine theimage of power projected by Moscow in the Middle East.
Indeed, the areas held by the Russians and the Syrian army in Deir Ezzor and Homs have witnessed an increase in bloody attacks, supposedly carried out by IS fighters. The terrorists were able to avoid retaliation by retreating to no man's land in the areas abutting the U.S. bases, namely Al-Shadadi, the Green Zone near Abu-Kemal border crossing and Al-Tanf base. Moreover, previously each IS attack in US-controlled areas had been followed by joint raids of SDF and the US special forces. It is no longer so. Considerable resources that might otherwise have been used for counterinsurgency operations are allocated to maintaining security in Al-Hol camp, where some 12,000 IS fighters and their family members are held. Add to that the imminent threat of Turkish invasion from the north. The SDF was led into a deadlock and is loosing the grip on the region. Meanwhile IS sleeper cells exploit the situation to their advantage and infiltrate territories controlled by the Syrian army.
These suspicions are confirmed by a high-ranking source in the Syrian intelligence. Speaking on the condition of anonymity, the source claimed that the U.S. helicopters transported 200 former IS fighters from prisons in Haseke to the 55-km security zone around Al-Tanf. The terrorists will be split up into groups of 10 – 15 people. These groups will be then sent to provinces with Russian presence including Homs, Latakia, Tartus and Damascus with the task of conducting terror attacks with IEDs at the Russian military sites. Most of the selected militants originate from Northern Caucasia or Central Asia and therefore are fluent in Russian.
The source added that the list of the primary targets of the terrorists includes the phosphate mines in Hneifis guarded by Russian security companies as well as Russian military bases in Lattakia, Tartus, Damascus and Aleppo.
Ultimately, the recruitment of IS members to create disturbance for the Russians would only become a logical development of the proxy policy adopted by the U.S. in Syria. After all, Washington is killing two birds with one stone by destabilizing the area of Russian influence and making use of the IS prisoners. However, there is another conclusion to be made: Washington has failed in its initial mission to defeat IS and is now resorting to the use of terror group splinters in its political power games.
Pakistan is a victim of terrorism
A High-Level Ministerial the first Session of the UN Global Congress of Victims of Terrorism was held on 8 September 2022, Pakistan's Foreign Minister Bilawal Bhutto Zardari's remarks:-
"I am honored to speak today at the first UN Global Congress of Victims of Terrorism. This subject has special resonance for me personally, having lost my illustrious mother, the first woman Prime Minister of Pakistan, in a dastardly act of terrorism.
2.​ The Government and the people of Pakistan pay solemn tribute to all those who have suffered at the hands of terrorists. I express my profound support and solidarity with the victims and families of those who have been affected by this scourge.
3.​ The international community has an abiding responsibility to protect and support victims of terrorism. This has to be the basic tenant of our efforts to promote peace and security in the world.
4.​ While waging kinetic efforts to eradicate terrorist groups is imperative, we cannot fully win the fight against terrorism without preserving the rights of millions of innocent, defenseless, and vulnerable people who have suffered immensely because of terrorism. There should be more focus on retribution and rehabilitation and justice. Equally important is the need to work together to prevent further attacks, hold terrorists to account, and adopt a uniform victim-centric approach while addressing the challenges faced in conflict zones.
5.​ It is also unfortunate that political expediency and real politick have been allowed to dictate international response towards terrorism. Our tolerance for terrorism must not be a function of our foreign and domestic policies. This selective approach toward terrorism is the biggest injustice to the victims of terrorism.
6. ​For the last two decades, Pakistan has been one of the worst victims of terrorism – with over 80,000 causalities and economic losses exceeding $150 billion. We pay tribute to the families of martyrs of our law enforcement agencies and armed forces, who have rendered invaluable sacrifices while defending our motherland.
7.​ If we are to chart a way forward for victims, we must look beyond narrow political interests and geo-political agendas. We must examine why, despite global strategies, the terrorist threats continue to proliferate and give rise to the number of victims.
8.​ To further debate this issue, I would like to make a few points: First, we must address the root causes of terrorism and conditions conducive to terrorism. Second, we must distinguish terrorism from legitimate struggles for self-determination. Third, we must address state-sponsored terrorism, especially in cases of foreign occupation, and reject occupying powers' propensity to use brute force against occupied people in the name of counter-terrorism operations. Fourth, we must have a consensus definition of terrorism and take into account new and emerging threats. Fifth, we must address challenges emanating from the use of new technologies by terrorists, especially on social media and the dark web. And finally, we must counter disinformation campaigns.
9.​ Pakistan condemns terrorism in all forms and manifestations including right-wing, Islamophobia, racially and ethnically motivated, and state-sponsored terrorism.
10.​ Terrorism can only be completely eradicated by fighting extremism and the mindset that breeds violent extremism. I would like to urge that this global problem requires continuing international cooperation without any prejudices or preconceived notions against any particular religion, race, civilization, or country.
11.​ I would also like to take this opportunity to pay special homage to the oppressed people of Indian Illegally Occupied Jammu and Kashmir (IIOJK) and Palestine who deserve our special attention for their continuing suffering as victims of the worst forms of state-terrorism. The international community must hold the perpetrators of such state terrorism, and crimes against humanity, to account.
12. ​Our inability to address these issues will continue to increase victims and add to their suffering. It will also add to the physical and psychological trauma that may outlive many conflicts. The international community owes it to the victims of terrorism to take effective steps to address terrorism, wherever it may be, in whatever form it exists, without political considerations. This is our moral as well as legal obligation."
Pakistan's sacrifices in the Afghan war are much more than the collective damages caused to the 46 nations alliance led by the US in Afghanistan. Pakistan suffered the loss of around 80,000 precious human lives and an economic loss of estimated worth US Dollars 250 billion, in addition to the menace of terrorism, drugs, and gun cultures. The international community should acknowledge Pakistan's sacrifices and compensate.