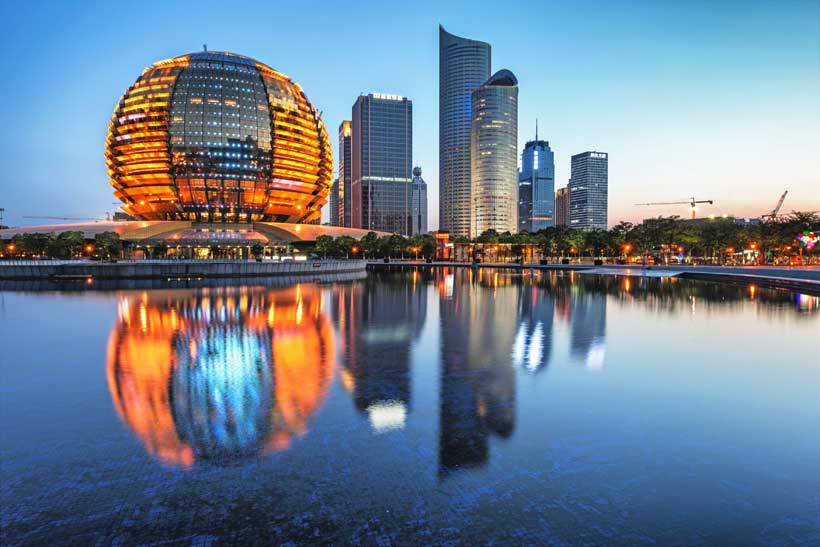 China is in a sustained economic slowdown. This is causing malignant unease among the political and economic leadership of the communist party in Beijing that governs China. Investing in China will be different, because:
"The country's first sustained economic slowdown in a generation. China's economic conditions have steadily worsened since the 2008 financial crisis. The country's growth rate has fallen by half and is likely to plunge further in the years ahead, as debt, foreign protectionism, resource depletion, and rapid aging take their toll."
Chinese social structures are under duress over their aging society. Formerly in the 1990s-early 2000s: "China had the greatest demographic dividend in history, with eight working-age adults for every citizen aged 65 or older."
Once societies age, marital numbers decrease, and overall productivity plunges. China's explosion of older citizens versus working-age will bring unique circumstances for global consumers. Factual evidence of slower productivity is evident throughout China, and will have to be considered for any financial or economic decision for decades ahead. The Chinese economic miracle bursting is largely due to aging demographics.
No one in western or eastern economic analysis circles or think tanks realistically saw this coming former President's Deng Xiaoping opening of China. This was termed, "Socialism with Chinese characteristics (and/or) 'socialist market economy,'" still ongoing. This slowdown will have deep ramifications for the global investment community, liberal order in place for over seventy-five years, and Chinese financial wealth that now spans the globe.
When countries age, and use reproductive rights to control populations, they become more assertive abroad, and repressive to its citizenry; this describes China's social, political and economic philosophies that govern over a billion people. Since its one-child policy was enacted, Chinese economic productivity will plummet, "because it will lose 200 million workers and young consumers and gain 300 million seniors in the course of three decades."
Suppressive economies have difficulty innovating, producing enough goods domestically, and integrating into world economic mechanisms that intends to distribute wealth globally. But this isn't the first time these warnings have been made publicly.
Former Premier, Wen Jiabao gave a prescient declaration in March 2007 during the long march of economic progress when Mr. Jiabao had misgivings about China's growth model by stating, "(Chinese growth had become) 'unsteady, unbalanced, uncoordinated and unsustainable." Recent numbers indicated China's official GDP "has dropped from 15 percent to six percent – the slowest rate in 30 years."
Expansionary Chinese growth hasn't experience this level of downturn since the end of the Mao into post-Mao era. What this does for the Belt and Road Initiative that is paving the way for investments into Central Asia up to the Arctic Circle is uncertain? Deep investment difficulties could witness China stopping the flow of billions of infrastructure projects into countries and continents such as Africa desperate for growth.
Public figures from the Chinese government generally have the economy growing at six percent, but many analysts and economists peg the number(s) at "roughly half the official figure." China's GDP has consisted of bad debt that typical financial institutions and western governments will transfer from the state to public sector and ultimately costs passed onto consumers. For China's wealth to increase when so much domestic wealth is spent on infrastructure projects to increase GDP these official numbers need context.
China has bridges, and cities full of empty office and apartment buildings, unused malls, and idle airports that do not increase economic productivity, and if that isn't the case then infrastructure increasing economic measurements will decrease. Unproductive growth factors officially known are: "20 percent of homes are vacant, and 'excess capacity' in major industries tops 30 percent." According to official Chinese estimates the government misallocated $6 trillion on "ineffective investment between 2009-14." Debt now exceeds 300 percent of GDP.
What's discovered is the amount of China's GDP growth "has resulted from government's pumping capital into the economy." Private investments have trouble overtaking government stimulus spending, and Foreign Affairs ascertains "China's economy may not be growing at all."
Chinese economic growth – post-Mao – saw the country's self-sufficiency in agriculture, energy, and water almost complete by the mid-2000s. Through economic malfeasance, population control, and resource decimation, "water has become scarce, and the country is importing more food and energy than any other nation." Environmental degradation is destroying the basic necessities for every day survival.
This is where the world community and financial resources of east and west can meet needs, and grow interconnected, global economies. Energy is one of the biggest areas that China will engulf global energy supplies
The U.S. Energy Information Administration believes China will continue being the largest natural gas user in non-OECD Asia, and by 2050:
"Expects that China will consumer nearly three times as much natural gas as it did in 2018. China's projected increase in natural gas consumption is greater than the combined growth of natural gas consumption in all other non-OECD Asian countries."
Opportunities for liquid natural gas (LNG) facilities to be built globally, and in China to spur domestic and international economic activity are unlimited. As China goes, so goes Asia, and the world is now in the "Asian Century." Investors, geopolitical strategists, and anyone concerned with global security should never believe it is wise to let China continue to falter economically and societally. Setting up investment mechanisms and diplomatic vehicles that benefit China, and the world community is a prudent choice.
When military choices defeat sound fiscal and monetary polices, the past 150 years have brought "nearly a dozen great powers experienced rapid economic growth followed by long slowdowns." Normal, civilized behavior was pushed aside. What's needed for Chinese economic growth is the free flow of information, managed wealth, consumer goods, and research/innovation.
Decades ahead, and current economic realities point to China being a great power that is under pressure, but still needs capital. A weak, unsecure China who isn't satisfied with its place in the Asian hemisphere or global economic system isn't good for continued prosperity. It would be smarter to engage and invest within China in the areas of energy, water, agriculture, and electricity where opportunities still abound.
We've all heard the term in the media, or tossed around by savvy financial planners or accountants. But what are corporate tax havens? Are they legal? And can they help you reduce your tax liability?
Read on to learn more…
What is a Corporate Tax Haven?
In lay terms, a "tax haven" refers to any jurisdiction or country that offers minimal or substantially reduced tax liability to foreign businesses and individuals.
These so-called havens typically place an emphasis on privacy, sharing little to no financial information with other foreign tax authorities, and often do not require residency or a physical business presence within their borders for a business or individual to benefit.
Criteria to Qualify as a Tax Haven
Interestingly, there are a number of qualifying factors that a jurisdiction must meet in order to qualify as a tax haven. The OECD (Organization for Economic Cooperation and Development), in 1998, offered a number of criteria that could be used to identify such financial centers worldwide.
Tax Haven Characteristics:
Zero, or minimal imposed tax on income
Privacy standards and no exchange of information with other parties
A lack of transparency (to improve privacy/anonymity)
What do Governments Have to Gain?
Tax havens are certainly attractive to investors, business professionals, and wealthy individuals. But what do governments stand to gain by establishing their jurisdiction as a tax haven?
Turns out tax havens have a lot to gain as well.
Benefits of Tax Havens for Countries and Governments:
Despite the name, tax havens aren't typically "free" of cost or fees. Although favorable from a tax liability perspective, they often charge a nominal tax rate while making up for fees in other areas such as high import duties.
Registration fees and annual renewals. Some tax havens charge fees for registration, annual licensing and other fees.
The attraction of foreign investors and money brings with it a vital infusion of capital into the local economy. Further, the country may benefit from ongoing business operations within its borders, such as investments in local infrastructure, offices, job opportunities and more.
As you can see, there are a number of built-in incentives for a government to operate a tax haven, including capital injection into the country's economy where investments may flow into local businesses, financial institutions, and other vehicles.
Key Tax Haven Benefits
International tax havens have long been the preferred domicile for Fortune 100 companies, astute investors and privacy-minded individuals. But why?
1. No (or minimal) Tax Liability
As the name clearly suggests, these domiciles are havens for corporations, individuals and investors seeking to reduce their tax liability. Many developed countries have implemented a "progressive" tax system that places an increasing burden on those with higher income.
International tax havens offer a clear path to minimizing taxes safely and effectively, with many locales having zero corporate taxes, capital gains tax, personal income tax and more.
2. Privacy and Discretion
Corporate tax havens offer more than just tax savings. These locations boast unmatched privacy for individuals and corporations alike. Many tax havens accomplish this by not keeping any publicly accessible bank account or company information, and policies preventing them from sharing any recorded information with outside third parties (such as international tax agencies). For example, in Antigua and Barbuda, it is actually illegal for a bank to disclose account holder information to any third party. Interestingly, not even Antigua and Barbuda's own government can access this information.
3. Security and Peace of Mind
International tax havens often play by their own rules, outside of the jurisdiction of (sometimes) overbearing nations such as the United States or the governing bodies of the EU. This level of independence can be a major benefit for individuals who have concerns about their privacy and outside governmental agencies such as the IRS, FAFT, OECD, and others overstepping their bounds.
Furthermore, most corporate tax havens do not participate in what are known as TIEAs or "Tax Information Exchange Agreements" with the EU or USA.
This means that even if outside organizations try to investigate or uncover information, there is no legal framework in place to allow them to do so.
4. Convenience
For those seeking alternative locales to do financial business, corporate tax havens are attractive options due to their simplicity and well-defined processes for setting up new accounts. In fact, due to their business-friendly legislation, getting set up with many tax havens can take as little as 2-4 days. Not to mention business registration is typically low, with many jurisdictions charging $500 or less and can be done all without even visiting the country.
But that's not where the convenience factor ends. In an effort to attract more business, many corporate tax havens work to make the process of running and managing a business within their domicile as easy as possible. This typically manifests as less paperwork and administration.
Highlighted Tax Havens
The number of popular tax havens is extensive. Below we'll highlight two popular corporate tax haven destinations.
1. Malta
The nation island of Malta is a member state of the EU (European Union), a key reason why Malta passports are highly sought after around the world. Malta is a safe country, rich in culture and strategically located between Africa and Europe. Their program, simply named Malta's Individual Investor Program (MIIP) is a popular option for many investors worldwide.
Malta's Individual Investor Program (MIIP) Requirements:
Contribution of €650,000 to the National Development and Social Fund
Contribution of €25,000 for minor children and a spouse of the primary applicant
Contribution of €50,000 for each dependent child age 18-26 or dependent parents age 55 or older
Due diligence fees
Residence in Malta for 5 years
Purchase of property valued at €350,000 or lease a property at €16,000 or more per month
€150,000 deposit in a government-approved financial instrument
Benefit of the Program:
Advantageous tax system
Tax concessions
Centralized business hub
Tax treaties with over 50 countries
English as the primary language of business
Access to free EU healthcare and education systems
Malta passport opens up visa travel to over 160 countries
Stable and safe country
Lifetime citizenship can be passed to future generations
2. Saint Kitts and Nevis
The duel island nation, also sometimes referred to as the Federation of Saint Christopher and Nevis, represents one of the most popular corporate tax havens. Known for its charming islands and beautiful backdrop, the two offer what is known as the St. Kitts and Nevis Citizenship by Investment Program. This program, established in 1984 is the longest-running economic citizenship program worldwide.
Benefits of the Saint Kitts & Nevis Citizenship Program:
Passport can be obtained within 6 months
Enjoy citizenship in a Commonwealth country
Dual citizenship is allowed
Enjoy visa-free travel to more than 168 countries
No physical residence required
No education, test or interview requirements
No tax on worldwide income
Full citizenship for life that can be passed on to future generations
3. Other Popular Corporate Tax Havens Include
Bermuda
Netherlands
Bahamas
Cayman Islands
Luxembourg
Isle of Man
The Channel Islands
Singapore
Mauritius
Ireland
Switzerland
Closing Thoughts
Corporate tax havens provide a myriad of benefits for those businesses and professionals seeking to reduce their tax liability, increase privacy, obtain second citizenships/passports and more. These benefits are key drivers for so many corporations, large and small, to seek out these domiciles for their business and investments. With proper due diligence and planning, you too can take advantage of all these havens have to offer.
Banking on action: How ADB achieved 2020 climate finance milestone one year ahead of time
As they extend their power grids, build more roads and bigger cities, and cultivate forestland, developing countries in Asia and the Pacific are increasingly contributing to the global climate change problem. Two of the top three emitters of greenhouse gases are developing countries in Asia—the People's Republic of China and India. At the same time, five Asian developing countries are among the top 10 most climate-vulnerable countries in the world. Across the region, livelihoods and economic growth are increasingly exposed to climate change impacts and disaster risk. Clearly, Asia and the Pacific must play a strong role in efforts to address climate change.
As the region's development bank, the Asian Development Bank (ADB) is committed to remaining the partner of choice for climate action by our developing member countries. In 2015, as world leaders gathered in New York to launch the Sustainable Development Goals, ADB made a bold announcement—a commitment to double our climate investment to $6 billion annually by the end of 2020.
Coinciding with the call for action at COP25, the United Nations' Conference on Climate Change, ADB has proudly reached this achievement one year ahead of time. ADB's climate-related financing for 2019 comprises $1.4 billion for financing adaptation and $4.8 billion for mitigating climate change.
The feat is the result of a singular focus to integrate climate actions into our entire operations. ADB has introduced climate risk screening of our project portfolio, undertaken diagnostics on the critical infrastructure at risk in the region, and introduced new financing instruments such as contingent disaster risk financing for financial resilience. ADB is strengthening its investments in renewable energy and energy efficiency, sustainable transport and urban development, and climate smart agriculture. This has been accompanied by actions to enhance the transparency of our climate operations by publicly disclosing project-level information of our climate portfolio and enhancing capacity and technical assistance for delivery. The spirit of One ADB has underpinned this achievement, with the collaboration of our sovereign and non-sovereign operations and knowledge departments steering us toward this target. One example of the many that illustrates this is the Pacific Renewable Energy Program, which is providing an innovative blend of loans, guarantees, and letters of credit to encourage private sector investments in renewable energy. ADB's treasury department also contributed to the endeavor by issuing green bonds amounting to $5 billion as an added financing mechanism.
In addition to scaling up its own climate financing, ADB has been working on new and innovative co-financing opportunities with public and private partners. For example. ADB has mobilized concessional financing from the Green Climate Fund (GCF) for nine projects worth a total of $473 million in grants and concessional financing.
Building on the momentum of our climate finance milestone, ADB is pursuing new and ambitious targets on climate change for the coming decade in our Strategy 2030—cumulative climate financing of $80 billion from 2019-2030 and a commitment to make 75% of our projects climate-relevant by 2030. Furthermore, by steadily increasing shadow carbon price, which factors climate costs into our project economic analysis, ADB is reflecting the urgency of shifting to low carbon alternatives.
However, given the narrowing window for avoiding catastrophic climate change, mobilizing finance at the necessary speed and scale remains a huge challenge. The Nationally Determined Contributions of many countries have outlined the financing needed to achieve their climate ambitions under the Paris Agreement. According to one estimate, it is $4.4 trillion or $349 billion annually[1]. While there are no robust and comprehensive estimates available for the Asia and Pacific region, an assessment by ADB on Asia's infrastructure needs found that $200 billion will be needed annually to address climate actions in energy, water, and transport[2].
Though national governments and development financing institutions should devote more of their financial resources, the bulk of climate financing will necessarily have to come from private investors. This highlights the need to deploy climate financing in a way that enables and mobilizes private sector finance. But the good news is there is a robust, and growing, body of evidence that the benefits of climate action already far outweigh the costs—representing a significant opportunity for the private sector. For example, the New Climate Economy Initiative, to which I have contributed as a Commissioner, has found that investment in low-carbon growth is associated with a cumulative economic gain of $26 trillion until 2030. Meanwhile, a recent report by the Global Commission on Adaptation found that investing $1.8 trillion globally from 2020 to 2030 in five key areas—early warning systems, climate-resilient infrastructure, improved dryland agriculture, mangrove protection, and more resilient water resources—could yield $7.1 trillion in net benefits.
The provision of finance is just one part of the climate change puzzle—high technology, policy support, and capacity development to build better institution are also critical. But by further scaling up collective actions on addressing climate change by national governments, development partners, and the private sector, we can greatly respond to the voices of younger generations and vulnerable populations across the world for bolder action that ensures our common future on a healthy planet.
[1] L. Weischer et al. 2016. Investing in Ambition: Analysis of the Financial Aspects in (Intended) Nationally Determined Contributions. Briefing Paper. Germanwatch e.V. and Perspectives Climate Group: Bonn. https://germanwatch.org/en/download/15226.pdf
[2] ADB. 2017. Meeting Asia's Infrastructure Needs
The Yuan versus the Dollar: Showdown in the Global Financial Arena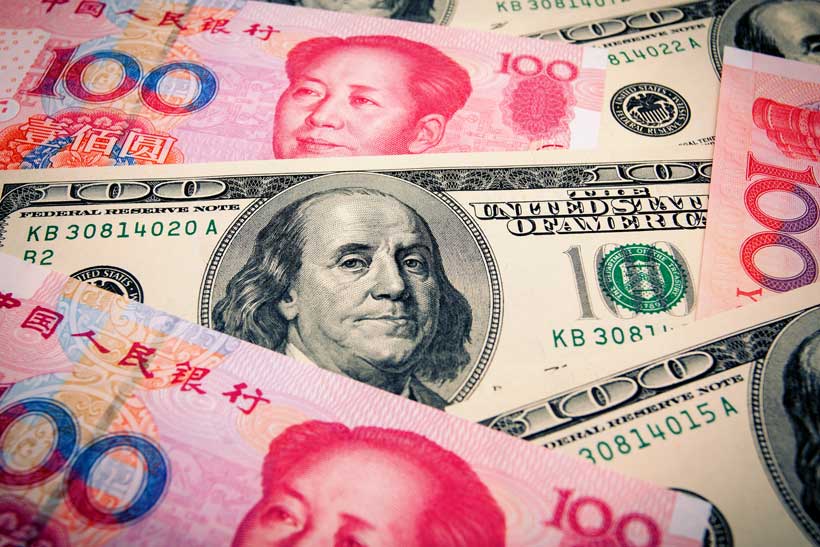 At the 1944 Bretton Woods Conference, the United States laid the foundation for the U.S.-centric international monetary system, thus ensuring the dollar's status as the key reserve currency for the next 75 years. The fact that other countries accepted the dollar as the main currency of international payments, loans and investments allowed U.S. transnational corporations to dominate global markets in the post-war period quickly. However, if we are to proceed from the development patterns of the international monetary and financial system, then it follows that the dollar will eventually be replaced by the yuan, the currency of the new global economic and financial leader (China). Will Beijing manage to build its own system of global institutions, one that is capable of internationalizing the yuan and competing against the U.S. currency when it comes to servicing global flows of commodities and finance? In order to answer this question, we need to look at the trends of the global financial architecture as it stands today and identify the strengths and weaknesses of the U.S. and Chinese financial systems.
The Global Financial Architecture
The global financial architecture (GFA) is the combination of institutions involved in the regulation of global finance. It consists of a model for organizing international financial relations, institutional mechanisms for managing these relations, and the principles underlying the participation of countries in decision-making processes. The GFA model is based on the competitiveness and openness of global financial markets. The institutional mechanisms include fiat (intrinsically valueless) money, the free trans-border movement of capital and a system of floating exchange rates. The influence of individual countries on the development of the GFA depends on the size of their quotas and votes within the Bretton Woods institutions of the IMF and the World Bank.
One feature of the current transformational processes as applied to the GFA is the concentration, in individual countries, of financial assets that exceed the size of their economies by tens, hundreds and even thousands of times. For example, the financial assets controlled by Luxembourg exceed its GDP by 248 times, and those of the Cayman Islands exceed its GDP by 1861 times. These imbalances are caused by the fact that the modern GFA is formed not along the lines of the formal Bretton Woods institutions, but rather informally, via the offshore financial system.
It is in offshore jurisdictions, i.e. outside the national borders of the countries that issue international currencies, that the bulk of global monetary liquidity is generated. For example, in 2007–2008, the Federal Reserve Bank of New York opened temporary dollar swap lines for the central banks of 14 countries worth over $10 trillion to refinance the dollar liabilities of lending institutions operating out of those jurisdictions. The swap lines were discontinued in February 2010, but were reinstated three months later in a different format between the Federal Reserve System (FRS) and five key central banks that are closely linked to the United States: the European Central Bank, the Swiss National Bank, the Bank of England, the Bank of Japan and the Bank of Canada. These C6 swap lines were made permanent and unlimited in October 2013. It is thanks to these currency swap operations that the U.S. FRS can create euros, pounds and yen in offshore jurisdictions. The other countries involved can participate in the creation of offshore U.S. dollars. The massive swap agreements involving the most significant central banks undermine the importance of the Bretton Woods institutions as the providers of global liquidity and make it difficult to record and control global capital flows at the intergovernmental level.
The U.S. Financial System
The main strength of the U.S. economy is that it issues the key global currency, as well as the fact that it has created the world's biggest stock market, in which more than half of all U.S. households participate. The United States has the most liquid bond market, which means that the dollar is the international benchmark for value and the main reserve asset for the rest of the world (its share in the international reserve portfolios of central banks exceeds 60 per cent). Over 50 per cent of all international deposits, loans and promissory notes are nominated in U.S. dollars. Washington is home to the headquarters of the Bretton Woods institutions, which are responsible for macroeconomic oversight and addressing structural imbalances in the 189 member nations. Three U.S. rating agencies account for 96 per cent of all credit ratings assigned in the world, U.S. investment holdings manage more than 50 per cent of global corporate assets. These and other factors explain the dominant role of the United States in the formation and development of the GFA.
The main weakness of the U.S. financial system is that the country's economy is based on debt and is extremely dependent on bank lending terms and the dynamics of stock market operations. A sharp increase in interest rates or a decline in demand as a result of economic overheating leads to a nosedive in share prices, which, in turn, leads to a depression, as was the case in 1929 and 2008. One other vulnerability of the U.S. financial system is its dependence on external financing, which is due to the status of the dollar as the key reserve currency. Should the international demand for dollars decline, U.S. funding from external sources may also decrease.
China's Place in the GFA
China leads the world in terms of monetary aggregates (in the dollar equivalent), purchasing power parity GDP, production and exports, and the labour force size. However, China's economic growth continues to be largely dependent on imports of foreign investments and technologies.
China's leading positions on a number of economic indicators still has a negligible effect on the country's ability to influence international financial relations. As before, the head of the IMF is a European citizen and the head of the World Bank is an American. Unlike other international organizations within the UN system, which make decisions based on the "one vote per country" principle, the IMF and the World Bank are stock companies whose capital is owned by the member nations. Decisions on the most critical issues on the agenda of the Bretton Woods institutions are made by a qualified majority of 85 per cent. Following the reform of the IMF quota and voting system in 2010–2016, the BRICS countries failed to gain the minimum number of votes (15 per cent) to obtain veto power and assert the multipolar principle within the organization. Just like before the reform, the United States continues to be the only IMF member nation that has the power veto.
China certainly owes much of its global economic achievements to its membership of international financial and economic organizations that the United States was instrumental in founding and running. That said, in order for China to protect its economic interests in an effective manner and exert tangible influence on decision-making processes in the global economy, Beijing needs to participate in those international institutions in which its vote has a decisive role. In this sense, China has high hopes for its recent initiatives to create pan-Asian institutions for monetary policy, finance and economics, such as the BRICS Contingent Reserve Arrangement, the Chiang Mai Initiative Multilateralisation, the BRICS New Development Bank and the Asian Infrastructure Investment Bank.
The opening of the Shanghai International Energy Exchange (where transactions are carried out in Chinese yuan) on March 26, 2018, was a particularly significant event. This was China's first step towards the formation of a "petroyuan" pricing system on the global energy resources market. The Shanghai Futures Exchange has begun trading in new oil futures, known as INE, which are expected to compete against British Brent and U.S. WTI contracts. The pricing of oil in yuan is an important component of the drive to internationalize the Chinese currency and lessen the global economy's dependence on the dollar.
By late 2017, the People's Bank of China had signed 37 swap agreements with different countries worth more than 3 trillion yuan. The agreements were aimed at facilitating the use of the yuan in doing business with foreign banks and companies, so that the central banks receiving liquidity in yuan can act as lenders of last resort after the activation of currency swap lines. However, the agreements have not resulted in a significant increase in the global use of the yuan, which is what was originally expected. Since the 2008 initiation of the swap agreements, the share of the Chinese currency in the denomination of international promissory notes has stood at roughly 0.3 per cent, whereas the share of the U.S. dollar has grown from 47 per cent to 63 per cent.
In addition, currency transactions involving the yuan are mostly done via London, not Beijing. The United Kingdom accounts for 33.79 per cent of all global currency operations involving the yuan. Hong Kong remains the largest clearing centre for international transactions in yuan, serving 76.36 per cent of all such global operations (the United Kingdom is second with 6.18 per cent). Thus, most international transactions involving the yuan are performed outside continental China.
One more obstacle to the faster internationalization of the yuan is China's preoccupation with domestic problems stemming from the rapid growth of debts (especially in the property market), the growth of the shadow banking system and the disproportionate allocation of loans to large and small businesses. In its attempts to conduct a softer monetary policy, the Chinese government is facing a difficult choice between supporting short-term growth and countering unfavourable external shocks. A monetary easing could increase the vulnerability of the Chinese economy, because continued lending growth is capable of slowing down or complicating the restoration of banks' balance sheets and aggravating the existing imbalances in the allocation of loans.
University of California professor Barry Eichengreen, who is one of the most respected experts on the development of the international monetary system, says the yuan does not qualify as an international currency for three reasons: 1) the high costs of financial transactions involving the acquisition and distribution of information; 2) China's great dependence on Hong Kong as a regional offshore centre; 3) China's inability to exert political pressure on the other global economic centres, primarily the United States and the European Union. At the same time, according to Eichengreen, there are four factors indicating the growing status of the yuan as a regional currency: 1) the potential growth of incomes in Asian countries, which results in increased demand for Chinese commodities; 2) the implementation of multilateral projects as part of the Belt and Road initiative, which results in the growing use of the yuan in Central and Southeast Asia; 3) the development of the Asian bond market, which leads to the standardization of international promissory notes nominated in yuan; 4) the growing demand for yuan on the part of commercial banks and companies in swap transactions between central banks as part of the Chiang Mai Initiative.
Points of Conflict between the United States and China
Unlike the Cold War era, which was characterized by the polar confrontation between two systems, today the United States and China are members of the same international financial organizations, they both interact in the uniform global capitalist market and follow the same principles of competition, effectiveness and profit maximization. For this reason, the main point of conflict between the United States and China concerns mutual restrictions when it comes to allowing the other country's finished products and services onto their national markets.
Nobel Memorial Prize in Economic Sciences recipient Joseph Stiglitz believes that the United States stands to lose more from its trade war with China than China does, as the Chinese authorities have far greater opportunities to restrict the operations of U.S. corporations working in China than the U.S. authorities do when it comes to Chinese goods imported into the United States as part of international trade. In addition, raising the prices of Chinese commodities on the U.S. market may cause dissatisfaction among end customers.
Another point of conflict between the two countries is connected to China's limited ability to influence major international organizations. Despite the IMF reform, China did not secure a tangible increase in its influence within the organization, with its quota only growing from 4.0 per cent to 6.41% per cent. We should note here that when the IMF began operating in 1947, China's quota was bigger than it is now, at 6.56 per cent (even though the country was the world's fifth-largest economy at the time, not the second largest as it is today). The formal inclusion of the yuan in the special drawing rights (SDR) basket (the IMF's cashless reserve asset) in 2016 was largely symbolic, because the use of SDRs has no effect on the actual balance of forces in the GFA. The value of the SDRs in circulation stands at $204.1 billion, or under 4 per cent of the international currency reserves calculated in dollars. The share of the yuan in the structure of international currency reserves and international transactions stands at approximately 2 per cent, which does not reflect China's global role as the largest manufacturer and exporter.
One more potential point of conflict is the development of artificial intelligence (AI) technologies. In accordance with the Made in China 2025 plan to develop strategic technologies, the country expects to have assumed global dominance in the world in the field of AI by 2030. The financial sector has high hopes for AI in terms of its potential to increase effectiveness and profitability, much like the effect that the introduction of information technologies had on financial services. China has already outstripped Europe in the number of AI-related startups and is gaining ground on the global leader in AI, the United States.
Conclusions
Experts view pan-Asian financial institutions as an instrument used by China to establish its status as the leading Eurasian and global power. Chinese officials repeatedly stress that the newly established institutions aim to compete with the Bretton Woods institutions, not replace them. In other words, at the current stage in the development of the GFA, China has no intention of changing the neo-liberal principles of its functioning.
Despite the significant increase in China's influence on the global economy and the addition of the yuan to the SDR basket, the dollar continues to play the key role in the global financial market and in servicing international trade in commodities and services. China's growing influence on the GFA thus depends on strengthening the global role of Sino-centric financial institutions and on the broader use of the yuan in international payment systems and in transactions on the global financial market. At the same time, the active creation of offshore dollars that are not controlled by the U.S. regulators increases the risk of the dollar-centric currency system collapsing.
It is obvious that the current GFA configuration is not likely to undergo any significant changes in the foreseeable future (unless another global financial crisis breaks out) because the United States has a significant number of institutional instruments and mechanisms for influencing the global economy at its disposal. In the long run, however, any growth in China's actual role in the international financial system will depend on the successful promotion of a conceptual alternative to the current GFA model for the purpose of overcoming global imbalances between the financial sector and real economy.
From our partner RIAC