ADB, WEF to Support ASEAN Hub for Sustainable Development Investment Partnership
The Asian Development Bank (ADB) and the World Economic Forum (WEF) today signed an agreement to accelerate the flow of public and private finance into sustainable infrastructure in Southeast Asia through an Association of Southeast Asian Nations (ASEAN) hub for the Sustainable Development Investment Partnership (SDIP).
The agreement, which will support the achievement of the Sustainable Development Goals in the region, was signed at the World Economic Forum's Annual Meeting of the Global Future Councils in Dubai attended by ADB Director General for Southeast Asia Mr. Ramesh Subramaniam as a member of the Global Future Council on Development Finance and WEF's Mr. Justin Wood, Head of Regional Agenda Asia Pacific and Member of the Executive Committee.
SDIP, established at the United Nations Conference on Financing for Development in July 2015 in Addis Ababa and hosted jointly by WEF and the Organisation for Economic Co-operation and Development, has adopted a regional approach and founded the SDIP ASEAN Hub to mobilize sustainable investments in emerging and developing economies, with the goal of facilitating systemic changes in development financing.
"As Southeast Asia faces a huge financing gap in sustainable infrastructure, it is vital to expand the use of private capital funds, which can also bring advanced technologies and management efficiencies to development financing," said Mr. Subramaniam. "In particular, we need to accelerate the use of public and private financing to build climate-resilient infrastructure and provide equitable and environmentally and financially sustainable growth that the region needs."
"Under the agreement, ADB and the Forum will support the ASEAN Hub's efforts to develop a strategy and a list of activities, including knowledge sharing among public and private sectors and policy proposals for areas needing development finance. Supporting local decision making with global best practices is key to boosting the flow of capital into investments that advance sustainable development, including important infrastructure projects," said Mr. Wood. "The ADB–World Economic Forum agreement will allow SDIP's ASEAN Hub to expand its capacity to work with diverse stakeholders, including international financiers, development finance institutions, private funds, and governments, to create the conditions for increasing and accelerating sustainable investments in ASEAN."
The World Economic Forum, committed to improving the state of the world, is an international organization for public–private cooperation. WEF engages the foremost political, business, and other leaders of society to shape global, regional, and industry agendas.
The Benefits Of Feeding Your Baby Organic Formula
There are many benefits that come from feeding your baby formula milk, not to mention that it is much easier and allows for mothers to be more flexible with their schedule. There is no need for mom to worry about what she is and is not putting in her body and not breastfeeding means that dad can share the feeding duty as well.
However, when it comes to using formula milk, the last thing any parent wants is to be feeding their beloved child with one that contains lots of nasty and / or potentially harmful chemicals that impact on both their growth and their overall general health /wellbeing.
Organic baby formula is the perfect choice then in order to ensure that your baby gets everything that they need to grow up and develop into a happy and healthy child. There are many brands nowadays that produce organic baby formula milk and you can buy it online from MyOrganicCompany; learn more about the company and its products by clicking the link.
There are many different benefits to feeding your baby organic formula milk with some of the most significant ones listed below for you to read in detail.
It does not contain any synthetic ingredients
As opposed to conventional baby formula milk, the organic stuff is free from any ingredients that are synthetic. Synthetic ingredients should not be going anywhere near the insides of a delicate newborn baby. In addition to this, none organic baby formulas typically contain artificial sweeteners that can seriously damage a young child's health.
When consumed regularly, many babies build up an intolerance to the synthetic and artificial ingredients found in conventional baby formula. Over time, they may experience certain gastrointestinal health issues as a result. This includes things like constipation and / or diarrhea. By feeding your baby a formula milk that is free of synthetic ingredients, you do not have to worry about it happening to them.
It contains lots of nutrients
While a formula milk tasting nice can encourage a baby to feed, the main goal here is to get all of the required nutrients and minerals into them so that they can grow into a strong and healthy child. With organic baby formula, being dense in nutrients is the main priority and so typically it is jam packed full of the correct blend of vitamins, such as Vitamin E, that are necessary for the healthy functioning of the red blood cells, immune system, and organs of your baby. The great thing about Vitamin E is that it is also an antioxidant and so it works to protect your child's body from being attacked by free radicals.
This is why you should feed your baby organic formula milk rather than the none organic stuff. The most nutrient rich organic baby formulas are in fact those from European countries as they pay extra close attention to what good stuff goes into the formula milk.
It is advantageous to mental development
Organic baby formula milk is also much better for the mental development of your baby. As well as having way more nutrients, this type of formula milk also contains the perfect amount of polyunsaturated fatty acids, including Omega 3 fatty acids. These nutrients are particularly beneficial to your baby's health as they help significantly in mental development (as well as physical development).
Mental issues, such as depression and anxiety, are often things that affect people for the whole of their life and so it is, of course advisable to dry and avoid these things from happening in the very first place. Getting a good amount of both Omega 3 fatty acids and all other types of polyunsaturated fatty acids is therefore essential for preventing mental development issues from occurring.
Getting these nutrients can also go some way to making your child more communicative and more intelligent. Additionally, they can prevent certain behavioral issues from arising also. Finally, if your baby has lots of these types of nutrients in them, it makes them more protected from conditions, such as autism, attention deficit hyperactivity disorder (ADHD), and even cerebral palsy.
It does not contain any GMOs
Genetically modified organisms (GMOs) are in a large proportion of the foods that we eat nowadays. These organisms are not good for adults to consume and so are even worse for developing babies to feed on. It has been estimated that in the United States, almost as much as 75 percent of all food items available in grocery stores have some amount of GMO ingredients in them. By using organic baby formula milk, you can ensure that your little bundle of joy is not consuming any of these harmful GMOs or any synthetic ingredients at all.
When it comes to what we put into our bodies and that of our offspring, natural is always the best option to go with. Nowaday cows are constantly being pumped full of various different pesticides, antibiotics, and so much more and this will eventually end up coming out in the milk they produce. If you feed this milk to your baby then no doubt they will be consuming some of these harmful chemicals.
Rather than having this worry, it is good to know that the organic baby formula milk that you are bringing your child up on is free from all of these harmful things, whilst at the same time being full of all of the good stuff that they need to thrive.
It comes with lots of choice
It may be the case that your baby has specific dietary requirements that need to be met in order for them to get all of the nutrients and goodness that they need. They may even be suffering from certain health conditions, such as constipation and / or gas and organic baby formula milk can help to alleviate some of the symptoms associated with these things.
There also exist a wide range of organic formulas to treat common infant / childhood allergies.
Zimbabwean peacekeeper selected as UN Military Gender Advocate of the Year 2021 Award
A Zimbabwean peacekeeper who recently completed her assignment with the UN Mission in South Sudan, will receive the 2021 United Nations Military Gender Advocate of the Year Award.
Military Observer Major Winnet Zharare, 39, served in Bentiu, South Sudan in 2021-2022, and will receive the award from the Secretary-General António Guterres during a ceremony marking the International Day of UN Peacekeepers on Thursday, 26 May 2022.
Created in 2016, the United Nations "Military Gender Advocate of the Year Award" recognizes the dedication and efforts of an individual military peacekeeper in promoting the principles of UN Security Resolution 1325 on Women, Peace and Security, as nominated by Heads and Force Commanders of UN peace operations.
Secretary-General António Guterres commended Major Winnet for her award. "Major Zharare is a role model and a trailblazer. Through her service, she has demonstrated the invaluable role that women play in building trust, advocating for change and forging peace," he said. "Her example shows how we will all gain with more women at the decision-making table and gender parity in peace operations," Mr. Guterres added.
Major Zharare expressed her gratitude and pride in receiving the award which, she said, "motivated [her] to maintain [her] course towards gender equality."
"My parents gave us equal opportunities with my brothers, so I believe that equal opportunities should be given to both men and women in all aspects of life," she added.
Major Winnet Zharare deployed to UNMISS in November 2020. Throughout her 17-month-long service, she advocated for gender parity and women's participation, within her own ranks, among local military counterparts, and in host communities.
As the Chief Military Information Officer in UNMISS' Bentiu field office, she helped ensure that patrols included both women and men to improve protection efforts as well as build trust between host communities and the Mission. Her efforts also contributed to an increase in gender-aggregated data so that issues raised by local women and girls would gain appropriate attention.
Advocating for gender parity and womens' participation in an environment where they are traditionally excluded from decision-making, she encouraged local civilian and military authorities and community representatives to involve both men and women in meetings with the UN. Her diligence and diplomatic skills quickly gained her the trust of local military commanders who would systematically reach out to her on issues pertaining to women's protection and rights. During her patrols and numerous community engagement initiatives, Major Zharare also successfully encouraged men and women to work together in farming and in the construction of dikes around Bentiu town to alleviate food shortages and prevent further displacement.
Major Zharare is the first Zimbabwean peacekeeper to receive this prestigious award.
China will aim to plant and conserve 70 billion trees by 2030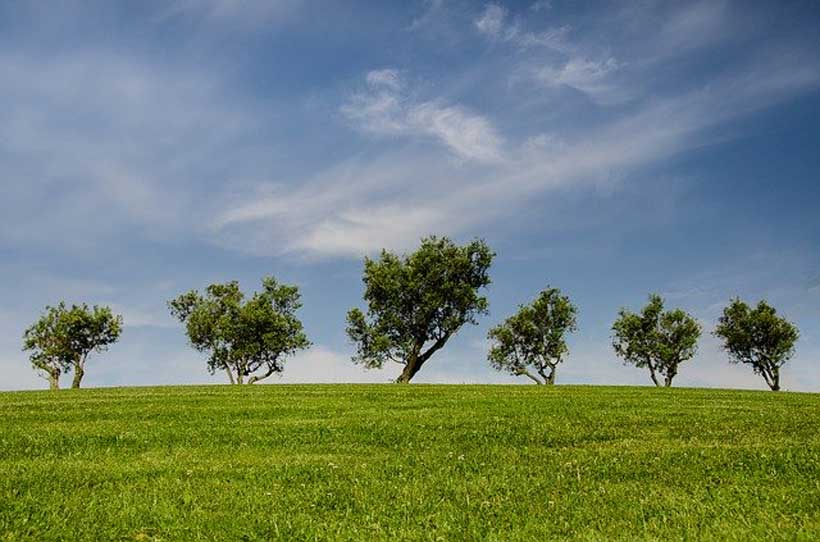 Xie Zhenhua, China's Special Envoy for Climate Change announced the country's active response to the World Economic Forum's 1t.org initiative, the platform supporting the UN Decade on Ecosystem Restoration. The World Economic Forum and China Green Foundation will actively echo and support the contribution to be implemented in China. This initiative will encourage society-wide stakeholders, including enterprises, individuals, and local governments at all levels to commit with actions to plant, conserve, restore and manage 70 billion trees in China by 2030.
1t.org was launched at the World Economic Forum's Annual Meeting two years ago to support the growing momentum around nature-based solutions by mobilizing the private sector, facilitating regional multi-stakeholder partnerships, and supporting innovation and ecopreneurship on the ground.
During his speech at the Forum's 2022 Annual Meeting in Davos, Xie Zhenhua said: 'China's forest cover and forest stock volume have been growing in the last 30 years, and China accounts for more than 25% of the world's new green areas. China responds actively to contribute to the 1t.org initiative from the World Economic Forum, and I am announcing here that China aims to plant and conserve 70 billion trees within 10 years to green our planet, combat climate change, and increase forest carbon sinks.'
In support of this bold contribution, Chairman Klaus Schwab of the World Economic Forum said:
'We appreciate China's effort in supporting the 1t.org initiative of the World Economic Forum and relevant UN initiatives, we highly appreciate China's practices upholding relative international commitment such as the Paris Agreement and Biodiversity target through Nature-Based Solutions.'
China's Bold Action
In the past decade, China has regrown more than 70 million hectares of forest cover. The country has benefited greatly from solutions in biodiversity conservation, sustainable usage and climate governance, resulting in wetland and forest restoration that also combats desertification.
China's 14th "Five Year Plan" has a stated target of increasing forest coverage to 24.1% by 2025, and forest stock volume up to 19 billion cubic meters. Science-based greening efforts and inter-ministerial cooperation have provided the key vehicle for forest ecosystem restoration.
China's contribution will encourage the 1t.org initiative to collaborate more closely in the local context to fulfill this contribution and will stimulate collective community actions at large scales and empower Chinese organizations and individuals to make contributions. China's active response to 1t.org displays the nation's capacity and strong commitment to safeguard the Paris Agreement and post-2020 Global Biodiversity Framework.
How Trees Can Play Their Part
China's land restoration and afforestation projects provide fundamental support to the country's poverty reduction targets of elevating 20 million people out of poverty, with the lives of 3 million people already improved through increased household income. Healthy and resilient forests are also part of people's expectations for better living qualities according to China's strategy. During the period of China's13th Five year plan, the Chinese forest tourism industry grew substantially with an annual average of 1.5 billion tourists visiting national forests.
Mobilize Society-wide Action, Plant Future Trees of Hopes
China's active response to the 1t.org initiative encourages all stakeholders to promote solutions and activities to meet climate and nature targets. These include emission reduction policies for committed companies and individuals; guiding local governments to promote climate adaptation activities such as afforestation and ecological restoration, engaging scientific organizations, think-tanks, and civil societies to promote accountable and credible tools and evaluation frameworks; creating digital environments and crowd funding opportunities for innovation solutions; and adding afforestation and carbon storage incentives.