Russia-Africa Summit: walking hand in hand through history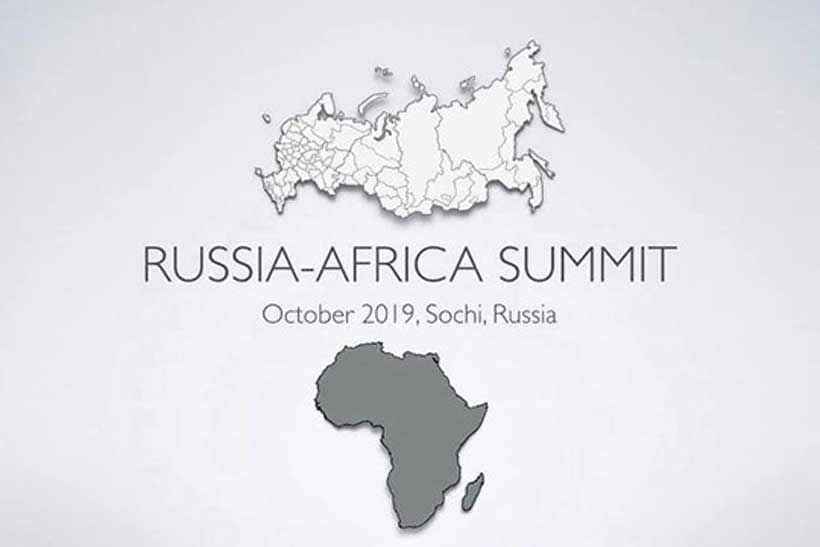 The first-ever Russia-Africa summit held from 23-24 October in Sochi, Russia, marking the culminating point of the return of Russia to Africa, with more than 50 African leaders and over 3,000 delegates invited. This convening is only another illustration of the recent increase in economic, security, and political engagements to foster Russia-Africa relations.
The summit is expected to deepen relations between the Russian Federation and countries of the African continent at both bilateral and multilateral levels; forge closer collaboration on regional and international issues of common interest, raise strategic dialogue between Russia and African countries to a qualitatively higher level, and contribute to peace, security and sustainable development on the African continent. The Russia-Africa Summit will also contribute towards the overall objective of addressing the aspirations of African countries as encapsulated in Agenda 2063. As the continental development blueprint, Agenda 2063 calls for a people-centered developmental process that ensures, inter alia, economic diversification and growth in order to eradicate poverty, unemployment and inequality
On 16th of October, a seminar under the theme "Discussion in the Run-Up to the Russia-Africa Summit" was held in South Africa, unique strategic partner of Russia in BRICS organization, at the University of Pretoria. The main speaker at the event was the Ambassador of the Russian Federation to South Africa Ilya Rogachev, who delivered a comprehensive speech, which described in detail the essence of the upcoming historical event.
Following is his presentation:
This will be the first event of such scale and magnitude marking an important milestone in the history of relations between Russia and the African continent. All eyes are on us now. I would like to remind that Russia, in all of its incarnations, and the peoples of Africa have always walked hand in hand through history.
We share a common and eventful past, where as allies we strived together for a better world. The Soviet Union was the only global power that has never pursued colonial policies and had never had a detrimental presence in Africa. The very idea of colonialism has always been an alien concept to us, one that to our mind should be abolished from the face of the Earth in all its forms.
The Soviet Union was most heavily involved in the rise of the African continent to independency. Among the most important cornerstones of the Soviet foreign policy was bringing an end to the colonial era, supporting national liberation movements, providing all kinds of assistance to young African nations: economic, infrastructural, military, humanitarian and educational. These pages of history cannot and shall not be rewritten, this friendship will forever be embedded in the history of relations between Russia and Africa.
USSR's involvement and interest in Africa were guided by the imperative to «protect the interests of the oppressed nations and their right for self-determination and creation of sovereign states». Next year marks the 60th anniversary of the adoption of the United Nations Declaration on the Granting of Independence to Colonial Countries and Peoples of 1960. This historical document was drafted on the initiative of the USSR, who had been championing the cause of a free and independent Africa on the global arena for many years.
Needless to say that this enormous and, I would like to stress – selfless – support that the Soviet Union rendered the people of Africa throughout the XX century won over many hearts on this continent.
Sadly, the collapse of the Soviet Union put our partnership on halt. The 1990s were a time of hardship for my country and its people. Even after the resurgence of the 2000s it took us some time to gather and re-establish ourselves as a global leader on the international arena and a prominent economic and technological power. I would not necessarily call these years a time of neglect towards Africa, as some try to put it, but admittedly, to a certain extent we lost the pace and intensity in our cooperation. Speaking in plain terms, now we have some catching up to do.
This is what the upcoming Russia-Africa Summit is meant to achieve: to put our partnership back on track, giving it new dimensions, pertinent to the XXI century, and providing dynamics for further growth. It is designed to set ambitious goals and look for areas of fruitful and practical cooperation. Intergovernmental and business opportunities clearly attract attention from both sides, our mutual interest in deepening cooperation is evidently high. This is why if you look at the expanded programme outlines you would fine nearly every possible topic on the agenda: from the role of media on the African continent to the importance of peaceful conflict resolution.
We envisage both the Summit and the Forum as a prospective platform for regular contacts, governmental and business. It is supposed to be a mechanism, which will allow us to give the much needed impulse to our cooperation, keep track of the progress already made and explore new opportunities. We consider it a platform where equals meet and where every voice is heard.
It is no coincidence that the Summit is hosted jointly by the Russian Federation and the African Union. There is great significance to this fact: unlike some other powers, which are used to looking down at Africa from their high horse, we do not consider Africa and African nations as junior partners. In fact, Russia strives for an equal cooperation based on mutual respect for the interests of all the involved parties.
I would like to draw your attention to this particular aspect, as it is purposefully misrepresented in some of the clearly biased publications and articles that appeared recently in South African press and elsewhere. These experts keep describing Russia's return to the continent as a premise for a struggle for influence and resources among the global powers.
I would like to discourage that line of thought and tell the analysts, that they are wide off the mark. Some might still be looking at Africa through the lens of a colonial eye. Frankly speaking, this is an outdated and historically void way to behave on the global arena and in international relations. This is not our way. We do not develop and conduct foreign policy and international cooperation from such assessments. Our Western partners keep returning to the concept of a zero-sum game, where one's gain means another one's loss – imprinting this crooked assumption on the minds of experts and journalists.
Our mindset is different, we say: let's cooperate and grow together. Africa is the most dynamically developing continent with rapidly growing economies that shouldn't be regarded as a mere resource base. It is time to build long-lasting partnerships rooted in the principles of trust and equality. This stance resonates with our African partners. No wonder that our positions on the global arena are largely aligned. We share similar values defined by respect for national sovereignty and international law, as well as similar approaches to tackling current global challenges and threats. The world and the African continent need to find sustainable solutions for pressing issues. It should be done not through a dictate of a group of 'elite' countries and the rules that they impose on everyone else, but through the balance of interests and respect for all viewpoints. International law, based on the UN Charter and the existing legal framework, not some new «rules-based order» concepts, should serve as the basis for building relations.
We have always been adamant supporters of the formula «African solutions to African problems», including in the United Nations. It is our firm believe that nations and peoples themselves should resolve their problems, with the expertise and advice of the international community if required. In the past decade we have seen all too well what blatant interference in other countries affairs leads to, the results of the attempts to push for regime change is evident as well – North Africa and the Middle East are still dealing with the fallout from the so-called Arab Spring.
Today Russia enjoys strong bilateral relations with many African countries, South Africa included. The cooperation encompasses many spheres including infrastructure projects, space industry, telecommunication, healthcare, education, tourism, mining and others. The total volume of Russia's investment in Africa has exceeded 20 billion dollars. The overall trade volume of has increased by many times since the 1990s.
One of the key issues that the African continent faces and that Russia has the expertise to assist with is the energy crisis, a growing shortage of generating capacity that holds back economic development. In 2008, Russian diamond company "Alrosa" finished the construction of Chicapa hydroelectric power plant in Angola; in 2010, Tanzania and Russia signed a deal to build the Rumakali hydropower plant. There are ongoing negotiations on the cooperation in the energy sector with such countries as Sudan, Ethiopia and the DRC.
Russia is helping more than 20 countries in Africa to develop their nuclear industries for energy and medical purposes. In 2014, Russia and Egypt signed an agreement on the construction of El Dabaa nuclear power plant – Russia will provide a $25 bln loan to Egypt for the construction that will create 50'000 job opportunities and add 4,8 GW generation capacity to the grid. In 2017, an agreement on the development of atom energy projects was concluded with Nigeria. A nuclear research centre is to be built in Zambia.
One of the most promising projects in infrastructure development is the establishment of Russian industrial free trade zone in Egypt, which will focus on manufacturing agricultural machinery and hardware. We are also considering participating in the ambitious project of the Trans-African railway connecting Dakar and Djibouti, spanning across the continent.
Russia, and the Soviet Union previously, have always assisted African nations in skill development and education: millions have received highest quality degrees in the past decades, over 15'000 students from African nations are currently studying in Russia. A decision has already been made to substantially increase the number of scholarships in the next few years.
Russia continues to provide humanitarian assistance to those who request it in Africa. In 2017 alone, Russian aid exceeded 1 billion $. Russian Federation is the 5th biggest sponsor of the UNIDO Industrial Development Fund, a top-tier contributor to the UN World Food Programme and the World Health Organisation.
Another important area of cooperation is the assistance in fighting epidemics and diseases that scourge the African continent. For example, the recent outbreak of Ebola virus in the Western African countries prompted Russian doctors to develop not one but two groundbreaking vaccines. The Russian-made vaccines were the first to be tested and to have reach the patients. The vaccines are now being shipped to the Republic of Guinea, the DRC and other countries.
The issues of peace and security are also in the focus of attention. Fighting terrorism, drug- and human-trafficking and other criminal activities are among Russia's priorities in the international security area. Making certain that conflict resolution in Africa is carried out without the use of violence and within the framework of political dialogue is another keystone of our approach. Russian Foreign Minister Sergey Lavrov has repeatedly extended the country's full-fledged support to the African Union's initiative 'Silencing the guns by 2020'. Last September the Russian Federation as the Chair of the UN Security Council convened a UNSC Meeting on 'Peace and Security in Africa Partnership to Strengthen Regional Peace and Security' to give Africa an additional platform.
And this is just the tip of the iceberg whereas Russia-Africa interaction is concerned. So to round it up, the summit has high hopes, but it can already be said with confidence that the event will go down in history as an important milestone in cooperation between Russia and the countries of the continent.
From our partner International Affairs
The Russia-China-Iran Alliance
NATO, the U.S. Government, and all other "neoconservatives" (adherents to Cecil Rhodes's 1877 plan for a global U.S. empire that would be run, behind the scenes, by the UK's aristocracy) have been treating Russia, China, and Iran, as being their enemies. In consequence of this: Russia, China, and Iran, have increasingly been coordinating their international policies, so as to assist each other in withstanding (defending themselves against) the neoconservative efforts that are designed to conquer them, and to add them to the existing U.S. empire.
The U.S. empire is the largest empire that the world has ever known, and has approximately 800 military bases in foreign countries, all over the planet. This is historically unprecedented. But it is — like all historical phenomena — only temporary. However, its many propagandists — not only in the news-media but also in academia and NGOs (and Rhodesists predominate in all of those categories) — allege the U.S. (or UK-U.S.) empire to be permanent, or else to be necessary to become permanent. Many suppose that "the rise and fall of the great powers" won't necessarily relate to the United States (i.e., that America will never fall from being the world's dominant power); and, so, they believe that the "American Century" (which has experienced so many disastrous wars, and so many unnecessary wars) will — and even should — last indefinitely, into the future. That viewpoint is the permanent-warfare-for-permanent-peace lie: it asserts that a world in which America's billionaires, who control the U.S. Government (and the American public now have no influence over their Government whatsoever), should continue their 'rules-based international order', in which these billionaires determine what 'rules' will be enforced, and what 'rules' won't be enforced; and in which 'rules-based international order' international laws (coming from the United Nations) will be enforced ONLY if and when America's billionaires want them to be enforced. The ideal, to them, is an all-encompassing global dictatorship, by U.S. (& UK) billionaires.
In other words: Russia, China, Iran, and also any nation (such as Syria, Belarus, and Venezuela) whose current government relies upon any of those three for international support, don't want to become part of the U.S. empire. They don't want to be occupied by U.S. troops. They don't want their national security to depend upon serving the interests of America's billionaires. Basically, they want the U.N. to possess the powers that its inventor, FDR, had intended it to have, which were that it would serve as the one-and-only international democratic republic of nation-states; and, as such, would have the exclusive ultimate control over all nuclear and other strategic weapons and military forces, so that there will be no World War III. Whereas Rhodes wanted a global dictatorship by a unified U.S./UK aristocracy, their 'enemies' want a global democracy of nations (FDR named it "the United Nations"), ruling over all international relations, and being settled in U.N.-authorized courts, having jurisdiction over all international-relations issues.
In other words: they don't want an invasion such as the U.S. and its allies (vassal nations) did against Iraq in 2003 — an invasion without an okay from the U.N Security Council and from the General Assembly — to be able to be perpetrated, ever again, against ANY nation. They want aggressive wars (which U.S.-and-allied aristocracies 'justify' as being necessary to impose 'democracy' and 'humanitarian values' on other nations) to be treated as being the international war-crimes that they actually are.
However, under the prevailing reality — that international law is whatever the U.S. regime says it is — a U.N.-controlled international order doesn't exist, and maybe never will exist; and, so, the U.S. regime's declared (or anointed, or appointed) 'enemies' (because none of them actually is their enemy — none wants to be in conflict against the U.S.) propose instead a "multilateral order" to replace "the American hegemony" or global dictatorship by the U.S. regime. They want, instead, an international democracy, like FDR had hoped for, but they are willing to settle merely for international pluralism — and this is (and always has been) called "an international balance of powers." They recognize that this (balance of powers) had produced WW I, and WW II, but — ever since the moment when Harry S. Truman, on 25 July 1945, finally ditched FDR's intentions for the U.N., and replaced that by the Cold War for the U.S. to conquer the whole world (and then formed NATO, which FDR would have opposed doing) — they want to go back (at least temporarily) to the pre-WW-I balance-of-powers system, instead of to capitulate to the international hegemon (America's billionaires, the controller of the U.S. empire).
So: the Russia-China-Iran alliance isn't against the U.S. regime, but is merely doing whatever they can to avoid being conquered by it. They want to retain their national sovereignty, and ultimately to become nation-states within a replacement-U.N. which will be designed to fit FDR's pattern, instead of Truman's pattern (the current, powerless, talking-forum U.N.).
Take, as an example of what they fear, not only the case of the Rhodesists' 2003 invasion of Iraq, but the case of America's coup against Ukraine, which Obama had started planning by no later than 2011, and which by 2013 entailed his scheme to grab Russia's top naval base, in Crimea (which had been part of Russia from 1783 to 1954 when the Soviet dictator transferred Crimea to Ukraine). Obama installed nazis to run his Ukrainian regime, and he hoped ultimately for Ukraine to be accepted into NATO so that U.S. missiles could be installed there on Russia's border only a five-minute missile-flight away from Moscow. Alexander Mercouris at The Duran headlined on 4 July 2021, "Ukraine's Black Sea NATO dilemma", and he clearly explained the coordinated U.S.-and-allied aggression that was involved in the U.S.-and-allied maneuvering. U.S.-and-allied 'news'-media hid it. Also that day, Mercouris bannered "In Joint Statement Russia-China Agree Deeper Alliance, Balancing US And NATO", and he reported a historic agreement between those two countries, to coordinate together to create the very EurAsian superpower that Rhodesists have always dreaded. It's exactly the opposite of what the U.S.-and-allied regimes had been aiming for. But it was the response to the Rhodesists' insatiable imperialism.
To drive both Russia and China into a corner was to drive them together. They went into the same corner, not different corners. They were coming together, not coming apart. And Iran made it a threesome.
So: that's how the U.S. regime's appointed 'enemies' have come to join together into a virtual counterpart to America's NATO alliance of pro-imperialist nations. It's a defensive alliance, against an aggressive alliance — an anti-imperialist alliance, against a pro-imperialist alliance. America's insatiably imperialistic foreign policies have, essentially, forced its 'enemies' to form their own alliance. It's the only way for them to survive as independent nations, given Truman's abortion of FDR's plan for the U.N. — the replacement, by Truman of that, by the U.N. that became created, after FDR died on 12 April 1945.
New Strategic Report: Development Prospects for Improving Russia's Policy in Africa
An expert group, has completed its studies of Russia's policy implementation processes, impact and setbacks, and the development prospects in Africa, and has presented its final report with some recommendations intended to improve and scale up the existing Russia's influence in Africa.
The report was prepared as part of a programme sponsored by the Russian Foreign Ministry. The Situation Analytical Report, compiled by 25 Russian policy experts, was headed by Sergei A. Karaganov, Dean and Academic Supervisor of the Faculty of World Economy and International Relations of the National Research University – Higher School of Economics (HSE University). Karaganov is also the Honorary Chairman of the Presidium, Council on Foreign and Defense Policy.
The 150-page report, released in November, offers new directions, some development prospects and recommendations for improving policy methods and approaches with Africa. The report identifies two key factors necessary for determining the long-term importance of the continent: (i) human capital and (ii) natural resources.
These make for the increased interest for investment in extractive industries and infrastructure, booming consumer markets rising at rates much higher than the rest of the world. With its 1.3 billion, it is a potential market for all kinds of consumable goods and for services. In the coming decades, there will be an accelerated competition between or among the external players over access to the resources and for economic influence in Africa.
Nevertheless, despite the growth of external player's influence and presence in Africa, Russia has to intensify and redefine its parameters as it has now transcended unto the fifth stage. Russia's Africa policy is roughly divided into four periods, previously after Soviet's collapse in 1991.
The first historic summit created a good basis for launching or ushering in a new fifth stage of Russian-African relations. The joint declaration adopted at the summit raised the African agenda of Russia's foreign policy to a new level and so far remains the main document determining the conceptual framework of Russian-African cooperation.
Some of the situation analysis participants, who contributed to the latest policy report spoke very critically of Russia's current policy towards Africa and even claimed that there was no consistent policy and/or consistency in the policy implementation at all. The intensification of political contacts are only with a focus on making them demonstrative. Russia's foreign policy strategy regarding Africa has to spell out and incorporate the development needs of African countries.
While the number of top-most and high-level meetings have increased, the share of substantive issues on the agenda often remains small or scanty. There are little definitive results from such meetings. There are, indeed, to demonstrate "demand for Russia" in the non-Western world; the formation of ad hoc political alliances with African countries geared towards competition with the collective West. Apart from the absence of a public strategy for the continent, there is shortage of qualified personnel, the lack of coordination among various state and para-state institutions working with Africa.
In addition, insufficient and disorganized Russian-African lobbying, and combined with the lack of "information hygiene" at all levels of public speaking were listed among the main flaws of Russia's current Africa policy. Under the circumstance, Russia needs to compile its various ideas for cooperation with Africa into a single comprehensive and publicly available strategy to achieve more success with Africa.
In many cases and situations, ideas and intentions are often passed for results, unapproved projects are announced as going ahead. Russia's possibilities are overestimated both publicly and in closed negotiations. The supply of Russian-made vaccines to Africa is an example. Having concluded contracts for the supply of Sputnik V to a number of African states, Russian suppliers often failed to meet its contractual obligations on time. Right now, there are many agreements signed, before and during the first Russia-Africa summit, and Russia simply fails to deliver, as promised with African countries.
"The situation analysis participants agreed that the lack of project due diligence and proper verification of contracting partners is one of the key challenges for Russian business in Africa. Many projects announced at the top and high political levels have not been implemented. The reason is usually that the projects were not properly prepared before official approval. As a result, budget funding is often spent on raw and unprepared initiatives," according to the report.
The adoption by Russia of an open doctrinal document on cooperation with Africa will emphasize the seriousness of its intentions and create an atmosphere of trust, in which individual steps will attain greater weight and higher-level justification. In African conditions, this will mean accelerated coordination of essential decisions. It is important to note that such public strategies for the entire continent are a necessary instrument of the other countries that are active in Africa.
Unlike most competitors, Russia can afford to promote a more honest, open, direct and understandable agenda for Africa: sovereignty, continental integration, infrastructure development, human development (education and medicine), security (including the fight against hunger and epidemics), normal universal human values, the idea that people should live with dignity and feel protected. All situation analysis participants agreed with this view. The main advantage of such an agenda is that it may be more African than those of its competitors.
It is advisable to present such a strategy already at the second Russia-Africa summit, and discuss and coordinate it with African partners before that. Along with the strategy, it is advisable to adopt an Action Plan — a practical document that would fill cooperation with substance between summits.
One of the most important tasks critical for the effectiveness of Russian actions in Africa is the centralization and strengthening of the role and capacity of Russian state institutions on the African track, especially in the information sphere.
The report proposes dialogues should be enhanced between civil societies, including expert and academic organizations. In a situation where a rapid expansion of trade and economic relations is difficult (for example, due to economic stagnation or a crisis in the respective country), the humanitarian track can become one of the ways to deepen relations further.
On foreign players in Africa, the report points to China as number one active player. India's influence continues to grow, as does the involvement of Turkey, the UAE, and Qatar, which are relatively new players in Africa. The influence and involvement of the United States, Japan, South Korea, and Brazil in the coming years, are likely to remain at the level of the past decade and will decline compared to China's influence.
China, the EU, Germany, Turkey, Spain, and others have developed, announced and are implementing progressively their African strategies.
In general, of all the G7 countries, only Germany still has some potential to increase its influence and presence in Africa. Canada, Italy, and the UK, according to the authors, can at best maintain their influence at the same level, but it, too, will decrease compared that of the new centers of power.
At the same time, for its part, Africa will retain its importance for Europe in the long term and may even increase being an important source of a wide range of resources. Europe needs mineral resources (cobalt, gas, bauxite, rare earth metals) in order to carry out the energy transition, and human ones in order to make up for the natural decrease of population. The European banking system and financial institutions traditionally rely on Africa as a source of funding (while African capital often seeks refuge, and instability only accelerates its flight).
The influence of other non-European emerging powers, who often compete with each other, is also growing in Africa. UAE and Turkey may be mentioned among others. Their rivalry is visible in North Africa, West Africa and, especially, the Red Sea, and includes competition for control over both port infrastructure and points of possible military presence. A vivid example of this rivalry is Somalia, where Turkey is interacting and strengthening its position in Mogadishu, while the UAE, which recently lost control of the port in Djibouti, is taking a foothold in Berbera (in the self-proclaimed Republic of Somaliland).
There are indications that Israel, whose activity in many African countries, particularly in East Africa, has remained traditionally high (especially in "sensitive" areas, such as internal security, the training of security and special forces, as well as in economic, especially agriculture projects), will continue to increase its involvement in the short and medium term.
Making efforts to maintain and expand its presence in Africa, Israel is developing contacts with the UAE and through it with a number of Gulf countries. Africa will be one of the platforms for Israel's interaction with these countries. It will continue attempts to reduce the influence of Iran that has been carrying out its own diverse activity in Africa, seeking to expand it further.
On July 22, 2021, already after the situation analysis had taken place, it was declared that Israel had obtained an observer status to the African Union.
In the next ten years, rivalry, the balance of power and interests in the Indian Ocean will become a key factor of military and strategic importance, for this is where the interests of China, India, Pakistan, Turkey, Arab countries, Iran, as well as the United States, France and other players are likely to collide. These countries will use significant resources to strengthen their positions along the entire coast of Eastern Africa, from Egypt to South Africa, which means both risks and new opportunities for the countries of the region. The military and strategic importance of the Indian Ocean islands (including four African island states) will continue to grow.
The report proposes discussions on possible mechanisms and formats of bilateral and multilateral alliances with interested parties, whose interests in Africa may coincide with the Russian ones. For example, the potential of bilateral cooperation in Africa with India (including outside of BRICS) has not been fully tapped yet. Joint initiatives in Africa in the areas of international development assistance, education, health care, and project financing may be of interest as well. It is also advisable to explore, including at the expert level, the possibility of engaging with countries such as South Korea (widely represented in Africa), Vietnam (showing growing interest), Cuba, Serbia, and several others as part of Russian initiatives in Africa.
Without Africa, Russia would not have so many friendly partners sharing its strategic goal of building a fair polycentric world order. By all purposes, Africa seems to be a favorable region in terms of positioning Russia as a global center of power and a country that defends peace, sovereignty, the right of states to choose development models independently, and as a protector of nature and the environment. Therefore, Russia's increased presence and influence in Africa does not and should not cause resistance among African countries.
It is also important to move away from the "zero-sum" approach in relations with the West, even though at first glance the interests and aspirations of the EU and the U. S. in Africa seem to be opposite to those of Russia. Russia should build its policy and rhetoric in relation to Africa regardless of its rivalry with the West and should not create the impression that its policy in Africa is driven by the wish to weaken the positions of the United States and the EU on the continent.
The situation analysis participants agreed that Russia's policy in Africa should be a derivative of Russia's overall foreign policy goals and objectives, the three key areas being:
a) Ensuring national security. In the African context, this means primarily the danger of new viruses, extremism, anything that may impact Russia's national security, including competition with other centers of power.
b) Ensuring social and economic development of Russia. Africa is a promising market
for Russian products and services, and a factor that facilitates the diversification and
modernization of the Russian economy. The situation analysis participants agreed that this is the main aspect today. In future, Africa can become one of the important factors in the development of some of Russian non-resource sectors, particularly railway and agricultural engineering, automotive and wheeled equipment, as well as services (primarily education and health care).
c) Strengthening the position of the Russian Federation as one of the influential centers in the modern world. Political partnership with African countries and the African Union as friendly players can make an important contribution to these efforts. As UN votes show, the positions of Russia and most African countries are conceptually identical or similar on many issues. None of the African countries imposed sanctions or restrictions against Russia. The ideological basis for cooperation at this level can be provided by the conceptual documents and ideas recognized and supported by all African countries: the approach of "African Solutions to African Problems" be strictly followed, working within the framework of the African Union Agenda 2063 and the UN Development Goals 2030.
How the Arms Control Approach Could Help Russia Tackle Climate Change
The right approach would probably be to create a special interagency coordinator under a senior official reporting directly to the head of state. It is vitally important that whoever heads the office is well respected by international partners: a worthy counterpart to the likes of John Kerry of the United States.
The energy crunch in Europe; the knee-jerk accusations of Russia having engineered it to win early approval of the Nord Stream 2 gas pipeline; and the Kremlin's riposte, pointing to the EU's own policy failures, dominate the news. Yet one really important development remains underreported. Moscow's official view of climate change and energy policy has just undergone a major reversal. Weeks before the COP-26 climate summit in Glasgow, Russia's Economic Development Ministry has come up with a national goal of achieving carbon neutrality by 2060.
This is not a covert attempt by the in-system liberals to begin aligning Russia's climate policy with the policies of the world's major powers. Rather, it is the consummation of a sea change that has been brewing for the past couple of years in the Kremlin's thinking. President Vladimir Putin announced the carbon neutrality goal in remarks at the recent Russian Energy Week in Moscow. Climate change denial is over. Debate about what exactly has caused it is considered politically irrelevant. What matters are the existing realities and the current trends, which amount to all the world's major economies moving away from dependence on fossil fuels. As a result, the new nexus of efforts to deal with climate change, the energy transition those efforts center on, and the geopolitical impact of that transition are moving right to the top of the Russian foreign policy agenda.
Of course, this is not all or even mostly foreign policy. Energy transition, which is the core issue, will affect not just the oil and gas sector, which in 2020 accounted for 15 percent of Russia's GDP, but the country's entire economy and finances, its political economy, and the relative political influence of various vested interests. Given the coincidence of energy transition and the inevitable transfer of political power, this combination is likely to become one of the most important processes shaping Russia's future for years and decades to come.
Still, the foreign policy aspect of the change is non-negligible. The carbon neutrality pledges already announced by Russia's main economic partners—the European Union and China; the United States, Japan and others—as well as the UN climate conference in Glasgow next month are all compelling Moscow to come up with a strategy of its own, and soon. Such a strategy will aim to preserve the country's position as an energy power, but on a much more diverse foundation.
Integrating climate science, energy issues, and geopolitical objectives to produce and pursue an effective strategy could be compared to the task faced by the Soviet Union in the late 1960s–1980s. Back then, Moscow had to come up with a practical way to link nuclear science and weapons development, military force posture and strategy, the capabilities of the defense industry, and wider foreign policy goals. The result was transiting from the sterile rhetoric of universal disarmament to a diplomacy of strategic arms control that eventually produced strategic stability between the Soviet Union and the United States.
What is needed today is for various parts of the Russian government to pool their resources. The offices of the president's special representative for climate issues and the special representative for liaison with international organizations on reaching sustainable development goals are evidently too small to take control. The ministries of foreign affairs, economic development, and finance; the Russian Academy of Sciences; and the Security Council all have an interest and possess valuable expertise on the issues, but none of them can actually be charged with taking the lead on their own.
The right approach would probably be to create a special unit under a senior official reporting directly to the head of state. That unit would become an interagency coordinator among the many ministries that have interest and expertise on the relevant issues. Also, to borrow a page from the history books on Soviet arms control, a permanent mechanism could be organized of principals and deputies from various parts of the government to discuss and prepare decisions on these matters. This would be an analogue of the Big Five on strategic arms negotiations (the Party Central Committee, the Defense Ministry, the KGB, the Military Industrial Commission of the Council of Ministers, and the Foreign Affairs Ministry). It is vitally important that whoever heads the office has direct access to the president and is well respected by international partners. He or she needs to be a worthy counterpart to the likes of John Kerry of the United States.
The current hike in gas prices in Europe has motivated a number of people in Russia to sneer at green and alternative energy projects and reassert the continuing primacy of traditional sources of energy. Life is never linear, of course. However, even if future economic development does not completely close the books on fossil fuels (and it probably won't, at least for a long time), the balance of energy consumption by some of the key buyers of Russian oil and gas will most likely change fast.
The speed of change means that temporizing now would undermine Russia's chances of limiting the damage from the reduction of the world's demand for its oil and gas. It would also prevent it from participating in developing new global norms and from taking advantage of its vast potential capabilities in such areas as hydrogen energy. Strategic decisions on that score have just been made, and this is a crucial positive step. The task now is to construct well-designed mechanisms to implement those decisions nationally and in foreign policy.
This article was published as part of the "Relaunching U.S.-Russia Dialogue on Global Challenges: The Role of the Next Generation" project, implemented in cooperation with the U.S. Embassy to Russia. The opinions, findings, and conclusions stated herein are those of the author and do not necessarily reflect those of the U.S. Embassy to Russia.
From our partner RIAC