New Report Identifies Clean Energy Options for Global Shipping Industry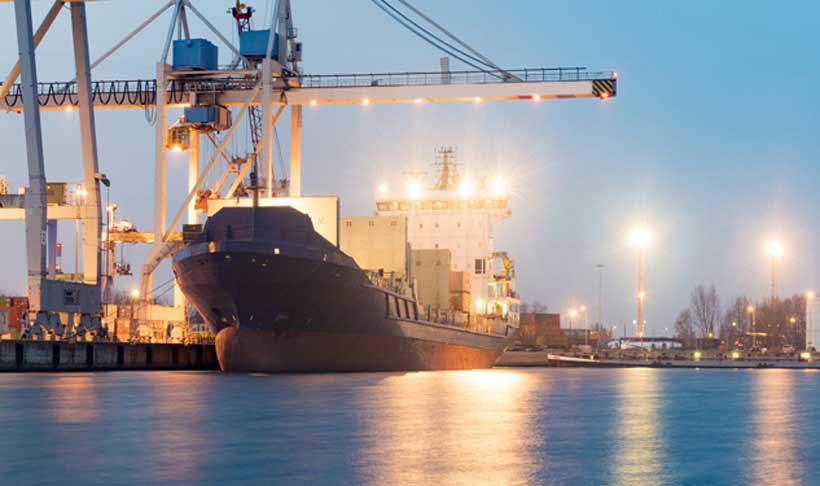 Shipping is a major contributor to global carbon emissions. The sector today is responsible for 3 per cent of global greenhouse gas emissions and 9 per cent of transport related emissions and this figure will rise significantly as trade volumes increase. If no mitigation action is taken, maritime emissions could grow between 50 and 250 per cent by 2050, the International Maritime Organization (IMO) says.
With heavy fuel oil covering 82 per cent of the sector's energy needs, decarbonizing global shipping will play a critical role in achieving climate objectives, a new report by the International Renewable Energy Agency (IRENA) finds. Navigating a way to a renewable future explores the impact of maritime shipping on CO2 emissions, the structure of shipping and key areas that need to be addressed to reduce the sector's carbon footprint.
Speaking at the launch of the report from the Global Maritime Forum's Annual Summit in Singapore, IRENA's Director-General Francesco La Camera said it's clear that the industry has recognised the urgent need to address its decarbonisation options. "Decarbonising transport is critical to a sustainable future. Shipping is a major contributor to transport emissions and it is encouraging that the industry has shown a clear willingness to engage the energy sector to exchange ideas on low-carbon pathways.
"As the cost of renewables falls, the decarbonisation options available become increasingly competitive," he continued. "By 2030 alternative low-carbon fuels could reach parity with heavy fuel oil, so it is vitally important that the ship industry prepares itself for a low-carbon future."
Cutting carbon emission levels in 2008 by half in 2050, in line with IMO goals, requires a combination of clean energy options and alternative fuels based on renewables, IRENA's new report finds. This includes a shift from fossil fuels to alternatives like advanced biofuels and hydrogen-based fuels, upgrading onshore infrastructure and practices during docking, electrification and reducing fuel demand by improving operational performance.

Ready-to-use biofuels, such as Bio-LNG, hold tremendous potential as a transitional fuel which could gradually replace fossil fuels. Other synthetic fuels being considered as potential replacements for conventional ones include methanol, hydrogen and ammonia. These fuels can effectively decrease, and even eliminate, emissions in the shipping industry if produced from sustainable feedstocks using renewable electricity i.e. producing hydrogen through electrolysis.

Although currently not economically competitive, in the medium- to long-term, alternative fuels are expected to become viable as their prices fall, adoption grows, and technology improves. Yet, a shift from heavy fuel oil to a clean fuel would also include adjustments to the refueling structure in around 100 ports which account for 80 per cent of global freight and the retrofitting of around 25 000 ships. Bulk and container carriers, as well as oil and chemical tankers, represent one quarter of the global shipping fleet and emit 85 per cent of global shipping emissions. Seven ports are responsible for nearly 60 per cent of the bunker fuel sales around the world. Singapore alone delivers 22 per cent of today's total bunkering.

In terms of short distance applications, e.g. ferries and other small vessels, electric ships powered by batteries are currently a feasible option. In the long term, with improved battery storage technology and decreasing costs, full electrical propulsion can become economically attractive also for bigger, long-distance ships.

Read more about Navigating the way to a renewable future: Solutions to decarbonise shipping
Commodity Prices to Stabilize after Early 2021 Gains
Commodity prices continued their recovery in the first quarter of 2021 and are expected to remain close to current levels throughout the year, lifted by the global economic rebound and improved growth prospects, according to the World Bank's semi-annual Commodity Markets Outlook.
However, the outlook is heavily dependent on progress in containing the COVID-19 pandemic as well as policy support measures in advanced economies and production decisions in major commodity producers.
Energy prices are expected to average more than one-third higher this year than in 2020, with oil averaging $56 a barrel. Metal prices are expected to climb 30 percent; and agricultural prices are forecast to rise almost 14 percent. Almost all commodity prices are now above pre-pandemic levels, driven by the upsurge in economic activity, as well as some specific supply factors, particularly for oil, copper, and some food commodities.
"Global growth has been stronger than expected so far and vaccination campaigns are underway, and these trends have buoyed commodity prices. However, the durability of the recovery is highly uncertain," said Ayhan Kose, World Bank Group Acting Vice President for Equitable Growth, Finance & Institutions and Director of the Prospects Group. "Emerging market and developing economies, both commodity exporters and importers, should strengthen their short-term resilience and prepare for the possibility of growth losing momentum."
Crude oil prices rebounded from record lows reached during the pandemic, supported by a rapid global economic recovery and continued production cuts by the Organization of the Petroleum Exporting Countries (OPEC) and its partners. Demand is expected to firm over 2021 as vaccines become widely available, especially in advanced economies, pandemic restrictions are eased, and the global recovery is sustained. Prices are expected to average $60 a barrel in 2022. However, if pandemic containment falters, a further deterioration in demand could put pressure on prices.
Metal prices are expected to give back some of this year's gains as stimulus-driven growth fades in 2022. A faster-than expected withdrawal of stimulus by some major emerging market economies could pose a downside risk to prices; however, a major infrastructure program in the United States could support prices for metals, including aluminum, copper, and iron ore. An intensification of the global energy transition to decarbonization could further strengthen demand for metals.
Agricultural prices have risen substantially this year, particularly for food commodities, driven by supply shortfalls in South America and strong demand from China. However, most global food commodity markets remain adequately supplied by historical standards, and prices are expected to stabilize in 2022.
While global food commodity prices have remained stable recently, emerging evidence continues to confirm the effects of COVID-19 on food insecurity that are expected to continue through 2021 and 2022. An increasing number of countries are facing growing levels of acute food insecurity, reversing years of development gains.
"Although food commodity markets are well supplied globally, COVID-19 has severely impacted local labor and food markets around the world, reducing incomes, disrupting supply chains and intensifying food and nutrition security issues that were present even before the pandemic struck," Kose said. "It is high time for policymakers to address the underlying sources of food insecurity."
A Special Focus section investigates the impact of sharp changes in metal prices on metal-exporting countries. Metals, especially copper and aluminum are a major source of export revenue for 35 percent of emerging market and developing economies, with important implications for economic growth, macroeconomic stability, and, hence, poverty reduction. As metal prices are primarily driven by global demand, these countries can be particularly hard-hit by global recessions, which can trigger both a drop in metal prices and export revenue. Windfall revenues from high metal prices, which tend to be short-lived, should therefore be set aside in anticipation of the longer-lasting negative effects of price collapses that would warrant policy support.
"Metal price shocks are primarily driven by external demand factors, such as global recessions and recoveries," said World Bank Senior Economist John Baffes. "During a recession, metal exporters may be hurt by both the broader downturn as well as a collapse in prices. Output losses associated with price drops are greater than the gains from price increases, and policymakers should prepare accordingly."
Major Opportunities in Decarbonizing Maritime Transport
The World Bank today published new research on decarbonizing the maritime transport sector with findings that indicate significant business and development opportunities for countries, including for developing and emerging economies.
To lower and ultimately eliminate its climate impact, maritime transport needs to abandon the use of fossil-based bunker fuels and turn toward 'zero-carbon bunker fuels', namely shipping fuels which emit zero or at most very low greenhouse (GHG) emissions across their lifecycles. The first report being launched today, "The Potential of Zero-Carbon Bunker Fuels in Developing Countries", identifies two alternative fuels – ammonia and hydrogen – as the most promising zero-carbon bunker fuels for shipping at present, more scalable and cost-competitive than other biofuel or synthetic carbon-based options.
The second report, "The Role of LNG in the Transition Toward Low- and Zero-Carbon Shipping", finds that liquefied natural gas (LNG) is likely to play a limited role in the decarbonization of the shipping sector, noting its specific niche applications on pre-existing routes or in specific vessel types. The research further recommends that countries should avoid new public policy that supports LNG as a bunker fuel, reconsider existing policy support, and continue to regulate methane emissions.
By transitioning toward zero-carbon shipping, many countries, especially those with large renewable energy resources, can break into a future zero-carbon fuel market, while modernizing their own domestic energy and industrial infrastructure. The reports evaluate which developing and developed countries may be well positioned to take advantage of this emerging investment opportunity, and present initial case studies for Brazil, India, Mauritius and Malaysia.
"The maritime community, particularly in developing countries, has a unique opportunity in the context of these emerging zero-carbon bunker fuels." said Bernice Van Bronkhorst, Global Director for Climate Change at the World Bank. "Not only will they help decarbonize shipping, but they can also be used to boost domestic infrastructure needs and chart a course for low-carbon development more generally."
The global maritime transport sector produces around three percent of global GHG emissions and an estimated 15 percent of the world's air pollution annually. The International Maritime Organization's (IMO) Initial Strategy on the Reduction of GHG Emissions from Ships mandates that shipping's GHG emissions be reduced by at least 50% below 2008 levels by 2050, and to be fully phased out as quickly as possible within this century.
"Zero-carbon fuels will need to represent at least five percent of the bunker fuel mix by 2030 to put shipping on a GHG trajectory consistent with the Initial IMO GHG Strategy, as well as the Paris Agreement's temperature goals, " said Binyam Reja, World Bank Acting Global Director for Transport. "This means they need to be scaled up rapidly. These reports will be critical to help accelerate their targeted development and deployment."
"It is vital that we address the impacts of maritime transport on ocean health, which is at the heart of the Bank's transition to a Blue Economy. These reports offer policymakers useful tools to achieve a triple win – a healthier ocean, improved air quality and reduced GHG emissions," said Karin Kemper, Global Director for Environment, Natural Resources and the Blue Economy.
The research makes the case that strategic policy interventions are needed to hasten the sector's energy transition and seize opportunities for wider economic, energy, and industrial development in developing countries. For instance, the introduction of a meaningful carbon price would create a level playing field for the development and utilization of zero-carbon bunker fuels. Revenue generated by such a market-based measure can help support developing countries in their energy transitions and accelerate crucial research, development, and deployment of these fuels. Business should also focus on "no-regret" options, such as increased energy efficiency and maximum fuel flexibility. Constructive collaboration between industry stakeholders and policymakers, both at the IMO and on a national/regional level, can also create greater certainty on the availability, pricing, and timing of zero-carbon bunker fuels which can further boost their rapid uptake from 2030.
COVID-19 spending helped to lift foreign aid to an all-time high in 2020
Foreign aid from official donors rose to an all-time high of USD 161.2 billion in 2020, up 3.5% in real terms from 2019, boosted by additional spending mobilised to help developing countries grappling with the COVID-19 crisis, according to preliminary data collected by the OECD.
Within total Official Development Assistance (ODA) provided by members of the OECD's Development Assistance Committee in 2020, initial estimates indicate that DAC countries spent USD 12 billion on COVID-19 related activities. Some of this was new spending and some was redirected from existing development programmes, according to an OECD survey carried out in April and May 2020. Most providers said they would not discontinue programmes already in place.
Total ODA equated to around 1% of the amount countries have mobilised over the past year in economic stimulus measures to help their own societies recover from the COVID crisis. Meanwhile the global vaccine distribution facility COVAX remains severely underfunded, OECD Secretary-General Angel Gurría said during a virtual presentation of the aid data.
"Governments globally have provided 16 trillion dollars' worth of COVID stimulus measures yet we have only mobilised 1% of this amount to help developing countries cope with a crisis that is unprecedented in our lifetimes," Mr Gurría said. "This crisis is a major test for multilateralism and for the very concept of foreign aid. We need to make a much greater effort to help developing countries with vaccine distribution, with hospital services and to support the world's most vulnerable people's incomes and livelihoods tobuild a truly global recovery."
Foreign aid rose in a year that saw all other major flows of income for developing countries – trade, foreign direct investment and remittances – decline due to the pandemic, and domestic resources under increased pressure. Total external private finance to developing countries fell 13% in 2020 and trade volumes declined by 8.5%. (See the OECD's Global Outlook on Financing for Sustainable Development 2021.)
The rise in 2020 ODA was also affected, however, by an increase in loans by some donors. Of gross bilateral ODA, 22% was in the form of loans and equity investments, up from around 17% in previous years, with the rest provided as grants.
The 2020 ODA total is equivalent to 0.32% of DAC donors' combined gross national income, up from 0.30% in 2019 but below a target of 0.7% ODA to GNI. Part of the rise in the ratio was due to the fact that GNI fell in most DAC countries. Six DAC members – Denmark, Germany, Luxembourg, Norway, Sweden and the United Kingdom – met or exceeded the 0.7% target. Among non-DAC donors, whose assistance to developing countries is not included in the ODA total, Turkey provided aid equivalent to 1.12% of its GNI.
ODA rose in 16 DAC countries, with some substantially increasing their aid budgets to help developing countries respond to the pandemic. The largest increases were in Canada, Finland, France, Germany, Hungary, Iceland, Norway, the Slovak Republic, Sweden and Switzerland. ODA fell in 13 countries, most notably in Australia, Greece, Italy, Korea, Luxembourg, Portugal and the United Kingdom. G7 donors provided 76% of total ODA and DAC-EU countries 45%. ODA provided by EU Institutions jumped by 25.4% in real terms as they mobilised funds for COVID-19 related activities and increased sovereign lending by 136% over 2019.
Short-term support to help with the COVID-19 crisis focused on health systems, humanitarian aid and food security, according to the OECD survey. Aid providers indicated they would focus in the medium-term on making diagnostics and vaccines available to countries in need, as well as offering support to address the economic and social repercussions of the pandemic.
"At the outset of the pandemic, DAC donors said that they would strive to protect ODA volumes. I am grateful and proud to say that they have done that and more. Donor countries have stepped up to support developing countries struggling with the health and economic fallout of COVID-19, even as their own economies and societies have been battered," said DAC Chair Susanna Moorehead. "The next few years will be tough and the finance we provide must work harder than ever. If we really are going to build forward better and greener, we must focus on the most vulnerable countries and the most vulnerable people in them, especially women and girls."
Bilateral ODA to Africa and least-developed countries rose by 4.1% and 1.8% respectively. Humanitarian aid rose by 6%. Excluding aid spent on hosting refugees within donor countries – which was down 9.5% from 2019 to USD 9.0 billion and mainly concerned Canada, Iceland and the Netherlands – ODA rose by 4.4% in real terms in 2020.