Guterres: 'Real change' involving women in peace and security, still too slow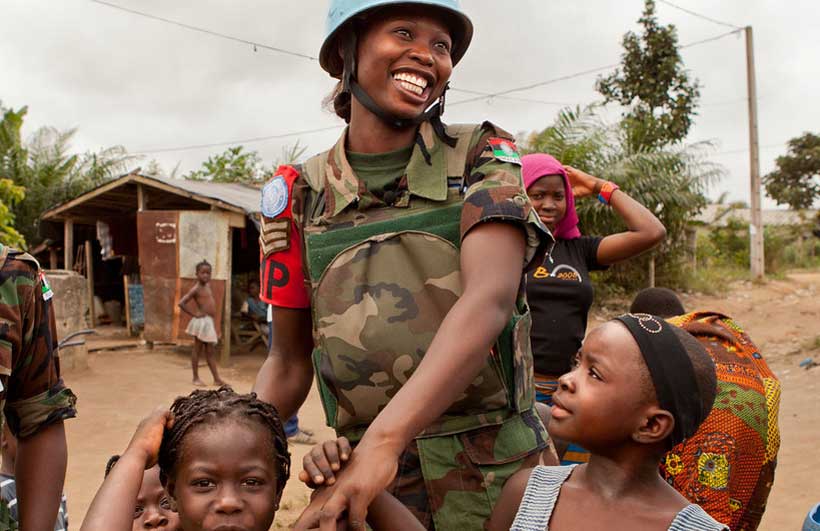 The Women Peace and Security agenda must continue to be "one of the top priorities of the United Nations", Secretary-General António Guterres told the Security Council on Tuesday, in an open debate on how best to accelerate change.
He spoke of "the sad fact" that the commitment "reflected around this table is not translating into real change around the world", lamenting, "it is not coming fast enough or far enough".
"Change is coming at a pace that is too slow for the women and girls whose lives depend on it, and for the effectiveness of our efforts to maintain international peace and security", the UN chief said.
Mr. Guterres informed the Security Council that nearly two decades since resolution 1325 acknowledged the disproportionate and unique impact of armed conflict on women and girls, "women still face exclusion from peace and political processes".
"A pitifully small 0.2 per cent of bilateral aid to fragile and conflict-affected situations goes to women's organizations", bemoaned the UN chief, noting the rise of attacks against women human rights defenders, humanitarians and peacebuilders and the use of sexual and gender-based violence as a weapon of war.
Misogyny, a 'strategic objective'
A growing number of armed groups use gender inequality as a strategic objective, with "misogyny part of their core ideology", according to Mr. Guterres. "And, of course, we know that women and girls continue to pay the consequences of conflict in general".
Turning his attention to northeast Syria, he pointed to thousands of women and children fleeing the latest violence, and vowed not to give up, calling it "an absolute priority" for him.
Mr. Guterres elaborated on UN actions to include women in processes, such as the UN-established Women's Technical Advisory Group in Yemen, to ensure their perspectives.
UN departments are implementing a new, stronger policy on women, peace and security, he noted, while special political missions and envoys have been instructed to report regularly on their efforts to promote women's "direct participation" throughout all stages of peace processes.
Moreover, peacekeeping operations are working to end sexual exploitation and abuse and increase women's participation.
"Incidents of sexual exploitation and abuse have been reduced by half, and we are finally moving the needle on the percentage of women in the military and the police component of our operations", flagged the UN chief.
Noting that he was pursuing "emergency measures to achieve gender balance", Mr. Guterres pointed out that he has appointment many women as heads and deputy heads of missions and reminded the Chamber that – endorsed by more than 150 countries – "women, peace and security is one of the eight priority pillars of our Action for Peacekeeping".
As such, he has requested peacekeeping and special political missions to improve their monitoring and reporting on threats and violence against activists, and for this to be built into early warning signs of escalating conflict or instability.
Mr. Guterres closed his statement by recognizing both the progress made and how much more remains to be done.
"When we fall short, women and girls and all members of society pay the consequences", he said, noting the "enormous" cost of not acting on behalf of women's rights.
'Stark contrast' between words and deeds
UN Women's Executive Director Phumzile Mlambo-Ngcuka presented the Secretary-General's latest WPS report in the Council, noting the "stark contrast" between offers of support and reality.
"We still live in a world that tolerates and excuses women's continued exclusion from peace and political process and institutions", she stated, pointing out that after conflict, men dominate large-scale reconstruction while economic recovery for women is overwhelmingly limited to small-scale activities like micro-enterprises.
"Feminist organization's repeated calls for disarmament, arms control and shifting military spending to social investment go unanswered", censured Ms. Mlambo-Ngcuka.
In remarking that several recent peace talks had largely excluded or sidelined women, she stated: "We can do better than this".
"We need your political will to demand women's direct and meaningful participation in peace talks", Ms. Mlambo-Ngcuka stressed, observing that fewer than eight per cent of agreements reached, contained gender-related provisions –down from 39 per cent in 2015.
She cited a recent analysis on Colombia's 2016 peace accord that showed around half of the 130 gender-related provisions in the agreement have not been initiated.
A new resolution
Before the meeting adjourned, the Council adopted resolution 2493, which, among other things, requested further information on the progress and setbacks in the WPS agenda as well as recommendations to address new and emerging challenges.
It called for the appointment of gender and/or women protection advisers to facilitate women's "full and effective participation and protection" in election preparation processes, disarmament, judicial reforms and wider post-conflict reconstruction processes.
The resolution also requested the Secretary-General to develop "context-specific approaches" for women's "full, equal and meaningful participation" in all UN-supported peace talks to ensure their inclusive involvement.
WWF: US Will Suffer World's Biggest Economic Impact Due to Nature Loss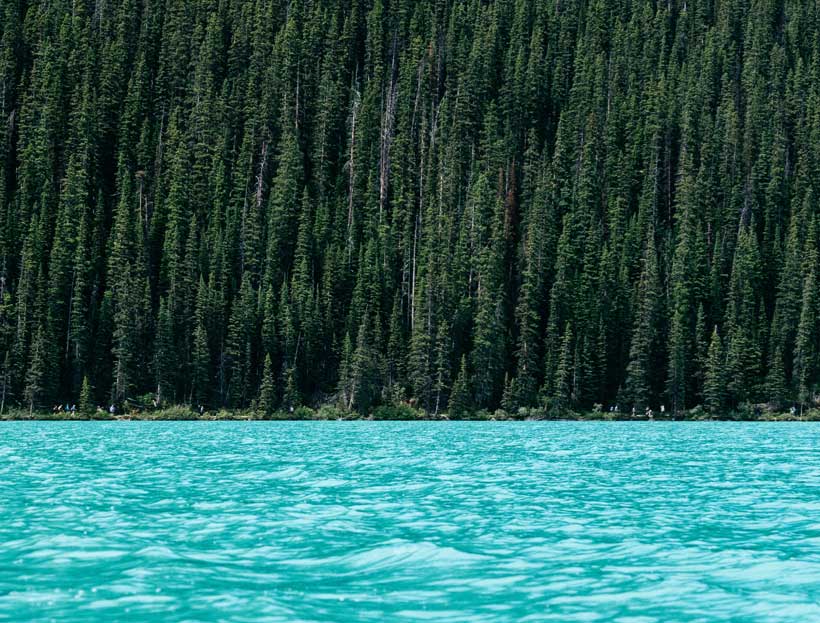 A new World Wildlife Fund report reveals for the first time the countries whose economies would be worst affected over the next 30 years if the world doesn't act urgently to address the global environmental crisis.
The study, Global Futures, which calculated the economic cost of nature's decline across 140 countries ranging from India to Brazil, shows that if the world carries on with "business as usual," the United States would see the largest losses of annual GDP in absolute terms, with $83 billion wiped off its economy each year by 2050 – an amount equivalent to the entire annual GDP of Guatemala.
"This groundbreaking report shows that the U.S. will suffer the world's biggest economic impact due to nature loss," said Rebecca Shaw, chief scientist, World Wildlife Fund. "We cannot envision a just and stable country, and a prosperous economy, if forests disappear, pollinators vanish, biodiversity collapses and rivers and the ocean are depleted. Continuing with business as usual could lead to disastrous outcomes. We need governments and corporations to halt nature loss and tackle this planetary emergency."
The Global Futures study used new economic and environmental modeling to assess what the macroeconomic impact would be if the world pursued "business as usual," including widespread and land-use change, continued increase in emissions of greenhouse gases, and further loss of natural habitats. It found this status quo approach would cost the world at least $479 billion a year, adding up to $9.87 trillion by 2050 – roughly equivalent to the combined economies of the UK, France, India and Brazil.
In contrast, under a scenario in which land-use is carefully managed to avoid further loss of areas important for biodiversity and ecosystem services, which the study terms the 'Global Conservation' scenario, economic outcomes would be dramatically better, with global GDP rising by $490 billion per year above the business as usual calculation.
Japan and the UK also stand to lose staggering amounts – $80 billion and $21 billion every year respectively. The projected economic losses in the United States, Japan and UK are due largely to expected damage to their coastal infrastructure and agricultural land through increased flooding and erosion as a result of losses of natural coastal defenses such as coral reefs and mangroves.
Developing countries will also be badly affected, with Eastern and Western Africa, central Asia and parts of South America hit particularly hard, as nature loss impacts on production levels, trade and food prices. According to the report, the top three countries predicted to lose the most as a percentage of their GDP are Madagascar , Togo and Vietnam , which by 2050 are expected to respectively see declines of 4.2 percent, 3.4 percent and 2.8 percent per year.
"It's difficult for many people to conceptualize the true value of nature and the many benefits it provides to humanity," says Shaw. "This report translates nature loss into country-specific economic terms – a tangible and powerful way to galvanize action from private sector leaders and government officials."
This pioneering method of analysis was created through a partnership between WWF , the Global Trade Analysis Project at Purdue University, and the Natural Capital Project, co-founded by the University of Minnesota.
Steve Polasky, Co-Founder of the Natural Capital Project, said: "The world's economies, businesses and our own well-being all depend on nature. But from climate change, extreme weather and flooding to water shortages, soil erosion and species extinctions, evidence shows that our planet is changing faster than at any other time in history. The way we feed, fuel and finance ourselves is destroying the life-support systems on which we depend, risking global economic devastation."
Thomas Hertel, Executive Director of the Global Trade and Analysis Project, said: "The science and economics are clear. We can no longer ignore the strong economic case for restoring nature. Inaction will cost us far more than actions aimed at protecting nature's contributions to the economy. To ensure positive global futures, we need to achieve more sustainable patterns of production and land use, and reform economic and financial systems to incentivize nature-based decision making."
Justin Trudeau meets African leaders to advance conflict resolution and economic security
Canada's Prime Minister Justin Trudeau convened a meeting for African heads of state, foreign ministers and representatives of the United Nations and other multilateral bodies on Monday to discuss ways to secure peace across the continent as a necessary condition for prosperity.
Trudeau, the 2020 chair of the United Nations Peacebuilding Commission, called for cooperation among international partners and governments to create economic opportunity and prosperity that is broadly shared, "…as a way not just of countering the pull of extremism in some places or the cynicism of populism, but as a way of building a real and tangible future for countries around the world."
The breakfast meeting, which was held on the sidelines of the 33rd African Union Summit in Addis Ababa, was intended to strengthen the Commission's partnership with the African Union (AU) and to better integrate African priorities in conflict prevention and bolstering economic security. Among issues discussed were the role that international financial institutions and youth job creation can play in Africa in averting extremism and conflict; and the AU leadership in peacekeeping and peacebuilding efforts.
The talks, titled Sustaining Peace and Economic Security, aligned with the Summit's theme: Silencing the Guns: Creating Conducive Conditions for Africa's Development.
Trudeau acknowledged that one of the biggest challenges both developed and developing countries face is the perception that governments are indifferent.
"In this time of change, in this time of transformation of the global economy, time of conflict, time of climate conflict, people worry that the system has no place for them and isn't providing them with what they need," the Canadian Prime Minister said.
Among participants were President Roch Marc Christian Kabore of Burkina Faso; the Vice President of Gambia, Isatou Touray; President of the United Nations General Assembly, Tijjani Muhammad-Bande, Vera Songwe, Executive Secretary of the United Nations Economic Commission for Africa, and the foreign ministers of Sierra Leone and Rwanda.
President Kabore offered his reflections on the issues. Burkina Faso is one of several nations in the Sahel region that have seen economic growth adversely affected by conflict and instability.
In opening remarks, African Development Bank President Akinwumi Adesina noted the shifting nature of conflicts across Africa. While the number of outright wars in Africa has declined substantially, they have been replaced with greater fluidity with rising cases of terrorism, extremism, conflicts from non-state actors.
The root causes of conflict, according to Adesina, include "rising inequalities, lack of political inclusiveness, extreme poverty, management and control over natural resources, youth unemployment that causes social unrest, climate change, to name a few."
The Bank is at the forefront of helping to address fragility in Africa with several initiatives currently under way. So far, $3.8 billion has been allocated to address issues of fragility through the Transition State Support Facility.
Adesina recognized the role Canada plays in enabling the Bank's work.
"The successful replenishment of the Bank's African Development Fund 15 – to which Canada contributed substantially with $355 million – will allow the Bank to deploy an additional $1.2 billion to address fragility, strengthen resilience and sustain peace and economic security," he said.
UNIDO to provide emergency assistance to China to help contain the outbreak of coronavirus
The United Nations Industrial Development Organization (UNIDO) will provide emergency response assistance to China to help fight the outbreak of the novel coronavirus (Covid-19). A related project document was signed today by Ambassador WANG Qun, Permanent Representative of China to the United Nations in Vienna, and LI Yong, Director General of UNIDO.
UNIDO will quickly deliver 100,000 medical masks and 20,000 protective suits to China. It will also provide medical waste decontamination equipment, with capacity to deal with four tonnes of medical waste per day, for a newly established hospital. Videos and other remote training materials will educate staff in hospitals and disposal centres in both cities and in rural areas on the safe management of medical waste.
"The coronavirus disease was first detected in Wuhan, China, and continued to expand to other cities and countries. It has a significant impact on people's lives, health, and overall socioeconomic development. The Chinese government has made great efforts to prevent and control the epidemic, adopted an open and transparent attitude towards the epidemic information, implemented comprehensive, positive and correct preventive and control measures, and the standards even exceeded the relevant requirements of the International Health Regulations. It has not only effectively protected the people's health and safety of life, but also contributed to the maintenance of global public health security," said Wang. "The project is urgently needed in China to protect medical staff and to prevent further spread of the coronavirus through medical waste. We thank UNIDO for its strong support and are willing to work with UNIDO and the international community to promote the development of world health."
"The outbreak of Covid-19 brings new challenges to China, as the confirmed and suspected cases are still increasing," said UNIDO's Li. "New infections need to be minimized, including among medical staff who are the backbone of the fight against Covid-19. For this, protective equipment for medical staff is needed; but also ways to manage safely the hazards posed by medical waste. This is where UNIDO will make a difference with the support agreed today."
Since 2008, UNIDO has assisted China in managing medical waste in a safe, environmentally sound manner. "Our transformative activities, implemented in cooperation with the Ministry of Ecology and Environment, have systematically enhanced capacity on medical waste in more than 170 disposal centres and over 1,500 hospitals across the whole country," said the UNIDO Director General.