Guterres: 'Real change' involving women in peace and security, still too slow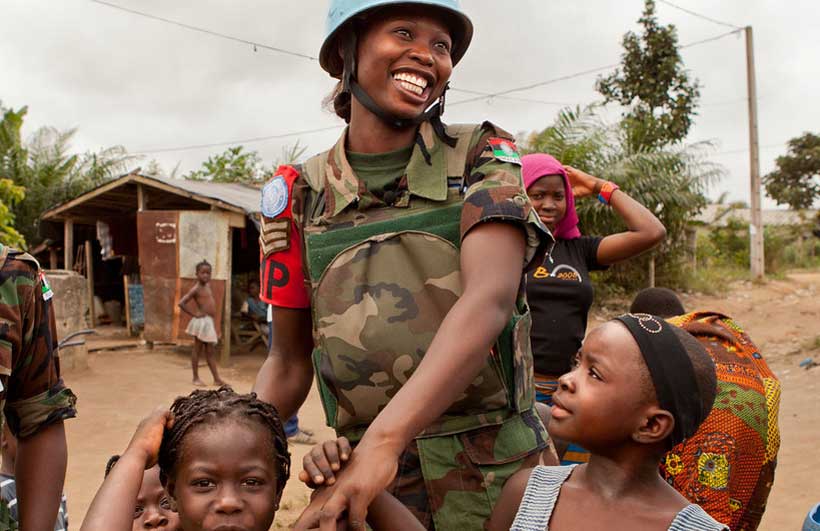 The Women Peace and Security agenda must continue to be "one of the top priorities of the United Nations", Secretary-General António Guterres told the Security Council on Tuesday, in an open debate on how best to accelerate change.
He spoke of "the sad fact" that the commitment "reflected around this table is not translating into real change around the world", lamenting, "it is not coming fast enough or far enough".
"Change is coming at a pace that is too slow for the women and girls whose lives depend on it, and for the effectiveness of our efforts to maintain international peace and security", the UN chief said.
Mr. Guterres informed the Security Council that nearly two decades since resolution 1325 acknowledged the disproportionate and unique impact of armed conflict on women and girls, "women still face exclusion from peace and political processes".
"A pitifully small 0.2 per cent of bilateral aid to fragile and conflict-affected situations goes to women's organizations", bemoaned the UN chief, noting the rise of attacks against women human rights defenders, humanitarians and peacebuilders and the use of sexual and gender-based violence as a weapon of war.
Misogyny, a 'strategic objective'
A growing number of armed groups use gender inequality as a strategic objective, with "misogyny part of their core ideology", according to Mr. Guterres. "And, of course, we know that women and girls continue to pay the consequences of conflict in general".
Turning his attention to northeast Syria, he pointed to thousands of women and children fleeing the latest violence, and vowed not to give up, calling it "an absolute priority" for him.
Mr. Guterres elaborated on UN actions to include women in processes, such as the UN-established Women's Technical Advisory Group in Yemen, to ensure their perspectives.
UN departments are implementing a new, stronger policy on women, peace and security, he noted, while special political missions and envoys have been instructed to report regularly on their efforts to promote women's "direct participation" throughout all stages of peace processes.
Moreover, peacekeeping operations are working to end sexual exploitation and abuse and increase women's participation.
"Incidents of sexual exploitation and abuse have been reduced by half, and we are finally moving the needle on the percentage of women in the military and the police component of our operations", flagged the UN chief.
Noting that he was pursuing "emergency measures to achieve gender balance", Mr. Guterres pointed out that he has appointment many women as heads and deputy heads of missions and reminded the Chamber that – endorsed by more than 150 countries – "women, peace and security is one of the eight priority pillars of our Action for Peacekeeping".
As such, he has requested peacekeeping and special political missions to improve their monitoring and reporting on threats and violence against activists, and for this to be built into early warning signs of escalating conflict or instability.
Mr. Guterres closed his statement by recognizing both the progress made and how much more remains to be done.
"When we fall short, women and girls and all members of society pay the consequences", he said, noting the "enormous" cost of not acting on behalf of women's rights.
'Stark contrast' between words and deeds
UN Women's Executive Director Phumzile Mlambo-Ngcuka presented the Secretary-General's latest WPS report in the Council, noting the "stark contrast" between offers of support and reality.
"We still live in a world that tolerates and excuses women's continued exclusion from peace and political process and institutions", she stated, pointing out that after conflict, men dominate large-scale reconstruction while economic recovery for women is overwhelmingly limited to small-scale activities like micro-enterprises.
"Feminist organization's repeated calls for disarmament, arms control and shifting military spending to social investment go unanswered", censured Ms. Mlambo-Ngcuka.
In remarking that several recent peace talks had largely excluded or sidelined women, she stated: "We can do better than this".
"We need your political will to demand women's direct and meaningful participation in peace talks", Ms. Mlambo-Ngcuka stressed, observing that fewer than eight per cent of agreements reached, contained gender-related provisions –down from 39 per cent in 2015.
She cited a recent analysis on Colombia's 2016 peace accord that showed around half of the 130 gender-related provisions in the agreement have not been initiated.
A new resolution
Before the meeting adjourned, the Council adopted resolution 2493, which, among other things, requested further information on the progress and setbacks in the WPS agenda as well as recommendations to address new and emerging challenges.
It called for the appointment of gender and/or women protection advisers to facilitate women's "full and effective participation and protection" in election preparation processes, disarmament, judicial reforms and wider post-conflict reconstruction processes.
The resolution also requested the Secretary-General to develop "context-specific approaches" for women's "full, equal and meaningful participation" in all UN-supported peace talks to ensure their inclusive involvement.
Israel: 'Halt and reverse' new settlement construction
Israel's decision to advance plans for some 800 new settlement units, most of which are located deep inside the occupied West Bank, has sparked the concern of UN Secretary-General António Guterres.
In a statement issued on Monday by his spokesperson, Stephane Dujarric, the UN chief urged the Israeli Government to "halt and reverse such decisions", calling them "a major obstacle to the achievement of the two-State solution, and a just, lasting and comprehensive peace".
'No legal validity'
Mr. Guterres reiterated that Israel's establishing of settlements in the Palestinian territory occupied since 1967, including East Jerusalem, "has no legal validity and constitutes a flagrant violation under international law".
"Settlement expansion increases the risk of confrontation, further undermines the right of the Palestinian people to self-determination, and further erodes the possibility of ending the occupation and establishing a contiguous and viable sovereign Palestinian State, based on the pre-1967 lines", he said.
Pushing forward
Israel has given the green light to 780 new homes in West Bank settlements on Sunday in a move widely seen as being influenced by the imminent transfer of power in the United States.
Breaking with decades of US diplomacy, outgoing President Donald Trump, in 2019 unilaterally declared that the settlements no longer breached international law.
Against that backdrop, Israel has been increasing construction and either approved or made plans for more than 12,000 homes in 2020, according to news reports.
WHO chief warns against 'catastrophic moral failure' in COVID-19 vaccine access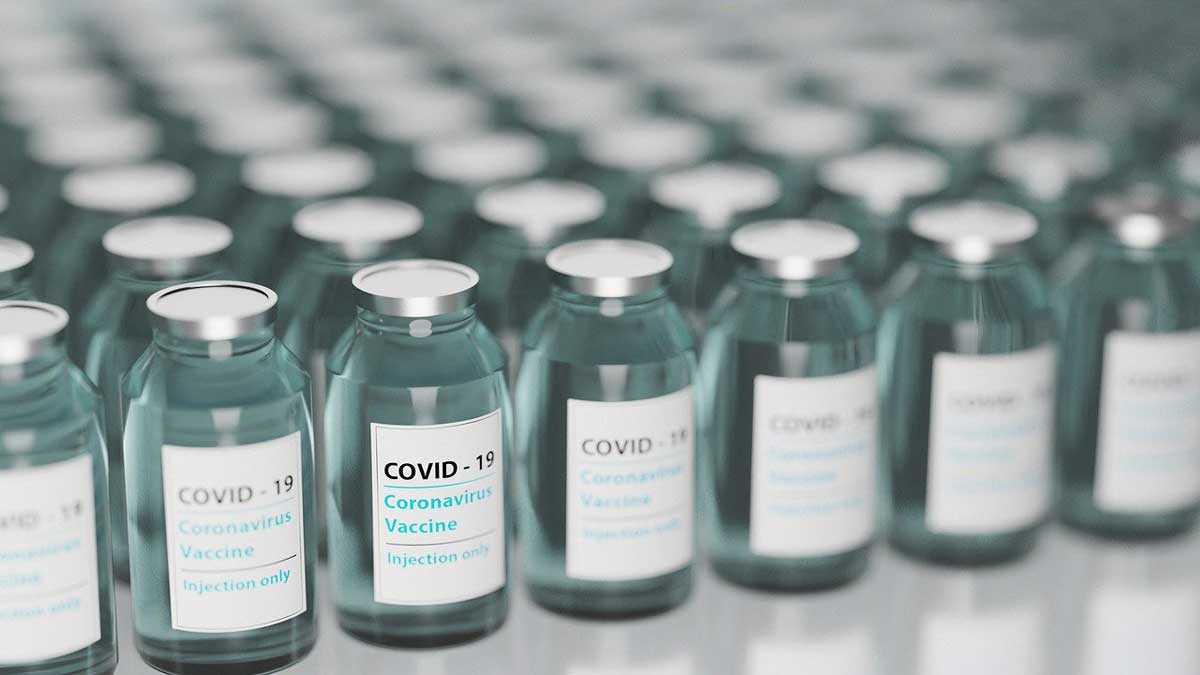 A "me-first approach" to COVID-19 vaccines on the part of some countries and manufacturers is putting equitable access to these lifesaving treatments at risk, the head of the World Health Organization (WHO) warned on Monday.
Addressing the agency's Executive Board, WHO chief Tedros Adhanom Ghebreyesus expressed fear that "even as vaccines bring hope to some, they become another brick in the wall of inequality between the world's haves and have-nots."
Describing the rapid development of vaccines as a literal and figurative "shot in the arm" during the pandemic, Tedros reported that while 39 million doses have been administered in nearly 50 richer countries, only 25 have been given in one lowest income nation.
A self-defeating approach
"I need to be blunt: the world is on the brink of a catastrophic moral failure – and the price of this failure will be paid with lives and livelihoods in the world's poorest countries", he said, speaking from WHO headquarters in Geneva.
Ensuring all countries will have access to any COVID-19 vaccines is the promise of a global mechanism established last April, known as the COVAX Facility. It has secured two billion doses so far, with a billion more in the pipeline, and deliveries should begin next month.
"Even as they speak the language of equitable access, some countries and companies continue to prioritize bilateral deals, going around COVAX, driving up prices and attempting to jump to the front of the queue. This is wrong", Tedros stated.
Additionally, most manufacturers also have prioritized regulatory approval in rich countries, where profits are higher, rather than submitting their dossiers to WHO for prequalification.
"This could delay COVAX deliveries and create exactly the scenario COVAX was designed to avoid, with hoarding, a chaotic market, an uncoordinated response, and continued social and economic disruption", he said.
"Not only does this me-first approach leave the world's poorest and most vulnerable people at risk, it's also self-defeating."
Change the rules of the game
Underlining that vaccine equity also has economic benefits, Tedros urged countries to "work together in solidarity" to ensure inoculation of all health workers and older people at most risk worldwide is underway, within the first 100 days of the year.
He pressed for action in three areas to "change the rules of the game", starting with an appeal for transparency in any bilateral contracts between countries and COVAX, including on volumes, pricing and delivery dates.
"We call on these countries to give much greater priority to COVAX's place in the queue, and to share their own doses with COVAX, especially once they have vaccinated their own health workers and older populations, so that other countries can do the same", he said.
Tedros also called for vaccine producers to provide WHO with full data for regulatory review in real time, to accelerate approvals, and he urged countries to only use vaccines that have met international safety standards, and to accelerate readiness for their deployment.
"My challenge to all Member States is to ensure that by the time World Health Day arrives on the 7th of April, COVID-19 vaccines are being administered in every country, as a symbol of hope for overcoming both the pandemic and the inequalities that lie at the root of so many global health challenges", he said, adding, "I hope this will be realized."
'Vaccinationalism' threatens recovery: UN chief
UN Secretary-General António Guterres has again stressed that COVID-19 vaccines must be a global public good, available to everyone, everywhere.
Speaking in New York at a ceremony for the world's developing nations, he underlined the need for funding for medicines and diagnostics to defeat the virus.
"We need manufacturers to step up their commitment to work with the COVAX facility and countries around the world, in particular the world's leading economies, to ensure enough supply and fair distribution," said Mr. Guterres.
"'Vaccinationalism' is self-defeating and would delay a global recovery."
The Secretary-General said recovery also represents a chance to "change course", away from the old "normal" of inequalities and injustices, and he continues to advocate for greater support from developed countries and international financial institutions.
"With smart policies and the right investments, we can chart a path that brings health to all, revives economies and builds resilience," he said. "But developing countries must have the necessary resources to do so."
UN agencies supporting mammoth India COVID-19 vaccine rollout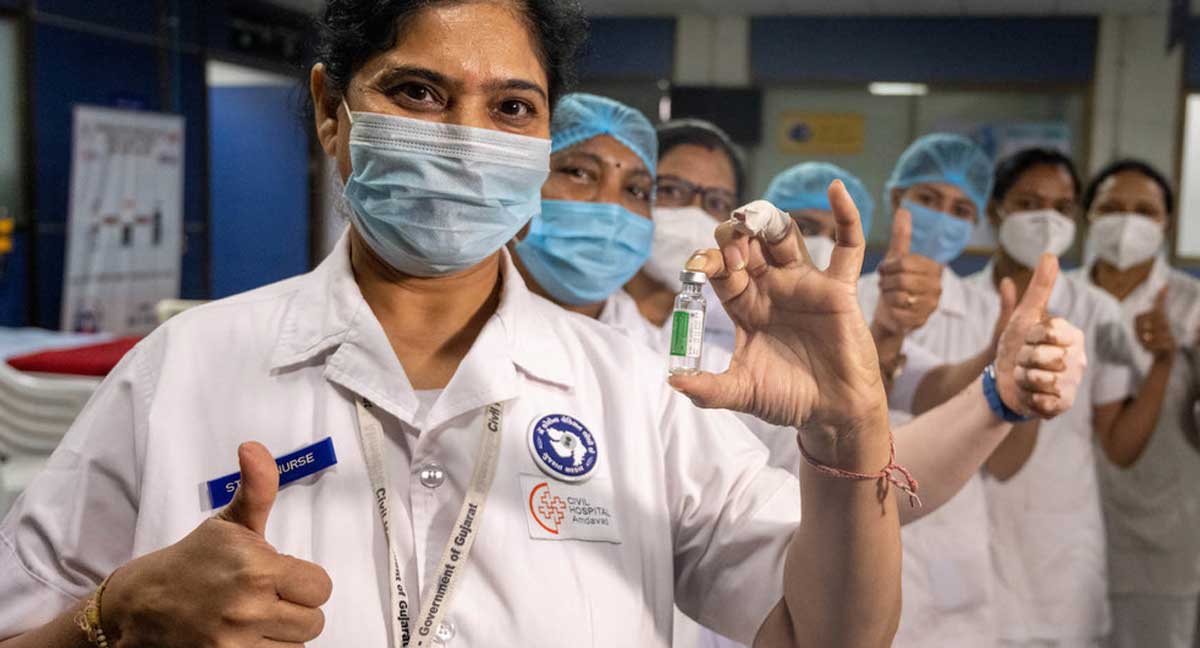 India has begun what is the world's biggest COVID vaccination campaign so far, deploying hundreds of thousands of health workers, with the training and support of the UN World Health Organization (WHO).
On 16 January, the first day of the campaign, 207,229 vaccine shots were given across the country, one of the worst-hit by COVID-19, with over 10 million COVID-19 infections and 150,000 deaths.
"[We] provided technical assistance to the Government of India for the development of operational guidelines and other training materials for state and district programme managers and vaccinators, and establishing tracking and accountability frameworks", Roderico H. Ofrin, WHO Representative in India said.
"WHO field officers have facilitated the highest-level oversight through regular task force meetings at state and district levels, which are chaired by the Principal Secretaries (Health) at the state level, and District Magistrates at the district level", he added.
According to media reports, an estimated 10 million health workers are targeted to be vaccinated in the first round, followed by other front-line workers such as police, security forces and municipal staff, with plans to inoculate 300 million people by August.
Supporting preparations
Prior to the start of the campaign, UN agencies help with detailed preparations.
For its part, WHO participated in dry-run simulations and provided feedback on management of vaccines, registration of beneficiaries, as well as reporting on vaccination coverage and adverse events following immunization.
It also worked with the Government and the UN Development Programme (UNDP) on real-time reporting and problem-solving when issues arose at the vaccination sites, according to Dr. Ofrin.
At the provincial level, WHO also supported implementation and monitoring of health policy, such as developing standard operating procedures, preparing technical briefs, and providing best practices from other parts of the India as well as other countries.
Reliable information
Similarly, the UN Children's Fund (UNICEF) supported communication and advocacy efforts to ensure the dissemination of factual information to stakeholders and communities. The agency also helped train healthcare staff in infection control and prevention, and psychosocial support to children and caregivers.
Aside from directly supporting vaccine rollout, UN agencies continued their programmes to assist the most vulnerable communities impacted by COVID-19 and its socio-economic fallouts.
For instance, the UN World Food Programme (WFP) supported NGOs in order to identify and register some 19,000 vulnerable households and distributed food packets; while the UN Population Fund (UNFPA) conducted awareness raising programmes on sexual and reproductive health, and prevention of gender-based violence, on behalf of some 30 million vulnerable individuals.
The three W's
Though vaccination programmes are underway, continued vigilance against COVID-19 and preventing its spread remain as important as ever.
WHO's Dr. Ofrin urged continued vigilance over tracking cases, cluster investigation, isolation and clinical care, and quarantining to break the chain of transmission.
Alongside, he also highlighted the "three W's – wear a mask, wash your hands and watch your distance."
"These efforts must continue to stop the spread of COVID-19. We as individuals and communities must work with the Government to save lives and the economy by protecting health and livelihoods," he added.