Bangladesh Improves Business Climate, but More Remains to Be Done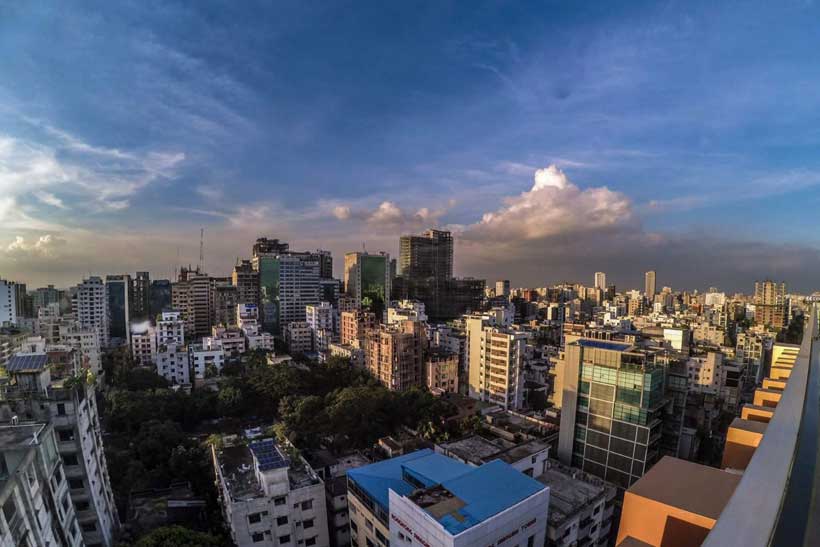 Bangladesh carried out three business reforms during the past year, the most in a decade, and would need to accelerate the reform pace to further improve its regional and global competitiveness, the World Bank Group's Doing Business 2020 study says.
The country rose to a rank of 168th in the global ease of doing business rankings this year from 176th in the previous year.
The highlights of the three recent reforms include:
Setting up a new business became less expensive with the reduction of registration and name clearance fees and removal of the certifying fee for digital certificates.
In Dhaka, obtaining an electrical connection was made more efficient as the city invested in digitization and human capital. At the same time, the country reduced the amount of the security deposit required for a new connection.
Access to credit information was improved thanks to expanded coverage by the credit information bureau. This reform delivered Bangladesh's most significant improvement.
"Improving the business environment is essential for Bangladesh to support private sector development, which will create more jobs and foster sustainable economic growth," said Mercy Miyang Tembon, World Bank Country Director for Bangladesh. "It would be important for Bangladesh to build on the recent achievement and further accelerate regulatory reform efforts to continue to improve the business climate."
The reforms enacted this year followed three years of inactivity. With 15 reforms since the inception of the Doing Business study in 2003/04, Bangladesh lags considerably behind other economies in South Asia.
Bangladesh ranks next to last globally on the enforcing contracts indicator and 184 out of 190 on the registering property indicator. Transferring a property title in Bangladesh takes on average 271 days, almost six times longer than the global average of 47 days. Resolving a commercial dispute through a local first-instance court takes on average 1,442 days, almost three times more than the 590 days average among OECD high-income economies.
To connect a new building to an electrical grid, a business needs to complete nine procedures, the most not only in the region, but also globally. Only two other economies in the world require nine steps to obtain a connection.
Global warming did the Unthinkable
French ski resort closes permanently because there's not enough snow, CNN informs. Winter is coming. And for yet another ski resort in France, that means facing up to the reality that there isn't enough snow to carry on.
La Sambuy, a town which runs a family skiing destination near Mont Blanc in the French Alps, has decided to dismantle its ski lifts because global warming has shrunk its ski season to just a few weeks, meaning it's no longer profitable to keep them open.
"Before, we used to have snow practically from the first of December up until the 30th of March," La Sambuy's mayor, Jacques Dalex, told CNN.
Last winter, however, there was only "four weeks of snow, and even then, not much snow," he added. That meant "very quickly, stones and rocks appeared on the piste."
Able to open for fewer than five weeks during January and February, Dalex said the resort was looking at an annual operating loss of roughly 500,000 euros ($530,000). Keeping the lifts going alone costs 80,000 euros per year.
La Sambuy isn't a huge resort, with just three lifts and a handful of pistes reaching up to a top height of 1,850 meters (about 6,070 feet).
But with a range of slopes running from expert "black" to beginner "green" and relatively cheap ski passes, it was popular with families seeking more of a low-key Alps experience than offered by bigger, higher-altitude destinations.
UK snow report website On The Snow calls it "an idyllic place to visit, with exceptional panoramic views and everything you need in a friendly resort."
La Sambuy is not the only French ski resort facing a meltdown. Last year, Saint-Firmin, another small Alpine ski destination, opted to remove its ski lift after seeing its winter season dwindle from months to weeks, a situation also blamed on climate change.
Mountain Wilderness, a French environmental group, says it has dismantled 22 ski lifts in France since 2001, and estimates that there are still 106 abandoned ski lifts across 59 sites in the country.
According to a report published in August by the scientific journal Nature Climate Change, 53% of 2,234 ski resorts surveyed in Europe are likely to experience "a very high snow supply risk" at 2 degrees Celsius (3.6 Fahrenheit) of global warming above pre-industrial levels, without use of artificial snow.
A report published in January in the Proceedings of the National Academy of Sciences journal found a "substantial possibility" of global temperature rises crossing this 2-degree Celsius threshold by mid-century.
La Sambuy's Dalex said that "all winter sports resorts in France are impacted by global warming," particularly those at a medium mountain altitude between 1,000 and 1,500 meters.
Assad-Xi Jinping meeting: China-Syria strategic partnership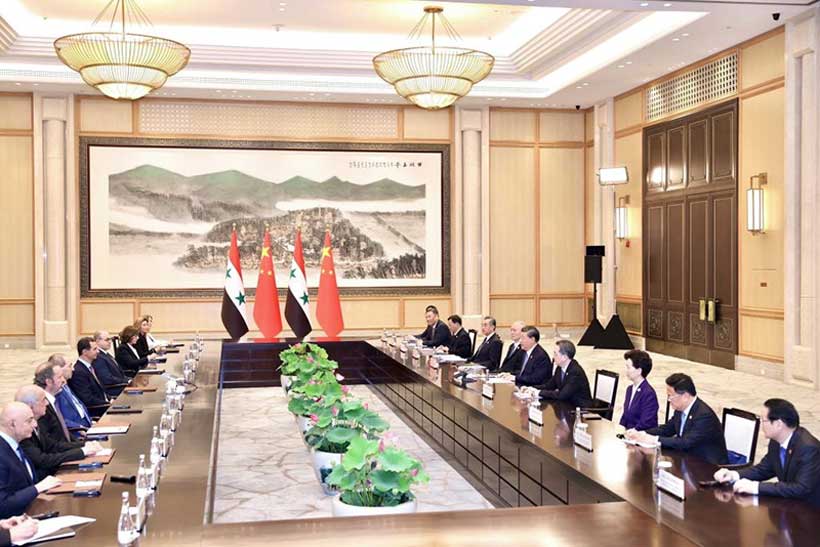 Chinese President Xi Jinping and Syrian President Bashar al-Assad on Friday jointly announced the establishment of a China-Syria strategic partnership, Chinese Xinhua Net informs.
The two presidents met in the eastern Chinese city of Hangzhou, Zhejiang Province, ahead of the opening of the 19th Asian Games.
Syria was one of the first Arab countries that established diplomatic relations with the People's Republic of China, and was one of the countries that co-sponsored the resolution to restore the lawful seat of the People's Republic of China in the United Nations, Xi said.
Over the 67 years since the establishment of diplomatic relations between the two countries, the China-Syria relationship has stood the test of changes in the international situation, and their friendship has grown stronger over time, he said.
Xi noted that the establishment of the strategic partnership will be an important milestone in the history of bilateral ties.
China is willing to work with Syria to enrich their relationship and continuously advance the China-Syria strategic partnership, Xi said.
Xi emphasized that China will continue to work with Syria to firmly support each other on issues concerning the two sides' respective core interests and major concerns, safeguard the common interests of both countries and other developing countries, and uphold international fairness and justice.
China supports Syria in opposing foreign interference, rejecting unilateralism and bullying, and safeguarding national independence, sovereignty and territorial integrity, he said.
China supports Syria in conducting reconstruction, enhancing counter-terrorism capacity building, and promoting a political settlement of the Syrian issue following the "Syrian-led, Syrian-owned" principle, Xi said.
China also supports Syria in improving its relations with other Arab countries and playing a greater role in international and regional affairs, he added.
China is willing to strengthen Belt and Road cooperation with Syria, increase the import of high-quality agricultural products from Syria, and jointly implement the Global Development Initiative, the Global Security Initiative and the Global Civilization Initiative to make active contributions to regional and global peace and development.
Assad said that in international affairs, China has always aligned itself with international fairness and justice, and upheld international law and humanitarianism, playing an important and constructive role.
Syria highly appreciates and firmly supports the Belt and Road Initiative, the Global Development Initiative, the Global Security Initiative and the Global Civilization Initiative, and will actively participate in them, Assad added.
The Syrian side thanks the Chinese government for its invaluable support to the Syrian people, firmly opposes any act of interference in China's internal affairs, and is willing to be China's long-term and staunch friend and partner, he said.
Assad said Syria will take the establishment of the Syria-China strategic partnership as an opportunity to strengthen bilateral friendly cooperation and step up their communication and coordination in international and regional affairs.
After the talks, the two heads of state witnessed the signing of bilateral cooperation documents in areas including Belt and Road cooperation, and economic and technological cooperation.
Seymour Hersh: "Zelensky's army no longer has any chance of a victory"
Next Tuesday will be the anniversary of the Biden administration's destruction of three of the four pipelines of Nord Stream 1 and 2. There is more I have to say about it, but it will have to wait. Why? Because the war between Russia and Ukraine, with the White House continuing to reject any talk of a ceasefire, is at a turning point, writes Seymour Hersh, a famous American investigative journalist.
There are significant elements in the American intelligence community, relying on field reports and technical intelligence, who believe that the demoralized Ukraine army has given up on the possibility of overcoming the heavily mined three-tier Russian defense lines and taking the war to Crimea and the four oblasts seized and annexed by Russia.
The reality is that Volodymyr Zelensky's battered army no longer has any chance of a victory.
The war continues, I have been told by an official with access to current intelligence, because Zelensky insists that it must. There is no discussion in his headquarters or in the Biden White House of a ceasefire and no interest in talks that could lead to an end to the slaughter. "It's all lies," the official said, speaking of the Ukrainian claims of incremental progress in the offensive that has suffered staggering losses, while gaining ground in a few scattered areas that the Ukrainian military measures in meters per week.
"There were some early Ukrainian penetrations in the opening days of the June offensive," the official said, "at or near" the heavily trapped first of Russia's three formidable concrete barriers of defense, "and the Russians retreated to sucker them in. And they all got killed." After weeks of high casualties and little progress, along with horrific losses to tanks and armored vehicles, he said, major elements of the Ukrainian army, without declaring so, virtually canceled the offensive. The two villages that the Ukrainian army recently claimed as captured "are so tiny that they couldn't fit between two Burma-Shave signs" — referring to billboards that seemed to be on every American highway after World War II.
Zelensky's message this week to the annual United Nations General Assembly in New York offered little new and, the Washington Post reported, he received the obligatory "warm welcome" from those in attendance. But, the Post noted, "he delivered his address to a half-full house, with many delegations declining to appear and listen to what he had to say." Leaders of some developing nations, the report added, were "frustrated" that the multiple billions being spent without serious accountability by the Biden administration to finance the Ukraine war was diminishing support for their own struggles to deal with "a warming world, confronting poverty and ensuring a more secure life for their citizens."
President Biden, in his earlier speech to the General Assembly, did not deal with Ukraine's perilous position in the war with Russia but renewed his resounding support for Ukraine.
Biden, with the support of Secretary Blinken and National Security Adviser Jake Sullivan — but diminishing support elsewhere in America — has turned his unrelenting financial and moral support for the Ukraine war into a do-or-die issue for his re-election.
The American intelligence official I spoke with spent the early years of his career working against Soviet aggression and spying has respect for Putin's intellect but contempt for his decision to go to war with Ukraine and to initiate the death and destruction that war brings. But, as he told me, "The war is over. Russia has won. There is no Ukrainian offensive anymore, but the White House and the American media have to keep the lie going. The truth is if the Ukrainian army is ordered to continue the offensive, the army would mutiny. The soldiers aren't willing to die any more, but this doesn't fit the B.S. that is being authored by the Biden White House," Seymour Hersh concludes.