Lives at risk if wireless technology demands are not held in check
Amid growing competition for radio wave space due to new wireless technologies, the World Meteorological Organization (WMO) on Thursday called on governments to protect radio frequencies allocated to potentially life-saving weather forecasting services.
Earth observation services vital to weather forecasts and long-term climate change monitoring, are having to share more and more limited bandwith, with the rollout of new communication devices, including the new 5G phone data service.
Frequencies dedicated to weather forecasts need to be balanced with commercial interests, Eric Allaix, chair of the WMO group dealing with frequency issues, said, explaining the risks posed by having too little bandwith, when it comes to early warnings of bad weather.
"Thanks to timely weather warnings, there has been a big reduction in loss of life during recent decades. These improvements are directly related to the use of radio frequency-based remote sensing, feeding directly into numerical weather prediction systems giving more accurate predictions with longer lead periods."
No wish to hold technology back
Mr. Allaix, said WMO does not wish to hamper technological advancements, "but we are concerned that they should not encroach on the frequencies used by life-saving applications" including aircraft, radar and other observing systems beyond predicting the weather.
In June, the World Meteorological Congress, WMO's decision-making body, passed a resolution stressing the need to protect radio bandwidth necessary for earth observations, explaining that "jeopardizing these frequencies jeopardizes weather forecasts and services, and thus, people's lives."
Our ability to foresee incoming disaster and destructive weather events is possible thanks to "passive sensing techniques", used by many weather experts, the WMO explains. Sensitive instruments measure very low-power microwaves emitted from the atmosphere and the Earth's surface.
The radio frequency on which these observations operate, runs adjacent to the 5G frequency used on many mobile devices, which make lines of communications in predicting the weather vulnerable to interference.
From 28 October to 22 November, the World Radio Communication Conference (WRC-19) will bring together more than 3,500 participants in Sharm el-Shaikh, Egypt, to address and revise radio regulations with major repercussions for earth exploration, environmental and meteorological monitoring.
The 193 Member States belonging to the International Telecommunications Union (ITU) will be in attendance, along with 267 members of the ITU Radiocommunication Sector (ITU-R).
Record number of requests for climate technology transfer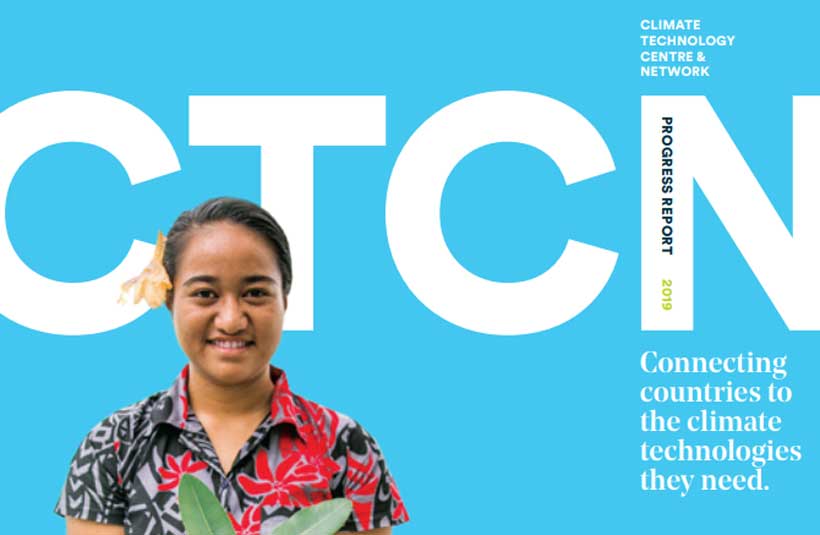 Demand for the services of the Climate Technology Centre and Network (CTCN) reached a record high in 2019. The CTCN reported that requests for technology assistance submitted by developing countries increased 240% over the last 12-month period. Taking into account that requests were often submitted jointly by several countries at once, the growth in demand for technology support can be considered even higher. In its 2019 CTCN Progress Report launched today, the CTCN presents trends in technology demand as countries around the world scale up their climate change efforts.
One such country is the Cook Islands, where like many small island developing states, the government is working to identify the equipment, techniques, practical knowledge and skills needed to implement its Nationally Determined Contribution. The Office of the Prime Minister, together with the CTCN and its partner the UNEP DTU Partnership, are therefore conducting a national Technology Needs Assessment in the Cook Islands to support this effort. Based upon this process, a roadmap for prioritized technologies will guide technology development and transfer activities for strengthened climate resilience and low-carbon development in the 15-island nation.
"The CTCN serves as a global hub for coordinating and delivering the technology expertise, capacity building and knowledge that countries are seeking as they strive to meet their climate change and sustainable development goals. UNIDO proudly supports the Centre in this mission," stated LI Yong, Director General of UNIDO.
Established by the Conference of Parties, the CTCN connects countries' technology goals with world-class expertise, providing targeted interventions that help unlock transformational climate change action. The CTCN delivers support across a broad spectrum of technology needs, from identifying technology priorities, conducting feasibility studies and piloting technologies, to building enabling policy and regulatory environments that facilitate upscaling and finance. The Centre has received 240 technology requests from 93 countries.
"To meet this growing demand, we have taken many steps to scale up our support this year. We completed our 100th technical assistance intervention, added our 500th Network member, and through our accredited co-hosts UN Environment Programme and the United Nations Industrial Development Organization (UNIDO), submitted our 25th Readiness proposal for consideration by the Green Climate Fund (GCF). Other vital new partnerships will be announced at COP25", noted Rose Mwebaza, CTCN Director.
Fifty-two percent of requests received by the CTCN focus on mitigation, while 27% are adaptation related, with a strong emphasis on agriculture and forestry. Twenty-one percent of requests impact both adaptation and mitigation.
Deloitte TMT Predictions 2020: Previously Hyped Innovations Become a Reality
Deloitte today released the 19th edition of its "Technology, Media & Telecommunications Predictions," which looks at three overarching themes: individual technologies are becoming ever more interconnected and interdependent, increasing their impact and value as a result; smartphones, computers, TVs, enterprise data centers and software, and IoT will drive most of the technology, media and telecommunications (TMT) industry's revenue; and lastly, many previously hyped services and products will finally become a reality in 2020.
"In 2020, we will start to see a canopy effect where industry players will work more closely together as individual technologies like edge artificial intelligence (AI) chips, robots and private 5G become better connected, and promising innovations like low-earth orbit satellites finally come to life," said Paul Sallomi, vice chairman, Deloitte LLP, global TMT industry leader and U.S. technology sector leader. "This year's predictions are a helpful guide for TMT business leaders to break through the clutter and understand what to do next in order to help be successful in 2020 and beyond."
"These disruptive forces will continue to challenge traditional tech, media and telecom companies to keep pace with new-age, digital native companies. Those that can innovate, swiftly bring the latest developments to market and satisfy the demands of increasingly savvy consumers are the ones most likely to be rewarded," said Sandra Shirai, vice chairman, Deloitte LLP and U.S. technology, media and telecommunications leader.
AI has the edge
A new generation of edge AI chips will reduce frustrations caused by lack of internet connection on smartphones by bringing AI to the device. Deloitte predicts that in 2020, more than 750 million edge AI chips — chips or parts of chips that perform or accelerate machine learning tasks on-device, rather than in a remote data center — will be sold, and that the edge AI chip market will continue to grow much more quickly than the overall chip market.
Private 5G: Enterprise untethered
Deloitte predicts that more than 100 companies worldwide will begin testing private 5G deployments by the end of 2020, collectively investing a few hundred million dollars in labor and equipment. For many of the world's largest businesses, private 5G will likely become the preferred choice, especially for industrial environments such as manufacturing plants, logistics centers and ports.
Meet your new colleague, a robot
Of the almost 1 million robots Deloitte expects to be sold for enterprise use in 2020, just over half of them will be professional service robots, generating more than US$16 billion in revenue — 30% more than in 2019. Professional service robots will pass industrial robots in terms of units in 2020 and revenue in 2021.
Can I have an ad with my content?
Deloitte predicts that global revenue from ad-supported video services will reach an estimated US$32 billion in 2020. Asia, including China and India, will lead with $15.5 billion in revenue in 2020, nearly half of the global total. In China, India and throughout the Asia-Pacific region, ad-supported video is the dominant model of delivering streaming video to consumers. By contrast, in the United States, most direct-to-consumer video offerings are pursuing an ad-free subscription model.
"As major networks and studios continue to launch their own direct-to-consumer streaming services in 2020, competitors will likely scramble to offer content libraries broad enough to both attract and retain customers. There is an opportunity for media and entertainment companies to reaggregate their content libraries with a wide array of offerings — from video, music and gaming services to ad-supported content," said Kevin Westcott, vice chairman, Deloitte LLP and U.S. telecommunications, media & entertainment leader. "For telecom providers, on the other hand, the emergence of 5G will offer unprecedented opportunities for companies to grow and achieve new levels of productivity. However, helping shape (and manage) customer expectation regarding its possibilities will be a big challenge in the coming year."
Terrestrial TV's surprising staying power
Antenna TV will thrive in 2020 with at least 1.6 billion people worldwide, representing 450 million households, enjoying some of their TV viewing via an antenna. Antenna TV will help the global TV industry keep growing even in the face of falling TV viewing minutes and, in some markets, increasing numbers of consumers cutting the pay-TV cord.
More insight from Deloitte's 2020 TMT predictions:
Low-earth orbit satellites soar: By the end of 2020, there will be over 700 satellites in low-earth orbit (LEO) seeking to offer global broadband internet, up from roughly 200 at the end of 2019. These new "mega-constellations" of orbiting broadband stations will potentially add more than 16,000 individual satellites to that count over the coming years.
Give a listen: In 2020, the global audiobook market will grow by 25% to US$5 billion and the global podcasting market will increase by 30% from 2019 to reach US$1.1 billion in 2020, surpassing the US$1 billion mark for the first time.
A smarter smartphone: The smartphone multiplier market (hardware, content, services) will drive US$459 billion of revenue in 2020 alone and will grow between 5 to 10% annually through 2023, lifted by continued robust growth in its largest components. This means that in 2023, the smartphone multiplier market is likely to generate revenues of more than a half-trillion dollars per year.
The workhorse of the internet: Deloitte also predicts the global Content Delivery Network (CDN) market will reach US$14 billion in 2020, up more than 25% from 2019's estimated US$11 billion. The market will double to US$30 billion by 2025, a compound annual growth rate of more than 16%.
Roll to work: Tens of billions of additional bicycle trips per year will take place in 2022. The increase in bicycling will double the number of regular bicycle users in many major cities around the world where cycling to work is still uncommon. Deloitte predicts a 1 percentage point rise in the proportion of people who bike to work during the three years from 2019 to 2022. Between 2020 and 2023, more than 130 million e-bikes (using all battery technologies) are expected to be sold.
"The rising competition for consumers' attention across technology, media and entertainment industries means companies that serve these consumers should focus on what matters most in order to succeed," concluded Dr. Jeff Loucks, managing director, Deloitte LLP and executive director, Deloitte Center for Technology, Media and Telecommunications. "Whether it's delivering on 5G, offering a streaming service that entertains and does not overwhelm or fulfilling the promise of AI in 2020, consumers will look to companies that demonstrate an understanding of their desires and an urgency for making those desires a reality."
Now in its 19th year, Deloitte's annual TMT Predictions provides an outlook on key trends in the technology, media and telecommunications industry sectors worldwide.
African Development Bank launches digital tool to help African youth learn to code
The African Development Bank and technology firm Microsoft today launched the 'Coding for Employment' digital training platform, an online tool to provide digital skills to African youth, wherever they are across the continent.
The platform, launched at the 2019 African Economic Conference in Sharm El Sheikh, Egypt, aims to promote a continuous learning culture among young people and build their capacity to shape the continent's future.
The high-level event drew heads of state and government, ministers and leaders from the private sector and academia to discuss how this new tool and other technological innovations could be used to spur development across the continent.
"The youth employment and skills development challenge is a complex issue that requires systemic thinking and bold partnerships … to address the existing skills gap and link youth to decent and sustainable employment," said Hendrina Doroba, the African Development Bank's acting director for Human Capital, Youth & Skills Development.
"The skills training platform launched today is a testament to the impact that such partnerships can achieve and the Bank looks forward to strengthening similar partnerships."
The platform teaches technical courses such as web development, design, data science and digital marketing and will be constantly adapted to respond to market demand. It is accessible on mobile devices, even in low internet connectivity settings and has an affordable, easy-to-navigate, secured and private interface.
"A defining challenge of our time is ensuring that everyone has equal opportunity to benefit from technology," Ghada Khalifa, Director of Microsoft Philanthropies for the Middle East and Africa, said at the launch.
"Forward-thinking initiatives such as the digital training platform represent our commitment to helping drive the momentum needed. Though there is still much work to be done, we believe that through dynamic partnerships such as these, we can help build a knowledge-based economy in Africa that leaves no person behind."
The Coding for Employment Program is a crucial part of the African Development Bank's strategic agenda to create 25 million jobs by 2025, and to equip 50 million African youth with competitive skills. The Bank piloted the program in five countries (Nigeria, Kenya, Rwanda, Senegal and Côte d'Ivoire) in partnership with The Rockefeller Foundation and Microsoft and is currently developing 14 ultra-modern centers specialized in ICT and entrepreneurship skills trainings for youth.
The goal is to scale up the program to 130 centers of excellence across the continent over a 10-year period. It will create nine million jobs by building synergies with the public and the private sector globally to deliver demand-driven, agile and collaborative skills to empower young people to become innovative players in the digital economy.
The Coding for Employment training platform can be accessed here across 54 African countries.