Why we must urgently close the data gap to end violence against women
Having the full picture is crucial for effective action to end violence against women. Yet today, efforts to address this critical sustainable development and human rights challenge remain severely hampered by lack of data.
Violence against women is both a cause and a consequence of gender inequality, reflecting and perpetuating deep-rooted patterns of discrimination. Violence and fear of violence permeate social, economic and political interactions between women and men, constraining opportunities, choices and access to resources and so limiting economic growth and hindering the achievement of sustainable development.
Ending violence against women and girls is a crucial part of both the Beijing Platform for Action – progress on which will be in focus at the Beijing+25 Regional Review Meeting (29-30 October) – and the 2030 Agenda for Sustainable Development. The Beijing Platform calls for the prevention and elimination of all forms of violence against women and girls—physical, sexual and psychological. The Sustainable Development Goals reiterate this, with two indicators designed to track changes in violence by intimate partners and by other perpetrators.
Yet tracking such changes is hard.
Reliable and comparable data on the incidence of violence against women are rare. The Beijing Platform for Action, back in 1995, recognized that the absence of adequate sex-disaggregated data makes it difficult to create and assess programmes designed to bring about change.
Administrative data such as crime records only cover incidents that are reported, and so are likely to underestimate massively the actual occurrence of violence, which often goes unreported due to fear of recurrence or reprisal, shame or perceptions of 'honour' within families. Trends in reported gender-based violence can also be influenced by changes in awareness and public perceptions, making victims more or less likely to perceive an act of violence as a crime or affecting their willingness to report it to authorities.
A clearer picture of the true scale of violence against women—and its impacts on their lives– must come from surveys designed specifically for this purpose. UNECE's survey module, developed in 2011, provides a standardized tool for countries to produce indicators of physical, sexual and intimate partner violence. To date, few countries in the UNECE region have conducted targeted surveys to measure violence against women, and where they have been conducted they are one-off surveys offering no possibility to see trends over time.
An EU-wide survey conducted in 2014 by the EU's Fundamental Rights Agency and an OSCE-led survey conducted in 2018 in Eastern and South-Eastern Europe take us a step closer towards the goals of international comparability.
However, until such surveys are conducted regularly the data gap will remain a major impediment to progress.
Violence against women – key trends in the UNECE region
Available data in the UNECE Statistical Database shows significant variations in patterns of violence against women across the UNECE region, as detailed in the Beijing+25 regional key trends paper.
Female homicides
The most serious manifestation of violence, homicide, is less likely than other forms of violence to go unreported and is less subject to variations of definition and classification between countries. Trends in homicides among countries can therefore more reliably be compared than other forms of violence.
Although two-thirds of the UNECE countries analyzed show low and unchanging levels of homicide of women, there are exceptions where high levels and/or large increases are seen in the past five years.
Among the 32 countries with available data, Azerbaijan had by far the highest female homicide rate in 2017, at 6.8 per 100,000, slightly down from 7.3 in 2012. Latvia and Lithuania also had high rates in 2017 (3.7 and 3.2 respectively). Fourteen countries had rates of less than 1 per 100,000 with very little change since 2012.
Homicides of women by partners and relatives
A large proportion of homicides of women occur at the hands of current or former partners or relatives.
In 2017, over 70 per cent of homicides of women were perpetrated by a relative in Albania (79 per cent), Croatia (74 per cent), Italy (72 per cent) and Slovenia (71 per cent). In all these countries, this percentage increased since 2012. The increase was particularly significant in Albania, where the percentage doubled in five years. Between 2012 and 2017 the percentage of homicides of women in a family context also increased significantly in Belarus (from 30 to 44 per cent), the Republic of Moldova (from 39 to 50 per cent), Tajikistan (44 to 53 per cent) and Georgia (from 15 to 23 per cent).
Beijing+25 Regional Review Meeting for the UNECE Region
Progress in combating violence against women will be one of the areas in focus at next week's Beijing+25 Regional Review Meeting for the UNECE region.
The Beijing Declaration and Platform for Action of 1995 (Beijing Platform for Action) is the most ambitious road map for the empowerment of women and girls everywhere. In 2020, it will be 25 years since the Beijing Platform for Action outlined how to overcome the systemic barriers that hold women back from equal participation in all areas of life.
The Beijing+25 Regional Review Meeting (29-30 October 2019) will take stock of where the UNECE region stands on keeping the promises of the Beijing Platform for Action. Bringing together government representatives and key stakeholders from the UNECE region, the meeting will tackle a number of obstacles that keep girls and women from realizing their full potential. UNECE is joining forces with the UN Women Regional Office for Europe and Central Asia to deliver a two-day multi-stakeholder meeting to exchange concrete policies to accelerate the realization of gender equality. The outcomes of the meeting will feed into the global review of the Beijing Platform for Action taking place at the sixty-fourth session of the Commission on the Status of Women in New York from 9 to 20 March 2020.
Free will trumps determinism in Gulf politics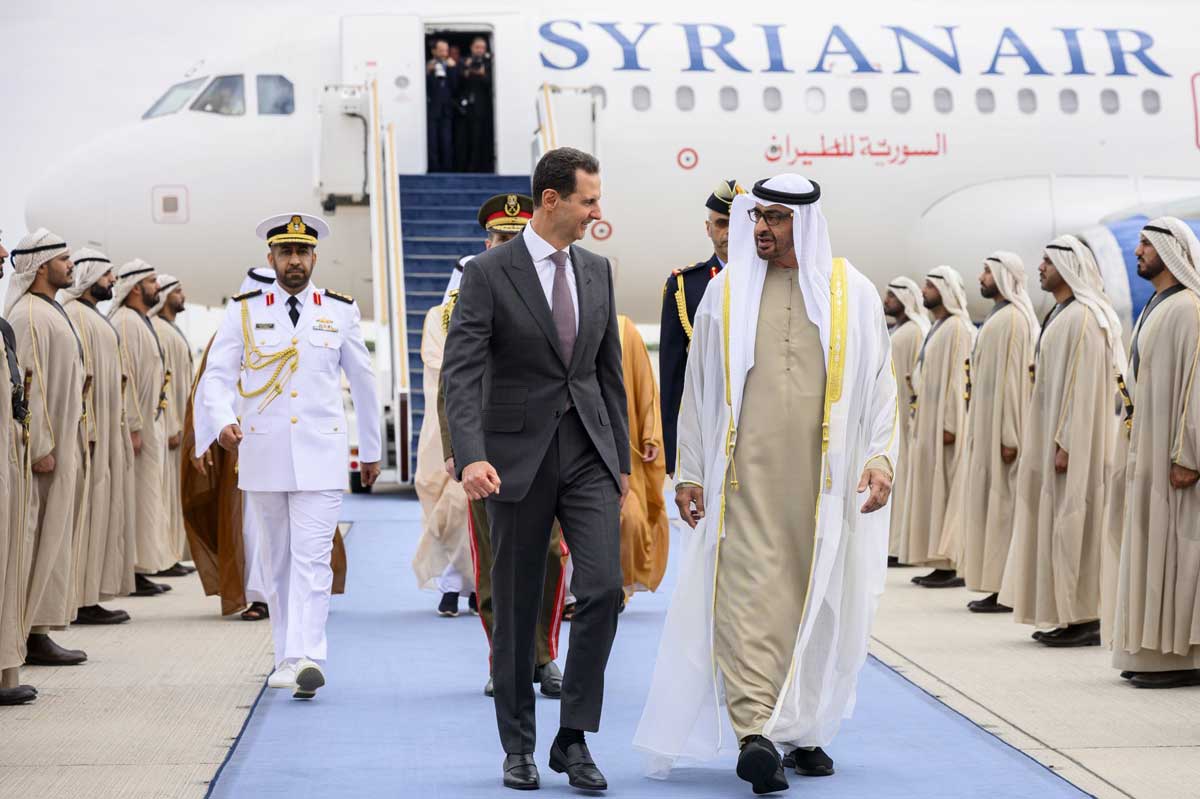 China's mediation to normalise Saudi-Iranian diplomatic ties has been widely welcomed internationally, especially in the West Asian region. A clutch of unhappy states that do not want to see China stealing a march on any front, even if it advances the cause of world peace, mutely watched, notes M.K. Bhadrakumar, Indian Ambassador and prominent international observer.
The US led this pack of dead souls. But the US is also on the horns of a dilemma. Can it afford to be a spoiler?
Saudi Arabia is not only the fountainhead of petrodollar recycling — and, therefore, a pillar of the western banking system — but also America's number one market for arms exports. Europe is facing energy crisis and the stability of the oil market is an overriding concern.
Saudi Arabia has shown remarkable maturity to maintain that its "Look East" policy and the strategic partnership with China do not mean it is dumping the Americans. Saudis are treading softly.
Yet, the fact remains that the Saudi-Iranian deal drives a knife into the heart of the US' West Asian strategy. The deal leaves the US and Israel badly isolated. The Jewish lobby may show its unhappiness during President Biden's bid for another term. China has stolen a march on the US with far-reaching consequences, which signifies a foreign policy disaster for Biden.
Washington has not spoken the last word and may be plotting to push back the peace process from becoming mainstream politics of the West Asian region. The American commentators are visualising that the Saudi-Iranian normalisation will be a long haul and the odds are heavily stacked against it.
The Saudi official said China's role makes it more likely that the terms of the deal will hold. "It (China) is a major stakeholder in the security and stability of the Gulf," he noted. The official also revealed that the talks in Beijing involved "five very extensive" sessions on thorny issues. The most difficult topics were related to Yemen, the media, and China's role, the official said.
Meanwhile, there are positive tidings in the air too — the likelihood of a foreign minister level meeting between Iran and Saudi Arabia in the near future and, more importantly, the reported letter of invitation from King Salman of Saudi Arabia to Iranian President Ebrahim Raeisi to visit Riyadh.
Iranian Foreign Minister Hossein Amirabdollahian remarked on Sunday with reference to the Yemeni crisis that "We [Iran] are working with Saudi Arabia on ensuring the stability of the region. We will not accept any threat against us from neighbouring countries."
To be sure, the regional environment is improving. Signs of an overall easing of tensions have appeared. For the first visit of its kind in over a decade, the Turkish Foreign Minister was in Cairo and the Egyptian FM has been to Turkey and Syria.
Last week, on return from Beijing, Admiral Ali Shamkhani, secretary of Iran's Supreme National Security Council headed for the UAE where President Sheikh Mohammed received him.
Soon after that Syrian President Bashar al-Assad arrived in the UAE on an official visit. "Syria has been absent from its brothers for too long, and the time has come for it to return to them and to its Arab surroundings," Sheikh Mohamed told Assad during their historic meeting at the presidential palace.
Evidently, the regional states are tapping the "feel-good" generated by the Saudi-Iranian understanding. Contrary to the western propaganda of an estrangement lately between Saudi Arabia and the UAE, Sheikh Mohammed is identifying closely with the positive trends in the regional environment.
This is where China's overarching role fostering dialogue and amity becomes decisive. The regional countries regard China as a benign interlocutor and the concerted attempts by the US and its junior partners to run down China make no impact on the regional states.
Fundamentally, both Saudi Arabia and Iran have compulsions to shift the locus of their national strategies to development and economic growth. This has received scant attention. The Western media has deliberately ignored this and instead demonised the Saudi Crown Prince and created a doomsday scenario for Iran's Islamic regime.
That said, the known unknown is the tension building up over Iran's nuclear programme… A Russian-Chinese coordinated effort is needed to forestall the US from raking up the nuclear issue in tandem with Israel and ratchet up tensions, including military tensions, in such a way that a pretext becomes available to destabilise the region and marginalise the Saudi-Iran agreement as the leitmotif of regional politics.
On balance, the regional states are acting on free will, increasingly and eschewing their determinism that was wedded to decisions and actions that were thought to be causally inevitable.
The realisation has dawned now that it is within the capacity of sovereign states to make decisions or perform actions independently of any prior event or state of the universe, stresses M.K. Bhadrakumar.
There is optimism that Syria stands to gain out of Saudi-Iranian rapprochement
The circumstances surrounding the flare-up in Syria between the US occupation forces and pro-Iranian militia groups remain murky. President Biden claims that the US is reacting, but there are signs that it is likely being proactive to create new facts on the ground, notes M.K. Bhadrakumar, Indian Ambassador and prominent international observer.
The US Central Command claims that following a drone attack on March 23 afternoon on an American base near Hasakah, at the direction of President Biden, retaliatory air strikes were undertaken later that night against "facilities used by groups affiliated with Iran's Islamic Revolutionary Guards Corps."
However, this version has been disputed by the spokesman of Iran's Supreme National Security Council who accused Washington of "creating artificial crises and lying." The Iranian official has alleged that "Over the past two days, American helicopters have carried out several sorties with the aim of increasing instability in Syria and transferred Daesh (Islamic State) terrorists in the territory of this country."
He said Washington must be held accountable for such activities. The official warned that Tehran will give a prompt response to any US attack on whatever false pretext against Iranian bases that exist on Syrian soil at the request of Damascus for fighting terrorism.
Is the US deliberately ratcheting up tensions in Syria even as the China-brokered Saudi-Iranian rapprochement is radically changing the security scenario in the West Asian region in a positive direction?
There is optimism that Syria stands to gain out of Saudi-Iranian rapprochement. Already, the Saudi Foreign Ministry revealed that talks are going on with Syria for resuming consular services between the two countries, which will pave the way for the resumption of diplomatic relations and in turn make it possible to reinstate Syria's membership of the Arab League.
Saudi Arabia has established an air bridge with Syria to send reef supplies for those affected by the devastating earthquake in February.
The backdrop is that the normalisation of relations between Syria and its estranged Arab neighbours has accelerated. It must be particularly galling for Washington that these regional states used to be active participants in the US-led regime change project to overthrow the government of President Bashar al-Assad. The Saudi-Iranian rapprochement badly isolates the US and Israel.
From such a perspective, it stands to reason that the US is once again stirring up the Syrian cauldron. Lately, Russian aircraft have been reported as frequently flying over the US's military base At Tanf on the Syrian-Iraqi border where training camps for militant groups are known to exist.
Israel too is a stakeholder in keeping Syria unstable and weak. In the Israeli narrative, Iran-backed militia groups are increasing their capability in Syria in the last two years and continued US occupation of Syria is vital for balancing these groups. Israel is paranoid that a strong government in Damascus will inevitably start challenging its illegal occupation of Golan Heights.
A key factor in this matrix is the nascent process of Russian mediation between Turkiye and Syria. With an eye on the forthcoming presidential and parliamentary election in Turkiye in May, President Recep Erdogan is keen to achieve some visible progress in improving the ties with Syria.
Erdogan senses that the Turkish public opinion strongly favours normalisation with Syria. Polls in December showed that 59 percent of Turks would like an early repatriation of Syrian refugees who are a burden on Turkish economy, which has an inflation rate of 90 percent.
Significantly, Erdogan telephoned Russian President Vladimir Putin on Saturday and the Kremlin readout mentioned that amongst "topics concerning Russian-Turkish partnership in various fields," during the conversation, "the Syrian issue was touched upon, and the importance of continuing the normalisation of Turkish-Syrian relations was underlined. In this regard the President of Türkiye highlighted the constructive mediatory role Russia has played in this process."
It is entirely conceivable that Erdogan has sought Putin's help and intervention to reach a modus vivendi with Assad quickly. Of course, this is a spectacular success story for Russian diplomacy — and for Putin personally — that the Kremlin is called upon to broker the Turkish-Syrian normalisation.
The China-brokered Saudi-Iranian normalisation hit Washington where it hurts. But if Putin now brokers peace between two other rival West Asian states, Biden will be exposed as hopelessly incompetent.
And, if Turkiye ends its military presence in Syria, the limelight will fall on the US' illegal occupation of one-third of Syrian territory and the massive smuggling of oil and other resources from Syria in American military convoys.
India should take the Russia-China summit in its stride
The prospects of a joint communiqué emerging from the G 20 summit in September in India are becoming dim, notes Kanwal Sibal, a former Foreign Secretary to the Government of India, Ambassador to Turkey, Egypt, France and Russia.
The G20 meeting of the Finance Ministers/Central Bank Governors as well that of the Foreign Ministers ended with the Chair's summary and not a joint document because no consensus could be reached on how the Ukraine conflict should be reflected in it. The West remains determined to include language condemning Russia in all joint statements whereas Russia, with China's support, has hardened its position and is no longer willing to accept the language it had agreed to at the G 20 summit at Bali, in part because of India's constructive diplomacy.
Since Bali the situation on the ground has become more destructive rather than the doors of dialogue and diplomacy being slowly opened.
The West's strategy remains one of arming and financially aiding Ukraine not only to sustain its resistance but to enable it to launch a counter offensive to recover enough of the Russian annexed territory to force Russia to come to the negotiating table. Ukraine's appeals, backed vociferously by Poland and the Baltic states, for more lethal arms, including artillery, tanks and now fighter aircraft, have found increasing support. In the background of the expanding militarisation of the conflict in the months after Bali, it is not surprising that positions on both sides have become harder.
US Secretary of State has warned that at the New Delhi G20 summit the West will not relent on its demand to condemn Russia. He foresees the G20 summit failing to issue a joint statement because of Russian and Chinese opposition, though that, in his view, will not lead to the collapse of the G20 process as there will be agreement on a whole host of other issues.
This is being unduly sanguine, as a failure at the summit level will expose the limitations of G 20 format to deal with various pressing issues of development, financial stability, economic growth, climate change and the like that the international community faces.
Other than this, if one of the objectives of the G20 is reviving multilateralism, the divisions within the G20 between the G7 and Russia and China in particular will in fact deal a further blow to multilateralism, as a format larger than the UN Security Council without any veto provisions would also have proved ineffective.
If the goal of the West is to isolate Russia, that is not being achieved.
Russian diplomacy in Africa and West Asia is active. Russia has just organised a Russia-Africa parliamentary conference in advance of the Russia-Africa summit in July 2023. Israel is being cautious in not aligning fully with the West's position. Russia's role in Central Asia is unaffected. The SCO processes are proceeding uninterruptedly, with the SCO summit to take place in India later this year. India is maintaining its close ties with Russia, with Minister Jaishankar stressing recently their steadiness over the yeas and their current economic expansion. Russia's ties with China are being strategically consolidated further.
Chinese diplomacy has achieved a visible success in brokering an agreement between Iran and Saudi Arabia on restoration of their diplomatic ties, which fits into Russia's close understandings with Saudi Arabia and Iran.
With Russia, Iran and India working on boosting the International North South Corridor, trade flows with Russia will increase. Russia as a permanent member of the UN Security Council cannot be isolated, as on many issues member states have to reach out to it diplomatically. Russia is a major arms supplier, as well as a major space power.
Being a major nuclear power it has an important role to play in the IAEA, for instance, as also in the area of peaceful nuclear cooperation in which it is cooperating with a few countries.
On the Ukraine issue, the US and NATO are putting open pressure on China not to supply lethal military arms to Russia. This ignores the fact that Russia itself is a major arms supplier to China, including the S400s. If the West can supply lethal arms to Ukraine to counter Russia, why is it wrong in principle for China to supply such arms to Russia? Why is it that China is being asked to be neutral and prove its neutrality while the West can fight a proxy war against Russia?
If India can pursue a degree of independence in its foreign policy despite open pressures from the US to dilute ties with Russia, why should one assume that Russia will not exercise its independent judgment on its relations with India and will yield to any Chinese pressure?
If Russia is satisfied with our neutrality on the proxy war between it and the West in Ukraine, why should we not be satisfied if Russia is neutral on issues between India and China?
We should take a balanced view on such matters, recognising of course the need to navigate very carefully in the choppy waters ahead. Our expectations from a successful G20 summit need to become much more realistic, concludes Kanval Sibal.