Why we must urgently close the data gap to end violence against women
Having the full picture is crucial for effective action to end violence against women. Yet today, efforts to address this critical sustainable development and human rights challenge remain severely hampered by lack of data.
Violence against women is both a cause and a consequence of gender inequality, reflecting and perpetuating deep-rooted patterns of discrimination. Violence and fear of violence permeate social, economic and political interactions between women and men, constraining opportunities, choices and access to resources and so limiting economic growth and hindering the achievement of sustainable development.
Ending violence against women and girls is a crucial part of both the Beijing Platform for Action – progress on which will be in focus at the Beijing+25 Regional Review Meeting (29-30 October) – and the 2030 Agenda for Sustainable Development. The Beijing Platform calls for the prevention and elimination of all forms of violence against women and girls—physical, sexual and psychological. The Sustainable Development Goals reiterate this, with two indicators designed to track changes in violence by intimate partners and by other perpetrators.
Yet tracking such changes is hard.
Reliable and comparable data on the incidence of violence against women are rare. The Beijing Platform for Action, back in 1995, recognized that the absence of adequate sex-disaggregated data makes it difficult to create and assess programmes designed to bring about change.
Administrative data such as crime records only cover incidents that are reported, and so are likely to underestimate massively the actual occurrence of violence, which often goes unreported due to fear of recurrence or reprisal, shame or perceptions of 'honour' within families. Trends in reported gender-based violence can also be influenced by changes in awareness and public perceptions, making victims more or less likely to perceive an act of violence as a crime or affecting their willingness to report it to authorities.
A clearer picture of the true scale of violence against women—and its impacts on their lives– must come from surveys designed specifically for this purpose. UNECE's survey module, developed in 2011, provides a standardized tool for countries to produce indicators of physical, sexual and intimate partner violence. To date, few countries in the UNECE region have conducted targeted surveys to measure violence against women, and where they have been conducted they are one-off surveys offering no possibility to see trends over time.
An EU-wide survey conducted in 2014 by the EU's Fundamental Rights Agency and an OSCE-led survey conducted in 2018 in Eastern and South-Eastern Europe take us a step closer towards the goals of international comparability.
However, until such surveys are conducted regularly the data gap will remain a major impediment to progress.
Violence against women – key trends in the UNECE region
Available data in the UNECE Statistical Database shows significant variations in patterns of violence against women across the UNECE region, as detailed in the Beijing+25 regional key trends paper.
Female homicides
The most serious manifestation of violence, homicide, is less likely than other forms of violence to go unreported and is less subject to variations of definition and classification between countries. Trends in homicides among countries can therefore more reliably be compared than other forms of violence.
Although two-thirds of the UNECE countries analyzed show low and unchanging levels of homicide of women, there are exceptions where high levels and/or large increases are seen in the past five years.
Among the 32 countries with available data, Azerbaijan had by far the highest female homicide rate in 2017, at 6.8 per 100,000, slightly down from 7.3 in 2012. Latvia and Lithuania also had high rates in 2017 (3.7 and 3.2 respectively). Fourteen countries had rates of less than 1 per 100,000 with very little change since 2012.
Homicides of women by partners and relatives
A large proportion of homicides of women occur at the hands of current or former partners or relatives.
In 2017, over 70 per cent of homicides of women were perpetrated by a relative in Albania (79 per cent), Croatia (74 per cent), Italy (72 per cent) and Slovenia (71 per cent). In all these countries, this percentage increased since 2012. The increase was particularly significant in Albania, where the percentage doubled in five years. Between 2012 and 2017 the percentage of homicides of women in a family context also increased significantly in Belarus (from 30 to 44 per cent), the Republic of Moldova (from 39 to 50 per cent), Tajikistan (44 to 53 per cent) and Georgia (from 15 to 23 per cent).
Beijing+25 Regional Review Meeting for the UNECE Region
Progress in combating violence against women will be one of the areas in focus at next week's Beijing+25 Regional Review Meeting for the UNECE region.
The Beijing Declaration and Platform for Action of 1995 (Beijing Platform for Action) is the most ambitious road map for the empowerment of women and girls everywhere. In 2020, it will be 25 years since the Beijing Platform for Action outlined how to overcome the systemic barriers that hold women back from equal participation in all areas of life.
The Beijing+25 Regional Review Meeting (29-30 October 2019) will take stock of where the UNECE region stands on keeping the promises of the Beijing Platform for Action. Bringing together government representatives and key stakeholders from the UNECE region, the meeting will tackle a number of obstacles that keep girls and women from realizing their full potential. UNECE is joining forces with the UN Women Regional Office for Europe and Central Asia to deliver a two-day multi-stakeholder meeting to exchange concrete policies to accelerate the realization of gender equality. The outcomes of the meeting will feed into the global review of the Beijing Platform for Action taking place at the sixty-fourth session of the Commission on the Status of Women in New York from 9 to 20 March 2020.
Eurobarometer: Protecting human rights tops citizens' list of EU values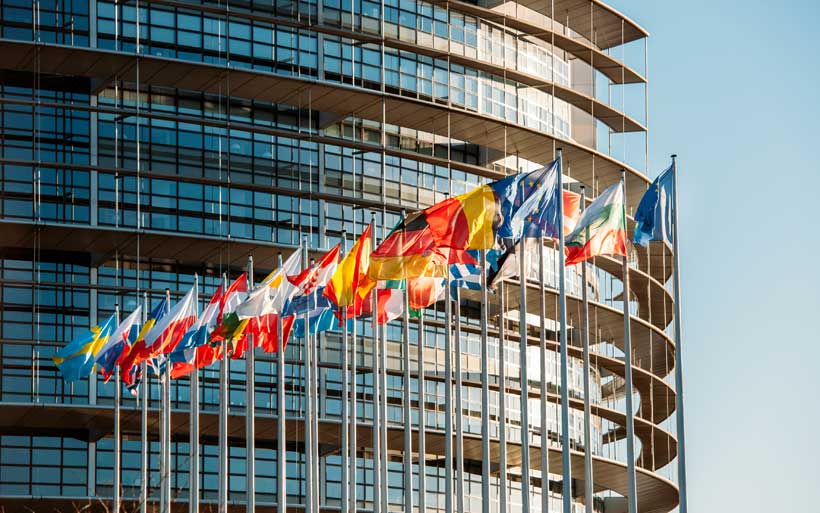 This Eurobarometer survey, published on Tuesday, asked citizens, among several topics, which political issue the Parliament should deal with as a matter of priority.
Parliament's autumn Eurobarometer survey traditionally asks citizens which political issue the European Parliament should deal with as a matter of priority. With regard to European values, a clear majority of citizens see protecting human rights worldwide (48%), freedom of speech (38%), gender equality (38%) and solidarity between EU member states (33%) as the main fundamental values to preserve in the European Union.
Although the ranking of priorities show a significant variation across individual member states, for the first time climate change tops the list of citizens' priority issues. Nearly every third respondent (32%) wants Parliament to address combating climate change as its biggest priority. The fight against poverty and social exclusion (31%), combating terrorism (24%) as well as tackling unemployment (24%) follow in the average EU ranking of citizens' priorities.
Over the course of the past year, mainly youth-led climate protests have mobilised millions of citizens in the EU and around the world. The 2019 Parlemeter data reflects this feeling of climate emergency, as an absolute majority of respondents (52%) consider climate change to currently be the most pressing environmental issue, followed by air pollution (35%), maritime pollution (31%), deforestation (28%) and the growing amount of waste (28%). In addition, nearly six out of ten Europeans believe that these youth-led protests contributed both at European and at national level to more political measures against climate change.
Six in ten Europeans (59%) in favour of their country's EU membership
With nearly six in ten Europeans (59%) in favour of their country's EU membership, citizens' support for the European Union remains high for the third year in a row, says the European Parliament's autumn Eurobarometer survey. Conducted in October 2019, results also show an increased level of satisfaction with the way democracy works in the European Union: 52% (+3 pp) of Europeans share this feeling, indicating that the recent European elections and increased voter turnout contributed positively to this.
European citizens would like to see the European Parliament playing a stronger role, with 58% of respondents calling for a more influential Parliament in the future. This is an increase of 7 percentage points since spring 2019 and the highest result for this indicator since 2007.
Large majority wants more information on the EU
Last, but not least, the 2019 Parlemeter offers valuable insight into which kind of EU-related information European citizens would be interested in – and how they might be more engaged with EU policy making. In total, three-quarters of Europeans (77%) would like to receive more information on the activities of the European institutions. The concrete consequences of EU legislation at local, regional and national level as well as the activities of the European Parliament and its Members are among the areas most relevant for citizens.
Partnerships key to taking landlocked countries out of poverty
The challenges faced by landlocked developing countries (LLDCs), some of the poorest in the world, can be overcome through more effective partnerships, UN Secretary-General António Guterres declared on Thursday, at a conference held at UN Headquarters in New York.
The Midterm Review of the 10-year Vienna Programme of Action For Landlocked Countries, is an opportunity for the international community to renew commitments made, to lifting LLDCs out of poverty.
Challenges they face include underdeveloped forms of connectivity, from roads to railways and internet infrastructure, a lack of access to sea ports, and poor integration into global and regional markets.
Cooperation amongst the countries concerned is therefore crucial, said the UN chief: "We need the right policy mix; increased investment, reliable transit infrastructure, efficient customs operations and improved access and use of technology".
The international community should support landlocked countries, he said, in building up their private sectors, enhancing the business environment, and strengthening statistical systems, because policies must be based on data.
'Headway in key areas'
The UN chief pointed to "headway in some key areas". These include higher GDP in many of the countries; and progress on indicators related to health, education, energy, gender equality and ICT (Information and Communication Technology).
Transport connectivity is improving, noted Mr. Guterres, with transit and economic corridors developing. Examples of growing economic links include the African Continental Free Trade Agreement, and the World Trade Organization Trade Facilitation Agreement, which provide opportunities for landlocked countries to link up to external markets and global value chains.
Since the Vienna Programme was adopted in 2014, LLDCs are now benefiting from modest increases in development aid from governments, as well as increased aid for trade and cooperation between developing countries.
Struggling 'in the shadows of historical injustices'
Muhammad-Bande, the President of the General Assembly, in his speech to the conference.
Ramped-up action is sorely needed if the international community is to change the "grim picture" of the current situation for LLDCs, many of which "continue to struggle in the shadows of historical injustices", he said, going on to list some of the severe problems these countries face.
Economic growth in the landlocked developing countries has declined in the last five years, one third live in extreme poverty, and the average ranking for LLDCs in the United Nations Development Program (UNDP's) Human Development Index lags behind the world average by 20 per cent.
Undernourishment in landlocked developing countries reached a rate of 23.2 per cent in 2016, and food insecurity affects 51.6 per cent of their population, a problem that is compounded by the effects of climate change. In addition, 40 per cent of the population of these nations do not have access to electricity.
Deal for landlocked countries a 'testament to multilateralism': GA President
Mr. Muhammad-Bande described the Political Declaration due to be adopted at the Midterm Review of the Vienna Programme as "a testament to multilateralism", and a "roadmap by which we can align the objectives of the Programme with the Sustainable Development Goals (SDGs)" and, in particular, Sustainable Development Goal 1, which calls for the eradication of poverty.
The General Assembly President outlined the types of action that can support the sustainable development of landlocked developing countries.
Some government programmes and grassroots anti-corruption movements have used digital technology to tackle illicit financial flows; financing for micro, small and medium-sized enterprises needs to be strengthened; economic governance and business regulation should be improved; and technical support should be provided, for infrastructure and transport development projects.
"To ensure sustainable development for generations to come we must work together now", said Mr. Muhammad-Bande. "Our actions must be guided by the spirit of cooperation and solidarity".
Vienna Discussion Forum 2019 on ending violence against women
The first Vienna Discussion Forum, a platform to discuss and call for action on gender equality within the context of the Sustainable Development Goals (SDGs), addressed gender-based violence from the perspective of the respective mandates of the United Nations Industrial Development Organization (UNIDO) and the United Nations Office on Drugs and Crime (UNODC), namely women's economic empowerment (SDGs 8 and 9), and crime prevention, criminal justice responses (SDG 16). The Forum, which marked the International Day for the Elimination of Violence against Women (25 November), was organized by UNIDO and the UNODC, together with the representatives of Finland, Norway and Sweden.
"It is clear that we need to develop comprehensive approaches to address violence against women. Crime prevention and criminal justice responses and women's economic empowerment can complement each other in this endeavour," said UNIDO Director General LI Yong. "We work together with governments, the private sector and civil society to develop gender-responsive and inclusive industrial policies. We aim to promote enabling working environments that allow for women to thrive both professionally and personally."
The Executive Director of UNODC, Yury Fedotov and H.E. Thomas Blomqvist, Minister for Nordic Cooperation and Equality of Finland, joined the Director General in opening the event. Fedotov underscored that "gender-based violence stops women and girls from exercising their human rights and fundamental freedoms. It hinders achievement of all of the Sustainable Development Goals – not only Goal Five on gender equality – and holds back humanity from fulfilling our potential".
Minister Blomqvist reminded the audience that "the Beijing Declaration and Platform for Action were adopted almost 25 years ago", but while "considerable progress has been made, we still have a long way to go".
The opening remarks were rounded off by H.E. Lourdes Victoria Kruse, Permanent Representative of the Dominican Republic to the United Nations in Vienna, who recounted the story of the Mirabal sisters, three Dominican political activists whose assassination on 25 November 1960 is remembered as the International Day for the Elimination of Violence against Women.
The Vienna Discussion Forum revolved around a morning panel discussion related to UNODC's mandate, discussing crime prevention and criminal justice responses to violence against women, and a UNIDO-led afternoon panel discussion on women's economic empowerment and the resilience that increased economic opportunity can foster against violence and abuse.
Moderated by Monica Carco, the Chief of UNIDO's Rural Entrepreneurship, Job Creation and Human Security Division, the afternoon panel united Laura Capobianco, Global Advisor on Safe Public Spaces at UN Women, Beatrice Gakuba, Executive Director of AWAN-Africa, Sami Nevala, Policy Coordinator for Statistics at the European Union Agency for Fundamental Rights, and Haya Sheikh Yasin, CEO of Quick Packaging Company, a member of the Palestine Businesswomen Association.
The discussion concluded that women's economic and social empowerment is among the strategies that are effective in preventing violence against women. However, to ensure empowerment is not met with backlash, the creation of economic opportunities for women should be accompanied by i.e. community-based interventions and the development of policies and institutions that address the multiple forms of structural discrimination that still exist; while the occurrence of violence against women is independent of development status, this is especially important in specific regional contexts, such as those of extreme poverty, conflict or displacement. Panellists called on the international community to take action by urging for more solidarity and concerted and intersectional responses by governments, civil society and international organizations to violence against women. Panellists also highlighted education as a transformative measure to allow women to economically emancipate themselves and counter detrimental social norms, such as child marriage. Finally, the importance of engaging men in the discussion around gender-based violence, was raised.
As organizers, the Director General of UNIDO, the Executive Director of UNODC and the Permanent Representatives of Finland, Norway and Sweden came together as five International Gender Champions in organizing the Vienna Discussion Forum. The outcome will feed into the review process of the 25th anniversary of the Beijing Declaration and Platform for Action. It is envisioned that the Vienna Discussion Forum will be turned into an annual platform to address gender equality in the context of the Sustainable Development Goals.