Over the past week (since October 14), John Mearsheimer, a well-known offensive realist, has made a whirlwind tour in China. According to his arguments in several Chinese universities, the United States has made all efforts including military means to "remake the world in America's image" since the end of the Cold War. To that end, the White House has carried out its highly ideology-oriented foreign policy doctrine with a view to securing its supremacy in the world order which has been built on the liberal democracy and the values that the Americans have held.
Yet, since President Donald Trump came into office, he has targeted U.S. allies, foreign adversaries, disregarded human rights, and hinged his policies on whether the move will benefit the U.S., especially financially. As Professor Mearsheimer has noted, the U.S.-led liberalism trumped by nationalism and realism, especially by nationalism, has threated to undermine the American crusade. Even though Trump does not think this way, he does embody such ideology and approach to politics. In effect, he ran an anti-liberal democracy campaign with heavy focus on the distrust of international institutions and the free trade regime based on the liberalism and multilateralism.
An American scholar, Mearsheimer makes sense to argue that nationalism pushing back against the U.S.-led liberal crusade has been long in the making. There are two sides to the story. First, Trump's recent predecessors, either Obamar or G.W. Bush, Jr., tried to shape the world in America's image. However, the Bush Doctrine and the entire U.S. foreign policy in Middle East, the expansion of the EU and NATO, and engagement with China have all turned out to be different from what the policymakers have envisioned. American people then had enough of spending moneys and sacrificing soldiers for countries thousands miles away and brought no reward for the country. As an exceptionally smart businessman, Trump saw this, he tapped into this, and he landed in the White House because of this.
Yet, externally Trump has made mistakes repeatedly. Since no countries like to be intervened in their own affairs, China, Russia and many others who have been targeted by U.S.' desire to reshape the world are now full of nationalistic sentiment that despises U.S. intervention. The interference in Russia's elections, in Hong Kong, Xinjiang, and Tibet have all incited nationalism. This becomes the strongest pushbacks against American liberal crusade across the globe. True, it is controversial that to credit the end of the crusade to nationalism and realism might not paint the full picture, argued by Yan Xuetong, a well-known Chinese scholar in "moral realism". He said that individual leadership style is incredibly important in international politics. Since Trump's political deed is modeled on his business experience, his personality is much more for financial benefits than ideological drive. Consider this, it might be true that Trump himself single-handedly ended the American liberal crusade.
Here, either Mearsheimer or Yan have seemed to ignore the fact since 1997 and in particular the beginning of the new millennium, the so-called "Establishment" view has rapidly regarded China as a morally flawed inevitable adversary, if not a well-termed foe, at the moment with regard to Taiwan, eventually the Western Pacific, and in time the global equilibrium. According to this school of thought, the United States should therefore act toward China not as a strategic partner but as it treated the Soviet Union during the cold war: a rival and a challenge, reducing trade wherever possible to nonstrategic items, creating an alliance of Asian states to contain China or, if failing that, building up Japan to help American share the burden for the defense of Asia and the containment of China. Advocates of this point of view go even farther to argue that the United States should treat Taiwan as an independent state and a military outpost and in practice to scrap the "one-China" policy on which Sino-American relations have been based since their rapprochement started in 1971.
Almost 20years ago, Henry Kissinger patently put it, for the part of the United States, any hostile policy that designated China as the foe or potential enemy primarily came from China's rapid growing economy and its firmly-held ideology. This is totally unrelated to Trump's personal style or liberal values that the Americans have entertained traditionally. In effect, the United States on many occasions seeks to convey to China that opposition to hegemony is coupled with a preference for a constructive relationship and it facilitates and not obstruct China's participation in a stable international order. Confrontation with China should be the ultimate recourse rather than the strategic choice. For sure, the challenge to Chinese leaders is to learn to discern the constraints of American values and public opinion. Due to this, China and particularly the current leadership have reiterated that the future development of China can't be realized in isolation from the world. In doing so, Beijing has vowed to act as a rising power to take the proper responsibility in the global affairs.
Another misperception by Mearsheimer of China is that since China's rise is inevitable in the near future, many Americans see it as a challenge to the U.S. dominance. With "multipolar" gradually replacing "unipolar" now, major powers began to change their policies in view of shifting reality. He further assumes that since the international system in which states exist is anarchic, they prefer using military capability to pursue their own interests while keep their intention unknown. Also as states are rational actors, they like to think and act strategically rather than narrow-mindedly. It tempts the United States to follow Great Britain in history to see the rise of China like that of Germany. Though badly flawed historical analogies, it is true that in both China and the United States, perceptions of each other have been heavily colored by domestic politics, particularly the United States. In comparison, China still lags behind the United States in terms of the high-technology innovation and capacities, its policies primarily on its bordering areas and economic drive; and its official communist ideology holds little appeal to other countries but fundamentally for its domestic needs.
Chinese official line holds that the world is undergoing profound changes unseen in a century. While China is determined to realize its national dream by the mid-century, it will continue to follow its well-laid tenets of peaceful reemergence and win-win cooperation. Over the past 70 years, China has achieved tremendous growth, but its original goal remains to aspire for a great power, a reliable defender of world peace and a responsible builder of the global governance. True, China's role in the world has changed accordingly in terms of its second largest economy of the world. Yet, China's future prosperity has obviously hinged on its increasingly relevant stakeholder in broader global affairs. Due to this transition, China's foreign policy has placed a growing emphasis on multilateral forms of engagement and cooperation. This is not a lip-service but a solemn promise by China to the world community.
Despite the divergences between China and the United States, and the different opinions on the current world order, it is well understandable that the academic dialogues between John Mearsheimer and its Chinese counterparts may act as an enlightenment for the world's two largest economies to work together to avoid the desperate and groundless fatalism.
When Will They Learn: Dealing with North Korea
On May 11, 2022, the United States called out China and Russia for opposing further action against North Korea in the backdrop of its growing nuclear ambitions. US Ambassador to the United Nations Linda Thomas-Greenfield, warned that the Security Council "cannot stay silent any longer" as Pyongyang is said to be preparing for its seventh nuclear test which, according to US intelligence, could be conducted as early as this month. The US Ambassador, in her remarks, condemned the two Security Council members stating that their silence in dealing with North Korea had only provided Pyongyang with tacit permission to continue its nuclear proliferation programme. Thomas-Greenfield stressed on the need for employing stricter measures stating that it was high time to encourage restraint in order to pressurise North Korea to stop escalating further and instead come to the negotiating table. Meanwhile both China and Russia have long been against such a policy, instead pushing for the Security Council to ease such measures on North Korea on humanitarian grounds.
The issue of dealing with North Korea has, for the longest time, troubled the International community and the various stakeholders in the Northeast Asian region. Although the United States continues to push for a policy based on retaliation and coercion, it is important to assess the viability of such an approach.
The Case for Sanctions
North Korea is one of the most heavily sanctioned countries in the world today. These sanctions date back to the Korean War (1950-53) but were further enforced after North Korea's nuclear proliferation programme came to the fore. Implementation of sanctions is argued as a means of coercing the North Korean regime to dismantle its nuclear proliferation programme. Article 41 of the United Nations Charter lays down the provision for sanctions to apply pressure on a state to behave in accordance with the interests of the United Nations Security Council (UNSC). As an alternative to using force, the UNSC can implement sanctions to compel compliance for states. It is argued that the economic stress that a state ladened with sanctions is bound to face will eventually lead to a change in its policies, giving way to favourable outcomes. In the case of North Korea, the possibilities of extracting favourable outcomes through sanctions have been explored time and again under various administrations, however this policy has not led to any concrete results so far. While it is true that the various sanctions have placed North Korea in a tough economic state even slowing down its nuclear ambitions, these measures have not led to the dismantling of its nuclear weapons programme. The closed nature of the country means that there is little pressure on the political elite of North Korea to implement economic reforms or dismantle its nuclear programme to gain economic concessions from the international community. Furthermore, considering that North Korea established its nuclear programme to ensure state survival at a time of turbulence which continues to this day given the high security threat posed by the US-South Korea military alliance, the North Korean regime has strong incentive to develop its nuclear weapons programme which has so far ensured regime survival through deterrence.
Inadequacy of monitoring and implementation mechanisms have further contributed to the failure of the sanctions regime. An Institute for Science and International Security report noted that currently 56 countries are evading existing sanctions to supply North Korea with necessary goods along its borders with Russia and China. The evasion of the current UNSC sanctions undermines the overall effectiveness of the sanctions programme.
The Problem with Retaliation
Dealing with an adversary can take the route of retaliation or reconciliation. Retaliation involves the use of coercive diplomacy and strict measures to coerce an adversary into falling in line, hence extracting favourable outcomes. On the other hand, reconciliation involves indulging in diplomatic advances with an adversary to churn out possibilities of peaceful and harmonious relations. The United States has, for long, preferred the route of retaliation in dealing with North Korea. This approach started with the stationing of nuclear weapons and troops in South Korea by the Eisenhower administration at the end of the Korean War and continued as a bipartisan measure under the successive regimes. The Agreed Framework achieved under the Clinton administration in 1994 marked the first diplomatic effort at dismantling the North Korean nuclear weapons programme in its early stages. However, the Framework was abandoned by the Bush administration as both North Korea and the United States failed to follow up on the commitments made under the agreement. In his 2002 State of Union Address, President Bush included North Korea under the infamous axis of evil further aggravating relations between the two nations. The succeeding Obama administration followed a policy of strategic patience, distancing itself from engaging with North Korea while maintaining pressure through sanctions. In a major shift, the Trump administration pursued a policy of engaging with North Korea which, while leading to a series of nuclear threats exchanged between the two countries, culminated in the Hanoi Summit of 2019. The current Biden administration has made its intentions clear of pursuing a policy favouring a "calibrated, practical approach" without necessarily prescribing to the strategic patience of the Obama administration or the "grand bargain" of the Trump era. Over the years, the nature of retaliatory policies has changed, from considering military intervention on the Korean Peninsula to economic sanctions on North Korea, but even in their evolution they have failed to bring any change in the status quo. Although the United States did encourage diplomatic advances under various administrations over the years, like the Six Party Talks of 2003 or the recent Hanoi Summit in 2019, retaliation has been an underlying feature of all negotiations as almost all of them have broken down and fallen prey to mistrust and lack of commitment in the preliminary stages. The failure of such coercive policies can be noted from the fact that North Korea's nuclear proliferation programme is not only intact to this day but continues to grow at a remarkable pace in the face of economic and military sanctions.
Whether due to the nature of the North Korean state, lack of compliance by the international community or the failure of the UN sanctions regime, the policy of sanctioning North Korea into compliance has failed thus far and the prospects of it succeeding in the future seem very bleak.
A Viable Alternative
The United States has often argued that such retaliatory policies are put in place to bring North Korea to the negotiation table. An assessment of nearly seven decades of dealing with North Korea shows that retaliation has never contributed to bringing about successful negotiations. The highest points in relations with North Korea have all come under administrations that have favoured a policy of reconciliation as opposed to retaliation. The closest North Korea has reached to an agreement on dismantling its nuclear proliferation programme has been through the channels of diplomacy. The Sunshine Policy (1998) and the reconciliatory policies under the administration of former South Korean President Moon Jae-in are a testament that peaceful arrangements on the Korean Peninsula are possible if reconciliation and dialogue are made the norm instead of mistrust and coercion.
In her statement, the US Ambassador has stressed on the urgency of implementing measures in dealing with North Korea. Her concerns are not unfounded. With the appointment of President Yoon Suk-yeol and the conservatives in South Korea, who have favoured a hardliner policy towards the North, it is obvious that North Korea will indulge in nuclear brinkmanship in the coming months which can even go to the extent of a nuclear test as early as this month. Although the urgency is imperative, the measures must be rooted in reconciliation. The United States has to, much like the administrations of former South Korean Presidents Kim Dae Jung and Moon Jae-in, indulge in confidence building measures to achieve sustainable relations with North Korea. Although the diplomatic efforts have so far faced setbacks, they have not been implemented in a spirit of cooperation and mutual trust. To overcome the decades of animosity between the two nations, the United States has to abandon coercion and make way for cooperation as a viable alternative. The failure of retaliatory policies thus far shows that further entertaining such assessments will not lead to any breakthroughs and might well push North Korea to further develop its nuclear weapons programme. Meanwhile, both Sunshine and 'Moonshine' policies have shown that North Korea will be willing to cooperate if its primary concerns of security and economic needs are met. Although reaching agreement from the current state of affairs can be a long-drawn process, reconciliation is the only way the emerging threat from North Korea's nuclear arsenal can be resolved.
U.S. Interests and Priorities: Why Ukraine & Taiwan are Similar Yet Different Geopolitical Situations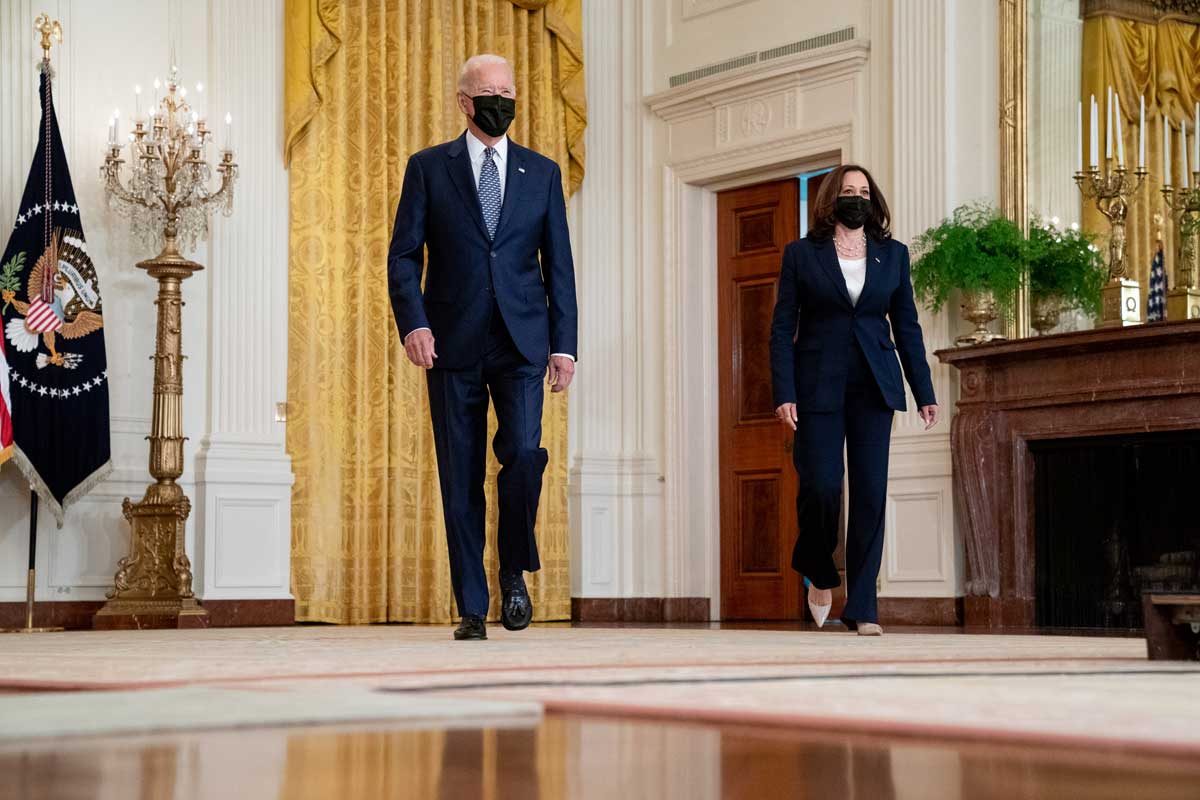 The February 24, 2022 invasion of Ukraine by Russia has spearhead a new chapter in the world of international politics. Russian decision to wage unprovoked war with Ukraine has succeeded in dissolving remnants of pro-Russia sentiments across the globe, cultivated in the post-Cold war era. Since the invasion, the reaction of all the major powers in the world, especially the United States, has been closely observed. Amidst burgeoning debate on the future of democracies and liberal internationalism in the wake of strengthened authoritarian regimes, this crisis has been viewed as a warning for the US led order. In the quest to assess the current direction of global politics, a common comparison between Russia-Ukraine crisis and the China-Taiwan situation in East Asia has been made by onlookers. In both the cases, the essential similarity distills to a democratic country being militarily threatened by a regional power on historical grounds and America's support for the former. US response to the Ukraine crisis has been viewed as a 'geopolitical compass' for its possible course of action in a hypothetical scenario of Chinese invasion of Taiwan. As tempting the similarities are in both the cases, Taiwan's position in American political discourse is vastly different from Ukraine's due to multiple factors. The reasons behind this difference in America's policy approach primarily stems within the context of US-China rivalry. The State department's latest changes on their website regarding US-Taiwan relations further signal America reassessing its long held one China policy. The website omitted the sentence 'US does not support Taiwan impendence' and added US relations with Taiwan is 'guided by the Taiwan Relations Act, the three U.S.-China Joint Communiques, and the Six Assurance'.
Russian Invasion of Ukraine & American Response
Since Ukraine's independence in 1991, the country has swayed between a pro-Russia and a pro-Europe political stance. This struggle reached the brim in 2013, when former Ukrainian President Yanukovych declined the idea of signing an agreement with EU, resulting into mass protests. The backlash eventually led to the forming of a new government. In 2014, Russian personnel captured Crimea, a territory the former believed to be of historical significance. Eventually, in March Crimea's independence was deliberated in the assembly with a subsequent referendum overwhelmingly supporting union with Russia. The pro Kyiv supporters, EU and US denounced the union as illegal, but ever since Crimea has become a Russian territory. This major political victory for Russia resulted in Kremlin's continuous support for Pro-Russia factions existing in Donetsk and Lohansk, located in the Eastern region of Ukraine. In the quest to ensure ceasefire, the Minsk Agreement was signed the same year which ultimately granted a special status to Donetsk and Lohansk. Even though peace was maintained in the region since the signing of the agreement, the Ukraine-Russia relations remained tensed.
In December 2021, US intelligence reports claimed that Russia was planning for a potential invasion of Ukraine in early months of 2022, alarming the rest of the world. Satellite images of Russia's defense buildup around the Ukrainian borders with large portion of military & artillery units in Belarus confirmed the possibilities of an invasion. Ultimately, Russian troops entered Ukraine on February 24 from Russia, Crimea and Belarus with intent to encircle the nation. Further, Russian Duma recognized Donetsk People's Republic (DPR) and Luhansk People's Republic (LPR), the two breakaway regions of Ukraine as independent further violating the Minsk Agreement.
Amidst an outpouring of public support, governments have rallied behind Ukraine with US and EU providing military assistance and architecting one of the most stringent sanction regimes to pressure Russia into stopping the ongoing war. Even though the Biden administration reiterated that United States would not be sending troops to fight the Russians, the nation came to a bipartisan consensus to support Ukraine. According to the Defending Ukraine Sovereign Act 2022, US would provide security assistance, back Ukraine's cyber defenses, boost Ukraine's interoperability with NATO forces, work closely with regional partners, counter Russian disinformation activities, deepen ties with Baltic states and impose elaborate sanctions. The US authorized military equipments and weapons worth $350 million dollars, largest package in the history of the nation including anti-tank missiles and air defense systems to Ukraine. Financially, US laid out expansive constraints like restrictions on Russian banks, complete sanctions on Nord Stream 2, Russian Direct Investment Fund, VTB Bank, export controls on oil and gas etc. To showcase America's unflinching support to Ukraine and the crisis unfolding in Europe, Secretary of State Anthony Blinken and Secretary of Defense Lloyd J Austin made a high security visit to Kyiv in April 2022 and met President Zelensky and his officials. America presented an intention to contribute more than $713 million in foreign military financing for Ukraine, apart from the return of American diplomats at the earliest to further facilitate humanitarian efforts.
As the events in Ukraine unfolded, the debates surrounding America's credibility and response to Ukraine crisis gained traction. Even as the West's unified response to Russian aggression has been welcomed, understanding American interest vis-à-vis Ukraine-Russia war and its judgment to resist unilateral decision making becomes imperative. Firstly, avoiding a World War III like situation that involves multiple countries is of top priority for the Biden administration. With Putin ordering Russian nuclear weapons on 'high alert' as a response to barrage of sanctions, the cries for de-escalation have become louder. In this regard, Washington's decision to deny American participation in the war not only restates US' post 9/11 war fatigue but is also an attempt to avoid usage of weapons of mass destruction by parties involved. Even as fringe of partisan voices and Ukrainian President Volodymyr Zelensky have lobbied for US to impose a no-fly zone over Ukraine which would commit American and NATO forces to bring down any Russian plane that enters the zone, Biden administration's resistance to this pressure signals American foresight.
Secondly, the divergence of interest between US and Ukraine stems from the fact that Ukraine has never been in America's core policy calculations, which is not the case for Russia. At the same time, American decision to withdraw from ABM treaty (2002), Open Skies treaty (2020), INF treaty (2020) and steady NATO expansion since 1991 has made Russia insecure. Furthermore due to Ukraine's close proximity to Russia, America's past assurances of making Ukraine a NATO member has been viewed as American encroachment in Russian sphere of influence, a matter of national security for Kremlin. Thirdly, even though U.S has no immediate interest in Ukraine, resisting Russian win 'at all cost' is a wider test of American commitment at maintaining the current rules based liberal order. Beyond the narrative of 'credibility dilemma', the Ukraine crisis has yet again thrown light on the role of US as a security guarantor to states in various regions. This role becomes more complex for the US when dealing with allies and partners in East Asia which has been undergoing rapid geopolitical shifts.
Tensions in Taiwan Strait and the US Factor
In 2021, Taiwan (Republic of China) underwent one of the worst years of Chinese incursion in their defense zone. The situation has only become dire, with China (People's Republic of China) sending a record number of warplanes in Taiwanese defense zone in a single day in January 2022. Expert analysis has echoed concerns of a possible war like situation, a catastrophic scenario for the regional security. The relations have especially become strained since 2016 when Taiwan elected Tsai Ing Wen, a pro democracy leader. Her reelection victory in 2020, rebuked Chinese pressure for possible reunification. Since 2012, China has witnessed a rise of nationalism, signaling country's growing ambitions post the economic success. Out of the many national agendas, resolving the "Taiwan matter" has gained undivided attention from the Communist Party of China. Leaving the past century of humiliation behind, the new China has found itself on the path to seek great power status and ushering the Chinese Century. However for Beijing, reunification with Taiwan is critical for fulfilling the 'Chinese Dream of national rejuvenation', whether through appeasement or coercion. The dwindling cross-strait relations and China's grey zone activities have posed new challenges for the regional power balance. Within the context of growing US-China rivalry, the Taiwan crisis has increasingly been seen as a possible flashpoint.
Historically, there have been instances when America being entrapped in a war with China over the island nation seemed inevitable. For example in the 1950s, PRC bombed Jinmen (Quemoy) and Mazu islands controlled by ROC. United States considered vast array of policy options including nuclear weapons to resist PRC's control over these islands. Even though ultimately PRC approached US for negotiations to ease the situation due to Soviet pressure, this incident evidenced the risk of miscalculation in US-China relations. However, deteriorating security in Taiwan straits over the last two decades amidst the backdrop of growing anti-China sentiments in American political discourse across ideological spectrum sets apart the current situation from the past. Particularly, as American views on China have witnessed critical shifts in the post Trump era and as US-China rivalry has crystallized in various domains, Taiwan has further been elevated in US' Asia strategy. America's China policy reshaped under President Donald Trump as the belief in China's economic success at the expense of US became a widely accepted phenomenon in Washington DC. The Trump administration levied tariffs on Chinese products and engaged in a trade war, though whether it benefited the US is open for debate. America also launched the Indo Pacific strategy framework with the aim to refocus America's Asia policy following China's ascendance to power and regional security developments.
As US-China relations hit rock bottom, US-Taiwan relations reached new heights during the Trump presidency. Removing past 'self imposed restrictions' and developing ties with Taipei beyond political rhetoric, US' traditional stance of one-China policy has repeatedly come into question by Beijing since President Trump took office. When Trump and President Tsai Ing Wen had telephonic conversation after former's presidential victory, America bypassed a longstanding diplomatic protocol. Even though later White House agreed to abide by one-China policy, President Trump succeeded in raising doubts about America's likely deviation from this policy in the future if relations with China continue to sour. Some of the most important developments in US-Taiwan relations occurred during Trump presidency like: allowing senior officials to visit Taiwan (Taiwan Travel Act of 2018), increased sales of advanced weapons, supporting Taiwan's diplomatic ties with states around the world (Taiwan Allies International Protection and Enhancement Initiative (TAIPEI) Act of 2019) and pushing for Taiwan's greater participation in international organizations & providing stimulus package (Taiwan Assurance Act of 2019).
President Joe Biden continued to build on this momentum by inviting Taiwanese ambassador to the inaugural ceremony. The hopes for any recalibration in US-China relations have been thwarted as officials from the administration have maintained a hard-line approach. Secretary of State Antony Blinken reiterating 'terrible consequences' if China invades Taiwan; maintaining ties with China being the 'biggest geopolitical test' for US and; Deputy Secretary of Defense Kathleen Hicks recognizing China as a 'pacing challenge for the US military' paints the seriousness with which Washington has embraced the reality of great power competition.
In the face of China's overwhelming number of reserve forces and modernized military apparatus, Taiwan's weak tactical abilities have been a point of concern for the US. Over various administrations, America has been sending small batches of troops as low-key exchanges to prepare the island nation. However, as Chinese air and maritime activities in the region near Taiwan have exponentially increased, U.S has sent special operations and marine unit to train the Taiwanese forces in an effort to heighten their defense capabilities. The precedence of sending special operation troops has been set by President Trump, which has been sustained by President Biden.
Impetus for US Support of Taiwan
As a symbolic gesture, President Biden sent a delegation of former security and foreign officials from Bush and Obama administration to Taiwan to reaffirm American commitment to the island nation as Ukraine crisis intensified. The flurry of diplomatic exchanges between US and Taiwan in the weeks after Russian invasion of Ukraine prompts at the graveness of Taipei's security needs, China's political clarity on this matter and America's determination to maintain status quo. As early as 2021 when reports of a possible Russian invasion were being discussed in policy circles, the Biden administration was quick to re-emphasize American 'vow to protect Taiwan' even though officially US remains committed to the policy of strategic ambiguity. The similarities between Ukraine and Taiwan's geopolitical situation are quite a few. Both the states have powerful neighbors with nuclear capabilities, share history with Russia and `China respectively, incline towards the West (specifically the US), have adopted democracy from past few decades and have developed a unique national identity. However, geopolitically their significance in American Grand strategy vastly differs. There are primarily four factors that have led to greater attention on Taiwan over various US administrations.
First, Asia is the priority region for the US, especially since the Obama administration. The pivot to Asia, rebalance to Asia and the Indo-Pacific strategy are recent American efforts to streamline their focus on affairs of the region. The latest Indo Pacific strategy report states US determination to strengthen 'long term commitment' towards Asia and maintaining security interests across the region including Taiwan straits. Even though Europe and transatlantic ties remain critical, Asia remains the region of significance for the US foreign policy.
Second, the US-Taiwan Relations Act of 1979 has been the raison d'etre for America's approach towards Taiwan. This has been fundamental in initiating legislative and executive decision making on Taipei, which includes defense and economic issues. The act has been the guiding principle behind America's resistance 'to force or other forms of coercion that would jeopardize the security, or social or economic system, of the people of Taiwan'. Taiwan Relations Act makes Taipei an exception, unlike Kyiv.
Third, supporting Taiwan is closely associated to the American alliance structure in Asia. American presence in East Asia through military alliances has been critical in maintaining balance of power, especially amidst the rise of China as region's hegemonic power. The US role of being a security guarantor persists more than ever for the stability of the region. Therefore, American compromise on Taiwan's security could gravely impact the psychology of alliance framework with allies like Japan and South Korea, detrimental for US influence in Asia.
And lastly, Taiwan's transformation from an authoritarian regime into a thriving democracy with a distinct national identity has made the possibility for reunification more complicated. The island nation has undergone alterations in political identification and cultural orientation from past few decades as majority of the public associates to a Taiwan centered identity in comparison to dual identity of being Chinese and Taiwanese. The severity of democratic recession and the onslaught of authoritarian regimes across the globe with Ukraine as the latest victim highlights the American stakes vis-à-vis Taiwan. In this regard, President Biden's decision to invite Taiwan at the Summit of Democracy in 2021 is a step towards Taiwan's greater integration in international community.
Conclusion
Hypothetically, if and when the reunification of China and Taiwan happens, the political path adopted by both the parties would matter more to America than its power of influence over Taipei. The greater the probability of China using military means to reunify the two states and in process violating the hallmarks of international norms and values exist, the closer this matter would feature in the ambit of US national priorities. As US and China have embarked towards a perilous phase in bilateral relations, the spillover of their rivalry and divergence of opinion on critical issues will persist. Even though the scenario of America sending troops to Taiwan in the wake of a possible Chinese invasion remains slim or at least debatable, the strategic value of this crisis would reign supreme for White House while making critical decisions. Losing Taiwan to China via coercion would considerably extinguish America's quest to repair its image abroad and its ability to maintain a rules based order in the Indo Pacific. Henceforth, considering that China is the 'only country with the economic, diplomatic, military, and technological power to seriously challenge the stable and open international system' Taiwan matter has carved a distinct position in US' larger foreign policy calculations.
China's neighboring Countries Dialogue on Afghanistan: Driven by the fear of US-EU alliance on the Ukraine Crisis?
In March this year, China hosted third summit of Afghanistan's neighbours' foreign ministers. Ministers or senior representatives of seven countries Iran, Pakistan, Russia, Tajikistan, Turkmenistan and Uzbekistan attended the meeting. Alongside of the summit, China also initiated a new dialogue called "Neighboring Countries of Afghanistan Plus Afghanistan" Foreign Ministers' Dialogue", where Foreign Ministers and delegates from member states of the mechanism for coordination and cooperation among Afghanistan's neighbouring countries, as well as Afghan Interim Government Acting Foreign Minister Amir Khan Muttaqi, attended the meeting. Sheikh Mohammed bin Abdulrahman Al Thani, Qatar's Deputy Prime Minister and Foreign Minister, and Retno Marsudi, Indonesia's Foreign Minister, attended the meeting as guests. Those summit could be considered as a part of China's summit diplomacy in Central Asia. In order to bolster China's presence in the regional order, China often engages itself with multilateral regional summits. By holding the summit on Afghanistan, China shows its willingness to play the leading role Afghan Crisis, followed by the US withdrawal. China's interest in Afghanistan is diverse, ranging from domestic security concern to economic and regional interest. The timing of this summit however also suggests that China is eager to show its concerns for international crises as the country has faced unprecedented criticism due to its close association with Russia and its position over Ukraine Crisis.
China's Neighborhood Dialogue and Impact of Ukraine Crisis: Sovereignty in Afghanistan but not in Ukraine
Even if the Chinese side would not recognize it openly, the Ukraine Conflict and the strong alliance between the US and Europe over the crisis appeared to threaten China. China's international image is damaged on the global stage when the international community debates China's position on Ukraine and criticizes China for siding with Russia. The conflict in Ukraine has forced China to consider what role it should play. When it comes to external invasion or humanitarian intervention to protect the citizens of any such country in need, such as African countries with civil wars, Myanmar, and Afghanistan, the Chinese government, which always plays the "state-sovereignty" card in any internal crisis of states, did not have that option in the Ukraine Crisis. China's official position on Ukraine, which was released on February 26th, stated that "all states' (including Ukraine's) sovereignty and territorial integrity should be respected and protected according to the UN Charter," however China's statement contradicts itself.
If China truly means what it claims in its statement, which is to defend Ukraine's sovereignty, it must likewise reject Russia's invasion of Ukraine. Although Chinese diplomats at the United Nations avoided using the word "state sovereignty," it should be noted that during the early stages of the Ukraine Crisis, China's ambassador to Ukraine stated that China respected Ukraine's independence and territorial integrity. However, with statements like "China opposes the invocation of UN Charter Chapter VII that authorises the use of force and sanctions in United Nations Security Council (UNSC) resolutions, but believes that the UNSC should play a constructive role in resolving the Ukraine issue," China's questionable attitude toward the concept of state sovereignty is evident.
China's diplomacy, particularly with developing countries, is heavily reliant on "image-building." With the Ukraine crisis, it is more crucial than ever for China to be on the good side of at least some of those countries. Chinese policymakers are already wary about the Quad and Pacific alliance's potential impact on China in the near future. With the exception of India, the Ukraine crisis appears to have brought quad members closer together. Wang Yi's unexpected visit to India and invitation to Indian Prime Minister Narendra Modi to join the BRICS meeting could be considered as an opportunity for Beijing to enlist India's support, as both countries remain neutral on Ukraine. China is likewise anxious about the US-EU alliance. There were no joint announcements or specific agreements struck during the recent EU-China conference. Since last year, when the EU imposed sanctions on China due to the human rights situation in Xinjiang, China has had a tumultuous relationship with the EU. During the summit, the EU also urged China to refrain from assisting Russia, which might undermine Western sanctions against Moscow. China's trade blockade against Lithuania for having a Taiwanese representative office has heightened tensions between China and the European Union. As a result, China is concerned that if the EU aligns more closely with the US, China's trade relationship with the EU, as well as large projects such as the Belt and Road Initiative, will be jeopardized. The EU is China's largest trading partner and most EU countries are part of BRI.
Thus, the best bet for Chinese policymakers right now is to shift the conversation elsewhere, where China can also condemn the West, particularly the United States, for its "misdoings." The US sanctions on Afghanistan have been denounced by China as ruthless misappropriation of Afghan assets. Besides, the scholarly and foreign policy circles of the West and particularly Japan and Taiwan, are debating if the Ukraine War will repeat itself in the Taiwan Strait. The pressure on China to maintain its status as a "responsible power" is paramount. Thus, with statements such as "we should urge the international community not to neglect the Afghan issue while focusing on the Ukraine issue, and continue to increase input in Afghanistan to help the Afghan people tide over the difficulties" coming from Chinese Foreign Minister Wang Yi is not a surprise. It is also the possible reason of Wang Yi's sudden Afghanistan visit and the need for organising or launching yet another dialogue on "Afghanistan "Neighbouring Countries of Afghanistan Plus Afghanistan" Foreign Ministers' Dialogue". It is significant to note that the neighbouring countries of Afghanistan attended the dialogue are silent on human rights conditions of Uyghurs in Xinjiang, despite being members of organization of Islamic Co-operation (OIC).