"And we are here as on a darkling plain, Swept by confused alarms of struggle and flight,Where ignorant armies clash by night". -Matthew Arnold, Dover Beach

With the evident expansion of Trump-induced instabilities around the world (most recently in Syria, Iran, Turkey, Ukraine and North Korea), a recurring word on scholarly minds is "chaos." Going forward, however, such usage will need to become more conspicuously nuanced and intellectually precise. Or to clarify:
In world politics, anarchy is an old story.
Chaos is not.
But what, exactly, are the noteworthy differences?
In part, at least, a correct answer must be determinedly jurisprudential. Under modern international law, system wide anarchy was first formally instituted at the Treaty of Westphalia. Back in 1648, by the end of the Thirty Years' War (the last of the major religious wars sparked by the Reformation), a decentralized system of world politics had been expressly codified. Thereafter, a so-called "balance of power" became the ritualistically dominant template of all national foreign policy behaviors. Concurrently, it became the dominant national objective in almost any "game of nations."
Still, this balance is "so called" because it was (and remains ) a simplifying fiction; intangible, non-measurable and quite plainly unrealizable. In essence, it offers intellectually-unambitious statesmen and politicians a convenient slight-of-hand metaphor, and, correspondingly, a ready pretext for virtually all manner of manipulative foreign policy interventions. Ironically, over time, this alleged goal has triggered repeated systemic breakdowns,[1] and also fostered an effectively permanent global imbalance.
Under international treaty law, language is always of signal importance. Accordingly, the terms of this seventeenth-century Treaty call, inter alia, for "a just equilibrium of power." War avoidance is never actually mentioned in the document. Significantly, in world law, aggressive war was never properly criminalized until the much later Pact of Paris (aka Kellogg-Briand Pact) of 1928.
What do we now have left of this treaty-based international regime? Basically, we can now preserve only the crumbling architecture of what Irish poet William Butler Yeats (The Second Coming) had termed "mere anarchy." For the most part, some representative forms of chaotic disintegration are visibly underway in the Middle East, and also in Africa, Asia and assorted other places in Europe and South America. In these increasingly dissembling areas, the traditional threat mechanisms of Westphalian anarchy are either decreasingly viable or entirely absent. In several more places than we might care to admit, many already-muted expressions of reason and rationality have already given way to grievously unbridled passions or even to genuine madness.
War and genocide are now often mutually reinforcing rather than mutually exclusive.
Nowadays, there no longer remains any plausible pretext of system-wide national searches for "balance." To some extent, the more traditionally "normal" calculations of equilibrium have already been rendered infeasible or inconceivable because of nuclear weapons proliferation. In these ominous cases, individual states have become unable to decipher or delineate any usable measures of balance with other pertinent states.
Though the concept may still sound pleasing or reassuring, there is no ascertainable "balance of power" in world politics.
None at all.
Derivatively, international law will not adequately save the United States or any other state or alliance of states. Following US President Donald Trump's unilateral termination of the INF Treaty with Russia, and with the very serious follow-on prospect of a Trump abrogation of the US-Russia INF (Intermediate Nuclear Forces) Treaty, further nuclear proliferation is virtually assured. In quick succession, especially if accompanied by expectedly deficient plans for national command and control among the new nuclear powers, once "unthinkable" weapons could very quickly become "thinkable."
What then?
In the past several years, portentously, US President Donald Trump has mused openly about nuclear weapons as rational instruments of war – and not just as passive elements of essential national deterrence.
There is more. There are also various foreseeable interactions between individual catastrophic harms, so-called synergies that could make the overriding risks of any looming global nuclear chaos still more pressing. Immediately, these interactions must be taken into suitable analytic account. Under no circumstances should an American president ever choose to disregard such complex interactions simply because they are too daunting, confusing or bewildering.
Mr. Trump's expressed decisional priorities notwithstanding, the best way to deal with an expanding global chaos is not by "attitude," but by "preparation."[2]
For Israel, a country smaller than Lake Michigan, the dangers of Trump's latest policies concerning Syria are especially great and prospectively sui generis. Facing not only an expanding nuclear threat from Iran (a consequence in part, of Trump's earlier US withdrawal from the JCPOA Iran Pact of 2015), but also the general regional disorder occasioned by an American president's sudden capitulations to Syria, Turkey and Russia, Israel could soon find itself with active adversaries on several simultaneous fronts. These adversaries could be assorted sub-state Jihadist enemies (e.g., a reconstituted ISIS) and include even state-sub state "hybrids."
Whatever the actual configuration of meaningful foes, Israel could then be face-to-face with a genuinely unique species of chaos.
The evident portent of any Middle East chaos – here we may point most convincingly to Syria, Iran, Saudi Arabia, Turkey and perhaps even Pakistan – would be accelerated or enlarged by enemy irrationality. If, for example, Israel should sometime have to face a Jihadist adversary that would value certain presumed religious expectations more highly than its own physical survival, the tiny country's core deterrent posture could be undermined or immobilized. Among other things, any such paralysis of Israeli military power could signify a heightened threat of nuclear war.[3]
Some further clarifications are necessary. In world politics, irrationality is never the same as madness. More precisely, an irrational adversary is one that could sometime value certain goals more highly than its own national self-preservation. A mad adversary, however, would display absolutely no preferred ordering of goals or values. It follows, plausibly, at least from the standpoint of maintaining successful Israeli deterrence, that facing enemy irrationality would be "better" than facing enemy madness.
Realistically, however, any such analytic choice is unavailable. Whether Israel, the United States or any other state shall capably confront irrationality, madness, neither, or both, is not up to national decision-makers to determine. These possible outcomes are literally undeterminable.
"The blood-dimmed tide is loosed," prophesied the poet Yeats, "and everywhere the ceremony of innocence is drowned." Now, assembled in almost two hundred tribal armed camps known as states, all peoples coexist insecurely on a mercilessly fractionated planet. Ultimately, to reveal a more palpable understanding of where all are heading, we may conjure up the particularly nightmarish circumstances of William Golding's Lord of the Flies. On such a fearfully sorrowful landscape, the traditional playbook of nations would likely shift ominously from Sun-Tzu and Clausewitz to De Sade and Dostoyevsky.
Summing up succinctly, our historic world system anarchy has now become more unstable than ever before. While this declension of global order owes largely to a growing fusion of chaos with leadership irrationality and/or apocalyptic weaponry, it is also the result of America's newly incoherent foreign policy. Led by a president who takes his own historical illiteracy as a distinct asset, as a badge of pride, the United States can no longer be assumed to represent a stabilizing force in world politics.
Quite the contrary.
What should we expect? In time, with no longer any pretext of a "just equilibrium of power," there will be no safety in arms, no rescue by political authority, no reassuring answers from science or technology. Even though we humans had seemingly become "civilized" over time, new wars could rage until every once-sturdy flower of culture had been trampled and all things human had been decimated or leveled. Then, civilization, unless rescued by presently still-unforeseen remedies, would perish in relentlessly paroxysmal quakes of primordial disintegration.
What shall we do to avoid such an unspeakable chaos? How shall such unbearable circumstances best be averted? Before answering, we much all first acknowledge something markedly counter-intuitive: Chaos and anarchy actually represent opposite points of a single global continuum. Though counter-intuitive, they are essentially opposite conditions of world politics.
"Mere" anarchy, or the absence of central world authority, has always been "normal." Chaos, however, is anything but normal. Rather, it is fully "abnormal."
Since the seventeenth century, our anarchic world can best be described as a system. What happens in any one part of this ungoverned world can affect what happens in some or all of the other parts. Whenever deterioration is marked, and begins to spread from one nation-state to another, the corollary effects can undermine all previously existing infrastructures of "balance."
When this deterioration is rapid and catastrophic, as would be the case following the start of any unconventional war or unconventional terrorism, the effects would be immediate and overwhelming. These particular effects would be chaotic.
Aware that even an incremental collapse of remaining world authority structures would impact its few remaining friends as well as its growing cadre of enemies, leaders of the United States will sometime need to advance lamentably plausible premonitions of collapse. The sole point of this distressing task would be to chart more appropriately durable paths to national security and survival. Soon, and in partial consequence of certain Trump-generated policy fantasies, Americans could need to consider how best to respond to life in a more progressively unmanageable state of chaos.
In the context of classical political philosophy, this would resemble the "state of nature" famously described in the seventeenth-century by Thomas Hobbes' Leviathan, a condition wherein the life of every person could be "solitary, poor, nasty, brutish and short."
Already, largely because of current US presidential unpreparedness and shortsighted White House manipulations, we are at the sobering brink of this particular condition of "nature."
Or to meaningfully recall certain oft-recited stanzas of poet Matthew Arnold, "….we are here as on a darkling plain."

---
[1] For the most part, these breakdowns could be classified in authoritative law as recognizable "aggressions."
[2] When arriving in Singapore for his first summit with North Korean leader Kim Jung Un, the American president stated that what would prove most important at the meeting was "not preparation, but attitude."
[3] In 2003, Professor Louis René Beres served as Chair of Project Daniel for PM Sharon in Israel (Iranian nuclear weapons).
Addressing the infodemic should be the key priority of a Biden administration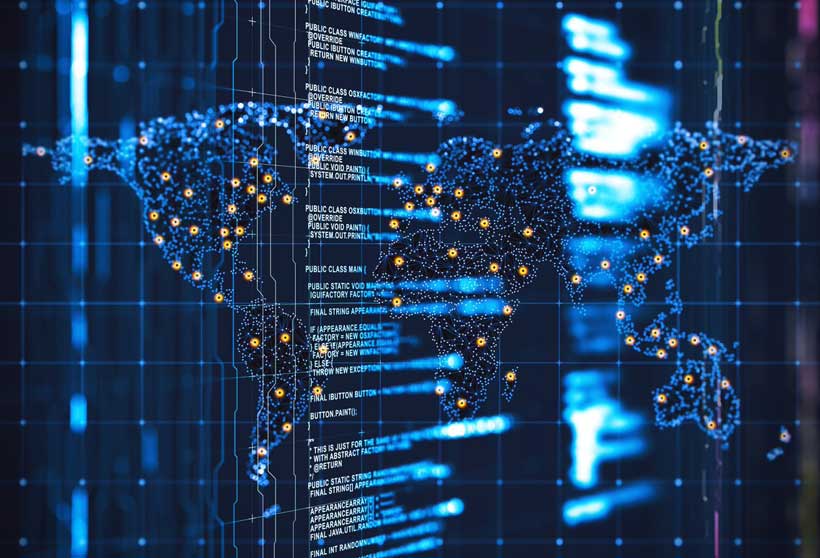 The 2020 election underlined the growing tribalism in the United States with many seeing it as a referendum on the soul, identity, and future of the United States.
One reason for the growing divisions is that Americans increasingly self-segregate, living in communities that reinforce their political, social, religious, and philosophical views facilitating the growth of visceral political anger. Consequently, everything is political and personal and compromises virtually impossible.
The election and the result highlighted that millions of Americans, despite plenty of factual evidence to the contrary, hold views not based on empirical evidence. Millions believe the 2020 election was neither free nor fair and that Democrats support globalist cabals, child-trafficking, paedophilia rings.
The tribalism is most visible in the way many Americans respond to the Covid-19 pandemic with 76% of Republicans and GOP-leaning independents asserting the US had done a good job dealing with the coronavirus outbreak, even though the virus continues to run rampant across the country. Despite plenty of evidence to the contrary around 29% believe Covid-19 is an intentional bioweapon, others believe Bill Gates had planned the pandemic or that 5G technology is responsible for the outbreak.
Without tackling the infodemic, a Biden administration would struggle because proponents of disinformation (the intentional spreading of untruths) and adherent of misinformation (belief in untruth) have increasingly moved from the fringe to the centre.
A study from the Cornell Alliance for Science identified President Trump has the world's biggest disseminator of COVID-19 misinformation. It is therefore unsurprising that so many Americans question not only the root of the pandemic but how to combat it. Consequently, many doubts any information that does not come from Donald Trump, especially as many of his supporters look at life in a binary way, of either full support or full resistance.
Soon after being declared winner, Joe Biden announced the establishment of a COVID-19 advisory board composed of public health experts, whose role would be to aid in coordinating the response to the pandemic. However, relying on science is problematic as the hyper-politicisation has meant many Americans mistrust scientific findings, holding it to be equally biased.
Beyond a highly partisan Congress, which is likely to stall many of Biden's policies, the administration would need to grapple with President Trump's judicial legacy. President Trump not only appointed three Supreme Court justices thus altering the political leaning of the court, but he reversed the trend of promoting diversity. For example, in 1977, the judiciary was predominantly white and male, but successive presidents worked hard to bring forth minorities onto the bench to reflect the nature of American society. President Trump's nominees could end up slowing down or torpedoing an ambitious, reformist agenda. Challenging the legitimacy of the courts would only add to the growing division, especially as studies indicate that over 60 percent of Americans have faith in the judicial branch.
Joe Biden is uniquely suited to address many of these challenges. Firstly, his age may be an advantage; he has lived through many changes, and he can rely on those experiences as he reaches out to people. He has blue-collar roots, and the fact that he attended a non-Ivy League university would appeal to many Americans suspicious of the elites. His religious commitment gives him a unique ability to speak to many of President Trump's religious supporters; he just needs to find the tone.
Biden's principal task should be to use to White House pulpit to speak with people, connect with them, and persuade them to abandon their hyper-partisanship. He should reject President Trump's usage of executive orders, regulatory discretion particularly when things will get tough, such as Senate refusing to confirm his nominees. As an experienced bridge-builder, he must spend more time speaking with people, bringing them to the Oval Office to persuade them to support empirically-test policies. Reminding opponents, he secured the support of over 80 million Americans.
The Biden administration will also face many demands from Progressive claiming they worked very hard to get Biden elected. They will argue, with merit, that having a moderate agenda, one designed to win over moderate Republicans and Independents is a betrayal. However, Biden emphasises his goal is to heal America, to bring an element of stability. To pacify the Progressive, he must emphasise he is overseeing a transitional administration, designed to restore civility and unity and lay the foundation for Kamla Harris.
Reversing the infodemic would take time as it calls for healing divisions and encouraging many Americans to abandon many strongly held ideas, which requires empathy. Joe Biden has the skills to do bring about positive change, and for the sake of many Americans and the world, we must hope that he succeeds.
Fakhrizadeh's Assassination Could Endangers Biden's Diplomacy
The international political situation heats up, especially in the Middle East, after the killing of Iran's leading nuclear scientist, Mohsen Fakhrizadeh. Apart from Mohsen, several other Iranian nuclear scientists have also been killed in the past decade.
Mohsen was attacked in eastern Tehran on Friday (27/11). He was ambushed by an armed group and the target of a Nissan car explosion before a gun battle broke out. He was rushed to the hospital, but his life could not be helped.
Iranian political and military officials have blamed Israel and US as the masterminds behind Mohsen's assassination and attack. Iran's Supreme Leader, Ayatollah Ali Khamenei, called for retaliation for Mohsen's death. Iranian President Hassan Rouhani also said he would retaliate and appoint Israel as the mastermind behind the attack.
Iran and Hezbollah are currently said to be targeting Israelis and Jews around the world. Places owned by Israel and Jews will be the main targets of their retaliation for Mohsen's death. Israel is also raising its guard. The Israeli government is reportedly on standby and is tightening the security of its embassies around the world. Jewish communities around the world are also asked to be on high alert. The Israeli military has also increased its vigilance along the country's borders.
What is interesting is that the US secretly deployed the USS Nimitz aircraft carrier to the Arabian Gulf region last Wednesday. Although US Navy Fifth Fleet Spokesperson, Rebecca Rebarich, denied the movement of the fleet was unrelated to Mohsen's assassination, the international public interpreted the aircraft carrier in order to anticipate the escalation of threats that might arise after the murder case.
There is not much information about Mohsen. Mohsen is the head of the research and innovation organization at the Iranian Ministry of Defense. He's the main figure behind Iran's secret nuclear development.
In April 2018, PM Netanyahu mentioned Mohsen's name when uncovering a nuclear file which he said had been smuggled by Israeli agents from Iran. He named Mohsen as the head of a secret nuclear project called the Amad Project.
In its 2011 report, the UN nuclear weapons watchdog also identified Mohsen as the mastermind behind Iran's nuclear technology. He was considered to have the ability to do so and at that time it was suspected that he still had an important role in these activities.
Mohsen's assassination is certain to provoke a new confrontation between Iran and its enemies, including the United States and Israel, in the final weeks of Donald Trump's presidency.
Mohsen's assassination is considered as the culmination of the US and Israel's strategic plan to sabotage Iran's nuclear program. In fact, various parties consider Mohsen's killing to be the culmination of Israel's long-term plan.
Mohsen has long been the target of several Israeli prime ministers as well as several directors of the Mossad spy agency. This murder was also predicted to aim at uprooting Iran as a country of nuclear knowledge.
However, some international observers have speculated that the main purpose of the assassination was actually to obstruct the US administration in the era of President-elect Joe Biden who will dialogue to find a diplomatic solution to end the conflict with Iran.
What's more, President Biden has expressed his intention to re-enter the 2015 nuclear deal with Tehran, which has been largely devastated since President Donald Trump left the deal in 2018.
Statement from Amos Yadlin, former head of Israel's military intelligence and head of the Institute for National Security Studies (INSS). Amos said whoever makes the decision to assassinate Mohsen should know that there are still 55 days left in which the White House has someone who sees the Iranian threat as they do. In fact, Amos says Biden is a different story. Amos' statement certainly points to President Trump who is still in power in the White House.
Biden's victory: An Opportunity for Transatlantic Reconciliation after Trump and Brexit?
Joe Biden's victory Last November came at a critical point during the Brexit negotiations between The European Union and the United Kingdom. There has been a lot of speculation as to whether a change in the American presidency will substantially affect the talks between Europe and Britain. Realistically speaking, the effect the Democrats' victory in the US will have, at least on Brexit talks before the end of this year, will be minimal.
On a positive note, now that Donald Trump has been defeated, this leaves very little room for the UK to use the threat of a quicker and better deal with the US to try to subdue the EU and make them accept a more pro British agenda. The UK has no longer the US is an alternative to fall back onto if no deal is the result of the negotiations by December 31st.
Since the 2016 British referendum, the decision to leave the EU was enthusiastically greeted by Donald Trump. In very simplistic terms, Trump saw The British "Yes" vote as an act that vaguely resembled his campaign slogan "Let's Make America Great Again." The long standing, more loyal foreign policy ally of the US in Europe, was slowly showing signs to move away from the multilateralism Donald Trump greatly despised.
Ever since the outcome of the Brexit referendum became official, Donald Trump voiced his strong support for the UK to pursue a hard Brexit, and even enticed the British government with the prospect of a robust trade deal between the US and the UK, to convince the UK to drop out of the EU without a deal. In reality, none of those big American promises ever materialised. From 2016 to 2020, Donald Trump did absolutely nothing to support the UK. Biden's victory last November, makes any past promises made by Trump impossible to fulfil.
Biden will, in principle, follow a diametrically opposed foreign policy to Trump's. He sees the EU, and not the UK, ask the key actor that will help him advance American interests in the European continent. While there have been mutual expressions of willingness to strengthen the relationship between the Americans and the British, Joe Biden has always been skeptical of Brexit, and has made it clear from the start that one of his priorities in foreign policy will be to rebuild the relationship with the EU rather than pursuing a trade deal with the UK.
Ideally, should the UK try to have some sort of leverage to negotiate with the incoming American administration, they need to aim to strike a workable deal between with the EU before the end of this year. That, however, seems unlikely to happen. From an American perspective, it is highly probable that the Biden's administration will not prioritise any UK-US trade deal in the foreseeable future. There is a strong possibility that Joe Biden will focus on domestic and close neighbours (Canada and Mexico) Issues during his first year in the presidency.
While this is understandable, considering the legacy of the Trump, Biden also has to be careful enough to avoid the temptation to play hardball with the UK because of Brexit. If he does, this could prove to be a fatal mistake with long lasting consequences, specially in a moment when the West is struggling with its own internal weaknesses and the rise of external threats to its unity.
One aspect that both Europe and the US have to acknowledge is that the importance of the UK goes beyond striking a trade deal with the EU. Looking at the rise of more geographically widespread authoritarian and antidemocratic pressures from central, Eastern Europe, China and Russia, the UK is still plays an important role on the continent's security. Talks on further cooperation on how the EU and the UK will cooperate on foreign and security policy once the transition period ends on 31st of December 2020 have not yet been held. The UK, unfortunately, is likely to remain a crucial partner on such topics especially due to its role as a prominent and active member of NATO, and therefore, talks on this issues should not be left unaddressed.
The UK is aware of its importance militarily, and this explains the £24.1 billion investment announced by the UK Prime Minister, Boris Johnson, this year. This is the largest investment since the end of the Cold War and it aims to modernise the armed forces, as well as to expand the Royal Navy to turn it into the largest fleet in Europe.
This move will enhance the UK's status as Europe's leading military power. The UK has also been among the first respondents to recent security crisis in Ukraine and Belarus. Not engaging with the UK altogether in security and foreign policy issues may prove to be detrimental in the long run for the security in the EU, especially considering the rising tensions and instability in the Ring of Fire, from Belarus to Ukraine, Kyrgyzstan and Nagorno-Karabakh.
The EU's Common Security and Defence Policy (CSDP) and the Common Foreign and Security Policy (CFSP) allow for intergovernmental cooperation, this means that states can pursue their own policies and coordinate them only when they align with the EU's. The CSDP also allows EU member states to intervene when NATO as an alliance chooses not to. To date, there are 17 of such interventions, in all of these, the UK has been the biggest contributor.
Security is an area of opportunity for Europe and the US, Biden could potentially push for the Europeans to grant the UK an observer role in the Political and Security Committee, or the Foreign Policy Council to advance a common security and foreign policy for the region that wouldn't only benefit Europe, but also the US interests in the wider European area.
Recently, the UK has been an advocate of what is called a "Global Britain" that echoes the times of the great British Empire's prominence as a global player. How this will be achieved is still unclear. This grand strategy may fare impossible under current economic and political conditions in the UK and in the world, as well as with the uncertainty surrounding the future relationship of the UK with its neighbours after Brexit.
Anything can happen, the UK could pursue a close, special relationship with Europe where cooperation is prioritised, or there could be a more profound break between the two, where the UK sets its own agenda against the EU's. For decades, the terms Europe and the EU have been used interchangeably. Now that one of the major European players is out of the organisation, both sides have not yet worked out how the future relationship will be. If it continues to be antagonistic this could send the whole continent into a spiral of chaos, reduced capabilities an increased volatility.