The 2nd China International Import Expo (CIIE) will be held in Shanghai, China from November 5th to 10th. Iran will participate in Country Exhibition, Business Exhibition and Hongqiao International Economic Forum (HIEF). Here, I would like to introduce the CIIE to Iranian friends.
The 1st CIIE achieved great success. On November 5th to 10th, 2018, the first CIIE was successfully held in Shanghai, China, with a profound influence around the world. First, the scale of the exhibition was large. Covering a total area of 300,000 square meters, 172 countries and international organizations participated, and 3,617 overseas companies took part in the exhibition, fully reflecting the strong appeal of the Chinese market. Second, the level of the exhibition was high. More than 220 of the world's top 500 companies participated in the exhibition, and more than 300 new products and technologies were first released. Third, the result of the exhibition was rewarding. More than 800,000 exhibitors and purchasers attended the conference, concluding contracts over US$57.8 billion.
During the 1st HIEF, Chinese President Xi Jinping attended the opening ceremony and delivered a keynote speech. More than 30 foreign heads of states and international organizations delivered speeches and more than 4,500 delegates attended the forum. The Country Exhibition covered all five continents, including developed countries, developing countries and least developed countries. The Country Exhibition pavilions had different styles, highlighting their own characteristics, and making full use of high-tech means and diverse forms to display their unique regional culture and distinct advantageous industries, including goods trade, service trade, industrial development, investment, tourism and specialty.
The second CIIE is quite worth expecting. Namely, its scale will be even larger. The exhibition area has increased from 300,000 to 330,000 square meters. More than 170 countries, international organizations, over 3,000 exhibitors and 400,000 purchasers have signed up for the exhibition. There will be more than 200 supporting and facilitating activities, such as interpretation of economy policies, release of research reports, international cultural exchange, corporate promotion, as well as sellers and buyers' matching negotiations. Its quality will be further upgraded. The exhibitors are more diversified. The number of companies in the world's top 500 and leading industrial enterprises exceeds that of the first CIIE, and there will be even more visitors and international purchasers. Professional, high-quality, cutting-edge and featured exhibits will be more concentrated and the quality will be further improved. Its innovation will be much stronger. This year, for the first time, the CIIE news release platform will be set up. The Chinese ministries and local governments will jointly interpret important policies. International organizations and research institutions will release annual reports and industrial reports respectively. The CIIE will continue to be chosen as an ideal platform by participating companies to launch their products and technologies, the number of which is expected to overpass last year's. Innovative exhibition forms such as quality life, technology life, and artificial intelligence will give participants a first-class experience.
As a major feature and highlight of the CIIE this year, there will be more than 60 countries participating in the Country Exhibition, covering an area of about 30,000 square meters. The theme of HIEF this year is "Openness, Innovation, Cooperation, and Win-win". More than 50 important speakers from political, business and academic fields including WTO Director-general, UNCTAD Secretary-general, Nobel laureate in economics and leaders of global top 500 enterprises, will jointly explore the new trend of global economic development, share their views and insights on meeting new challenges, overcoming difficulties, and finding ways for further developing globe economy in the new era.
The open and cooperative CIIE will never end. The CIIE was first initiated, planned, deployed, and promoted by President Xi Jinping in person. As an event to be held on an annual basis, the CIIE will feature good performance, good results and continued success in the years to come. Adhering to the global governance concept of extensive consultation, joint contribution and shared benefits, the CIIE welcomes countries to share China's development dividends. It provides new opportunities for countries to expand exports to China, but also develop trade relations with third countries. It builds a new platform for countries to demonstrate national development achievements and to explore global economic and trade issues. It injects new impetus to global trade and world economic growth. Upholding the spirit of openness and cooperation, the CIIE is not a China's solo show, but rather a chorus of countries of all over the world. Working together with the international community, China is willing to develop the CIIE into an effective channel for the goods, technologies and services from the world to enter the Chinese market, an open and cooperative platform for countries around the world to strengthen cooperation and exchanges and conduct international trade, an international public product to promote economic globalization. China is willing to make joint efforts with the world to construct an open world economy, build a community with a shared future for mankind, and facilitate better development of global trade and world economy.
I believe that Iranian companies participating in this year's CIIE will be warmly welcomed with the world-famous Persian carpets, saffron, handicrafts and etc…The Iran Country Exhibition High-Tech Pavilion will open a new window for China and other countries as well to perceive and further understand Iran's technological strength and advanced products with its featured products in the fields of IT, energy, environment, nano, biology and health. As an important hub along the Silk Road , Iran's voice and view will be heard at HIEF and spread to the rest of the world.
Here, I wish CIIE a gorgeous chorus of the integrated world economy and having a long-lasting profound impact of the world.
From our partner Tehran Times
Is Russia Rich or Wealthy?
Authors: Apurva Sanghi and Glenn-Marie Lange Vedemosti (Russia)
Which would you rather be: rich or wealthy? And what exactly is the difference?
Being rich is related to your regular paycheck: the monthly income you receive from your employer or your business. The fatter the paycheck, the richer you are. Being wealthy, on the other hand, is the value of all your assets: how much you have in savings in your bank account, your house, your car, and so on. The more of these assets you have, the wealthier you are.
Now you can be rich without being wealthy. But that will not be sustainable if you do not keep adding to your stock of assets. So, your economic well-being is a function of both your income and wealth.
What applies to you as an individual applies to a nation as well. Focusing only on national income, i.e. GDP, can be misleading. Wars or disasters increase GDP because reconstruction counts towards GDP, but this is in an accounting sense. Common-sense tell us they do not improve welfare of those affected. Yet policymakers and economists are obsessed with GDP. Perhaps it is because GDP is a relatively easy thing to measure. In our latest semi-annual report, we upgrade Russia's growth numbers (1.2% for 2019, 1.6% and 1.8% for 2020 and 2021), which no doubt will generate much public attention but as mentioned above, can be misleading. Changes in income need to be complemented with a measure that captures changes in wealth. But how do you measure the wealth of a nation – especially one as large and diverse as Russia?
Our report aims to answer the question: "How wealthy is Russia" by measuring, for the first time, the country's wealth from 2000–2017. The analysis comprehensively measures four types of assets:
Produced capital: Russia's buildings, bridges and infrastructure;
Human capital: the cumulative experience, knowledge and skills of Russians;
Natural capital: the lakes, forests, soil, air, water, oil and gas from which Russians derive a range of services;
Foreign capital: the net value of overseas assets owned by Russia.
The good news is that the typical Russian citizen was 1.8 times wealthier in 2017 than in 2000, with accumulated wealth of about 9 million rubles (or approximately US$ 153,000). The bad news is that this is only about a quarter of the wealth of a typical resident in member countries of the Organization for Economic Co-operation and Development (OECD).
Here is another question: which of the above four wealth components do you think comprises the largest share of overall wealth in Russia? It is not foreign capital; Russia simply does not own that many assets overseas. Is it natural capital? After all, Russia is blessed with abundant natural resources appropriately captured by the song in the famous 1936 Soviet film Circus: "Wide is my Motherland, Of her many forests, fields, and rivers!… From Moscow to the borders, From the southern mountains to the northern sea." Or is it physical capital? From the shiny skyscrapers of Moscow to all the infrastructure spread around the world's largest country — this surely must add up to a lot?
Well, the answer is neither of the above: rather, it is human capital – the cumulative experience, knowledge and skills of Russians – that comprises almost half of all Russia's wealth, only then followed by physical capital (about a third), and natural capital (about a fifth). However, in comparison, the wealth composition of OECD countries on average is 70 percent human capital, 28 percent produced capital, 3 percent natural capital, and minus 1 percent net foreign assets (Figure 1).
Figure 1: Human capital comprises the largest share of wealth in Russia, but this is much lower than the OECD average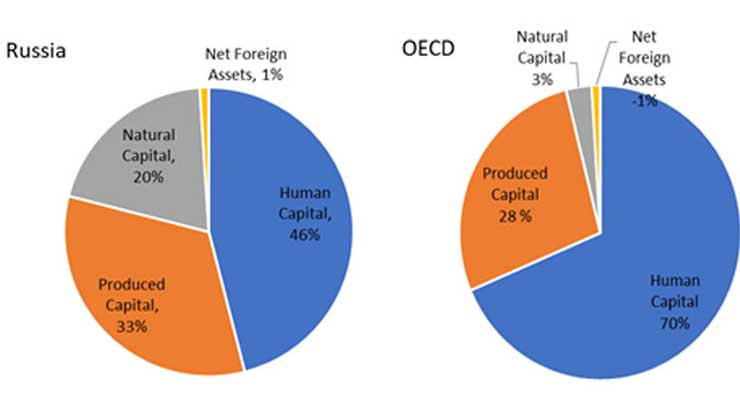 Here again, there is good news and bad news. The good news is that during 2000–2017, Russia's per capita human capital grew massively at 80 percent, dwarfing growth in OECD countries and other commodity exporters. The bad news is that average annual growth has slowed from 4.7 percent in the 2000–2010 period to 1.8 percent during 2010–2017. Indeed, at this slower rate of 1.8 percent, it would take Russia almost 100 years to catch up with the OECD average. For Russia to grow wealthier, the policy focus is clear: increase both the returns to and share of human capital wealth.
Increasing returns to human capital, especially in education, ranges from improving the quality of vocational and college education throughout Russia's regions to improving the 3 Cs of softer skills of Russian students: creativity, collaboration, and communication. One puzzle is why Russia's human capital proportion of its total wealth (46 percent), is significantly lower than OECD's (70 percent). After all, Russia's education performance appears to be even better than the OECD's in certain areas. For example, the proportion of the labor force with university degrees is higher in Russia than the OECD. And the quality of education as measured by certain global standardized tests is on par with the OECD. One possible explanation is that Russians are simply not earning adequate returns on their education.
Increasing the share of human capital would require a decrease in the share of something else. A good candidate for Russia would be natural capital; specifically, oil and gas related assets, which remain a significant part of Russia's wealth. Russia's large share of carbon-based wealth faces increased risk due to future price uncertainty and large-scale attempts at global decarbonization. Additionally, better managing Russia's forests is an immediate priority and can also enhance Russia's role as an "ecological donor" to the planet. As a rough estimate, Russia's forests provide annual absorption of about 640 million tons of CO2 equivalent or around 30,000 billion rubles (over US$ 500 billion) over their lifetime.
After all, nothing lasts forever, so this abundance needs to be sustainably managed if Russia is indeed to be more than just a rich tale. Otherwise pursuing riches without building wealth would be a bit like building mansions on a foundation of sand.
On Monopolies: From Standard Oil to Google and Amazon
One of the very first investigative journalists, Ida Tarbell, went after the "throttling hand" of Standard Oil and John D. Rockefeller. By 1880, his company owned 90 percent of US oil, its transport and its sale.
Writing a series of articles over a two-year period, Tarbell's expose led to a Supreme Court ruling in 1911 ordering the dissolution of Standard Oil — so massive, it was broken up into 34 corporations.
John D. Rockefeller who called the journalist Miss Tar Barrel — echoes of Donald Trump here — was the country's first billionaire. If he spent his later years giving away much of his fortune to found universities and fund research, he had been in his younger days a ruthless competitor.
Monopolies controlling markets can set prices to their own liking. They can raise them to increase income or cut them to stifle competition. In effect, they are interfering with the free market forces so ardently espoused by University of Chicago economists. On this issue conservatives and liberals have common ground, but the question is what to do with monopolies. There is break-up and there is regulation.
Utilities are regulated but if one has been exposed to utility bills in many parts of the country, one has to wonder how well. The renowned economist George Stigler in a landmark study covering 60 years of electricity regulation (1900-1960), in regions with varying degrees of regulatory oversight, found the differences in prices to be negligible. The finding surprised economists, and it, added to Stigler's enormous output, garnered him a Nobel Prize, the Nobel citation specifically noting the work.
If monopolies damage free-markets, there is an issue staring us in the face today: the digital colossi Google, Facebook and the aptly named Amazon. Then there is Apple with an iPhone monopoly. The market has been unable to check their increasing power.
The University of Chicago's Stigler Center for the Study of the Economy and the State has recently cast its gaze on the issue. A Stigler Center group headed by Yale economist Fiona Scott Morton analyzed the market structure of these digital behemoths. And last May she delivered its recommendation to the US Senate as part of a hearing on digital advertising and competition policy.
It is an interesting case because far from extracting high prices from a hapless public, two of the firms offer their products/services free, the third prides itself on the cheapest prices, at-home shopping and convenient delivery. Apple is a more conventional case holding sway over about 45 percent of cell phone users in the US through proprietary hardware and software.
In such a diverse environment what could the study group come up with but a regulatory body, a digital authority to regulate the industry — and a supreme irony given the major research finding of regulatory ineffectiveness from the man (George Stigler) whose name heads the Center shepherding their effort. Other economists also have been skeptical calling it the wrong tool to address a nonexistent problem. Yet the problem is not difficult to see.
There is a chilling nature to these websites and platforms as they follow your surfing, offering ads, purchase suggestions, other sites of interest, a looming presence behind your right shoulder.  Something is not quite right when so much power is concentrated in so few corporations.  Forget the invisible hand of free markets, there is an invisible hand guiding your clicking finger. 
Author's Note:  This article first appeared on Counterpunch.org
The agreement between International World Group and National Ocean Technology Center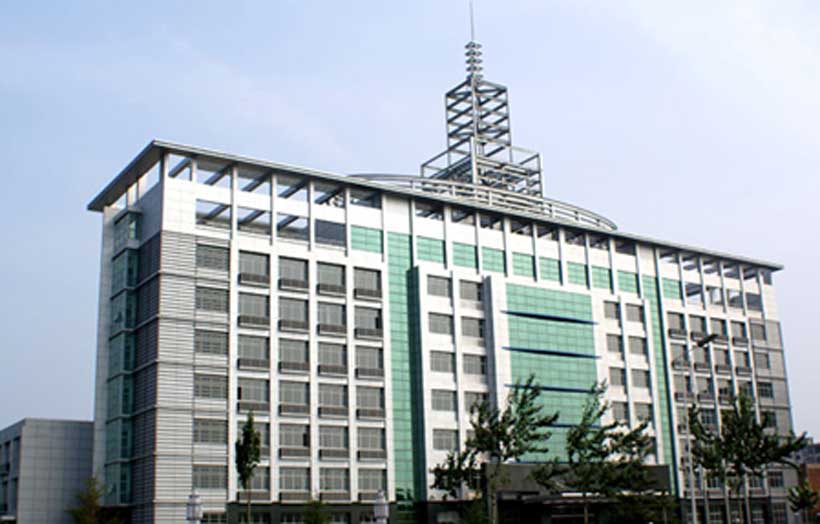 International World Group (IWG), the new and already well- established company founded by Giancarlo Elia Valori has signed a very important Agreement with China's National Ocean Technology Center (NOTC). This is the result of the great attention that President Xi Jinping and his Minister of Energy Resources, Lu Hao – leading a vast and powerful Department that brings together six previous Ministries – have always paid to the environmental and green transformation of the entire Chinese economy.
This is the President Xi Jinping's policy line, which goes hand in hand with the project that acts as the nervous system of this policy line, namely the New Silk Road.
Abundant and clean energy, as well as expansion, in a win- win logic, to make the great expansion of the future Chinese economy outside its natural borders possible and economically rational.
So outlined, the Agreement between the IWG and the Chinese National Ocean Technology Center seems to be yet another important business news, which hits the headlines of the most important global business media.
Indeed, this agreement is much more than that.
The Rome-based IWG led by President Valori has long been operating as one of the most important companies in the transfer of renewable energy technologies.
In this case, the cutting-edge technologies concern the energy produced by the waves and tides of the Chinese marine system.
It should be considered that currently 40% of the world's population already lives within 100 kilometres from the sea and the great oceans.
If we study the issue with the mathematical model called Simulating Waves Nearshore (SWAN), we can see that for the South Pacific coasts this model predicts the possible existence of energy hotspots, every 5 kilometers from the shores and with depths of no more than 22 meters.
This means that every ocean, and especially the Pacific, has a stable overabundance of energy that can be extracted from waves, currents and tides.
The sea kinetic energy, inevitably cyclical and eternal for geographical reasons and for the cycle of terrestrial and cosmic motions, is divided into four main categories of "extraction", if we can still use this word.
Electric currents are extracted with energy converters, or with energy extractors from tides, but also with thermal converters, and finally with new technologies, which mainly use the differences in the salt gradient between sea and inland waters. In general terms, with all these technologies over 7,550 Gigawatts can be extracted throughout the world by the end of 2050 without causing any environmental damage.
That is already a lot.
It is also a quantity already higher than the maximum peak of the current US energy consumption.
Interestingly, with sea renewable energy, we can save over 5 trillion tons of CO2 in the atmosphere.
In Ravenna, Italy, ENI has already started to operate the Inertial Sea Waves Converter (ISWEC), designed to extract at least 50 GW from the sea cyclic movements.
Again in Italy, a joint venture is underway between ENI, Cassa Depositi e Prestiti, TERNA and Fincantieri for the construction of sea energy production systems, but on an industrial and mass level.
With the agreement reached between IWG and the Chinese NOCT we are going far beyond.
The Nanjing-based research company is at the forefront in optimising energy structures and in analysing the ecological and production aspects of the new sea energy extraction stations.
In Europe, and especially in Italy, we have already invented energy and marine technologies that could be very interesting for the Chinese people.
Italy, together with Scandinavia, is a European and global leader in this field of research and applications.
Moreover, in the EU, these technologies will already be economically profitable by the end of 2050, i.e. in the near future.
Great Britain, for example, has a tidal energy potential of at least 18 TWh, which is an excellent level, while currently in Italy 18.3% of energy consumption is already "green", with a rather good share of renewables from the sea, i.e. 11%, but in 2020.
Chinese scientists think that China can extract as many as 8.2 GW, especially from the Zhoushan Islands and the Province of Zhejiang, without undermining the coastal environmental balance.
However, there are over fifty global projects currently operational for the world's extraction of electricity from tidal energy.
In Europe, in principle, almost all countries are shifting towards the technology of horizontal axis turbines, which is the sea parallel of wind turbines.
There are also the "Point Absorbers", which use the vertical wave motion and, as a class of advanced generators, we have the oscillating wave surge converters. Finally there are the attenuators, i.e. floating systems that operate with special pumps inside them.
There is also a small structure, developed by the University of Pisa, which consists of a device placed on the bottom of the sea and a mobile system that follows the wave cycle.
We have many fully submerged latest generation converters, or systems consisting of a moving mass that, connected to a generator, is installed inside a hull, to acquire the energy from pitching and rolling movements.
We also have at our disposal the technologies that operate through the hydrogen electrolysis, an Italian pilot-project that currently uses a 500 KW similar system, already anchored in the Strait of Messina.
In Italy the areas already covered by energy from the sea movement cycle – however, only partly – are already quite large.
They stretch from the cities in the Marches Region, now electrified with a 24% share of energy from marine motion, to the Umbria Region, which is landlocked, and the area in the Province of La Spezia.
The production cost of tidal energy is the lowest among similar costs in the field of renewable energy.
The equipment depreciation cost is often lower than the cost of wind or solar energy.
Normally, the generator is placed on a floating surface, which is connected by cables to the bottom of the sea.
There are five buoys connected to the cables, which contain electrical systems and advanced sensors to connect to as many as four turbines, which operate just below sea level. Low environmental invasiveness is a typical feature of all these technologies.
In addition to full renewability, this is what really matters.
We should also recall the actions taken by the China National Renewable Energy Center, together with the International Renewable Energy Agency (IRENA), for the 30-year programme aimed at completely eliminating the energy carbon production in the Zhangjiakou area.
In China, in 2018, there was a large investment to the tune of 79 RMB for just two demonstration systems of energy from the sea cycle.
There was also the reaction of an energy structure using desalination, which was installed on the Wanshan Island, using the technology called Sharp Eagle, i.e. a semi- submersible system that can be anchored or submerged to produce tidal energy.
In the case of Wanshan, it is a 36-metre system with a width of 24 metres and a 16-metre high wave converter.
All this shows that it is a powerful structure of about 120 kW, but extremely manageable and with very little environmental impact.
It dates back to 2015, but it is completely autonomous for energy production and distribution.
With a view to improving sea energy production, the European universities and, above all, the one in Turin, with which we have long been cooperating, have identified three optimisation lines of action: a) turbines that work in both directions of the currents induced by tides; b) turbines installed under floats, but without exposing the machines to storms; c) turbines attached to cables, as it was designed for the devices and equipment in the Strait of Messina.
There are even completely new concepts in the design phase, such as the possibility of exploiting the energy from currents by means of rubber "eel-shaped structures", which produce electricity from their wave motion, or systems which imitate, under water, the sails or the fish fins, thus optimizing electricity production also in this case.
There are also mechanisms that exploit the energy from the waves hitting a concrete barrier, so as to pump air that moves a turbine and produces electricity.
Such an experiment, already in operation in the port of
Civitavecchia, seems to be working very well.
Dimemo, a wave impact energy production system in the port of Naples, also works very well.
We also have new membranes of polymers that produce electricity bending upon the thrust of waves, or of tubes that are compressed at the bottom by the passage of sea motions.
A pendulum, designed by the University of Turin, has long been operational, which moves a generator, oscillating together with the waves.
We also need to recall the "H24" designed by the Pisan mathematician Michele Grassi, which operates on depths between 6 and 12 meters.
The waves move a parallelepiped, which is connected to an alternator.
Already tested in front of Marina di Pisa in 2015, it was perfected by the company of Grassi himself.
There is also a problem with the energy absorption of transport networks, an issue in which we are particularly interested and in relation to which we can develop innovative and effective projects.
Hence, with this MoU we establish a first, but fundamental, relationship between China and International World Group, together with some remarkable sovereign funds, to improve energy production, the environment, health and the economy of the whole China. It is a great source of pride for us.