"Strategically brilliant" sellout: Trump's betrayal of the Kurds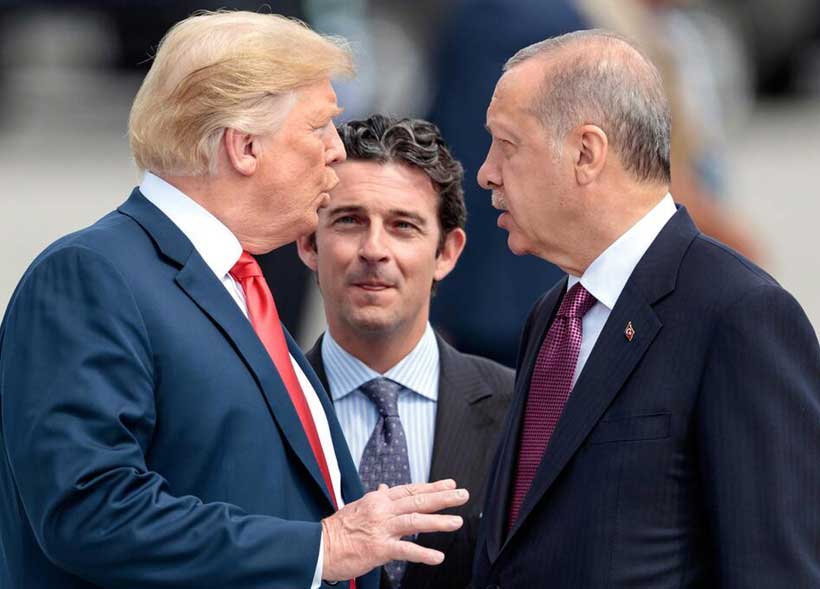 "At last the world knows America as the savior of the world!" —U.S. president Woodrow Wilson
Turkey invaded the Syrian Arab Republic on October 9 following a U.S. pullout. The U.S. Congress has started an impeachment inquiry of Donald Trump, who apparently gave the green light for the Turkish invasion. The U.S. president's lawyer, Rudy Giuliani, was accused of operating a "shadow shakedown" operation against Ukraine's president and lobbying for a Turkish bank indicted for evading U.S. sanctions against Iran. Meanwhile, his secretary of state was pontificating on being a Christian leader who holds himself to a "high set of standards."
Three days after Trump's announcement of a U.S. troop withdrawal from Syria, Turkish President Recep Tayyip Erdogan ordered Turkish forces to enter the country to neutralize the Kurdish People's Defense Units (YPK "terrorists") and stabilize the border zone. Placing his bipolar affliction on full display, Trump has alternated between praise for the Turkish leader's actions and threats to bring down the Turkish economy. "I view the situation on the Turkish border with Syria to be, for the United States, strategically brilliant," he exuded, claiming, "Syria is protecting the Kurds." Earlier, he had stated that he was "fully prepared to swiftly destroy Turkey's economy if Turkish leaders continue down this dangerous and destructive path."
In his executive order issued October 14, Trump specifically wrote that Turkey's assault "undermines the campaign to defeat the Islamic State of Iraq and Syria or ISIS," and "constitutes an unusual and extraordinary threat to the national security and foreign policy of the United States." As a consequence, Trump has declared a national emergency, and authorized sanctions against any "current or former official of the Government of Turkey." Moreover, the order contains broad language that appears to go well beyond sanctions on Turkey and its officials by sanctioning any "foreign person" who is found by the U.S. secretary of state to have been complicit in obstructing or preventing a "political solution to the conflict in Syria."
Minimizing the abrupt abandonment of his Kurdish ally, Trump quipped, "Anyone who wants to assist Syria in protecting the Kurds is good with me, whether it is Russia, China, or Napoleon Bonaparte." U.S. House of Representatives Speaker Nancy Pelosi criticized Trump's impetuous act, noting, "His erratic decision-making is threatening lives, risking regional security and undermining America's credibility in the world." South Carolina Republican Senator Lindsey Graham, perpetually a Trump lapdog, predictably supported his master after some initial squeamish protests categorizing the troop withdrawal as "shortsighted," ?irresponsible" and "unnerving to its core."
Turkey's actions in Syria present a conundrum for the United States. As a NATO member with an estimated 435,000 troops, the largest contingent of military personnel in the organization outside of the U.S., Turkey is not a country with which Washington can trifle. Erdo?an is a powerful leader and a man of action, as opposed to his American counterpart who is a blowhard full of bluff, bravado, and bluster, but who backpedals and vacillates when confronted by a hardened, politically savvy opponent. By holding U.S, nuclear weapons, about fifty B61 gravity atomic bombs, at Incirlik hostage, Erdo?an effectively has called Trump's bluff of sanctions "devastating to Turkey's economy," leaving the latter little choice but to send his vice president and secretary of state to do damage control on behalf of the NATO alliance.
Off the record, a U.S. defense official has conceded that the U.S. nukes at Incirlik "were now essentially Erdogan's hostages," but to remove them from there would not only be a politically ticklish endeavor but also would almost certainly mean the end of the U.S.-Turkey alliance and possibly, even NATO itself. In addition, with its possession of the precise grid coordinates of former U.S., and now Kurdish, positions in Syria, Turkey has the upper hand in this act of unilateral aggression and demonstrated as much when Turkish artillery shells "bracketed" a U.S. commando outpost near Kobani on October 4, detonating about 300 meters away on either side. There is deep symbolism in this Turkish shelling of the U.S. outpost; Kobani was the first success by the U.S.-backed Kurdish forces in routing ISIS from their territory.
One aspect of the Turkish incursion into Syria, which may appeal to Trump's demonstrated racist tendencies, is the inherent ethnic cleansing bound to occur. Erdogan, after failing to topple the government of President Bashar al-Assad, found his country awash in refugees, some 3.6 million ethnic Arabs. His plan for the so-called "safe zone," which his invasion is designed to create by purging the indigenous Kurdish population, is to settle the largely Sunni Arab Syrian refugees in place of the Kurds to form a de facto demilitarized zone, thereby eliminating the threat of cross-border raids by separatists aligned with the Kurdistan Workers Party (PKK). Scattered across Iran, Iraq, Syria, and Turkey, the Kurds form the largest ethnic group in the world without their own country. Erdogan has blatantly threatened the Syrian Kurds, declaring, "If you want to live in Kurdistan, there is a Kurdistan in northern Iraq. Take all the terror lovers with you, clear off and live there."
Along similarly racist lines are Erdogan's threats to flood Europe with refugees, should European leaders fail to go along with his invasion and occupation plans for northern Syria. "If you try to describe our current operation as an occupation, our task will be simple," Erdo? a remarked. "We will open the gates and send 3.6 million refugees your way." While the Turkish leader struck a deal with the EU for a cool €6 billion in 2016 to retain displaced Syrians, pressure has mounted among his supporters to repatriate the refugees following the recession in 2018 and drop in currency value along with double-digit inflation. Erdogan's perspective on immigrants would also appear closely to parallel Trump's.
Another aspect of the Turkish military operation, which also benefits Trump, is that the resulting chaos will divert public attention from the recently initiated congressional investigation into his impeachment. Shortly after Trump's election in 2016, Harvard University professor of international relations Stephen Walt warned that Trump might make "an Erdogan-like attempt to use a terrorist attack or some other equally dramatic event as an excuse to declare a 'state of emergency' and to assume unprecedented executive authority." As noted above, by his executive order dated October 14, 2019, Trump has already declared a state of emergency.
In view of the abandonment of the Kurds by the U.S., not the mention the JCPOA, the "Iran nuclear deal," how could the Islamic Republic of Iran negotiate with such a "partner?" Of the 374 treaties negotiated by the U.S. with indigenous peoples of North America, only one was honored. Although signing on the 1997 Kyoto Protocol, the U.S. has neither ratified nor enforced it. Trump withdrew from the 2015 Paris Climate Accord; Bush II withdrew from the 1998 Rome Statute of the International Criminal Court. The United States is the only nation to have not ratified the 1989 Convention on the Rights of the Child, the 1996 Comprehensive Nuclear-Test-Ban Treaty, the 1997 Mine-Ban Treaty, and over forty other treaties.
Rather than being "the savior of the world," as U.S. President Woodrow Wilson haughtily proclaimed at the Treaty of Versailles after the First World War, the U.S. seems hell-bent on being its scourge. Trump's betrayal of the Kurds not only should give ample evidence of U.S. perfidy, but also should be a lesson for all who fancy themselves as allies of the United States.
From our partner Tehran Times
Juneteenth and Getting Over Our Systemic Induced Ignorance and Denial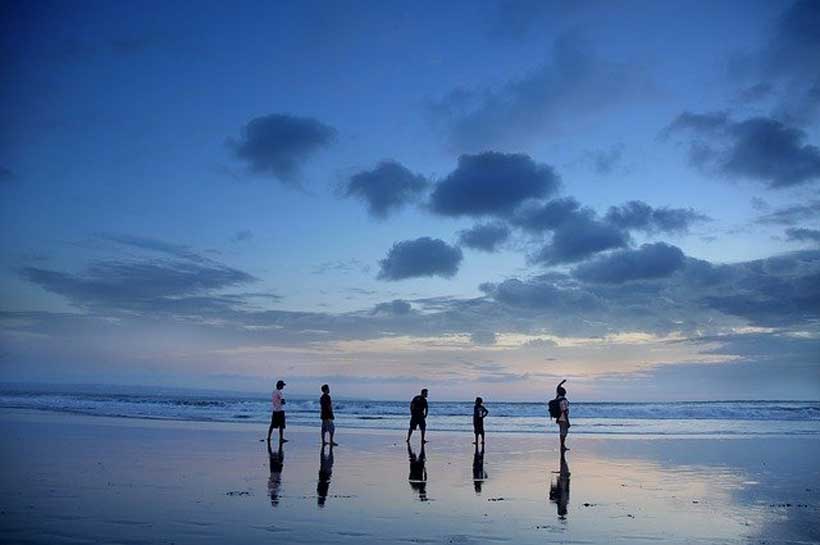 Juneteenth Day after generations of struggle for national recognition with local and statewide celebrations for years here and there,is finally a paid federal holiday as of yesterday. If you are an African American like me who grew up in the North with second generation or more deep southern born parents and/ or in majority white communities or in those northern and west coast communities without deep southern African American migrants particularly from Texas, chances are you never heard about Juneteenth day while growing up. And like me you may not have even heard of the day before in much older age ranges unless you happened to be an expert in or well read in African American history, culture, and politics as an African American or Non-African American.And such African American cultural expertise and literacy is a rarity in a nation which is routinely ignorant of and has denied its horrible enslaved African American history systemically ; which means most of we Americans irrespective of our ancestries have been victimized by systemic induced ignorance and denial by federal and state governments refusing for generations to tell us a truth which has kept us all degraded and dehumanized by a horrible racialized injustice with we as a nation has yet to repent of and authentically do systemic penitence about.
This systemic induced ignorance and denial about African American enslavement has gravely tainted our character as a nation since colonial times and consistently makes our claims to be a democracy the brunt of cruel jokes globally through the generations.It has over time constantly played effectively into the hands of our global allies and foes who then justify their own racialized and cultural prejudices and inequalities.
When not denied, the enslavement of African Americans even today has been publicly portrayed by right wing commentators as being not really all that bad or as a gift to Africans to save us through capture and enslavement from the clutches of what they viewed and still do as the dark continent replete with what their hero formerly in the White House called sh**hole countries.
The seemingly surprising easy Congressional passing of The 2021 Juneteenth National Independence Day Act and its signing by President Biden was not so shocking given the present political climate in a guilt ridden polarized country with a usual gridlock Congress and a President skilled at plucking off the branch low hanging apples and oranges rather than climbing the full height of the tallest trees to get the even more ripe fruit. The passing and signing of the bill came off the backs of scores if not hundreds and thousands mostly African Americans advocating for decades indeed generations for the day to be memorialized as the enslaved African American day of independence from slavery already being celebrated around the country and recognized by 47 states though mostly as unpaid holidays. The problem is on the national level fresh from four years of mainstreaming of white nationalism in electoral and judiciary appointment politics and a hysterical convoluted media about racial issues and in the aftermath of the George Floyd protest we remain very much a rudderless nation without effective restorative justice leadership to lead us to a more just America including all of us. How can we become more just in more than symbolic ways if we allow ourselves to be subjected to the passing of civil rights acts like this one which look good and mean good while we remain a nation in which systemic ignorance and denial of the enslavement of African Americans and their continued enslavement after abolition though under different names and structures such as Jim Crow, chain gangs, cotton tenancy, community massacres, mass incarceration, human trafficking, defunding public education, perpetual urban and rural poverty, street violent prone illegal drugs dumping grounds, loan shark predator communities, ill- health communities,and police brutalized communities with low standards of housing and quality of life services? The tossing of symbolic crumbs of racial justice progress by American governments, businesses, schools, media, faith communities, and nonprofit organizations with no sustainable advances in authentic justice has since the ending of the American Civil War in 1865 been a soroid American public tradition which keeps us twirling in a sewer of societal morass.Consequently , we continue to remain a nation in which we all grow up becoming less than what we all can be collectively and individually because we have buried this horrible crime of humanity which haunts and cripples all of us emotionally, economically, socially,and politically
in ways we systemically are induced to deny and ignore.We therefore don't have the cognitive and socioemotional tools and skills to bring ourselves to admit and authentically reckon with the horrible blight of African American enslavement through genuine though painful restorative justice practices. Restorative justice practices that is to regain our humanity through embracing truly the humanity of others we have been taught from the crib to old age are less than human or more than human due to their ancestry dangerously distorted through the myth making of " race."
It is tempting to say as I started to write that well at least The 2021 Juneteenth National Independence Day Act is a start.But the problem with that almost Freudian slip of a neo- liberal tongue is that we are always saying that about symbols of racial justice in America which usually just stay there " as a start" which go nowhere except on the resumes of politicians and civil rights leaders while no next steps occur to assure genuine sustaining justice occurs. And when I say justice I mean for everyone since when one population is unfree we are all unfree..when one population becomes freed we all become free.
What this means in regards to The 2021 Juneteenth National Independence Day Act is that the Biden-Harris administration as the next step needs to, through Executive Order, mobilize their cabinet secretaries to do the necessary expedited policy designs,declarations, and monitorings to require the agencies and institutions under their jurisdictions with positive incentives to effective policy implementers such as bonuses and promotions to spread public awareness about the atrocious history of the enslavement of African Americans , their legal abolition and their continued enslavement in these post- emancipation eras.It should be stressed that the enslavement of African Americans , legal emancipation, and the continued impacts of enslavement in its different names and structures is not just an African American experience.African American enslavement was and remains a tragic societal experience which negatively impacts every American no matter our ancestral origin when it comes to our mental health, interpersonal relationships, our electoral and appointment politics, and the health of our families,communities, and economies.
So as we move forward with The 2021 Juneteenth National Independence Day Act let us not just assume it is for Black folks only though we all get the day off with pay irrespective of our ancestries and our care or awareness about the significance of the day.
Let us, we the people, insist to the Biden-Harris administration as a means of accountability , that we go beyond mere resume building political posturing since they took the keys and opened a too long closed door we all need to step in as a nation and do the necessary to wake us all from the slumber of induced ignorance of this filthy little secret -the enslavement of African Americans as a crime against humanity and its post- legal emancipation continuation which impacts all of us in need of public exposure and resolution authentically.No more symbolic resume building crumbs and celebrations which lead us down paths to nowhere except filled bellies and perchance hangovers once a holiday is over only to discover when sober again we are all still dehumanized by our systemic induced ignorance and denial of a grave centuries long racialized injustice now in need of total exposure and genuine reckoning for now we can and thus we must.
It is clear why the Russia—U.S. Presidential summit is in the limelight of the world community. In the history of international relations, high-level meetings often become significant events that change the paradigm of bilateral and multilateral contacts. However, this happens when the accompanying factors—necessary for a reverse, revision, or update—mature. Experts agree that the depth of contradictions does not allow us to achieve serious changes. There are opinions that the summit will see an attempt to form some confrontation rules and establish a set of rivalry principles. In my opinion, this should not be expected for a number of reasons that lie in the structure of the contemporary international relations, which is transit in nature. Most likely, the summit will aim to establish personal contacts and tete-a-tete communication, dating in a new capacity.
The Geneva summit of June 16, 2021 has been prepared for a long time and resulted from a telephone conversation between the presidents as well as the subsequent work of the United States and Russian diplomatic services. The Russian-American relations have always been about security, strategic stability, and world order. Bilateral relations are kept to a minimum, and economic cooperation is at its minimum levels. The depth of contradictions regarding regional conflicts does not allow us to expect any serious changes. Theoretically, a successful dialogue can be achieved in those areas that account for similar interests and do not contradict the interpretations of national security. This could be the Iranian, Syrian and Afghan dossiers. In fact, there have never been insurmountable contradictions as regards these issues. In turn, the Ukrainian crisis is viewed by the parties from fundamentally different approaches, with the situation in the Eastern European country seen as the opposite. The conversation here will probably be short, and a compromise will not be found. The issues of strategic stability and arms control also have different interpretations, but at least so far, they have not been fundamental. Perhaps, these are all problems where some understanding could be achieved. In short, the agenda is broad but rather unpromising.
In any case, a meeting is always better than no meeting. The summit being held signals that it is possible and necessary for the United States to deal with Russia. For the new administration, a meeting's necessity is dictated by the diplomatic structures and the need to establish personal contacts. Indeed, today the relations between the two nations cannot be called normal, working and effective. Given the military and geopolitical capabilities of the two countries, this fact itself is fraught with many threats, security dilemmas and conflict potential. A normalization in relations is a necessity, both for bilateral cooperation and for the global system. At the same time, the prospects for finding any common denominators are shallow. Moreover, this is practically impossible and—given the worldview perspectives of two countries—untimely.
The difficulties of normalization, in my opinion, lie in the systemic factor. Actors see the world, processes, practices, and the international relations system in different ways. Looking at the same things, Russia and the United States see them in contrasting ways, which complicates things and any substantive discussion, not to mention setting rules of the game. There is no consensus or compromise in understanding the international relations system, the role of states, IGOs and NGOs. In Russia, they believe that the United States is in decline. America is convinced that Russia is in decline. In Russia, the realist approach is not only dominant but, perhaps, the only acceptable option for the Kremlin, as the geopolitical interpretation of events seems to be the only relevant mindset.
How to avoid conflict, security dilemma and come to normalization? Today, there is probably no answer to this question. Stability requires institutions. This concept is much broader than organizations, fora or conferences. The institutional theory assumes that actors, bound by some common rules, norms and practices, will find a common language more easily, while the potential for conflict will be controlled. For the relations to be institutionalized, the necessary criterion is the legitimacy of recognizing a vis-à-vis as well as its rights, role and equality. This, unfortunately, is absolutely absent in the Russian-American relations.
Russia sees the world as multipolar, regarding itself as a great power—equal to the United States and China. Following this logic, Moscow demands an appropriate attitude and equality. Russia's perspective on global processes reflects the growing influence of non-Western actors outside of liberal multilateralism. Moscow denies the international relations liberal theory in much the same way that the founders of the basic IR theory, Edward Carr and Hans Morgenthau, did. The liberal approach, and hence the vision of the United States, is seen as idealistic. In addition, individual divergences are treated not as exceptions to the rules but as an actual refutation of the theory itself. And the discourse hides real geopolitical goals that have nothing to do with its interpretation.
The dominant schools of international relations in the United States reject realist theory and, more importantly, see it as a problem of the current state in global politics. In addition, geopolitics and its methods are called obsolete. The consensus position believes that realism is refuted, as it fails to catch the zeitgeist of the much broader and more complex world. Consequently, the interpretations, practices, motives and arguments of the Russian side are not taken in at all. Their actions, in turn, are interpreted from the standpoint of critical, liberal approaches and methodologies of the English school. The dominant schools in the U.S. see the issues of national sovereignty, the role of non-state actors and military force differently. Some postulates neutralize the very concept of sovereignty and the main tenets of realism. Regional crises are considered not from the standpoint of security and geopolitics but as something essentially predicted by the dominant schools in the West, namely the desire of some states to become part of the family of democracies.
According to the English School, the United States treats NATO as a community of nations, believing the rhetoric of the alliance should be based on the need for securitization, as is required by the Copenhagen theory. The rhetoric from these points of view is aimed at the epistemological community, fixing the enemy to strengthen unity and security procedures. In Russia, which proceeds from classical realism or neorealism, we tend to think of NATO as of a military-political alliance that defends the geopolitical interests of a bloc of countries rather than of a community of global police officers. Numerous crises in Syria, Iraq, Libya, and Ukraine are seen as attempts by the Atlantic alliance, which seeks hegemony, to expand its sphere of influence. The consequences are extremely negative, as they are deemed to be destabilizing, rooted in irresponsible decisions that ignore the social and regional characteristics of nations. NATO's direct or indirect involvement in crises is seen as a threat that creates numerous security dilemmas. Moscow sees the strengthening of NATO and the United States as a threat to its national interests and security.
The practices, motivations and characteristics of a multipolar, unipolar or bipolar world are fundamentally different. Consequently, looking at the world through the prism of these theoretical interpretations leads to different, often mutually exclusive readings of the same processes. Indeed, the rules of international relations designed in 1945 and updated following the Cold War need to be revised. However, the leading actors are not going to do this yet, which, apparently, is a sign that the critical potential is lacking at this point. Amid unformed transit world order, which is in some cases similar to the Brownian motion, agreeing on rules of confrontation is inherently difficult.
Today, the relations between Russia and the United States are abnormal, irrational, lacking in systemic thinking, clear goal-setting, and acceptable practices. An experienced administration of professionals has come to power in the United States, and the fact that the summit is to be held demonstrates that the dialogue with Moscow is not toxic. Minimalism and the attempt to focus on small things to achieve practical results may well be the most positive scenario of the summit. At the same time, the transit nature of the current international relations system, which seems to be moving from a unipolar to a multipolar world, prevents the parties from understanding, hearing and accepting each other.
The United States as the largest and the most powerful superpower is experiencing a post-hegemony state, as Robert Cohen puts it. It is increasingly at odds with the new pole of power, China. Russia, not being a full-fledged superpower, is limited in its actions and resources, however, reluctant to give in and believing it is in its national interests to nominally keep a distance from the West. Moscow needs to establish fair relations with the global West, of which relations of equality will be the foundation. At the same time, there is no sound alternative to the ideological construction of a transit world order. The rules of confrontation are, in fact, a kind of detente which recognizes the legitimacy of each party's demands. Under the transit era, it will be extremely difficult to arrive at.
From our partner RIAC
Biden: No More "Favourite Dictators"
Former US President Donald Trump shared a strong personal rapport with Turkish President Recep Tayyip Erdogan, Saudi Crown Prince, Mohammed Bin Salman (MBS) and Egyptian President Abdel Fattah Al Sisi. Trump made no bones about the fact, that he got along well with authoritarian leaders – especially in the Middle East. At the G7 Summit in 2019, Trump while looking for Egyptian President had even said, "Where's my favourite dictator?"
Statements made by Biden before taking over as US President
On the other hand, Joe Biden before taking over as US President had repeatedly criticized Erdogan, MBS and Sisi for their poor human rights record, and had unequivocally stated that none of them would have a free pass in a Biden Presidency. Biden had on numerous occasions flagged the dismal Human Rights record of Saudi Arabia, especially MBS' involvement in the murder of Saudi Journalist Jamal Khashoggi, and lashed out at Trump for soft pedaling on the issue because of his personal rapport with MBS. Similarly, in August 2020, Biden had dubbed Erdogan as an 'autocrat' and also expressed the view that the US needed to lend support to opposition parties in Turkey. Biden had also issued a warning to Sisi, saying that there would be "no more blank checks for Trump's 'favourite dictator'."
How President Biden has approached relations with the three leaders
During the Biden Administration, ties with Saudi Arabia have witnessed a change. A report which clearly points to MBS' role in the murder of Saudi journalist Jamal Khashoggi was released (Trump had refused to release this report). The US has withdrawn support for the Saudi war in Yemen, and defence agreements signed between the US and Saudi Arabia, during the Trump Administration have been put on hold. Yet, Biden while sanctioning Saudi officials in connection with the Khashoggi case, in addition to those sanctioned by the Trump administration, refused to impose sanctions on MBS owing to the strategic importance of Saudi Arabia in the Middle East (Saudi support is essential for the revival of the Iran Nuclear Deal/Joint Comprehensive Plan of Action-JCPOA) and the strong US-Saudi relationship. It would be pertinent to point out, that Biden's decision not to impose sanctions on MBS has drawn strong criticism from many including members of his own party.
If one were to look at the case of Turkey in recent months, the Turkish President has himself toned down his Anti-West rhetoric and described his meeting with Biden on the sidelines of the recent NATO Summit as fruitful. While commenting on the meeting with Biden, Erdogan stated that ' We believe there is no problem that cannot be resolved in Turkey-US relations,'
The US President also said, that the meeting with Erdogan was positive and expressed hope that the bilateral relationship would improve in days to come.
While the meeting between Biden and Erdogan was positive, differences between both sides still persist over Turkey's purchase of S400 missiles (the Trump administration had imposed sanctions in its final days and Turkey had also been removed from its F-35 fighter jet program)
Turkey's strategic relevance
Turkey has stated that it is willing to play a role in security in Afghanistan, and guard Kabul airport, after the US troop withdrawal from Afghanistan. The Turkish President did say that Turkey would require diplomatic, logistic and financial support that the United States. The Biden administration's outreach to Turkey indicates that in spite of differences over key issues, Istanbul's potentially important role post the US troop withdrawal from Afghanistan is something, the US will not ignore. Erdogan on his part needs to have a reasonable relationship with US, given the fact that the Turkish economy has slowed down significantly.
If one were to look at the case of Egypt, Egyptian President Abdel Fattah Al-Sisi role in the ceasefire between Israel and Palestine, was acknowledged by the Biden Administration. While the US President during a telephonic conversation hailed Sisi for his 'successful diplomacy' in the Israel-Palestine ceasefire, the Secretary of State Anthony Blinken said:
'We have had in Egypt a real and effective partner in dealing with the violence, bringing it to a close, relatively quickly. And now, we are working closely together to build something positive'
It would be pertinent to point out, that during his telephonic conversation with Sisi, in May 2021, Biden did flag the need for a 'constructive dialogue' on human rights in Egypt
Conclusion
While it is easy to criticise Joe Biden, he has the onerous responsibility of striking a balance between values, which he has repeatedly referred to even after taking over as President, with US interests. Given the complex geopolitics of the Middle East, Biden while refraining from taking steps, which may be counterproductive has flagged his concerns with regard to Human Rights, and sent out a strong message that bilateral relations will be dictated by substance and not mere personal chemistry or optics. At the end of the day it is important not to forget Miles's law — 'where you stand depends upon where you sit'.