An Open Letter to Duke and Duchess of Cambridge
Dear Uncle and Aunty,
Greetings,
This letter comes to you from your Pakistani nephew whom you do not know. I would like to thank you for visiting my motherland. For you it was, "Royal Tour", but for Pakistan, your visit was "the most complex tour" due to security and logistical considerations. According to reports, over 1,000 security personals were used to ensure your safety and protection. I am optimistic, you must have enjoyed five-day trip that covered more than 1,000KM from Islamabad to Lahore, and countryside in the North, and border regions to the West.
Uncle, by God you both are matchless. You both were constantly in breaking-news in Pakistani media and gossips about the dressing sense of Aunty Kate were in prime-time headlines. Undoubtedly, aunty was looking gorgeous in green "Shalwar-Kameez", a traditional style of dress for Pakistani women, which she dressed at "Emperor's Mosque". I am not sure either aunty was informed that her late mother-in-law also visited this Mosque during her trip?
Uncle, I would like to take an opportunity to tell you that one of my ancestors – Mughal Emperor, Aurangzeb built that Mosque in 1673 long-before "The British Raj" on the Indian subcontinent – "Golden Bird" from 1858 to 1947. You should know why my country, sliced away from India, came into being and gained independence. I do not want to talk about bitter history, dim present and shady future! But, I want to show you the other side of picture that you missed during your "Royal Tour".
Believe me, uncle, at its creation, Pakistan inherited the British legacy of a parliamentary system. But, the parliaments (National or Provincials) are only debating and fighting club of elite. Sometimes, elections only commit to reshuffling of the same faces. However, presently Pakistan has a democratic system without democrats and it is hijacked by a small group of feudal lords, political elites, business groups and bureaucrats.
In 2019, Pakistan is facing terrible economic crisis, the economy has slowed down, the Rupee has been devalued, and there has been increase in the rate of inflation. Pakistan is also dealing with a balance of payments crisis, and system is ill-equipped to make changes which would avoid future excessive debt. In the second quarter of 2019, Pakistan had a current account deficit of $3242 Million. Part of Pakistan's financial crisis, global monetary tightening, reduced investor confidence, overvalued exchange rate, increased oil prices, and subdued interest rates have negatively impacted the country's already precarious economic situation.
The world's financial experts recently placed Pakistan on the list of countries that are supposed to face a serious food crisis. One of the basic reasons is soaring price due to gap in demand and supply of edibles. Pakistan is amongst the nations that likely to face food crises due to increasing prices of food commodities. According to a report, 80 million Pakistani are food insecure, while 95 districts face problems such as hunger and malnutrition-related disease. In the same way, 39 percent of Pakistanis live in multidimensional poverty. Pakistan's poverty index revealed that 4 out of 10 citizens live below the poverty line.
Pakistan could "Run Dry" by 2025 as its water shortage is reaching an alarming level. Pakistan is running out of drinkable water, and anticipated that it is likely to suffer a shortage of 31 million acre-feet (MAF). Massive water crisis have brought a new economic burden to citizens and have affected 14.91 million people in city of light – Karachi only. Electricity crisis in Pakistan is also one of the major reasons that hindering the economic growth. Unavailability of power (minimum 6 hours a day load-shedding) is affecting directly or indirectly on every sector of life.
In Pakistan, the most important aspect of well-being is also the most neglected. Pakistan's successive governments – civil and military – have not made health a priority. The overall public health scenario of Pakistan paints a miserable portrait. One child dies every minute due to vaccine-preventable diseases. The infant mortality rate is 66 per 1,000 births; the maternal mortality rate is 170 per 100,000. According to statistics, Pakistan had not been able to control the burden of communicable diseases. Pakistan is one of the three remaining countries where polio is still endemic and ranked fifth on the list of high-burden TB countries. However, we are number one in Men's T20 format of Cricket.
Aunty, Kensington Palace said in a statement, "Access to quality of education, particularly to girls and young women, is one of the UK's top priorities in Pakistan". Undoubtedly, education not only plays important role in building nation's character and makes people responsible citizens, but also considered most powerful instrument, to eradicate poverty and make better socio-economic progress. I am very thankful to Kensington Palace for this concern. Unfortunately, Pakistan is suffering from an extensive education crisis. Millions of Pakistani children do not attend school, and those that do deal with absent teachers and poor learning environment. 63% of government schools are in a dangerous or dilapidated condition and lack basic facilities.
Our great Urdu poet Mirza Ghalib wrote more than a hundred year ago:
"If disgrace after death was to be my fate,
I should have met my end through drowning,
It would have spared me a funeral and no headstone would have marked my last resting place".
Unfortunately, United Nations Development Program (UNDP) recently released report on Human Development Index (HDI); Pakistan was at the 150th place, out of 189 countries. Similarly, Pakistan ranking was 105th on the indicator that measure how much credit a country gets for doing business. Disappointingly, in terms of Human Capital Index (HCI) launched by World Bank, Pakistan falls in the bottom rank due to the low GDP per Capita.
These are more bitter things, but there is a shortage of sugar as-well, or else I would have coated my words appropriately. Uncle, you may be thinking why I am telling you all this? Please grant me permission to answer your concern! We are poor because our country is poor. In our country, how we can spend on people or national development schemes when our money is robbed by the ruling elite? Pakistan is being plundered by corrupt elites and corruption and money laundering have become endemic in the country and its institutions. Here, I would like to draw your attention on Prime Minister of Pakistan Imran Khan's UNGA speech that focused on corruption and money laundering. "Every year billions of dollars leave poor countries and go to rich countries. Billions of dollars siphoned by corrupt politicians to tax havens, expensive properties bought in western capitals. The rich countries must show political will; they cannot allow this flight of capital from poor countries through corruption". The PM also called on developed counties to fight back against tax havens.
Uncle and Aunty, my country is poor, yours is rich and developed. I love my country and I also like your country. But, one thing that I do not like about your country, "UK has become a safe haven for corrupt capital stolen from around the world", according to Transparency International (UK). The corrupt ruling elite must not be allowed to park dirty-money in your country. Uncle, I request you to help my country to retrieve the robbed money from people of Pakistan that is parked in the safe havens of Great Britain, so that we utilize it on development plans of our country and our citizens. I said this all because you are not only wiser, you are also my uncle.
Convey my good wishes to Prince George, Princess Charlotte and Prince Louis. If I have caused you offense, I beg your forgiveness. With the utmost respect! May you both have an amazing life together filled with endless laughter, far more joy than sorrow and a peaceful love.
Your nephew,
Mirza A.A. Baig
(On behalf of citizens of Islamic Republic of Pakistan)
TLP vs Pakistan: A major conundrum
A few days back we have experienced a violent anti-French protest by Tehreek-e-Labaik Pakistan (TLP) that has paralyzed the country. This party which has recently emerged as a powerful force to be reckoned with in Pakistani politics is principally fighting against the Blasphemy case that was reported in France when a school teacher, Smaeul Paty showed caricatures of Prophet (PBUH) to the class. Therefore, it is demanding the boycott of French products, expulsion of the French ambassador, and with recent crackdown the release of TLP leader Saad Rizvi-a 26 years old.
However, to achieve their motives they were seen using violent means like protest with police and supporters clashing in the major cities leading to causality counts, massive injuries, and imprisonment. Pakistani administration has now banned the Hard-line party under anti-Terror law 1997, Section 11(B) on grounds that its actions are prejudicial to the peace and security of country and were meant to imitate the public, causing huge bodily harms to law enforcement agencies and bystanders.
Nevertheless, this protest by TLP that has wreaked havoc in Pakistan has to be analyzed from a critical lens while looking up to the factors that under the shadow are playing a major role in its propagation. There is a need to connect dots because TLP's existence is not new, it has a history, and is time and again used as a "pressure group" by different factions openly or through back channels to achieve their vested interest.
A question arises, why TLP was not taken as a terrorist organization back in the time when the current PTI government used to have engagements with it? Why not PTM and MQM that are posing an existential threat to Pakistan and having connections with the RAW agency as well? Why only TLP has to face the music? Is it for the purpose to get out of the FATF grey list by banning such violent parties to show up for peace, but if it's the case then the move is highly mistaken because considering the image of Pakistan internationally it is more distressing than ever.
Moving further, can we say that both TLP and State are part of the same ship befooling only the public? Or there is another undercover force behind it. Was all the criticism that the PTI government came across for mishandling the protest and not acting swiftly was intentional to point towards the failure of govt and to show the relevance of a particular faction without whom Pakistan can't even deal with a protest?
Therefore, it's important to understand who is acting at the backend of all the chaos as in Pakistan religion is very close to heart that is one of the reasons it is most likely to be exploited by the powerful factions for their interest. For instance, the very purpose of TLP creation by Khadim Rizvi in 2015 was to protect Pakistan's blasphemy law and the finality of the prophet. As this is one of the factors that unites Muslims across the world. It's not for the first time that TLP has shown up in the forms of protest, we did have the same protest in 2018 when Asia Bibi, a Christian woman was involved in blasphemy. At that time TLP had three days major sit-ins in Lahore after the Supreme Court overturned the death sentence awarded to Aasia Bibi by a trial court and upheld by the Lahore High Court, and ordered her release.
Much like this, in Nov 2020 the same protest was headed by Maulana Khadim Rizvi for dismissal of the French envoy. So the problem is with the government's poor handling of the situation. Why it even agreed to remove the French ambassador in the first place, why it pledged to have a resolution sent to National Assemble on 20th April, if that was meant to be broken. Why not it was resolved properly through negotiations at its very beginning and even when they got sight of TLP planning to go for protests across Pakistan, or can we say that it was a deliberate move.
No matter what, it's at the end the image of Pakistan that is under threat. Struggling to deal with a number of domestic issues, TLP emergence is no less than an extra salt for Pakistan. Thus, we need to understand TLP in the context of real and non-time threats that it is and can pose nationally and internationally to Pakistan before things get completely out of hand and where no solution seems likely.
Pointing to some of the most likely threat TLP could pose to Pakistan internationally and nationally. First and foremost, Pakistan that is already struggling to have stable economy, the TLP protestors and their demands like boycotting of French products would be a major challenge for Pakistan. For instance, EU is one of Pakistan's largest export markets worth $6.92 billion (34%) with France alone accounting for 5% of total imports from Pakistan. Not just this, but Pakistan imports from France totaled US $356.05 Million in 2020. Hence with such massive trade going on between two states, cutting ties with France would not mean losing France but the larger European Union that will impact economy. Most recently EU has call for a review on Pakistan's GSP+ Status because of alarming increase in the use of Blasphemy accusations. So the loss of GSP+ status would again mean another loss of $3.5 billion.
Then protests by TLP against France increase likelihood of Pakistan being in the Financial Action Task Force (FATF) grey list for years to come. Having already suffered a loss of almost $38 billion because of being in the Gray list since 2008, in this case when Pakistan FATF decision is scheduled on June, 2021 such violent protests added to the problems.
Moreover, TLP protest has given a clue to Pakistan's enemies that always look up for such opportunities to create instability in Pakistan. Most importantly, India in our neighbors that has time and again used such religious factions for its interests and fund them across the border, so TLP protesters are yet another soft target for India to exploit. Reports too suggested out of 400,000 tweets, 70% were from fake accounts with around 380 Indian groups circulating fake news regarding the civil war in Pakistan.
Not just this, but a major real-time threat came to the government in its dealing with the protestors. As PTI government is already under severe criticism by the public for its poor performance, so in this state of crisis where it failed to tackle the situation timely, it just gives another hint for the current government's incompetency which opposition parties exploited further.
Then the image of Pakistan that is projected internationally with the onset of such violent religious extremist protests by TLP is no less than a threat. Pakistan that is already under havoc for being referred to as a terrorist state, these actions by TLP again projected Pakistan's image as an extremist state which is why France ordered its nationals to leave Pakistan at the earliest possible.
Conclusively, struggling to deal with the economic crisis, internal instability, separatist movements, and political divide, these protests only added to the problems. Therefore, it's time Pakistan should take serious actions against such violent protestors. It has to rethink its policies, has to devise new strategies. Time demands thinking beyond self-interest towards the broader interest of Pakistan.
Possible scenarios in Afghanistan after US withdrawal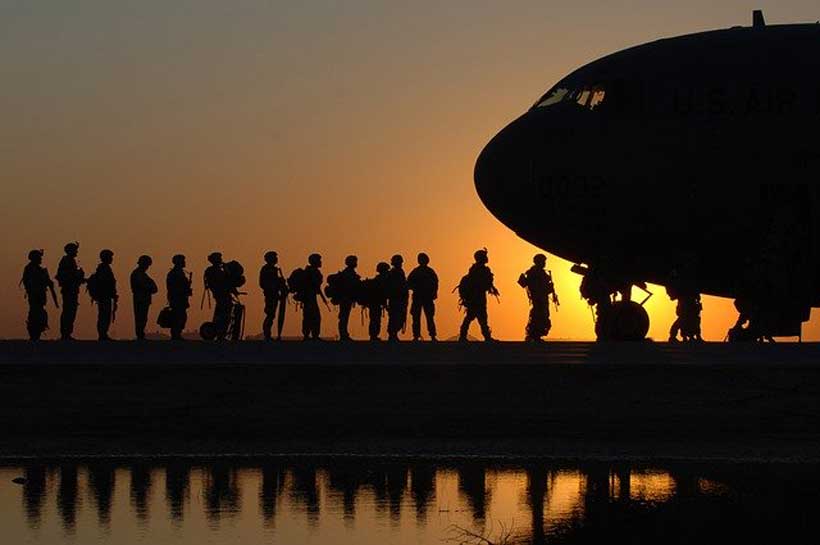 After two decades of U.S. warfare in Afghanistan, President Joe Biden has announced the date for the withdrawal of U.S. troops and ends the longest war. According to him, the United States wills withdrawal its entire military forces from Afghanistan military bases by 9/11/2021. Many Afghanistan politicians do not believe that the U.S. withdraws all of its troops because the central government of Afghanistan does not have adequate preparation after the U.S. withdrawal situation. However, in this article, I will explore the thinkable scenarios in Afghanistan after the U.S. troop's withdrawal? In this study, I will focus on some possible situations in Afghanistan.
First, achieving peace and construction of Afghanistan National Unity Government (ANUG) is the first possible option post-exit of U.S., Now that foreigners have announced they have left the country, there is no reason for conflict. Such a situation will achieve long peace and stability in Afghanistan and the region; this option needs a comprehensive peace, including internal and external players involved in the coming peace process. I look forward to how the Afghan government maintains the balance of power between the Taliban and other political parties; this is very crucial because the imbalance drawback to the collapse of government and Afghanistan will plunge into civil war as we experienced during the Najibullah government as well. In the external arena, the most affirmative scenario is the situation for the regional country will not be worse. The U.S. will continue its support to the Kabul government in the post-exit era. The external stakeholders, particularly China and Russia, are interested in stability and durable peace in Afghanistan through cooperation with the other regional states (Pakistan, India, Iran, and Turkey). The resolution of the Afghanistan issue will guarantee the security of South and Central Asia its vital for China and Russia because of the core threats to China and Russia from Afghanistan terrorist groups activities, its danger for the U.S. as well.
Another significant reason is that Afghanistan is the gateway to the Central Asian States with potentially untapped energy resources. The regional Actors want direct access through Afghanistan to these natural resources to meet their dire energy demands. Because of American military presence in the region, the regional countries, particularly Iran, Pakistan, China, and Russia, felt threatened. They began to oppose and protect their interests connected with Afghanistan's peace and security. The notion is that, in the prolonged presence of the United States, these states that have economic and security interests in Afghanistan would be in danger. China and Afghanistan have several ongoing projects underway, and different transnational actors have sabotaged these projects on several occasions. Likewise, Pakistan has a direct border link with Afghanistan, has several stakes in Afghanistan, and needs access to Central Asia. Pakistan also has concerns about the presence of America. It has also made strong connections with China so that mutual interests could be met by joining hands together.
Similarly, Iran and Russia being strategic partnerships have profound political and economic interests in Afghanistan and arch-rivals of the United States. Both countries have to oppose the actions of the United States and a potential threat for both country's interests in the Afghan mainland and Central Asia. It means the diverging interests in Afghanistan of regional and American interests, politico-military outcomes would in the long term seem not conducive for lasting peace in Afghanistan unless these could have a political consensus on the said diverging interests vis-à-vis Afghanistan internal reconciliation. If all stakeholders involving in the Istanbul negotiation, they could form an ANUG that all have so far required. Agree, this will be the best option to end the war, and such a government will be bringing peace and stability in Afghanistan and the region.
Second, maintain the status quo: U.S. President announced the date of the withdrawal of troops from Afghanistan, reminding that the United States continued its assistance, exceptionally provide large military and financial aid to Afghanistan. It is unclear whether such a promise will be fulfilled; if the U.S. keeps its support, particularly military and financial assistance to Kabul, the Afghan security forces have enough power to maintain the status quo after the U.S. exit. In this case, if the peace talks in the Istanbul conference fail, the Kabul government will survive. The Afghanistan national army will able to fight against the Taliban and other terrorist groups. Let us remember that Dr. Najib's government was still strong in terms of power, defense. Still, the main reason was led to his government downfall are the imbalance between internal control and ethnic divisions. Regarding imbalance, we can see the role of General Dostum. In the beginning, he was a core ally with Najib when he turned to the North alliance because he did not see himself in the power position. The ongoing situations in Afghanistan are similar; the statement should focus on the role of warlords and political parties to maintain the inter balance this significant for the central government to survive. On the other hands, the economic and military support for the Afghanistan government crucial because without external support Afghanistan government cannot survive; if the necessary financial resources for security are not available from external donors at the same times in the government of the internal situation have many challenges such as insurgency, terrorist, ethnicity, corruption, and warlords. The current conditions Afghanistan faces the external and internal threat; the Afghanistan government need to deal with it. In this situation how the Ghani will deal with post-U.S. withdrawal, he has two choices two survive the first; he imbalance with China and Russia because china can help Afghanistan financially and play a significant role to force Pakistan and Taliban as well, this choice very dangerous if he fails cannot survive if he succeeds he will be overcome both threats. The second is to keep its alliance with the U.S. this situation will maintain the status quo but not bring durable peace and stability in Afghanistan.
Third, the collapse of government and going to civil war: after two decades of war, the U.S. shortcut way to bring peace in Afghanistan. Washington tries to face save from withdrawal of Afghanistan. The U.S., represent Khalilzad, has provided a draft Afghanistan Peace Agreement to the Kabul government and Taliban. The core idea is to replace the elected Afghan government with a transnational one that may occur, including Taliban and negotiation between the parties for a future permanent system. At the same time, president Ghani receives a letter from U.S. Secretary of state Blinken saying it was "urgent" to "accelerate peace talks" and move "quickly toward a settlement." The letter also has asked Turkey to host a high-level meeting between the Afghan sides "in the coming weeks to finalize a peace agreement." Suppose the government is to think of independent defense. The Istanbul conference is a good opportunity for the Taliban and Kabul governments to achieve peace; otherwise, the situation will be worse. The current situations are an important opportunity for all different parties, ideologies, groups, and ethnic groups have come together. The unification and arrangement of these products is a complex and arduous task and requires compassion and sacrifice. On the other hand, if the Kabul government delays the negation to remain in power and the Taliban also holds up to returning to power by force, this condition will disintegrate because the ethnic, linguistic, religious, and other divisions turn into armed conflict. In the worst-case scenario, then the 1990s, conflict and war and killing will be restarted, and Afghanistan situations will be worse than Iraq and Syria. In conclusion, this paper argues the future situations of Afghanistan after the U.S. force withdrawal from Afghanistan. During the history of Afghanistan's statement constantly losing in the diplomatic arena in this crucial moment, how the Ghani governments deal with internal and external issues? All Afghanistan people wish the politicians can play a good role and end the forty-year war and move towards prosperity and stability. If the intra-afghan dialog fails, keep the status quo is also good, at least worse government better than no government, for the benefit of the people and the inhabitants of the big cities, as far as it is acceptable. It is like being delivered in an explosion and suicide attack in these twenty years, and so on. But if we go to the civil war and ethnic conflict and alley to alley, people will forget the previous civil war. I hope that will not happen. People are starving for peace and stability. It would be suitable for political leaders to abandon their interests, focus on the national interest, and move toward a peaceful and prosperous Afghanistan.
Afghanistan: the US and NATO withdrawal and future prospects
On April 14, the United States of America announced that it would withdraw all its troops stationed in Afghanistan from May 1 to September 11, 2021. On the same day, NATO also said it would coordinate with the White House military to initiate the withdrawal.
The year 2021 marks the 20th anniversary of the outbreak of war in Afghanistan, a conflict that has actually been going on since the Soviet invasion of that unfortunate country on December 24, 1979.
What are the plans of NATO and the United States? How will the situation in Afghanistan change in the future?
Regarding the US announcement of the deadline for troop withdrawal, Afghan President Ashraf Ghani has said that the Afghan government respects the US government's decision to withdraw its troops by the agreed date.
According to the Associated Press, there were 2,500 US troops in Afghanistan before May 1, far below the peak of over 110,000 in 2011.
According to the websites of the Financial Times and theDeutsche Welle, some ten thousand soldiers from the 36 NATO Member States and other US allies are currently stationed in Afghanistan, including as many as 895 Italian soldiers, as well as 1,300 Germans, 750 Brits, 619 Romanians, 600 Turks, etc.
President Trump's previous Administration signed a peace agreement with the Taliban in Afghanistan in February 2020, setting May 1, 2021 as the deadline for NATO to begin withdrawing from that country. The Washington Post reported that after the current US government issued the withdrawal statement, the Taliban immediately said that if the United States violated the peace agreement and did not withdraw its troops in Afghanistan, the situation would get worse and one of the parties to the agreement would take responsibility for it.
This year is the twentieth since the United States started the war in Afghanistan after the terrorist attacks of September 11, 2001. The war in Afghanistan is the United States' longest overseas war, and has killed over 2,300 US soldiers and wounded some 20,000 people, at a cost of over 1 trillion US dollars.
Although the United States and its allies attacked the Taliban and al-Qaeda, the situation in Afghanistan has been turbulent for a long time, with over a hundred thousand Afghan civilian casualties in the fighting.
According to The New York Times, both Parties' members of the US Congress have differing views on the consequences of withdrawal. According to the newspaper, Republicans and some Democrats believe that the troop withdrawal will encourage the Taliban insurgency, while others believe it is necessary to put an end to this indefinite war.
But what considerations can be made for the US and NATO withdrawal from Afghanistan?
It is well known that the purpose of the United States in taking the war to Afghanistan was a very heavy measure of retaliation against al-Qaeda, which had organised the terrorist attacks of September 11, and against the Taliban regime that protected the top leaders of that terrorist organisation. Although al-Qaeda has not been destroyed, it is unlikely to create similar problems. The United States has achieved its strategic goals and is no longer involved in East Asia's tactics and strategy.
The interests of NATO (considering its individual Member States) in Afghanistan are fewer than those of the United States. As a military alliance with the United States, the achievement of US strategic goals means that NATO's equal strategic goals have also been achieved. Hence, rather than continuing to run the risk of confronting the Taliban and al-Qaeda after US military withdrawals, NATO is more willing to remove the "political burden" as soon as possible.
While announcing the terms of the withdrawal, the White House has stated that the threat of extremist organisations such as Somalia's al-Shabaab and ISIS is spreading globally and it is therefore meaningless to concentrate forces in Afghanistan, with a steady expansion of its military cycle. At the same time, however, the White House has stated that after withdrawal, diplomatic and counter-terrorism mechanisms will be reorganised in Afghanistan to face security challenges. Hence, from the US perspective, there is currently a greater terrorist threat than al-Qaeda and the Taliban.
The prospectsfor advancing the Indo-Pacific regional strategy to oppose China also means that it would be counterproductive for the United States to remain in Afghanistan any longer. Even after the troop withdrawal, there will be insecurity in Afghanistan. That being the case, however, the United States will still find ways and means to support the Afghan regime and the armed forces of the Kabul government.
The Washington Post has also reported statements by a Pentagon official who has stressed that Afghanistan is a landlocked country: consequently, once US and NATO forces withdraw, one of the biggest challenges will be how to effectively monitor and combat extremist organisations and resist threats to US security: at that distance it will be even more difficult without sea landings.
According to Reuters, the CIA predicts that the possibility of a further US-Afghan peace deal is little and has warned that once the United States and its allies withdraw, it will be difficult to stop the Taliban.
The Afghan government forces currently control Kabul and other large cities, but the Taliban are present in more than half of the country's territory and rural areas. In the future, the possibility of a Taliban counter-offensive cannot be ruled out.
Great Britain's The Guardian has commented that the years of war have generally made Afghans feel a strong sense of insecurity and the withdrawal of troops will not bring much comfort to the local population. According to the London-based newspaper, for the United States this is yet another war that cannot be won.
According to experts, there are two extreme possibilities in the future situation in Afghanistan. The excellent situation is the one in which the less extremist wing of the Taliban mediates so that, once the United States withdraws, the Taliban can gradually move from being an extremist organisation to being an internal administrative one and then negotiate with the legitimate government supported by the United Nations: this would mean a long-term peace after forty-two years of war.
Under extremely unfavourable circumstances, instead, the Afghan government forces would overestimate their military strength and intend to continue the war alone against their traditional opponents, at which point peace negotiations between the two sides would break down.
This would mean falling again into a prolonged civil war and into eternal war.