OECD and European Commission join forces to further support structural reforms in European countries
The OECD and the European Commission's Structural Reform Support Service (SRSS) sealed a new agreement today in Paris that will see the OECD provide wide-ranging policy support to advance structural reforms in European countries.
OECD Chief of Staff, Gabriela Ramos, and Director General of the SRSS, Maarten Verwey, concluded an agreement on 34 reform projects, to be conducted over the next 12 to 18 months, in 18 EU countries under the umbrella of the Structural Reform Support Programme of the European Commission.
The OECD SRSS agreement comes at a time of a slowdown in global growth, rising inequalities and higher environmental degradation, which threaten people's well-being. The OECD, with its extensive knowledge base and expertise, is supporting governments to tackle these issues head on and considers the cooperation with the SRSS to be an excellent opportunity to further leverage its expertise to deliver better policies for better lives.
The action will see the OECD working closely with the SRSS to provide policy advice and working directly with governments to advance structural reform in various policy areas, including education, labour markets, tax, governance, environment and transport infrastructure. These projects respond to the reform priorities identified by the respective EU Member States and will for example help governments develop sustainable development strategies, establish frameworks for circular economies, improve housing affordability in cities, or improve the provision of labour market services. The OECD will capitalize on the digital transformation and also deliver on skills strategies. In a nutshell, it will redouble efforts to support European countries, Members and Partners, in their goal to build strong, inclusive and sustainable economies.
The Structural Reform Support Service offers tailor-made support to all EU Member States for the preparation, design and implementation of growth-enhancing reforms. The support is provided on the request of EU Member States, requires no co-financing and mobilises experts from all over Europe and beyond, from both the public and the private sector.
The new OECD – SRSS agreement allows the SRSS to leverage OECD's expertise on best policy practices and structural reforms in the EU Member States. Such co-operation will deliver value added impact, carried out with efficiency, for the benefit of all countries.
ABC news: Xi signals strength in Russia-China alliance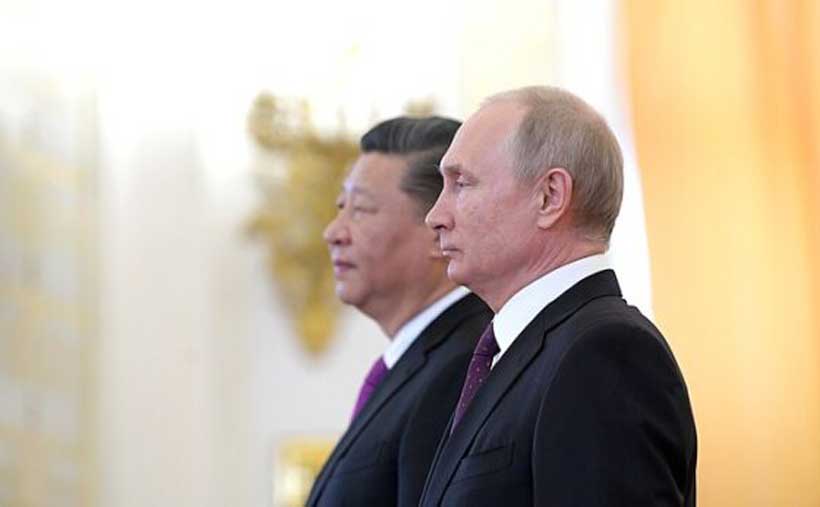 Chinese President Xi Jinping departed Moscow on Wednesday after two days of highly symbolic meetings with Russian President Vladimir Putin, in which the two presented a united front and an alternative vision for global leadership, notes ABCnews.
Despite statements saying that "China-Russia relations are not the kind of military-political alliance during the Cold War," China and Russia made clear they wanted to "advance the trend toward a multi-polar world."
"This highly publicized summit may reflect a shift towards a new and more active role for China, as it seizes the opportunity to convey diplomatic – and possibly tangible – support for Russia and any other state that wishes to defy the West," – Michael Butler, associate professor of political science at Clark University, told ABC News.
Joint animosity towards the U.S.-led world order has kept Russia and China close despite Putin's war in Ukraine and western sanctions against Russia has made China their biggest customer and economic lifeline.
Beijing increasingly sees Russia as necessary ally as China and United States continue to fallout over numerous fronts not limited to Taiwan and access to semiconductors. It was further exasperated by the spy balloon episode earlier this year.
Beijing had initially hoped that the spiraling tensions with the U.S. would abate in the wake of Xi's meeting with President Joe Biden in Bali last November, but as they continued to crater, Xi seems to have re-prioritized Russian relationship. He even aimed a rare direct slight at the United States earlier this month, blaming the Americans for "containment and suppression" as the reasons for China's economic challenges.
Xi highlighted on numerous occasions over the two days of meetings that Russia and China are each other's largest neighbors and that their partnership is "consistent with historical logic and a strategic choice of China."
Petr Pavl: "Ukraine must adjust to dwindling Western support"
"We must consider war weariness", says Czech President Petr Pavl. According to Czech President Petr Pavl, Ukraine must adjust to dwindling Western support. "We have to consider war weariness and what that means for support from Western states. This will pass with time," Pavel told the 'Süddeutsche Zeitung'.
He also mentioned the 2024 US presidential election and the concentration on domestic politics that could then be expected: "If US support decreases, support for a number of European countries will also decrease. Ukraine should take this into account."
Thus, in 2024, Ukraine will probably no longer be able to start any large and complex operations, the new Czech president said. "This year is decisive for the development of the war."
The former general was wary of the prospects of Ukraine joining NATO in the foreseeable future. "Ukraine's path to Europe should run through a faster rapprochement with the European Union and only then with law enforcement agencies," the President said. "I think that's the right order."
WP: The real lesson from the showy Xi-Putin meeting
Pentagon strategists have always divided the world into East and West, with U.S. regional forces under European Command or Indo-Pacific Command. But looking at the embrace of Presidents Xi Jinping and Vladimir Putin this week, you wonder whether we may need a single "Eurasian Command" to handle an integrated threat, writes 'The Washington Post' in a comment.
Xi's rescue strategy for Russia seems to center on a peace plan that would stanch the bleeding in Ukraine. From what we know, Xi proposes a cease-fire agreement… By playing the peacemaker, Xi can position himself better to take other, harsher rescue measures if Ukraine rejects a cease-fire. He could offer ammunition for Russia, arguing he's only leveling the playing field.
He could try to mobilize nations of the Global South, such as India, South Africa and Brazil, to pressure Ukraine to end the fighting. Xi wants to keep the high ground, invoking the sanctity of the United Nations charter even as he affirms his support for the Russian leader who shattered that charter's norms. It's a shameless approach, but smart diplomacy.
Xi's emerging role as the leader of a Eurasian bloc presents dilemmas for U.S. strategists.
For a generation, separating China from Russia was a central goal of U.S. foreign policy. Driving that wedge was a major reason for the historic visit to China in 1972 by President Richard M. Nixon and national security adviser Henry Kissinger.
The Biden administration initially hoped it could try that strategy in reverse — warming relations with Moscow in the June 2021 summit in Geneva in part to concentrate on the Chinese challenge. That didn't work out as the White House hoped, to put it mildly.
Now it's Xi who is the triangulator. He is playing off the bitter split between the United States and Russia, helping Putin.
Xi similarly used China's close relations with Iran to make the diplomatic breakthrough between Riyadh and Tehran that the United States could never achieve, writes WP.