Mandarin Oriental Announces Luxury Hotel in Nanjing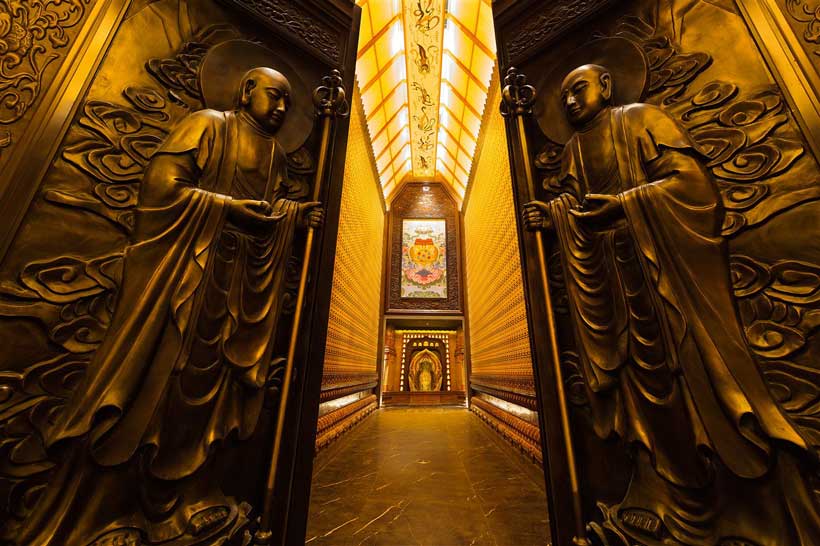 Mandarin Oriental Hotel Group has announced that it will manage a luxury hotel in Nanjing, the capital of Jiangsu Province in China, scheduled to open in 2022.
Mandarin Oriental, Nanjing will be located on the Qinhuai River and in close proximity to historic landmarks including the Gate of China, which forms part of one of the longest ancient city walls in the world built by the first emperor of the Ming Dynasty over 600 years ago.
The hotel will feature 106 rooms and suites with views of the river and the ancient city wall. There will be three restaurants and bars, including an all-day dining option, a Chinese restaurant and a Lobby Lounge. There will also be a range of adaptable meeting facilities, and a large ballroom that will cater to events and social functions.
The hotel will also have a Spa at Mandarin Oriental providing treatments and therapies, as well as an indoor swimming pool and fitness centre.
Mandarin Oriental, Nanjing will form part of a wider mixed-use development owned by Nanjing Shengxiangyuan Property Development Co. Ltd., an affiliated company of Hongkong Land, in partnership with China Merchants Group and Country Garden Group. In addition to the hotel, the development will comprise premium retail space and residential luxury homes.
The site is well located for leisure travellers to the city, being a short walk to popular tourist attractions, including the Confucius Temple quarter and the Old East Gate, which was originally built in the Ming Dynasty. The overall development will also be well served by good transportation links.
Nanjing is the capital of Jiangsu Province situated on the south bank of the Yangtze River. The city has a long and unique history dating back to the third century A.D. Today it is the political, cultural and economic centre of the province, as well as one of the major urban centres on the Yangtze River for commerce, trade, finance, tourism and logistics.
"We are delighted to announce this project in a Chinese city with strong historic roots which today is a vibrant centre for tourism, commerce, finance and trade as well as an important provincial capital," said James Riley, Group Chief Executive of Mandarin Oriental. "We look forward to collaborating with Hongkong Land and its partners, to create a truly iconic property in the historic Jiangsu capital," he added.
"Nanjing is one of China's most prominent destinations, and this overall development will be the city's most prestigious. We are pleased to be partnering with Mandarin Oriental to create a truly exceptional lifestyle experience in this prime location. We believe this extraordinary project will become the new landmark for the city," said Nanjing Shengxiangyuan Property Development Co., Ltd.'s Board of Directors.
The Park Hyatt Brand Celebrates Debut of Park Hyatt Kyoto
Hyatt Hotels Corporation announced today the opening of Park Hyatt Kyoto. Set in the heart of this noble city with centuries of history and heritage, Park Hyatt Kyoto unfolds a journey of discovery with enriching, sophisticated and rare experiences.
Park Hyatt Kyoto is located in one of the city's best-preserved historic districts, Higashiyama hills. The region, known as the birthplace of traditions such as the Japanese tea ceremony, the Ikebana flower arrangement and Japanese Zen gardens, will offer a rich foundation for the hotel. Park Hyatt Kyoto embodies the quintessential Japanese guesthouse, offering a serene Higashiyama hillside retreat for discerning global travelers and local residents. The hotel is next to Kodai-ji temple and within walking distance to many of Kyoto's UNESCO World Heritage sites, including Kiyomizu-dera temple, and offers sweeping views of the city and Yasaka Pagoda. Park Hyatt Kyoto is located less than one mile (1.5 kilometers) from the Kyoto train station, which connects travelers to Tokyo in just over two hours via the Nozomi Shinkansen bullet train.
"We are delighted to celebrate the opening of Park Hyatt Kyoto, the second Park Hyatt hotel in Japan in 25 years, and to offer guests a refined home-away-from-home in this remarkable city," said David Udell, group president, Asia Pacific, Hyatt. "We are grateful to the hotel's owners, Kyoyamato and Takenaka Corporation, for their trust, support and deep understanding of luxury hospitality. Park Hyatt Kyoto is a celebration of Japanese harmony and tranquility and we look forward to seeing guests immerse themselves in the city's inspiring heritage and culture."
Located within the same grounds as Park Hyatt Kyoto, guests can find a historic garden with steps leading to Kyoyamato, a traditional ryotei and culinary institution which opened in 1877 and serves authentic, seasonally inspired Kaiseki cuisine. Kyoyamato, one of the hotel's owners, is a seven-generation, family-run business and consists of several historic buildings including "Soyotei," a teahouse from the Edo era with a private room where feudal warlords once secretly met. Its storied gardens and traditional houses complement the hotel's modern interpretation of classical Japanese architecture and intimate hospitality.
"We are excited to introduce the Park Hyatt brand of personal and exceptional hospitality in a special place like Kyoto and look forward to unlocking the unique character of Japan's ancient capital of high arts and craft," said Mark de Leeuwerk, general manager, Park Hyatt Kyoto. "It has been a privilege for us to work closely with our neighbors in Higashiyama as well as the artisans and craftsmen of this beautiful city."
Concept and Design
Park Hyatt Kyoto is a modern interpretation of Japanese hospitality steeped in culture and place, immersing guests in nature. Jointly developed by Takenaka Corporation – one of the largest architecture, engineering, and construction firms in Japan, and Tony Chi and Associates, an award-winning interior design firm – the hotel's design and construction incorporates traditional Japanese design, architecture and artisanal craftsmanship. Several historic buildings including an Edo-era teahouse, as well as the Japanese garden that is central to the site, have been preserved and carefully restored.
Guestrooms
The low-rise hotel features 70 guest rooms, including nine suites, offering calm and respite from the bustle of Higashiyama's neighboring streets. The elegantly designed rooms and suites highlight local craftsmanship and materials such as fragrant Tamo wood, original artwork and Zen garden views.
Drinking and Dining
Park Hyatt Kyoto offers guests and visitors four distinct culinary venues:
Kyoto Bistro is a casual, street-side café featuring international and Japanese comfort food prepared with locally sourced and organic ingredients in a lively, open kitchen. All dishes are served on handmade earthenware exclusively created for the hotel by Asahiyaki, a local pottery master with a heritage of over 400 years in Uji, a city south of Kyoto.
Bathed in natural light during the day and the lingering scent of Tamo wood from the open fireplace, The Living Room welcomes guests to start their day with an authentic Japanese breakfast expertly prepared by Kyoyamato or an afternoon enjoying tea and light snacks.
Yasaka's team of skilled chefs demonstrate their elevated cooking skills on the Japanese "teppan," or "steel plate," which guests can enjoy alongside the breathtaking views of Kyoto's famous Yasaka Pagoda.
After the stimulating teppanyaki action at Yasaka, guests can head next door to Kohaku, where a fine collection of rare and craft spirits, including artisanal whiskey, sake, and gin made in Kyoto, awaits. The intimate bar exudes a warm, classic atmosphere with its dark woods and leather textures.
Events and Wedding
Park Hyatt Kyoto is positioned to be the city's premier location for unique, timeless, and crafted experiences inspired by the tradition and majesty surrounding the hotel and the city. Alongside views of a Tsuboniwa Japanese garden, the elegant ballroom offers 2,153 square feet (200 square meters) of event space and multi-functional meeting facilities, a show kitchen, foyer and the latest audio-visual system.
Wellness
A tranquil heaven, The Spa at Park Hyatt Kyoto, has a treatment suite for two with a private bath house including Japanese-style bathtubs, as well as dry and mist saunas. The signature treatment features an original signature oil developed by Kotoshina, a Kyoto-based organic skincare brand using locally harvested green tea. The spa and adjacent wellness center are open only to guests staying at the hotel.
Hilton's Hotels Across South East Asia Recognized in Global Awards
Hilton, one of the world's largest hospitality companies, rounds off its centennial festivities on a high with numerous accolades recognizing the outstanding quality and service across its hotels in South East Asia.
Bagging awards from several global awarding bodies, such as the World Travel Awards, World Luxury Hotel Awards and Forbes Travel Guide, the global hospitality company's growing honours list is a testament to its commitment to delivering exceptional experiences to guests in both emerging and established destinations across the region.
"Over the course of the last 100 years, Hilton has aspired to be the most hospitable company in the world by delivering exceptional experiences to our valued guests anytime and anywhere," said Paul Hutton, vice president, operations, South East Asia, Hilton.
"We are thrilled to receive these awards in recognition of the hard work and dedication of our Team Members who continually strive to make this vision of ours a reality. They also serve as a reminder that we must always keep our guests at the heart of our business, especially as we prepare to more than double our presence in South East Asia from 40 to more than 90 hotels in the next three to five years. I look forward to seeing how our pioneering spirit will continue to push the boundaries of service excellence and set new benchmarks in the travel and hospitality industry, both in the region and around the world," added Paul.
Hilton properties in South East Asia received top honours at the global, regional and local levels. These accolades and the list of award-winning properties include the following.
World Travel Awards
Into its 26th edition, the annual World Travel Awards is recognized globally as the most prestigious honours programme in travel and tourism — acknowledging, rewarding and celebrating excellence across all key sectors of the industry. The Hilton properties that walked away with top honours include:
Asia's Leading City Resort 2019: DoubleTree by Hilton Jakarta-Diponegoro
Bali's Leading Hotel Suite 2019: Conrad Penthouse Suite @ Conrad Bali
Bali's Leading MICE Hotel 2019: Conrad Bali
Indonesia's Leading City Hotel 2019: DoubleTree by Hilton Jakarta-Diponegoro
Indonesia's Leading Conference Hotel 2019: DoubleTree by Hilton Jakarta-Diponegoro
Malaysia's Leading Business Hotel 2019: Hilton Kuala Lumpur
Malaysia's Leading Conference Hotel 2019: Hilton Kuala Lumpur
Malaysia's Leading Hotel Suite 2019: Presidential Suite @ Hilton Kuala Lumpur
Philippines' Leading Conference Hotel 2019: Conrad Manila
Sri Lanka's Leading Business Hotel 2019: Hilton Colombo
Thailand's Leading Lifestyle Hotel 2019: Hilton Pattaya
World Luxury Hotel Awards
Since its inception in 2006, the World Luxury Hotel Awards has become the pinnacle of achievement in the luxury hotel industry, offering international recognition as voted by guests, travelers and industry players. Its 2019 edition saw the following Hilton hotels being honoured for their outstanding achievements:
Luxury Wedding Destination: Conrad Bali
Luxury Hotel & Conference Centre: Conrad Bangkok
Luxury Honeymoon Hotel: Conrad Koh Samui
Luxury Contemporary Hotel: Conrad Manila
Luxury Family Beach Resort: Hilton Bali Resort
Luxury Banquet/Event Hotel: Hilton Kuala Lumpur
Luxury Ocean View Resort: Hilton Ngapali Resort & Spa
Forbes Travel Guide
The Forbes Travel Guide (FTG) is the only independent, global rating system for luxury hotels, restaurants and spas. Constituting a team of incognito inspectors, FTG selects the world's best experiences from more than 70 countries and evaluates them based on up to 900 objective standards. The Hilton hotels that received recognition from FTG in 2019 include:
2019 Recommended, Verified Luxury: Conrad Bali
2019 Recommended, Verified Luxury: Conrad Centennial Singapore
2019 Recommended, Verified Luxury: Conrad Manila
Hilton's recent wins add to their glowing accolades in South East Asia, which also include seven nods across five hotels at the 2019 World Luxury Spa Awards in July. The next edition of each awards programme is expected to take place in Q2 of 2020.
The Ritz-Carlton Debuts In The Dynamic Metropolis Of Pune, India
The Ritz-Carlton Hotel Company, L.L.C today announced the opening of The Ritz-Carlton, Pune, the second hotel in India from the iconic luxury hotel brand. Situated in the heart of Pune's captivating downtown and across from the prestigious Poona Golf Club, the hotel is ideally located for travelers seeking to take in the sights and unique experiences of this dynamic metropolis. With a storied history of nearly 1600 years, Pune is commonly referred to as the Oxford of the East and is considered the epicenter of academia in the country. Its carefully designed gardens, grand architecture and renowned museums, in addition to a diverse culinary scene and emerging start-up community, have increasingly made it a destination for regional and international travelers alike.
"We are delighted to bring the legendary service of The Ritz-Carlton to Pune, a city that blends the splendor of the past with the pulse of the present, and the promise of the future," said Lisa Holladay, Global Brand Leader for The Ritz-Carlton. "Through locally inspired design, culinary offerings and programming, The Ritz-Carlton, Pune will create an experience that is authentic to the city, facilitating a deeper connection between our guests and the destination."
Set to elevate luxury in Pune, the hotel's design reflects a seamless union of classical grandeur and timeless sophistication, offering both traditional and modern points of view. Small details such as design motifs inspired by Indian silhouettes and classic chandeliers gracefully evoke a sense of place. Celebrating the history and spirit of the city, guests will be invited every evening to toast to golden hour at Aasma, the hotel's rooftop lounge, where they can learn the meaning behind the venue's name and enjoy skyline views. Locally relevant experiences such as a sourcing trip for sustainable ingredients or a joint golf tour with a Pro at the adjoining Golf course are also available for guests who are interested in exploring the neighbourhood.
The hotel features 198 elegantly appointed guestrooms and 35 plush suites, designed to be refined and relaxing sanctuaries that are also the largest in the city. The Ritz-Carlton, Pune offers an exceptional Presidential Suite that is spread across 3,154 sq. ft and includes two bedrooms, a walk in closet, a spacious living room and dining area, private bar and in-suite treatment room. Guests staying on the Club Level floors will enjoy access to a signature Ritz-Carlton Club Lounge, an urban sanctuary on the 18th floor that features picturesque views of the golf course, private check-in, a dedicated Club Concierge, and a variety of culinary presentations throughout the day.
Celebrating the region's distinct culinary scene, The Ritz-Carlton, Pune captures the essence of the destination with five signature dining experiences. Gourmet world cuisine at Three Kitchens and Bar welcomes guests by offering three residential-style kitchens. The modern Japanese restaurant Ukiyo features a long sushi counter and robata grill complemented by an expansive selection of sake while The Ritz-Carlton Tea Lounge brings the time-honored custom of afternoon tea to the city. Vida Bar & Grill is a craft cocktail destination and Aasma, a rooftop lounge serving Indian cuisine, captivates with 180-degree views of the golf course and inventive adaptations from the royal kitchens of India.
"We are extremely pleased to debut The Ritz-Carlton in the evolving city of Pune, and expand our portfolio in major destinations in India," said Neeraj Govil, Senior Vice President, South Asia at Marriott International. "Pune is a top choice for affluent travelers and international tourists seeking enriching experiences, and this opening reflects our continued commitment to provide those travelers with opportunities to explore destinations like Pune."
The 25,000 sq. ft. wellness floor includes a Fitness Studio and Yoga Deck, allowingguests to maintain their wellness routines even while traveling. The Ritz-Carlton Spa with its 8 treatment rooms and Express Pods combines bespoke services, custom facials and unique treatments steeped in Ayurveda traditions and chakra energy inviting guests to indulge in relaxation while they immerse themselves in discovery of the local culture.
The hotel also boasts 35,000 square feet of elegantly designed banquet facilities are suited to gatherings of all kinds, from business meetings to social affairs. With access to a beautiful outdoor foyer and deck area, the ballrooms are perfect for intimate gatherings and romantic weddings alike.