Imprisoned ISIS Wives and Children Have Nowhere to Run To, Nowhere to Hide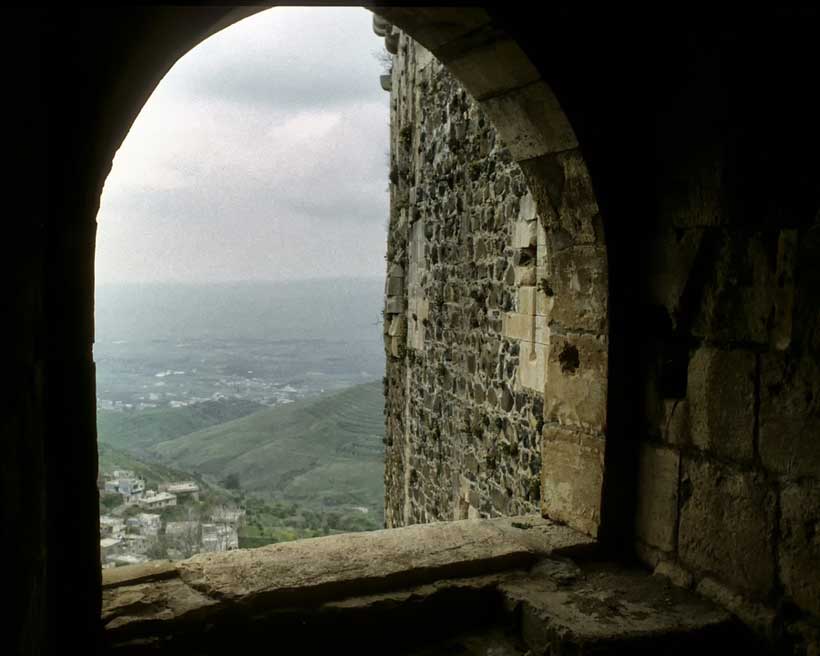 The guards have said if the war comes close, then they will leave here," a Western ISIS wife texted me today from Camp Roj in far northeastern Syria, a detention center that houses 500 ISIS wives and 1,200 of their children. "What to do if we are left alone?" she asks. "There's nowhere to go and too risky to get caught by Bashar [al-Assad]."
As she writes, I'm in Belgium sitting next to an FBI agent. I ask him what she should do, but amid all of this chaos, he doesn't have an immediate answer.
The ISIS wife continues: "I like how America thinks it's too dangerous for them [the U.S. military] to be here but safe for us to remain with Assad."
Over the past two years I've been in and out of the northeastern territory of Syria held by the Syrian Democratic Forces (SDF) six times with staff from the International Center for the Study of Violent Extremism (ICSVE). We have conducted in-depth interviews with 217 ISIS men and women, 100 of them in SDF held territory, for our project countering the ISIS brand, which the SDF has supported fully.
The woman texting me today gave us an interview last year and has managed to stay in touch via illicit phones other detainees allow her to use.
At the same time she is texting me, our Kurdish translator texts that they are living under the sound of bombs and troops advancing. Assad's troops are marching eastward, while Turkey is barreling in from the north. Which soldiers will reach Camp Roj first and what the women should do if the Kurdish YPJ-Women's Protection Units guarding them decide it's too dangerous to remain in place, is something the guards have told the inmates to think about.
The female inmates of Camp Ain Issa, farther west, faced a similar dilemma earlier in the week when the Turks began shelling. Until Sunday, Ain Issa Camp housed a total of 12,000 women and children, but according to one Belgian woman, it descended into "complete chaos" as fires broke out, the guards left, and the women escaped in the hundreds.
Among the women housed there, 265 were wives of foreigner terrorist fighters, alongside 1,000 of their children. On the second day of the Turkish air assault, Belgian ISIS wives Bouchra Abouallal and Tatiana Wielandt decided it was better to go on the run with their small children than remain in place to learn what next disaster might befall them.
We interviewed Bouchra Abouallal in September 2019. Completely exhausted from her experience with ISIS, she said that life inside the Caliphate was "the best possible deradicalization program ever." Already prosecuted in absentia and facing a five-year sentence in her home country of Belgium, she told ICSVE researchers she would prefer to return home even to serve a 20-year sentence rather than remain in the camp under the menace of the cruel ISIS-inmate enforcers who threatened all European women who no longer wanted anything to do with the ISIS Caliphate.
Now Bouchra Abouallal is on the run with her three small children. In audio messages punctuated in the background by shelling she told a Belgian journalist that she was headed toward the front lines in hopes she could make it to safety in Turkey, where she wishes to turn herself into the Belgian consulate and make her way home.
While European officials here in Brussels have stated that Turkey agrees to help any escaped ISIS cadres that end in their hands to be returned to their homelands, up until recently, Belgium was refusing to let her come back. Instead of seeing her as someone victimized by the Islamic State's propaganda and lies, and fooled by the "Shariah for Belgium" group that had radicalized many in her native city of Antwerp, Belgian politicians see her as a threat.
But it is not difficult for Belgian authorities to turn past posts on her social media accounts against her.
"Your system has failed oh Belgian state," Bouchra's Facebook page read after she slipped out of Belgium to go live under the Islamic State. Referring to the way the Belgian police had hassled her upon her first return home from Syria, her posts taunted them, saying "You were watching us 24/7 and you still haven't managed to stop us. Why? Because Allah is the best planner (…)" Her threats continued with, "We have left because we believe that it is a duty for every Muslim. To the policeman who threatened to take our children away, I can say that my children will turn yours into orphans, with the will of Allah."
Bouchra claims that it wasn't she, but one of her ISIS husbands, who authored these hate-filled posts. She says he used to lock her up at home and post on her Facebook page without her permission. Indeed, when we interviewed Bouchra in September she spoke gently as she denounced ISIS, giving us permission to use both her image and her name in a counter narrative video—this, while knowing the ISIS enforcers in the camp would likely punish her for it.
The woman texting me today from Camp Roj does so fearing that if it becomes known it was her texting she will be punished by her YPJ guards. Yet pure terror drives her to try to stay connected with the outside world as she makes wrenching decisions for herself and her young child.
Americans are also in this camp. We have interviewed two American passport holders—Canadian dual-citizen Kimberly Pullman and disputed American citizen Hoda Muthana.
When I ask today's texter about Americans in the camps, she tells me there are five in all, two more in Camp Roj and another in Camp Hol. She states that there are also two American children in Camp Roj. We've met one of them, Adam, the two-year-old son of Hoda Muthana. Both times we interviewed his mother, Adam was struggling with chronic bronchitis. Today the woman texting me from Camp Roj tells me that the air is thick with fumes from the bombings, which is causing many of the children to have breathing difficulties.
"Going to jail right now won't be great," this woman writes as she imagines her future in the West—if she can ever manage to get home. Then she envisions another future: "I could get lost among all of this trouble." Then again she realizes that fleeing the camp, if her guards do abandon their posts, might also prove disastrous.
"Please let the governments know that we are not happy with the escape of the women [who have left the camps]. We are actually scared and want to just be safe in our own embassies," she texts. "We don't want to keep running away. We want to be tried. I've already had the chance to run away before and I decided to be tried in my own country."
Now the pressing question, amid all of this chaos unleashed by Trump greenlighting the Turkish invasion of northeastern Syria: Is anyone going to do anything to get these former ISIS wives and their children back home where they can face justice and live in safety or do we just leave them to face whatever fate turns up as hostile armies converge?
Author's note: first published in the Daily Beast
Politically expedient definition of "terrorism" to put Pakistan under watch list
The writer is of the view that there is no universally-acceptable definition of "terrorism". Influential countries in the United Nations utilize their leverage to get an individual or an entity declared a "terrorist". "Freedom fighters" are called "terrorists" by their adversaries. He wonders whether it was fair to declare some religious or welfare organisations "terrorists'. And, to use this dubious "declaration" as justification to impose financial difficulties on Pakistan. He expressed ennui on apathy of international organisations towards India's support, for example to Mukti Bahini that Pakistan considered a "terrorist' organisation. The views expressed are personal.
The Financial Action Task Force is supposed to plug money laundering. It is not meant to dubiously declare a person or entity terrorist to impose financial restrictions on it. According to an Islamabad-based think tank Tabadlab, Pakistan sustained a total of US$ 38 billion in economic losses due to FATF' decision to thrice place the country on its grey list since 2008. In a way, the whole Pakistani nation was punished by declaring some religious outfits "terrorists".
Dubious "terrorism" label
Jammu and Kashmir is a disputed state, notwithstanding India's occupation of some parts of it. Flouting international resolutions declaring Kashmir a disputed territory, India annexed the part under its illegal occupation a centrally controlled territory ruled by New Delhi.
Kashmiris started a movement for freedom.
In the course of time some religious organisations in Pakistan began to support the freedom movement in India. India calls the freedom movement "terrorism, and by corollary whosoever supports it. Hafiz Mohammad Saied runs a few non-government welfare oganisations. Former president Musharraf's, in an interview pointed out that Saeed's organisations are the best in Pakistan. Through its leverage with the USA and some other countries, India managed to get Saeed designated a terrorist by the United Nations. Without substantial incriminating evidence, Saeed was portrayed as the mastermind of Mumbai attacks. The fact however remains that the Mumbai trials lacked transparency.
To create financial difficulties for Pakistan, India through its "friends" managed to get Pakistan on Financial Action Task Force watch list for inability to take adequate action against Hafiz Saeed.
Council of Europe Commissioner for Human Rights Thomas Hammarberg (2008) observed that "arbitrary procedures for terrorist black-listing must now be changed". There is no definition of terrorism. Mukti Bahini in former East Pakistan was freedom fighters to India but terrorists to Pakistan. Cuban terrorists were decorated n the USA as "freedom fighters".
Political expediency not fairness is the basis of the "terrorism" definition. To the USA Taliban were freedom fighters as long s they fought the erstwhile Soviet Union in Afghanistan. The US began to subsequently regard them as "terrorists" when they allegedly sheltered international "terrorists". The Taliban were designated terrorists under resolutions 1267 and 1373. The US used its influence to the hilt to get them so declared.
According to principles of penology, an offence has to be first defined before it is made punishable. In the absence of a global, universally acceptable definition of the word 'terrorism', any figment of imagination could be stretched to mean terrorism.
Unless the word 'terrorism is defined, it will not be possible to distinguish it from a freedom movement, protest, guerrilla warfare, subversion, criminal violence, para-militarism, communal violence or banditry. A nation cannot be punished for individual acts of terrorism, according to principles of natural justice and penology.
In the historical context, the term meant different things to different individuals and communities. The oldest 'terrorists' were holy warriors who killed civilians. Recent examples of religious terrorists are Aum Shinrikyo (Japanese), Rabbi Meir Kahane and Baruch Goldstein and Yigal Amir (Jews).
The Jewish-controlled media describes Hezbollah and Hamas as 'religious terrorists'. In the first century A.D Palestine, the Jews publicly slit the Romans' throats, in the seventh century India, the thugs strangulated gullible passersby to please the Hindu Devi Kali, and the 19th century adherents of Narodnaya Volya (People's Will) mercilessly killed their pro-Tsar rivals.
Most historians believe that the term 'terrorism' received international publicity during the French reign of terror in 1793-94.
It is now common to dub one's adversary a 'terrorist'. Doing so forecloses possibility of political negotiation, and gives the powerful definer the right to eliminate the 'terrorist'.
India's self confessed "terrorism"
Former East Pakistan was not a disputed state like Jammu and Kashmir. Yet, India tried tooth and nail to stoke an insurgency in East Pakistan. Confessions of former Research and Analysis Wing's officers and diplomats bear testimony to India's involvement in bloodshed in East Pakistan. B. Raman (A RAW officer), in his book The Kaoboys of R&AW: Down Memory Lane makes no bones about India's involvement up to the level of prime minister in Bangladesh's insurgency.
Elements in the definition: Points to ponder
There is a cliche "One man's terrorist is another man's freedom fighter". "Terrorism" is focused from narrow angles. Some definitions focus on the terrorist organizations' mode of operation. Others emphasize the motivations and characteristics of terrorism, the modus operandi of individual terrorists.
In their book Political Terrorism, Schmidt and Youngman cited 109 different definitions of terrorism, which they obtained in a survey of leading academics in the field. From these definitions, the authors isolated the following recurring elements, in order of their statistical appearance in the definitions[1]: Violence, force (appeared in 83.5% of the definitions); political (65%); fear, emphasis on terror (51%); threats (47%); psychological effects and anticipated reactions (41.5%); discrepancy between the targets and the victims (37.5%); intentional, planned, systematic, organized action (32%); methods of combat, strategy, tactics (30.5%).
Former RAW officer RK Yadav's disclosures
In a published letter, Yadav made startling revelation that India's prime minister Indira Gandhi, parliament, RAW and armed forces acted in tandem to dismember Pakistan. It is eerie that no international agency declared India a "terrorist" for its nefarious activities. His confessions in his letter are corroborated are corroborated by B. Raman in his book The Kaoboys of R&AW. He reminds `Indian parliament passed resolution on March 31, 1971 to support insurgency. Indira Gandhi had then confided with Kao that in case Mujib was prevented, from ruling Pakistan, she would liberate East Pakistan from the clutches of the military junta. Kao, through one RAW agent, got hijacked a Fokker Friendship, the Ganga, of Indian Airlines hijacked from Srinagar to Lahore.
Why the hullabaloo about insurgency in Kashmir if India's intervention in East Pakistan was justified.
Kulbushan Jadhav role
Jadhav was an Indian Navy officer, attached to RAW. His mission was to covertly carry out espionage and terrorism in Pakistan. Pakistan also alleged there were Indian markings on arms deliveries to Baloch rebels pushed by Jadhav.
To India's chagrin, India's investigative journalists confirmed from Gazettes of India that he was commissioned in the Indian Navy in 1987 with the service ID of 41558Z Kulbhushan Sudhir. A later edition of the Gazette showed his promotion to the rank of commander after 13 years of service in 2000. His passport, E6934766, indicated he traveled to Iranfrom Pune as Hussein Mubarak Patel in December 2003. Another of his Passports, No. L9630722 (issued from Thane in 2014), inadvertently exposed his correct address: Jasdanwala Complex, old Mumbai-Pune Road, cutting through Navi Mumbai. The municipal records confirmed that the flat he lived in was owned by his mother, Avanti Jadhav. Furthermore, in his testimony before a Karachi magistrate, Karachi underworld figure Uzair Baloch confessed he had links with Jadhav. India's prestigious Frontline surmised that Jadhav still served with the Indian Navy. Gazette of India files bore no record of Jadhav's retirement. India told the International Court of Justice (ICJ) that Jadhav was a retired naval officer. But, it refrained from stating exactly when he retired. The spy initially worked for Naval Intelligence, but later moved on to the Intelligence Bureau. He came in contact with RAW in 2010.
India portrays the freedom movement in Kashmir as `terrorism'. What about India's terrorism in neighbouring countries? Will the world take notice of confessions by India's former intelligence officers and diplomats?
Through Jhadav India wanted to replay the Mukti Bahini experience in Balochistan and Khyber Pakhtunkhwa.
Doval doctrine: In line with India's security czar Ajit Doval's Doctrine, RAW aims at fomenting insurgency in Pakistan's sensitive provinces. Doval is inspired by India's nefarious efforts which resulted in the secession of East Pakistan. Naila Baloch's `free Balochistan' office has been working in New Delhi since 23 June 2018. BJP MLAs and RAW officers attended its inauguration.
Involvement in Afghanistan
India too trained Afghan Northern Alliance fighters. India's ambassador Bharath Raj Muthu Kumar, with the consent of then foreign minister Jaswant Singh, `coordinated military and medical assistance that India was secretly giving to Massoud and his forces'… `helicopters, uniforms, ordnance, mortars, small armaments, refurbished Kalashnikovs seized in Kashmir, combat and winter clothes, packaged food, medicines, and funds through his brother in London, Wali Massoud', delivered circuitously with the help of other countries who helped this outreach'. When New Delhi queried about the benefit of costly support to Northern Alliance chief Massoud, Kumar explained, "He is battling someone we should be battling. When Massoud fights the Taliban, he fights Pakistan."
Concluding remarks
It is questionable why supporting ongoing freedom movement in the occupied Kashmir is "terrorism", but not India's support to militant groups in Pakistan, Afghanistan, and erstwhile East Pakistan. India portrays the freedom movement in Kashmir as `terrorism'. What about India's terrorism in neighbouring countries? Will the world take notice of confessions by India's former diplomats. The conduct of Indian diplomats amounted to state-sponsored terrorism. For one thing, India should close the `Free Balochistan' office on her soil, and stop resuscitating propaganda skeletons of pre-Bangladesh days.
Unlike Kashmir, East Pakistan was not a disputed territory. It was an integral part of Pakistan. But, India harboured, nurtured, trained and armed Bengali 'freedom fighters' on Indian soil.
U.S.: From mass airstrikes to targeted terrorist attack
The U.S.-led military operation "Inherent Resolve" has begun in August 2014. Its ostensible purpose was a struggle with the gaining ground ISIS at that moment. As the operation develops, Australia, France, Great Britain, Saudi Arabia, the Netherlands, Belgium and other countries joined the American airstrikes.
United forces, with purposes to show power and strengthen its influence in the region carried out more than three thousand airstrikes in the first year, resulting in thousands of victims among civilians. It is worth to note that member states of the coalition didn't try to hide the fact that their actions caused the death of thousands of people. In 2018, British authorities justified civilian deaths by the fact that militants used them as human shields and it was impossible task to minimize losses.
According to "Airwars", the British non-government organization, from 2014 till 2019 up to 13,190 civilians were killed in Iraq and Syria as a result of the international coalition actions.
However, despite all the "efforts" and the Pentagon's loud statements about the fight against international terrorism, the fact of the continuously growing territory controlled by the militants testifies the opposite. In addition, since 2015, facts of provided by Washington direct support to terrorists have begun to be revealed. U.S. and its allies produced weapons were repeatedly found in the territories liberated from jihadists. So, for example in 2017 during armed clashes with government troops militants used anti-tank TOW-2 and SAMS air defense systems of the U.S. production. Also, American medicines, communication tools and even component kits for UAVs were found in positions abandoned by terrorists.
The negative reaction of the international community began to rise in this context and Washington had no choice but to change the strategy of its activity in Syria. The practice of mass airstrikes was replaced by targeted terrorist attacks against government forces by their backed militants.
For implementing of such kind of actions, U.S. retained its military presence in Homs province where their military base Al-Tanf is deployed. A huge amount of evidence U.S. servicemen training armed groups fighters is widely accessible. Moreover it's known that 55 km zone around Al-Tanf has been inaccessible to government troops for years and Syrian army attempts to enter the area were suppressed by the U.S. airstrikes.
At the same time, IS militants have been spotted moving in this region without encumbrance and used the base as a safe zone for regrouping. Terrorists slipped in Deir ez-Zor, Palmyra, as well as Daraa and As-Suwayda from this area. In addition, the U.S. has created the Jaysh Maghawir al-Thawra group to fight government forces in the eastern section of the border between Syria and Iraq. Initially, the armed group was created to fight against government troops, but after a number of defeats they started to protect the area around the Al-Tanf.
Up to the date Washington continues to insist on Bashar al-Assad government "illegitimacy" and actively supports so-called moderate opposition. Pursuing its selfish economic and political goals, the United States counters to the international law, completely ignoring the tens of thousands victims among civilians and millions of refugees flooded Europe. Although the role of the White House and its allies in supporting terrorist groups is difficult to overestimate, the United States obviously will not consider it enough.
FATF: A Sword of Damocles or a tool of financial discipline?
Pakistan has been groaning under the Financial Action Task Force restrictions. There is marked contrast between Pakistan's and India's view of Pakistan's current status, compliant or tardy with regard to most of the conditions. Pakistan oozes optimism that it has complied with most of the conditions. India however is pessimistic about Pakistan's ability to get over the bar anytime soon.
Anti-money-laundering legislation
One hurdle to meet the FATF conditionalities was to have a permanent mechanism to nab and prosecute the offenders. Pakistan's federal cabinet has already approved a new set of rules to amend Anti-Money-Laundering (Forfeited Properties Management) Rules 2021 and the AML (Referral) Rules 2021. Thus, Pak government is now all set to set to introduce new rules on forfeiture, management and auction of properties and assets relating to Anti-Money Laundering (AML) cases and transfer of investigations and prosecution of AML cases from police, provincial anti-corruption establishments (ACEs) and other similar agencies to specialised agencies to achieve remaining benchmarks of the Financial Action Task Force (FATF).
These rules and related notifications for certain changes in existing schedule of Anti-Money Laundering Act 2010 (AMLA) would come into force immediately to be followed by appointment of administrators and special public prosecutors for implementation.
These legislative steps would help the FATF determine whether Pakistan has complied with three outstanding benchmarks, out of 27, that blocked its exit from the so-called grey list in February this year. The FATF has planned several meetings in the second week of June, ending in the FATF plenary on June 21-25.
The three outstanding action points (out of total 27) include (i) demonstrating that terrorist financing (TF) investigations and prosecutions target persons and entities acting on behalf or at the directive of the designated persons or entities; (ii) demonstrating that TF prosecutions result in effective, proportionate and dissuasive sanctions; and (iii) demonstrating effective implementation of targeted financial sanctions against all designated terrorists, particularly those acting for them or on their behalf.
Within framework of the amended rules, the Pak government would appoint dozens of administrators with the powers to confiscate, receive, manage, rent out, auction, transfer or dispose of or take all other measures to preserve the value of the properties and perishable or non-perishable assets (including those at go downs, maalkhanas or any other place) to be confiscated under the AML 2010 rules or court orders pursuant to proceedings under AMLA 2010.
The regional directors of the Anti-Narcotics Force would be designated as administrators for the ANF, customs collectors for the Federal Board of Revenue, directors of directorates of intelligence and investigation of the Inland Revenue Service for the IRS, zonal directors for FIA and additional directors of recovery, disposal and assets management cells for National Accountability Bureau.
Valuation of inventories
The AML (Forfeited Properties Management) Rules 2021 specify how the inventories would be measured, described or defined, protected and evaluated for auction and how to complete all processes thereto, including constitution of auction committees and how properties would be quantified or classified like if a property is of residential, commercial or industrial nature and what should be its market value or sale price etc.
For example, the movable case property worth more than Rs100,000 would be kept in the locker or vault in the State Bank of Pakistan, district or tehsil treasury or any nationalised bank. For withdrawal of such movable properties, the agency concerned would designate two officers of grade-17 or above and prior written permission of next supervisory officer of the agency would be required.
Each agency would establish a central asset recovery office to ensure assets recovery and management of the forfeited property and keep a designated central account with the SBP maintained by the ministry of finance where proceeds of property would be remitted by all agencies after attainment of the finality of forfeiture order by a court. All investigating and prosecuting agencies would exchange financial intelligence and information about the properties with other stakeholders for expeditious confiscation and forfeiture under the AMLA 2010.
Transfer of cases to competent authorities
The Anti-Money Laundering (Referral) Rules, 2021 are being introduced to enable transfer of the cases from one set of investigation agencies to another. If police, the ACEs or any other governmental organisations, other than investigating and prosecution agency under the AMLA, finds that an offence under the AMLA 2010 has been committed and such agency lacks jurisdiction to take cognizance of it, the head of such would refer the matter to the head of the agency concerned having jurisdiction to investigate.
Police, the ACEs or other governmental organisations would continue an inquiry or an investigation of the offence and would take necessary measures to preserve and retrieve the relevant information and evidence and case properties till formal acceptance by the investigating and prosecuting agency concerned as set out in the relevant clause of the AMLA and formal handing over and taking over of complete record.
After acceptance of the case by the competent investigating and prosecuting agency, police or ACEs etc would hand over complete record, including case files, record of proceedings and seizure memos along with relevant evidence, property and other material seized and the accused in custody, if any. Such investigating and prosecuting agencies would resume all the proceedings under the said act including to examine, re-examine persons concerned and other oral and documentary evidence and would expeditiously take steps as necessary for just finalisation of the proceedings.
Adequate number of special public prosecutors would be appointed for the Anti-Narcotics Force and Counter Terrorism Department (CTD) besides a separate panel of lawyers for customs and the Internal Revenue Service of the Federal board of Revenue. Also, law officers not below the rank of assistant director legal would be appointed for the Federal Investigating Agency and special public prosecutors for the National Accountability Bureau.
Pakistan also has to issue "National Policy Statement on Follow the Money (NPSFM)". Through this statement and rules listed above, Pakistan's compliance with FATF recommendations in Post Observation Period Report (POPR) would further improve with corresponding enhancement in the ratings or effectiveness of the FATF's relevant Immediate Outcomes. Pakistan's POPR would be reviewed by the FATF's Asia-Pacific Joint Group (A-PJG), and based on the report of this group, the FATF would decide further course of action on Pakistan's progress on the POPR in its plenary scheduled in June 21-25, 2021.
The NPSFM commits Pakistan to tackling money laundering and terrorist financing as a matter of priority during investigations, prosecutions, and subsequent confiscation in all money laundering, terrorism financing and high risk predicate crimes by adopting universal approach to combating money-laundering and terror-financing through generating sound and effective financial intelligence reports for the consumption of law enforcement agencies and maintaining risk-sensitive anti-money-laundering regime to enhance cooperation and coordination amongst the such stakeholders both domestically and internationally.
The government is also committed to protecting the financial system and the broader economy in Pakistan from criminality through a robust financial system to ensure that dirty money does not find its ways into the financial system. The government would ensure a robust beneficiary identification system, deterring financial crime as it deprives criminals of the proceeds of their crimes and removes financial support for terrorism and further ensures that targeted financial sanctions are implemented in letter and spirit.
Further, it would ensure a transparent, robust and efficient approach to investigating money laundering and terrorist financing and to the seizure, confiscation and management of criminal assets by supporting relevant agencies in cooperatively achieving this goal.
Compliance
The Asia Pacific Group (APG) on Money Laundering has improved Pakistan's rating on 21 of the 40 technical recommendations of the Financial Action Task Force (FATF) against money laundering and terror financing, but retained it on 'Enhanced Follow-up' for sufficient outstanding requirements.
The second Follow-Up Report (FUR) on Mutual Evaluation of Pakistan released by the APG — a regional affiliate of the Paris-based FATF — also downgraded the country on one criterion. The report said Pakistan was re-rated to 'compliant' status on five counts and on 15 others to 'largely compliant' and on yet another count to 'partially compliant'.
Overall, Pakistan is now fully 'compliant' with seven recommendations and 'largely compliant' with 24 others. The country is 'partially compliant' with seven recommendations and 'non-compliant' with two out of total 40 recommendations. All in all, Pakistan is now compliant or largely compliant with 31 out of 40 FATF recommendations.
The Asia Pacific Group announced,
"Overall, Pakistan has made notable progress in addressing the technical compliance deficiencies identified in its Mutual Evaluation Report (MER) and has been re-rated on 22 recommendations,".
It said recommendations 14, 19, 20, 21 and 27 had been re-rated to comply. These pertain to money or value transfer services, higher risk countries, reporting of suspicious transactions, tipping-off and confidentiality and powers of supervisors.
The APG said Pakistan was re-rated to largely compliant with 15 recommendations — 1, 6, 7, 8, 12, 17, 22, 23, 24, 25, 30, 31, 32, 35 and 40. These include assessing risk and adopting a risk-based approach, targeted financial sanctions relating to terror and terror financing, targeted financial sanctions related to proliferation, non-profit organisation, politically exposed persons and reliance on third parties.
Also, re-rating was done on designated non-financial business & professions (DNFBP) in terms of due diligence and other measures, transparency in beneficial ownership of legal persons and related legal arrangements, responsibilities of law enforcement and investigation authorities, cash couriers, sanctions and other forms of international cooperation.
Another re-rating to partially compliant status was done on recommendation 28 that pertained to regulation and supervision of DNFBPs. The two recommendations on which Pakistan was downgraded to 'non-complaint' were 37 and 38 due to insufficient progress and pertained to mutual legal assistance (MLA) with other countries and freezing and confiscation of assets and accounts.
Negative impact of rigorous compliance
The managers of financial institutions in Pakistan are implementing the FATF conditions without understanding their purpose. They are harassing honest investors. For instance, the manager of the national Saving Centre Poonch house Rawalpindi refuses to issue an investment certificate unless the applicant submits a host of documents. These documents include a current bank statement, source-of-income certificate besides biodata along with a passport-size photograph. They call for the documents even if the applicant submits a cheque on his 40-year-old bank account.
Deviation from objectives
The financial Action Task Force has ostensibly noble objectives. It provides a `legal', regulatory, framework for muzzling the hydra-headed monster of money-laundering. It aims at identifying loopholes in the prevailing financial system and plugging them. But, it has deviated from its declared objectives. It has became a tool to coerce countries, accused of financing terrorism or facilitating money-laundering. The FATF is more interested in disciplining a state like Pakistan, not toeing US policies, than in checking money-laundering. The tacit message is that if Pakistan does not toe USA's Afghan policy, and lease out air bases for drone attacks, then it will remain on FATF grey list.
The consequences of being in the grey list may entail economic sanctions and difficulties in obtaining loans from international donors like the International Monetary Fund, World Bank and Asian Development Bank. The trade-and-aid difficulties may retard economic progress of a country.
Favoritism towards India: India has a much larger Gross Domestic Product (US$2875 billion , 2019), than Pakistan's paltry US$ 264 billion (2020).Similarly India has a much larger and wealthier Diaspora than Pakistan particularly in the Middle East and the USA.
The hawala (hand to hand transactions) and other money transfer practices among Indians and Pakistanis are similar. Yet the FATF keeps Pakistan always in focus and looks the other way when it comes to India.
Pakistan is a bête noire and India a protégé at the FATF only because of stark geo-political interests. Otherwise the money laundering situation in India is no less gruesome in India than in Pakistan. India has even been a conduit of ammunition to the Islamic State study conducted by Conflict Armament Research had confirmed that seven Indian companies were involved in the supply chain of over 700 components, including fuses or detonating cords used by the so-called Islamic State to construct improvised explosive devices.
Concluding remark
Political considerations, not primary objectives, override voting behavior at the FATF.