Landmark labour reforms signal end of kafala system in Qatar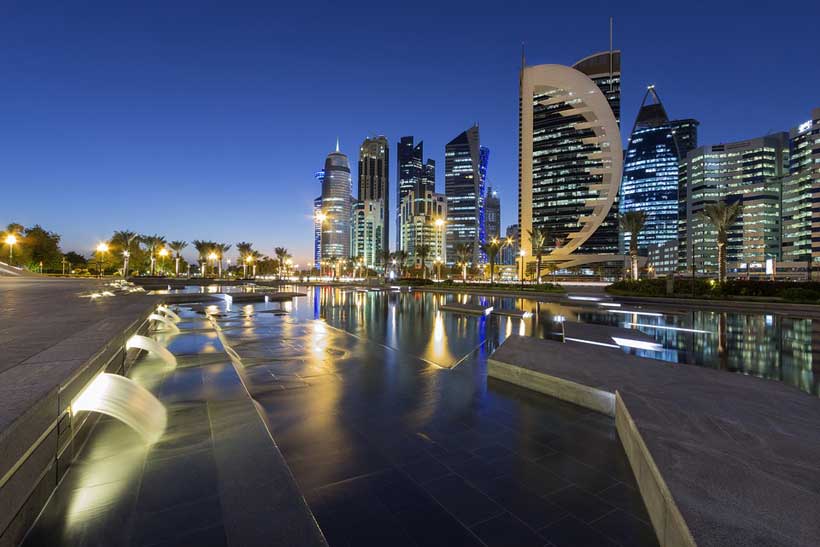 Qatar has announced sweeping reforms to its labour market, with a view to ending the kafala system and marking a momentous step forward in upholding the rights of migrant workers.

On 16 October 2019, the Council of Ministers of the State of Qatar unanimously endorsed new legislation allowing workers to change employers freely. Workers in Qatar had previously required a no-objection certificate (NOC) from their employer in order to do so. A Ministerial Decree by the Minister of Interior was also signed, removing exit permit requirements for all workers, except military personnel. Together, these steps mark the end of kafala in the country.

In addition, the Council of Ministers endorsed a new law to establish a non-discriminatory minimum wage, the first in the Middle-East.

"The ILO welcomes these reforms and recognizes the commitment of the State of Qatar to transforming its labour market. These steps will greatly support the rights of migrant workers, while contributing to a more efficient and productive economy. I am pleased that the ongoing ILO technical cooperation programme in Qatar is tangibly contributing to the government's effort to advance social justice and promote decent work in the country," said Guy Ryder, the ILO Director-General.

The elimination of the NOC requirement will allow workers to freely change employers following an initial probationary period. Should they wish to change employers during this period, the new employer would need to reimburse recruitment costs to the original employer.
The decision on exit permits means that domestic workers; workers in government and public institutions; workers employed at sea and in agriculture; as well as casual workers are free to leave the country either temporarily or permanently without having to obtain the permission of their employers. This covers all workers not covered by Law No. 13 of 2018, which removed the requirement to obtain exit permits for most workers covered by the Labour Law.

Meanwhile, the establishment of a non-discriminatory minimum wage that applies to all nationalities and all sectors will guarantee a minimum level of protection for all workers. The minimum-wage level will be set later in the year, based on a joint study already completed by the ILO and the Ministry of Administrative Development, Labour and Social Affairs (ADLSA).

"Qatar is changing. The new tranche of laws will bring an end to kafala and put in place a modern industrial relations system. We recognize that a new evidence-based minimum wage rate will ensure dignity for migrant workers. We urge the government to announce this as quickly as possible. The partnership between the Qatar Government and the ILO, supported by the ITUC, is working to change lives," said Sharan Burrow, General Secretary of the International Trade Union Confederation.

Roberto Suarez-Santos, Secretary-General of the International Organisation of Employers, said: "We congratulate the Government of Qatar on the major steps they have taken to adapt their labour market standards. IOE is proud to have supported the government's efforts over the past several years. I would like to express our appreciation to those leading this process for making decent work and sustainable economies a centrepiece of development in Qatar."

The respective draft laws will now be referred to the Advisory (Shura) Council, and subsequently for the approval and signature of the Emir HH Sheikh Tamim bin Hamad Al Thani. The legislation is expected to come into force by January 2020.

These reforms are part of the ILO-ADLSA cooperation agreement signed in 2017, which resulted in the opening of an ILO Project Office in Doha in April 2018 .
Making the impossible possible
Sitting at a bus stop one day when she was 16, When Miranda Wang saw someone throw a plastic bottle into a trash bin, even though the recycling bin was right next to it.
"It just made me realize that the problem is so much bigger than the behavior of individual people," she said. "Globally, only 9 per cent of plastics produced are actually recycled. That's because as a society, we lack recycling technologies that can make virgin-quality products from plastic waste."
"My project is a social impact startup developing and scaling up a new technology to recycle unrecyclable plastics. Over the past year, the project has snowballed, and we are seeing massive interest in this area," she said.
Since starting up her company BioCellection, and winning the United Nations Environment Programme (UNEP) Young Champions of the Earth prize in 2018, twenty-five-year-old Wang and her team have invented a US$ 5 million technology that breaks down plastics into chemical building blocks, upcycling them into higher value materials for manufacturing.
The first engineering drawings for the technology scale-up have been completed, and multiple materials from the resulting purified compounds from breaking down plastics have been tested.
The company has already completed two thirds of a pilot programme to test the technology at scale with the City of San José, California, United States, and other tests have already been completed with Google among others.
The team has expanded, with eight new hires instead of the projected four, winning grants and prizes including the Rolex Awards for Enterprise, Pritzker Environmental Genius Award and MIT Solve.
In addition to refining the recycling technology, Wang has appeared in magazines including TIME, the New York Times, Monocle, Marie Claire, National Geographic and many others over the last 12 months.
Why not become part of a global movement, and tell us what you are doing to turn the tide on plastic pollution. Take the Clean Seas pledge!
Do you have what it takes to be a Young Champion of the Earth? Stay tuned here to follow stories of previous winners and changemakers.
AfDB hosts talks with ICRC on making an impact through collaboration
The African Development Bank held talks with International Committee of the Red Cross (ICRC) Vice-President Gilles Carbonnier at the Bank's headquarters in Abidjan on furthering their shared development goals.
The main purpose of the meeting, held on 20 January, was to discuss collaboration between the institutions and share the progress made since the signing of a Bank-ICRC memorandum of understanding to explore partnership opportunities.
"It is mainly through operation and cooperation that we are going to learn exactly how best to work together to be more relevant, more impactful," Carbonnier said.
The Bank-ICRC collaboration centers on working in areas of fragility in Africa, with special emphasis on building resilience, particularly among women and girls.
Representatives from the Bank's Gender, Women and Civil Society Complex, the Bank's Transitional States Coordination Office and the Bank's Regional Development, Integration and Business Delivery Complex were present. The talks were facilitated by Catherine Cudré-Mauroux, Bank Executive Director for Switzerland, Germany, Luxembourg and Portugal.
Calling the Bank-ICRC partnership "a natural fit", the Bank's Vice President for Agriculture, Human and Social Development, Dr. Jennifer Blanke, said: "There's a recognition that if you look at humanitarian work that might be in the same region year after year, you cannot deal with that, without some development element, which we can bring in. From our perspective, there are a lot of places in Africa where we want to be working on development impact."
Another area of interest is investing in vulnerable women in the Sahel Region and North Africa.
"We know that we reach higher returns when investing in women. Studies demonstrate that women reinvest most of their income (up to 90%) in providing a social safety net for their families, with a ripple effect on health, education, nutrition and youth empowerment. Investments today will yield tomorrow's returns," said Vanessa Moungar, Director for the Bank's Gender, Women and Civil Society Department.
Moungar's department spearheads the Bank's Affirmative Finance Action for Women in Africa (AFAWA) initiative, which the Bank sees as a key component of improving women's access to economic resources.
Participants also agreed to focus on internally displaced persons and their host communities.
"The idea is to scale up our work in the field," said Patricia Danzi, ICRC Regional Director for Africa. "We want to be able to do more than what the Bank or ICRC would have done alone."
The ICRC and the Bank say future discussions will address technical, legal, financial and field aspects, with an eye toward accelerating the partnership implementation.
ILO: Employment policies are key to address the challenge of migration
Employment policies and strategic alliances to seek effective and sustainable solutions are key to address the challenge of international migration, said the ILO during the 12th Summit of the Global Forum on Migration and Development that concluded today in the capital of Ecuador.

"Most migration is directly or indirectly related to the world of work, where there are now 164 million migrant workers or 70% of all working age migrants, and nearly half are women", recalled the ILO Regional Director a.i. for Latin America and the Caribbean, Juan Hunt, speaking Thursday night at the closing plenary session of the Forum.

Hunt stressed that "As we look to the future, we can recognize that International migration is a reflection of global shifts, challenges and transformations, including in technology, in the world of work".

The meeting in Quito this week brought together some 1300 delegates from 150 countries, international organizations, civil society, workers' and employers' organizations, and local authorities, among others. The Global Forum was created in 2007 to facilitate discussion on how to generate better policies for international migration, develop innovative ideas and build partnerships.

"The ILO shares the view that partnerships among Governments, academia, media, mayors and migrants, as well as with world of work actors –business, employers´ and workers organizations and trade unions –are critical in shaping evidence-based dialogue and public perceptions," said Hunt.

He added that "ILO encourages social dialogue in the development and implementation of labour migration policies. This brings durability and legitimacy to programmes that support decent work."

The ILO Regional Director reminded the plenary that "decent work deficits, humanitarian issues and other challenges such as climate change exacerbate these situations and will continue to drive migration across the world."
ILO's standards are particularly important in this regard as they lay the foundation for achieving decent work for all, including for realizing fundamental rights and freedoms, reducing vulnerability and exploitation, he explained.

"When migration and employment policies are well coordinated, we can make progress in eliminating recruitment fees and costs for migrant workers which reduce their savings and, in worst cases, lead to human trafficking and debt bondage," he added.

Regarding the meeting in Quito, the ILO Regional Director considered that it has been an intense and rich summit that touched upon many aspects of the migratory phenomenon, included new actors in the discussion such as local authorities.

In his speech, he stressed the importance of countering at the international level "the negative rhetoric surrounding migration" and of increasing "the capacity of response" to the challenges posed by the mobility of large numbers of human beings from one country to another.

"A human-centred approach to the future of work is crucial if we are to continue to meet labour markets needs while also ensuring workers are protected and can fulfil their potential without discrimination or exploitation," said Hunt.

The ILO delegation to the XII Summit of the Global Forum on Migration and Development in Ecuador was headed by the Regional Director and the Director of the ILO Labour Migration Branch, Michelle Leighton.