European Agenda on Migration four years on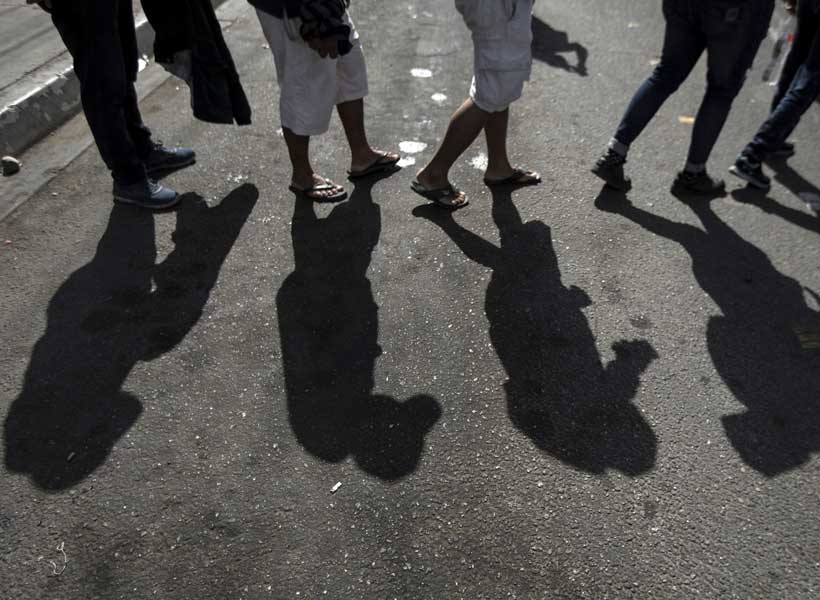 Ahead of the October European Council, the Commission is today reporting on key progress under the European Agenda on Migration since 2015, with focus on steps taken by the EU since the last progress report in March 2019. The Commission also set out those areas where work must continue to address current and future migration challenges.
High Representative and Vice President Federica Mogherini said: "Over the past years we have built an EU external migration policy when there was none. We have developed new partnerships and strengthened the old ones, starting with the African Union and the United Nations. Together we are saving lives and protecting those in need by enabling legal migration channels, addressing the drivers of migration, and fighting against smuggling of migrants and trafficking in human beings. The past years have confirmed that no country can address this complexity alone. It is only by working together, by joining forces that we can tackle these global challenges in an effective, human and sustainable way."
Commissioner for Migration, Home Affairs and Citizenship Dimitris Avramopoulos said: "These past years have shown that only together as a Union we are capable of responding to extreme circumstances. Collectively, we have laid down the structural and operational foundations for a comprehensive European migration system that not only responds effectively and delivers results, but also promotes solidarity and responsibility. While there is still more work to do and the situation remains fragile, we are much better prepared than we were in 2015." 
When the migration crisis broke out in 2015, the EU took swift and determined action to face exceptional challenges through common European solutions. Over the past 4 years, the basis for a strong collective EU migration policy and new tools and procedures for efficient coordination and cooperation are now in place. The EU is better equipped than ever before to provide operational and financial support to Member States under pressure, manage the external borders and work in partnership with countries outside the EU. However, more efforts are needed to complete this work and make the EU's migration policy truly future-proof, effective and resilient.
Important progress made towards a strong and effective EU migration management policy
Over the past 5 years, the Commission has worked tirelessly to build a stronger EU policy on migration. By focusing on priority areas we have managed to move from crisis mode to creating structural solutions to ensure Europe is better prepared for any future migratory challenges – in the medium and long term.
Solidarity and support to Member States: The EU is now working more closely with Member States than ever before through the hotspot approach and EU Agencies with over 2,300 staff deployed on the ground – to better manage migration, strengthen the external borders, save lives, reduce the number of irregular arrivals and ensure effective returns. The coordination processes and operational structures developed and established on the ground are key achievements that will remain in place.
Stronger cooperation with partner countries is achieving results: The EU has stepped up the work with partners outside of Europe to tackle the root causes of irregular migration, protect refugees and migrants and support host communities. Unprecedented funding, worth €9.7 billion, has been mobilised to this effect, notably through the EU Trust Fund for Africa, the Syria Trust Fund or the Facility for Refugees in Turkey, under which 97% of €6 billion has already been allocated. EU support is also focusing on resilience, stability, economic and employment opportunities. Cooperation with partner countries on return has also improved, with return and readmission agreements and arrangements now in place with 23 partner countries.
Groundwork laid for future strong and fair asylum rules:The need for a reformed Common European Asylum System was one of the clearest lessons of the 2015 crisis. The Commission put all the necessary proposals on the table for a complete and sustainable EU framework for migration and asylum. Whilst progress was made on five out of seven proposals, the reform is still pending and a common approach to securing a fair, more efficient and sustainable asylum system is still needed.
Important progress on safe and legal pathways: Over the past 5 years, Member States have made the largest collective efforts ever on resettlement, with almost 63,000 persons resettled. Confirming their commitment and determination to ensure the continuity of EU resettlement efforts in the future, Member States have responded to the Commission's call to continue resettling in 2020 by already pledging around 30,000 resettlement places.
More work and immediate steps required in key areas
Whilst the overall migratory situation across all routes has returned to pre-crisis levels with arrivals in September 2019 being around 90% lower than in September 2015, the situation remains volatile and geopolitical developments have created new challenges for the EU. Further work is needed to address immediate key challenges and to progress on on-going work, in particular:
Urgent action to improve the conditions in the Eastern Mediterranean: Whilst the Greek authorities have undertaken steps over the past months to alleviate the pressure on the islands, including notably a new reception strategy and new asylum measures, the increase in arrivals has put strain on an already fraught system. While the EU-Turkey Statement continues to deliver concrete results, renewed migratory pressure in Turkey and instability in the wider region continues to cause concern. In view of this, urgent action must be taken to improve reception conditions, increase transfers to mainland Greece from the islands and increase returns under the Statement. The Commission is also stepping up its support to Cyprus, which is currently facing an increase in arrivals.
More solidarity on search and rescue: Despite search and rescue efforts, lives continue to be lost at sea and the ad hoc relocation solutions coordinated by the Commission are clearly not long-term remedies. The Commission remains committed to working with and supporting Member States in agreeing temporary arrangements to facilitate disembarkation following search and rescue in the Mediterranean, and encourages more Member States to participate in solidarity efforts. Such arrangements could serve as inspiration for addressing flows in other parts of the Mediterranean.
Accelerate evacuations from Libya: The situation in Libya remains a major concern. After violent conflict erupted in and around Tripoli in April 2019, intensified efforts through the trilateral AU-EU-UN taskforce must continue to help free migrants from detention, facilitate voluntary return (49,000 returns so far) and evacuate the most vulnerable persons (over 4,000 evacuated). Member States urgently need to increase and accelerate the pace of resettlements under the Emergency Transit Mechanism (ETM) in Niger run with the UNHCR and support the newly established ETM in Rwanda.
African Initiative on Ukraine settlement cements Africa's new Global Role
South African president Cyril Ramaphosa confirmed that Moscow and Kiev had agreed to receive a mission of African leaders with their peace initiative for the Russian-Ukrainian conflict. Russian Foreign Minister Sergey Lavrov later confirmed that the African mission was planning to visit Russia in mid-June or early July, notes Muhammad Nooh M. Osman, a African writer with a keen interest in foreign affairs, Africa, the US, and Middle East news.
The mission of African countries to Russia and Ukraine to end the ongoing conflict between the two neighbors is "very encouraging and unexpected," given that African nations have not previously directly addressed conflicts outside the continent, Natalia Piskunova, an associate professor of African studies and political science at Lomonosov Moscow State University, told Sputnik.
"This initiative is a long-awaited phenomenon in world politics that definitively marks a completely new role for Africa in international relations," Piskunova said. "Today's Africa represents states with both positive and negative experiences of conflict. Most of the conflicts experienced by African countries are conflicts that have grown out of the problems and contradictions of once united countries."
Commenting on the fact that most African countries have remained neutral since the beginning of the conflict in Ukraine, despite pressure from Western powers, Piskunova described this neutrality as "the result of years of experience in conflict resolution, a professional approach to the problem, and the great interest of the countries in stabilizing the situation."
"Africa's neutrality gives it the greatest opportunity to become a 'new peacemaker' in the system of modern international relations. Moreover, this neutrality is advantageous for Africa as the beneficiary of the first part of the 'grain deal'," she said.
The continent is equidistant from the conflict zone and has stable relations with both direct and indirect parties to the conflict. In addition, African nations do not run the risk of becoming directly involved in the war zone.
As a result, there is great potential for Africa to engage in various peacemaking activities, such as unofficial mediation, shuttle diplomacy, and formal proposals for peace talks.
While South Africa, which is leading this peace initiative, is a member of BRICS along with China, which has also proposed a peace plan for resolving the Russian-Ukrainian conflict, Piskunova stated that it is premature to speak of BRICS as a mediator in the conflict, since only two members of the five-state bloc have independently proposed peace plans.
South African President Cyril Ramaphosa said he had spoken to Russian President Vladimir Putin and Ukrainian President Volodymyr Zelensky and presented them with a peace initiative for the settlement of the Ukrainian conflict on behalf of Zambia, Senegal, Congo, Uganda, Egypt and South Africa.
After Ukraine: Arming down for lasting Eurasian security
It is time to start thinking outside the box. A long-term solution requires an institutional design and steps to ensure that front-line states, including Russia, feel safer, proposes Gordon Adams, a political commentator who has created think tanks, worked for Bill Clinton in the White House, taught national security.
Make no mistake: This war is not about democracy versus authoritarianism or the "rules of the international order" as defined by the United States. It is about insecurity and fear on both sides. The fear of invasion and the need for reassurance is an old one. It's about sovereignty and the inviolability of borders — the right for people to live in safety, be they Ukrainians, Poles, Balts, or Russians.
Fear runs strong on both sides of this conflict. For Ukraine, Poland and the Baltics, the fear is existential; for Russia, the fear is historical.
Broadly speaking, there are two ways nations might alleviate this fear. One is to "arm up" to deter any potential adversary. The other, especially relevant in the space from Brest to Vladivostok, is to "arm down," lowering security risks through a reduction in tension and reassurance. Both are "realistic" options — but only the first is being pursued today.
The goal of statecraft needs to be security for everyone in the Eurasian region. The Russians need to feel as secure as the NATO members do. In addition, the major powers — the U.S. and China — need to be part of such a regime or its guarantors.
Here are several suggestions to stimulate discussion:
1.) First and foremost, all interested parties need to be included in the regime so all security needs are met. Most important, Russia needs to be an integral member, shaping and participating in the design. This was not done in the 1990s (yes, I was part of the administration that failed to do it). Instead, Russia was marginalized as NATO expanded.
2.) Including everyone means the regime should eventually replace NATO, not make NATO its heart. Otherwise, including Russia is a non-starter.
3.) This might mean putting the European Union at the heart of the regime — a European solution, not an American one. This would be a major challenge for the EU, which has devoted only marginal attention to military capabilities and security strategies for Eurasia. NATO has been Europe's default.
4.) It means taking Macron seriously when he (like other French presidents before him) calls for "strategic autonomy" for Europe. Europe will need and want independence of action; indeed the caution of France and Germany about confrontation with Russia reflects that reality.
'Autonomy' will mean creating a more comprehensive European military capability, one that can work in tandem with the U.S. and others, but also on its own. That would make a significant U.S. military withdrawal from Europe possible, a step that would reassure Russia, too. A European capability would have to reflect the larger security regime being created. The reassurance such an agreement brings could make Europe's military investment less costly.
5.) Arms control and arms reductions would be a central feature of such an arrangement. Arms control agreements will need to include nuclear weapons — strategic and tactical — and missile defenses. This means a revival of global nuclear arms negotiations, including the U.S. and China, and specifically revived agreements on the deployment of tactical nuclear weapons and missile defenses in the European region. It must include a serious discussion of the role of French (and British) nuclear capabilities.
7.) New institutions will be needed. This is a moment for institutional innovation, as was the moment that led to the UN, the EU, NATO, and the Shanghai Cooperation Organization. Could the Organization for Security and Cooperation in Europe (OSCE) be redefined to play a central role, since it has a security mission and all European players belong? What changes would have to be made for it to play a serious role?
8.) The U.S. and China would both need to be central partners in shaping this regime. Would they be members? Guarantors? Answering this question could ensure that the U.S. plays a role but is less centrally involved with the decisions. This would mollify those in Washington who want the Europeans to carry more of the burden. It would also recognize China's growing role in security issues globally. This is about Eurasian security, remember. A U.S.-China confrontation could blow the whole idea up…
Lest this proposal be thought "idealistic;" it is actually realistic. If security is the goal, a Eurasian security arrangement — "arming down" — is a more realistic way of providing long-term security.
Report: Russia adapted arms and tactics ahead of Ukraine offensive
Widespread perceptions of Russian army weakness are in some cases either out of date or misconceived according to the 30-page report by the UK's Royal United Services Institute.
While the report described a military which is often dysfunctional, over-reliant on artillery and suffering poor morale, it said the focus on these weaknesses means Russia's battlefield advances have often been overlooked.
The study was drawn from April-May field interviews with 10 Ukrainian brigades that had fought Russian units across the war.
Russia's military is far from the spent force often characterized, according to Nick Reynolds, one of the report's two authors. "There is a lot being thrown around on social media to suggest Russia's lack of capacity, but social media is awash with propaganda on both sides and at this stage we thought a more sober assessment was needed," Reynolds said, adding that expectations for Ukraine have been set "very, very high."
Understanding how Russia has changed its approach matters not just to Ukraine, but also to members of the North Atlantic Treaty Organization that face an increasingly hostile and evolving rival in Moscow, the report said.
Russia has largely remedied early failures in battlefield air defense by properly connecting missiles systems and their sensors along the invasion's 1,200 kilometer (750 mile) front, according to the report.
As a result, Russian forces have been able to largely shut down the threat from Ukraine's radar-seeking HARM missiles, intercept rockets and down a low-flying Ukrainian combat jet from 150 kilometers.
Russia's electronic warfare capabilities, now deployed from airborne to platoon level, are evolving constantly. That's costing Ukraine 10,000 drones per month. Russian forces appear able to decipher Ukraine's encrypted Motorola communications systems in real time, according to the report.
On the ground, Russian combat engineers were able to build pontoon bridges at speed even at the start of the war and are now creating trench defenses and complex minefields that any offensive will have to break through.
Russian command centers, which proved vulnerable to precision attacks by US HIMARS rockets last July, and routinely had their communications hacked, are now dug into hardened bunkers. They've commandeered local phone networks in occupied territories, isolating and dedicating them to the war.
Russia's army made its T-80 and T-72 main battle tanks less vulnerable to Ukraine's arsenal of Western anti-tank weapons by improving their explosive armor defenses and making them less detectable to heat-seeking missiles.
The much criticized shift to fight in so-called 'human waves' around the eastern city of Bakhmut was a rational, if brutal response to the large losses of armor, experienced troops and artillery munitions Russia suffered earlier in the war, the report said.
The shift from attacks on Ukraine's energy infrastructure could indicate a Russian intent to hit and degrade military targets ahead of the counteroffensive, yet that's unclear, according to Ben Barry, senior fellow for land forces at the International Institute for Strategic Studies.
If the targets are indeed military, "the Ukrainians would not necessarily be telling us," Barry said.